What to Buy at Tokyu Hands
The best things to buy at Tokyu Hands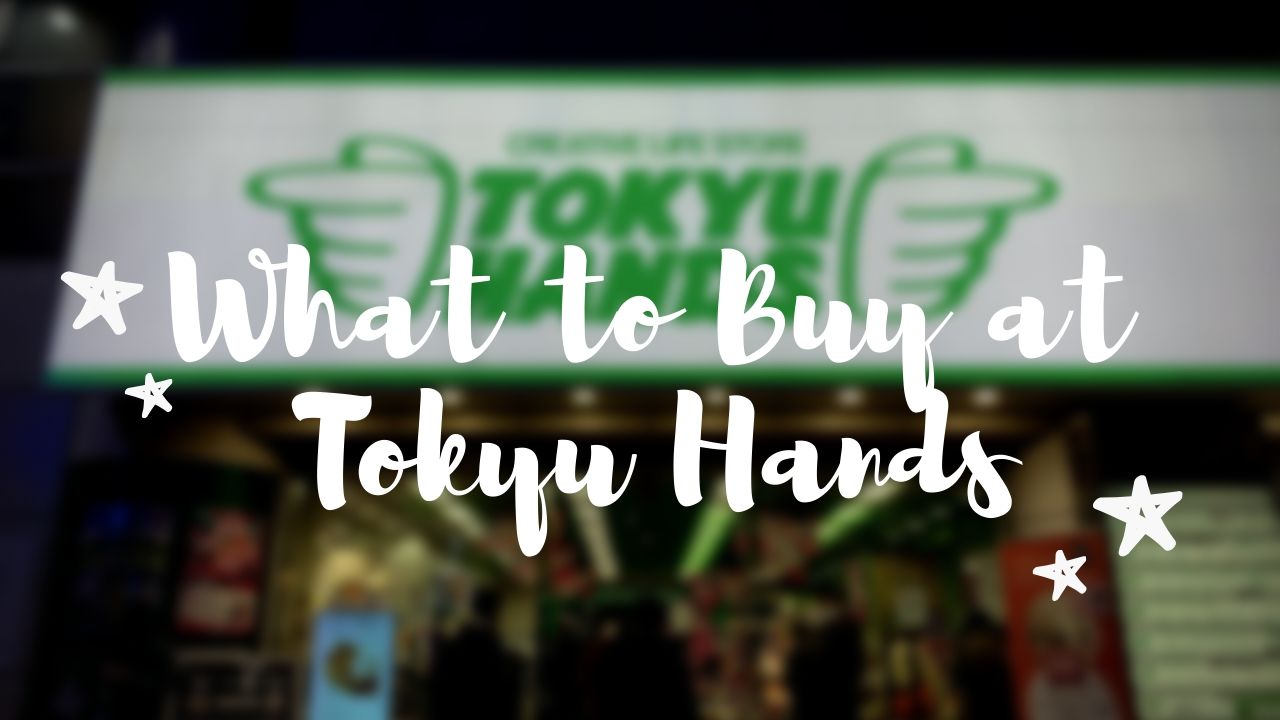 Searching interesting and unique things to buy in Japan? Items that you can only buy in Japan and nowhere else? I recommend you visit Tokyu Hands, one of the most famous department stores in Japan. Tokyu Hands began as a store dedicated to the concept "Do it yourself", a type of concept that has gained popularity in recent years. However, over time Tokyu Hands became so famous among the Japanese that its stores began to be increasingly large and have more variety of products. Although it continues to maintain the part of products for you to make your own creations today it's a place where you can find many interesting things.
With so many plants and products, one may end up not knowing what to buy, or maybe there're some things you miss in your visit. That's why here I bring you my list of the best products you can buy at Tokyu Hands selected by me! There're things for all people. Do you want to take a look at my list? Here we go!
Beauty
Japanese makeup is well-known for its high quality. Some brands such as Shiseido are world references and are sold in all countries as a luxury brand. However, Japan also has makeup and beauty products brands that offer excellent quality at an affordable price. That's why it's highly recommended to buy some beauty product during your trip to Japan. Surely you will not regret it!
Face Mask
Japan is without a doubt the country of face masks. Before coming to Japan I never saw so many types of facial masks in cosmetic stores. Some brands have decided to go one step further, and make masks of different themes, such as video games, anime series, famous characters or even simulating the famous makeup of Kabuki actors.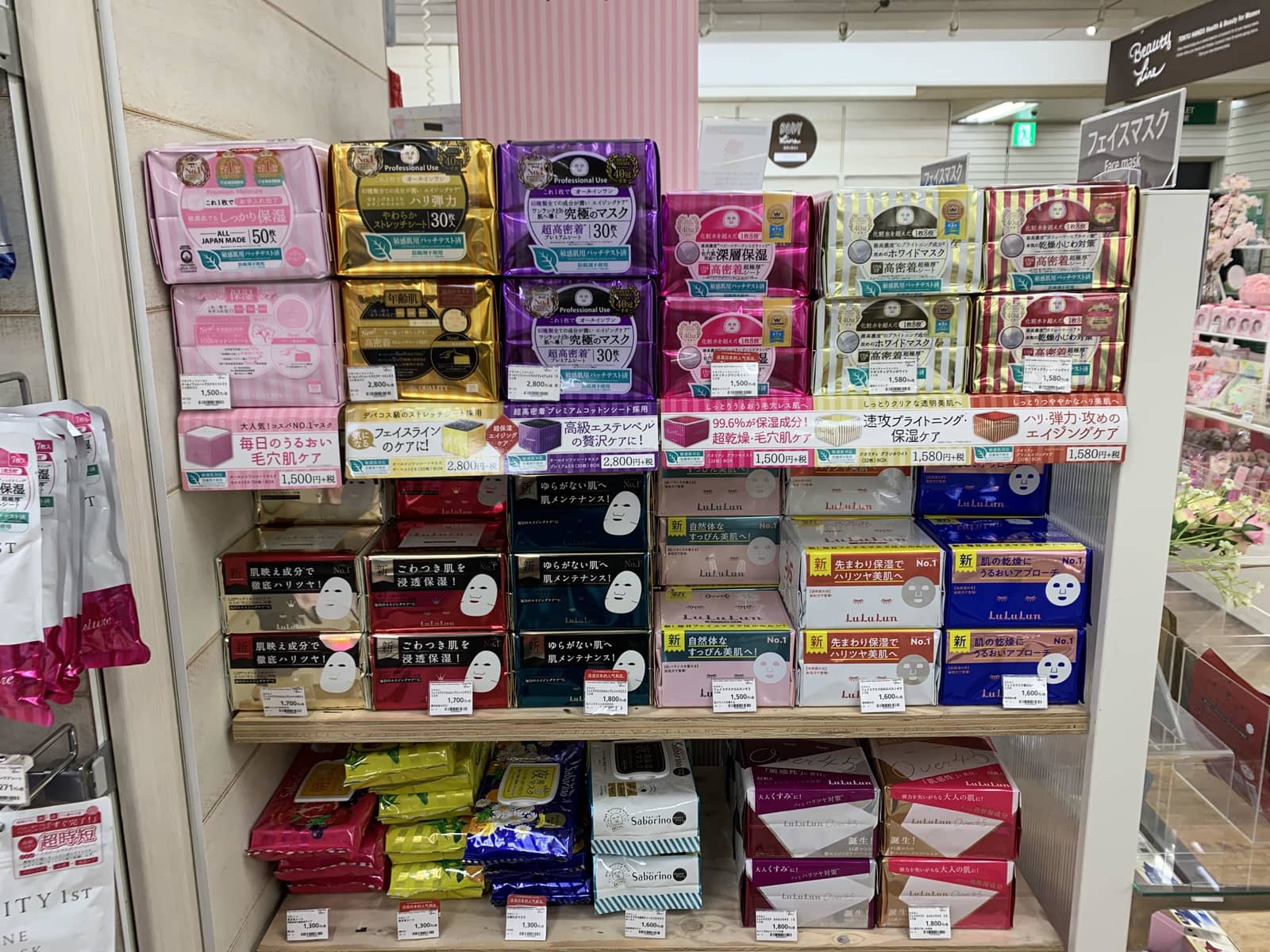 Although these masks can be fun, their price is higher and their quality is sometimes not so good. They are more a funny souvenir to try one day. If you are really interested in face masks, don't worry that you can also find a huge variety.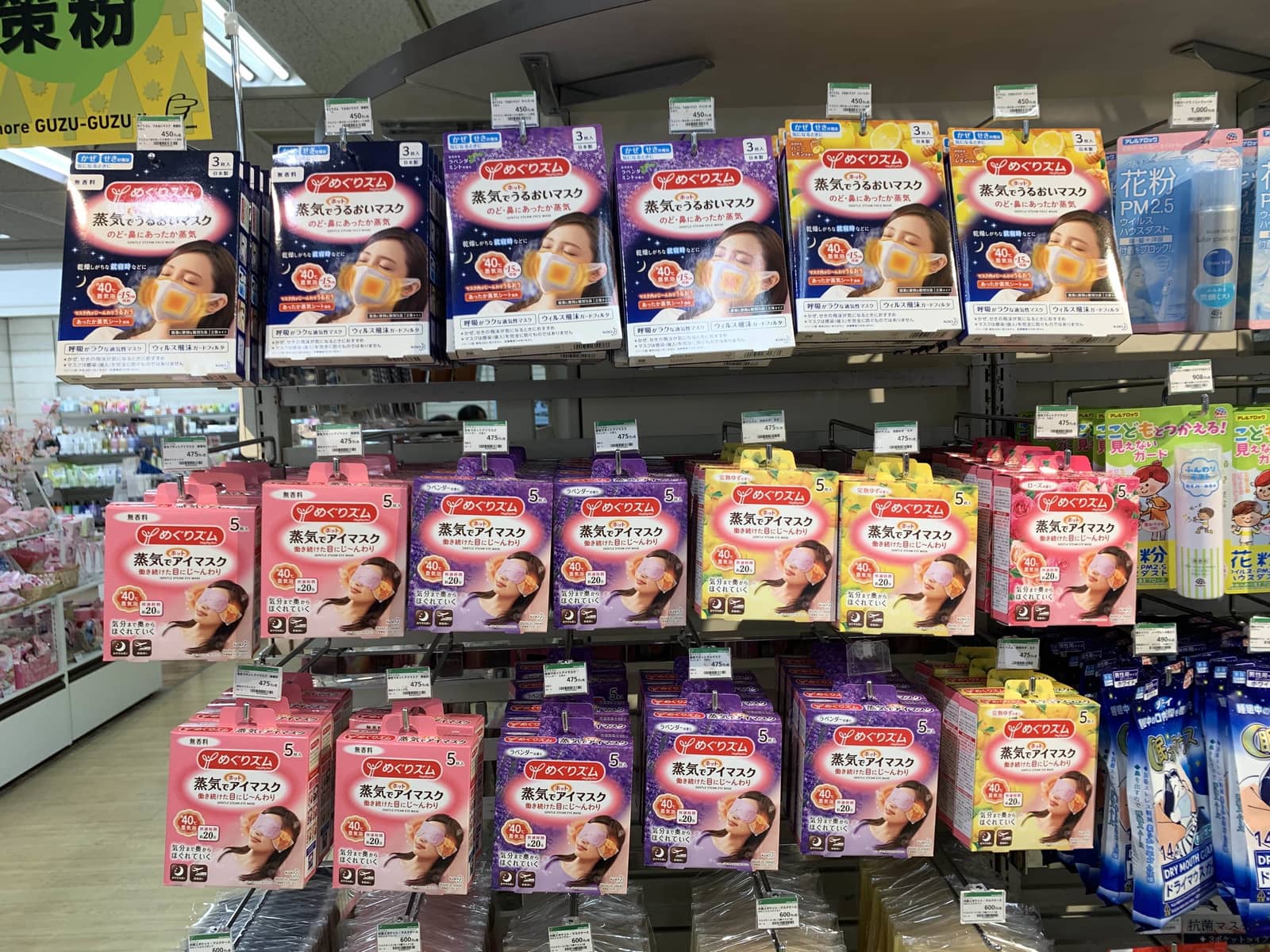 And although they are not exactly beauty masks for the face, these eye masks help a lot to relax after a bad day or when you're having a lot of stress and I really recommend try it.
More info: Best Japanese Face Masks
Japanese Make-up
As I said, there are several makeup brands in Japan that offer quality products at a reasonable price. Within Tokyu Hands you can find several of these brands, so you can buy prices and products and choose the ones you like best.
More info: 5 Best Inexpensive Japanese Makeup Brands
Paper Soap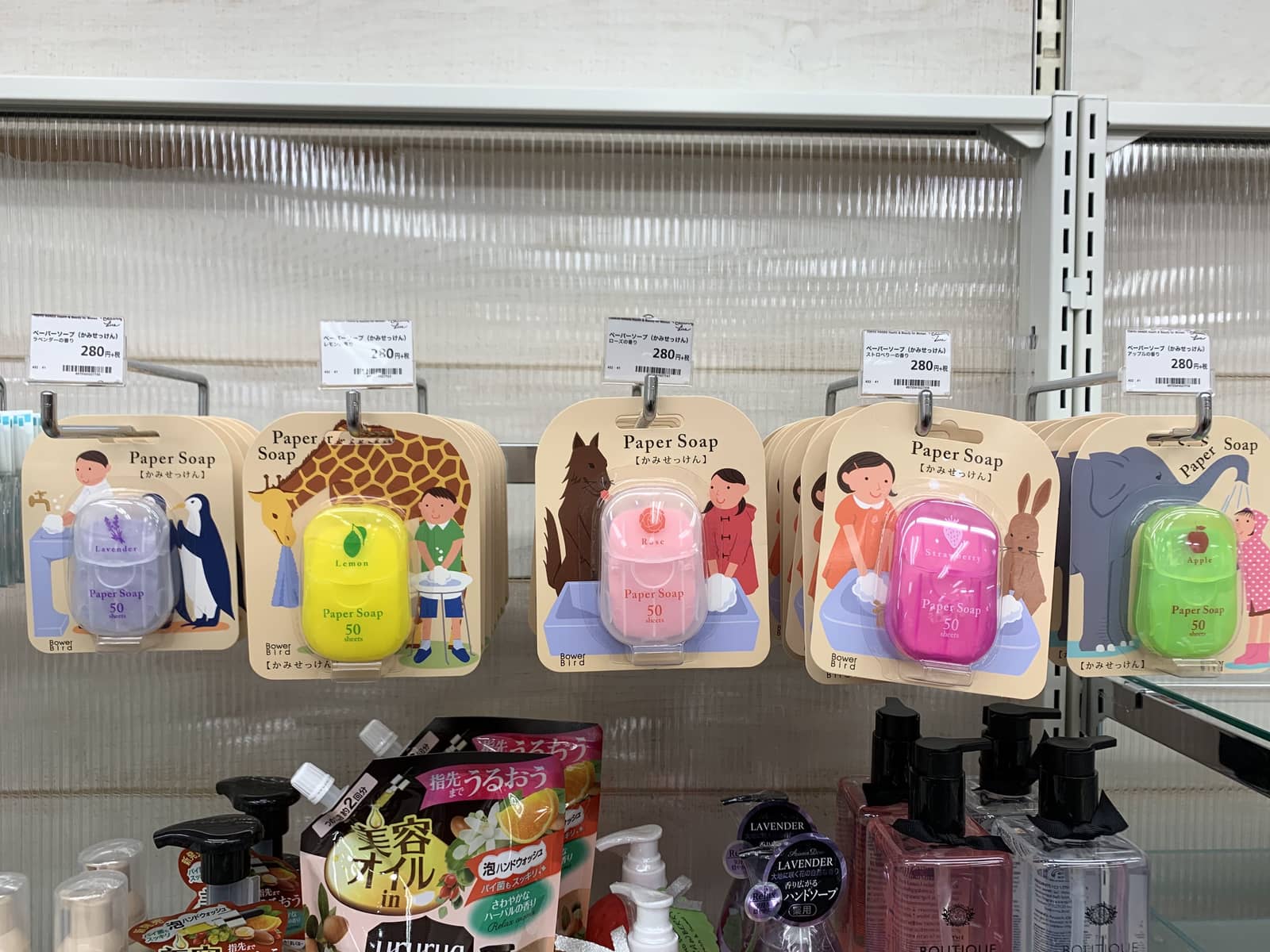 In Japan, there are many bathrooms that don't have hand soap. A solution for these types of situations is to always carry this paper soap with you. It is small, the packaging is cute and in my opinion a very practical item. Each package has 50 sheets of paper soap.
Yutanpo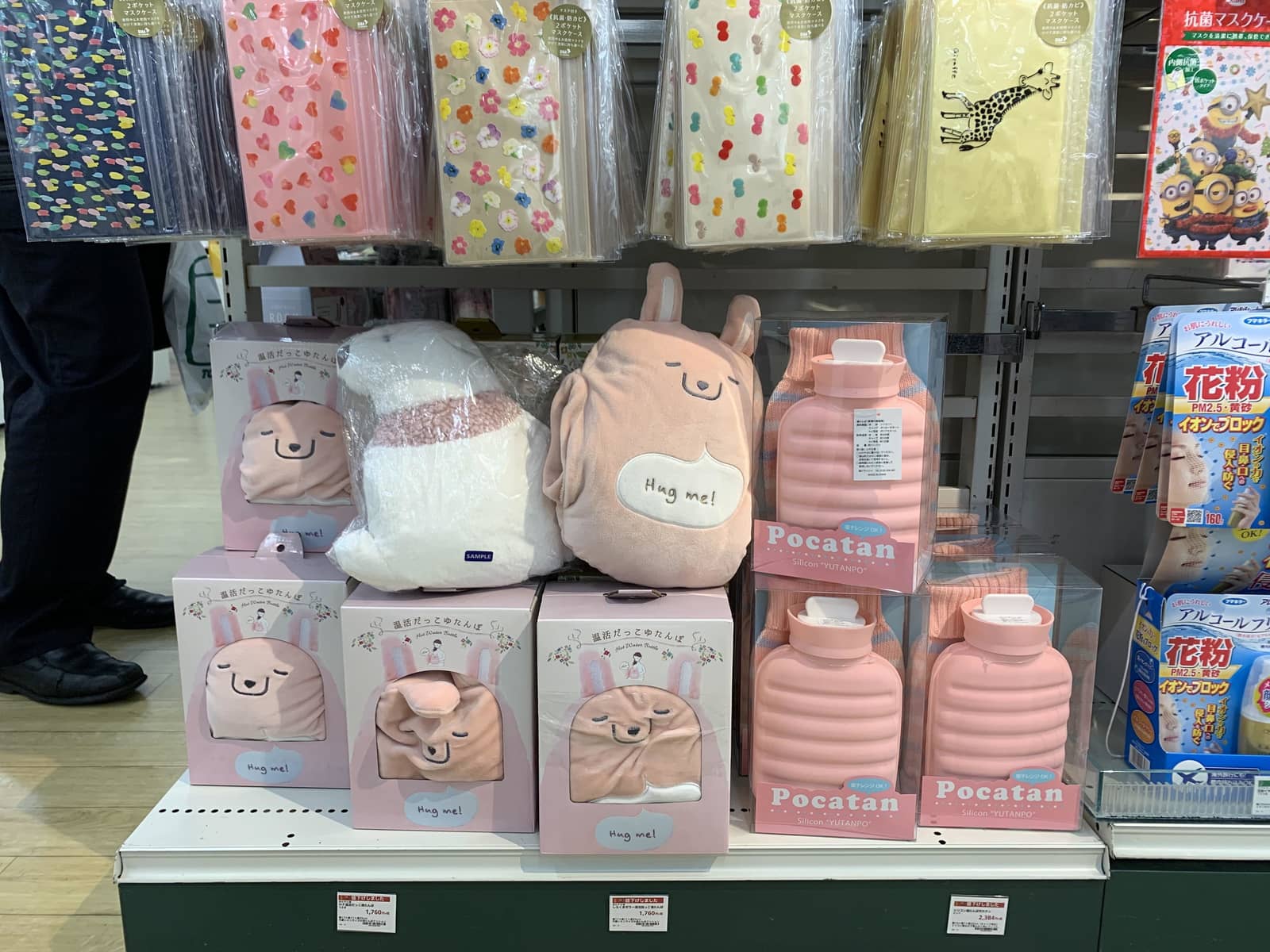 Yutanpo is a traditional hot water bottle that the Japanese use to heat the bed before going to sleep. The operation is simple. It's filled with hot water and covered with a cloth bag to avoid direct contact with the skin so you can accidentally burn yourself. An hour before going to sleep more or less you put the Yutanpo in the bed under the sheets. This is the traditional use, but currently there are smaller models that can also be used to warm hands or feet, for example.
Kitchenware
One of the most interesting plants of Tokyu Hands. It was one of the plants where I was trying the longest to decide which items to recommend, because there are so many that it was difficult to decide just for some. But here are my recommended kitchen items to buy at Tokyu Hands.
Egg Boiler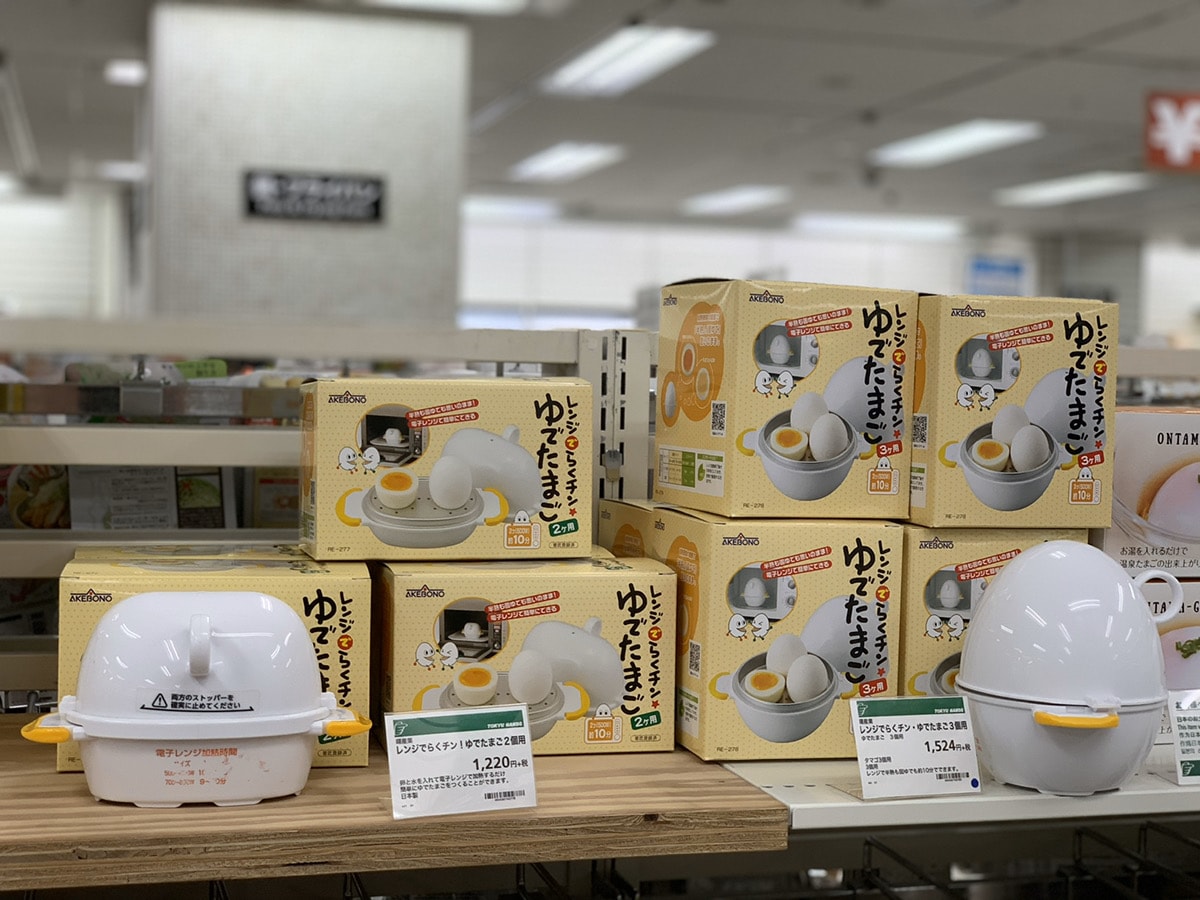 These two objects serve to make boiled egg. Are you a lazy person and you never know how much time do you need to boil eggs? This invention will be your best friend! You just have to put hot water below, eggs and put everything in the microwave, and that's it! In the box are indications of how much time you have to put it depending on whether you like more raw inside or less.
Takoyaki Set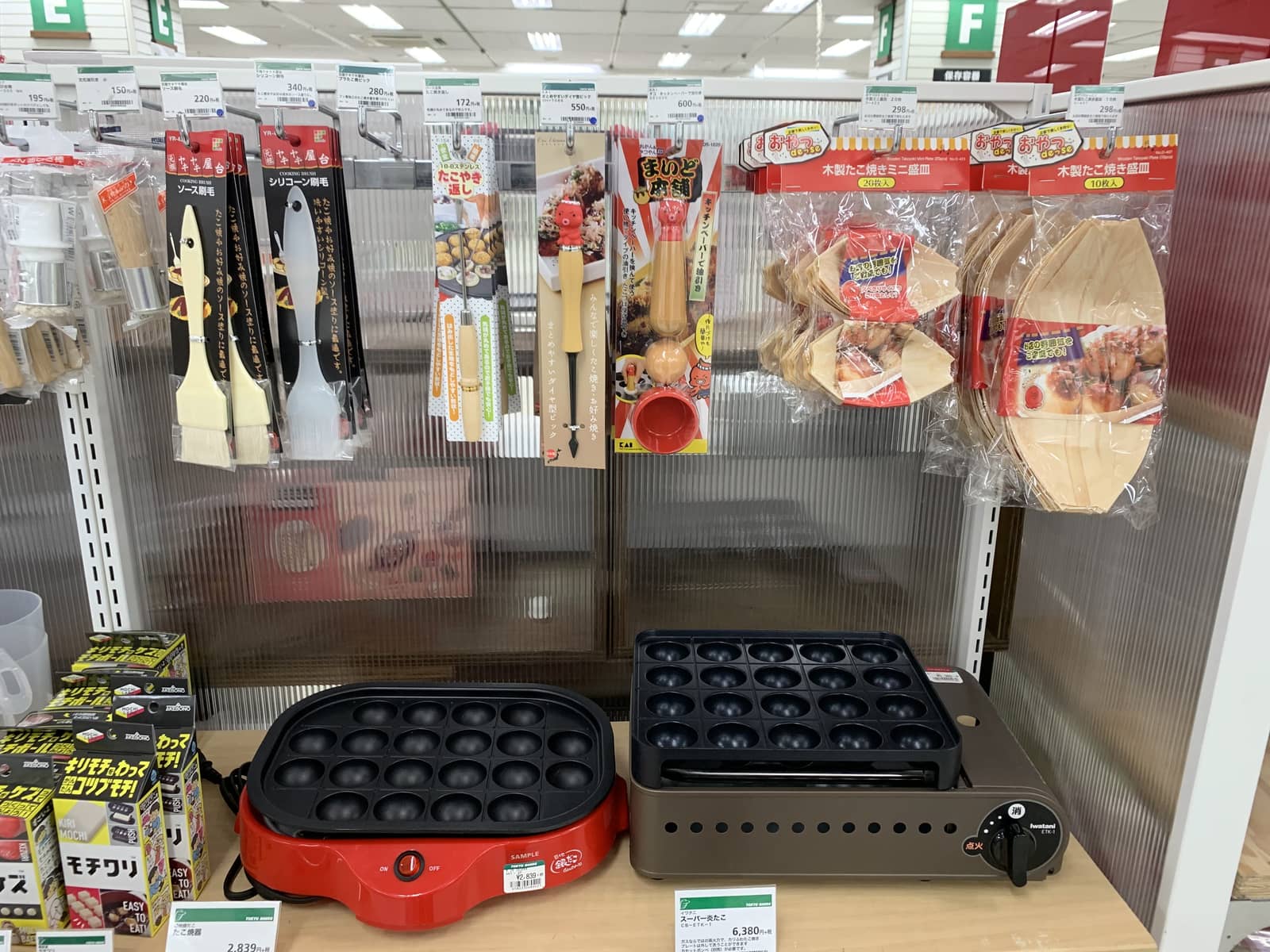 If you are passionate about takoyaki, why eat them only in Japan? Buy the machine and all the accessories you need and become the best takoyaki chef in your city! It's also a good way to surprise your guests at your dinner with something original.
Taking the entire machine can be too complicated, since it's huge, weighs and depends on the country you will need an adapter for the current. But don't worry! You have these plates that are placed on the stove, electric or gas, and also serve to make takoyakis.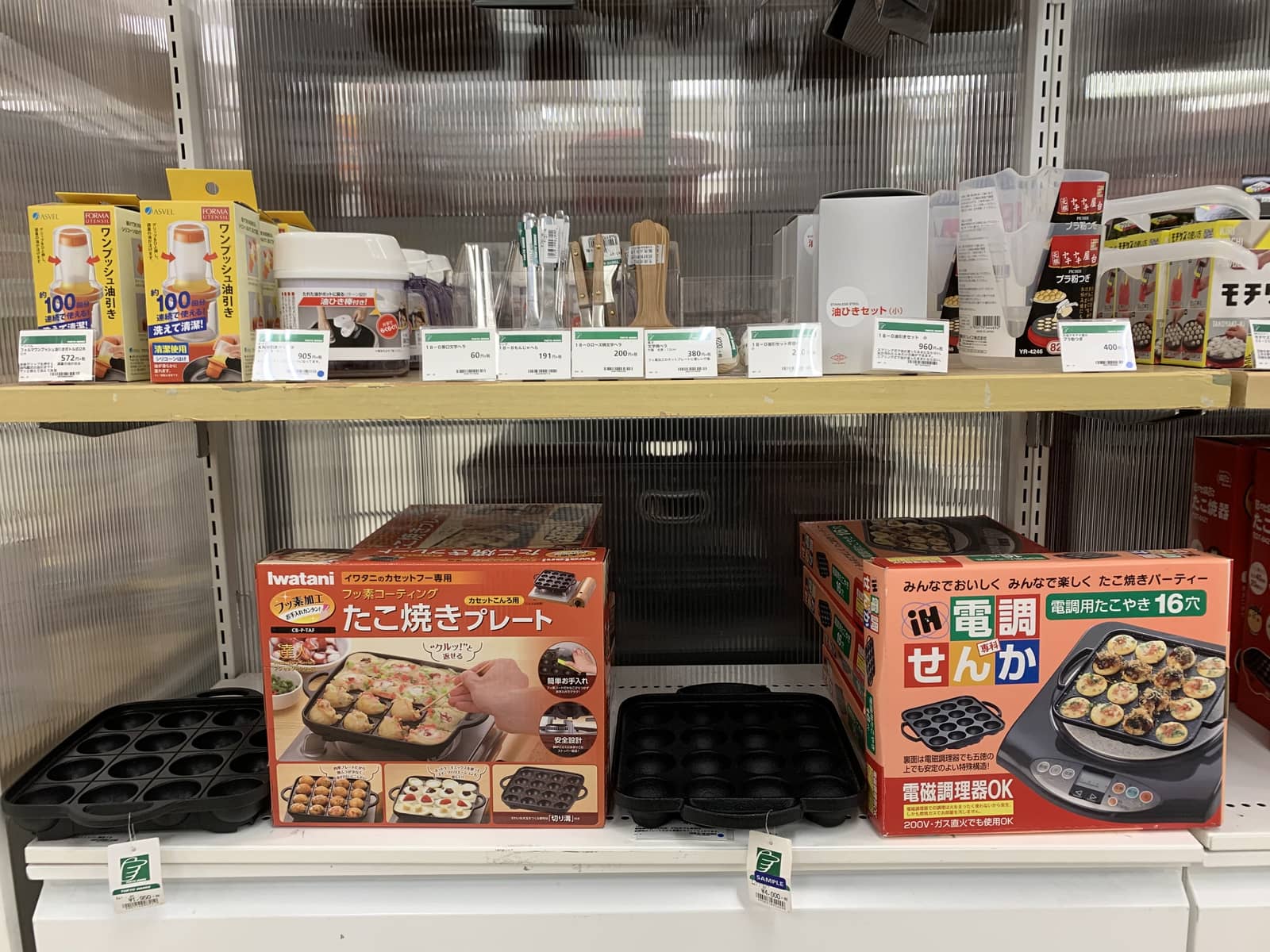 Personally I recommend the plates instead of the machine because they weigh less, are easier to transport and will not give you problems in your country.
Japanese Knives
One of the most sought after kitchen objects in Japan for their high quality are knives. All kitchen experts agree that Japanese knives are very good, with a perfect finish that helps you cut perfectly. In Tokyu Hands you will find a huge variety of Japanese knives with different price ranges and from different areas of the country. There are simpler ones for less experienced or more sophisticated ones for those who dedicate themselves to the world of cooking.
Green Tea Set
Green tea or matcha is one of the star products of Japan. It's in the form of sweets, such as the green tea Kat-Kit or the green tea chocolate. There are also green tea drinks in vending machines and supermarkets. However, the traditional way to drink it is to beat the powders yourself along with hot water. The process of the tea ceremony it's all an art that requires experience and knowing how to perform it. But even if you are not an expert, you can try to make your own handmade green tea at home. In Tokyu Hands you will find all the necessary instruments to be able to do the process, from the green tea powder to the bamboo whisk or the hot water kettle.
Japanese Style Mugs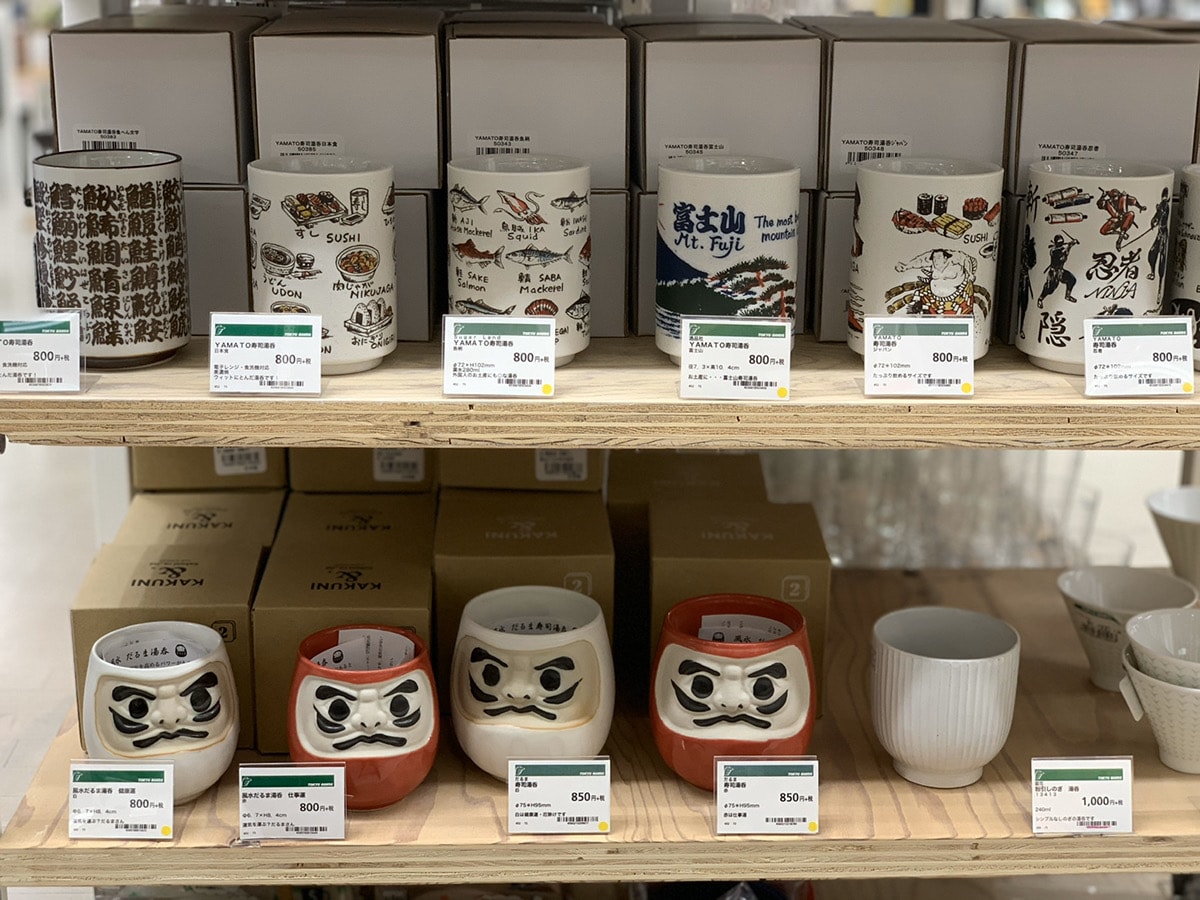 A cup is always a good souvenir. Some people even collect cups from all the countries where they have been and it's also usually an easy and safe option when you want to give something to someone but you don't know very well what. In Tokyu Hands you will find normal cups, but also some as original and cool as these ones, that I fell in love as soon as I saw them. Specially the Daruma doll shaped mugs are super cool! Don't you think so? And they're pretty cheap!
Sake Set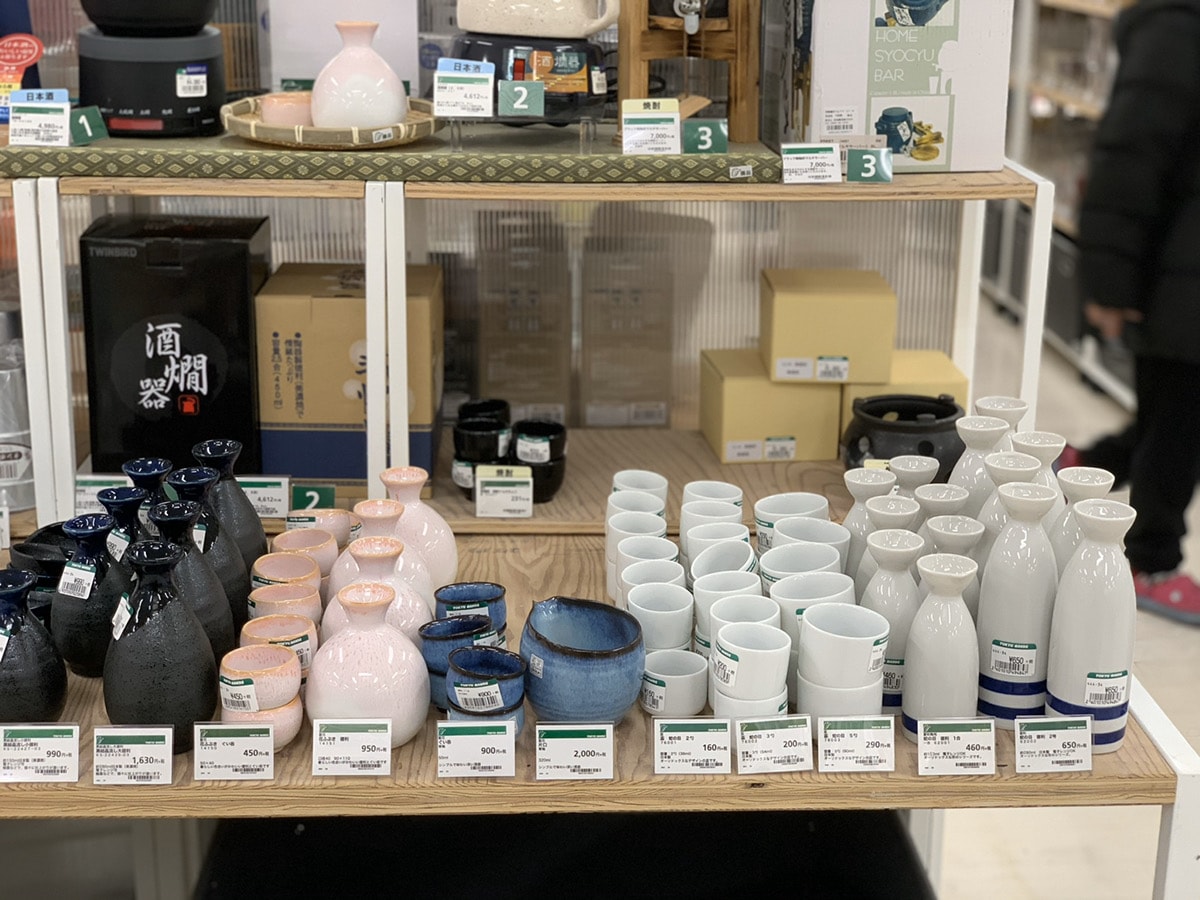 The Japanese liquor, known internationally as sake (although actually in Japanese 'sake' means alcoholic beverages in general) is one of the most sought after souvenirs. But why not go one step further and buy a sake set so you can drink it in the traditional Japanese way? Surely you will surprise your guests!
Chopsticks
Chopsticks are a classic as a souvenir in Japan. Cheap, easy to carry and a nice gesture to look good with your friends and family. The chopsticks are sold in many places, but here you will find some especially beautiful designs and even sets that will not look like simple chopsticks but a luxury gift.
Lunch Box
Although a lunch box is not something exclusive or special to Japan and exists in all countries, in Japan some have very beautiful designs. I recommend you buy some of the wooden ones.
Rice Cooker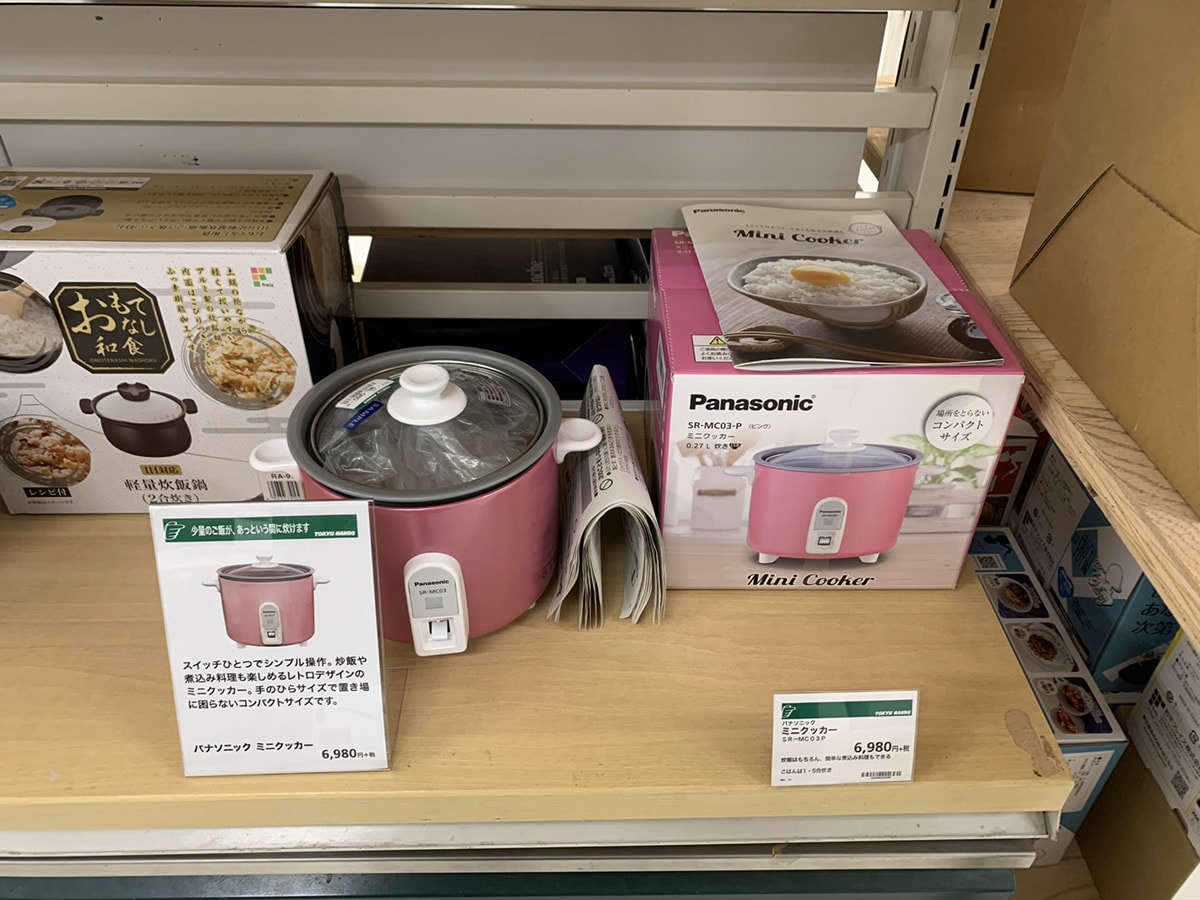 Finally, if you have space in your suitcase, the typical Japanese rice cooker is something that can be very useful. Especially for those who like to cook Japanese food at home.
Bags, Wallets and Travel Accessories
In Japan, many people attach great importance to fashion, both men and women. Not only in their private facet but also at work, clothes and accessories are very important for some people and they usually like to wear elegant and beautiful things. That's why there is a lot of variety of accessories.
Wallet & Card holder
Take the opportunity to look at a wallet or card holder. They're a very important complement, and one of the things where I have seen more variety of models, specially for men.
Bag-pack, Briefcase & Bags
Japan is the country of bag-pack and briefcase. Most Japanese work on what is known as "salary man", and in the uniform of a good salary man in addition to the suit and tie a briefcase can't be missing. Jokes aside, it's true that bag-packs and briefcase are something that many Japanese, both men and women, use in their day-to-day work. Therefore there's a wide variety of models and prices much wider than in other countries. If you're looking for an elegant complement where you can put your laptop, notebooks, etc. this can be a good occasion.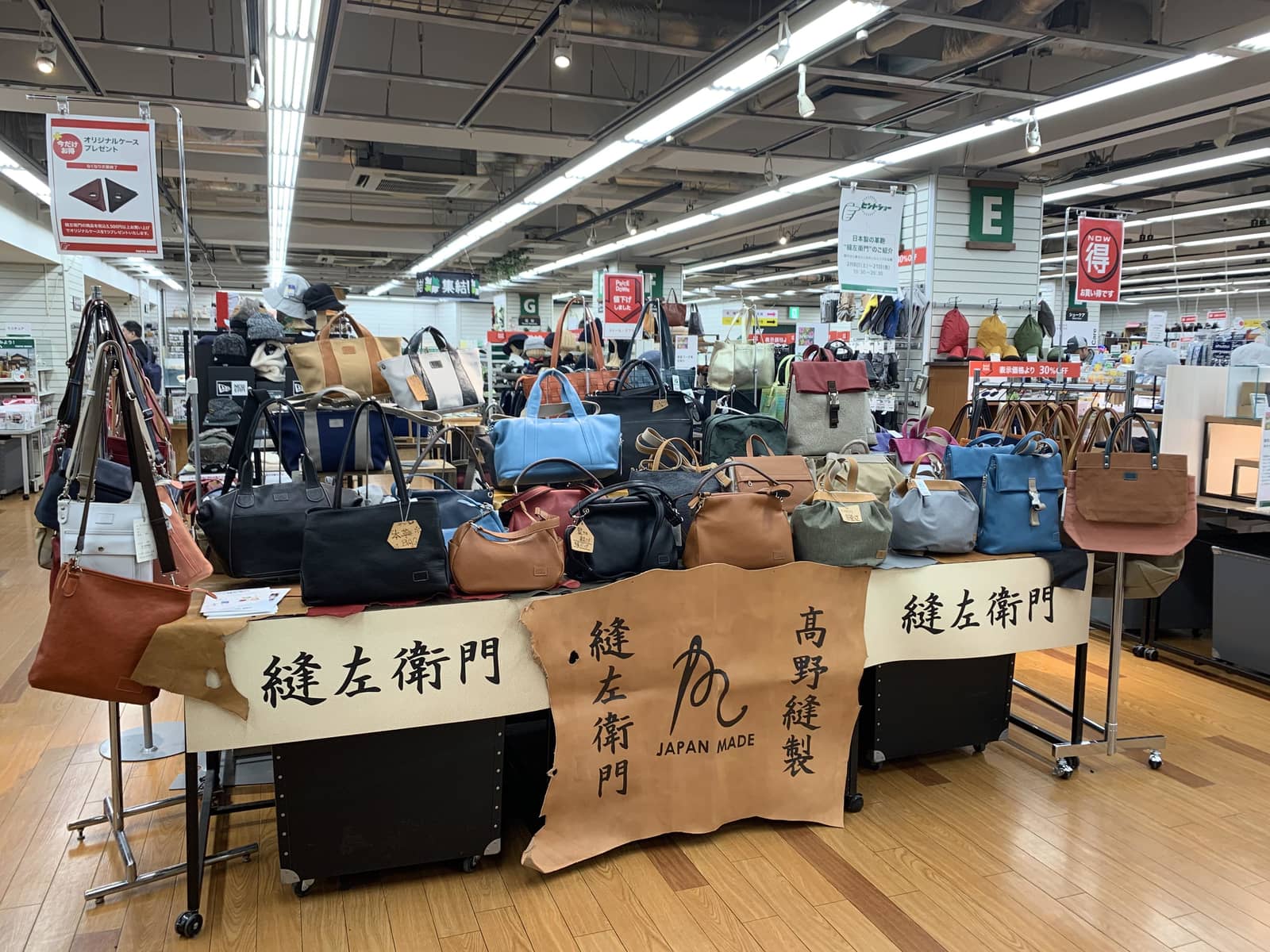 And if you are just looking for something more casual for everyday life, they also have a section with hight quality bags made in Japan.
Suitcase
After a day of shopping at Tokyu Hands, you may need to check in another suitcase to carry everything you bought😆 Or if the one you brought is broken during the trip, this is a good place to buy a new suitcase. Or simply if you don't like the one you have and want to look at new models.
Travel Gadgets
If, like me, do you like to travel, you probably need travel accessories to complement your suitcases, and this is a good place to buy some travel gadgets. As passport covers or safety bags that can help you avoid being robbed.
Stationery
This plant is the paradise of stationery lovers! And one of the strengths of Tokyu Hands. I have already explained to you that at first Tokyu Hands was focused on "do it yourself", and one of the things that is most successful in this modality is the stationery.
I warn you: if you like stationery, you can spend HOURS on this floor. It has absolutely everything! And even for those who are not lovers of stationery I recommend you take a look because there are so many pretty things!
Calendars
Nowadays with the new mobile phone apps, fewer and fewer people use physical calendars. But in Japan they're still very popular. I'm from the old school and I prefer to have everything pointed on a physical calendar than on the mobile phone. It helps me get organized. But it's also that in Japan there're calendars sooo adorable that it's hard to resist and not buy one!
Pens of all kinds
Although it may seem simple, one of the things that make stationery lovers crazy are pens! Pens of different colors and types to be able to use them on different occasions. Tokyu Hands has huge rows full of pens of all brands and colours.
Also for artists, as illustrators or cartoonists, I recommend going through this section as they have some professional brands at a much cheaper price than in most countries.
Pencil case
After going through the pen section, you will probably need a case. And here are some designs that you won't find anywhere else!
Erasers
No, it's not that I was wrong in the title. These adorable things you see that look like food are actually erasers and I love it! They're so cute that it's sad to use them. There're also in the form of animals, trains, etc.
Stickers
B-Side Label is a brand that has become popular in recent years because it has very good quality waterproof stickers that are ideal for personalising from laptops and mobile phones to suitcases. In addition, it has many stickers of famous anime series and video games. It also has stickers of original designs that are very cool! Like geisha or Japanese themed stickers. And we can't forget the cute animal stickers. The stickers are in various sizes, and some designs are even in other types of objects such as earrings, bags or shirts.
And if you are one of those who prefer more traditional stickers to put on notebooks, letters and agendas, don't worry, because there're also a lot of designs. And I don't exaggerate you, there were shelves and shelves full of stickers! These were the ones I liked the most but you can find many more different designs.
And finally, I wanted to show you these stickers that serve as markers or to point things out. My favourites are those of Mount Fuji and Shiba dogs!
Seals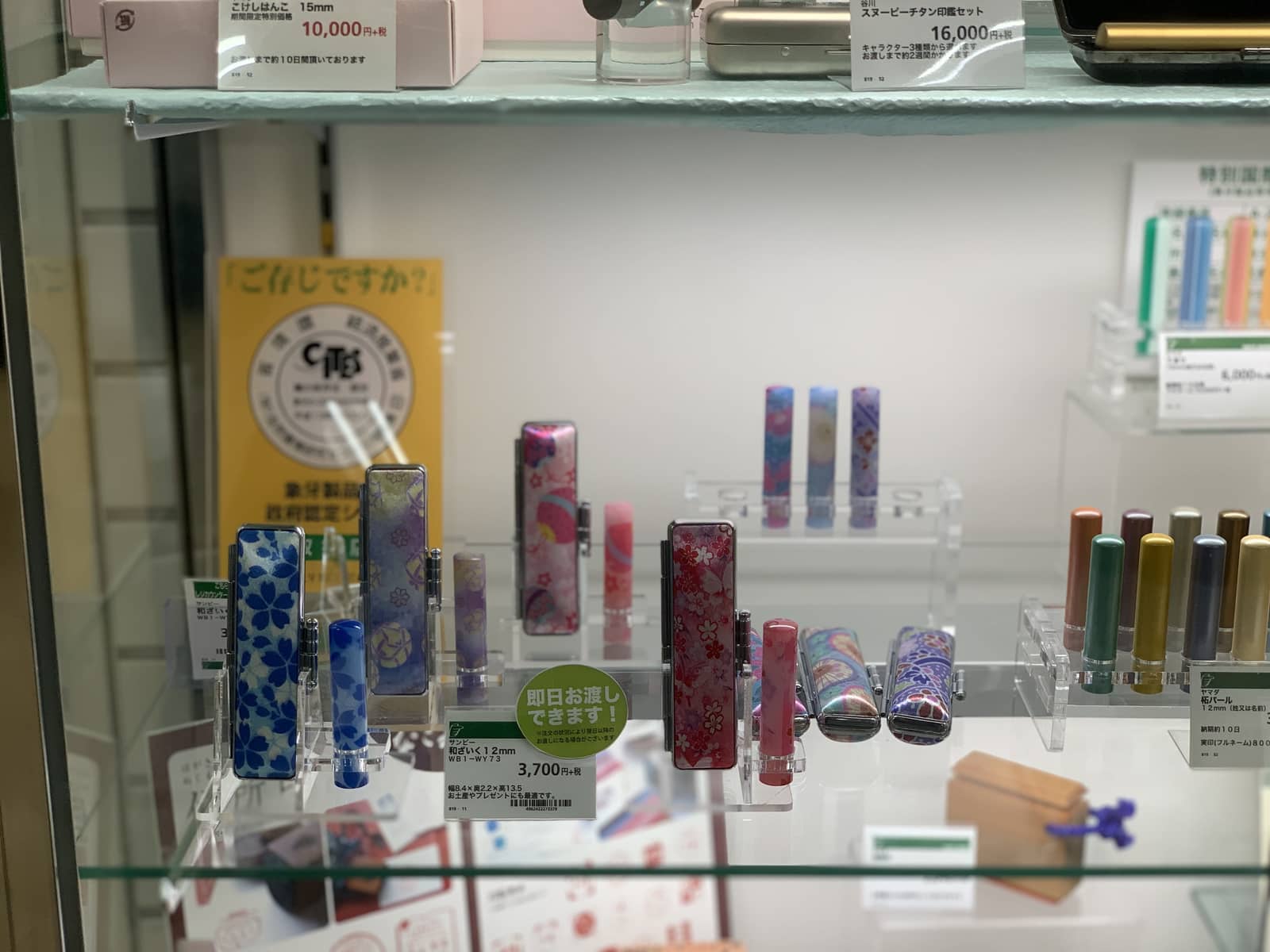 Some of you may already know it but in Japan, stamps are used to sign important official documents. Every Japanese has a seal with his name. There're simple and cheap from 1,000 yen and then more elaborate and with better quality and design. It's a unique thing that you can only get in Japan, and for me it seems like a perfect memory of your trip. You can also choose a beautiful case with Japanese themed like this.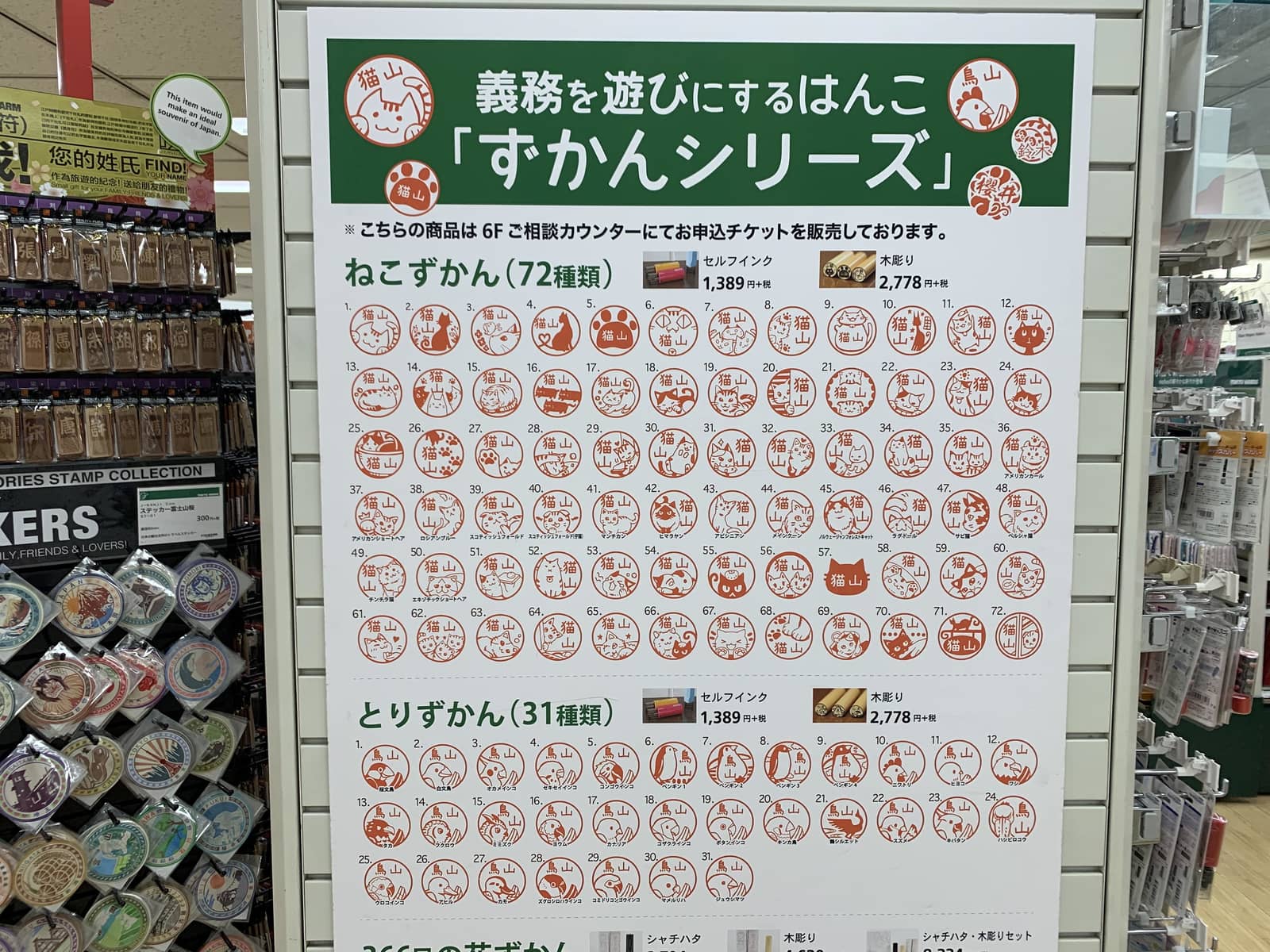 Or you can also opt for one of these seals that in addition to your name includes an adorable kitty! Or if you prefer, a chick. Obviously, these seals don't serve officially, but usually in the other countries we don't use the seals to official signs and these kittens are too adorable to resist!
I leave a lot of things, but it would never end! But I show a few photos of some more products that caught my attention.
Toys, Tokyo 2020 Official Merchandising, Tenugui Towels & Mobile phone accessories
There are some very curious toys, which you can only find in Japan. Specially if you're a fan of Japanese anime and video games, I recommend you check this floor!
Japanese Toys
There is a small section with traditional Japanese toys, such as kendama. But you also have other more current and interesting toys, which surely some of you will love it. Like these mini retro arcade machines.
Nano
Nano products are among the most popular and sought after in Japan as a souvenir or as a gift for oneself. Here you can find different products like the famous nanoblock, metallic nano puzzle, paper nano, etc.
Anime-themed card games & puzzles
Anime lovers will be delighted in this section. There are various models and puzzles that have themed famous anime series. But my favourite without a doubt are the anime and video games themed UNO cards! Surely you will be the envy of your friends and everyone will want to play with those cards!
Official anime merchandising
In addition to card games and puzzles, here you can also find official merchandising of some famous anime and video game series and movies.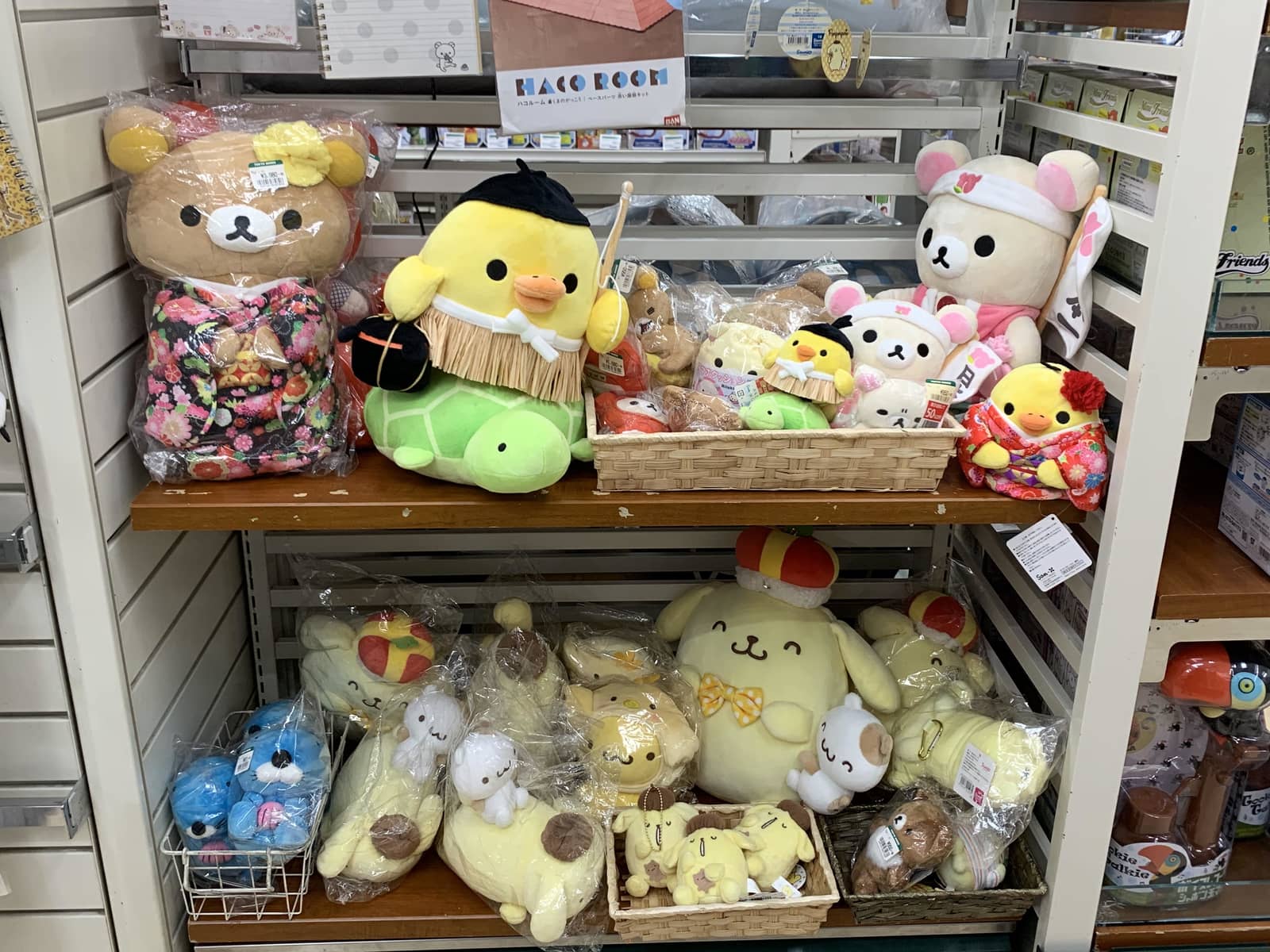 Or official characters like Rilakkuma.
Tokyo 2020 Official Merchandising
In 2020 one of the most wanted souvenirs is official merchandising of the Olympic Games in Tokyo, with the two characters created for the occasion being the main protagonists! Although not very large, there's also a small area where you can buy official goods from Tokyo 2020
Tenugui Towels
Japanese tenugui hand towels are a classic among souvenirs. Honestly I don't know why they were in the toys section and not in another, but it's good to know that you can also buy one in Tokyu Hands! You can buy all the best souvenirs in only one place.
Mobile phone accessories
Although there is little variety compared to other sites such as Big Camera or Don Quijote, if you don't have much time and are looking for phone cases or accessories, you also have a small section dedicated to it.
Extra: Cute Donuts & Soap
On the ground floor of the Tokyu Hands of Ikebukuro they have a small shop with the most adorable donuts I've ever seen!
They also have a small shop with soaps in the form of candies, such as cakes or macaron!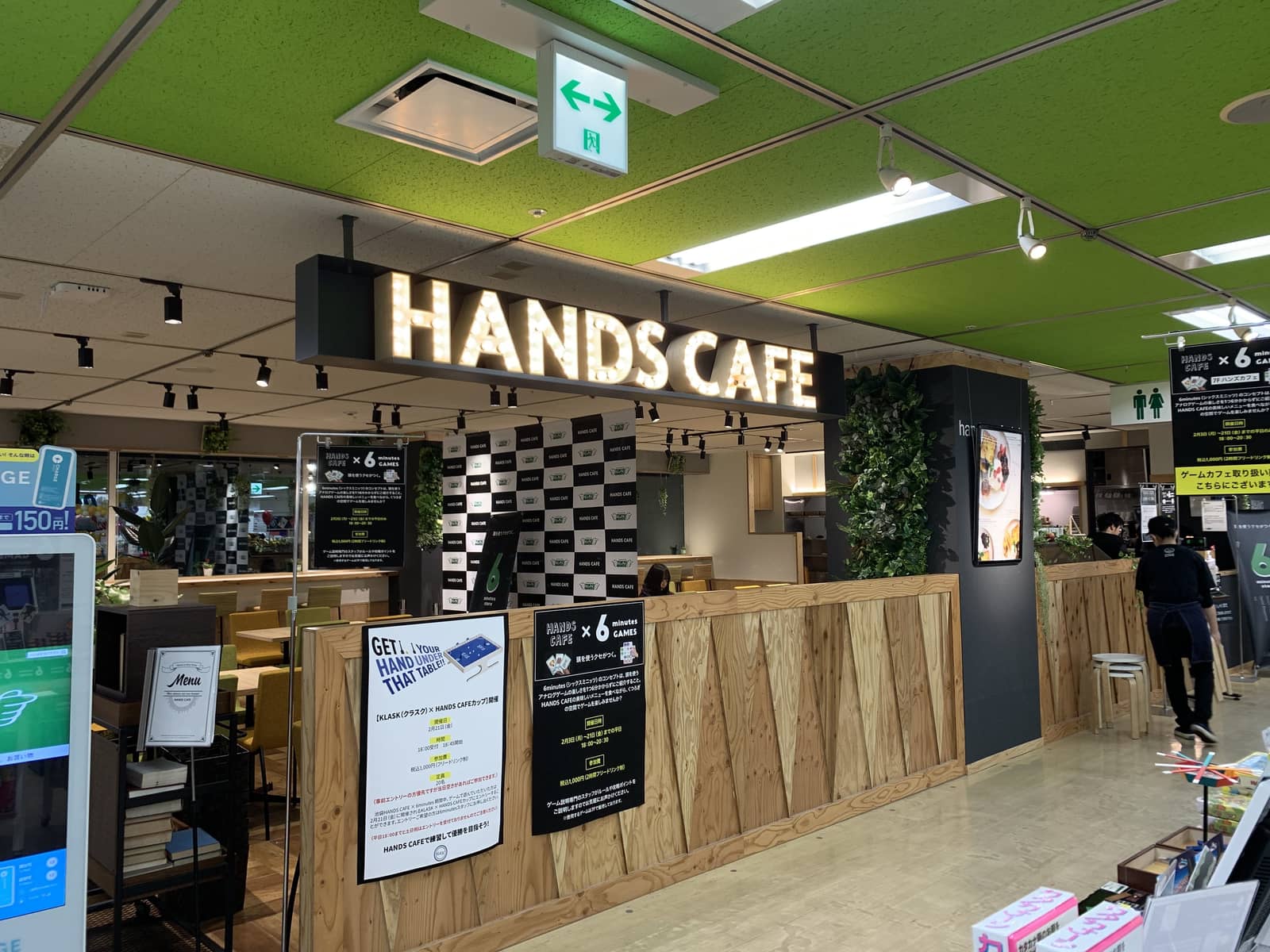 After several hours deciding what to buy in the more than seven plants of the Tokyu Hands, you are likely to be tired and hungry and need a rest. Inside Tokyu Hands you can find a coffee shop.
And we are done! What do you think? Long, right? I'm sorry, but there were so many things that I liked and that I think will be an incredible souvenir!
For more recommendations on what to buy in Japan or where to go shopping, you can check these articles too! 😉
▽ Related Articles ▽
▼ Editor's Picks ▼
---