7 Best Japanese Electronic Gadgets to Buy
Must-Buy Electronic Products in Japan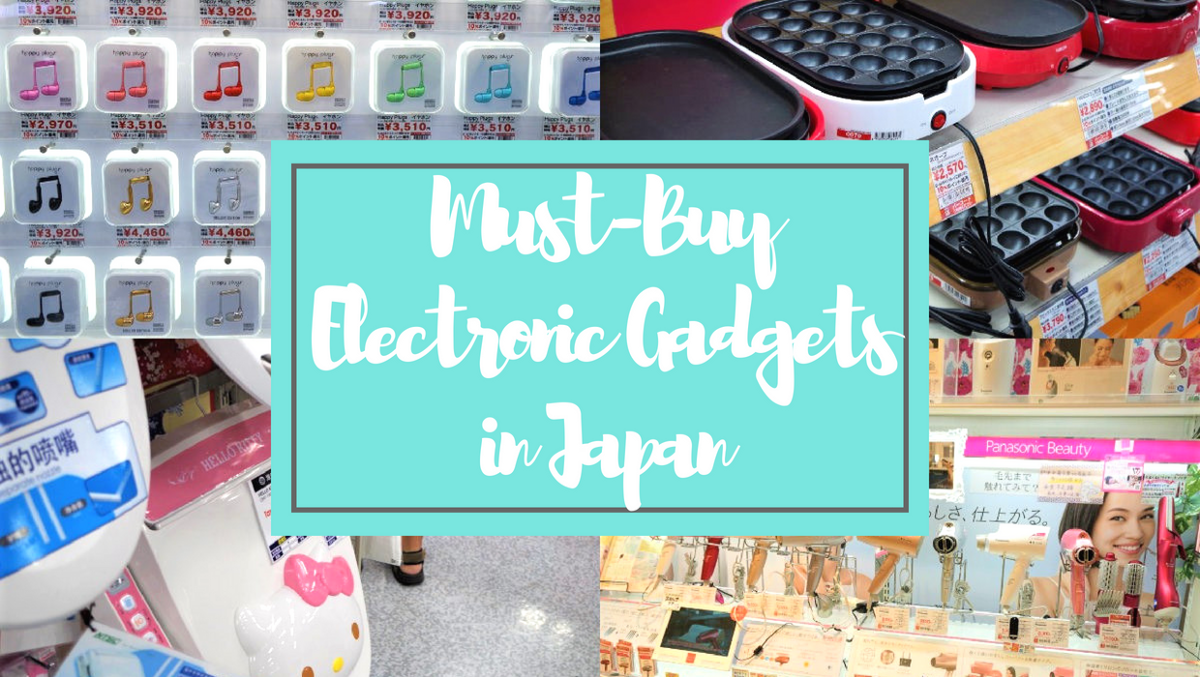 Electronic products are one of the most popular things to shop in Japan as you can find cutting edge high-tech products at cheaper prices than many other countries. But which products are really recommended to purchase? This is the list of 7 best Japanese electronic gadgets to buy! Happy shopping!🎌🛒💸

1. Camera 📷
Is there any place on earth that produces better photography gadgets than Japan?? No, I don't think so! If you are into photography or simply want to hunt to the latest camera products, do shop cameras in Japan! NIKON, CANON, FUJIFILM, SONY, PENTAX, OLYMPUS, PANASONIC…numbers of greatest brands offer their the newest camera products and accessories, and usually they are much cheaper in Japan than other countries. From top-notch DSLR cameras to handy mirrorless cameras, make your choice!
2. Rice Cooker 🍚
Because rice is the most important staple food in the country, and the quality of rice cookers in Japan has been improving year by year. With the latest Japanese technology, they are properly engineered for cooking perfect rice. As Japanese food is becoming more popular for home cooking especially among those who are fascinated by Japanese cuisine after visiting Japan. Speaking of Japanese home cooking, rice is an essential ingredients, so do rice cookers. Many models are now functioned for overseas use, and some of them have English display.
Related article:
3. Electronic Toilet Seat 🚽⚡
One thing in Japan that fascinates foreign tourists so badly that everyone go back to the home country and talk about it.. yes the "famous" toilets of Japan. The electronic toilets called Washlet (a brand name by Toto) is shared at most of Japanese households as well as public toilets. Moreover, it's becoming hugely popular in abroad as they can be installed on most of western style toilet. So if you are impressed with toilets in Japan, don't hesitate to take one home and share with your loved ones 🙂
4. Audio Devices 🎧🎶
Audio devices such as Headphones, Earphones and Speakers are also great things to shop in Japan. It's not only that the quality is good but also the variety of them are simply impressive. At one electronics store, you may find over 100 headphones/earphones in various designs and models. Audio Technica, Pioneer, JVC and YAMAHA are especially popular brands. Portable speakers are one of must-have items for travel nowadays. So if you are thinking to get one, Japan is the right place to shop. Just like headphones, there are many kinds of speakers in various price ranges.
Related article:
5. Beauty Products 💆‍♀
Beauty products are one particularly popular thing to shop in Japan among female traveller. From top-notch skincare products to affordable makeup items, a huge variety of beauty products can be found in Japan, and electronics are not exception. Panasonic Hair Dryer Nano Care Series has been a top selling beauty electronic in the world in the past decade. Facial care equipments such as facial steamers, face rollers (ReFa CARAT) and hair removal machines are also very popular.
6. Electronic Cigarette 🚬
e-cigarette (Electronic Cigarette) has been one of the biggest hits in the past years. The smokeless cigarettes are the best recent innovation for smokers and even for people around since they produce much less amount of smoke. After Philip Morris released IQOS (it's not actually a electronic cigarette but a heat-not-burn tobacco product), there are similar products on the market today such as Ploom TECH and glo.
7. Watch ⌚
When it comes to timepiece, Japan is one of the best countries to provide high precision and quality products. CASIO (fashionable and sporty designs as well as well functioned for outdoor use) and SEIKO (more elegant and sophisticated designs, suitable for formal wear) are two biggest Japanese companies selling best timepiece products for the value, followed by CITIZEN and ORIENT. Moreover, one of the best hits of recent years, smart watches are also available at many shops in various price range.
Other useful tips for shopping electronic gadgets
▶ The best place to shop electronics in Japan: Akihabara, Tokyo
▶ Japanese electronics retail stores: There are numbers of them but here are 5 biggest retail stores that can be found in all over Japan. Yodobashi Camera, Bic Camera, Yamada Denki, K's Denki, EDION, etc
▶ Duty free shopping: When you shop in Japan, make sure to claim for tax refund afterwards! Most of shops in Japan now offers tax-free counters where foreign travellers can straight away claim for the tax.
▶ Bargaining: It is actually OK to bargain at many electronics stores in Japan. This is because they are very competitive to each other and try to offer the cheapest price in the area. So don't be shy to negotiate the price with a shop staff. Whether successful or not, it is worth trying 🙂
---
Did you enjoy the list? For more shopping ideas in Tokyo, please check out these articles, too!
▽Related Articles▽
▼Editor's Picks▼
---