10 Best Things to Do in Ehime
Ehime Travel Guide: What to Do in Ehime Now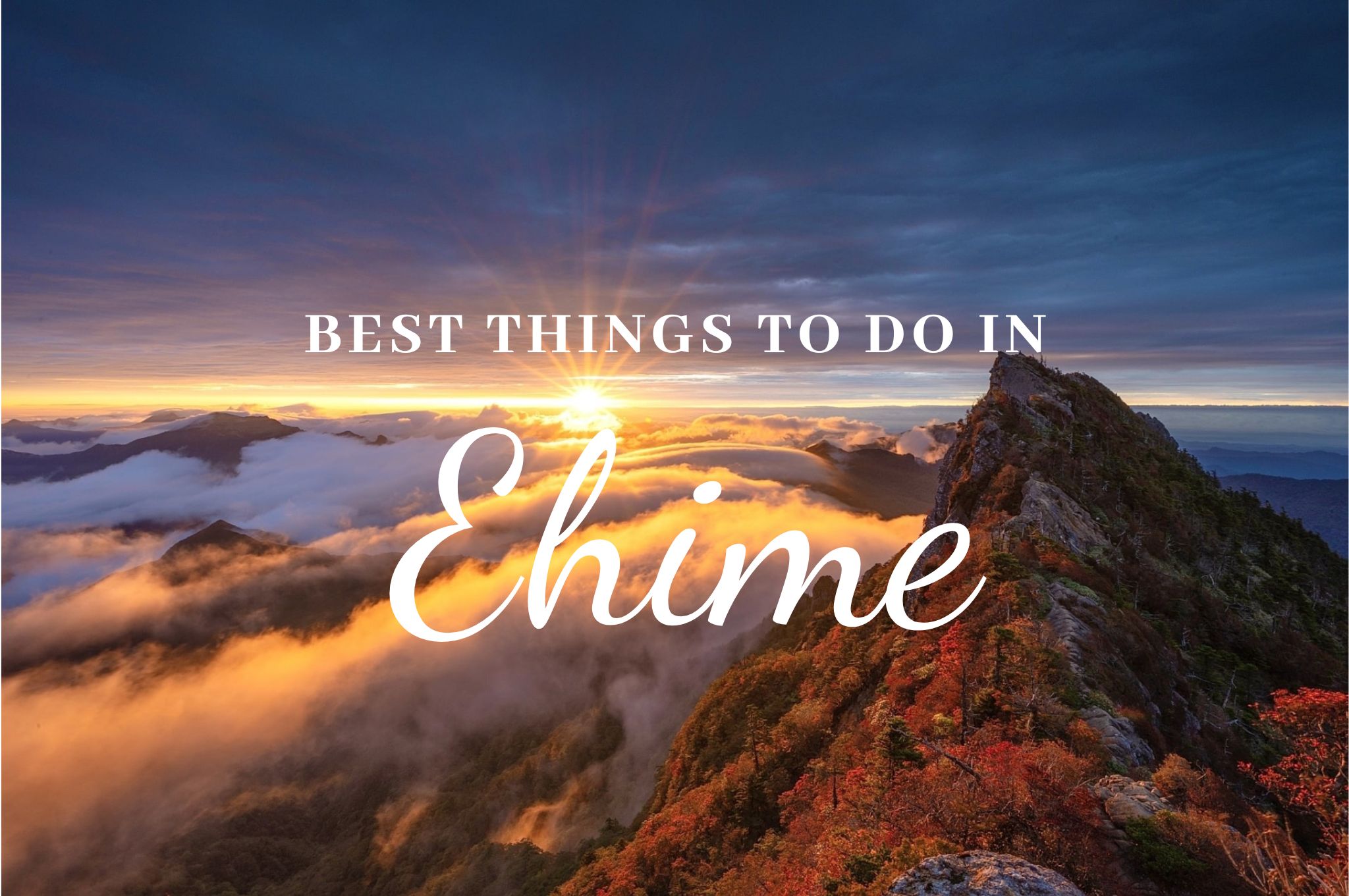 Ehime Prefecture is mostly known for being the main setting of Botchan, one of Soseki Natsume's most celebrated novels, which takes place in Matsuyama and depicts the experiences of a schoolteacher sent from Tokyo. Humorously depicted as the epitome of unsophisticated rural life, at odds with Tokyo's modern urban lifestyle, it's precisely in its remoteness where Ehime's greatest charm lies. A radically different experience compared to Japan's largest metropolis, Ehime prefecture shines through its natural beauty, its wonderfully mild sunny climate, and the peaceful beauty of the Seto Inland Sea. There's plenty to see and do, so to aid in your travel plans, this is a selection of the best things to do in Ehime!
With this Shikoku Bucket List, let's also check out the surrounding tourist attractions: Best Things to Do in Shikoku
---
1. Visit Matsuyama Castle, One of the Few Last Standing Original Castles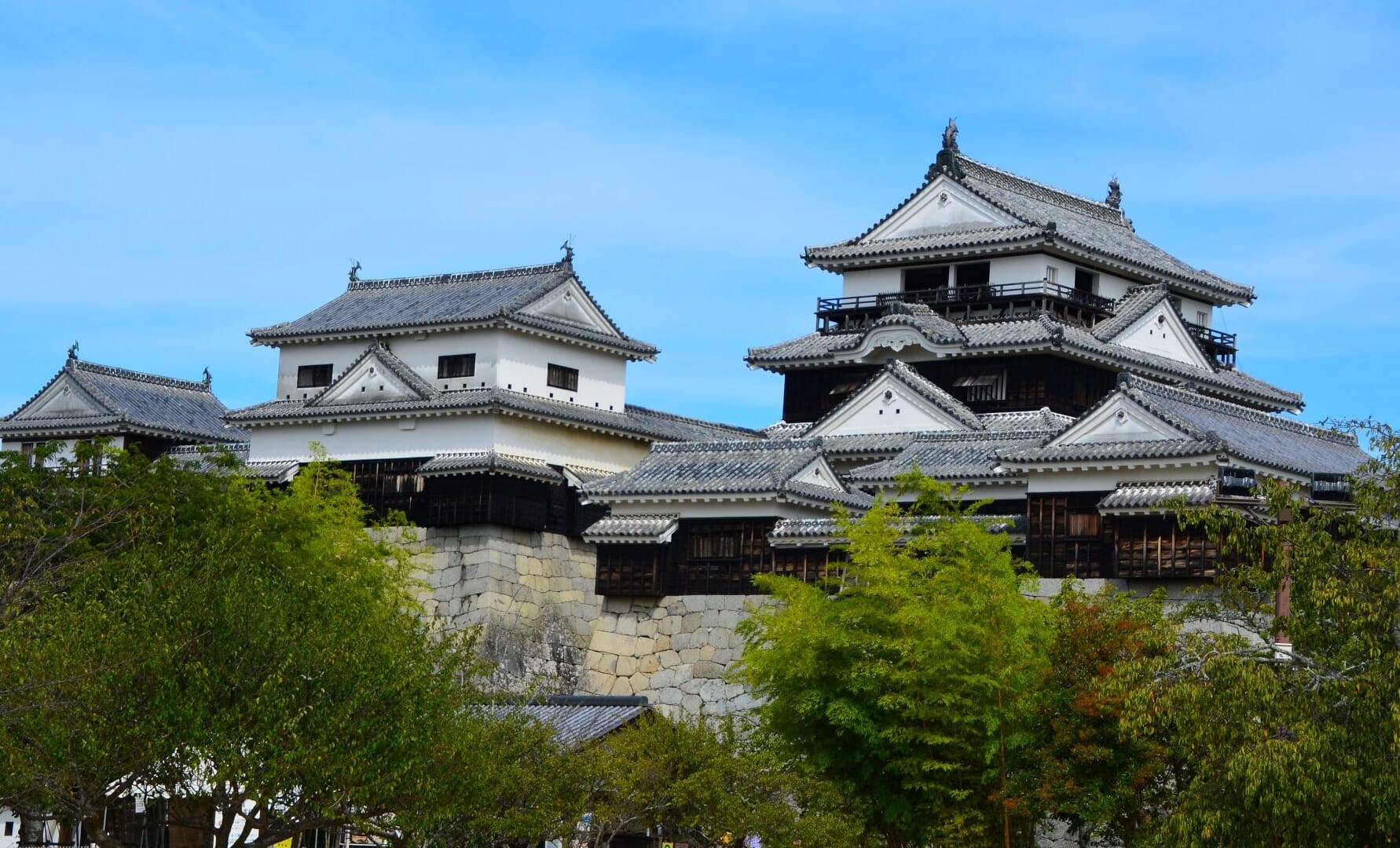 Matsuyama Castle (松山城), is one of Japan's most beautiful and well-preserved castles and one of Ehime's jewels. It still keeps the original structure of the main tower, making it one of the last remaining twelve Edo-era castles. Its location atop a hill in Matsuyama City provides stunning views of the cityscape below, and the castle museum is always a good starting point to learn about local history. A popular attraction any time of the year, the castle really shines during spring, when it becomes one of the city's prime spots for cherry blossom viewing.
2. Submerge Yourself in the Fantasy World of Spirited Away at Dogo Onsen Honkan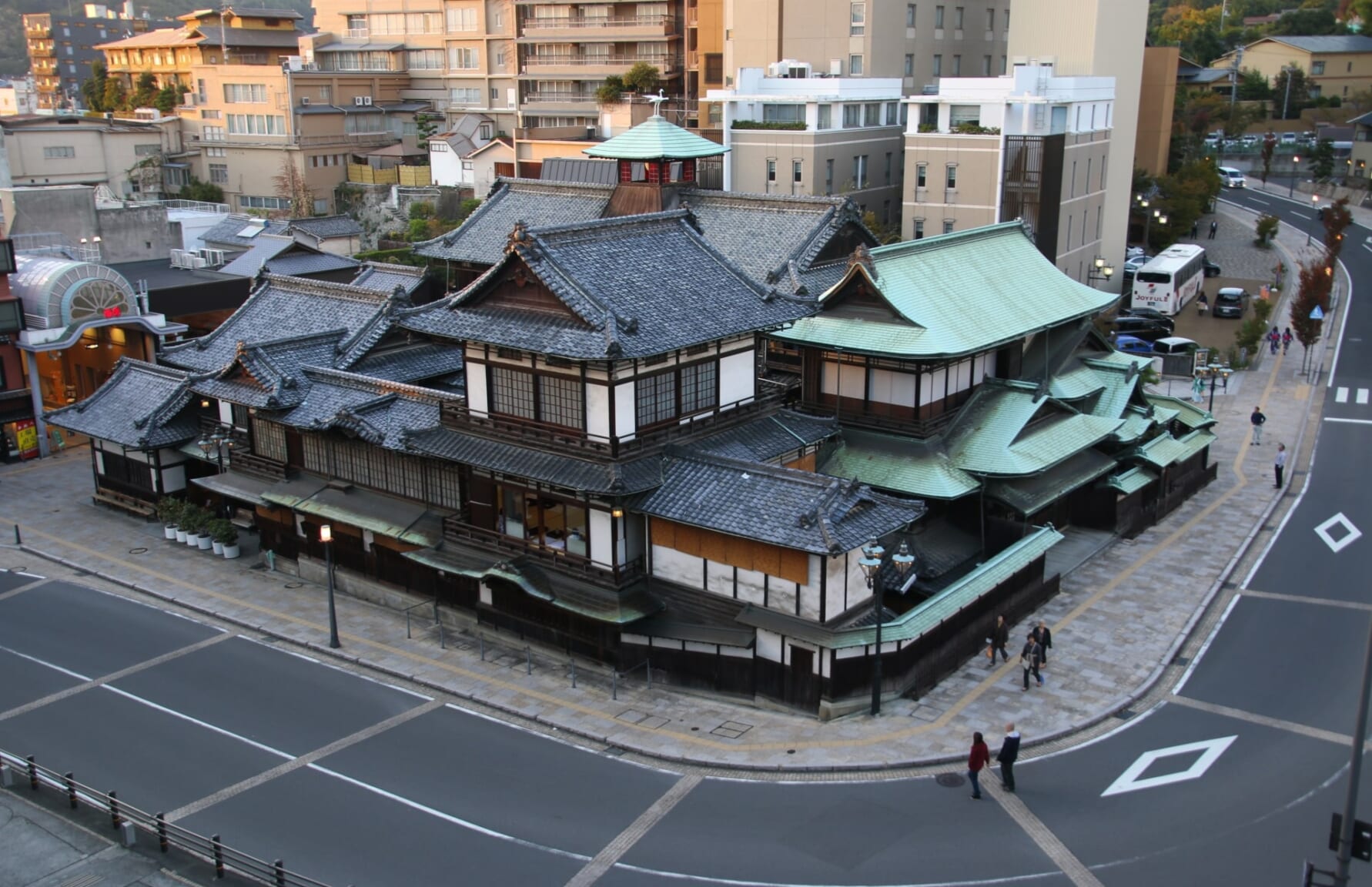 Even if you haven't seen Spirited Away, one of Ghibli's most famous masterpieces, you probably have heard about it. Turns out, one of the main inspirations for one of the movie's most iconic places is Dogo Onsen Honkan (道後温泉本館). This bathhouse is particularly notorious for being the oldest in Japan, with a history tracing back approximately 3,000 years. The current building is from 1892 and holds the honor of being the first onsen in Japan to be designated as an Important Cultural Property in 1994.
3. Ride Around Matsuyama City Through the Eyes of Natsume Soseki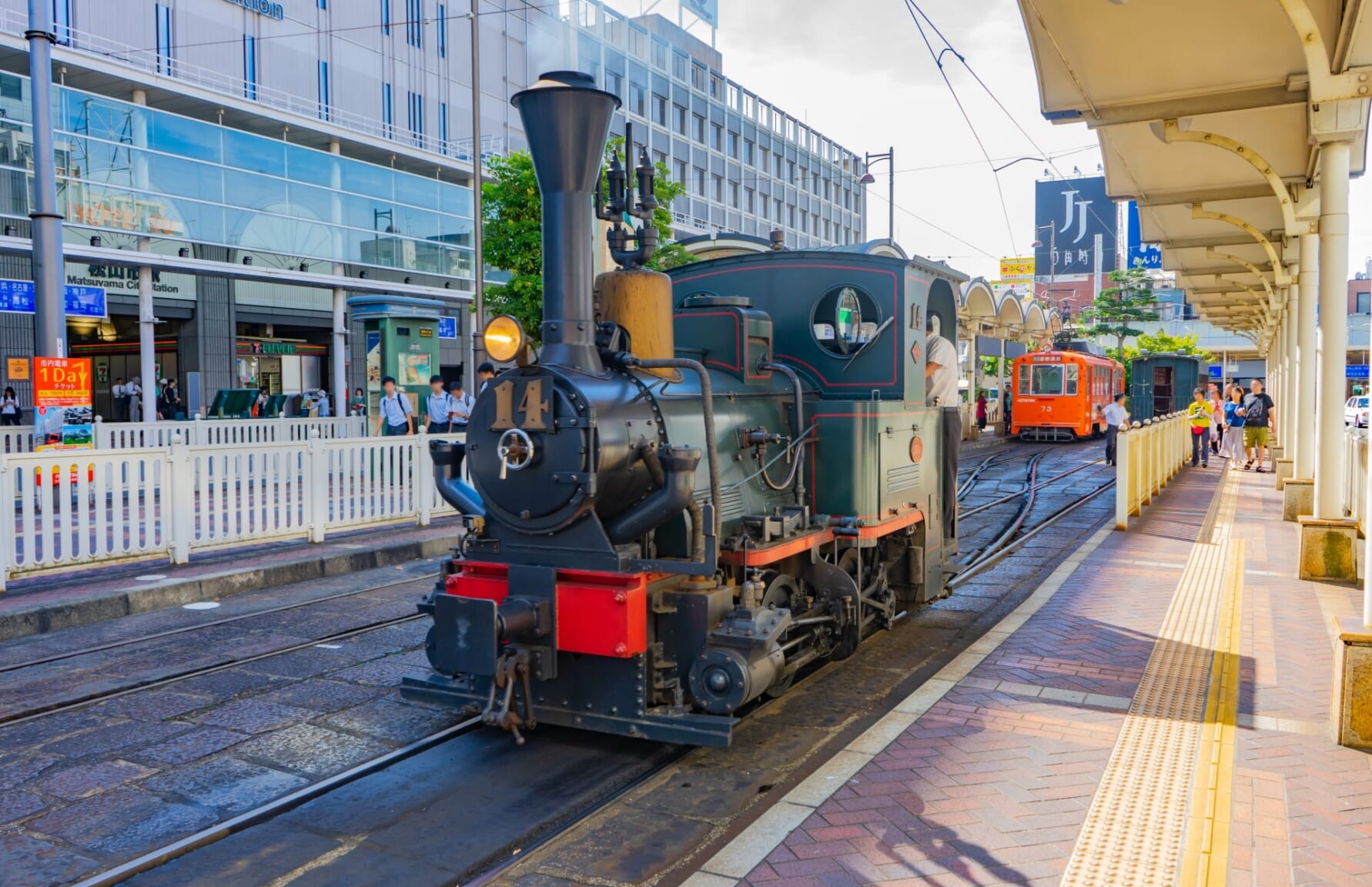 Dogo Onsen's historical notoriety was already reflected in Botchan's pages when it was originally published in 1906. In turn, the city owes its fame partially to the acclaimed novelist, and a few homages can be found scattered around Dogo Onsen. The best example is the Botchan Train (坊っちゃん列車), a restored version of the original steam locomotive that used to operate during the Meiji Era, which currently runs on two lines and covers some of the main spots in the city. Another replica is available in the nearby Botchan Train Museum (坊っちゃん列車ミュージアム). There's also the Botchan Karakuri Clock (坊っちゃんカラクリ時計), a mechanical clock in front of Dogo Onsen station which features a small performance with moving dolls based on the novel's characters every hour from 8:00 to 22:00. In front of Dogo Onsen Honkan, a square-like space is affectionately called Botchan Square, where there's a Meiji Era rickshaw on display and Japanese confectionery shop called Ichiroku Tart (一六タルト), where Botchan-themed sweets are on sale.
4. Pray in Front of a Millenarian Sacred Tree at Oyamazumi Shrine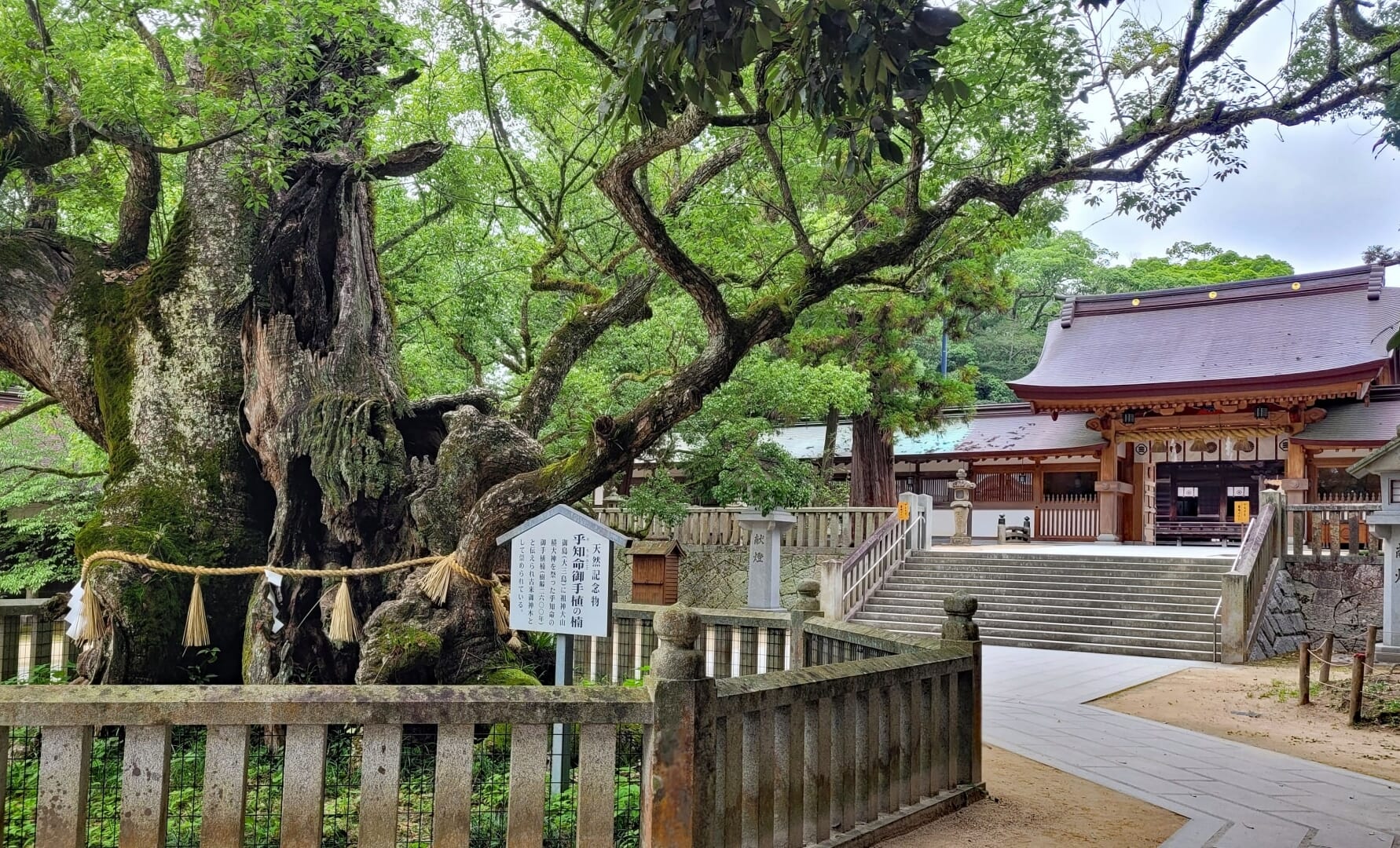 Oyamazumi Shrine (大山祇神社) in Imabari City is the prefecture's oldest shrine, dedicated to Oyamatsumi, considered a deity of the mountains, the sea, and the war and one of the most important mythological deities in Japan, as the brother of Amaterasu, the sun goddess. Because of this, there's around 10,000 affiliated shrines in Japan, placing Oyamazumi Shrine among the country's most important shrines. If that alone isn't worth a visit, the following will surely do: the shrine houses a large kusunoki tree, considered a sacred tree in Japan. This also happens to be the country's oldest kusunoki, over 2,600 years old.
5. Travel Back in Time Strolling Around Uchiko Town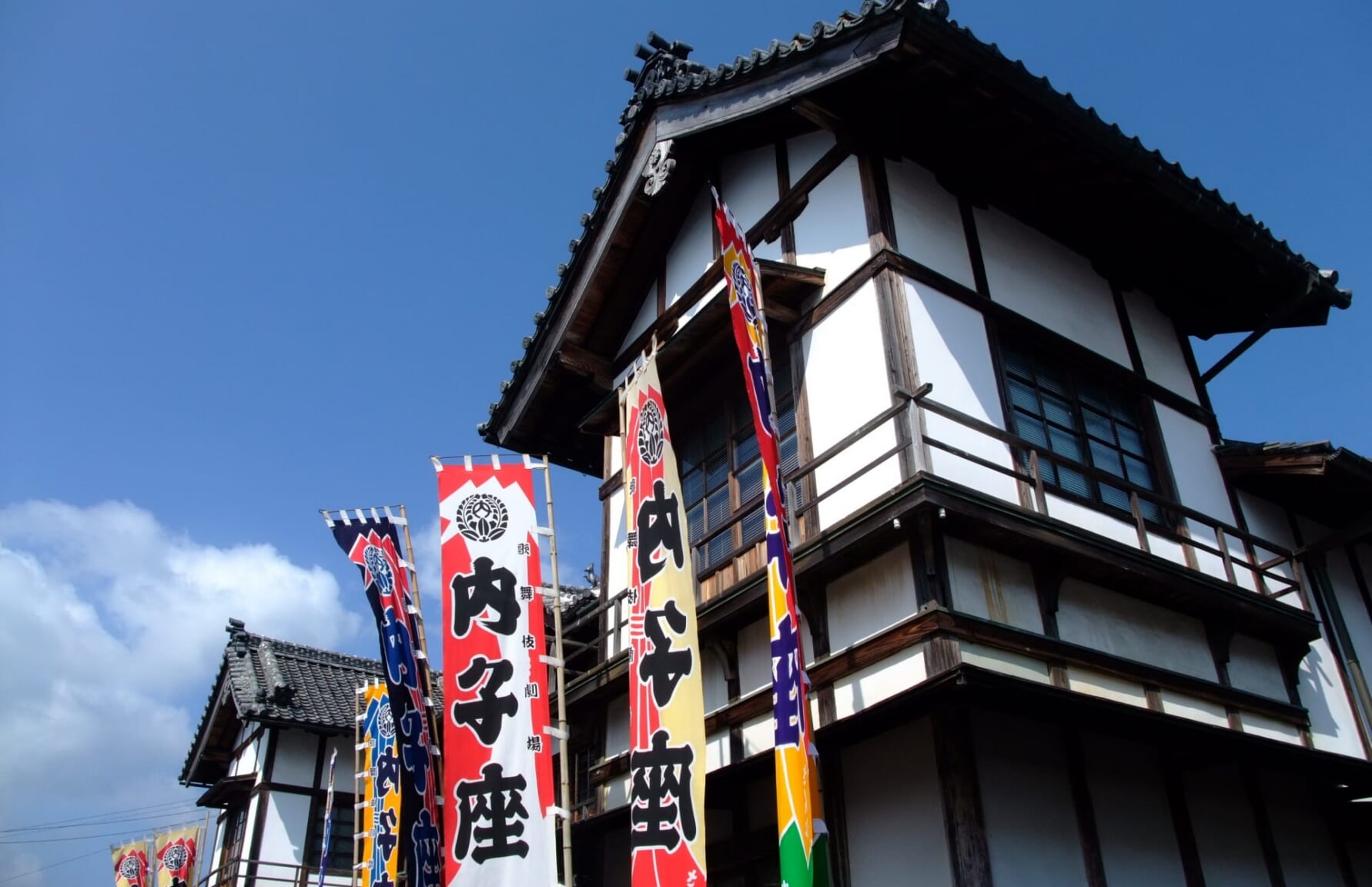 Uchiko Town (内子町) south of Matsuyama City, became a very prosperous city around the beginning of the Meiji era, thanks to silk, washi paper, and wax production. During its heyday, many wealthy merchants lived here, and so, many of the constructions from around the time are great samples of magnificent Meiji-Taisho-era buildings. The economic activity started to decline after the war but fortunately, lots of buildings were preserved, so a relaxed walk around the neighborhood, particularly the Yokaichi and Gokoku districts, officially designated as Preservation Districts, is a great way to feel like a time traveler.
6. Have an Episode of Cute Overload in Aoshima, One of Japan's Cat Islands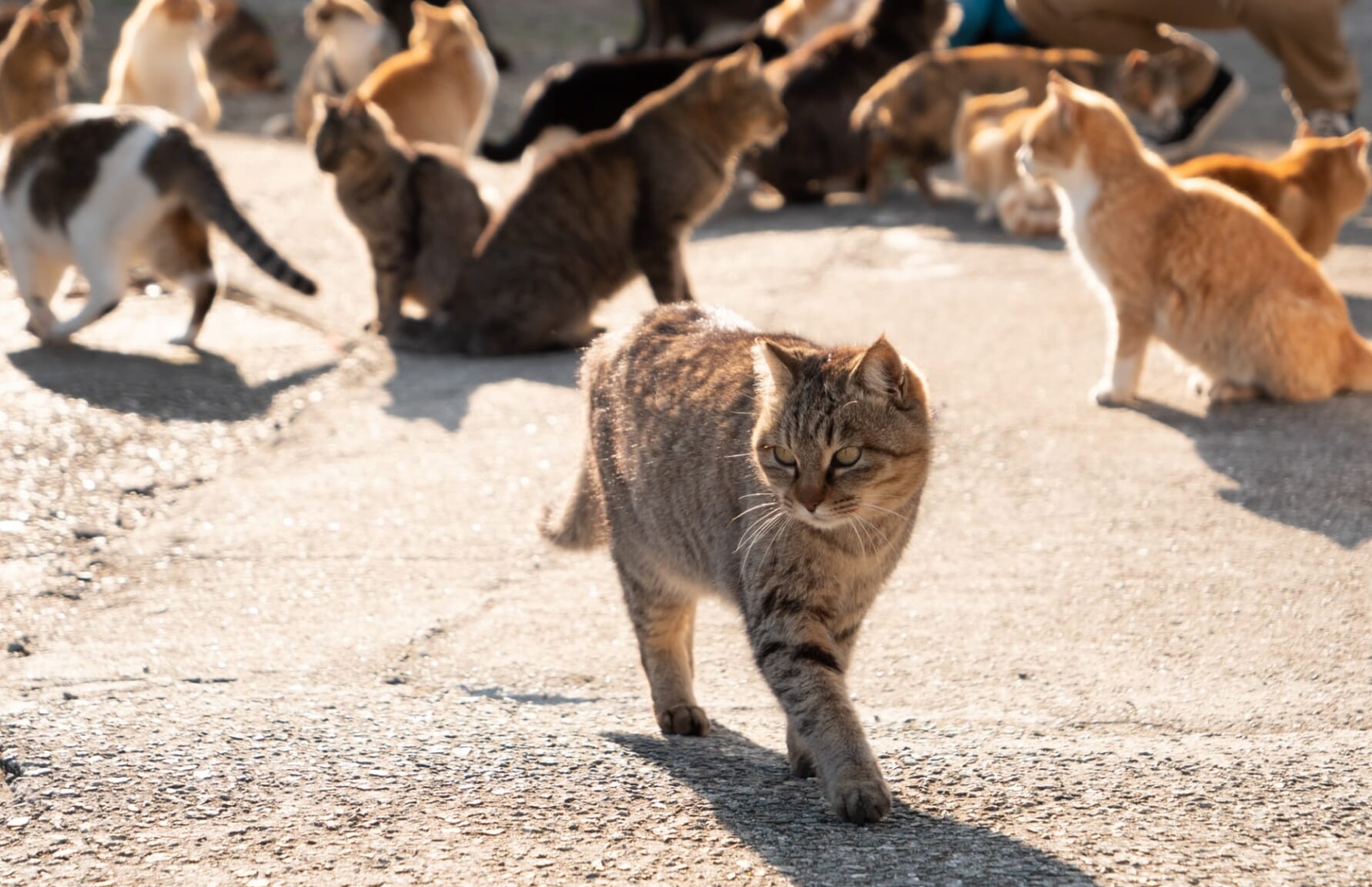 Aoshima (青島), a teeny-tiny island 13 Km off the coast of Ozu City, is probably Japan's most famous Cat Island, with an estimated feline population of over 200 dwellers, versus around just 9 human residents (and shrinking, as most of them are already of old age). What started as a way for local merchants and fishermen to fend off rodents, quickly grew out of control, turning the island into a cat (and cat lover's) paradise and then into an international sensation when the Internet discovered it. Visitors must bear in mind, however, this is not a tourist place in the traditional sense. The Island is reachable by ferry from the port near Iyo-Nagahama Starion but other than that, there's no tourist infrastructure. No taxis, lodgings, or restaurants. Not even vending machines. Visitors should also avoid feeding the cats since residents take care of them themselves. If you're ok with these conditions, by all means, please visit!
7. Enjoy the Sea and the Sunset at the Famous Shimonada Station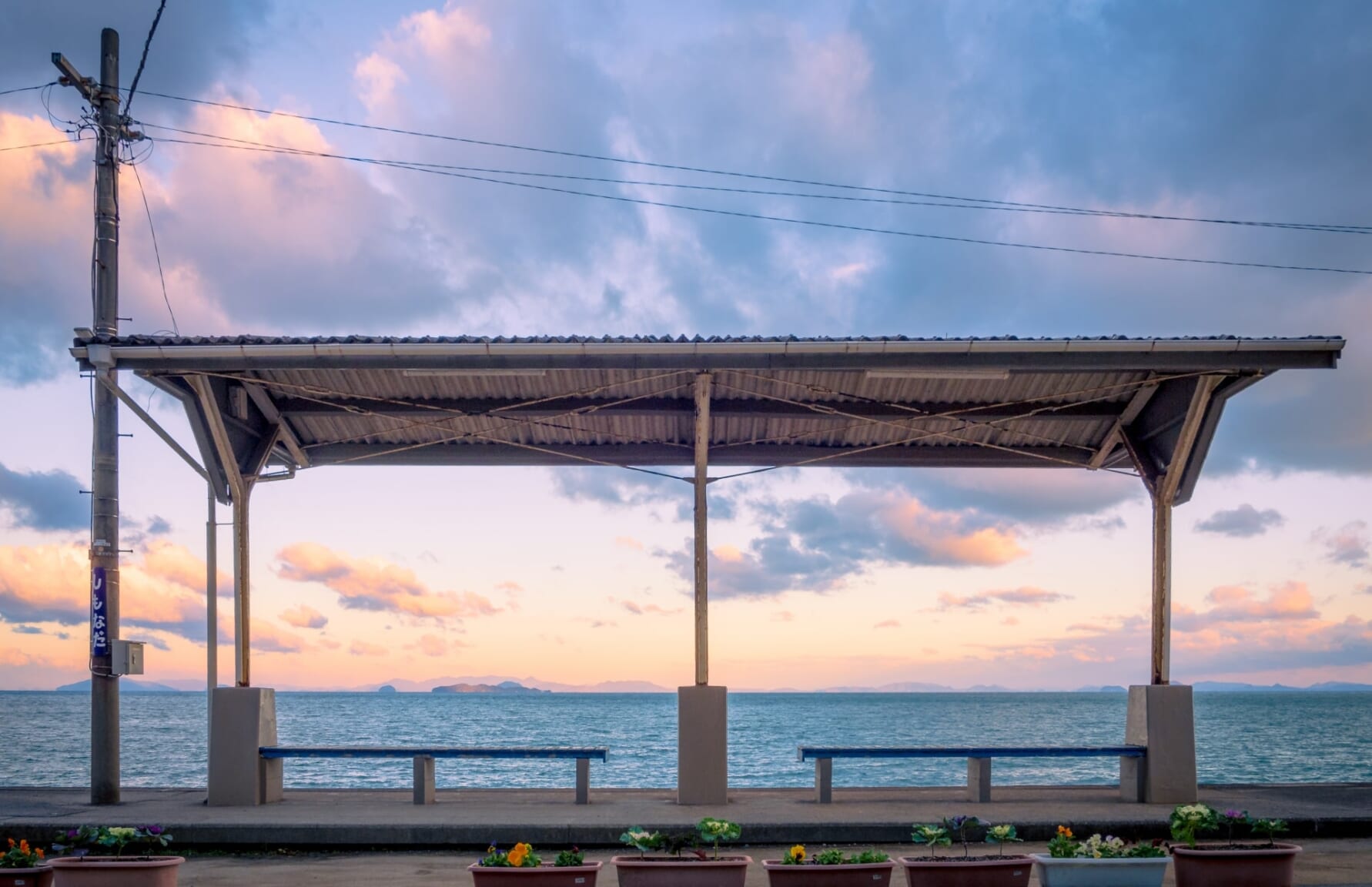 Few would imagine when stopping at the small Shimonada Station (下灘駅), that this in-the-middle-of-nowhere spot is in fact a very popular location where countless advertising spots, movies, and tv drama scenes, have taken place. Popularly known as the train station closest to the sea, with truly wonderful views of the Iyo-Nada Sea, it started to gain notoriety after the year 2000 when it was used as the image of JR Seishun 18 Kippu Pass, turning it into a must-see spot for train and remote location enthusiasts alike as a sea and sunset gazing spot. Furthermore, since 1986, every year in September, a special concert is held on the train platform overlooking the sea.
8. Hike Mount Ishizuchi, the Highest Mountain in Western Japan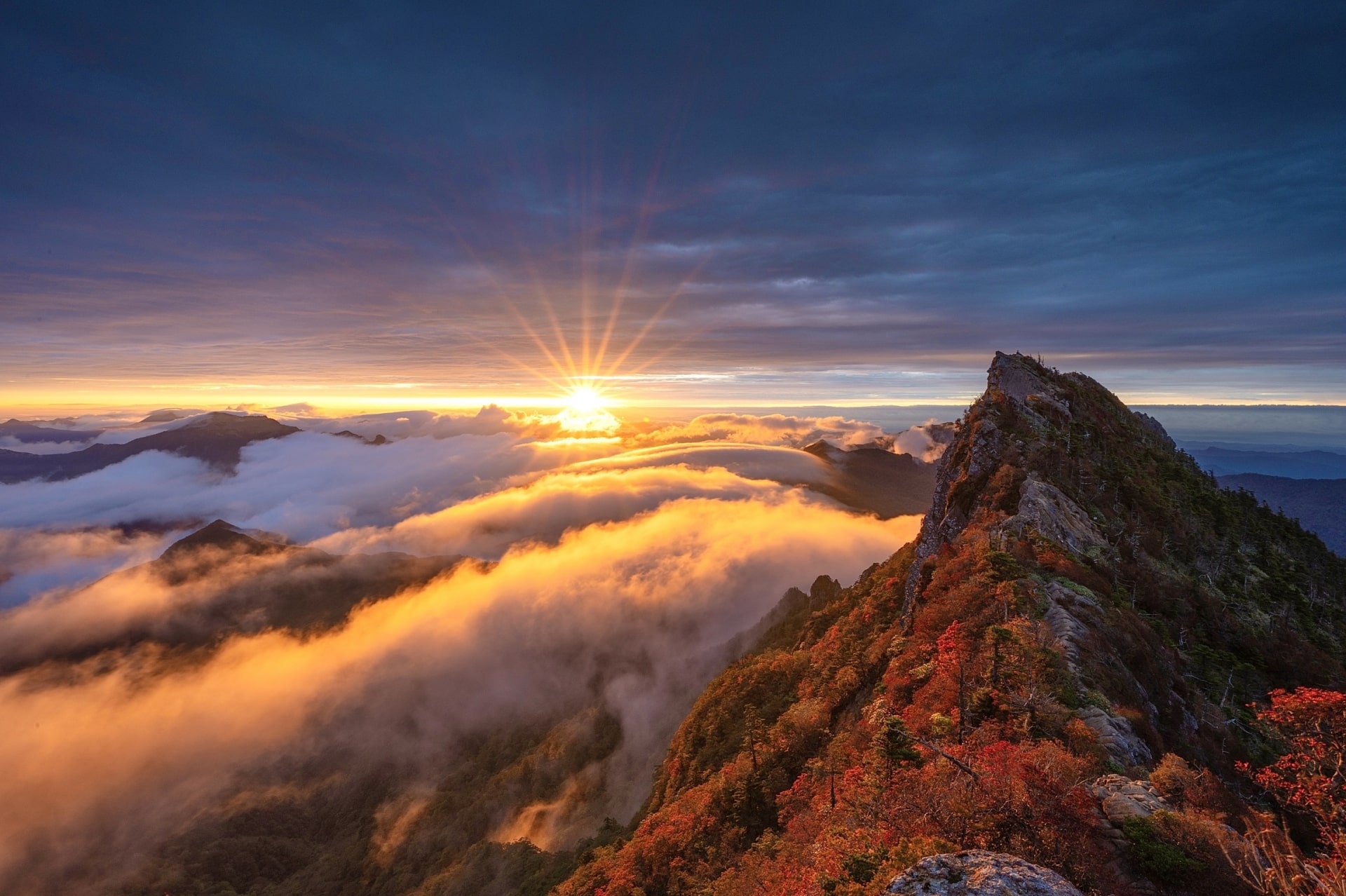 Mount Ishizuchi (石鎚山), between Saijo City and Kumakogen Town in the western side of the Shikoku mountain range, is the highest peak in Western Japan with an altitude of 1,980m. It's one of the Seven Sacred Mountains of Japan, in addition to being part of the 100 Famous Japanese Mountains as well as the 100 Landscapes of Japan. In short: yes, this spot is an absolute "must". There's also a ropeway up to 1,300m, so most people just hike from that point, which takes about 3h from Joju Station (6h round trip from the ropeway).
9. Refresh Yourself by Picking Citrus Fruits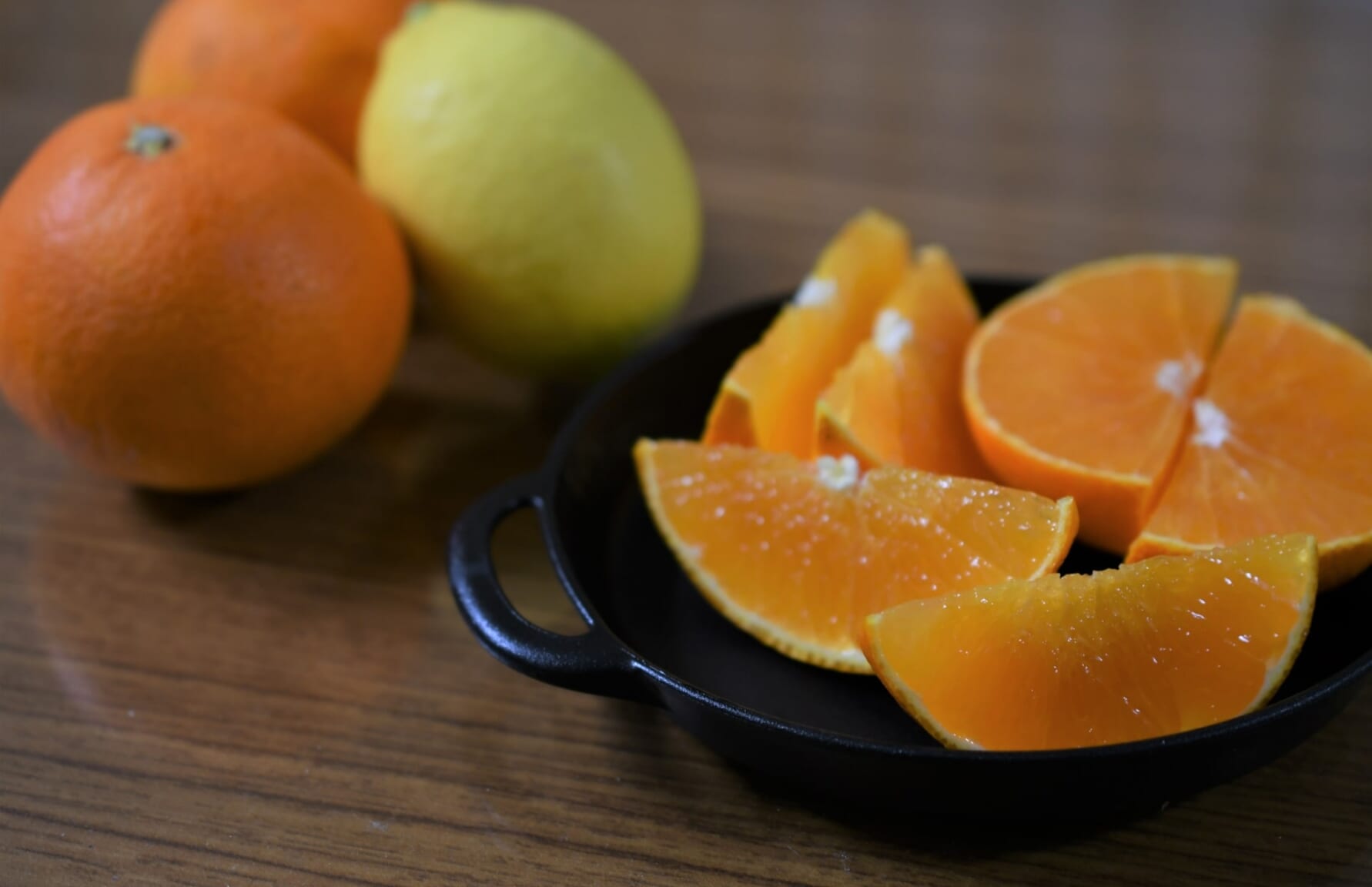 Ehime Prefecture, sometimes nicknamed as the citrus kingdom, is the leading citrus producer in Japan, with tons of different varieties that can be enjoyed all year round depending on the season, including some varieties that are exclusive to Ehime, such as the Beni Madonna Orange, also called Jelly Orange because of its sweet, juicy and soft texture. This is why fruit picking is a popular activity in many farms across the prefecture, and souvenir shops also have a lot of derived sweets, drinks, and snacks.
▶ Matsuyama City official website with information about citrus fruits in Ehime: https://en.matsuyama-sightseeing.com/topics/10-2/
10. Try All The Different Sea Bream Varieties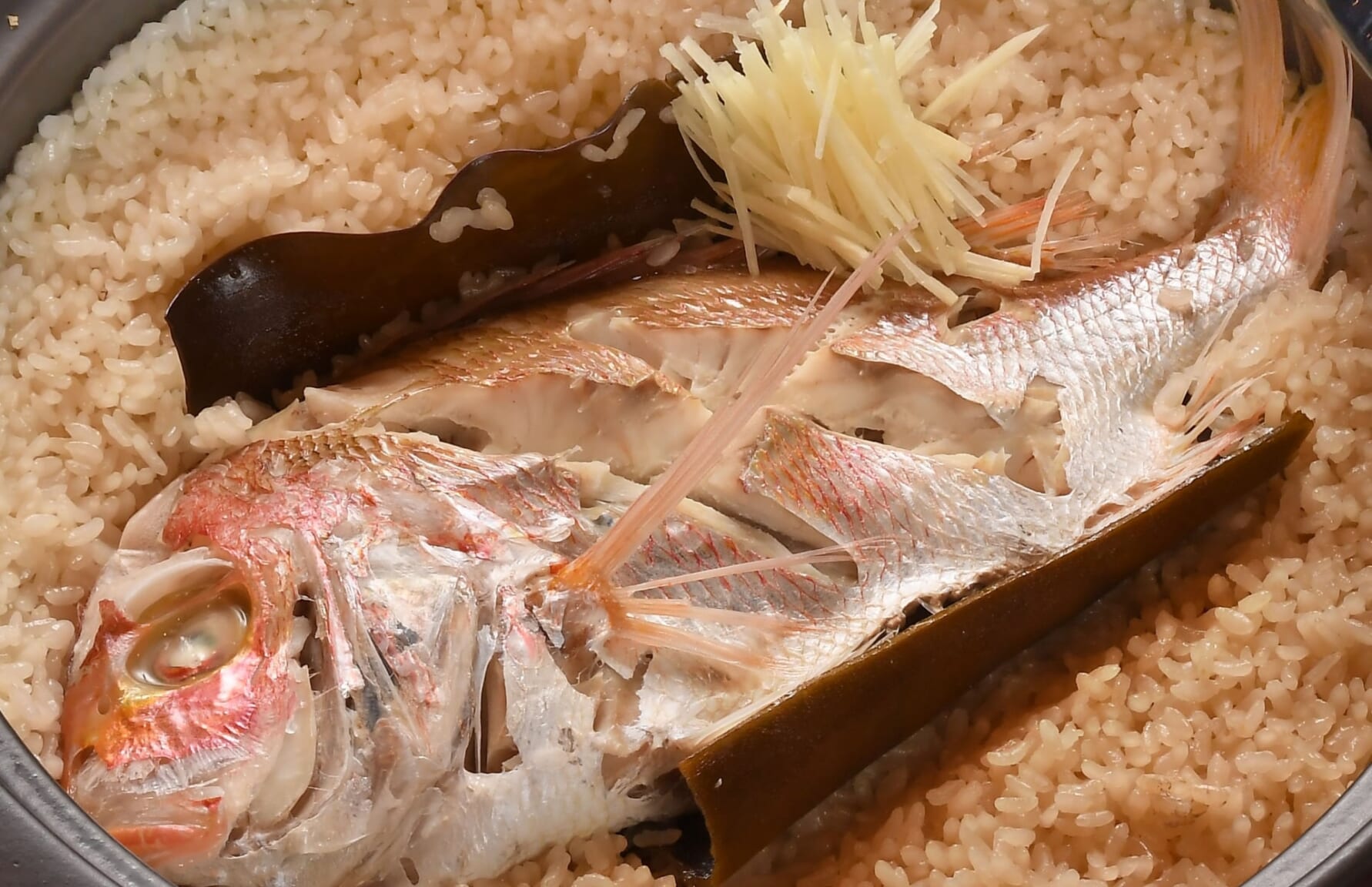 Sea bream (鯛) is one of the main fishing products in Ehime, and so this fish has been adopted as Ehime's own signature dish through different varieties depending on the area. The most popular is Taimeshi (鯛めし), which simply consists of an entire sea bream on top of a bowl of rice, which may be completely cooked along with the rice directly in the rice cooker or slowly cooked in an earthenware pot. Other variations include marinating the raw sea bream with special seasoning before adding it to the rice, or breaded and fried like katsudon. There's even a special seabream variety fed with mandarin orange peels for an even more special flavor from Ehime!
My Top Pick From This Bucket List
Ok, I know I'm supposed to choose the best one but just becaues of proximity and convenience, this time I can actually pick 3 on this list! Dogo Onsen, Matsuyama Castle and Botchan Train Museum (and all Botchan related items) are so close from each other and share an equally iconic status for multiple cultural and historical reasons, that any visitor in Matsuyama cannot miss to do at least all three of them!
---
Ehime Prefecture is an exciting look at an authentic countryside lifestyle, with fantastic weather and full of natural charms that make it really worth visiting. In contrast to the hustle and bustle of larger cities, Ehime invites you to walk on the slow side of life and appreciate some of the simpler pleasures. There's a lot of excitement awaiting you outside of the usual touristic circuits in Japan!
▽Check out the attractions you should experience across Japan with this Japan Bucket List!▽
▽Here are more things to do in other Shikoku's prefectures!▽
▶︎10 Best Things to Do in Kochi
▶︎10 Best Things to Do in Tokushima
▶︎10 Best Things to Do in Kagawa
▽Subscribe to our free news magazine!▽

For more information about traveling in Japan, check these articles below, too!
▽Related Articles▽
▼Editor's Picks▼
---