Top 10 Traditional Japanese Festivals 2023
From gigantic snow sculptures to a lively dance competition, 10 Best Japan's greatest festivals 2023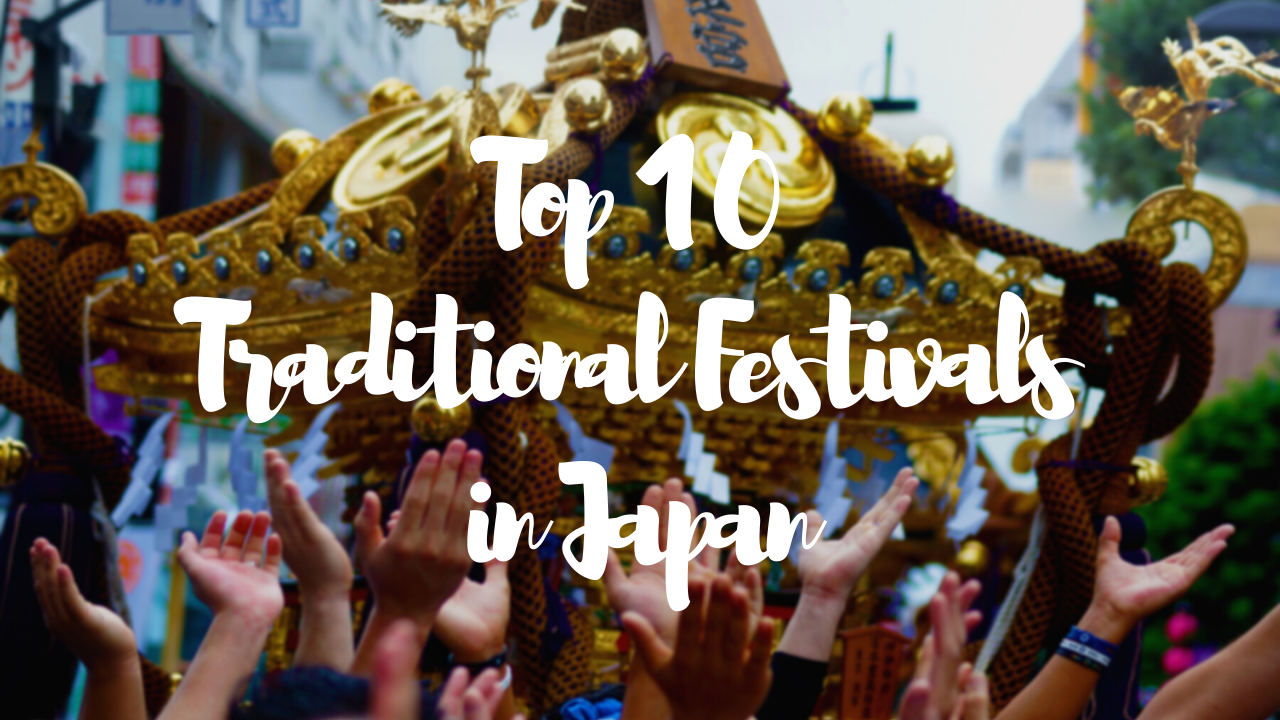 Something very typical in Japan are festivals (matsuri in Japanese). They're especially popular in summer, but in fact there're festivals almost all year round, from huge festivals with crowds of people to smaller and more modest festivals with only the neighbors of the neighborhood but with a lot of charm as well.
The matsuri have their origin in Japanese Shintoism, and were a way to honor the Gods. When Buddhism arrived in Japan, it mixed with Shintoism and they also adopted these festivals. This is why most festivals in Japan are sponsored by some shrine or temple, and even the smallest neighborhood shrines have their own matsuri. But there're also others that are sponsored by the local government or some other agency.
With so many festivals it's hard to decide which one is better, but here is my list of the 10 best traditional festivals in Japan!
1. Nagasaki Lantern Festival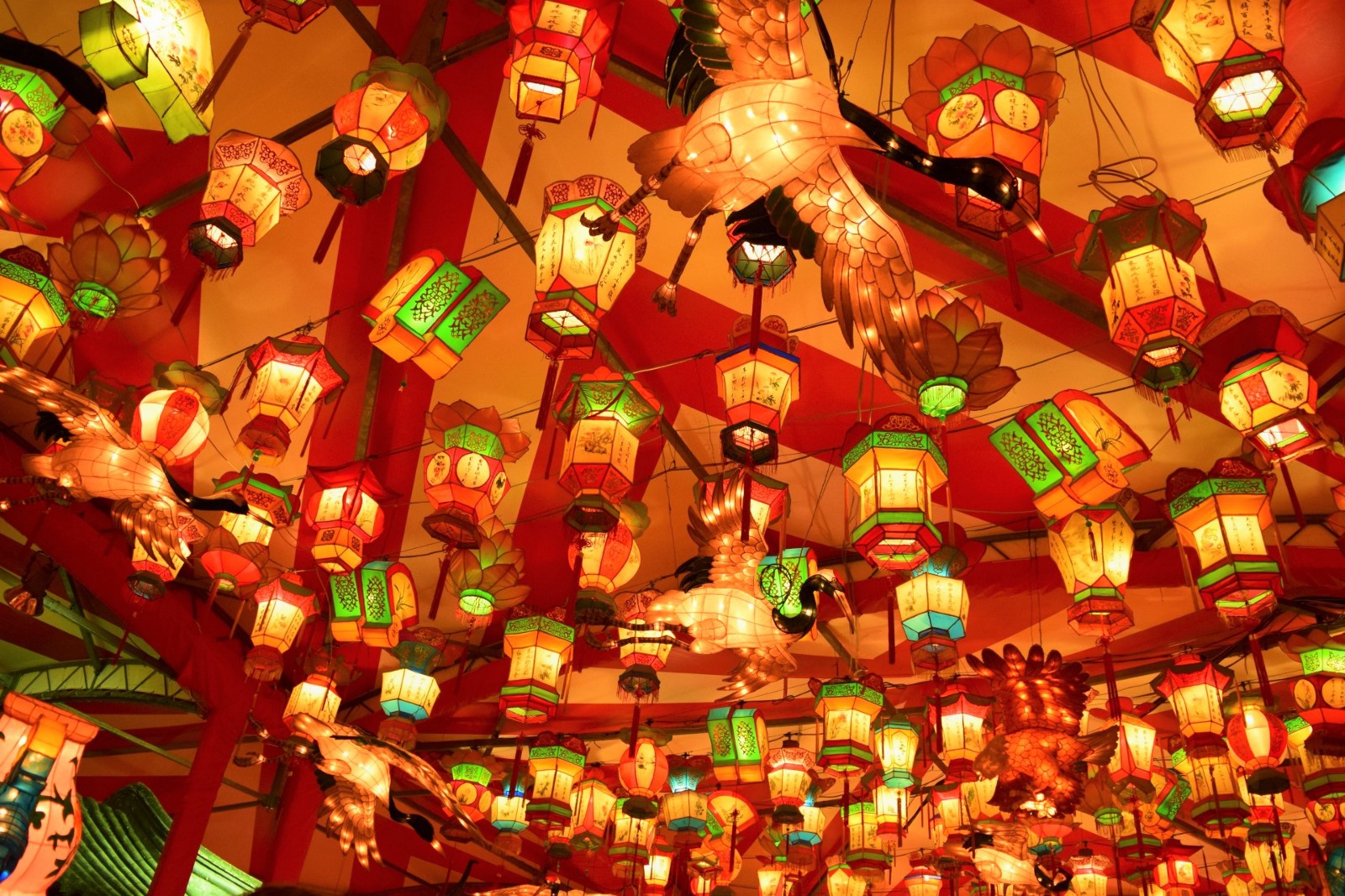 The festival calendar start with biggest lantern festival in Japan, the Nagasaki Lantern Festival (長崎ランタンフェスティバル) that takes place every year in Nagasaki City. Over 15.000 colourful lanterns and lights adorn the entire city for 15 days to celebrate the Chinese New Year, that according with the Lunar calendar is from 25 January to 8 February 2020. One of the longest festivals in Japan!
This festival was started by Chinese residents in Nagasaki city's Chinatown, one of three biggest Chinatowns in Japan along with Yokohama and Kobe. In 1994, it became an official annual event of the city.
Date: 22 January to 5 February 2023
Official Website: https://travel.at-nagasaki.jp/en/what-to-see/62/
More info: Nagasaki Lantern Festival
2. Yuki Matsuri (Sapporo)
Hokkaido, the northernmost area of Japan, is known to be a place with abundant snow, especially in winter. And in Sapporo they decided to use that snow to build snow sculptures! Sapporo Yuki Matsuri (さっぽろ雪まつり) started with six sculptures made by local high school students in the year 1950, and now it has become one of the biggest snow and ice festivals in the world that attracts more than two million visitors every year and an international snow sculpture contest.
In addition to snow sculptures, the festival includes other activities such as food, ice bars, concerts and my favorites: snowball fights and snow slides!!! And at night they illuminate the snow and ice sculptures, making them even more beautiful and creating a magical atmosphere. Put on your warm clothes and don't miss this festival 😉
Date: 4 to 11 February 2023
Official Website: https://www.snowfes.com/english/
More info: Sapporo Snow Festival
3. Kanda Matsuri (Tokyo)
As the capital of Japan for years, it's normal for Tokyo to have some of the most important temples and shrines of the country and therefore some of the biggest festivals. As in the case of the Kanda Festival (神田祭), one of the greatest festivals in Tokyo and known as one of "Tokyo's big three festivals"which is held at Kanda Myojin Shrine, Tokyo's oldest and most powerful shrine.
When Tokuwaga Ieyasu moved the capital of Kyoto to Edo (Tokyo) Kanda became a key central district of the city. It's said that this festival started as a celebration for the victory of Tokugawa in the Battle of Sekigahara, and continue as a demonstration of prosperity for the new regime (shogunate). Over time, it has become a festival to bless and desire prosperity for people living in the neighborhood.
The main parade with over 300 people carrying 100 Mikoshi (portable shrines), musicians, dancers and even priests on horseback go through the Kanda district, Nihonbashi and Akihabara and returns to the shrine.
Date: 12 to 14 May, 2023
Official Website: https://www.kandamyoujin.or.jp/kandamatsuri/
4. Sanja Matsuri (Tokyo)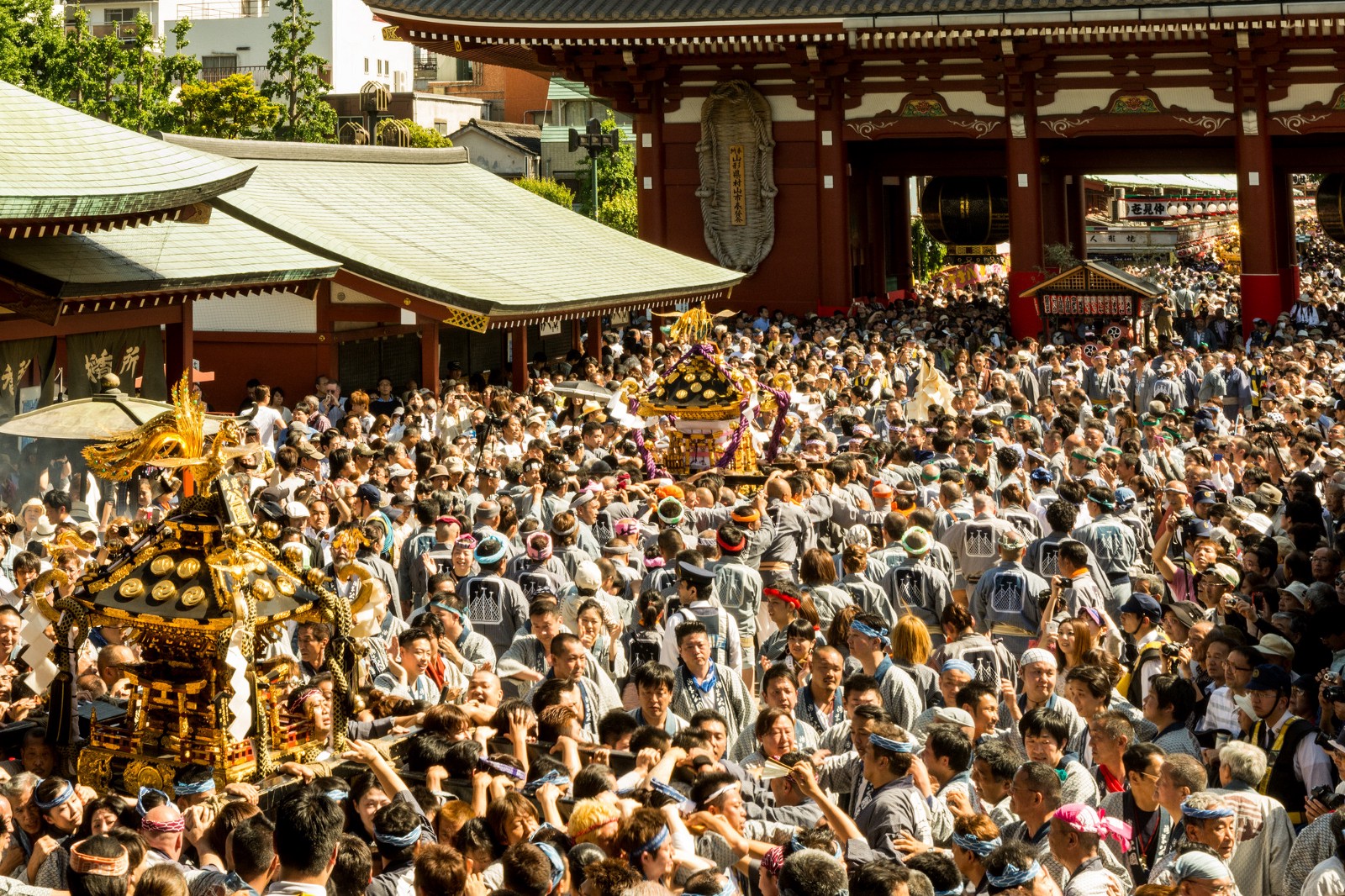 Sanja Festival (三社祭) or Asakusa Sanja Festival is other of the three great Shinto festivals in Tokyo held annually for 3 days on the third weekend of May in Asakusa Shrine. Is considered for some people as one of the biggest and wildest festival in Tokyo, with over 2 million visitors in 3 days.
The festival is held in honor of Hinokuma Hamanari, Hinokuma Takenari and Hajino Nakatomo, the three men who founded Senso-ji temple. Senso-ji temple (浅草寺) is a Buddhist temple located in Asakusa and it's the oldest temple in Tokyo, and dates back to 645, the date on which was completed. Legend has it that in March of the year 628, while fishing on the Sumida river the Hinokuma Hamanari and Takenari brothers captured in their nets a statue of Kannon, the goddess of mercy. And although they put the statue back in the river, always returned to them, so they decided to stay and returning to the village they showed one of the chiefs and built a temple to house the statue.
Date: Mid May 2023 (still to be confirmed)
Website: http://www.asakusajinja.jp/english/
More info: Sanja Matsuri: Tokyo's Biggest Festival
5. Gion Matsuri (Kyoto)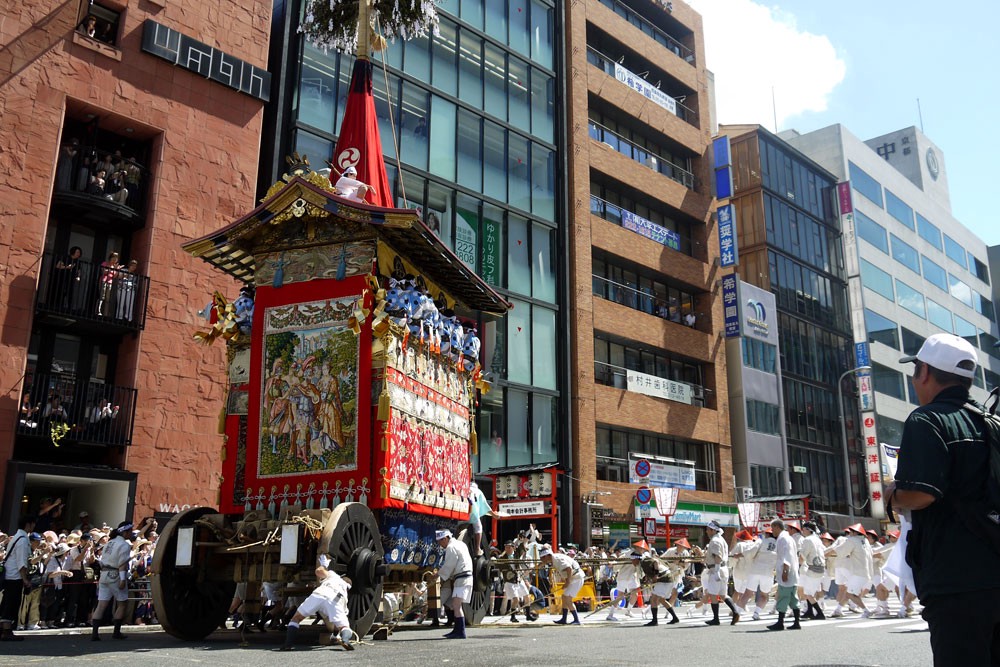 One of Japan's most famous festivals even internationally is the Kyoto Gion Matsuri (祇園祭), one of three greatest festivals in Japan. It's also one of the oldest matsuri in the country, dating back to 869. That year there was a plague that spread throughout Japan, and the Gion Matsuri was originally a religious ritual to get rid of that plague.
This festival, held for over 1,000 years in Yasaka Shrine, lasts a whole month being probably the longest festival in Japan. The most famous of Gion Matsuri are the grand processions of floats, called "Yamaboko Junko", that take place on 17th (Sakimatsuri) and 24th (Atomatsuri) July on Oike and Shijo Kawaramachi streets.
Date: July 2023
Official Website: http://www.yasaka-jinja.or.jp/event/gion.html
6. Tenjin Matsuri (Osaka)

Osaka, known as the second capital of Japan, and one of the most lively and fun cities in the country couldn't be left behind in a festival competition. Tenjin Festival (天神祭), with more than 1,000 years of history,is another one of Japan's three greatest festivals, held at Osaka Tenmangu Shrine in the heart of Osaka City.
The festival have the usual land procession with musical performance and dance through the city that we can see in almost every festival. But the best and most interesting part is the procession with boats on the Okawa River and massive fireworks for grand finale that is held on the second day (25th). People from Osaka are well-know in Japan for being fun and friendly, and the city is popular for his delicious food. So fun and good food is guaranteed at this festival!
Date: 24-25 July (still to be confirmed)
Official Website: https://www.tenjinmatsuri.com/tenjinfestival
7. Nebuta Matsuri (Aomori)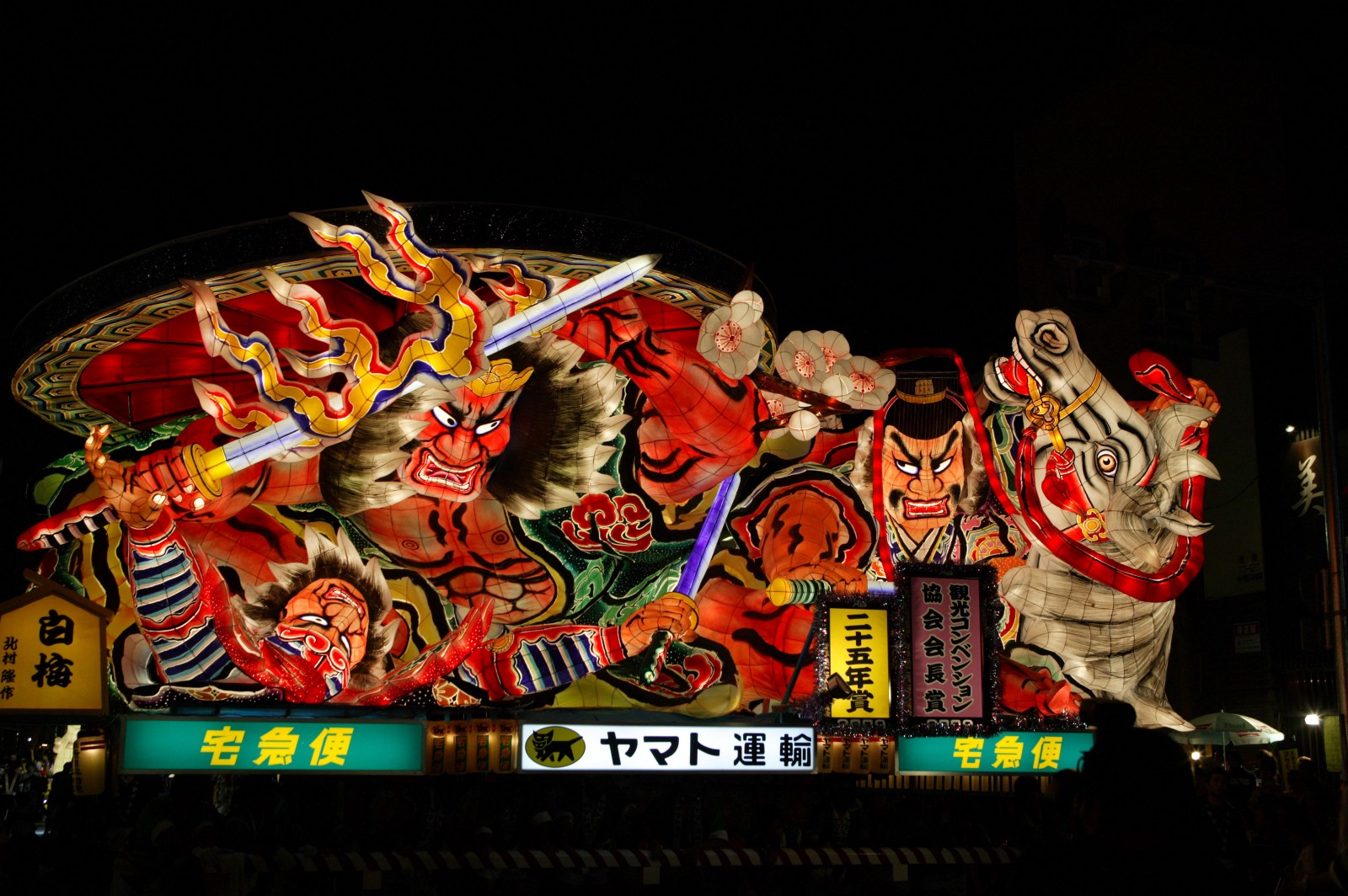 One of the most spectacular and dynamics festivals in Japan it's Nebuta Festival (ねぶた祭り), head in Aomori Prefecture. Its gigantic floats called "Nebuta" in form of ancient and brave warriors are famous throughout the world. In fact, probably when you think of Japanese festivals, the first image that comes to mind is that of Nebuta Festival.
Hundreds of dancers called "Haneto" accompany the floats following the rhythm of Taiko drums and flutes. One of the best parts of this festival is that everyone is welcome to join the dancers as long as they are wearing the traditional haneto dancer's costume, that are readily available throughout the city. And the last night (7th) there is no parade, but instead there will be spectacular fireworks.
Together with Kanto Festival and Sendai Takabata Festival, Nebuta Festival it's counted as three great festivals in Tohoku region and attracts over 3 million people every year.
Date: 2-7 August 2023
Official Website: https://www.nebuta.jp/
8. Tanabata Matsuri (Sendai)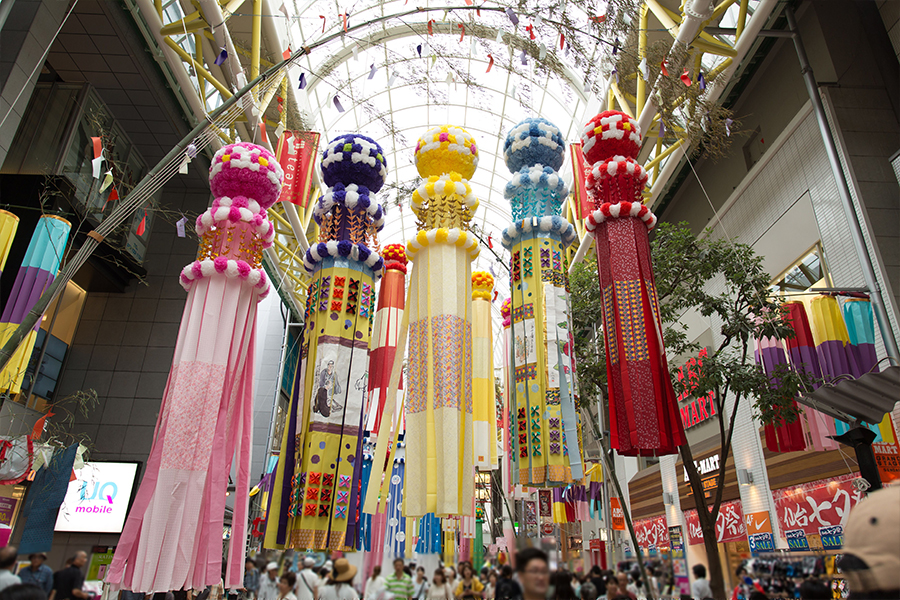 The Tanabata or "Star Festival", held on July 7th, marks the beginning of summer in Japan. This festival has its based in a Japanese legend of Chinese origin about two lovers who were separated each side of the milky way. As it was too sad, they were allowed to see each other once a year: on July 7th of each year the two lovers meet and are so happy to be together that they fulfill all your desires.
This festival is celebrated throughout Japan, mainly in temples and shrines but also in schools, companies, etc. However, in some places it's celebrated between August 6th and 8th, basing on old Chinese calendar. This is the case of the Sendai Tanabata Matsuri (仙台七夕まつり) from the city of Sendai, in Miyagi, the biggest and most famous Tanabata Matsuri in Japan and one of the three great festivals in Tohoku region, visited by more than two million people every year.
In the celebration of the Tanabata the Japanese write their wishes on strips of paper that usually hang on bamboo branches and in many places put colorful decorations made of paper. But at the Sendai festival the entire city is filled with thousands of colorful Tanabata decorations, and some of them are suuper huge! And a big fireworks event takes on the night before (5th August).
Date: 6–8 August 2023
Official Website: https://www.sendaitanabata.com/en
9. Awa Odori (Tokushima)
August in Japan is the month of Awa Odori Festival (阿波踊り) a colourful and vibrant dance festival. In August, the Obon is celebrated in Japan, a festival in which it's believed that the spirits of those who have died temporarily return to earth. And to celebrate a dance known as Bon Odori. This is something that is done throughout Japan throughout the month of August in different temples.
Awa Odori is a specialty of this dance that was born in Tokushima, on the island of Shikoku. Although Tokushima is a remote area and without much tourism its Awa Odori has become in the biggest traditional dance festival in Japan and draws over a million visitors every summer. Mainly, the festival is a friendly and funny dance competition between teams. The female dancers wear a cotton summer kimono with a characteristic straw hat called ami gasa. This hat has already become a symbol of the Awa Odori and probably some of you have seen it in a photo. But what few people notice is the sloping shoes they wear. It's incredible that they can dance for hours with those shoes! And although everyone wears similar kimono and clothes, each team has its own costume and a group of musicians who set the pace and who are part of the festival as well.
And even if it's a competition between teams, it's a festive atmosphere where everyone can participate. The dance of the Awa Odori is known as the "fool's dance", perhaps because it is said that it originated when several soldiers began dancing drunk in front of a castle after winning a battle, and during the festival, the dancers repeat a song that says: "The dancers are fools, and the watchers are fools. Since both are fools, why not dance?". So you know, if you feel like dancing, join the party and don't just look from the outside! 😉
Date: 12–15 August 2023
Official Website: https://www.awaodori.tokushima.jp/
If like me, you can't go to Tokushima to see the festival, there's a smaller but very popular version in the Koenji neighborhood in Tokyo. Awa Odori it's one of the most energetic and happy festivals in Japan and I really loved it! So if you have the chance don't miss the chance to attend this festival. I bet you won't regret it.
10. Takayama Matsuri (Gifu)
The lovely and historic town in Japan Alps, Takayama city, held one of three most beautiful festivals in Japan, the Takayama Festival (高山祭). The other two festivals are the Kyoto's Gion Matsuri and Saitama's Chichibu Yomatsuri. This festival is special because it's celebrated twice a year, in two different shrines, something quite unusual. First it's celebrated in spring to pray for a good harvest at the Hie Shrine and then it's celebrated again in autumn at the Hachiman Shrine.
Takayama Festival is known for traditional floats decorated with traditional and vivid design with marionettes. The floats dating back to the 17th century and the decoration is an amazing craftsmanship made by the highly-skilled artisans of Takayama.
Date: 14–15 April 2022 // 9-10 October 2023
Official Website: https://www.hidatakayama.or.jp/
How was? Did you enjoyed my list? If you have any suggestions of a festival that I shouldn't miss, please let me know! And if you're searching for more things to do in Japan, you can check these articles too!
▽ Related Articles▽
▼Editor's Picks▼
---