10 Best Things to Do in Kochi
Kochi Travel Guide: What to Do in Kochi Now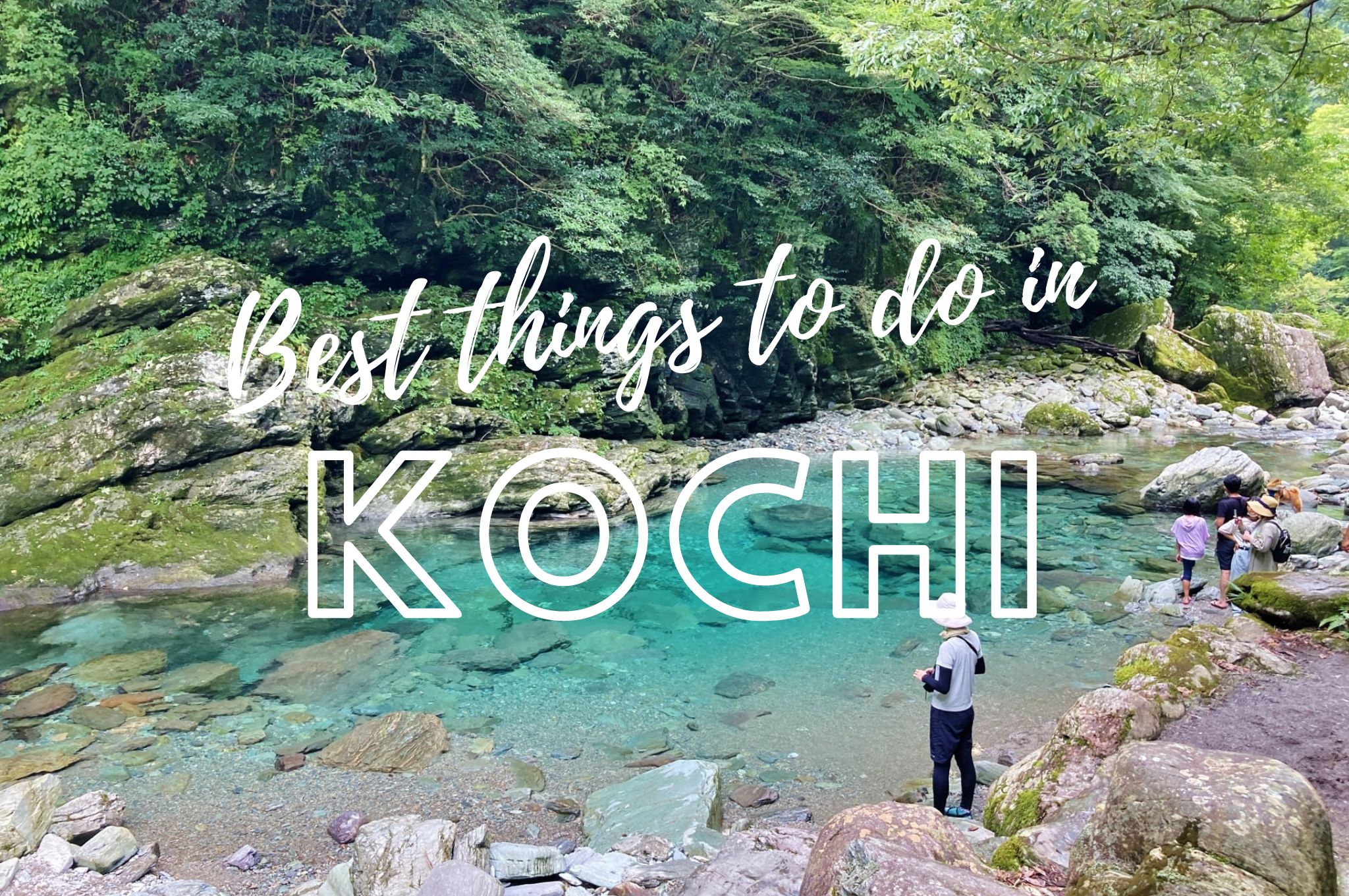 Kochi is the largest prefecture of Shikoku Island, but despite its size, is one of Japan's least populated prefectures, so it's one of the most untouched where nature takes a central stage. Shaped like an arch covering the southern half of Shikoku, this rural region is a treasure trove of stunning mountainous and coastal sights, making it an ideal destination for hikers and outdoor sports lovers. It's also home to Yosakoi festival, one of the country's most exciting dance matsuris, with growing popularity that's going even beyond Japanese borders! What else makes Kochi worthy of a visit? Keep reading for a list of the best things to do in Kochi.
---
1. Discover What an Authentic Original Castle Looks Like at Kochi Castle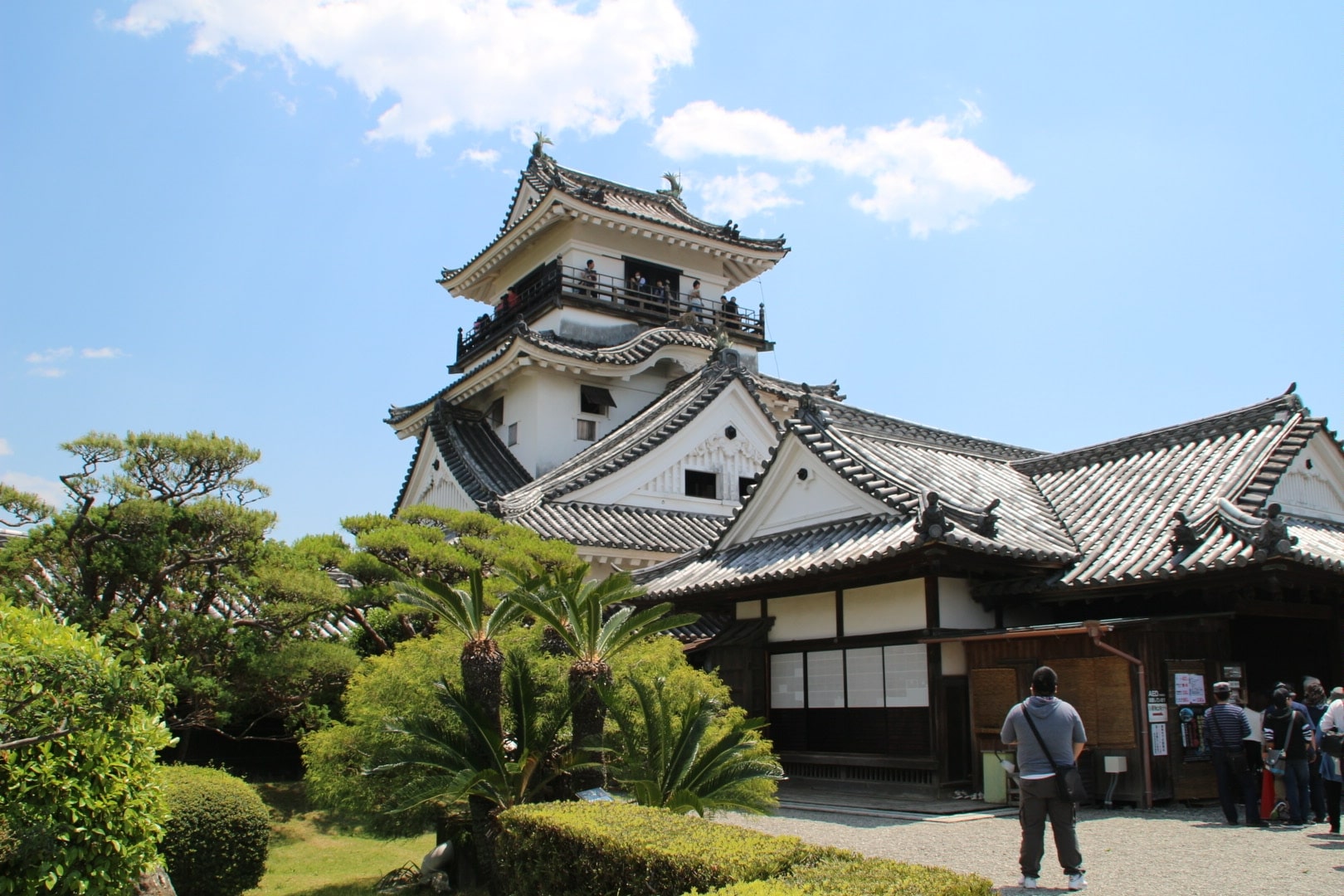 If you ever needed to make a selection of unmissable Japanese castles, you have to make sure Kochi Castle (高知城) is among the shortlisted. You see, this is the only castle in Japan that has managed to survive until its present day with the original tower and main keep intact, out of the remaining twelve castles in Japan that haven't been rebuilt entirely. With over 400 years of history, this used to be the seat of the Tosa Domain, former rulers of the area. Designated as a National Treasure and a symbol of Kochi City, it's a great spot to learn about traditional architecture and local history.
▶ Kochi Castle official website: https://kochipark.jp/kochijyo/
2. Shop for Local Produce and Souvenirs at Kochi Sunday Market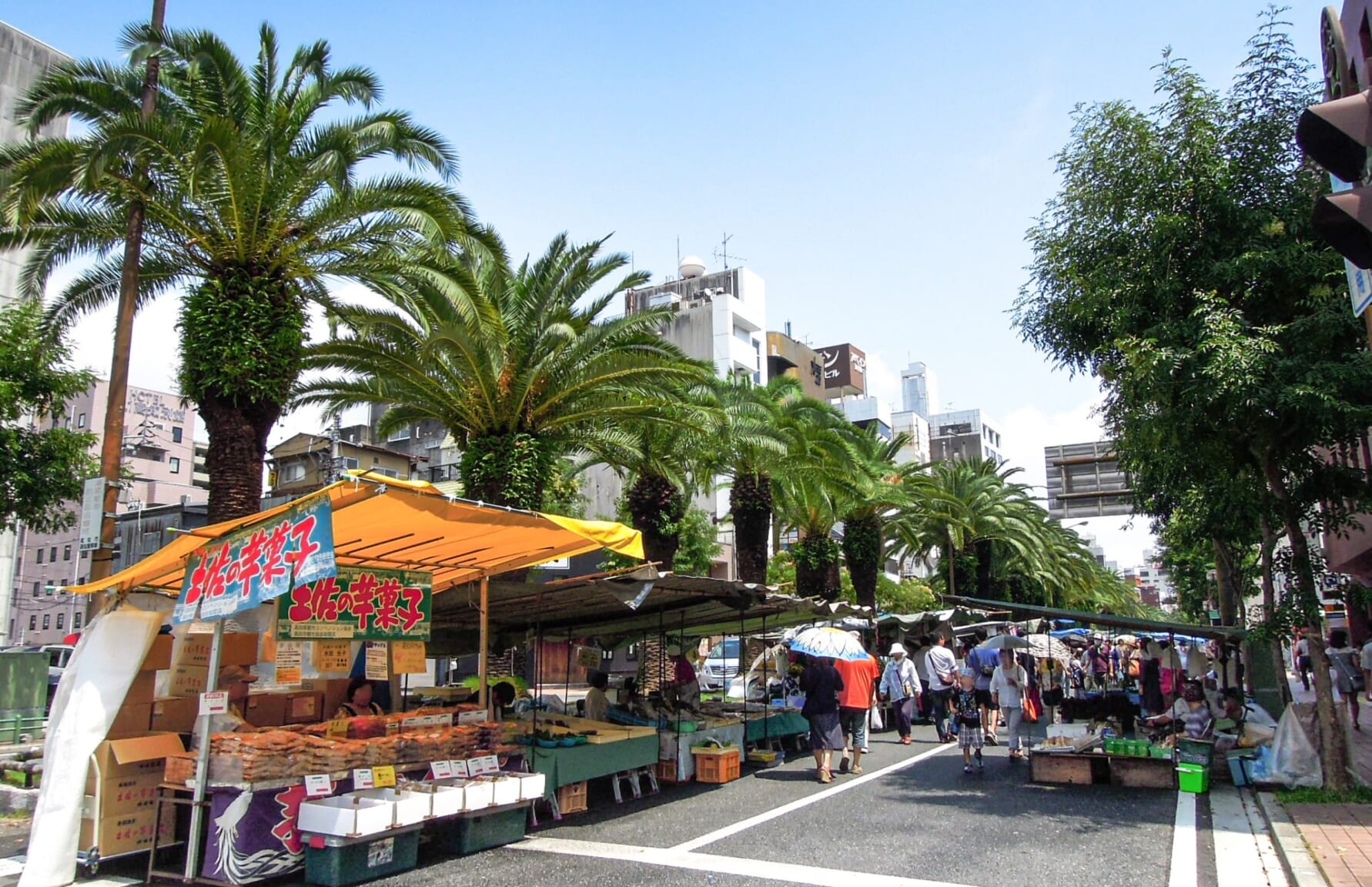 If you visit Kochi Castle on a Sunday, then you can't miss Kochi's historical Sunday Market (日曜市) an open-air market that is traditionally held since over 300 years ago every Sunday from 6:00 to 15:00, around 300-400 shops and stalls over the span of 1Km in Otesuji Avenue, right next to Kochi Castle's Otemon Gate. A local favorite among residents and tourists alike, in addition to local produce, you can find virtually anything here, from kitchen items or local crafts to invaluable antiques or used hardware goods.
▶ Kochi City's official Sunday Market practical info: https://www.city.kochi.kochi.jp/site/kanko/nichiyouichi.html
3. Experience Japan's Most Vibrant Festival at Yosakoi Matsuri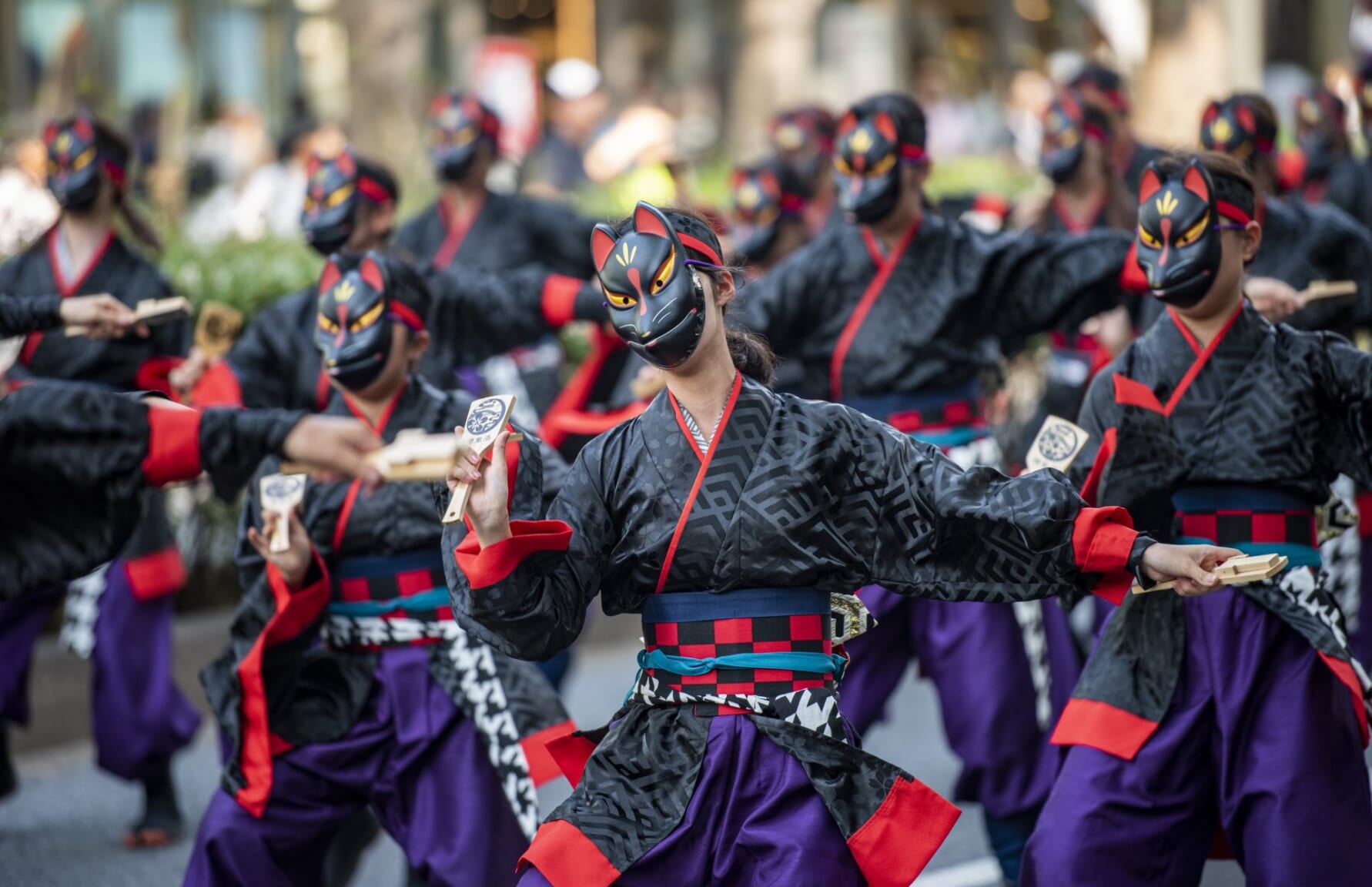 For its relatively young history, the Yosakoi Matsuri (よさこい祭り), held in August between the 10th and the 12th, has quickly established itself as one of the most popular dance festivals all over Japan (with many affiliated activities outside Kochi Prefecture) which has also gained a surprisingly high international following. It started in 1954 amid the postwar economic depression, as a way to help the local economy by encouraging a fun activity for the citizens. A powerful mix of stylish costumes, and choreographies that draw both from traditional and contemporary culture from over 20,000 dancers in approximately 190 competing teams, makes this one of the most fun activities in the city with absolutely contagious energy.
▶ Kochi City's official website with practical information about Yosakoi Matsuri: https://www.city.kochi.kochi.jp/site/kanko/yosakoimatsuri.html
▶ Yosakoi Festival Association official website: http://www.cciweb.or.jp/kochi/yosakoiweb/
4. Have a Blast Rafting at Niyodo River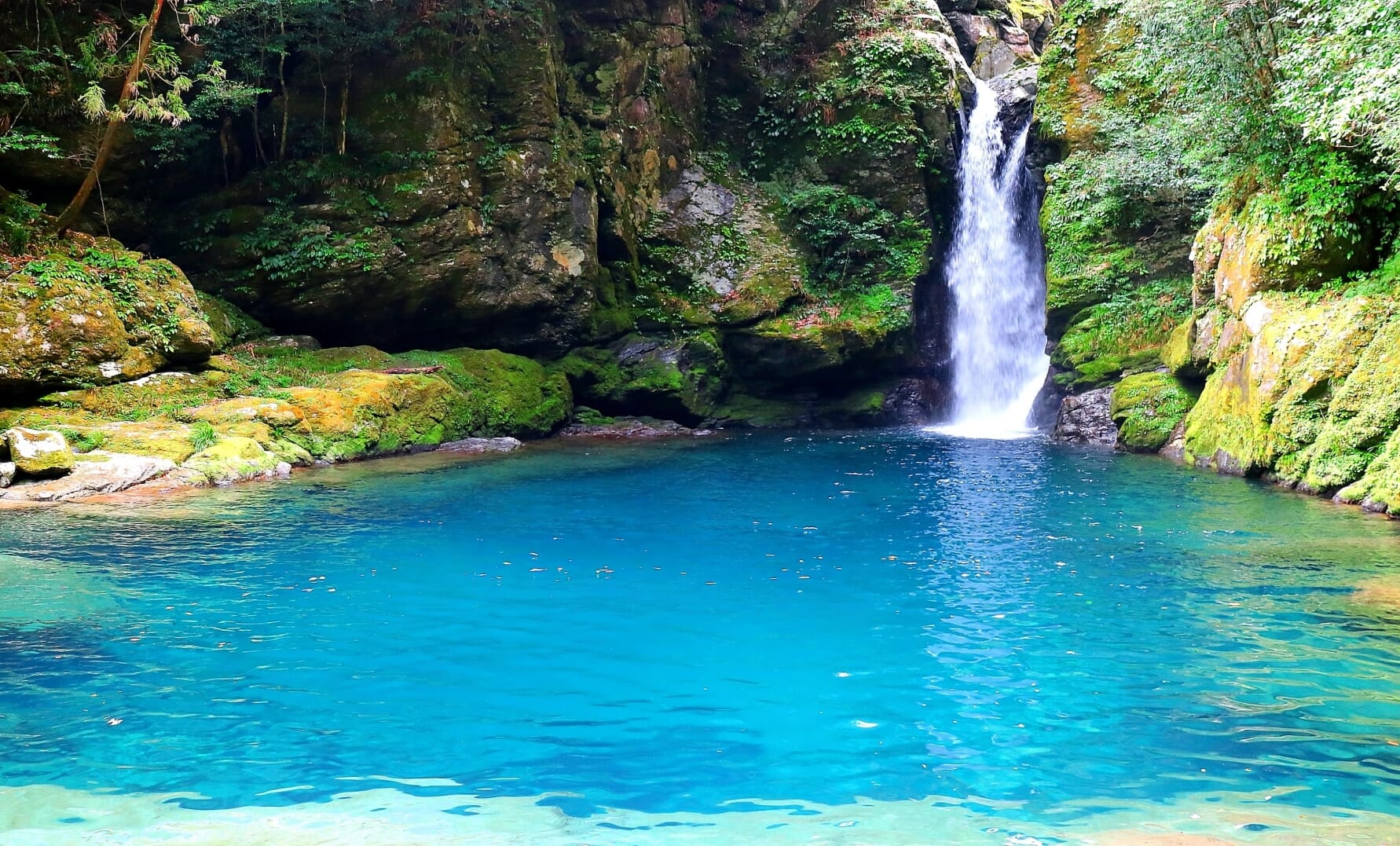 Even if you're not up for rafting or kayaking activities, the sights alone make Niyodo River (仁淀川) an absolute must-see if you visit Kochi. Nicknamed Niyodo Blue for its gorgeous and crystal clear bluish-turquoise color, it's consistently considered Japan's most beautiful river. Across its 124 km of length, canyon tours are probably the best way to explore all the ridiculously gorgeous sights, some of which are not easily accessible on foot. But there are also plenty of things to see and do while hiking around the area.
▶ Niyodo River Tourism official website: https://niyodoblue.jp/en/
5. Explore Around the Hiking Trails of Yasui River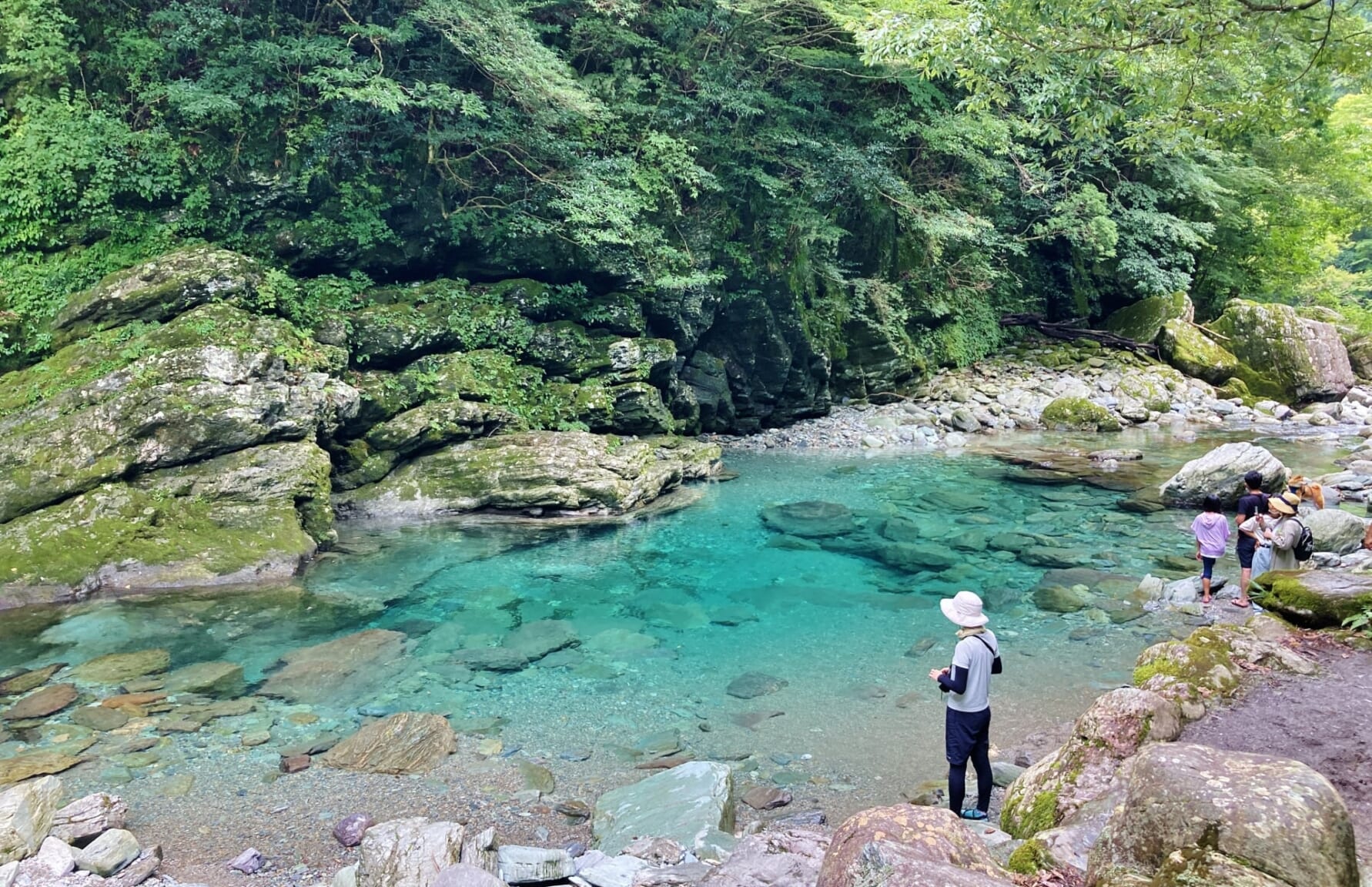 Yasui River (安居川) is a tributary river of Niyodo and another spectacular sight in its own right. Sharing the beauty and color qualities of the Niyodo, it's also a very popular hiking spot since you can follow the Yasui Valley trail almost in its entirety, with lots of worthwhile natural sightseeing places along the way, like the Suishobuchi (水晶淵) basin where it's said that you can see the most crystalline waters; Hiryuno Falls (飛龍の滝), a 25-meter waterfall that looks like a twisting dragon, or Mikaeri Falls (みかえりの滝), a waterfall off a cliff that's famous for its views with the autumn leaves.
▶ Niyodo River Tourism official website with practical info about Tasui Valley: https://niyodoblue.jp/en/feature/detail.php?id=ART003&lang=en
6. Go for a Night Stroll and Gaze at The Moon in Katsurahama Beach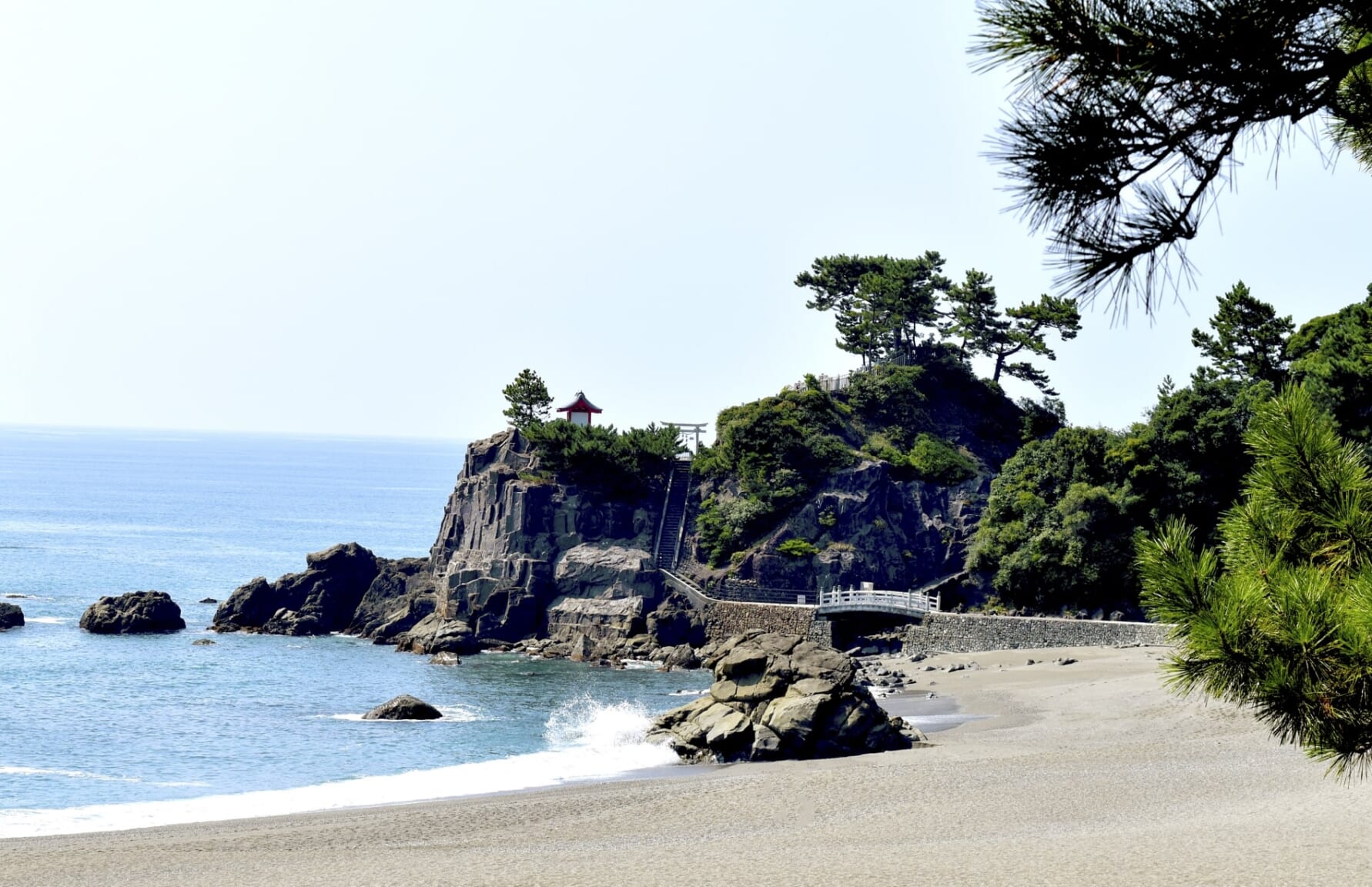 Considered one of the prettiest and most popular sights in Kochi City, Katsurahama Beach (桂浜) is also a traditional spot to appreciate the moon at night since ancient times, an activity further popularized by a Yosakoi folk song which states that "the best place to view the moon is Katsurahama". The powerful waves of the Pacific Ocean render this beach unsuitable for swimming, but the scenic value makes up for it, which is why this is such a charming spot for a relaxed stroll any time of the day. Area highlights include Ryuogu Shrine which has a very nice observation deck, or The Sakamoto Ryoma Memorial Museum, for those interested in local history.
▶ Kochi City's official website with Katsurahama Beach practical info: https://www.city.kochi.kochi.jp/site/kanko/katsurahamakouen.html
7. Be Amazed at the Natural Formations While Exploring Ryugado Cave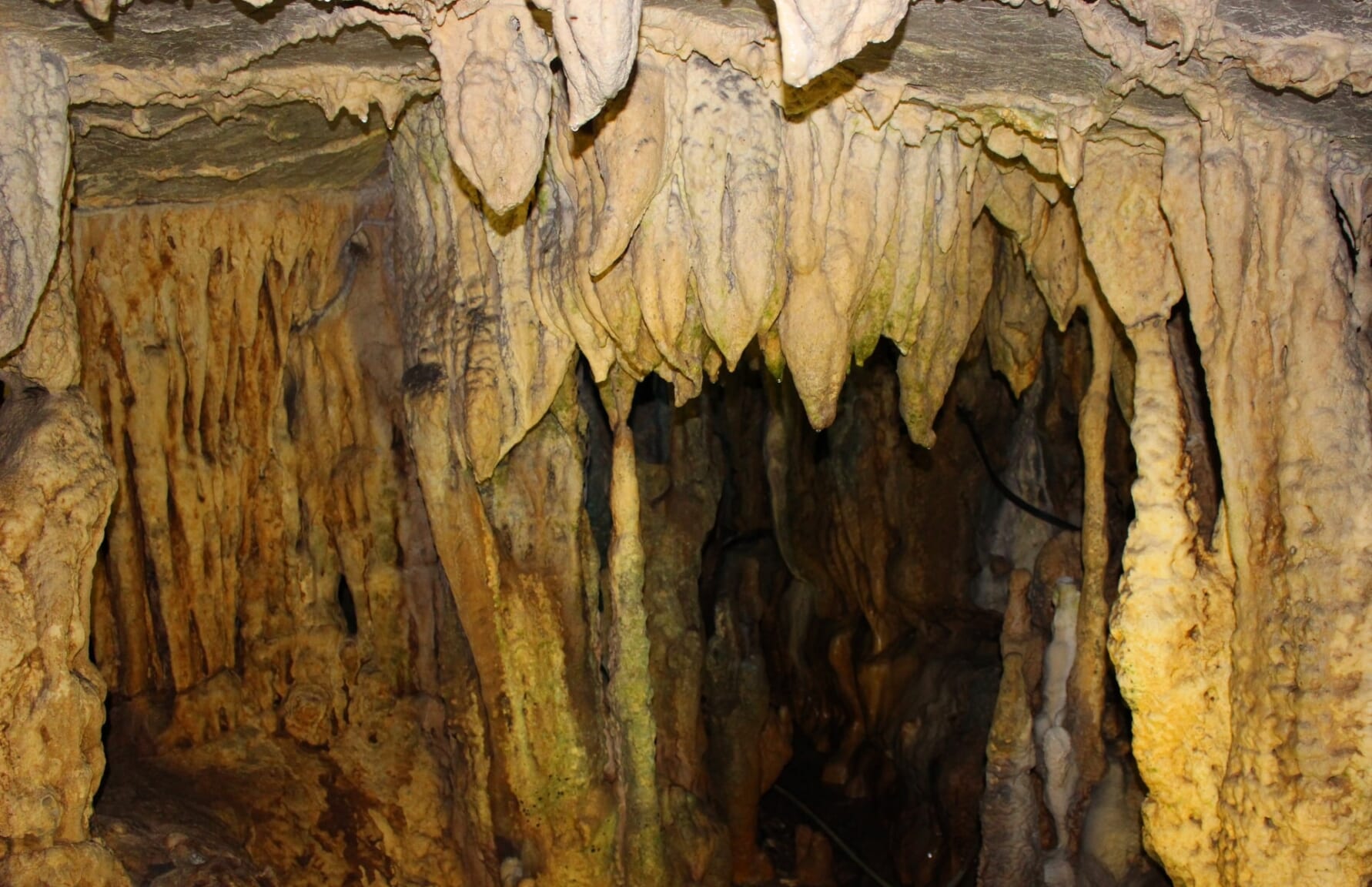 One of the prefecture's most impressive natural wonders, Ryugado Cave (龍河洞) is a large limestone cave with an estimated age of over 175 million years. Out of its 4 km length, about 1 km is open for visits, which is more than enough to appreciate nature's sculptures and an impressive 11-meter waterfall. The experience is further enhanced with special illuminations and projection mapping for an unforgettable visit. There's also a Cave Museum which includes archeological discoveries from the Yayoi Period (400 BC to 300 AD).
▶ Ryugado Cave official website: https://ryugadou.or.jp/english/
8. Try Katsuo no Tataki, Kochi's Local Specialty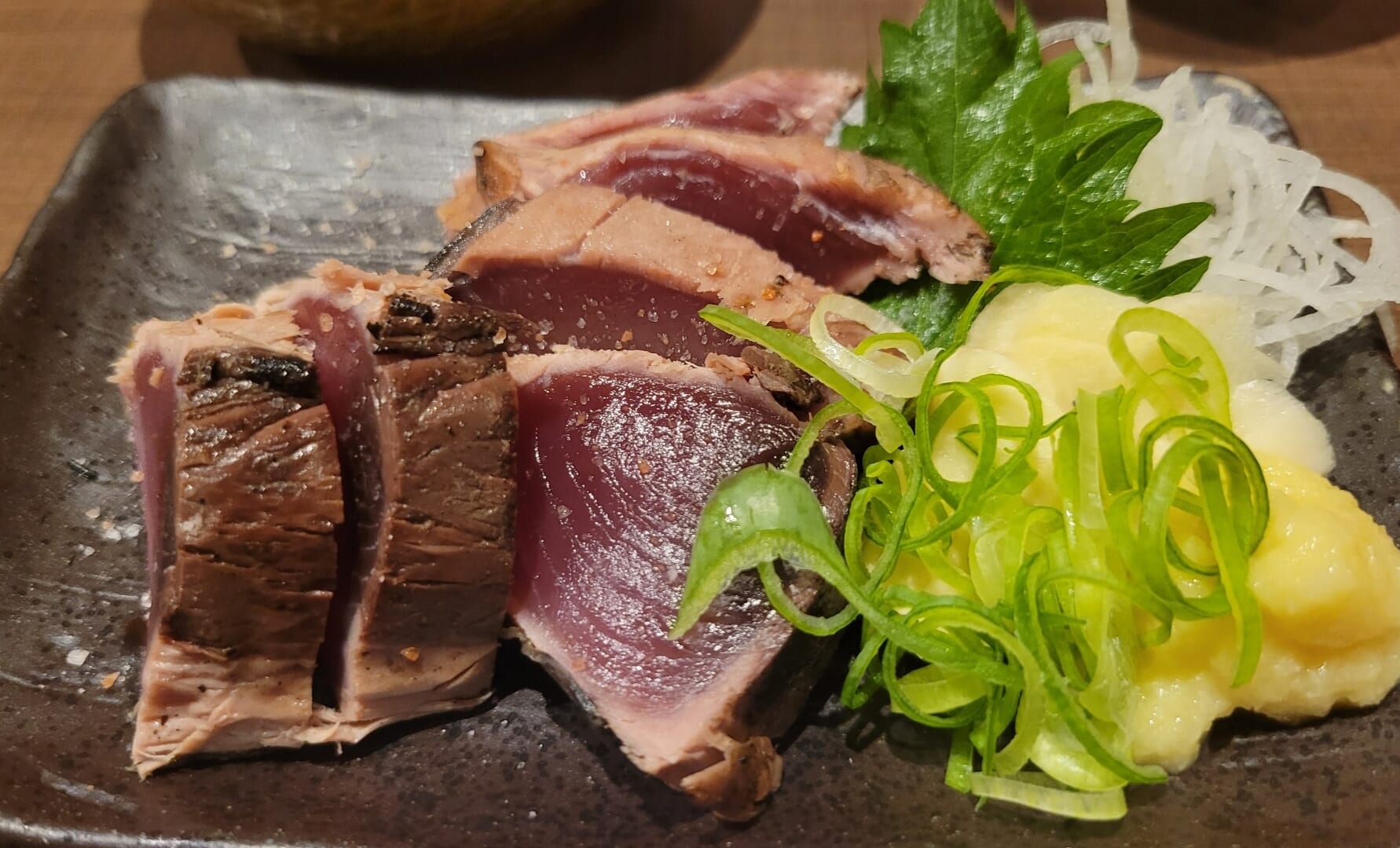 Kochi Prefecture's culinary pride rests on its top-quality seafood, but perhaps its most famous signature dish is Katsuo no tataki (鰹のタタキ), consisting of thick slices of bonito quickly grilled or seared on the outside edges but leaving the interior raw, usually served in a simple manner like most sashimi dishes, and with no condiment other than a tiny pinch of sea salt or a dash of ponzu sauce (a mix of soy sauce, mirin, dashi and citrus juice of yuzu or kabosu which Kochi is also famous for). The region has the highest consumption of bonito in Japan, so you'll easily find this delicacy in most restaurants along the way. If you're feeling particularly enthusiastic, there's a restaurant that even teaches you how to sear your own bonito!
9. Be in Awe of Natural Phenomenons at Muroto Geopark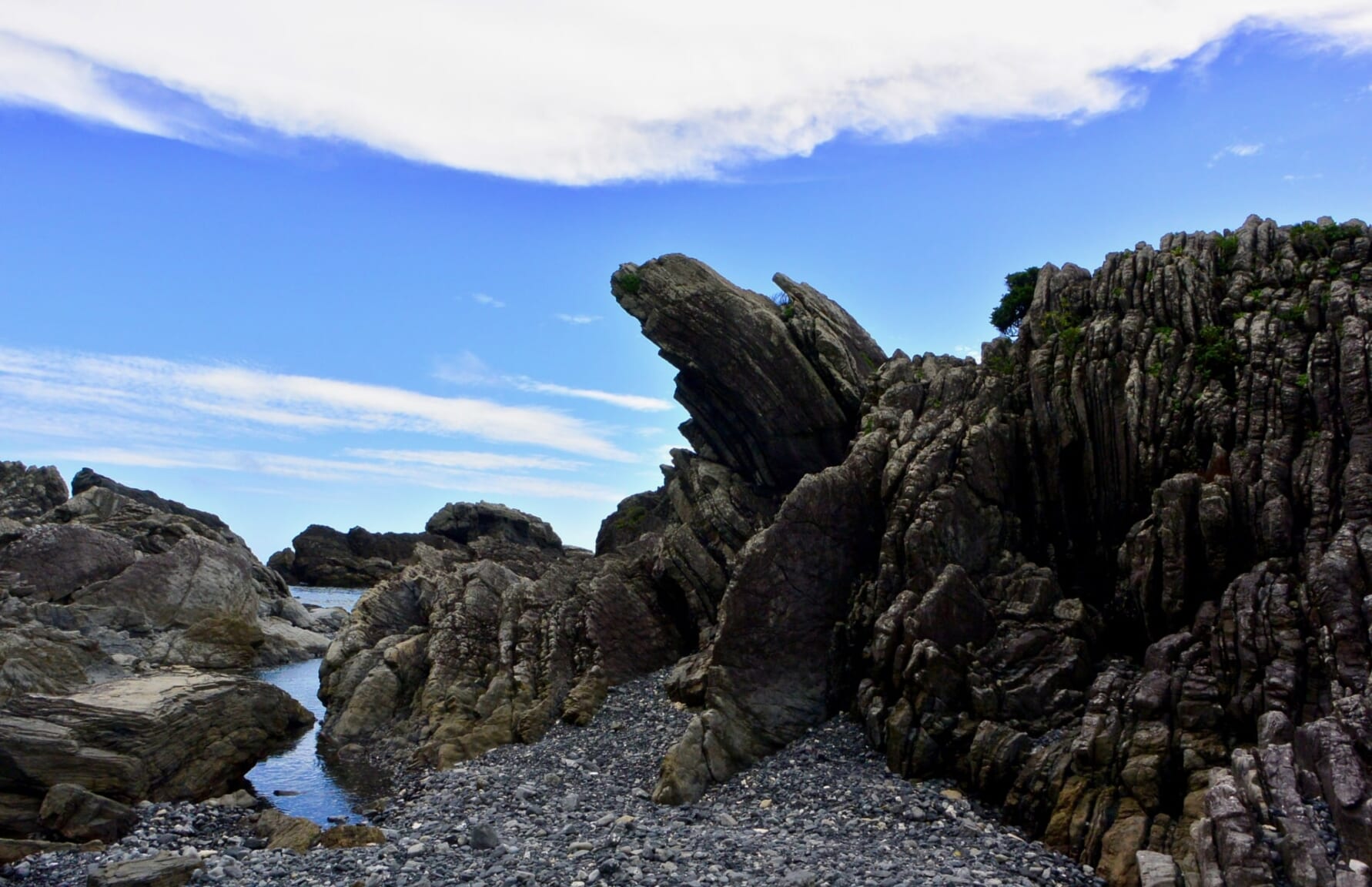 Muroto City, on the eastern tip of Kochi Prefecture, is by itself one of the most interesting geological treasures of Japan. The entire coastline has developed a series of odd shapes as a result of the intense tectonic activity, which continues to shape the area. This is why UNESCO has designated Muroto City as Muroto Geopark (室戸ジオパーク) since 2011 as part of their network of Global Geoparks, as sites of particular geological importance and where protection and education are strongly encouraged. This is truly a place like no other and a spot you cannot miss if you visit Kochi.
▶ Muroto Geopark official website:https://www.muroto-geo.jp/en/
▶ UNESCO Muroto Geopark website: https://en.unesco.org/global-geoparks/muroto
10. Embark on a Whale Observation Tour in Tosa Bay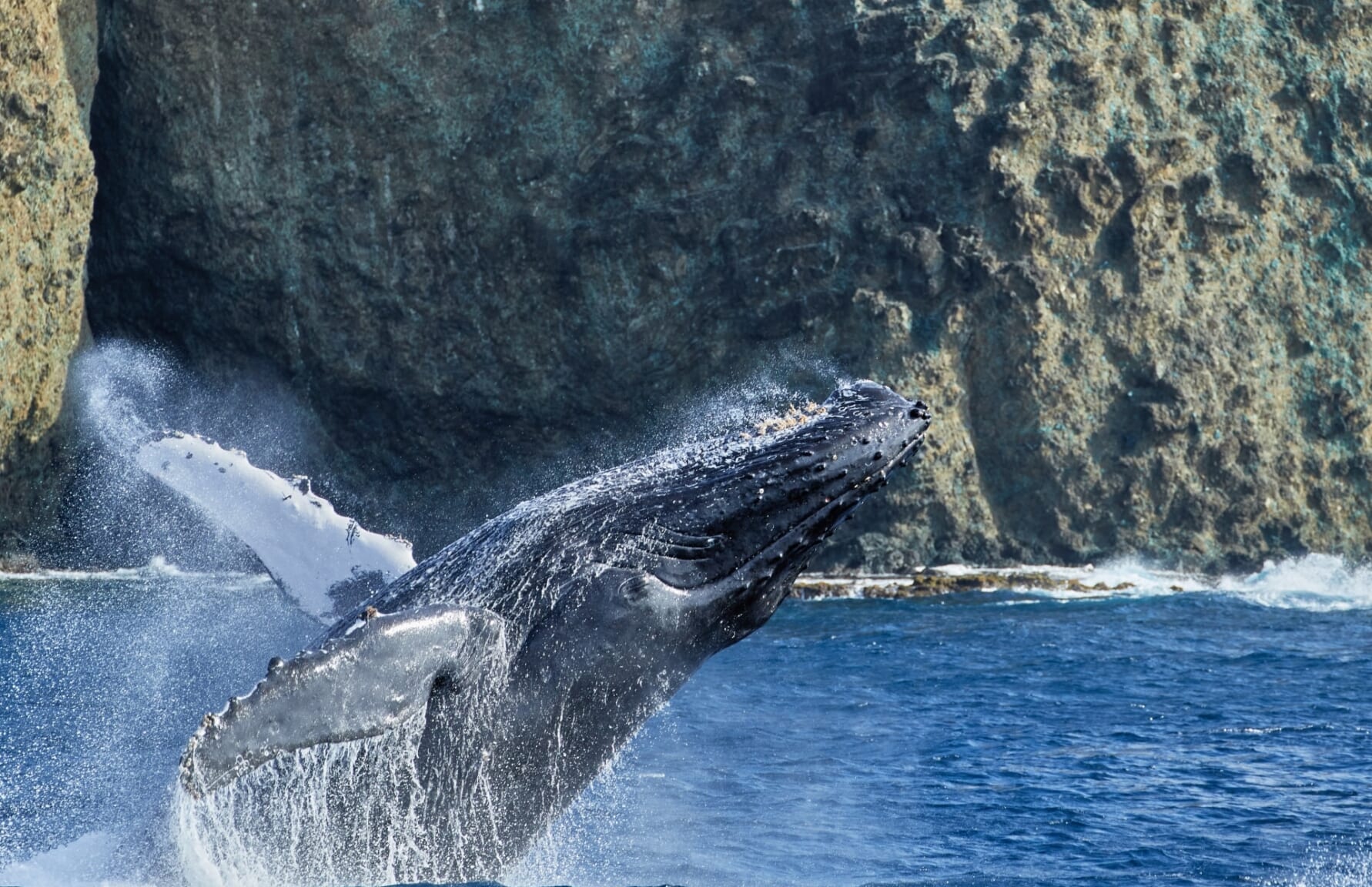 Ogata Whale Watching (大方ホエールウォッチング) offers the only opportunity in Japan to observe the impressive Bryde's whale off the coast of Kochi Prefecture, in Tosa Bay. The tour boat departs from Irino Harbor in Kushiro City and lasts for about four hours, where visitors may also have the chance to see dolphins besides whale ponds. The best time to participate is generally between late April and late October, but it may be canceled in the event of rain.
▶ Ogata Whale Watching official website: https://nitarikujira.com/reservation-in-english/
---
Kochi Prefecture is one of those places that tends to fly under the radar for international tourism, which is a great opportunity to have an unforgettable experience in a very authentic location full of incredible natural treasures and exciting cultural activities. A very off-the-beaten-path destination waiting to be discovered!
▽Check out the attractions you should experience across Japan with this Japan Bucket List!▽
Check best things to do in other prefectures in Shikoku below!
▽Subscribe to our free news magazine!▽

For more information about traveling in Japan, check these articles below, too!
▽Related Articles▽
▼Editor's Picks▼
---