Sushi Making Class in Tokyo by a Professional Sushi Chef
Authentic Sushi Making Class in Tokyo: airKitchen Review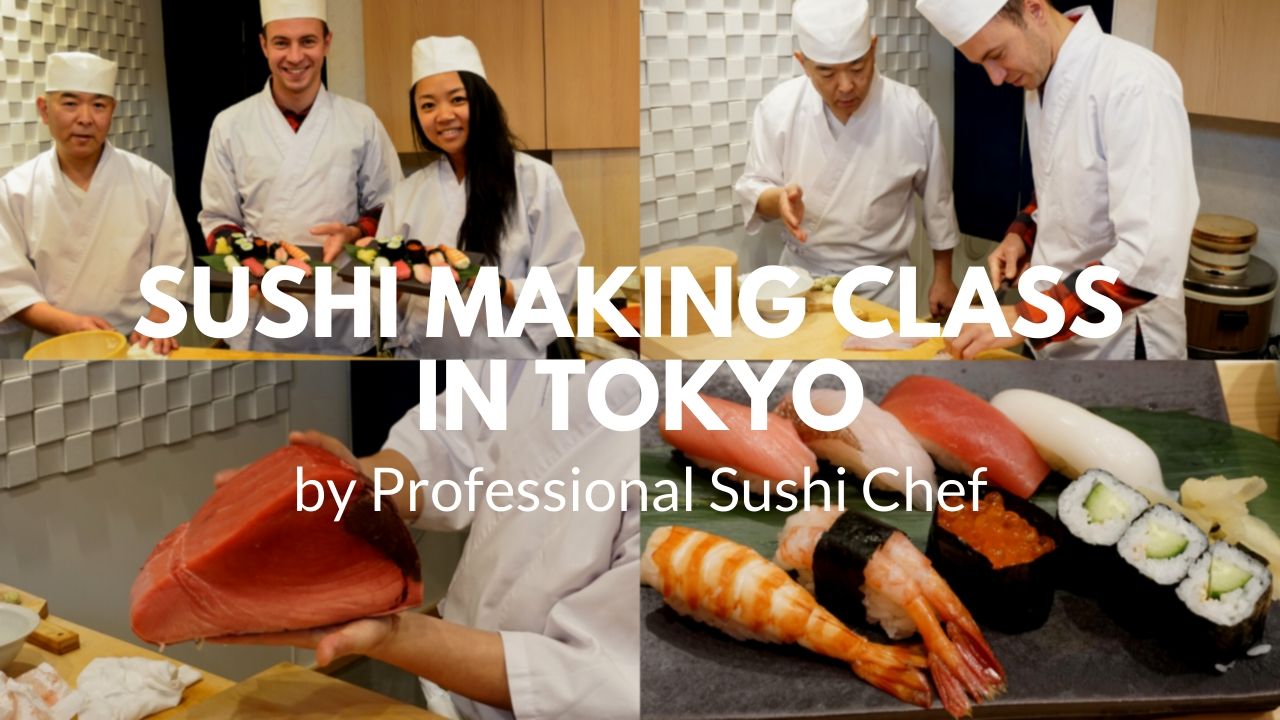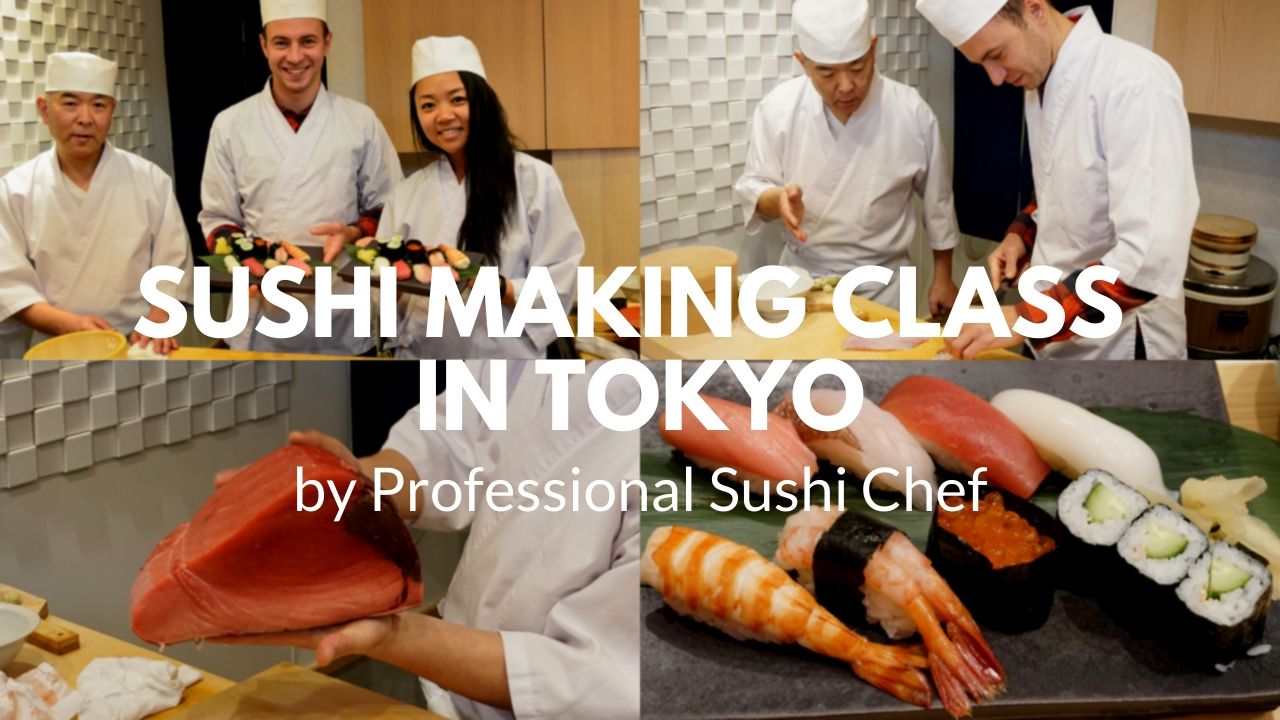 Food is one of the most attractive things about Japan, and besides historical landmarks and traditional culture, food is the country's greatest tourist attraction today.
Tokyo is a center of Japanese food culture, and there are hundreds of thousands of restaurants, offering a large variety of Japanese cuisine such as Sushi, Tempura, Ramen and Okonomiyaki in a wide price range. You can never get enough of the wonderful diverse food culture while travelling in Tokyo.
One of the most unique ways to discover Japanese food culture is by actually cooking the dishes by yourself. Nowadays, cooking classes have been hugely popular among foreign tourists and various cooking classes are available today.
Through the class, you will be able to learn the authentic recipes and cooking techniques by local hosts and have a quality time by spending with locals. It's an extraordinary way to explore Japanese cuisine and also immerse yourself into Japanese culture.
*Please note that this article contains affiliate links.
-Sushi Making in Tokyo
One of the most recommended cooking classes in Tokyo is Sushi making. Sushi is the most famous Japanese food, and a must-have dish while travelling in Japan.
If you wish to be indulged with delicious Sushi and have an unique food experience at the same time, attending a Sushi making class is a perfect option.
There are various types of Sushi making classes held in Tokyo from home-cooking rolled Sushi making to authentic Sushi making by pro, so you surely can find the one that meets your needs!
I have recently attended a Sushi making class in Tokyo, and I'd like to share my wonderful experience with you. So please check it out 😉
<<Book a Sushi Making Class by a Professional Chef in Tokyo!>>
-Review: Sushi Making Class at Nobu
The class I picked was "Sushi classes taught by professionals". I chose it because I thought this could be an unique and very Japanese experience that I can learn how to make and taste an authentic and high-quality dish.
I picked it from airKitchen, a website listing over 1,000 cooking classes across Japan including Tokyo, Osaka, Kyoto, Hokkaido and Okinawa. Here is a link to the website if you wish to search more cooking classes in Japan ▶ airKitchen — Book Authentic Cooking Classes in Japan
The class is held at a real Sushi restaurant "Sushi Kappo Nobu (寿司割烹 伸)" located in a quiet residential area near Nakameguro Station. The neighbourhood is best known for Meguro River, one of the most famous cherry blossom viewing spots in Tokyo. Nakameguro Station can be easily accessed from Shibuya by Tokyu Toyoko Line, or it's also connected to many other stations including Ginza, Akihabara and Ueno by Tokyo Metro Hibiya Line.
Sushi Kappo Nobu is an authentic upscale sushi restaurant run by a Sushi/Japanese cuisine chef, Nobu who has a 35-year experience in making Sushi. The restaurant has counter seats with an open kitchen where guests can see the chef preparing dishes. The restaurant is open for lunch and dinner, however he closes the lunch operation when the private cooking class is held.
As we entered the restaurant, Nobu and his wife Kaya warmly welcomed us and passed us the Sushi chef uniform. After we changed, they explained us the flow of the class today.
First, he started showing us the seafood ingredients (Neta in Japanese) that we were going to use today. What I was impressed first about this Sushi making class is that the ingredients used for the class were not the average seafood products on the market, but they were carefully selected by Nobu himself.
I asked him where each products were from, and he kindly answered that he brought some of them from local fish markets in early morning on the same day, and others were delivered from several locations in Japan including Tohoku and Kyushu. At his cooking class, you can be indulged with well-selected seasonal seafood products.
Later, I also discovered that Nobu puts his commitments to every product not only fish but also rice, seaweed, the equipment, etc to make the top quality Sushi. He also showed us the knives and other tools that he uses for cooking.
He opened the fridge and brought the big cut of Tuna which were freshly caught in Yamaguchi Prefecture. He sliced the Tuna in front of us smoothly into two different parts, red meat (Akami) and fatty meat (Toro).
He invited us inside his kitchen and started teaching us how to make Nigiri Sushi step by step.
Nigiri Sushi is a type of Sushi that are served with a slice of fish pressed over hand-shaped vinegared rice. It's the most common type of Sushi, yet the hardest one to make without any knowledge and experiences.
We got a chance to use his own knife and slice fish. His knife was so sharp and light, and could cut off the fish with one stroke effortlessly! We also grounded fresh Wasagi with an authentic grater and learned how to prepare vinegared rice for Sushi.
Putting a slice of fish and vinegared rice, and shaping sushi by hand was pretty hard in the beginning, but we slowly managed to make, thank to Nobu's patience and super clear explanations 🙂
Besides Nigiri, we also made Gunkan Maki (battleship roll) and Maki Sushi (rolled Sushi).
We were pretty impressed by the Sushi we made by ourselves! I though it looked surprising good 🙂
As we sat down on the counter to eat the Sushi we made, Nobu brought us miso soup and started making Dashimaki Tamago (Japanese omelette) in front of us. Both were really delicious!
Although the sushi was shaped by us (unprofessionals), it was really delicious as it was served with the high-quality seafood products picked by Nobu brought across Japan. I personally really liked the Gari, the ginger pickle served with Sushi, which was made with his own recipe.
While eating Sushi, we talked a lot with Nobu, and he was happy to share with us his great skills and experiences from his long cooking career.
After Sushi, he served us homemade dessert, Kiwi Sorbet with a cup of green tea. It was also super delicious 🙂
It was absolutely an amazing experience. The class provides you not only a Sushi learning experience, but also the fine quality Sushi and the precious moments with a professional chef all by ourselves.
Thanks Nobu-san for the wonderful time 🙂
-Overall
I'd give the Sushi Making Class by Nobu 5 out of 5 stars!
The sushi made with the quality ingredients was super delicious, and we really enjoyed spending time with Nobu. It was really fun!
He is so kind, fun, patient and outstandingly professional.
At the Sushi making class in Nobu, not only you learn how to make authentic sushi, but also you can enjoy the fine quality Sushi with well-selected fish and also spend a private time with a top Sushi chef.
I'd recommend the class especially to those who are into Sushi or authentic Japanese cuisine, and keen to learn more details.
During the class, you can learn proper cooking techniques including slicing fish, shaping Sushi and prepare the dishes. Because the class is held in a real Sushi restaurant, you also get a privilege to get behind the counter and use the authentic equipment for Sushi making. No wonder even professional chefs attend his Sushi making class!
If you wish to ask Nobu a lot of questions about making Sushi, I'd recommend you to bring a translation app to make a conversation smoother 🙂
As I mentioned in the beginning, there are numbers of Sushi cooking classes available today, and some classes are with home cooking style, easier steps or cheaper price.
But spending a quality time with a great chef like Nobu with over 35 years experience of Sushi craftsmanship is absolutely priceless.
Attending his Sushi making class will surely make a wonderful and unforgettable memory in Japan!
For making reservation, click the link below!
-airkitchen
The Sushi Making Class by Nobu was listed on airkitchen, the website introduces hundreds of cooking classes by local hosts across Japan including Tokyo, Osaka, Kyoto and more. If you wish to check more Sushi making classes in Tokyo, please check out the attached link below.
▶ Best Sushi Making Classes in Tokyo | airKitchen
From authentic Japanese dishes to Vegan food, various cooking classes are listed on their website, so if you are interested, visit their website below 🙂
▶ airKitchen — Book Authentic Cooking Classes in Japan
Thanks for reading! I hope you have enjoyed my review of a Sushi Making Class in Tokyo!
For more unique and fun experiences in Tokyo, I'd recommend you to check out these articles, too!
▽Related Articles▽
▼Editor's Picks▼
---