7 Easy Japanese Foods to Cook at Home
Easy and Tasty Japanese Recipes for Home Cooking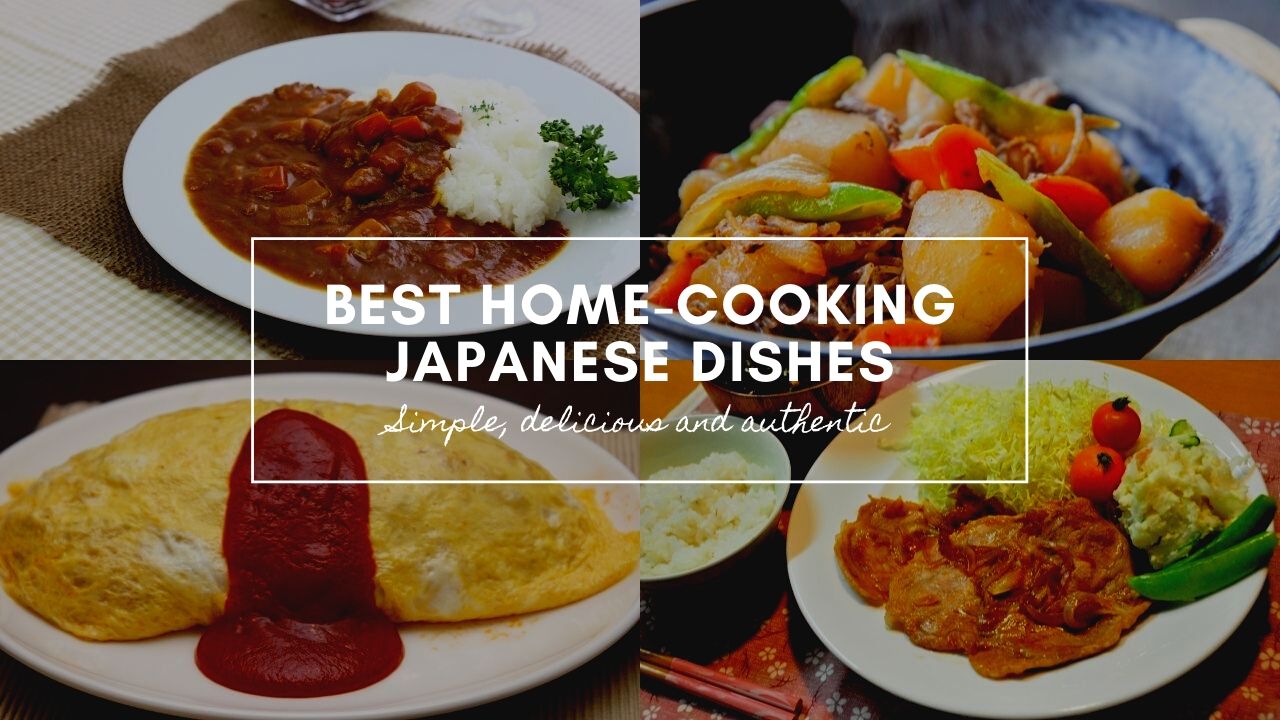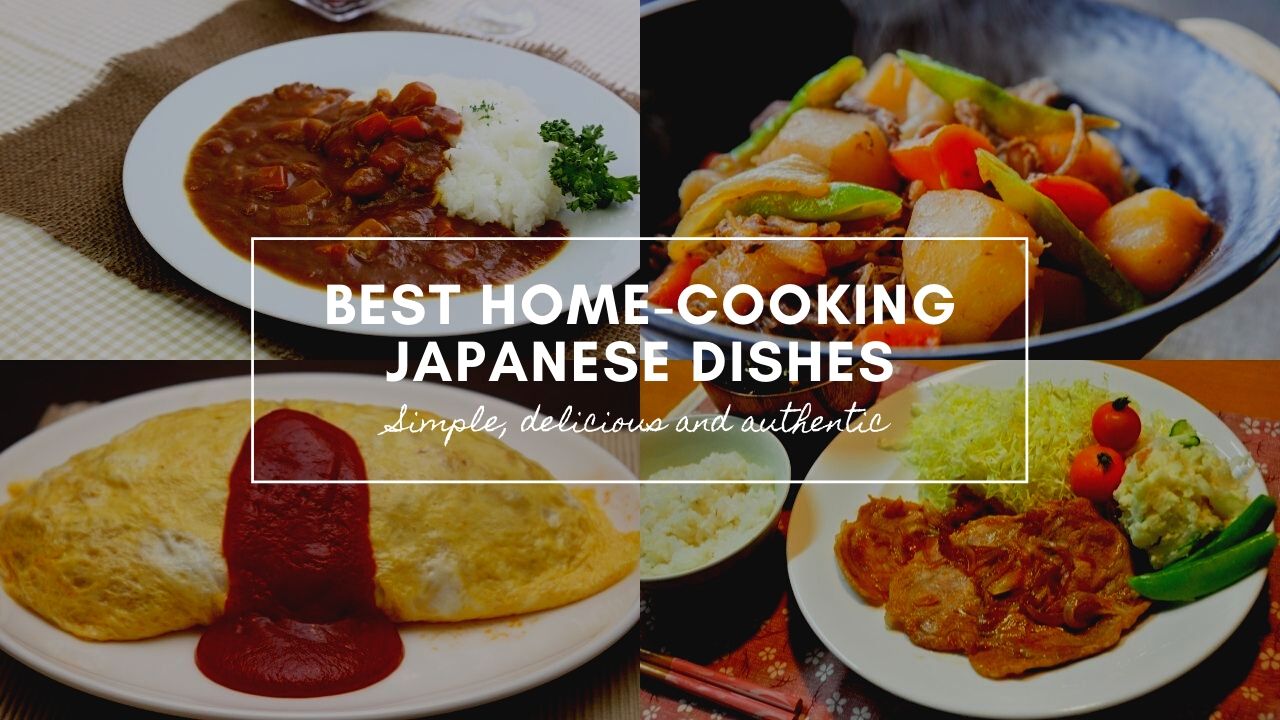 Food is one of the most attractive things about Japan. Japanese food is highly popular worldwide, and some significant Japanese food like Sushi, Tempura and Wagyu Beef are known as high quality dishes cooked with finest ingredients with top notch skills that you can only taste at fine restaurants.
But did you know many popular Japanese food can be easily cooked at home?? In fact, most Japanese eat at home usually and enjoy their home cooked dishes. If you are a fun of Japanese food, why don't you cook them at home with a little bit of effort! Many Japanese dishes are much easier to cook than we think with simple recipes and many ingredients can be found even in abroad.
Today, I'd like to introduce some of best Japanese dishes that are recommended to cook at home! They don't require any special cooking skills or tools. Most of them can be cooked in one single pan, but they taste amazingly good 😉
*Please note that this article contains affiliate links.
1. Japanese Curry
Curry is one of the most popular food nationwide in Japan. There are many different types of curry in this world such as Indian Curry and Thai Curry, and Japanese Curry which is quite original and different from others. Japanese Curry is rich, mild and goes perfectly with rice. It's one of the easiest dishes to cook at home and simply, everyone loves it!
A variety of curry roux are sold commonly at supermarkets in Japan, and all you need to do is to pan-fry the ingredients (meat, onion, carrot, potato, etc) first, add water and simmer them till they are cooked through or tender, and drop blocks of curry roux in it! Serve it with warm rice and add some pickes on the side if you like. The best thing about Japanese curry is that they taste even better on the second day as the sauce gets more flavourful!
We have an article introducing how to make Japanese curry step by step, so please check it out before cooking 🙂
2. Okonomiyaki
Okonomiyaki is often referred to Japanese savory pancakes, it's especially famous as a regional signature from Osaka and Hiroshima prefectures. Okonomiyaki is a rising star of Japanese cuisine as it's becoming a hugely popular among foreign visitors.
Making Okonomiyaki is a great fun and you can enjoy with family and friends. Okonomiyaki is commonly made with flour, dashi stock, grated yam potato, egg, chopped cabbage and a variety of toppings such as pork, seafood, mochi, cheese, etc. You can easily customize the dish by adding different toppings and sauce.
At Japanese supermarkets, there is Okonomiyaki flour which you don't need to add dashi stock and grated yam. You just need to add water, egg and toppings that you like to the flour. Cook it on a frying pan for about 10 mins, top it with Okonomiyaki sauce, mayonnaise, shredded seaweed and bonito flakes, and it's ready to go! Okonomiyaki is a perfect dish with chilled beer 🙂
Related article:
3. Gyoza
Gyoza is a dumpling dish which originally came from China, but become a common home cook dish in Japan as it's evolved independently. They are served at usually Chinese restaurants or Ramen shops as a side dish.
There are various types of Gyoza such as boil, steam and deep fried, but the most common one in Japan is pan-fried. The fillings of the dumpling is minced pork, chopped cabbage, spring onion, garlic and ginger, and the Gyoza skin is sold at supermarkets in Japan commonly. Folding the skin could be challenging at first, but if you get the hang of it, you'll be able to do it nicely and quickly. I'd suggest you to cook the dumplings with sesame oil to have an extra flavour. Line them nicely on the pan, cook until the surface gets slightly brown then pour some water and quickly close the lid to steam them up. Serve them with dipping sauce blended with soya sauce and a dash of vinegar and chili oil!
4. Nikujaga
Not many people who even visited Japan before know Nikujaga, which is one of the most common Japanese dishes. This is probably because it's really a home cooking dish and unlikely to be served in restaurants apart from some Izakaya bars. Nikujaga is a typical dish that reminds many of us the taste of mom's home cooking, and every family has own recipes.
Nikujaga means meat (Niku) and potato (Jagaimo) which are two key ingredients of the dish. Other ingredients and seasonings are onion, Shirataki (konnyaku noodle) soya sauce, dashi stock, sake, mirin and sugar. Some people would add carrots and snap peas to make the dish more colourful. First, fry the ingredients in a deep pan, add liquids then simmer until the potato becomes brown colour and the liquid is reduced. Like Japanese Curry, Nikujaga also tastes great on the second day as all the ingredients gets more tender and absorb more flavour.
5. Omurice
Omurice is one of typical Yoshoku dishes (the Western style Japanese cuisine) beloved by all generations. Omurice is a combination name of Omelette and rice, and the dish is served with fried rice wrapped in a thin layer of egg.
The typical Omurice is served with ketchup flavour fried rice with chicken and vegetables and topped with ketcup after wrapping rice in an omelette. Wrapping rice in an omelette needs a bit of cooking skill, but for the beginners, I'd suggest you an open-style Omurice that you can make an omelette separately and serve it on top of the rice. Make sure not to overcook the egg so it's soft, fluffy and blend well with the rice and sauce 🙂 You can also arrange the dish by topping your favourite sauce such as cream sauce, demi-glace sauce and curry sauce.
6. Oyakodon
Oyakodon is a Japanese rice bowl dish (Donburi), which is literally means "parent and child (Oyako)" donburi as it's served with chicken and egg. There are a variety of Donburi dishes in Japan, but this is one of the easiest to cook at home as you need simple ingredients cooked on one single pan.
The other ingredients for Oyakodon are sliced onion and soya sauce with dashi stock, sake and mirin. First simmer the chicken and onion in the sauce on a flat pan, then pour beaten eggs over the chicken. If you like eggs to be runny, put on low heat and cook it for 1–2 mins only. Once it's cooked, serve it on a warm bed of rice and sprinkle some greens (mitsuba leaves, green peas or scallions) on top for garnish. Oyakodon is also pretty healthy as you don't use any oil 🙂
7. Pork Ginger
Pork Ginger ("Buta no Shogayaki" in Japanese) is a popular Japanese dish served with stir-fried pork in ginger sauce. It's the second most popular pork meat dish in Japan after Tonkatsu (deep-fried breaded pork cutlet), and often served as a part of Teishoku (Japanese style set meal consisting rice, main dish, miso soup and condiments).
Pork Ginger can be made at home with simple ingredinets and really easy steps. You'll only need sliced pork and onion, and cook them with blended sauce with soya sauce, grated ginger and mirin. There are two common ways of cooking Shogayaki: one is to marinate the meat in the sauce before cooking or pour over the sauce while cooking the meat. Why not to try both and find your own taste 😉 Enjoy it with a bowl of rice while it's hot!
Thanks for reading! If you love Japanese food but not sure where to start when it comes to home cooking, these dishes are highly recommended for beginners 🙂 Those dishes require no complicated cooking process such as deep-frying or raw food, and most of the ingredients are available even overseas. You will only need some Japanese condiments such as sake, mirin and dashi stock which are the key to brings "umami" to the dishes.
---
To learn the best home cooking method of Japanese dishes, I'd highly recommend everyone to join one of cooking classes in Japan! Many classes are now available in English, and you can learn real home cooking skills from locals! It's a fun experience that you can enjoy cooking and eating at the same time 🙂 Usually each class provides a special recipe so you won't forget what you learn.
Here are cooking classes available in Tokyo, Osaka and Kyoto!
▶ Best Cooking Classes in Tokyo
▶ Best Cooking Classes in Osaka
▶ Best Cooking Classes in Kyoto
For more info about Japanese food, please check out these articles, too!
▽Related Articles▽
▼Editor's Picks▼
---