9 Best Restaurants for Gyoza in Tokyo
Tokyo's best Japanese dumpling restaurants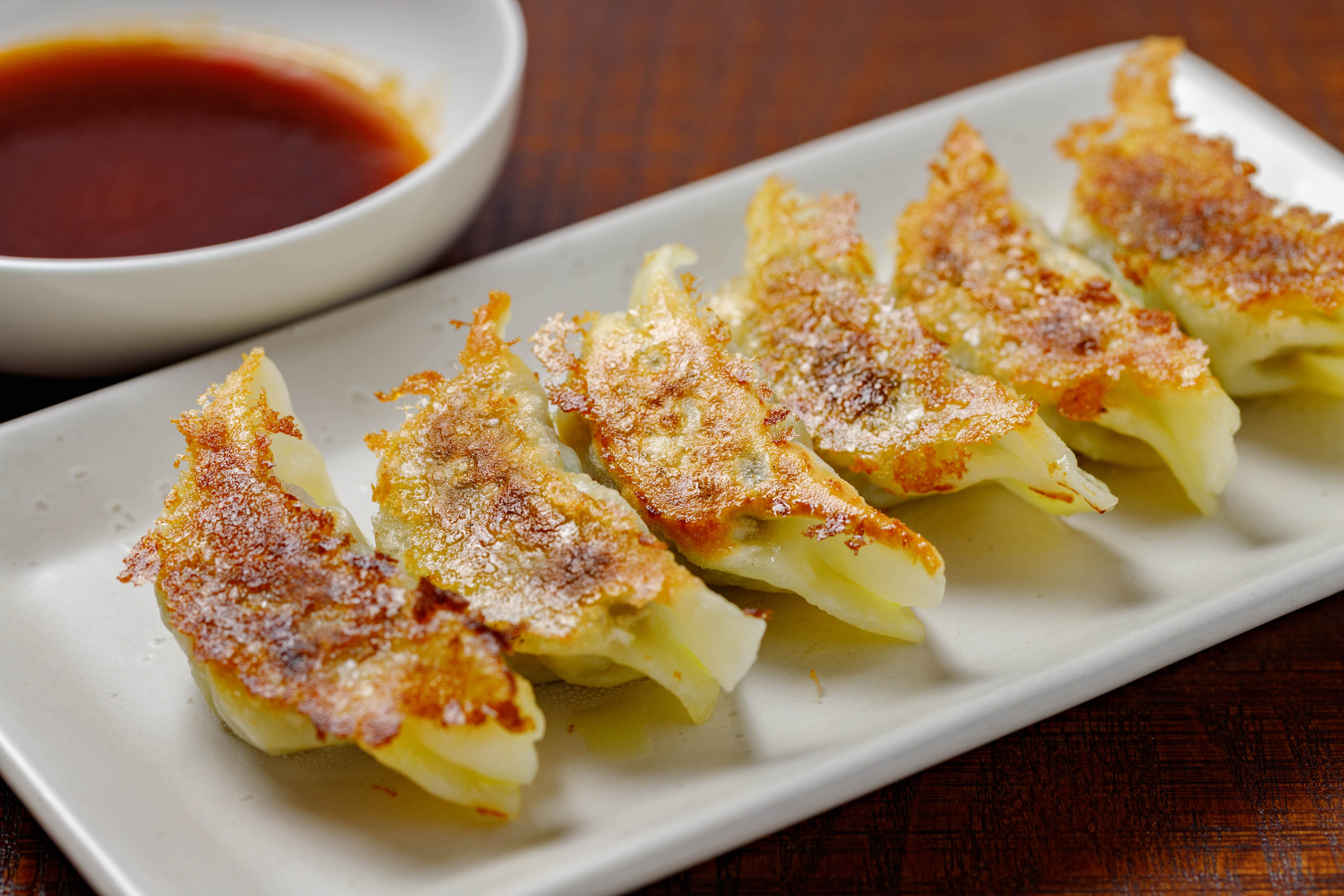 Gyoza(餃子) are Japanese-style dumplings filled with ground meat and minced vegetables. Its origins come from China and were arranged to blend in with Japanese cuisine to the point that it has become one of Japan's soul foods.
Gyoza can be prepared in several different ways. The main 3 types are "Yaki Gyoza"(pan-fried), "Sui Gyoza"(boiled), and "Age Gyoza"(deep-fried). The most popular style is the Yaki Gyoza which you will find most of the time.
Gyoza is enjoyed usually by dipping it in a concoction of soy sauce, vinegar, and chili oil. But sometimes it is prepared in a way that doesn't need to be dipped in the sauce.
Gyoza can be found mostly in Ramen restaurants, Izakaya(Japanese-style restaurant-bar), and Chuka restaurants(Japanese-Chinese restaurants). It is served usually as a side dish of 5 or 6 pieces, but nowadays there are restaurants specialized in Gyoza where you can place larger orders as the main dish.
Here I will introduce to you some of the most popular restaurants to enjoy the best gyoza in Tokyo!
---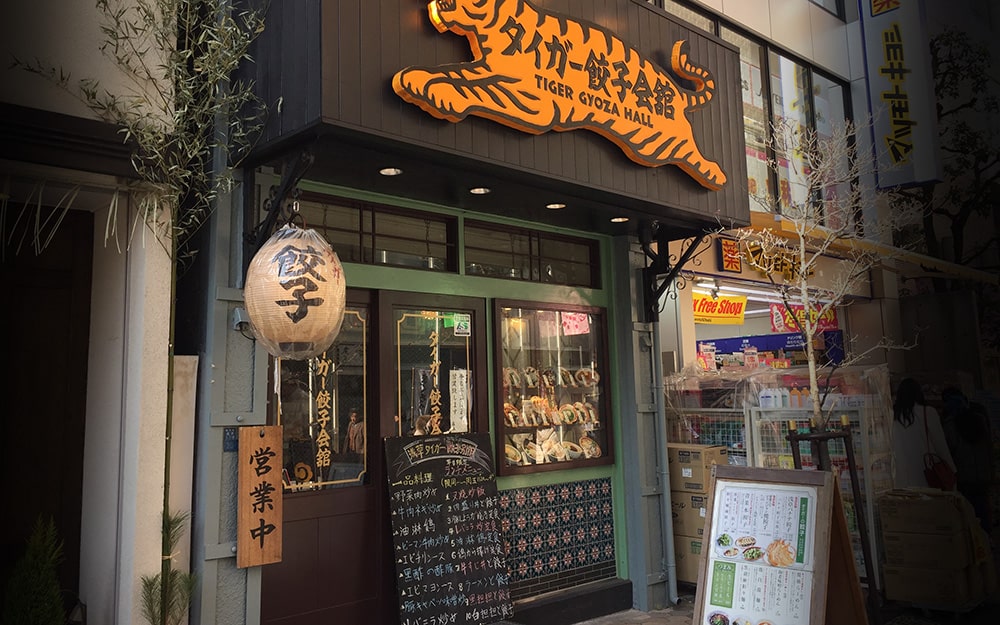 Located near the Tsukuba express station of Asakusa, Tiger Gyoza Hall Asakusa(タイガー餃子会舘) is a franchised Chinese restaurant where you can find tasty Chinese food at a reasonable price. Here you can order Gyoza of different flavors and shapes.
When people think of Asakusa, they tend to think about Tempura or Soba, but I would say Gyoza is also a good choice you could make!
Harajuku Gyoza Lou(原宿餃子楼) is a restaurant specialized in Gyoza, located in a very accessible spot near Meiji-jingumae station. Here they serve both Yaki Gyoza and Sui Gyoza. you can choose your Gyoza to have garlic and Chinese chive if you wish, which I would totally recommend.
Since their servings start from 6 pieces, you could pass by if you get little hungry in-between meals when you're shopping at Harajuku.
3. Gyoza Ohsho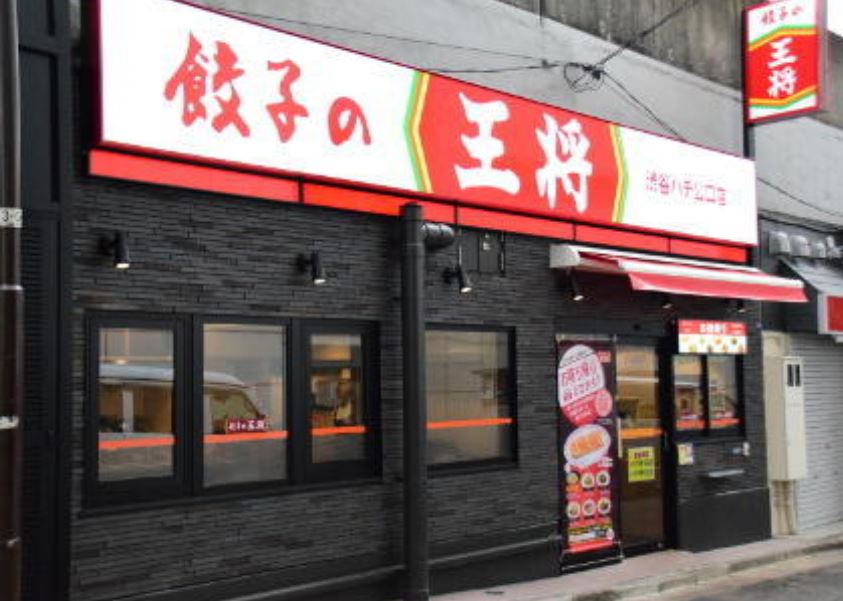 Gyoza Ohsho(餃子の王将) is arguably the most famous Chinese chain restaurant in Japan. Particularly famous for their gyoza as you can imply by their name.
There are over 60 restaurants in Tokyo including some of the main traveling areas such as Shibuya, Ueno, and Akihabara. Usually, they are located near train stations.
The information below is that of the Shibuya branch. For more information about their other branches in Tokyo, click here.
4. Gyoza no Fukuho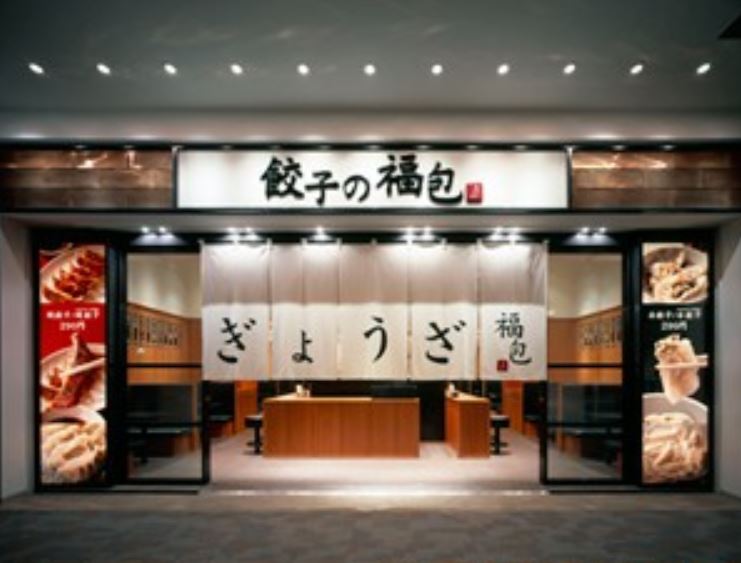 Gyoza no Fukuho(餃子の福包) is another Gyoza-specialized chain restaurant. They have restaurants in Toyosu, Shinjuku, and Nakameguro among others.
Their restaurants emanate a more Japanese-like atmosphere in comparison to other restaurants on this list.
They pride themselves on providing juicy Gyoza with lots of vegetables. And they have a nice variety of alcoholic beverages that match perfectly.
The following information is of the Toyosu branch.
5. WARASHIBE GYOZA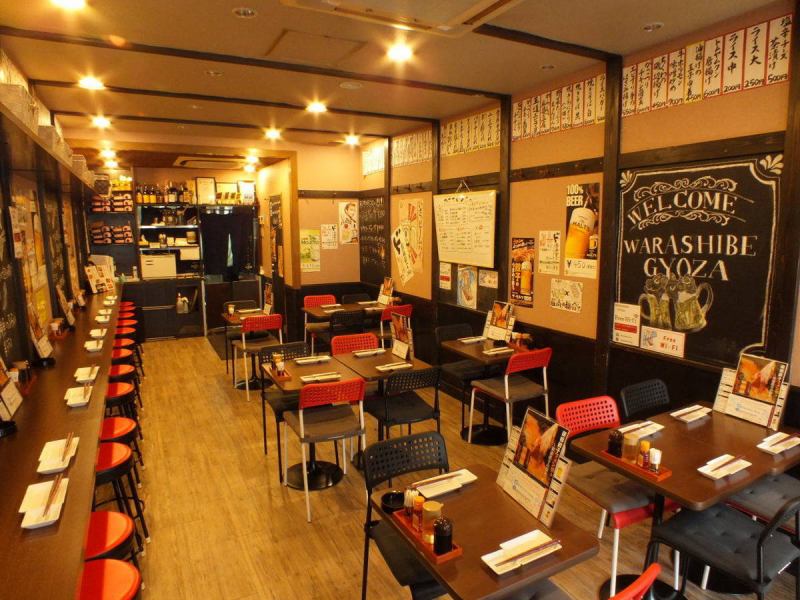 Located just 3 minutes away from Kanda station is Warashibe Gyoza(神田餃子居酒屋WARASHIBE GYOZA). They are an Izakaya that specialized in Gyoza, offering over 20 different types(They even have Gyoza fondue!).
They also offer a wide variety of the usual Izakaya foods, so if you feel like ordering something other than Gyoza, this is a good place for you.
besides having table seats, they also have counter seats which make it easier for people who want to go by themselves.
6. GYOZA BAR AOYAMA – Comme a Paris –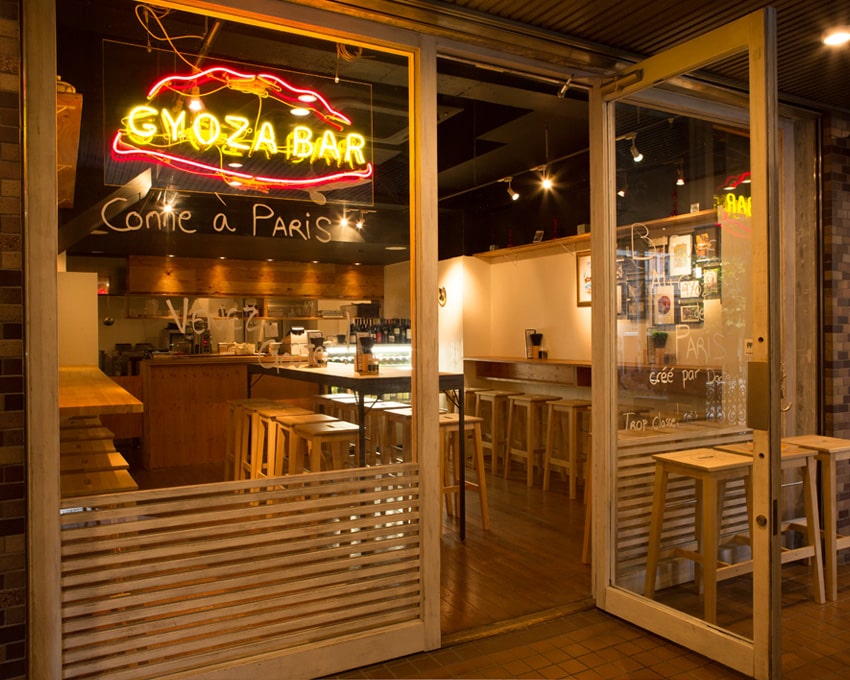 Gyoza Bar Aoyama – Comme a Paris -(ギョーザバー青山) is a French bar located in Omotesando that serves Gyoza.
The Gyoza here is prepared in a specific way that makes it match perfectly with wine or sparkling wine. They also offer a French a la carte menu in case you feel like ordering something else.
The restaurant has become a popular place to dine after shopping in Omotesando.
7. Shichifukugyouzarou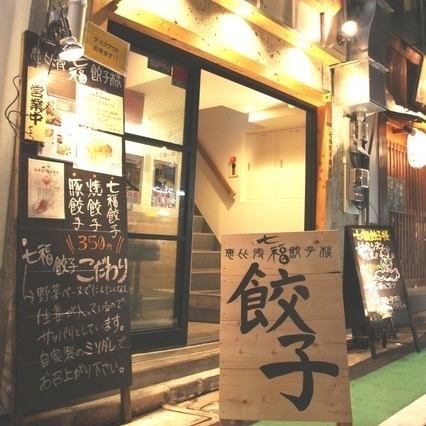 Shichifukugyouzarou (恵比寿 七福餃子楼) is a Chinese-style Izakaya located near Ebisu station.
They offer a wide variety of Gyoza: from the traditional pork and vegetables to more unique types such as gyoza with lamb or Coriander.
An attractive thing that this restaurant does is that they offer a special menu on the 7th, 17th, and 27th of every month. This menu consists of all-you-can-eat gyoza in 90 minutes. But this menu is so popular, you will have to make reservations well beforehand.
8. Taikourou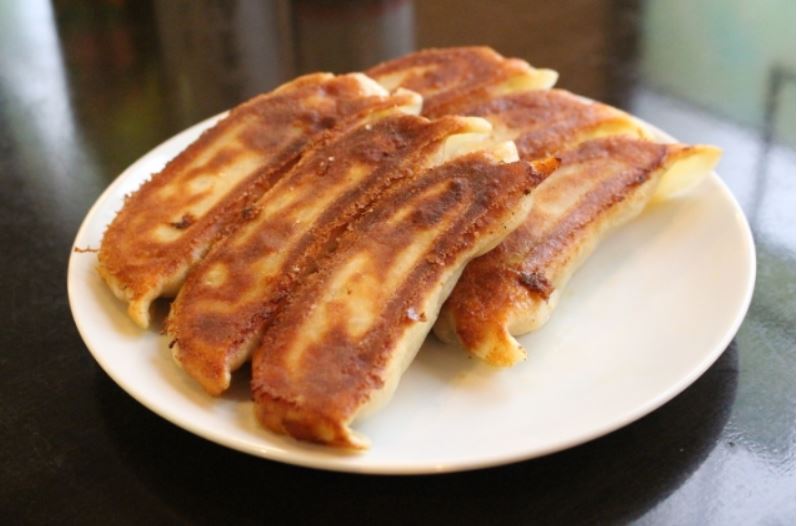 Taikourou (泰興楼 八重洲本店) is a long-running Chinese restaurant. Established in 1949, the main attraction of this restaurant is with no doubt their "Jumbo Gyoza". This Jumbo Gyoza has become popular and is most likely the reason for the restaurant's popularity.
Other than the gyoza, they also offer a wide variety of Chinese cuisine. We recommend their courses that are reasonably priced and include the Jumbo Gyoza.
9. Okei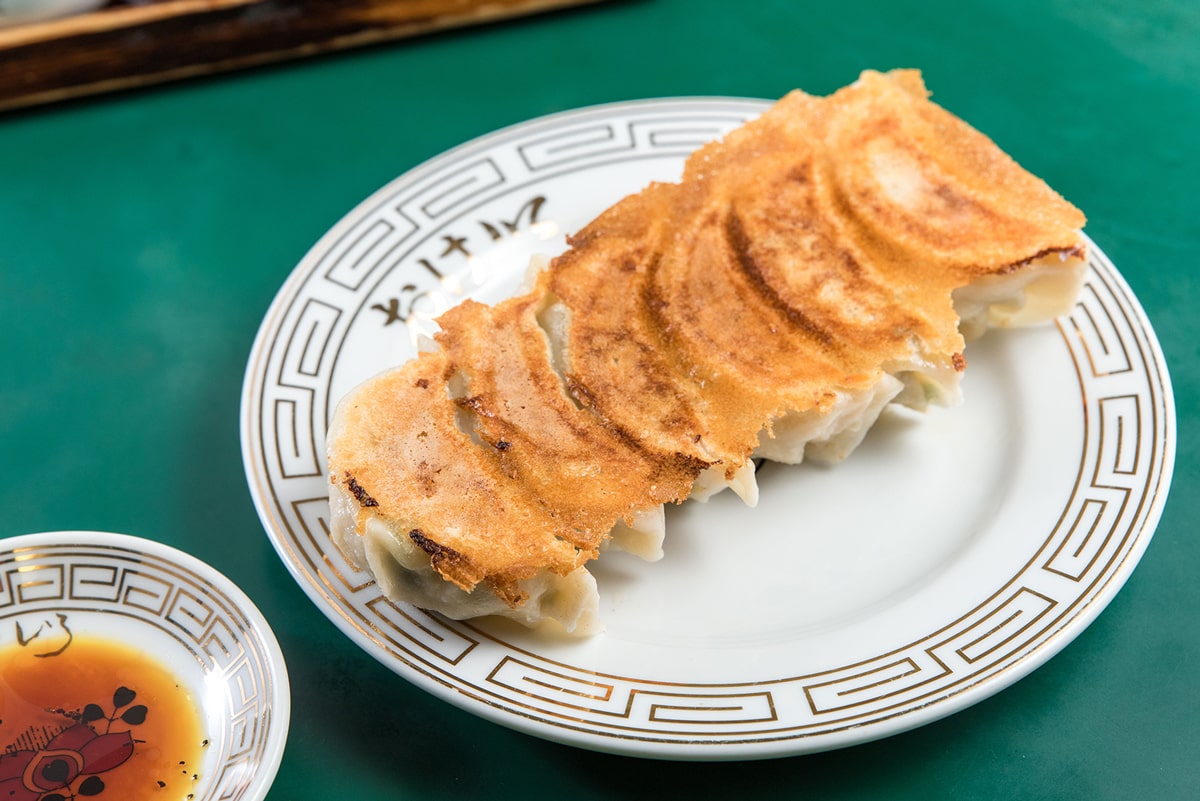 Another long-running restaurant is Okei (おけ以). Okei is located 3 minutes by foot from JR Iidabashi station and has been on business since 1954 without changing their way of preparing the Gyoza. It is listed as a Bib Gourmand restaurant in the Michelin guide since 2018.
This restaurant is very particular with making the Gyoza from scratch, and that has become one of the reasons for its popularity. If you're planning to go, be prepared to wait in line since you cannot make reservations. It might be a good idea to pass by after visiting Kagurazaka.
---
I hope you enjoyed this list. For more things to do or things to eat in Tokyo, check these other articles.
▽Related Articles▽
▼Editor's Picks▼
---