5 Best Yakitori in Tokyo
Get to know some of the top-ranked Yakitori Restaurants in Tokyo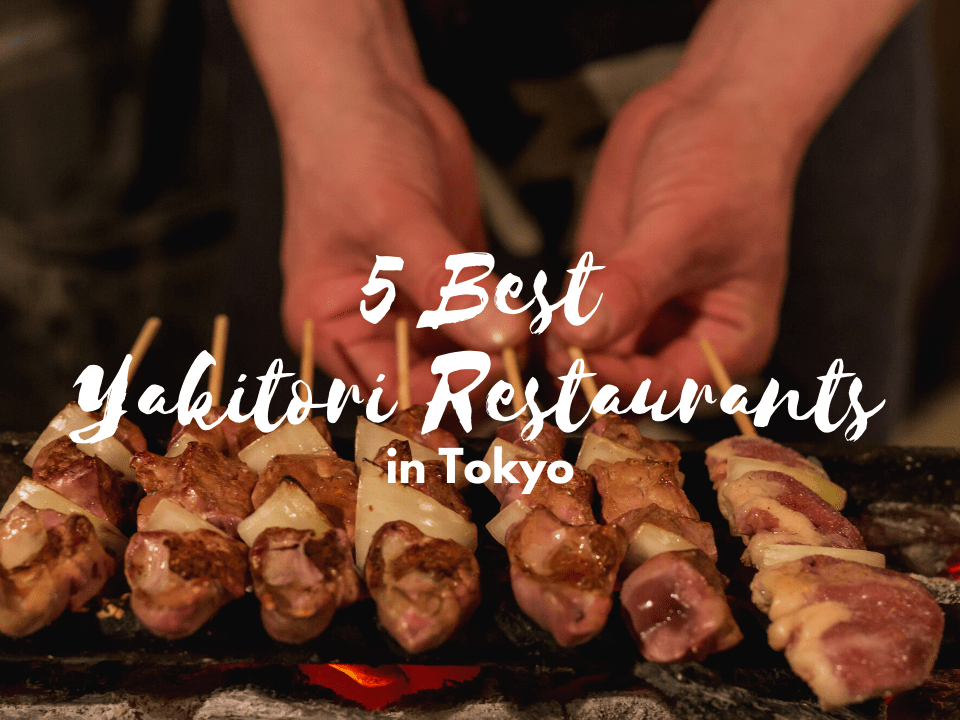 Yakitori. It is like a Japanese style BBQ and it consists mainly of skewered grilled chicken and vegetables. In Japan, it is known as the "Common people's food" because of its relatively cheap price, and it is one of the oldest Japanese foods, with its origins dating back as far as the Heian period which is about 1,200 years ago.
many Izakaya (traditional style Japanese pubs), even if they're not specialized in yakitori, tend to have yakitori in their menus because it is relatively simple to prepare, and it is the perfect side dish that goes perfectly with sake, wine, beer, or any alcoholic beverage that you prefer. This is good and everything, but you will notice a HUGE difference in quality and variety when you visit a Yakitori restaurant (also known as "Yakitoriya"). These Yakitori-specialized restaurants are very specific and strict in the way the chicken is grilled. And they cook almost every part of the chicken, so very little goes to waste. Since each part has its own distinctive texture and flavor, and there are so many different parts you can choose from, many people tend to revisit Yakitori restaurants during the same visit to Japan.
If you're a vegetarian and think Yakitori restaurants are not a place for you, don't rush that decision just yet.
Yakitori literally means "grilled chicken", but that doesn't mean they only serve chicken in that restaurant. Nowadays, pretty much anything that's skewered can be found in Yakitori restaurants. There are skewers beef, pork, and vegetables. therefore, if you are a vegetarian, you can still have a great time at a Yakitori restaurant.
In this list, we will introduce you to some of the most popular and highly rated Yakitori restaurants in Tokyo. You might think at first that all Yakitori restaurants are similar, but you'll be surprised at how big of a difference the type of chicken used can make. Even if the type of chicken is the same, small details make big differences. from the way the skewers are prepared, the type of charcoal used to grill, to the technique used to grill the chicken.
Hope you enjoy.
*Please note that this article contains affiliate links.
---
1. Ginza Torishige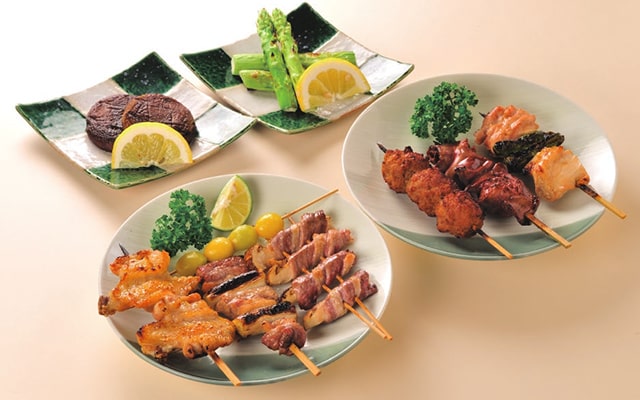 Ginza Torishige (銀座 鳥繁) is a Yakitori restaurant that has been in business for over 80 years. It is located in Ginza, making it a popular restaurant for business people to go after work for drinks.
It is also popular for its lunch set that includes; 4 Yakitori + dry curry, salad, and soup. The dry curry, which is a side menu, is especially famous for being a traditional menu that dates back to the first owner. It has been passed down throughout the generations, and it is now a must-order dish. Another famous dish on the menu is the grilled quail. It is a whole quail skewered and grilled. You won't find this in other Yakitori restaurants, so it is a dish you will want to order when visiting Ginza Torishige.
The restaurant has two floors, each with a grilling station for each cooker. Therefore you can enjoy watching the skillful chefs preparing and grilling while you enjoy your Yakitori. The restaurant has space for 80 seats, which might seem like a lot. But due to its huge popularity, Ginza Torishiage is always crowded, which is why it's highly advisable to reserve in advance.
Another unique experience you will have at Ginza Torishige is watching the way they serve you warm Sake. The Sake is served using a tea kettle made of sterling silver, and it is served by skilled specialists. The flavor of the Sake changes by doing this, and it is said that the flavor becomes mild and elegant.
▶ Make a reservation at Ginza Torishige
Map: https://g.page/ginzatorishige?share
Access:
5-minute walk from Ginza station (Tokyo Metro "Ginza Line", "Marunouchi Line", and "Hibiya Line"), A1 exit
5-minute walk from Shinbashi station (JR Lines)
5-minute walk from Yurakucho station (JR Lines)
Hours:
Mondays to Fridays: Lunch: 11:30 ~ 2 pm (L.O. 1:30 pm)
Dinner: 5 pm ~ 10 pm (L.O. 9:15 pm)
Saturdays: Dinner: 4 pm ~ 9 pm (L.O. 8:30 pm)
(Closed on Sundays and Holidays)
Budget: Lunch 1,000 yen~ / Dinner 6,000 yen~
2. Bird Land Ginza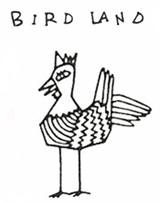 Bird Land Ginza (銀座バードランド) is another Yakitori restaurant located in Ginza. It is actually located nearby Ginza Torishige. This is a 1-star rated Michelin restaurant and you will notice the commitment that the chef has when it comes to preparing the Yakitori.
First of all, the Yakitori in this restaurant is made with only one kind of chicken; "Okukuji-shamo". Okukuji-shamo is a high-quality local gamefowl from Ibaraki prefecture reared according to strict rules. This meat is known to be tender and low in fat. There are also other specific details that create the flavor that can only be achieved by Bird Land Ginza, such as; using a specific brand of coal to grill the chicken, and also having very specific with the flavoring. Because of this, Bird Land Ginza is relatively more expensive compared with other Yakitori restaurants, but you will notice the difference in quality once you try it out. Not only the meat of the Okukuji-shamo is used, but also the eggs are used in making the popular dessert of the restaurant which is the pudding.
The restaurant has a capability for 33 people, including table seats and counter seats. We recommend the counter seats because that way you can see how the chef prepares the chicken.
They also have a wine cellar containing wine strictly selected to match perfectly with the Yakitori.
▶ Make a reservation at Bird Land Ginza
Map: https://goo.gl/maps/w6LGUWZRwxWsFj3V7
Access: 1-minute walk from Ginza station (Tokyo Metro "Ginza Line", "Marunouchi Line", and "Hibiya Line"), C6 exit
Hours: Dinner: 5 pm ~ 10 pm (L.O. 9:30 pm)
Budget: 10,000 yen ~
3. Toritama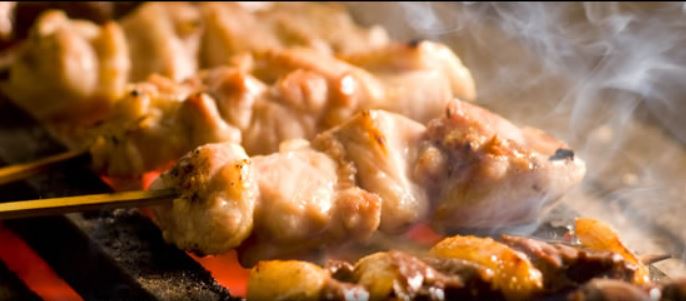 Next on the list, we have Toritama (白金 酉玉 本館) which is not as accessible as the previous 2 restaurants, but yet is as popular and always crowded.
What makes this restaurant stand out compared to other Yakitori restaurants is the fact that they serve a very wide variety of chicken parts. Over 30 parts of the chicken are used, including many parts that foreign visitors might consider unusual. This means that there are chicken parts that can only be found in Toritama, making this restaurant unique in that way. Each part is prepared in a specific way and has its own textures and flavors. therefore you might have to visit more than once to be able to try out all chicken parts. No need to worry if you don't know what to order at first since they have set menus that include the chef's recommendations of that day.
Another thing that makes Toritama stand out is its casual atmosphere. The restaurant is relatively small, having space for 20 seats, and you will hear Jazz music in the background as you enjoy your Yakitori dish with some sake or wine.
They also have a wide variety of vegetarian skewers on the menu. So if you're a vegetarian, this might be your best option on the list.
▶ Make a reservation at Toritama
Map: https://goo.gl/maps/4YKgWsuzWNqT1fWNA
Access:
15-minute walk from Ebisu station (JR Lines and Tokyo Metro "Hibiya Line")
10-minute walk from Hiroo station (Tokyo Metro "Hibiya Line")
Hours: Dinner: 5:30 pm ~ 1:00 am (L.O. 12 am)
(Closed on Sundays) ※Sundays are open when the next Monday is a holiday (instead, that Monday is closed)
Budget: Dinner: 5,000 yen ~
4. Ranjatai (Permanently Closed)
Opened since 2006, Ranjatai (蘭奢待) is a relatively new Yakitori restaurant compared to the other restaurants on this list. Yet, it has grown to become a Michelin 1-Star restaurant.
At Ranjatai, only "Hinai jidori" (Japanese branded chicken) is used. Hinai jidori is a premium chicken from Akita prefecture and is well known for its high quality. It is one of the most famous chicken brands in Japan along with "Satsuma dori" and "Nagoya kochin". This meat is known to be juicy and tender, and it is prepared in a specific way that allows the chicken to be at its best.
The restaurant has space for 20 seats, and it provides a very relaxing atmosphere. The composition of the interior is very traditional, so it provides the experience many are looking for when searching for a Yakitori restaurant.
Ranjatai is also well known for its wide variety of side menu dishes. Some side dishes are created to combine well with Sake, and others are created to combine well with wine. So no matter if you are a Sake lover or a wine enthusiast, you will find the perfect side dishes that will match your taste. And of course, Ranjatai has also a great selection of wine and Sake.
Access: 1-minute walk from Jinbocho station (Tokyo Metro "Hanzomon Line", Toei "Shinjuku Line" and "Mita Line"), A4 exit
Hours: Mondays to Fridays: 6 pm 〜 9:30 pm
Saturdays: 6 pm 〜 8:30 pm
(Closed on Sundays and Holidays)
Budget: 6,000 yen ~
5. Bird Court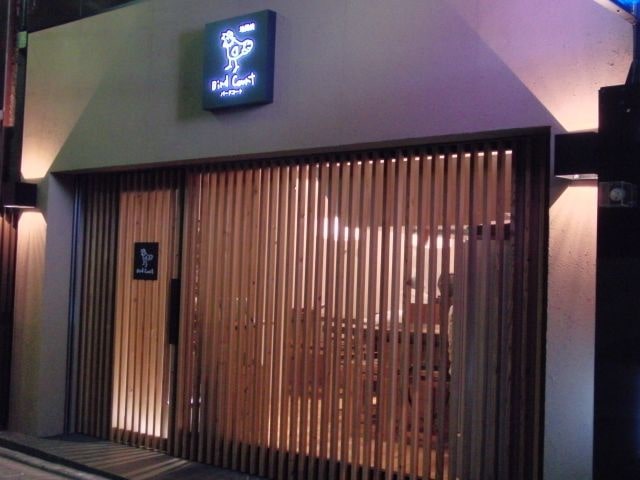 Bird Court (バードコート) is also a Michelin 1-star Yakitori Restaurant, which is located in a restaurant-filled street near Kitasenju station. The restaurant has been in business since 1999, making it another relatively young restaurant with a Michelin star.
Alike Bird Land Ginza, Bird Court uses only Okukuji-shamo meat for their Yakitori, so high-quality meat is guaranteed right there. But the quality of the chicken is not the only charming point of this establishment. The side menus are also a popular point, being stylish and photogenic, making this restaurant popular for young women. Some of the side dishes include; soups, salads, liver paste with Baggett slices, etc.
The restaurant has space for 29 seats, including counter seats, table seats, and Japanese-style tatami seats. The Japanese-style tatami seats are not very common in Yakitori restaurants, so if you're planning on going in a small group, you might want to try making reservations for these seats. Since it is located in an area where many people gather looking for restaurants, reservation is highly recommended.
Map: https://goo.gl/maps/ntQBVf1emMmwtriL9
Access: 3-minute walk from Kita-senju station (Tokyo Metro "Hibiya Line", "Chiyoda Line", and JR "Joban Line")
Hours: Tuesdays to Saturdays: 5:30 pm ~ 10:30 pm (L.O. 10 pm)
(Closed on Sundays and Mondays)
Budget: 8,000 ~ Yen
Official Website: http://birdcourt.com/
---
As you can see from this list, all of these Yakitori restaurants have their own specific and strict ways of making their own Yakitori. You might not have the time to visit various Yakitori restaurants in one visit, but the most important thing is to enjoy the restaurant's environment and the unique experience that it provides.
Which makes you think, why is Yakitori so popular among both Japanese and foreign visitors? First, it is way more affordable in comparison with other Japanese foods. Secondly, since the portions are small, it is easy to eat, and you can enjoy trying out many different parts of the chicken. It also makes it easy to share with your friends or family. And thirdly, as I mentioned above, it goes perfectly with Sake, Wine, Beer, or any other type of alcoholic beverage.
In other words, Yakitori restaurants are the perfect place to socialize with people you newly meet, or just spend a nice time with your friends or family. All this while enjoying exquisite, but not so expensive food.
---
While you're in Tokyo, here are some other lists of places you might want to check out!
▽Related Articles ▽
▼Editor's Picks▼
---