6 Best Walking Tours in Tokyo
Best Tokyo walking tours highly rated on Tripadvisor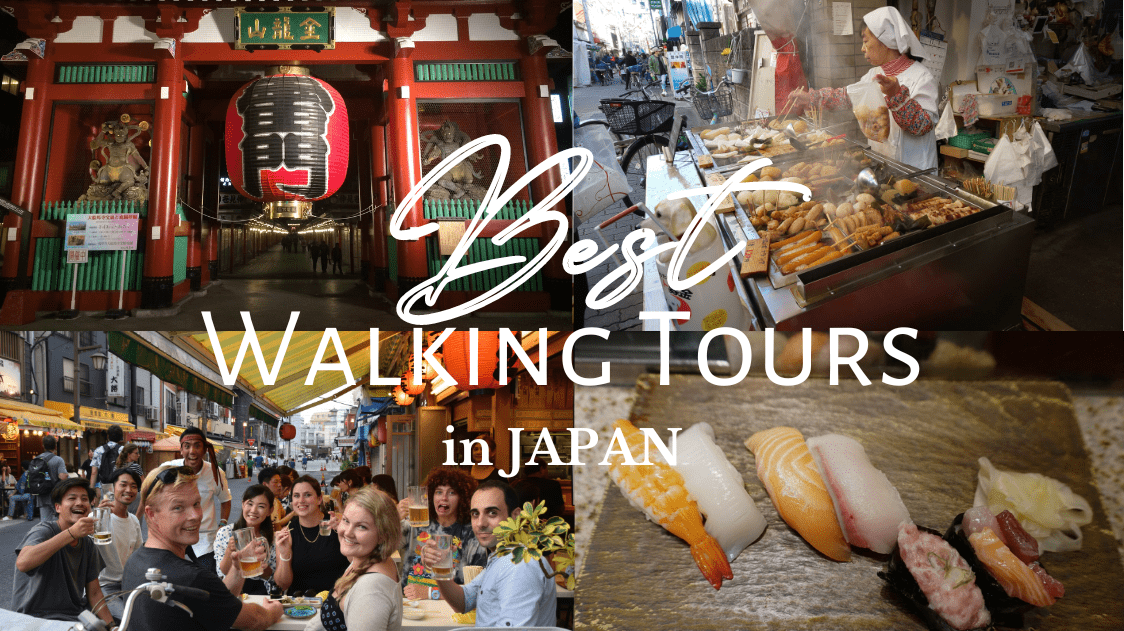 Tokyo, being literally the largest city in the world, will take a lot of time to travel around, look at all the interesting places, and have all the exciting experiences that this massive city has to offer.
From visiting the famous shrines and temples, walking around the crowded shopping streets, to trying out the local foods. There's just so much that needs to be done, and usually, visitors don't have enough time to cross off all checking points on their to-do lists.
Therefore, taking a walking tour where a professional guide takes you around the city and explains to you all the highlights and interesting facts is a good way to be efficient in both time and physical energy.
Japan Wonder Travel is a company that specializes in giving high-quality walking tours in Tokyo and other areas in Japan. They provide a good variety of walking tours in Tokyo: from 3-hour eating tours to day-long walking tours.
And the tour guides that Japan Wonder Travel provides are definitely first-class. They are knowledgeable, accommodating, and a lot of fun to hang around with.
Here, we will introduce you to 6 of the most popular Tokyo walking tours. All these walking tours are high-quality and have a very high rating on their website. I hope you find a tour you would be interested in taking.
---
1. Tokyo 1–Day Highlights Private Walking Tour (8 Hours)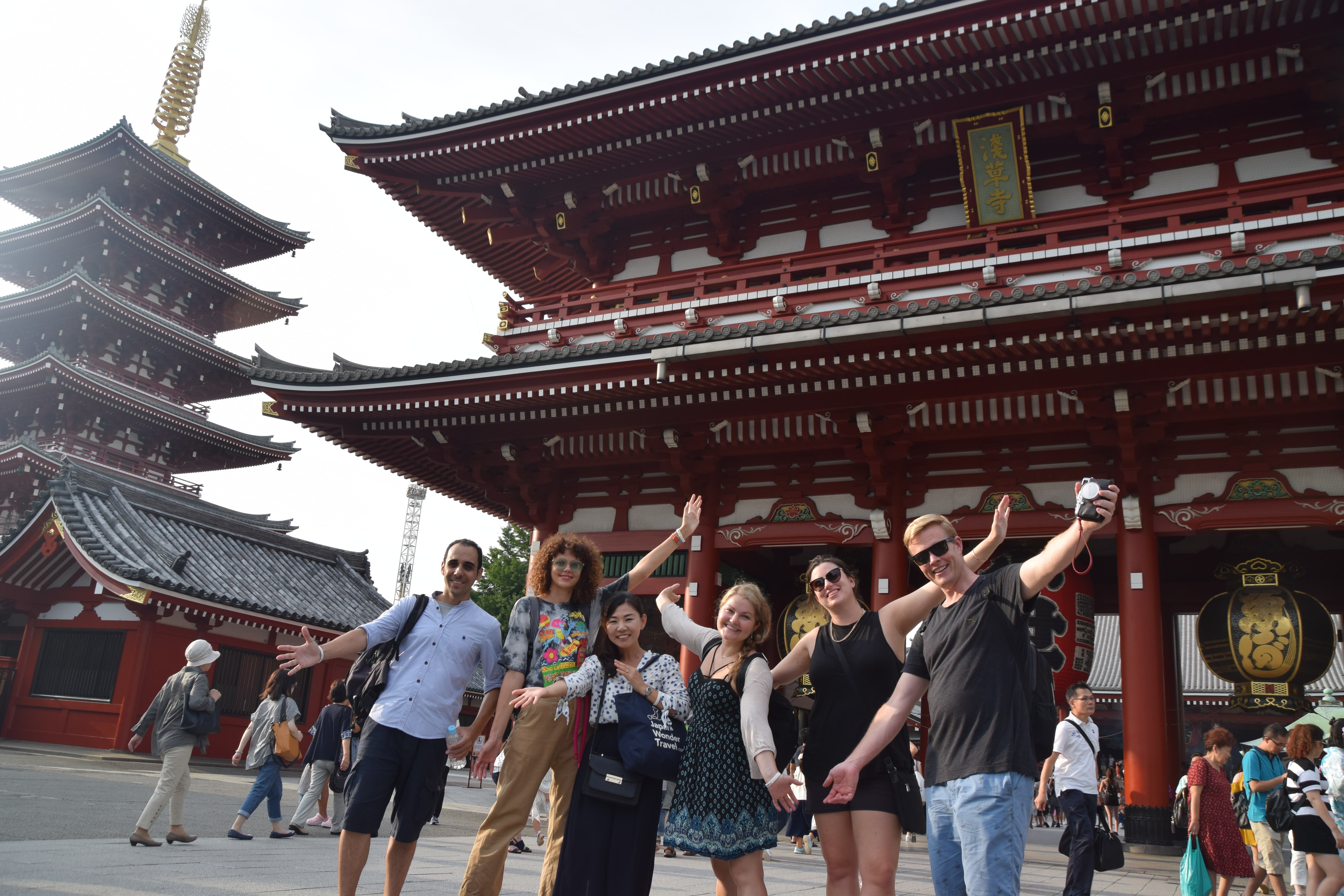 Especially recommended if this is your first time in Tokyo. The "Tokyo 1–Day Highlights Private Walking Tour (8 Hours)" is a walking tour that shows you all the highlights of Tokyo in one day.
The regular course of this private walking tour starts at the hotel where you are staying. The private walking tour will take you to Tsukiji, Asakusa, Meiji Shrine, Harajuku, and Shibuya. But this course can be changed according to the guests' preferences. If you don't want to walk too much, or if there's a place you would like to visit that is not included in the original course, the guide can adjust the tour in a way that you will visit only places that interest you. Not only can the places be changed, but also the time can be changed according to your plans, so feel free to make any type of request.
The guides in this private walking tour will answer any questions or concerns you may have about Tokyo or Japan in general. That is why we recommend this private walking tour, especially for those who are visiting Tokyo for the first time. It could be a good idea to take this tour as soon as you get to Tokyo, ask any questions you have such as how to use the metro system, and then enjoy the rest of your trip having all the knowledge without worrying about anything.
▶Here's my experience taking this Tokyo walking tour.
This tour is pricier compared to the other tours on this list, but considering the fact that the tour is private and that is completely customizable, it is totally worth it. And just so you know, the total price of this tour is the same for the first 6 people.
At first, 8 hours may sound like a lot, but since there is so much to see and learn, afterward you will feel like 8 hours passed by really quickly.
▶Tokyo 1-Day Highlights Private Walking Tour (Customizable, 8-Hour)
Still, if you feel like 8 hours is a little too much for you or if you got only half a day free, there's a 4-hour version of this same walking tour. Click the link below for more information on the 4-hour private tour!
▶︎Tokyo Private Tour [Customized, 4 Hours]
2. Tokyo Food Tours – The Tsukiji Fish Market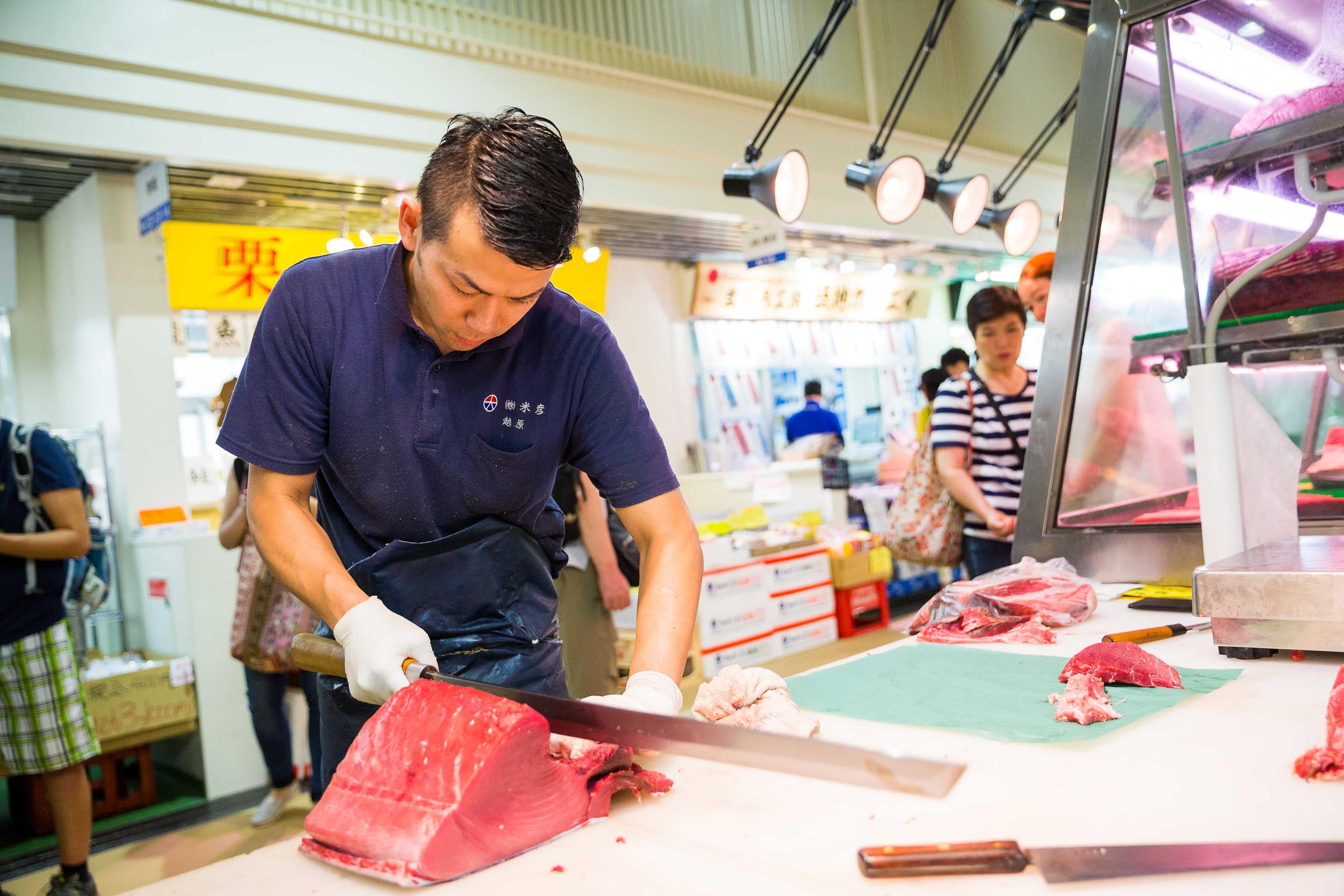 So far, this is the most popular walking tour that Tokyo Wonder Travel offers, with nearly 3,000 people having had taken the tour.
Even though the Tsukiji Fish Market had been relocated to Toyosu in October 2018, the outer market is still strong in its presence with around 400 stores and shops where you can find not only fish, but also beef, pork, chicken, vegetables, fruits, nuts, and many other foods. Coming to Tsukiji by yourself and walking around can be overwhelming to some people.
Luckily for you, "Tokyo Food Tours – The Tsukiji Fish Market" is a walking tour that will not only take you around the Tsukiji outer market but also it will take you to taste some of the exquisite foods the market has to offer. You will have a taste of the famous Tuna fish, Tamagoyaki (rolled omelet), and Japanese tea, among other tasty local foods.
▶Here's our writer's experience taking this Tsukiji Fish Market tour.
And even though the main market relocated, there's still a wholesale market in Tsukiji with around 60 shops. You will walk around and see all the specialized shops selling many kinds of fish.
At the end of the walking tour, you will be going to a Sushi restaurant and tasting the freshest sushi you'll ever have along with Japanese Sake!
Learn about Tsukiji's history and Japanese culinary culture provided by the tour guide while tasting the local foods.
▶Tokyo Fish Market Tour @Tsukiji – Enjoy Local Food and Drink
3. Asakusa Street Food and Local Drink Tour [Evening Tour]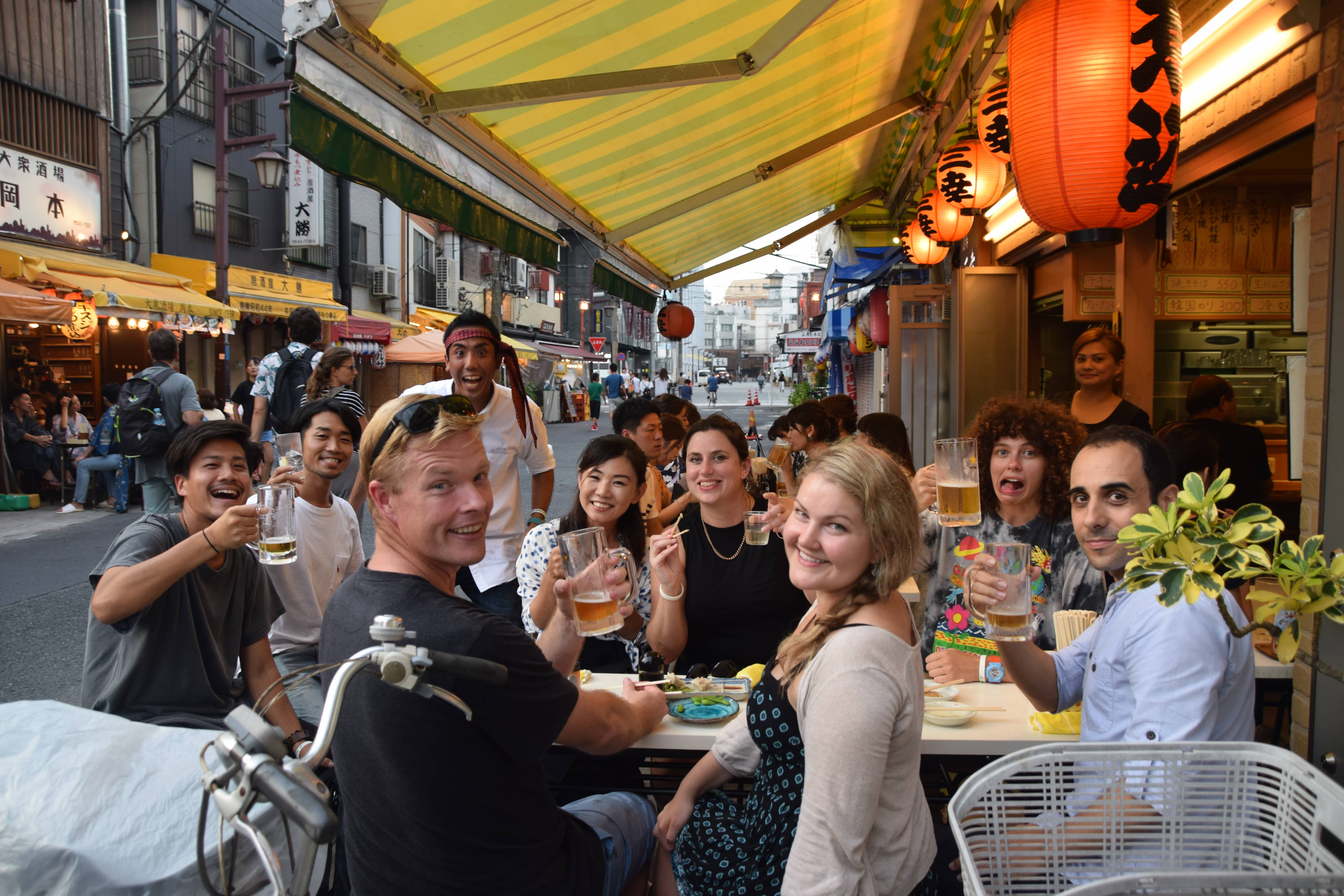 "Asakusa Street Food and Local Drink Tour [Evening Tour]" is a 3-hour long evening walking tour in Asakusa.
Most foreign visitors go to Asakusa in the morning, but what many don't know is that Asakusa changes a lot in appearance once the sun has set. In the nighttime, you will see much fewer tourists and many more locals, a quietly lit-up Sensoji Temple has a mysterious but stunning appearance, and the restaurants and bars lining up at Hoppy Street are filled with lively people as opposed to the quieter daytime.
In this walking tour, you will see all these "nighttime Asakusa" views while tasting great Sake and great food. You will have the chance to try "Monja-yaki" which is one of the Tokyo soul foods. It is like a Tokyo savory pancake.
Experience the Izakaya (Japanese bar) culture and mingle with the locals if you have a chance. The guide will help you with understanding the culinary culture and will also help with communication with the locals, so there's no way you will not enjoy such an experience!
▶Asakusa Local Food and Bar Hopping Tour [Evening Tour]
4. Tokyo Food Tours – Local Delicatessen Street "Sunamachi"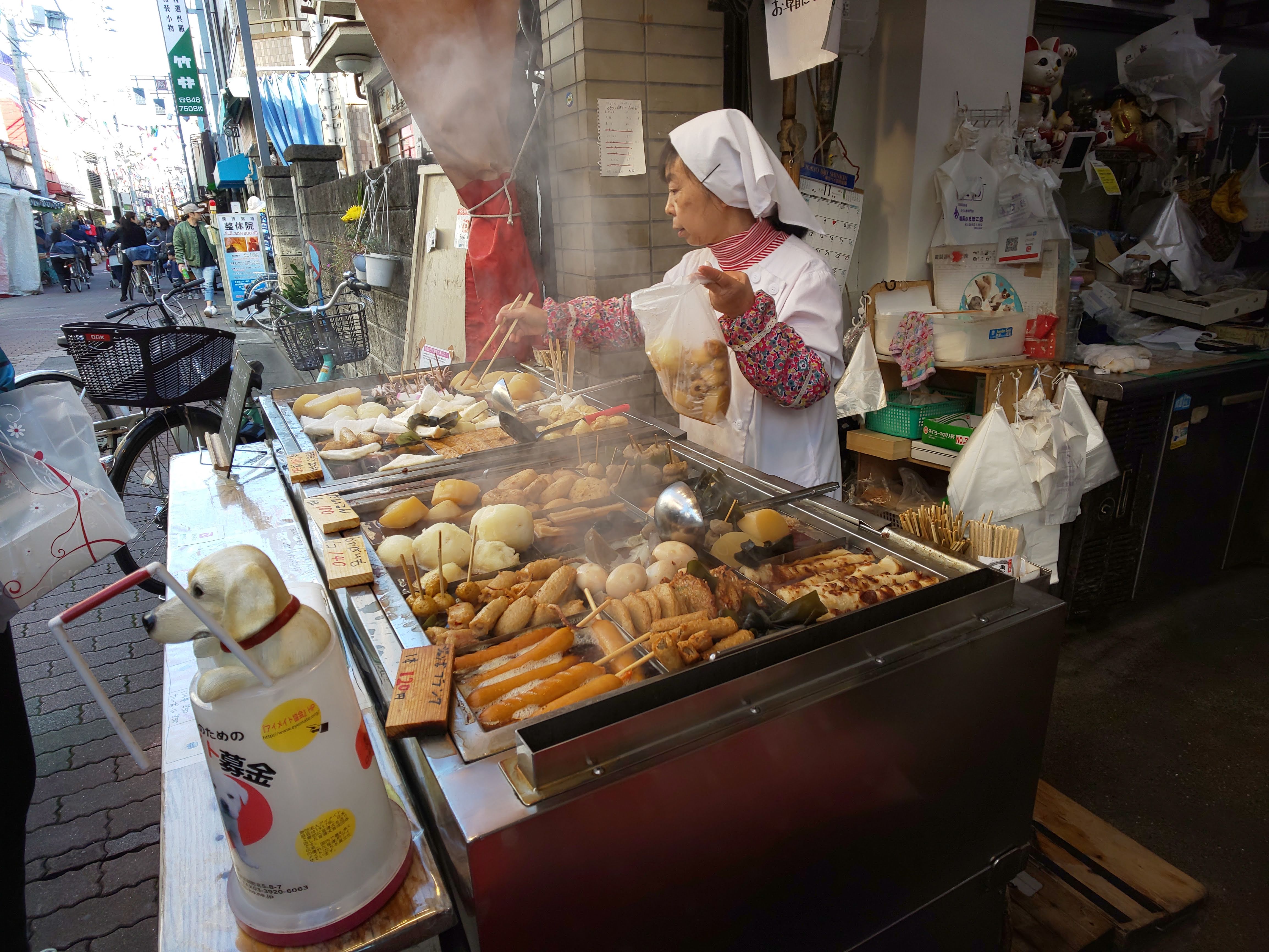 Sunamachi-Ginza is one of the lesser-known, hidden gems of Tokyo's culinary culture. The problem is that access is not as convenient compared to other touristic areas. Therefore most foreign visitors would rather visit those easier-to-go kinds of places. But that is a shame because Sunamachi-Ginza is such an interesting place with a lively atmosphere.
"Tokyo Food Tours – Local Delicatessen Street "Sunamachi" is the walking tour that will make going to this hidden gem easier for you.
The walking tour starts at Kinshicho station. From there, you will take a local bus to Sunamachi-Ginza, which is a 670m long street filled with nostalgic-feeling shops. Most of these shops are run by family businesses. You will find Tempura, Yakitori, Oden, and many other local foods. In other words, many of Tokyo's soul food can be found here.
Here, time passes by slowly, you won't see many tourists, and the locals are very friendly. You will find yourself being part of the everyday life of the locals, which is a nice feeling.
The guide will explain the area and its history, as well as the Japanese culinary culture.
▶Tokyo Local Street Food and Drink Tour @Sunamachi
5. Akihabara Anime Tour: Explore Tokyo's Otaku Culture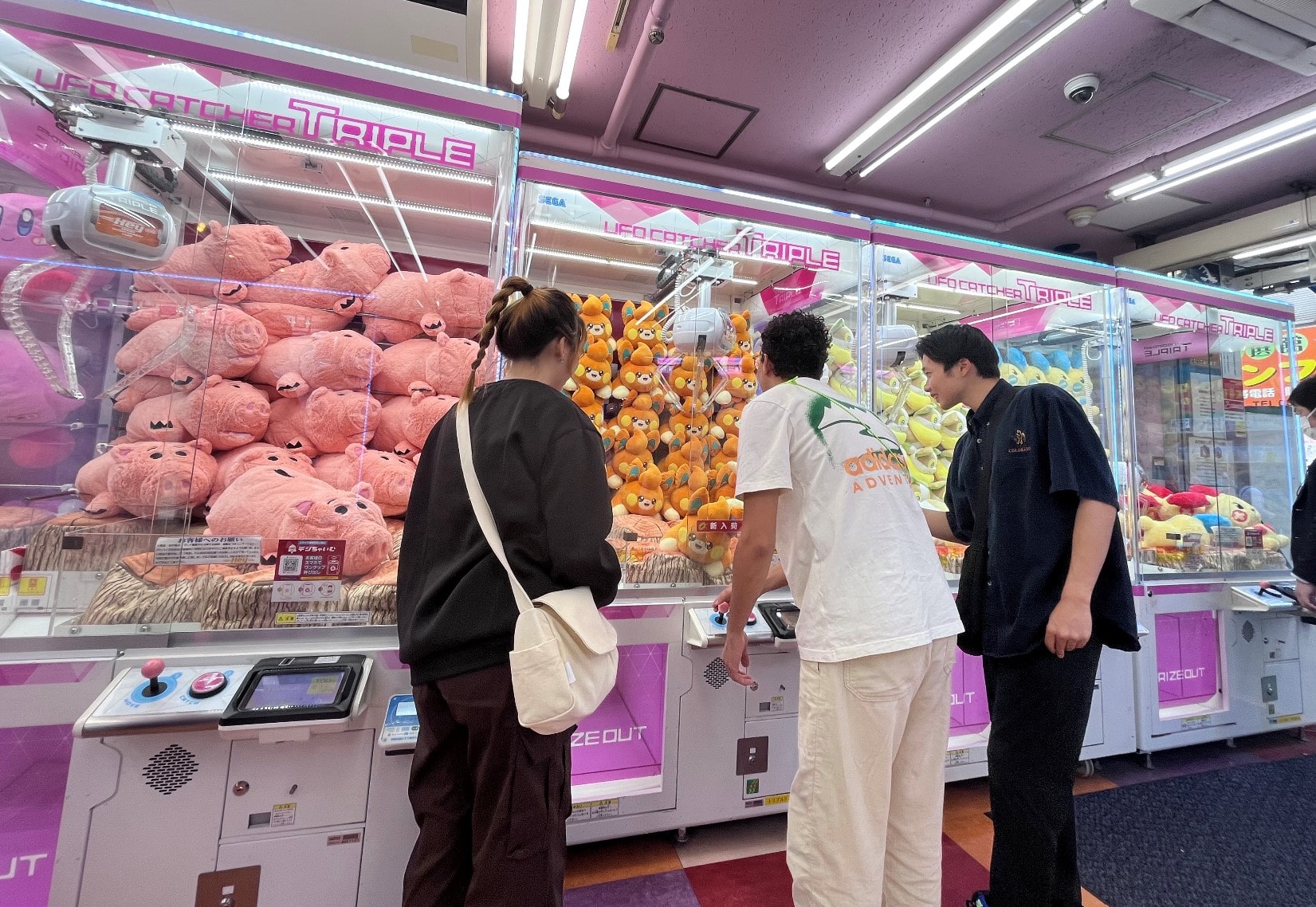 For those who love the Manga, Anime, and Gaming culture of Japan, this is the perfect walking tour for you. Akihabara is the mecca of Otaku culture in Tokyo and it is packed with a wide variety of shops and arcades. Not only can you find Manga, Anime, and Gaming things here, but also electronics, maid cafes, idol theaters, and so much more! All of these things are packed in this energetic city in central Tokyo. There are just so many shops, it can be really overwhelming at first.
The "Akihabara Anime Tour" will make sure to make your time in Akihabara well-spent, by taking you and showing you some of the most iconic places in this city.
This 1.5-hour group tour starts by taking you to electronic shops under the train tracks that have a history dating back to post-WWII. Then you will visit the Akihabara Radio Kaikan which is an 11-story shopping building full of Anime-related stores. You will also check out Akihabara HEY, an arcade with videogames and crane games; Super Potato, a retro store where you can find many nostalgic titles; and Mandarake which is the ultimate anime and Manga shop!
Enjoy this exciting unique city as well as its fascinating shops! Get to see items that you won't see anywhere else in the world!
▶Akihabara Anime Tour: Explore Tokyo's Otaku Culture
6. Shinjuku Bar Hopping Tour: Experience Tokyo's Nightlife in Izakaya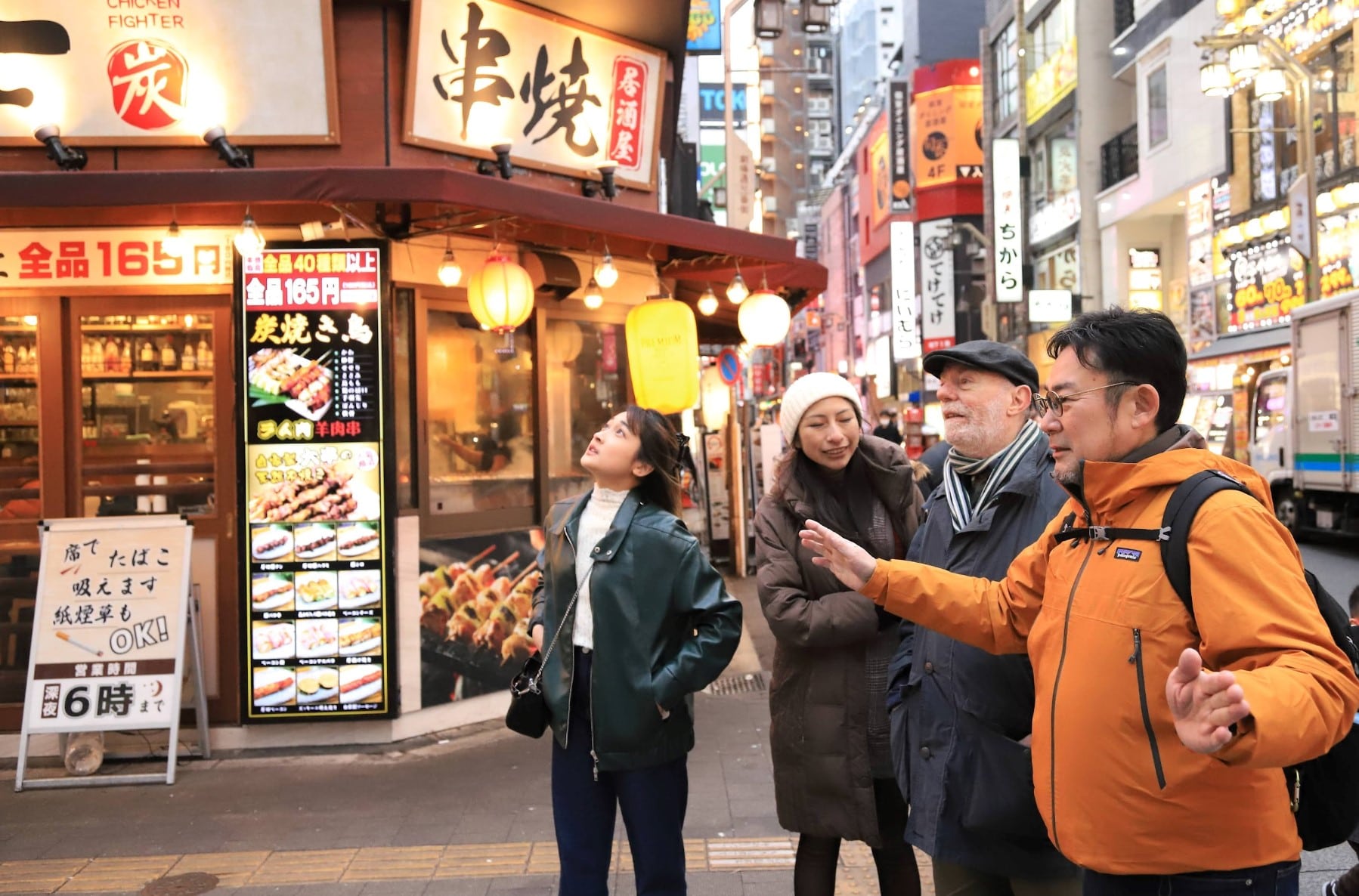 If drinking is one of the things you like to do, then one of the must-go places in Tokyo is Shinjuku. Shinjuku is not only known as the biggest drinking town in all of Tokyo but also as the "city that never sleeps". There are just so many things you can do here: go eat at restaurants, drink at bars and Izakaya, watch movies, sing at the Karaoke, gaming arcades, clubs, etc. Because of this, as well as the fact that it is a large city in Tokyo, visiting Shinjuku for the first time can be pretty intimidating.
That's where the "Shinjuku Bar Hopping Tour" can help! With this tour, an experienced English-speaking guide will show you the quintessential parts of this huge city in a three-hour-long group tour.
The tour starts at 5 pm by taking you to Omoide Yokocho which is a narrow picturesque alley near Shinjuku station where many small Izakaya are lined up. Then you'll visit the famous Kabukicho where many neon lights and flashy signs will be welcoming you. And lastly, you will end the drinking experience at Golden Gai which is yet another picturesque alley packed with tiny bars.
Get to experience the Japanese style of drinking (bar hopping) in the largest drinking town in Tokyo!
▶Shinjuku Bar Hopping Tour: Experience Tokyo's Nightlife in Izakaya
---
If this is your first time in Tokyo, not have a lot of time in Tokyo, or not have an idea where to start on your visit to Tokyo, we strongly recommend that you consider taking one (or several) of these walking tours. What better way to start your visit to Tokyo than by enjoying the highlights chosen by professional guides, and learning the history and culture as you start to immerse yourself in this new culture in this wonderful city?
Even if this is not your first time in Japan, you will certainly have a memorable time participating in any of the walking tours on this list. There is so much to learn about in Tokyo, no matter if you've been to Tokyo 10 times, you will always discover something new in these walking tours.
Other recommended walking tours from Japan Wonder Travel.
▶Tsukiji Fish Market Explore + Sushi Making Experience Tour
▶Tokyo Food Tours @ Toyosu & Tsukiji Market
---
▽Subscribe to our free news magazine!▽

Looking for more things to do in Tokyo? Check out these other articles for more ideas!
▽Related Articles▽
▼Editor's Picks▼
---