Tsukiji Fish Market Tour: Best Food Walking Tour in Tokyo
Tokyo Fish Market Tour: Enjoy delicious Tsukiji Sushi, Tuna and Street Food with the Best Walking Tour in Tokyo!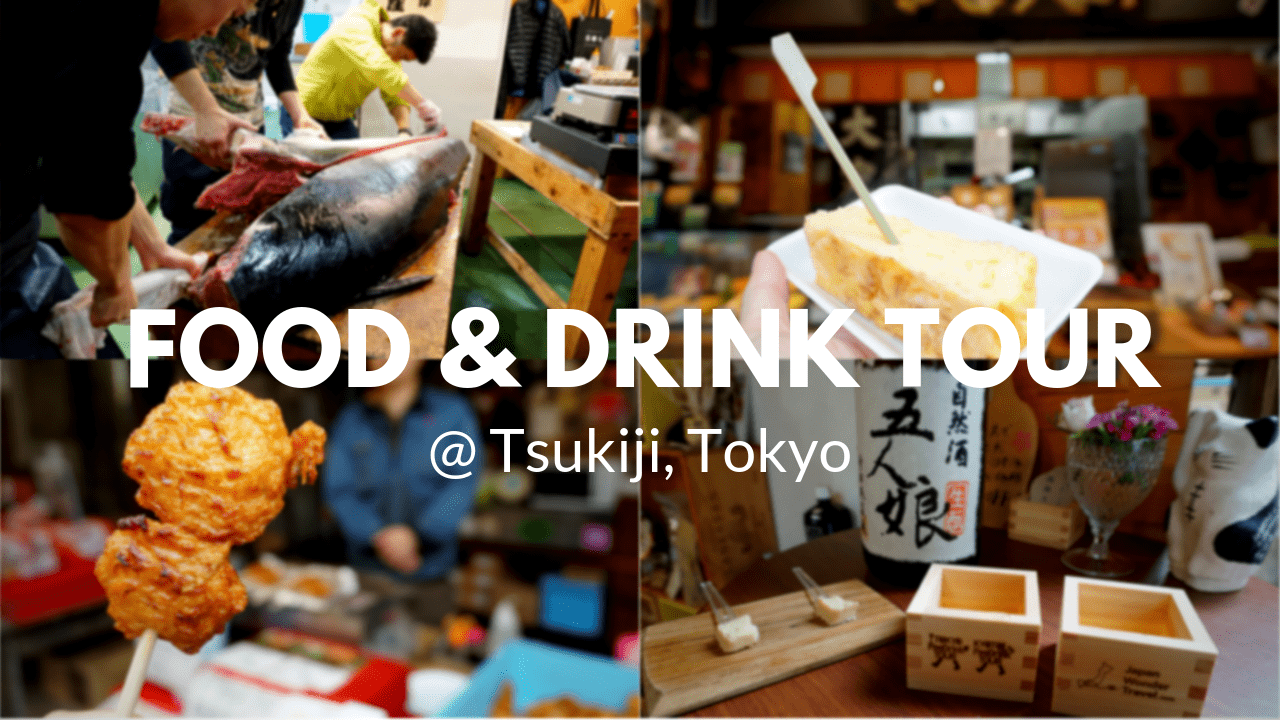 Enjoy Tsukiji Fish Market (Tsukiji Outer Market) with the best food walking tour in Tokyo!! Sushi, tuna cutting show, street food..etc, this is my best experience in Tsukiji with Tokyo FooDrink Tour by Japan Wonder Travel!!
*Please note that this article contains affiliate links.
Guided tours are one of the best ways to explore Japan as you can learn the culture and the history much deeper with local expert guides, and it could simply make your trip much more fun and interesting. Numbers of travel agencies organize various interesting tours and activities, and food and drink tours are especially popular since Japanese food and its culture is a top attraction of the country.
In Tokyo, the top destination for foodies has been Tsukiji Fish Market whose inner market was relocated to Toyosu in 2018, yet it's still one of the best place to explore the deep Japanese food culture and to try authentic and high quality Japanese food. Several food tours are held at Tsukiji area, and it's highly recommended to join one since you can learn about the neighbourhood in-depth, discover hidden spots and try local food.
I have recently joined a popular food tour in Tokyo, FooDrink Tour at Tsukiji Fish Market hosted by Japan Wonder Travel, and had a truly truly awesome time. If you are interested in Tsukiji Fish Market or Japanese food culture, I bet you'd love every minute of the tour. But first of all, let me please share with you guys my wonderful experience at Tsukiji with this amazing food tour!
– Meeting at Tsukiji Honganji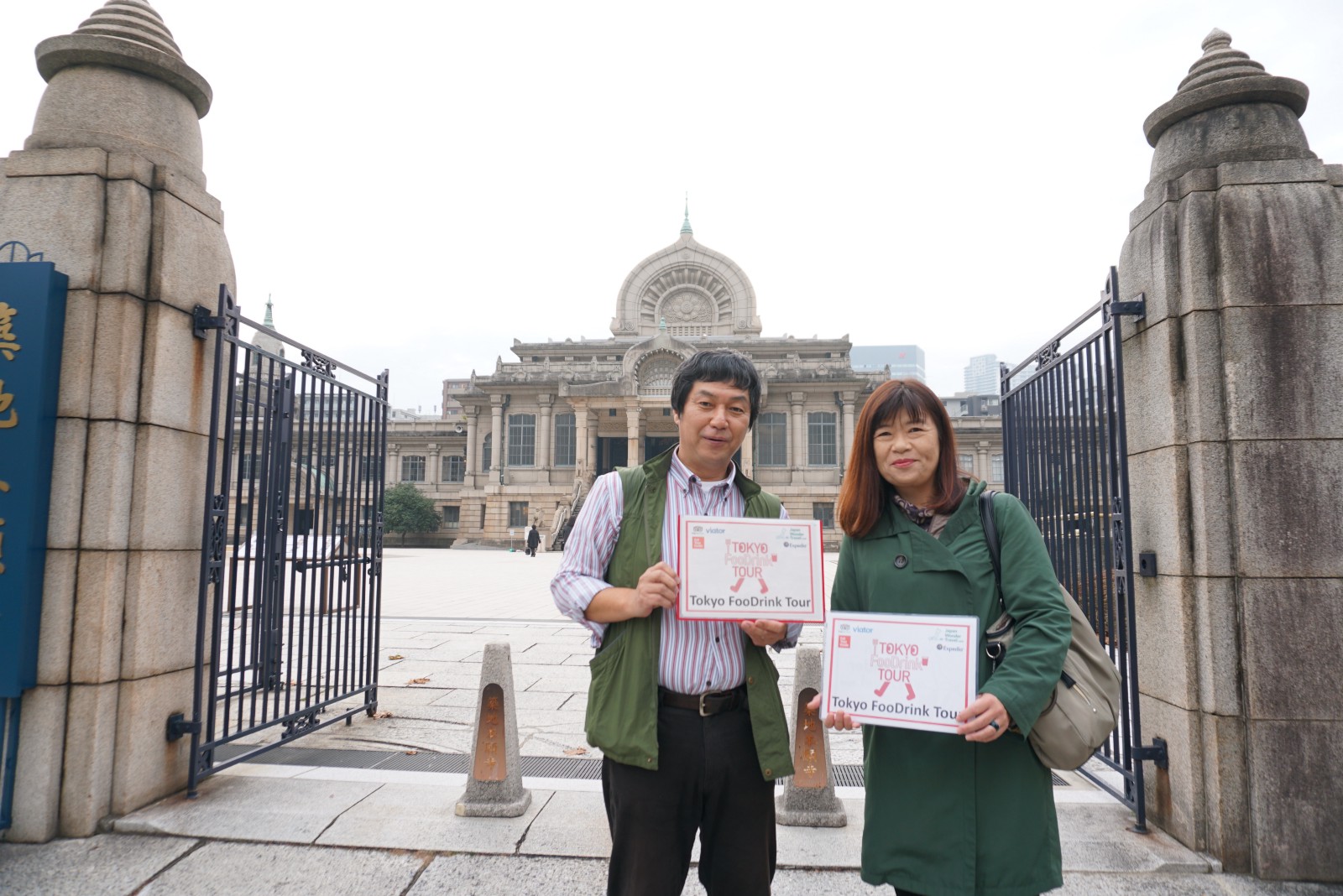 The meeting point of the "Tokyo FooDrink Tour at Tsukiji Fish Market" was in front of Tsukiji Honganji Temple which is located just outside the Tsukiji Market area. The temple is huge and it was very easy to spot and access. The tour guide was standing right in front of the temple with the sign board "Tokyo FooDrink Tour" waiting for us! Our guide for today's tour was Kazu, the experienced tour guide who is fluent in English, knowledgeable Tsukiji and Japanese food culture. He also seemed very funny and friendly!
After introducing ourselves, he briefly explained us the schedule of the tour and we moved on to Tsukiji Outer Market! Let's Gooooo!!
– Tsukiji Outer Market (Tsukiji Jogai Shijo)
As many of you know, the inner fish market of Tsukiji was moved to Toyosu in autumn 2018. However, the Outer Market of Tsukiji (Tsukiji Jogai Shijo, 築地場外市場) stays in the same place, and many shops, stalls and restaurants remain their operation just like before. Many travellers now might be wondering "Is it still worth visiting Tsukiji Outer Market??" or "What's in Tsukiji after the relocation?''. In fact, as a result of the relocation to Toyosu, the number of visitors to Tsukiji has been dropped significantly, and it is actually a real shame since Tsukiji is still a very interesting place to visit. I thought that strongly especially after joining the tour!
A day in Tsukiji starts very early in the morning, and as we arrived there around 8:30 am, most of shops were open and the atmosphere was already lively and bustling. There were many people on the streets shopping and enjoying foods. Our guide Kazu explained us that the most of shops at Tsukiji open around 5 am a closed around mid day.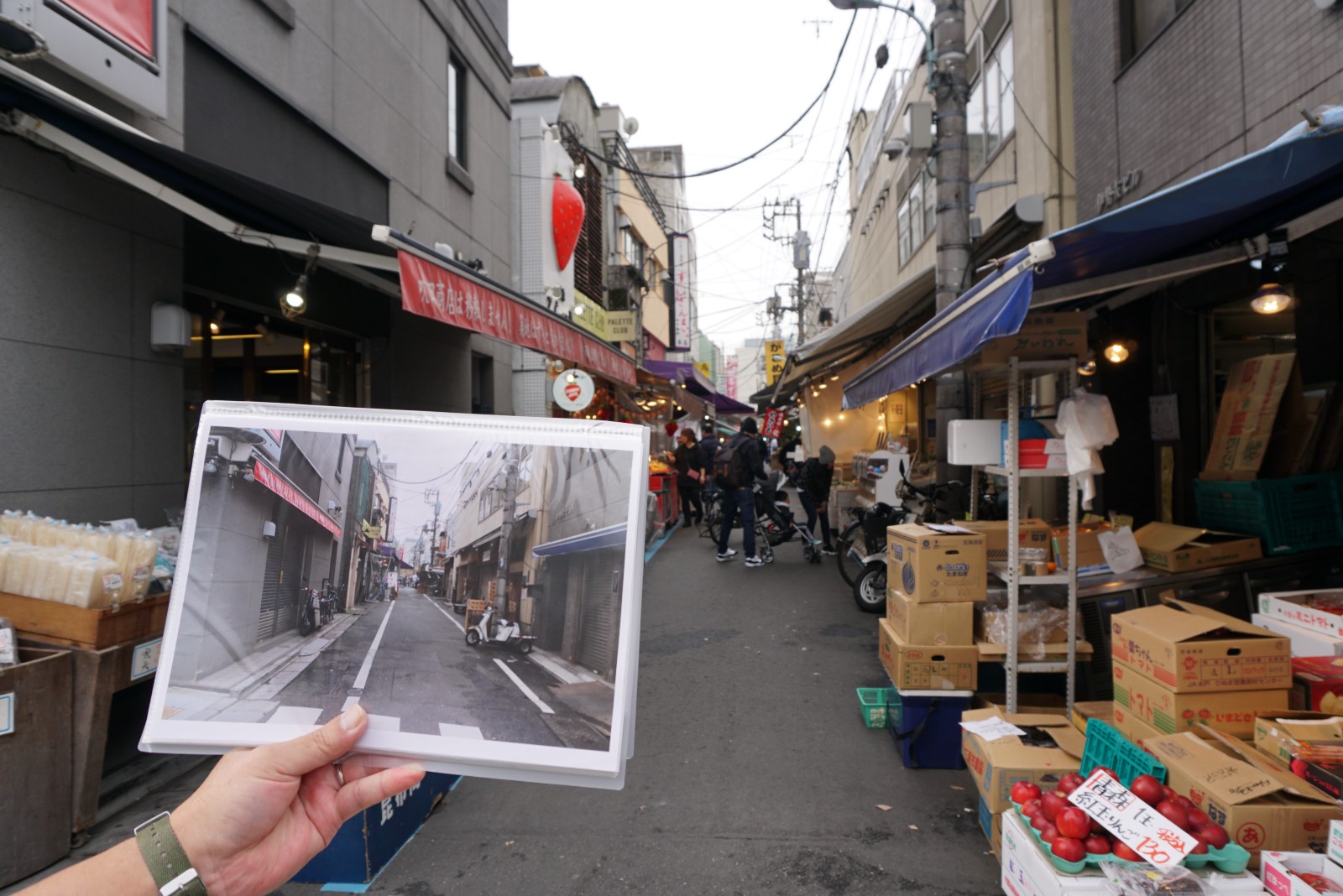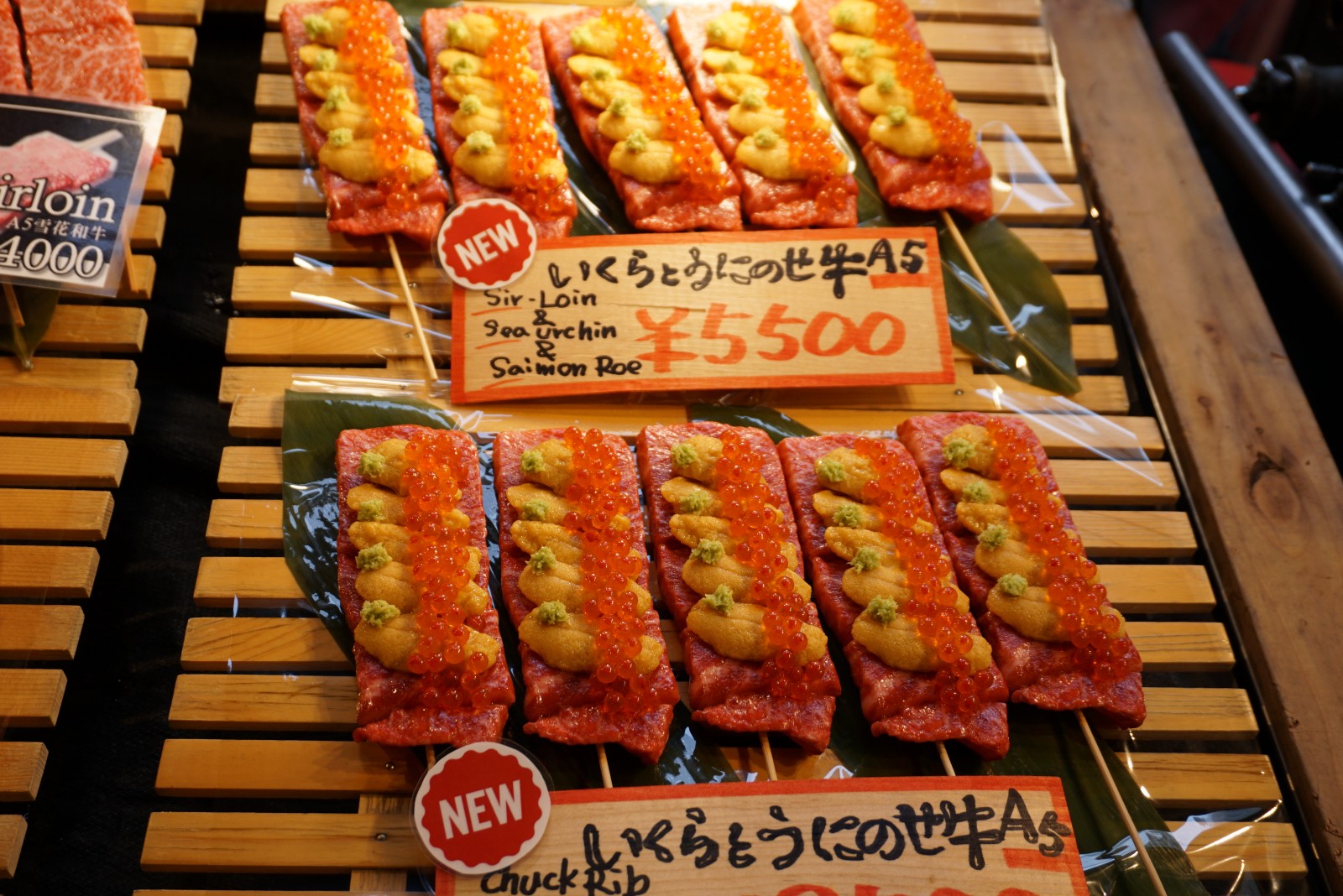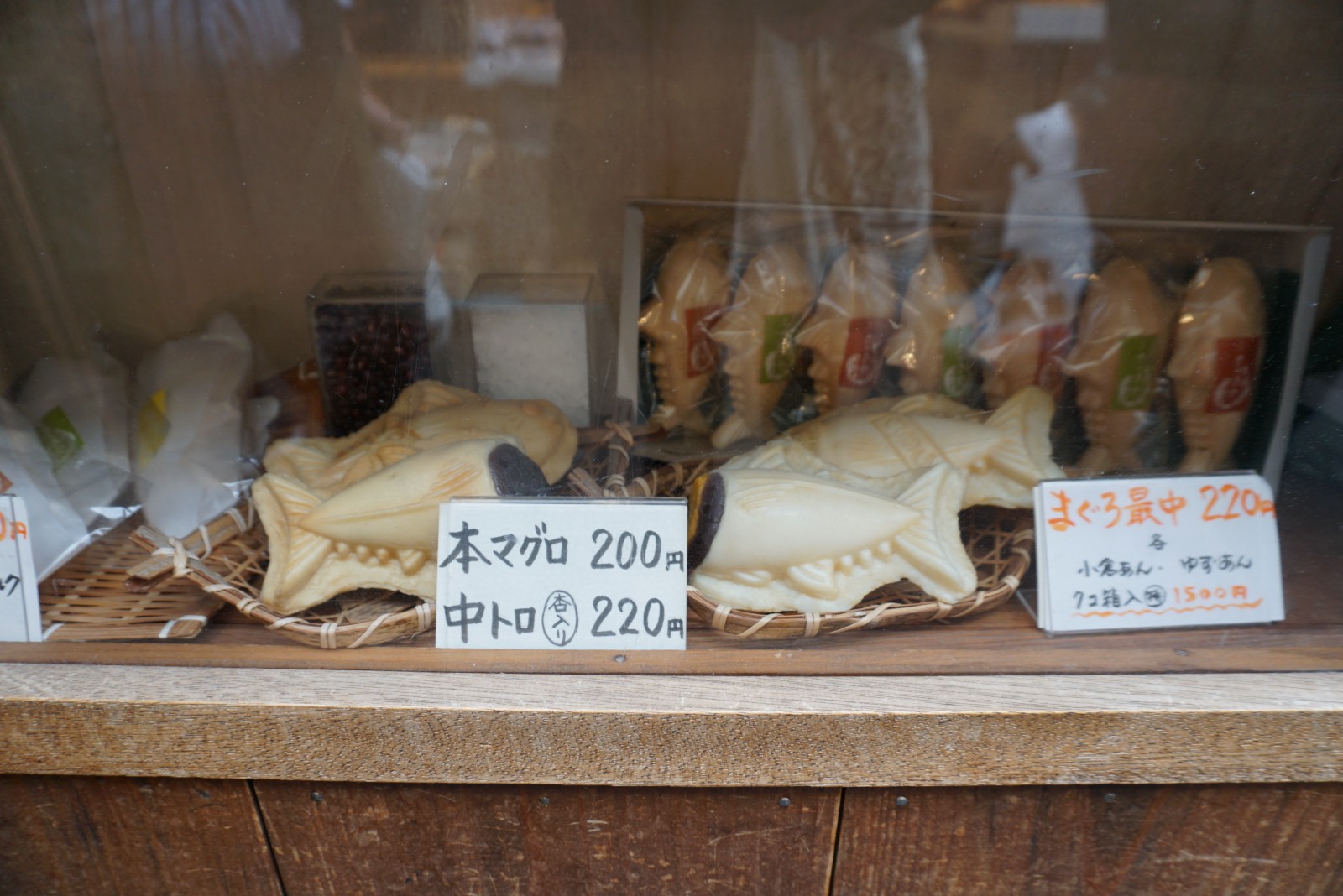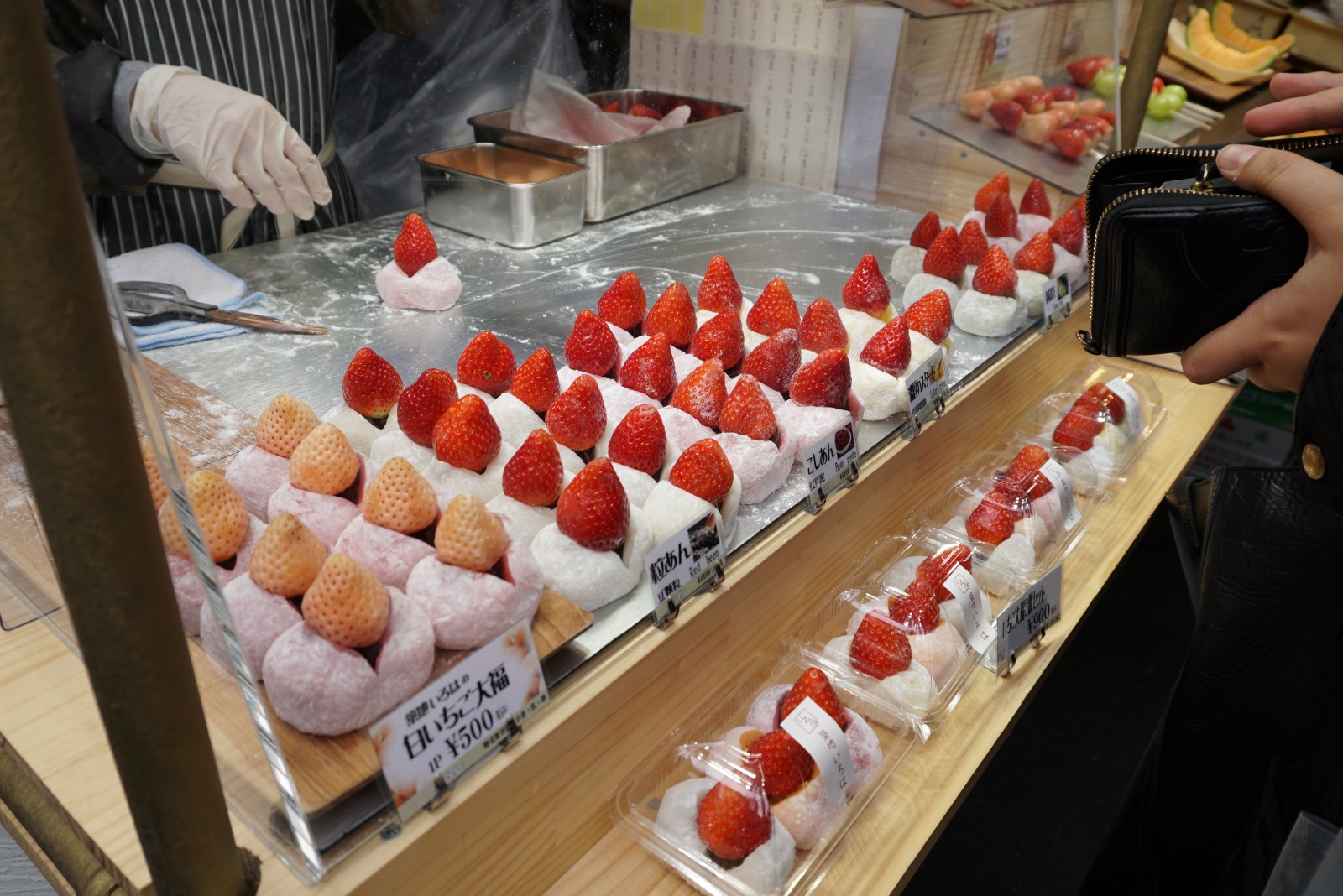 Speaking of Tsukiji Fish Market, I thought it was mostly about seafood products, but in fact, the market deals with a wide variety of food products. You can find all kind of food ingredients including meat, vegetable, fruit, dried food, snacks, alcohol drinks, etc. There were some of products that I have never seen or I could not guess how to use. While walking down on the streets, Kazu stopped by at several shops and explained about the food and ingredients. He seemed very passionate about food, and had a lot of knowledge about Japanese cuisine and cooking.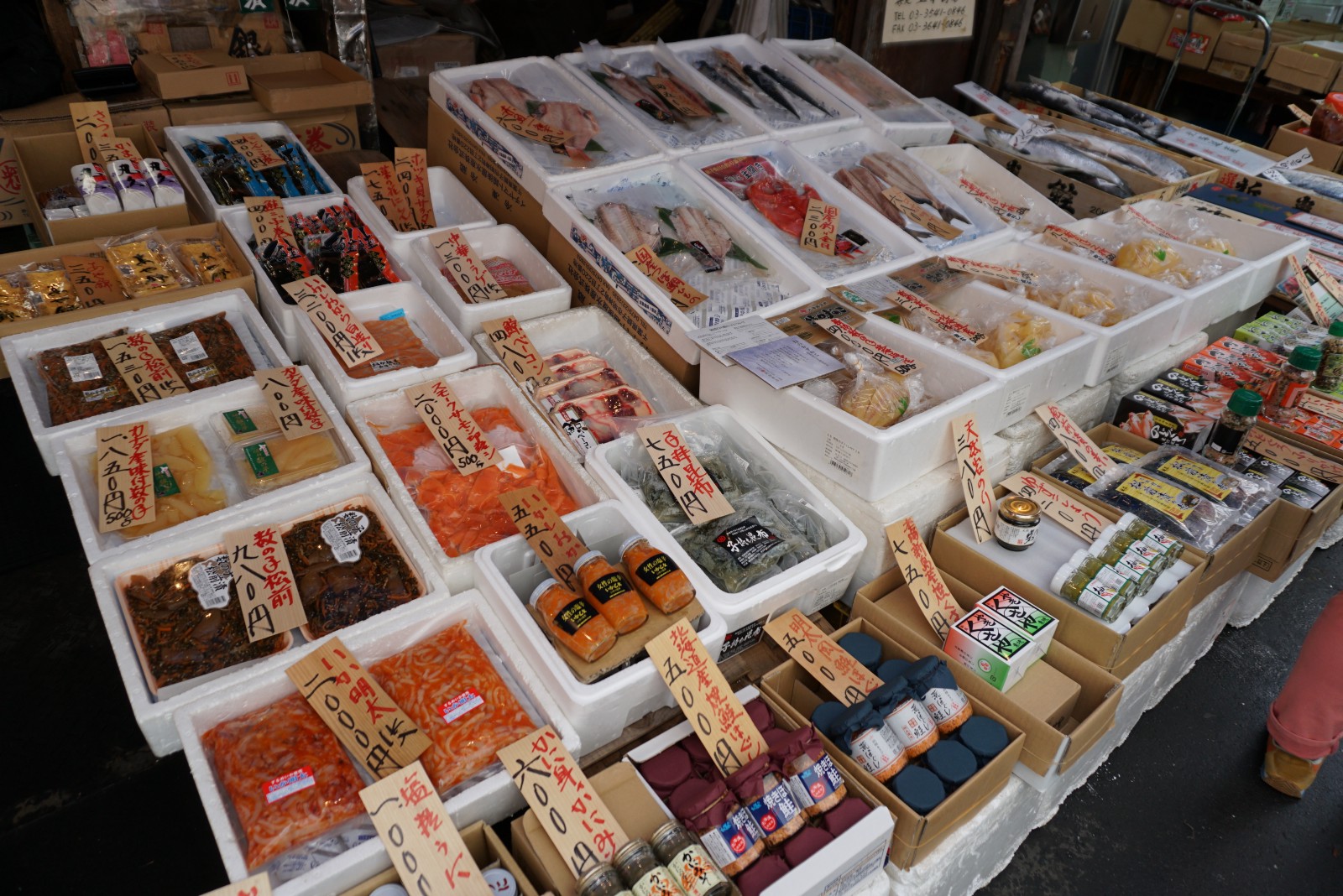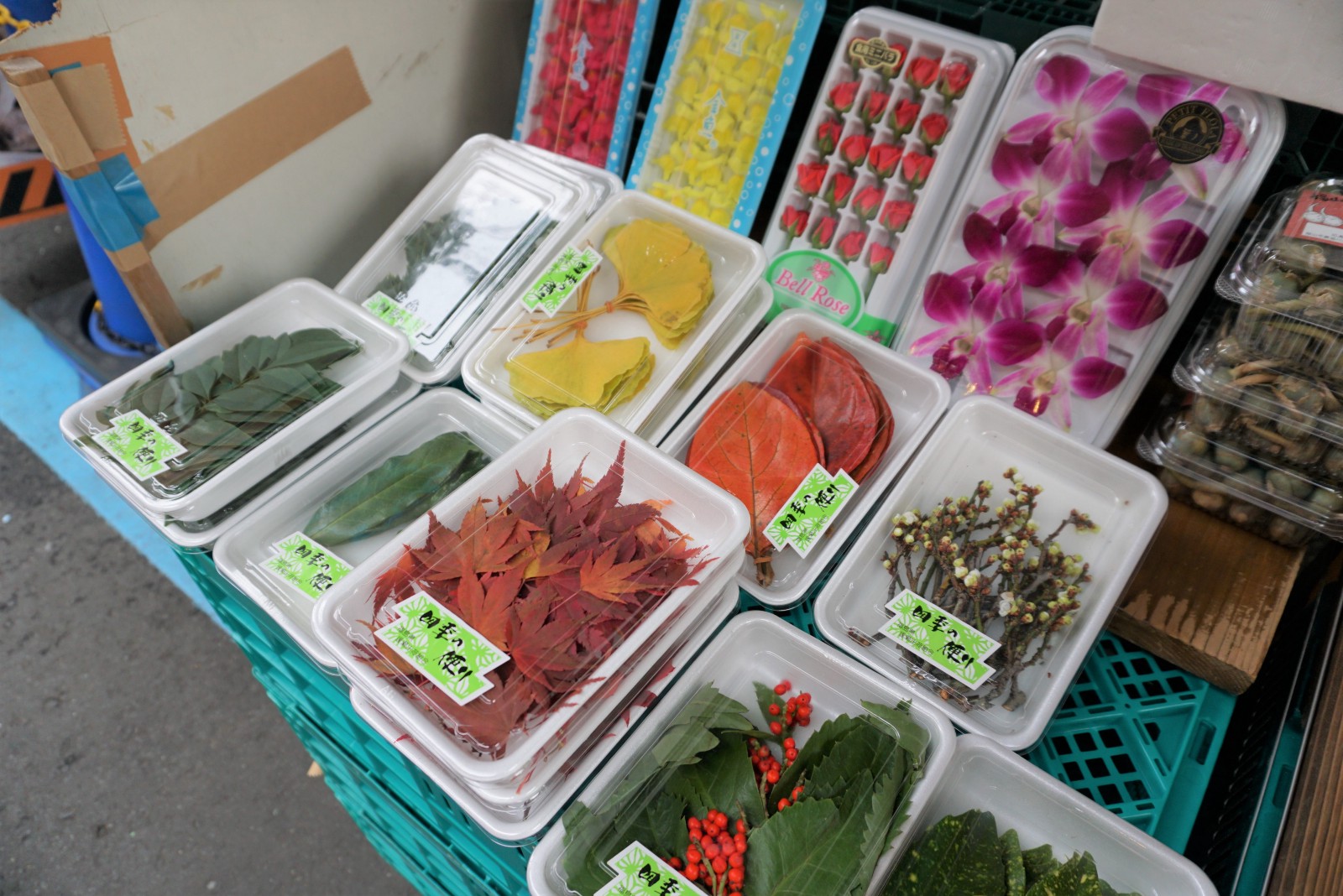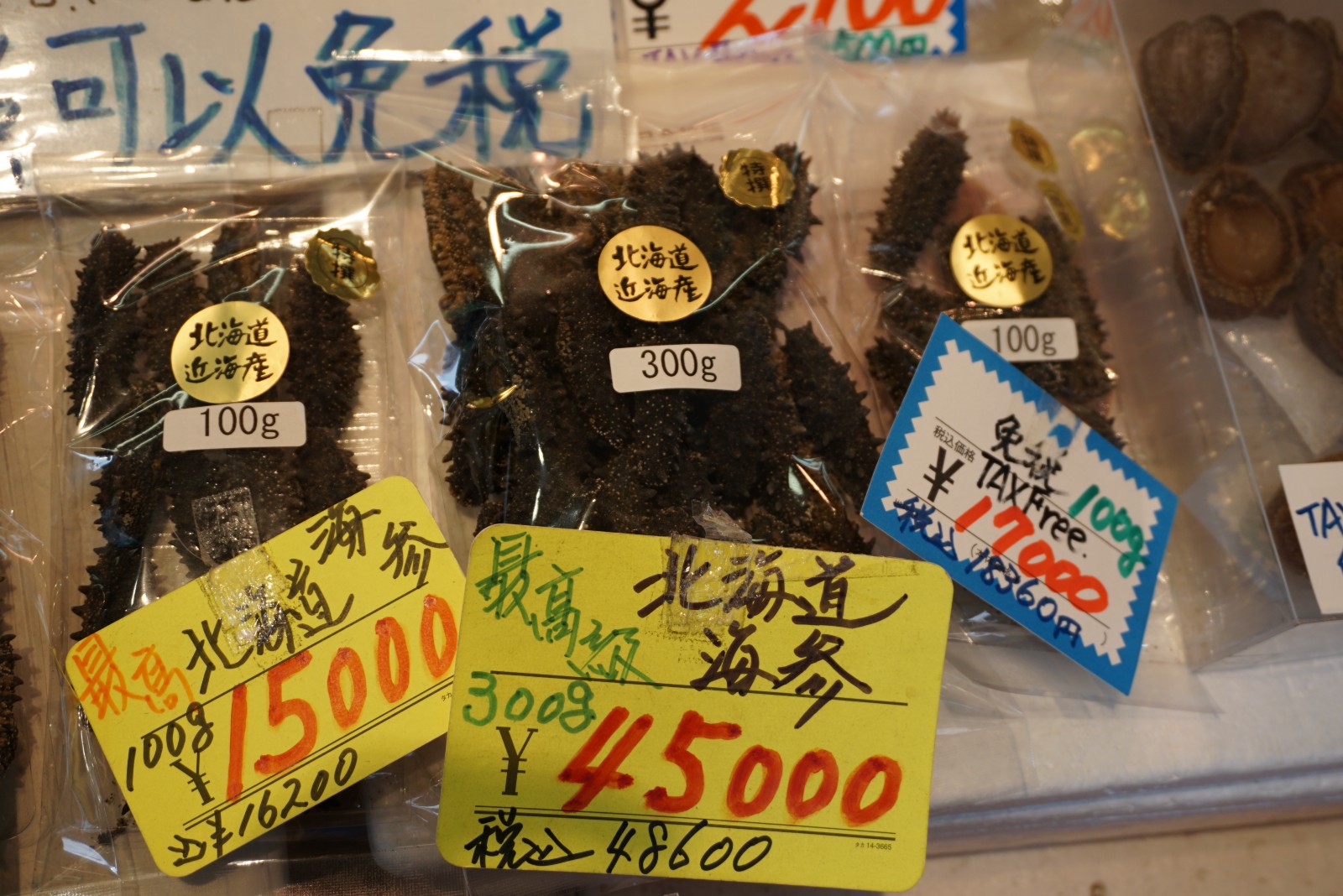 Tsukiji is not only the place for eating but also for shopping, especially if you are into cooking. Just like their own cuisine, Japanese kitchen utensils are very special, and fascinate professional chefs and cooking lovers worldwide. Many traditional and amazing quality kitchen tools can be found at shops at Tsukiji Outer Market including knife shops.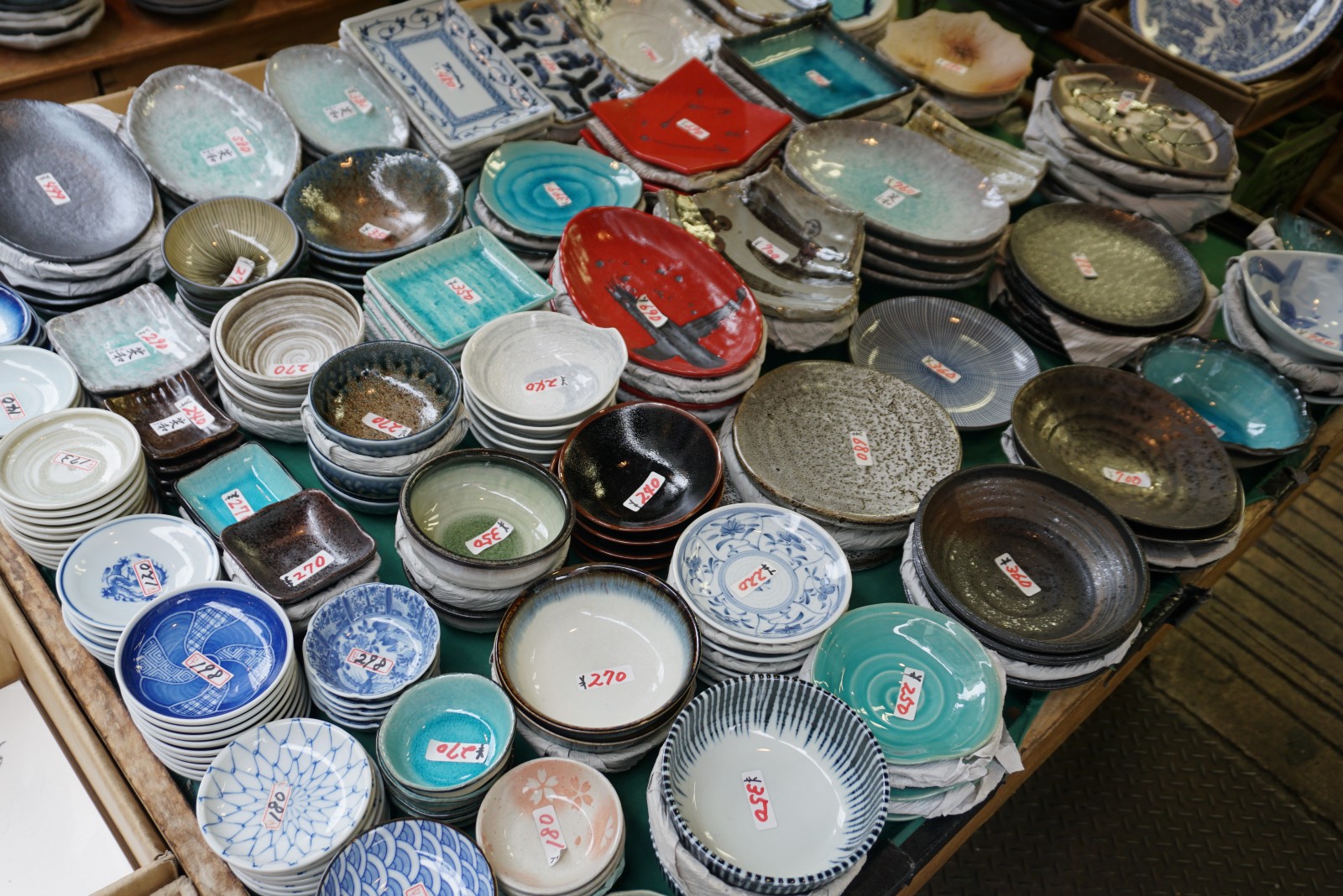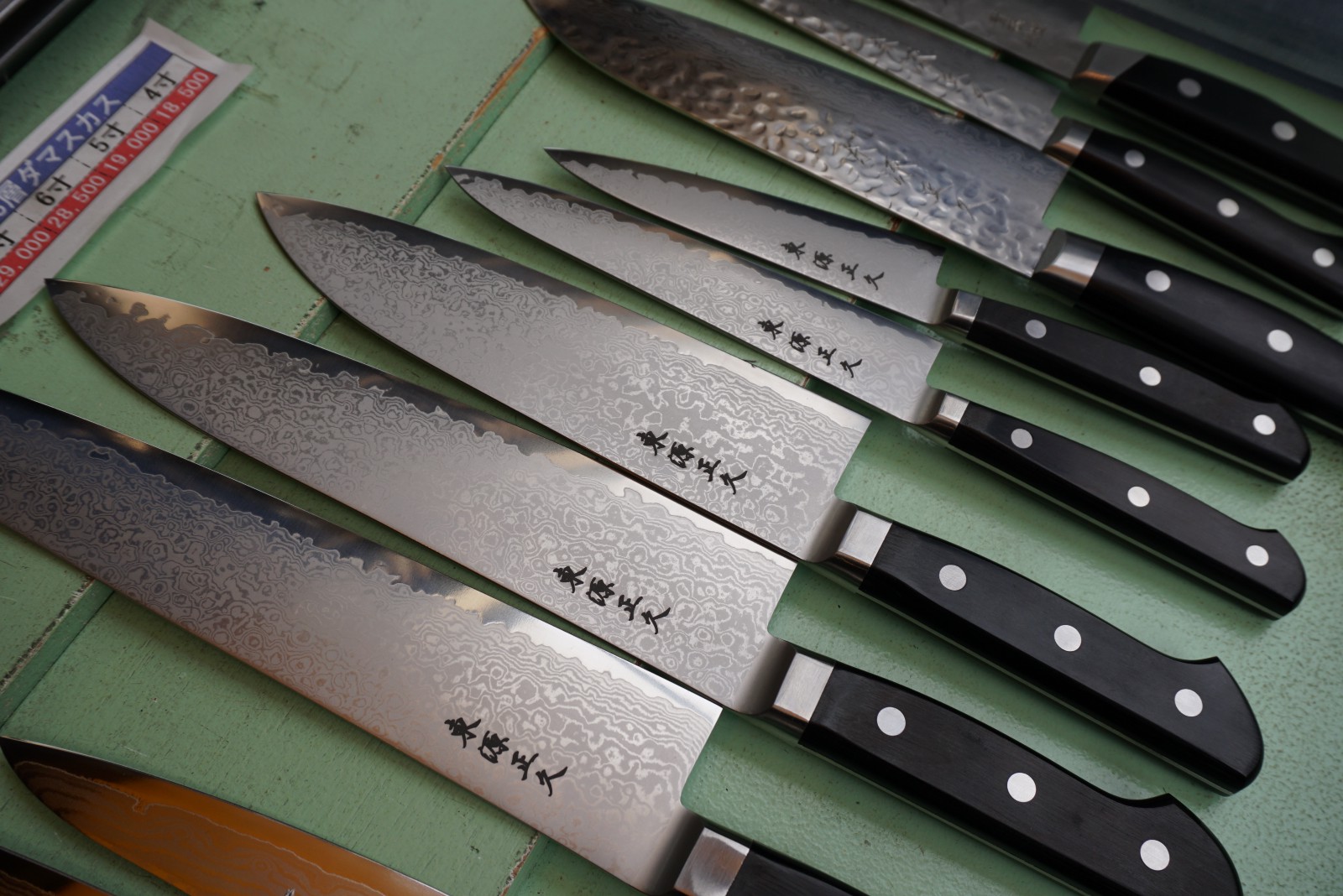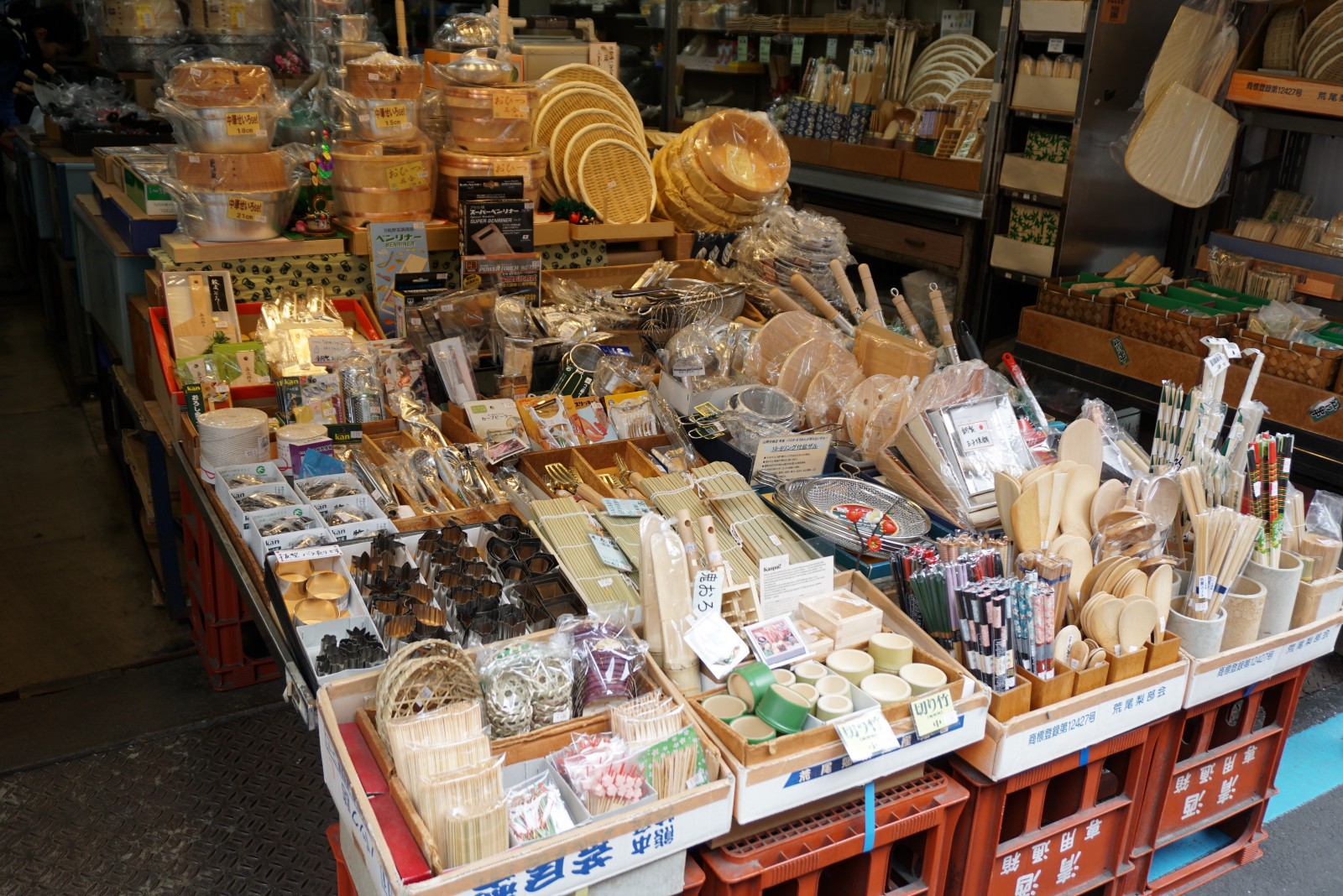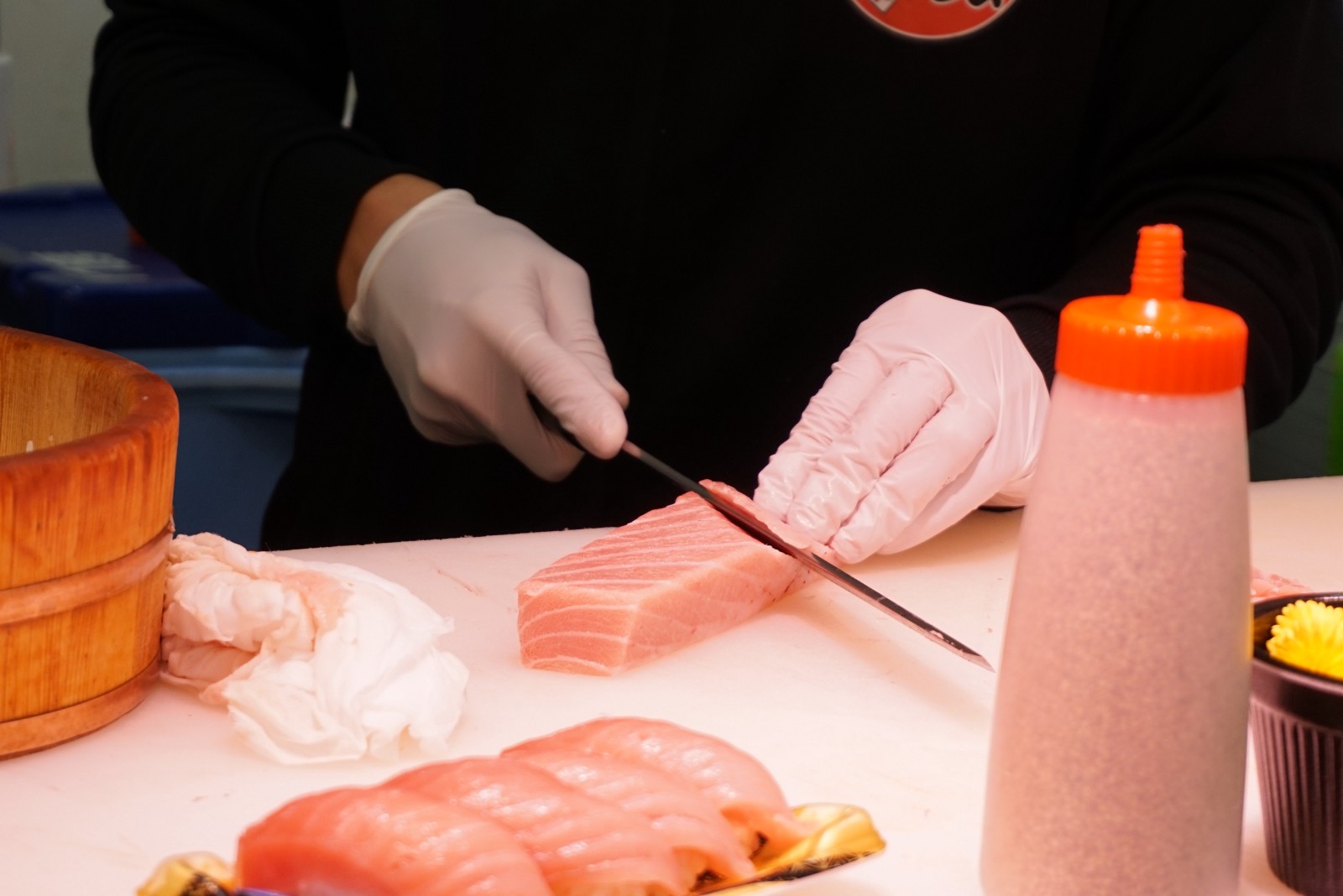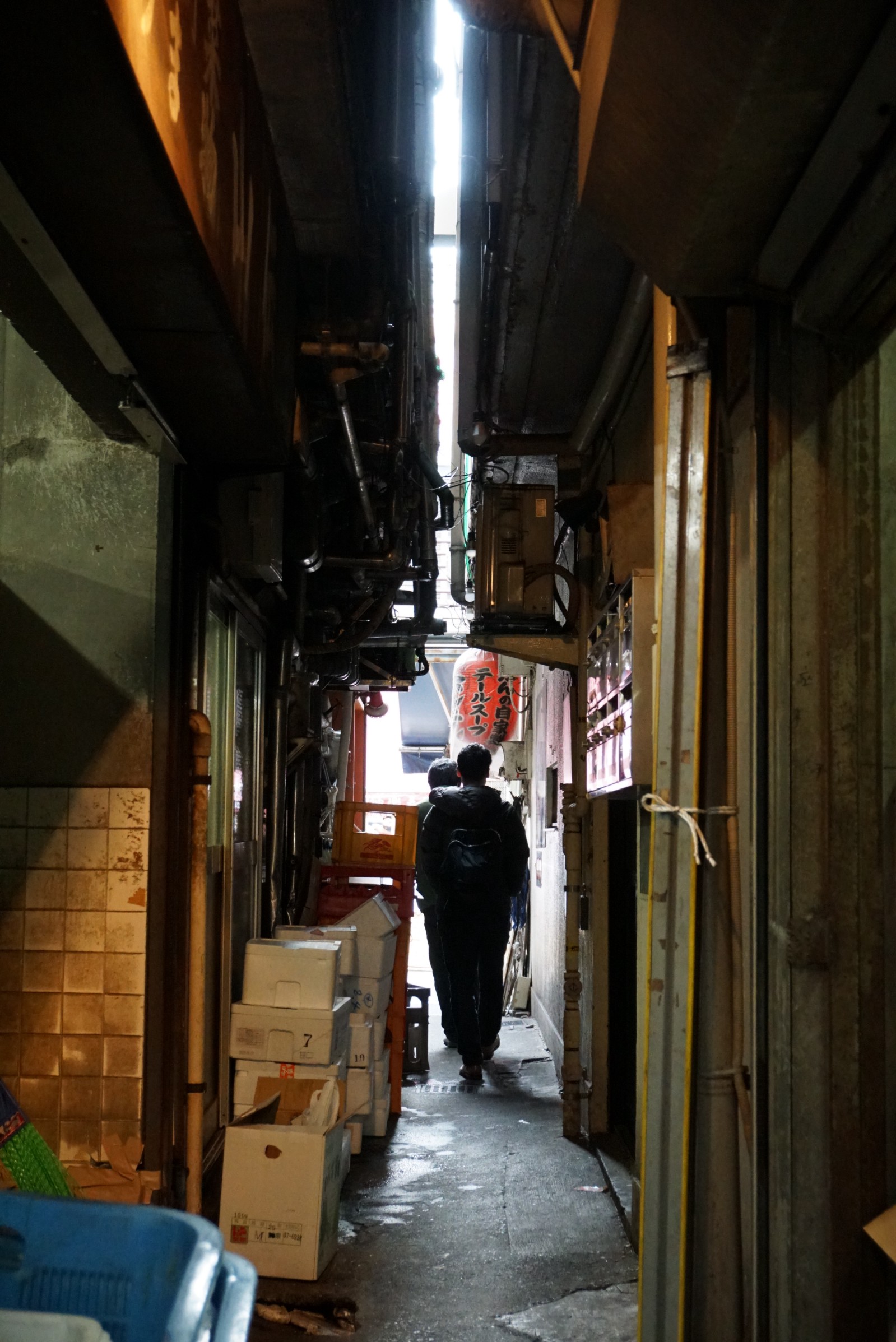 Kazu also showed us several shops that he recommended to eat/shop particular items. He really knows many shops in Tsukiji Fish Market (it seemed like he was a friend with every shop owner we've been passing!!). Sometimes he took the backstreets to take shortcuts which was I felt pretty rare and exciting. He can definitely show you Tsukiji Fish Market area deeper, and you wouldn't be able to see as many things as you'd see during the tour in such as short time. We stopped for the popular street food in Tsukiji, Tamagoyaki (Japanese Rolled Omelette). It was sweet, fluffy and juicy, and I totally loved it 🙂 Kazu took us inside the Tamagoyaki shop and showed us how they make the omelette which was very interesting too!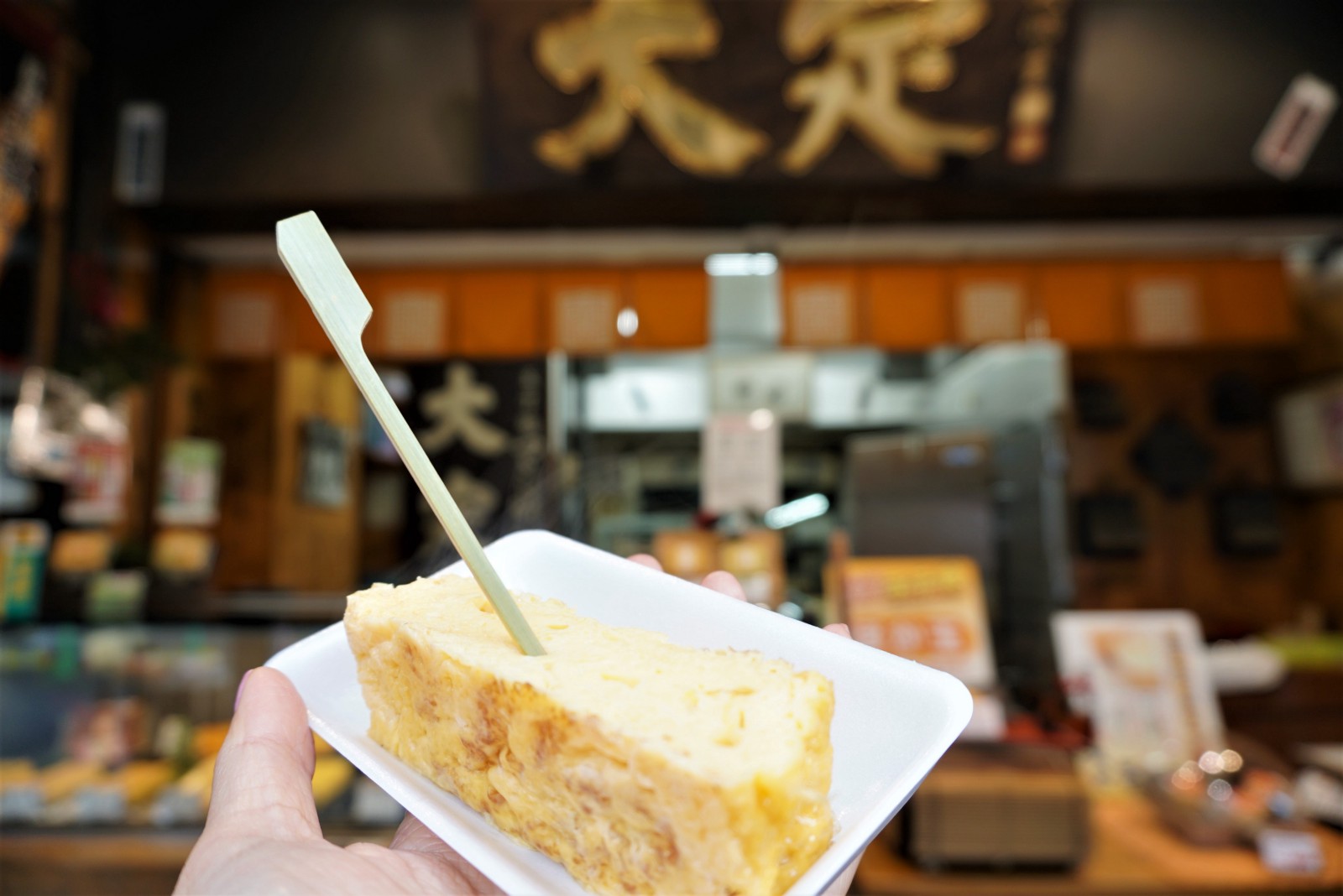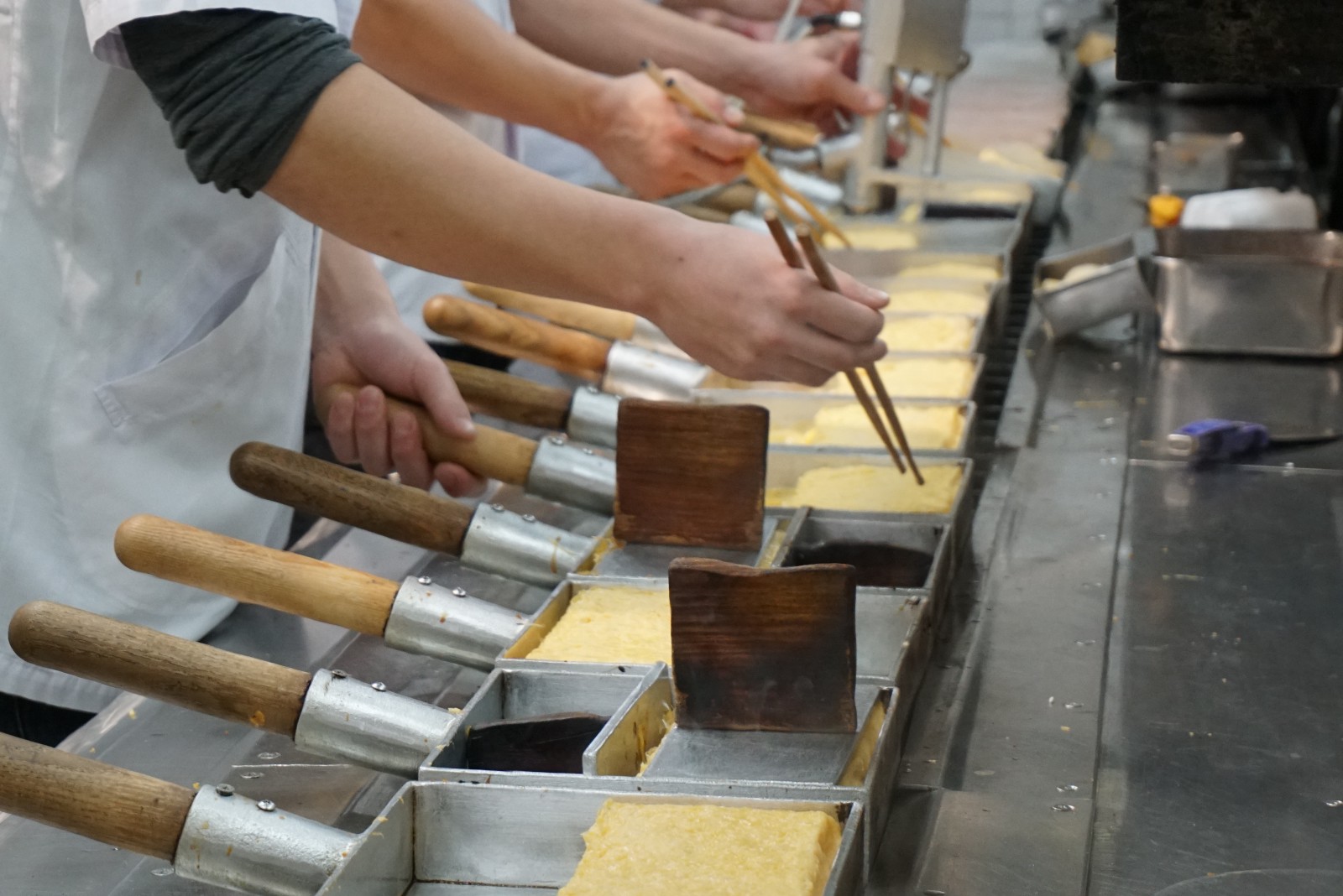 We also visited Tsukiji Uogashi (築地魚河岸), which was opened in Tsukiji in 2016. Kazu told us that some shops from Tsukiji Inner Market did not move to Toyosu Market, and decided to stay at Tsukiji area, so they now have shops inside this building and sell fresh food products which are brought from Toyosu Market in early morning. Over 50 shops (fish market and groceries) are located inside the building and visitors can purchase fresh seafood just like the former Tsukiji Inner Market.
Until now, many chefs, restaurants and shops owners (especially very high-ends ones) have been going to Tsukiji Fish Market to shop in early morning looking for particular items or seasonal products. I think they come to shop at Tsukiji not only to get the most fresh food products, but also the relationship which sellers and buyers built in this neighbourhood is very important for their business. Farmers, sellers and buyers (chefs), they all take pride in what they do and have very strong trust/relationship with dealing food and present it in the best way to customers.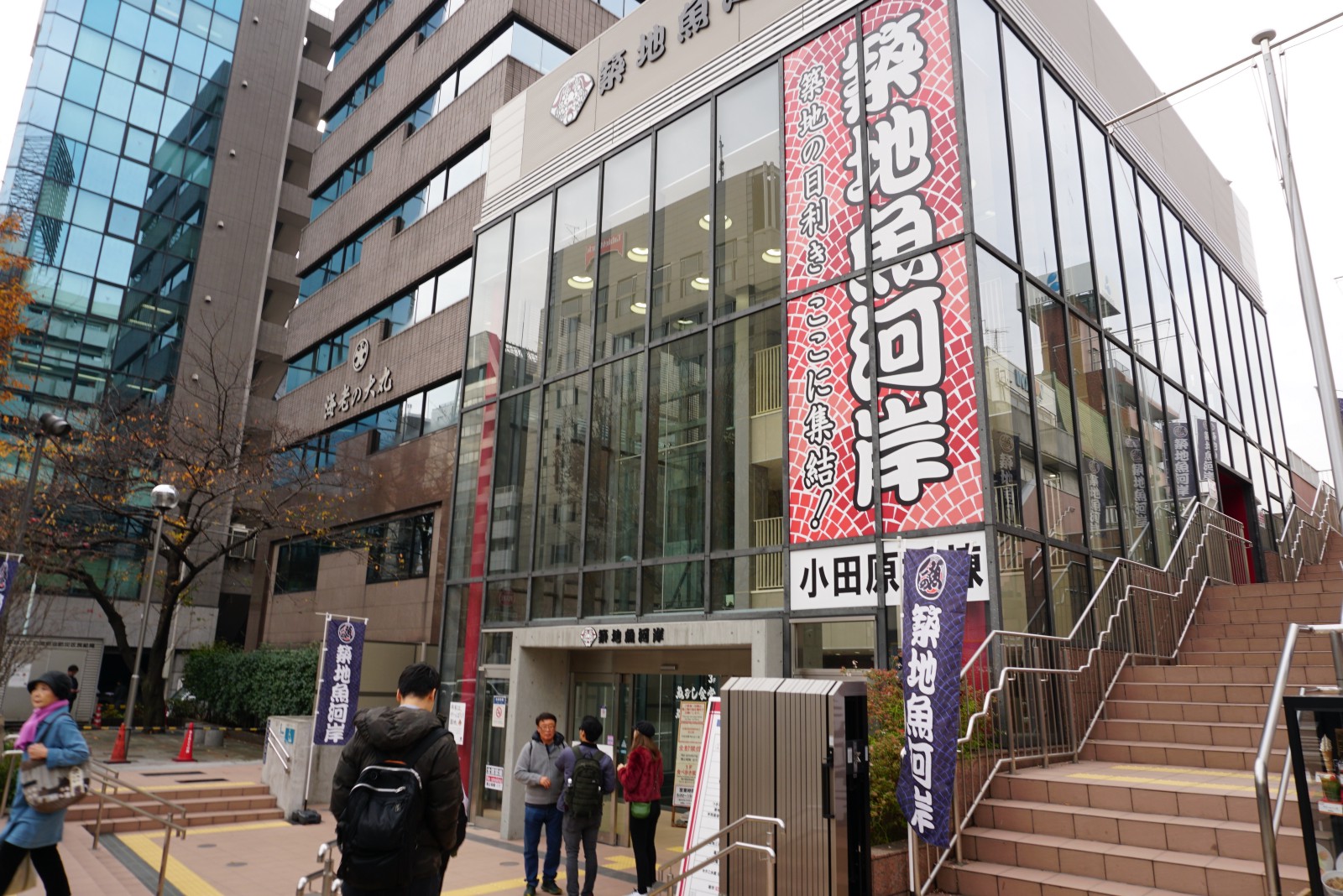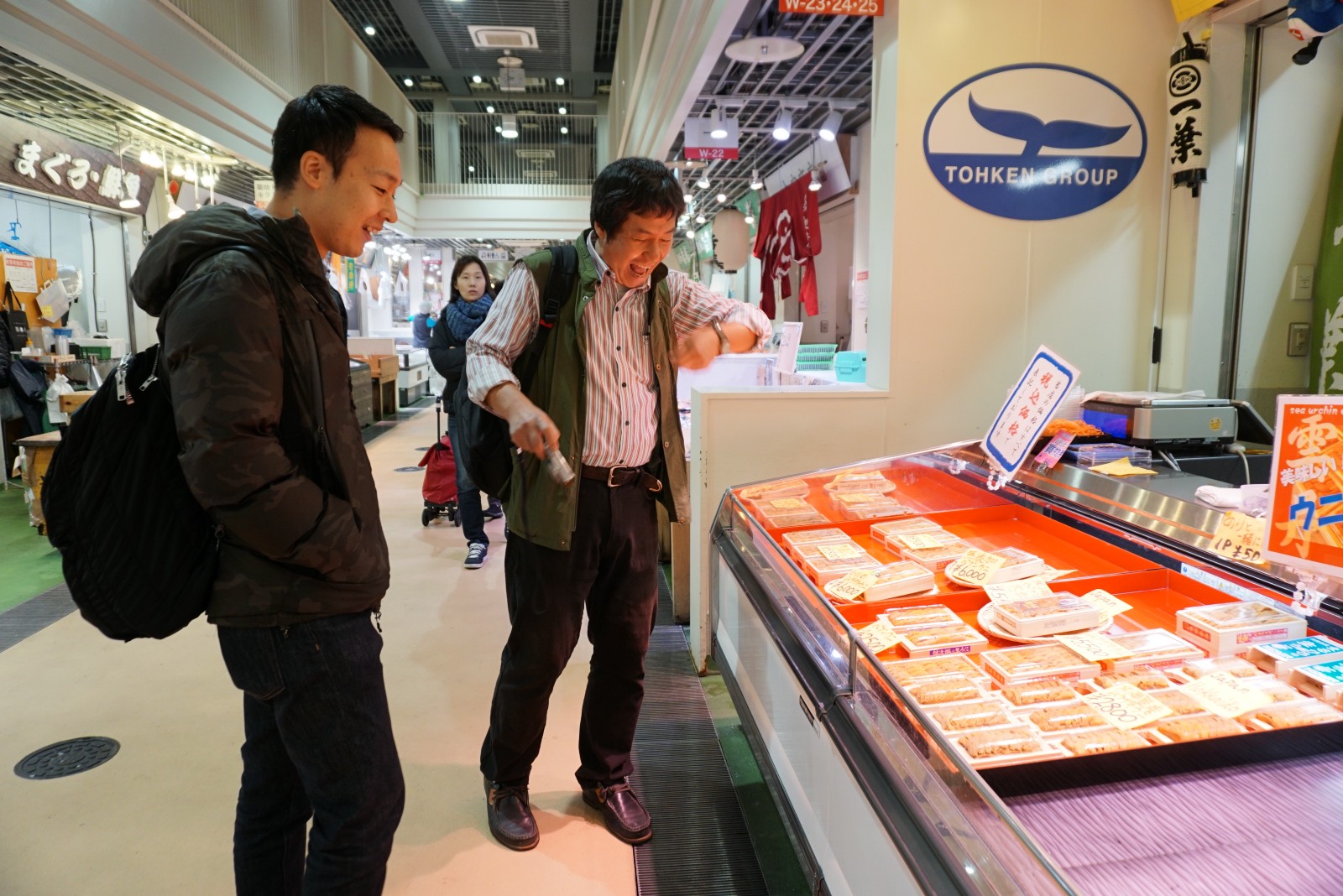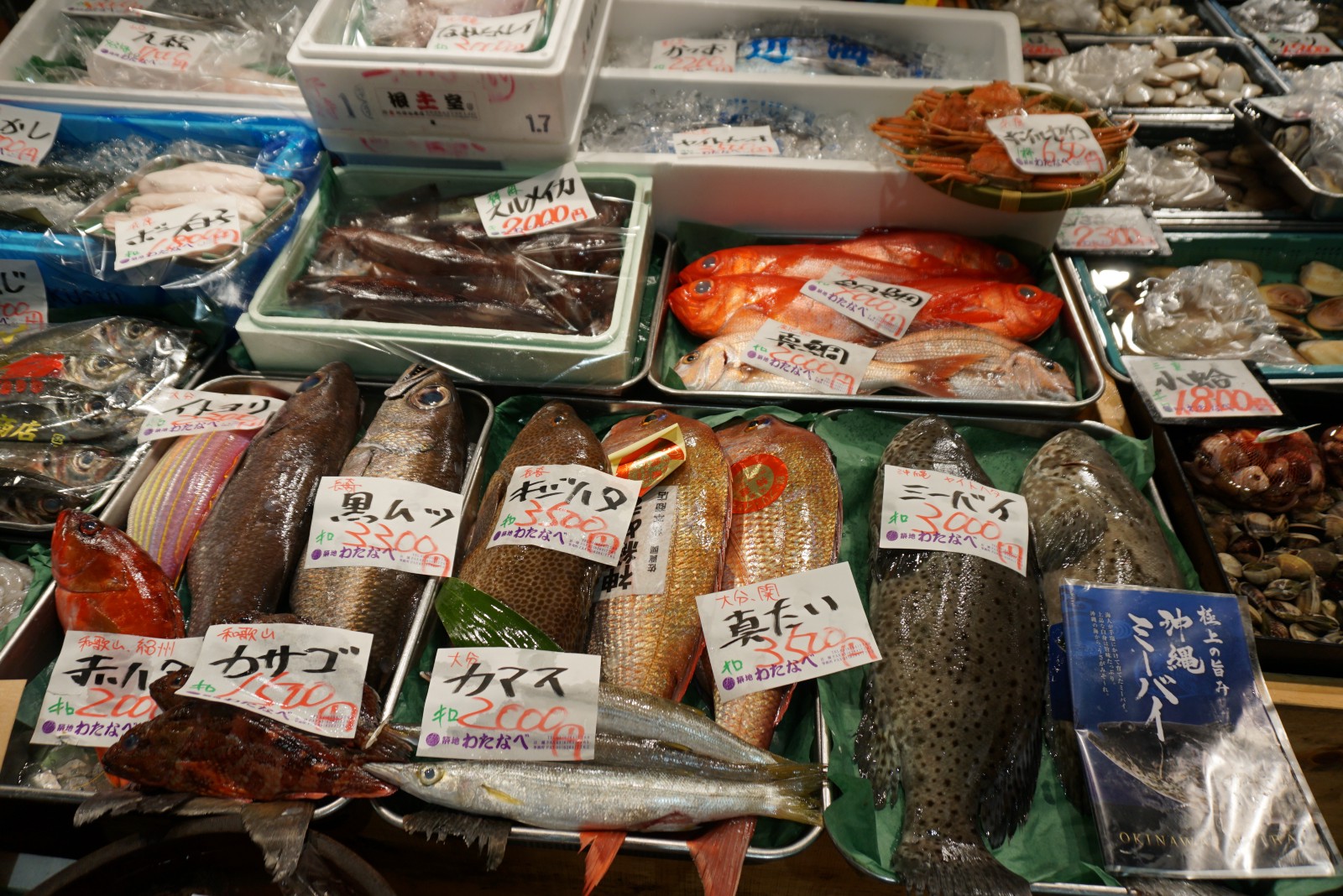 One of the best highlights of the tour was seeing a tuna cutting show held at Tsukiji Uogashi. In the beginning of the tour, Kazu told us that the show was not performed everyday, depending on the catch, so I was not giving high expectation, yet I was so happy to have a chance to see it for the very first time in my life!
Kazu added the performance time was not officially announced, which means you have to be lucky to encounter it or be with someone who could get an exclusive information from the shop staff like Kazu did. He also told me that the bluefin tuna brought on that day was bigger than usually, so we were pretty lucky to see the spectacular tuna cutting show. During the performance, one of the staff explained briefly about Tuna: how fish were caught and transported to Japan and how the buyers inspect the quality of the fish as well as parts of Tuna.
After watching the dynamic and spectacular tuna cutting show, we tried the freshly sliced tuna Sashimi (Akami (red meat) & Chutoro (fatty meat)), and it was super delicious!! I can not say enough how amazing the fresh tuna was.. so you really got to try 😉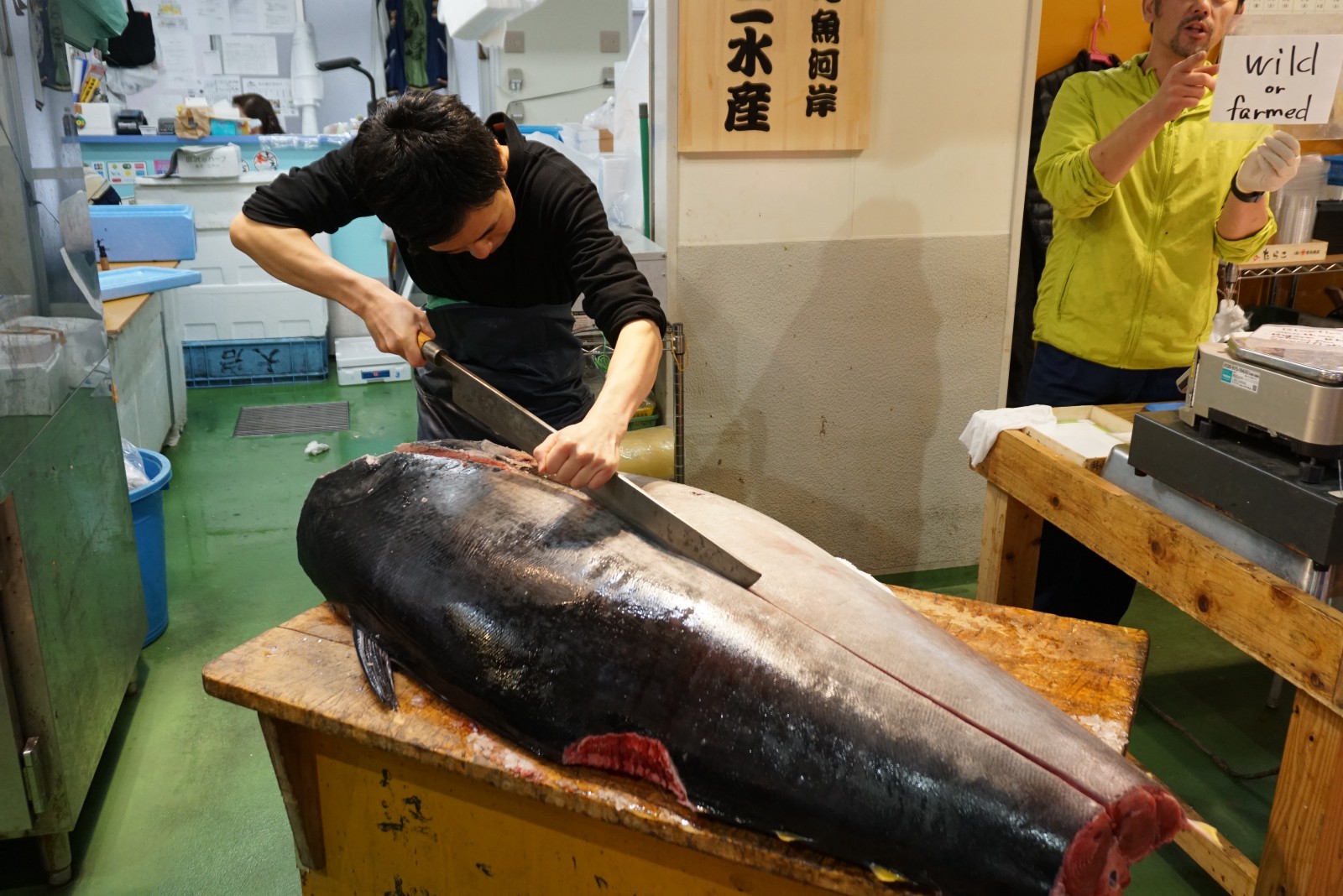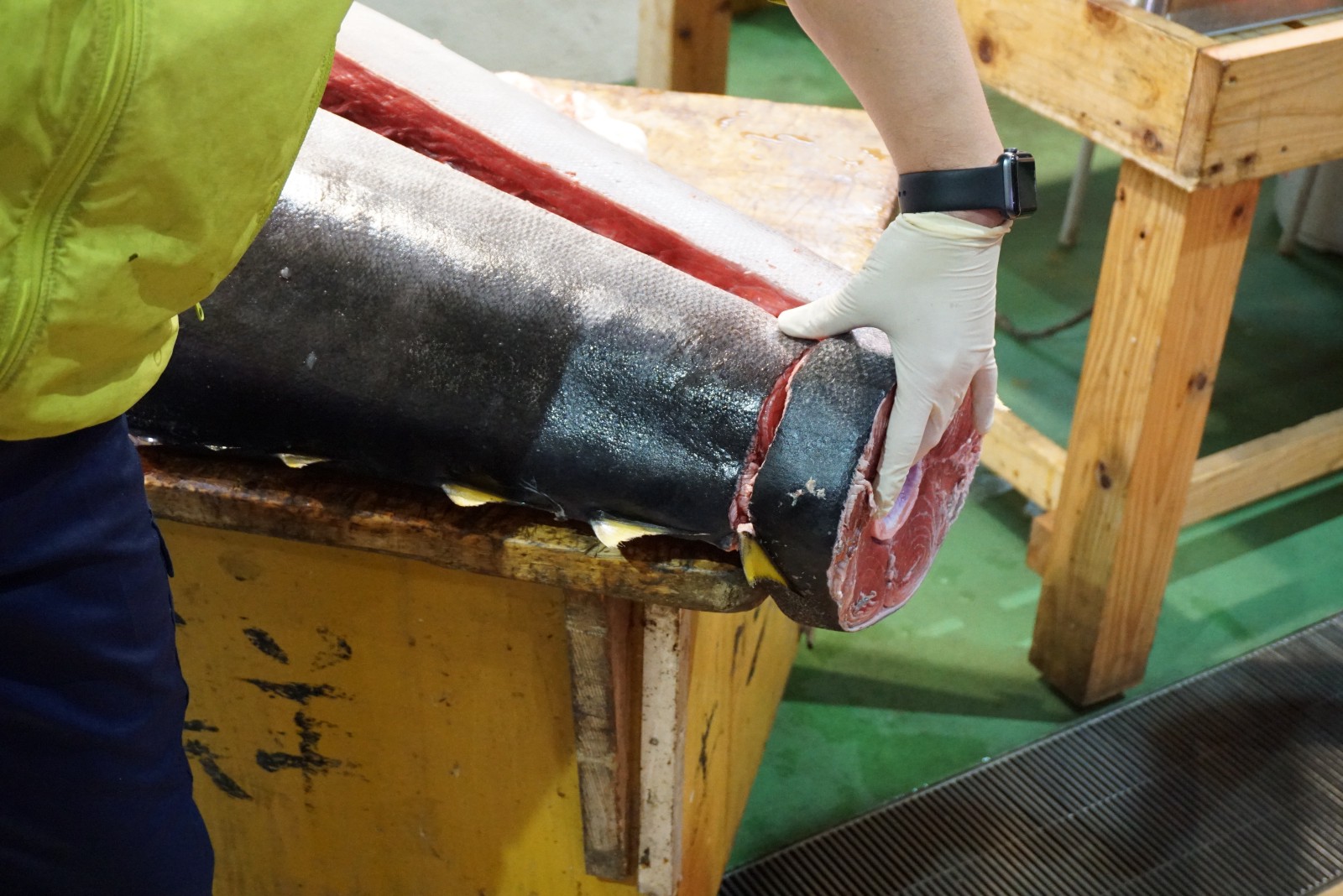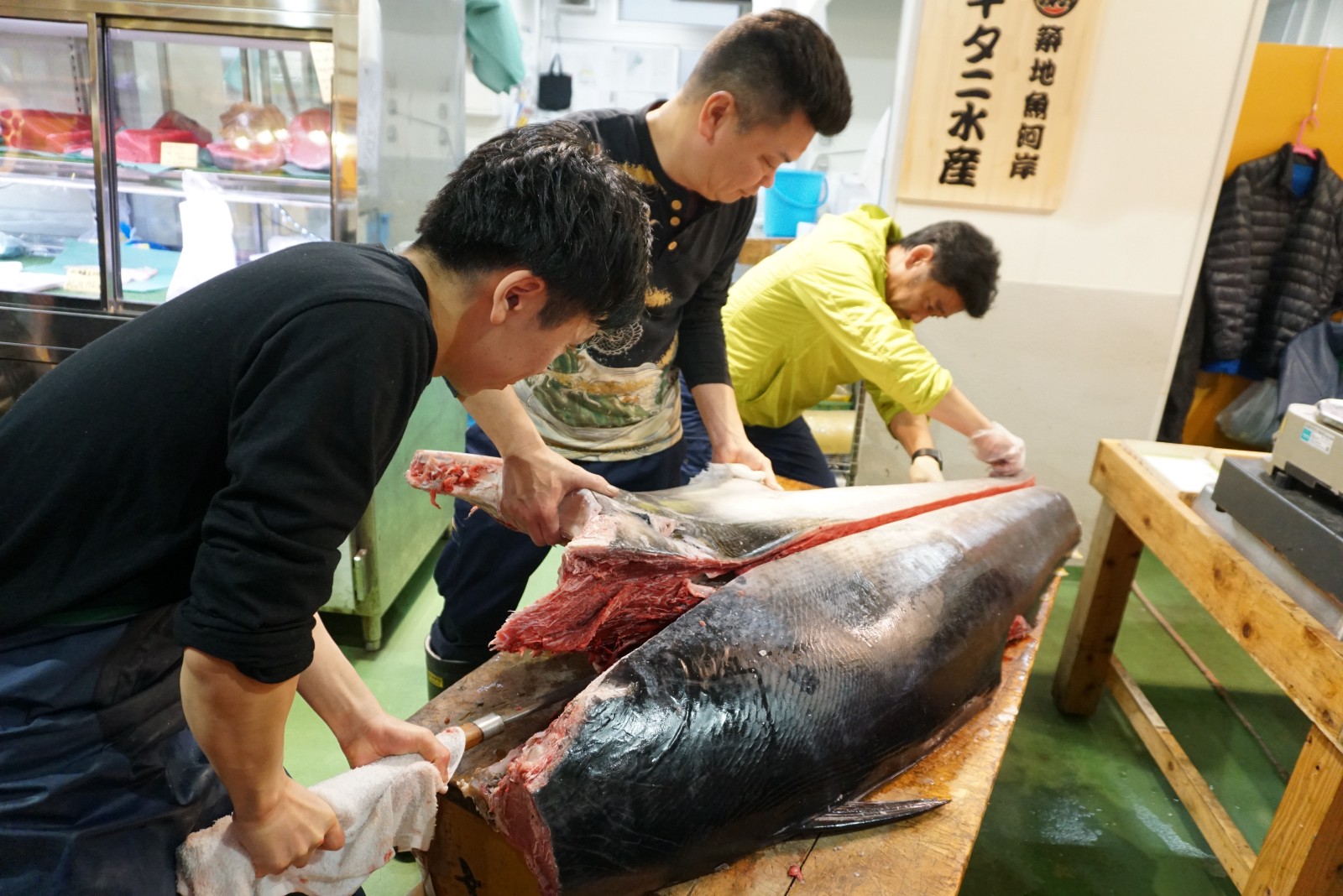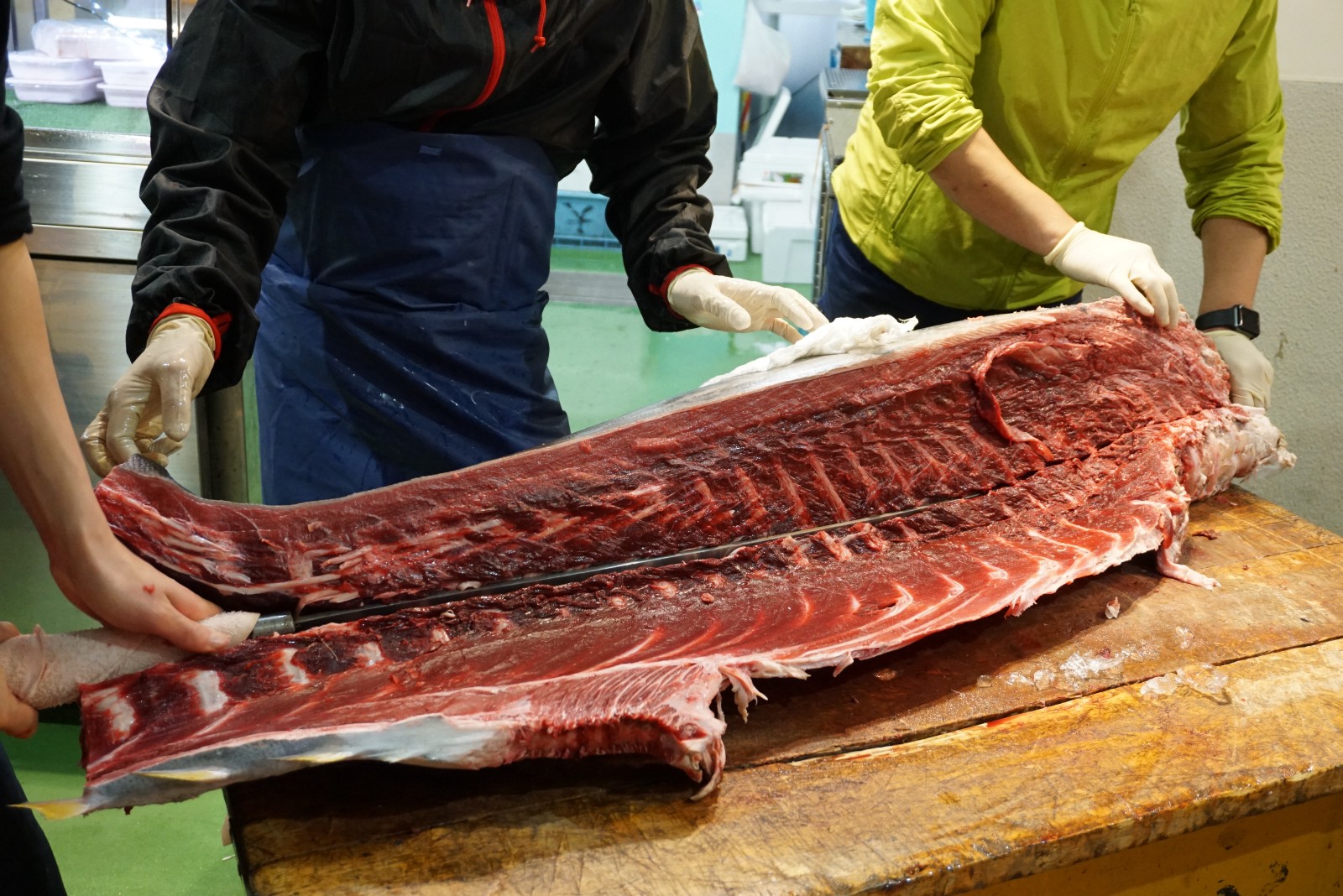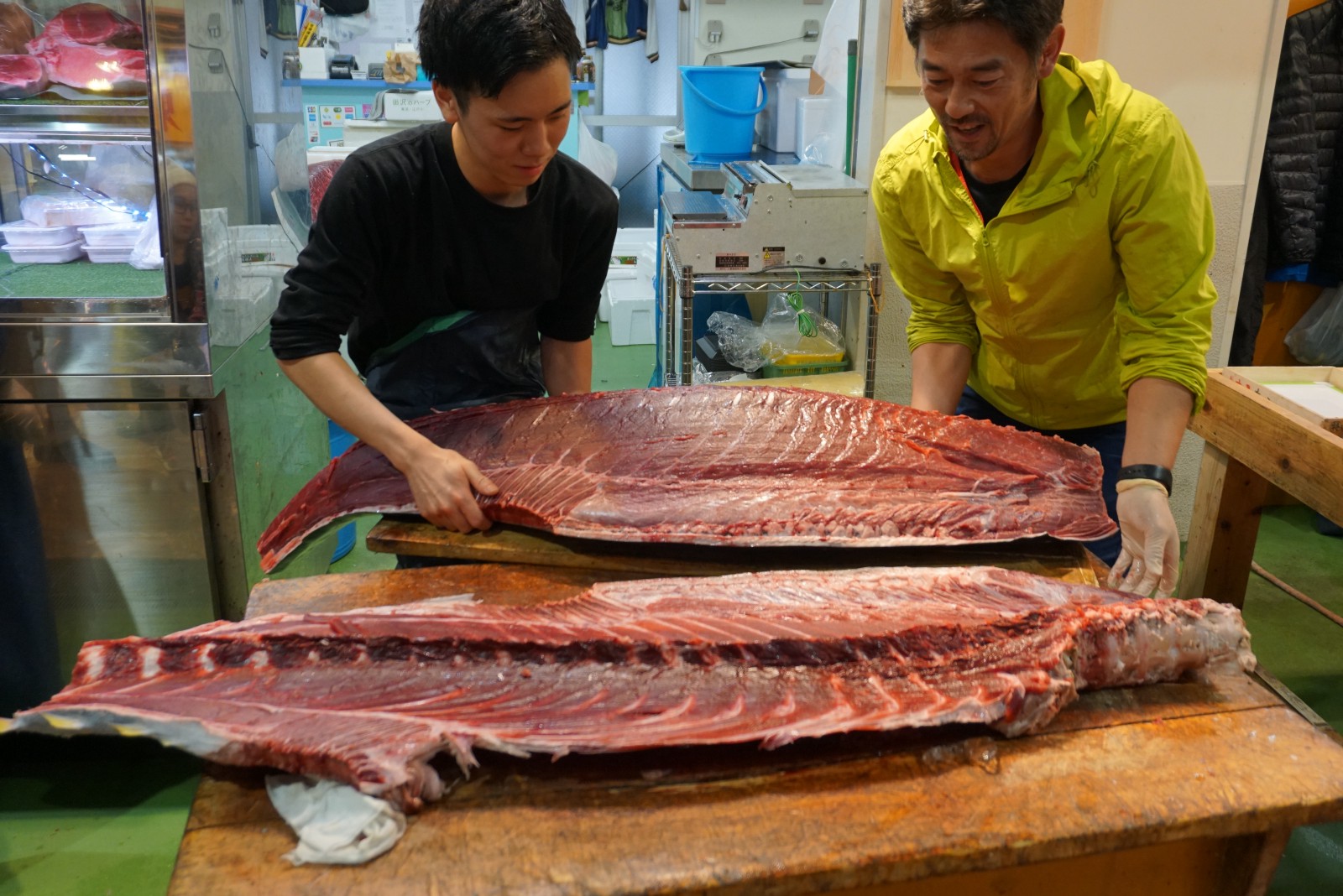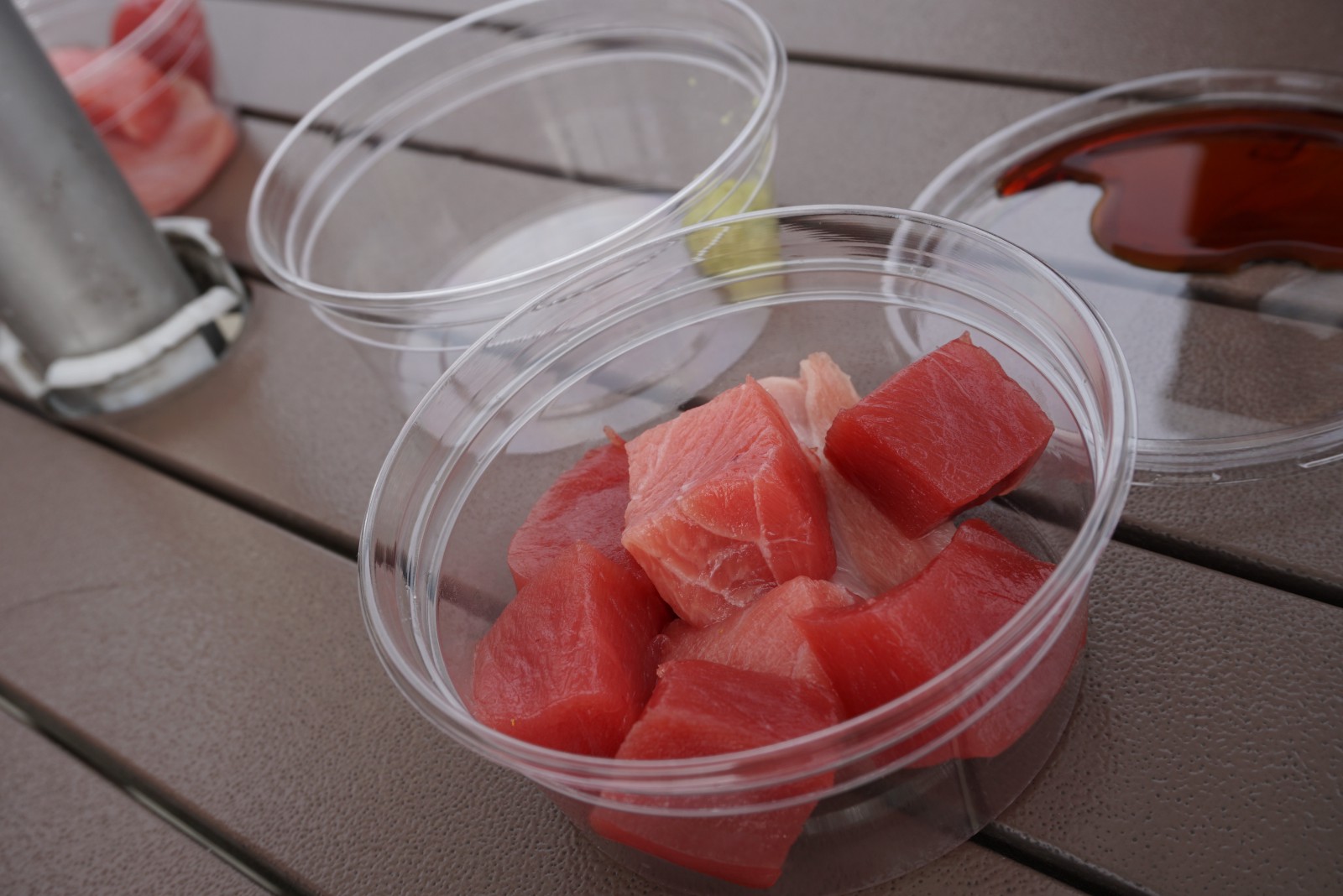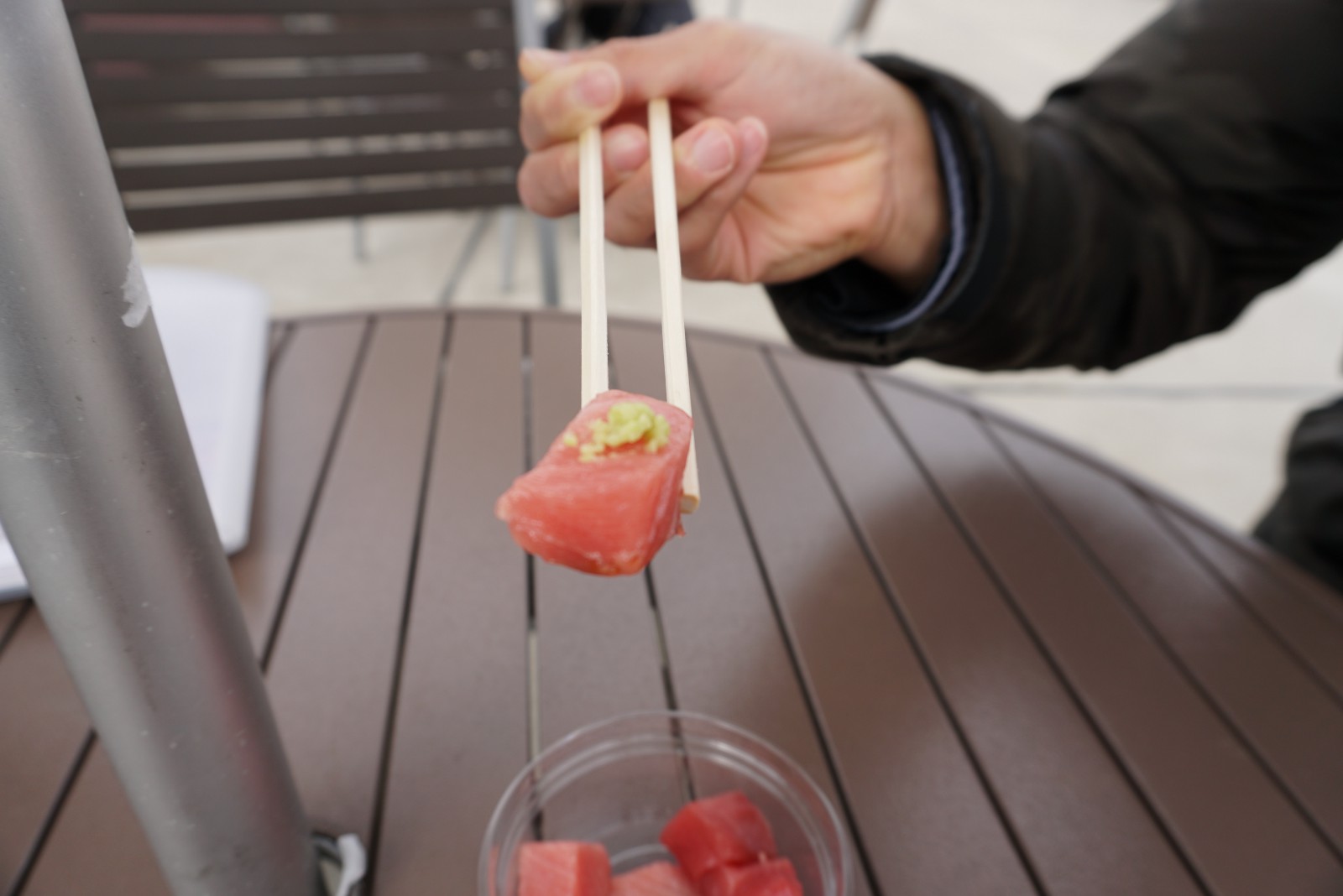 After that, we kept exploring the streets of Tsukiji Outer Market. As it was getting late morning, the streets were getting busy with tourists. We stopped by and tried food samples at several shops and stalls.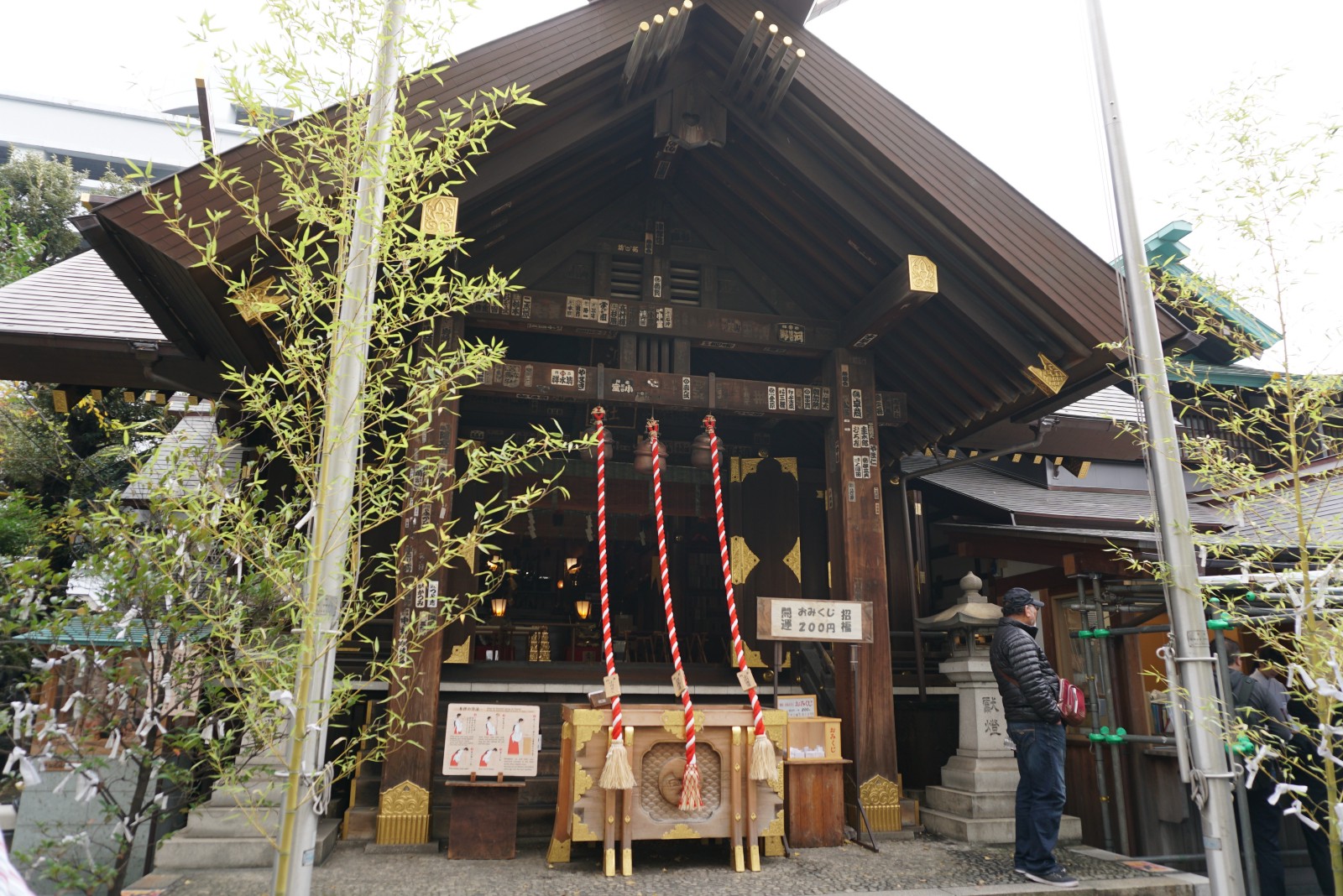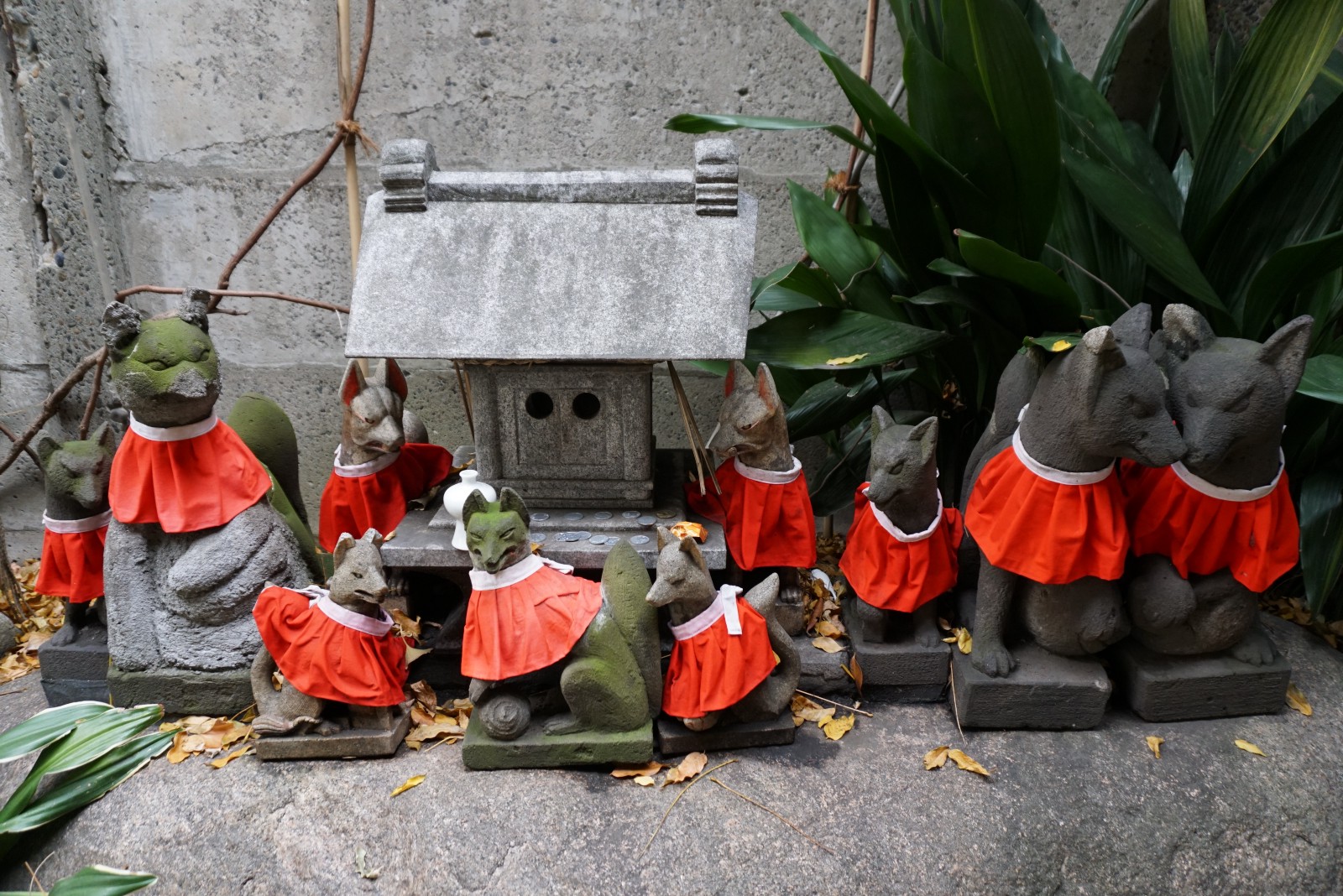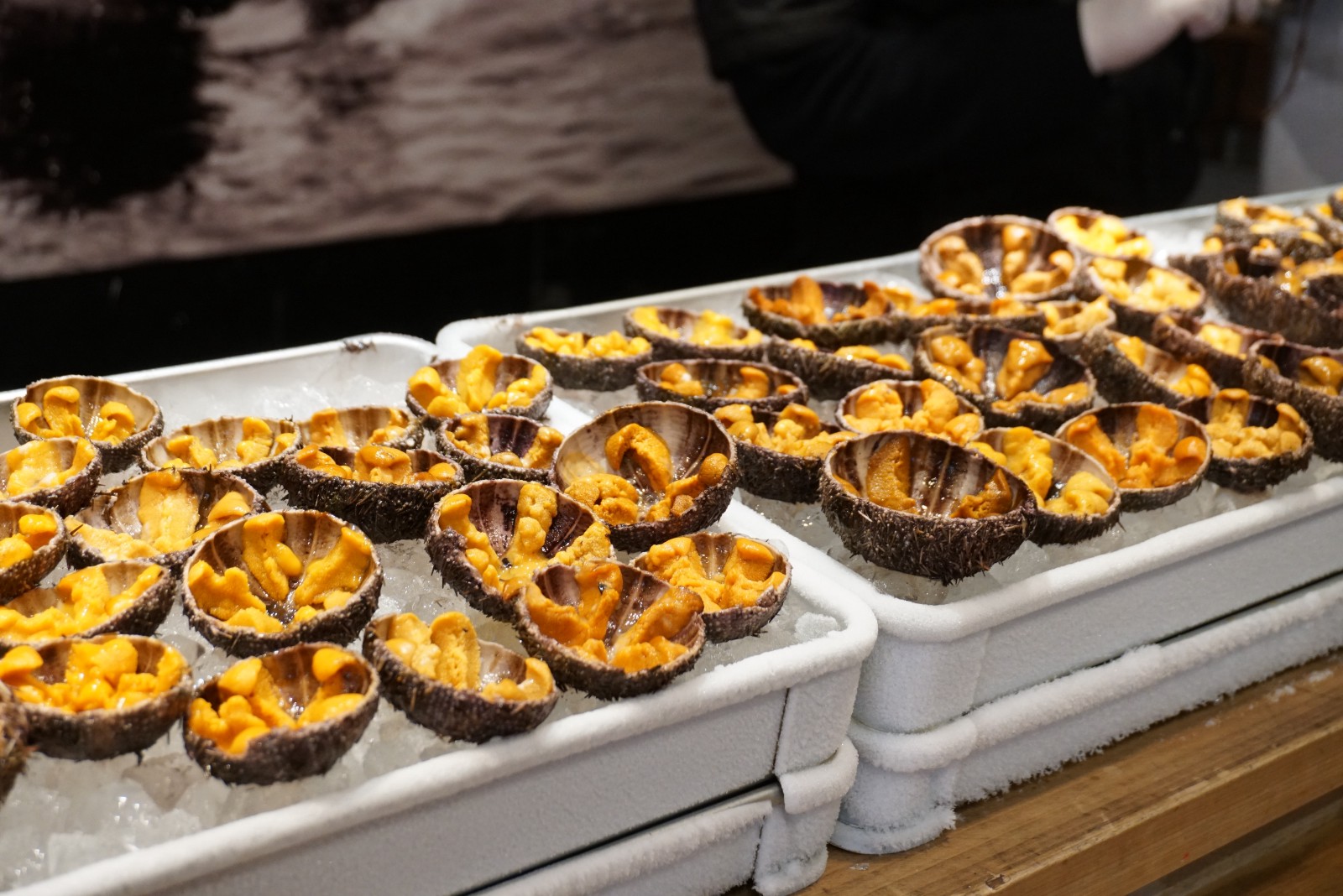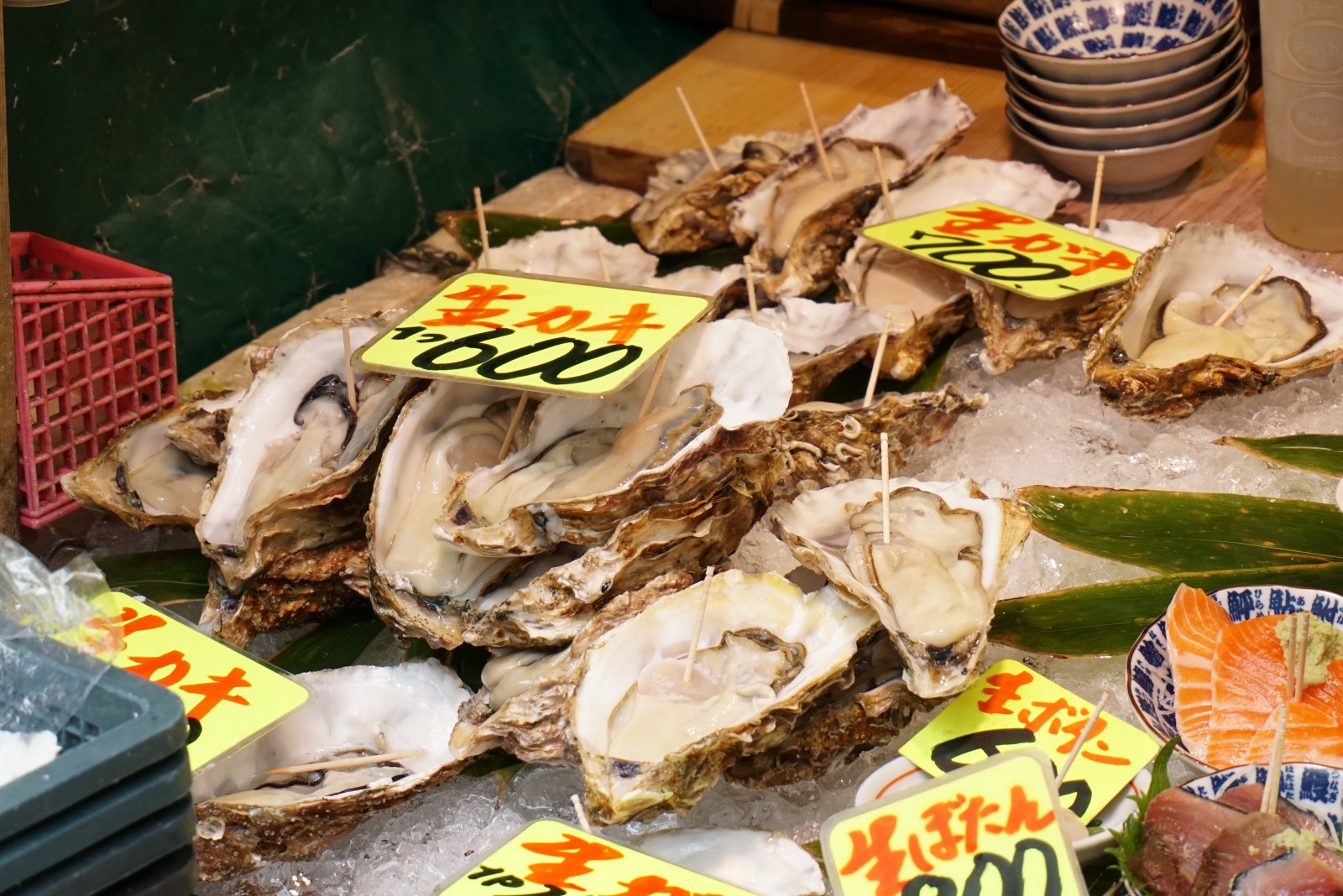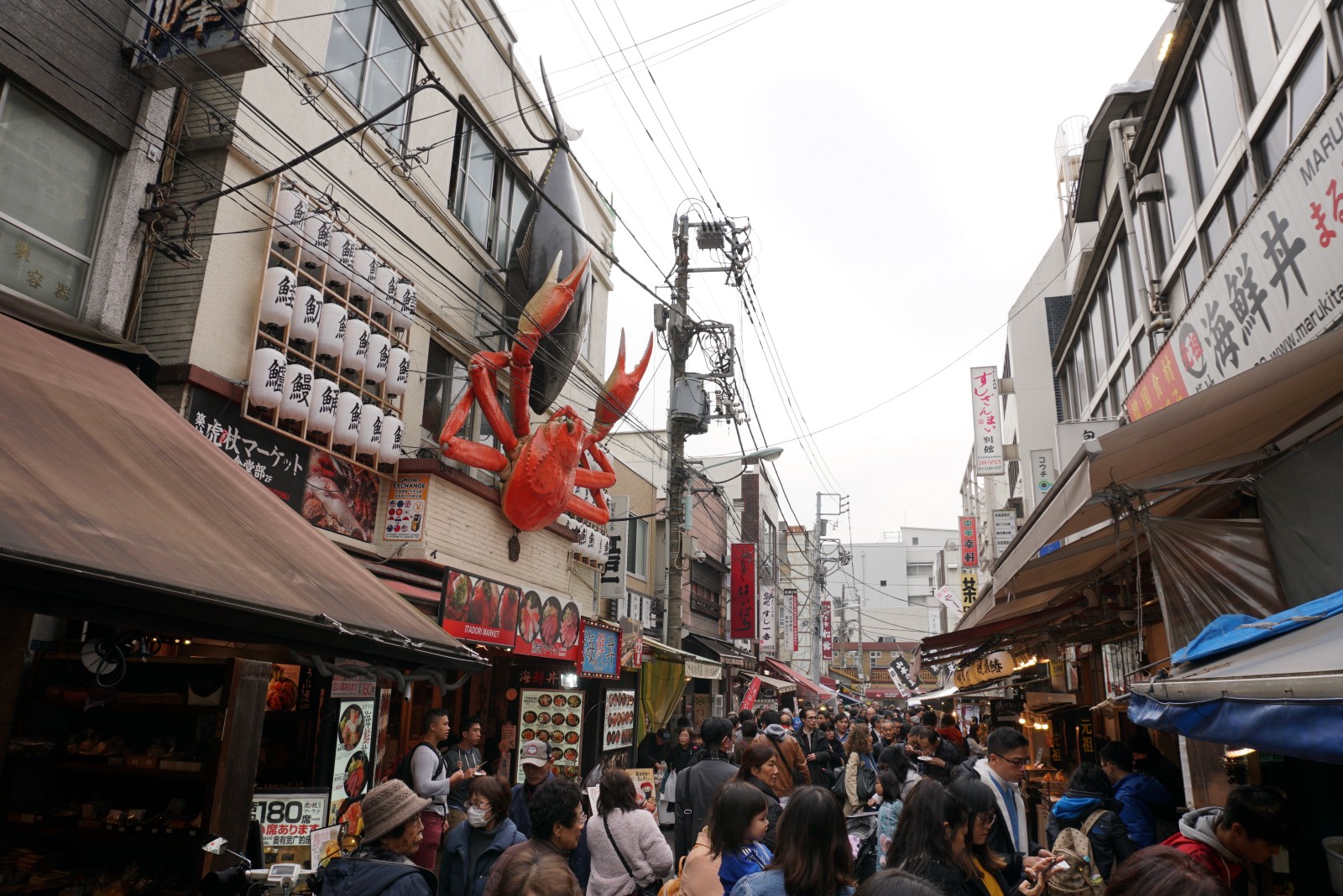 We popped by at a small Sake bar and tasted Sake with traditional wooden cup called Masu. I don't usually drink Sake, but this one was really good! It tasted light and smooth like white wine. They served us small condiments with the drinks, and it was tasted unique and similar to cheese (They said it was Tofu marinated and fermented in miso!). It went really well with the taste of Sake, and we sipped it down pretty quickly 😉 Before leaving, they gave me the masu cup as a souvenir!! (the name of the tour is printed on it.)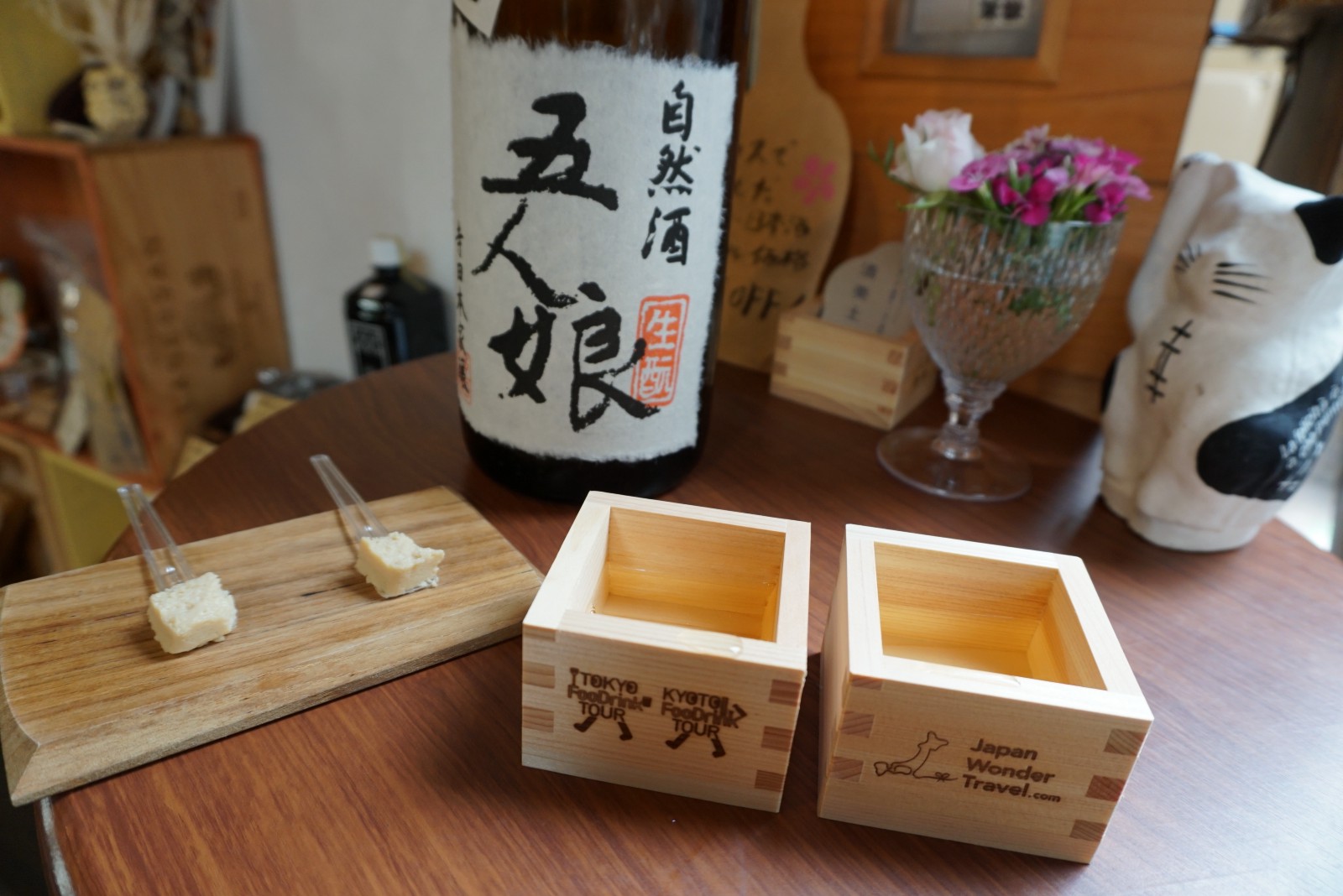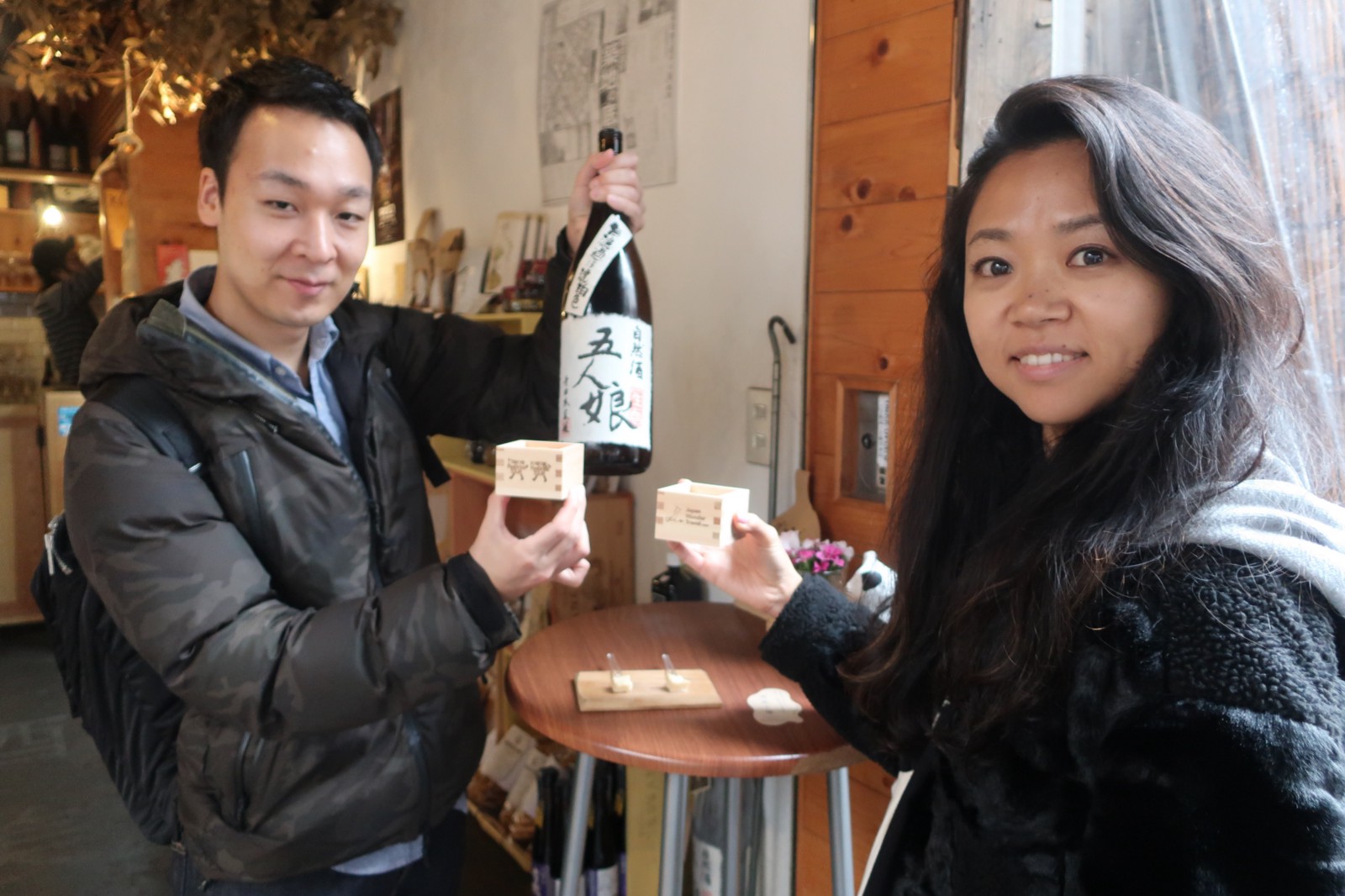 The grand finale of the tour was eating Sushi at the restaurant located just outside of Tsukiji Outer Market. It was an unique standing Sushi bar, and a set of Sushi meal were served. As much as I enjoyed the delicious Sushi lunch, I really enjoyed the company of the funny chef at the restaurant. He was very talkative and cracking some jokes while serving us Sushi 🙂
Through the tour, I realised that people who work in and around Tsukiji Fish Market were very relaxed, friendly and hospitable, even though most of them do not speak English, they are really nice to foreign visitors. Most of them are old and traditional, and I don't think it's easy for them to accept different culture and be open, so I really admire them for doing that!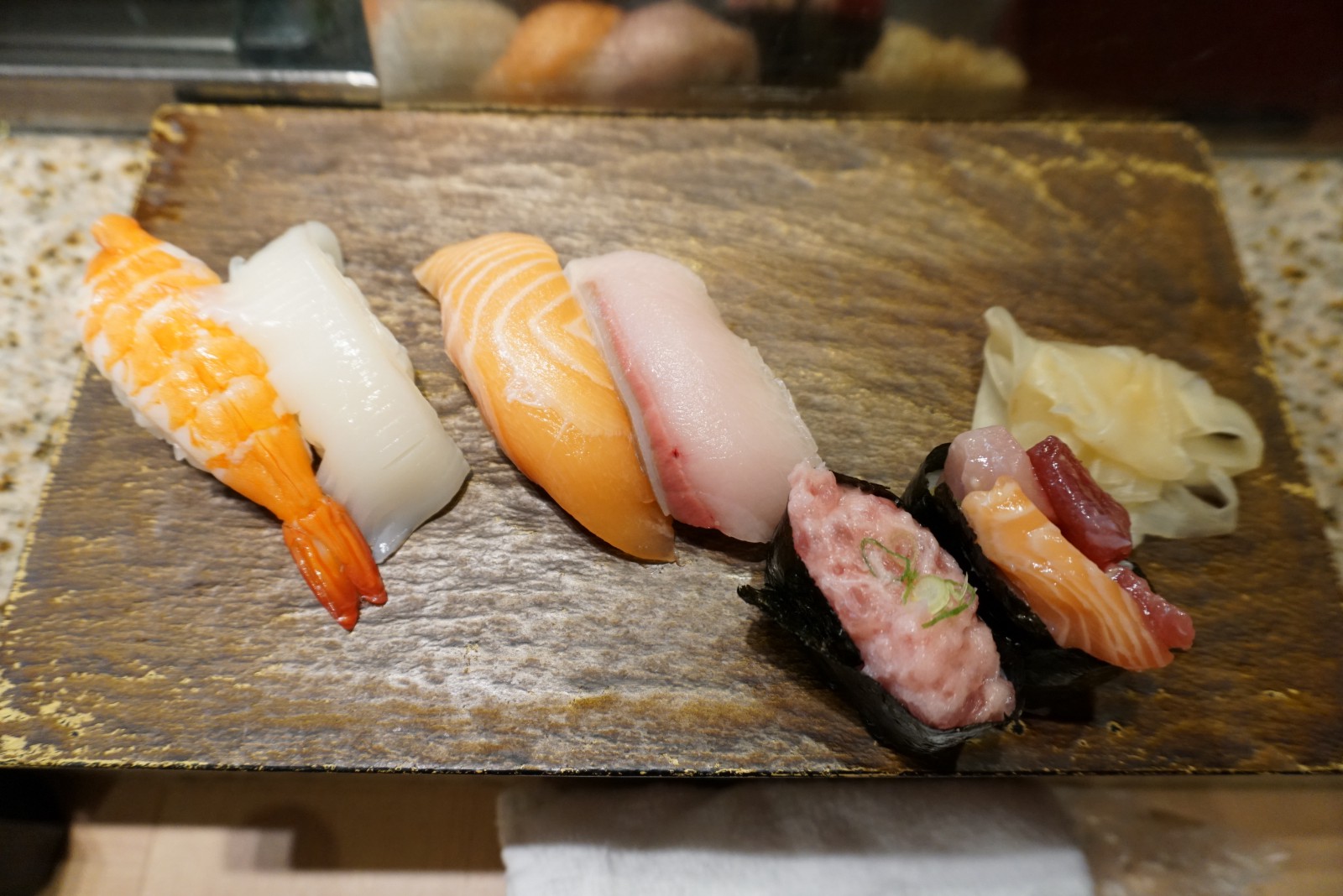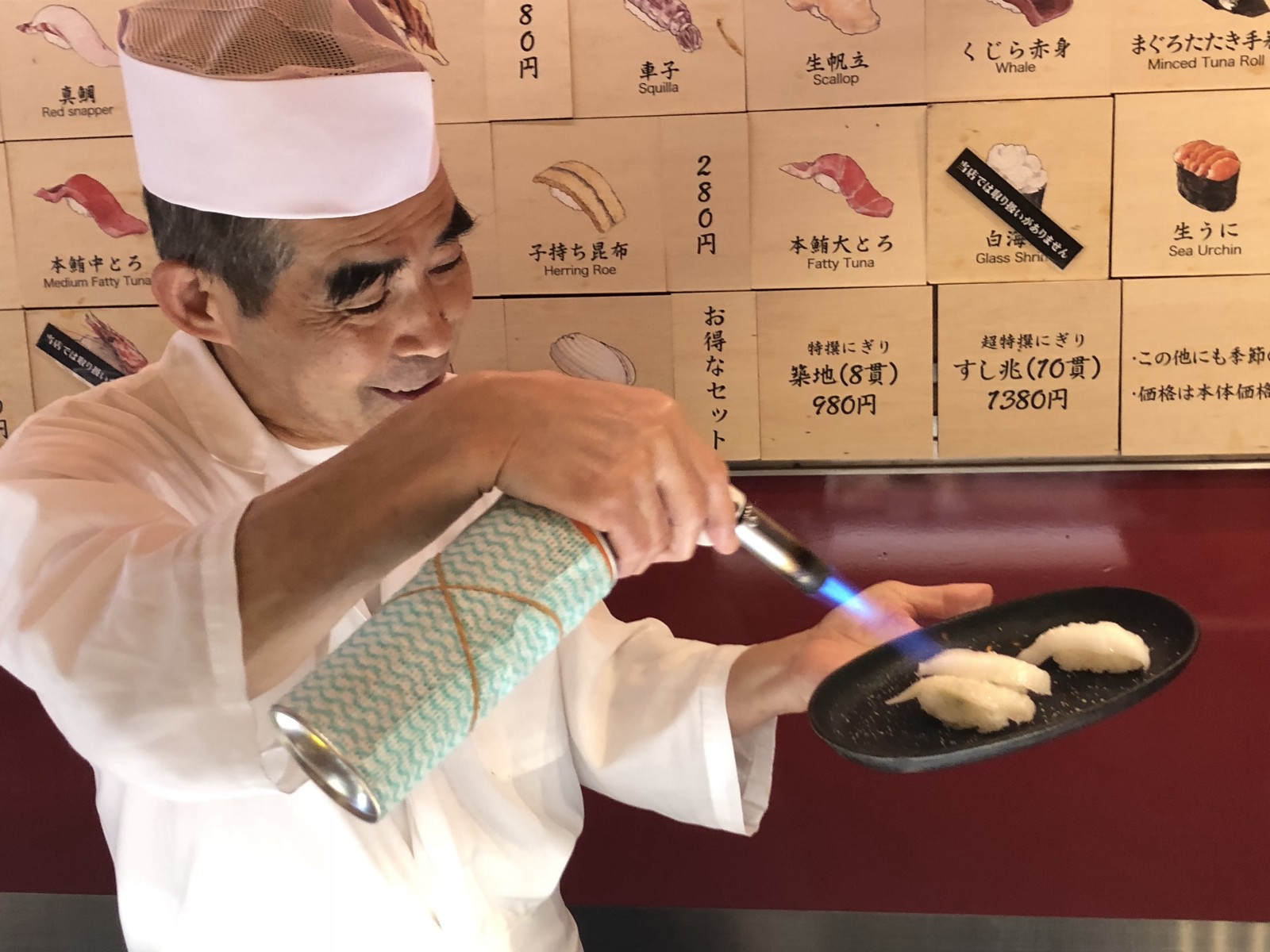 So this was it! The tour ended around 11:30 am.
After the tour I was totally stuffed!!
When you go to Tsukiji Outer Market, there are hundreds of shops, stalls and restaurants that you could be confused what to eat. Kazu showed us the best shops to enjoy each foods, and also I was very happy with the choice of food during the tour.
What we ate: Tamagoyaki (Japanese Omelette), Freshly cut Tuna sashimi, Satsumaage (Japanese deep-fried fish cake), Sake and tofu cheese, Assorted Sushi meal
We also stopped by at several shops and tried many samples such as bonito flakes, green tea, fish cracker, etc. It seems a lot of food, but this tour includes a lot of walking and each item is not very big, so I managed to enjoy all of them 🙂
Book the tour now! ▶ Tokyo FooDrink Tour @Tsukiji Fish Market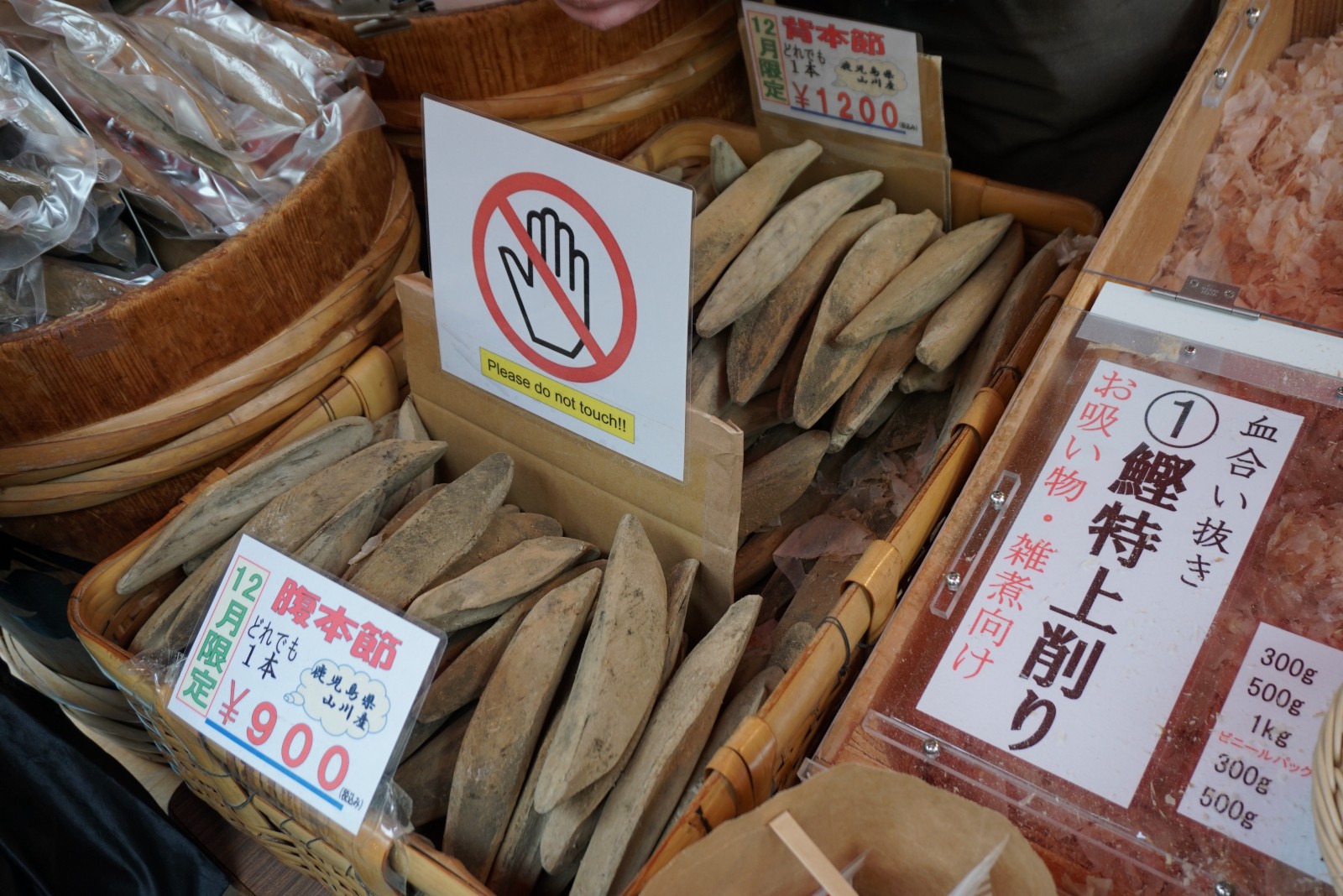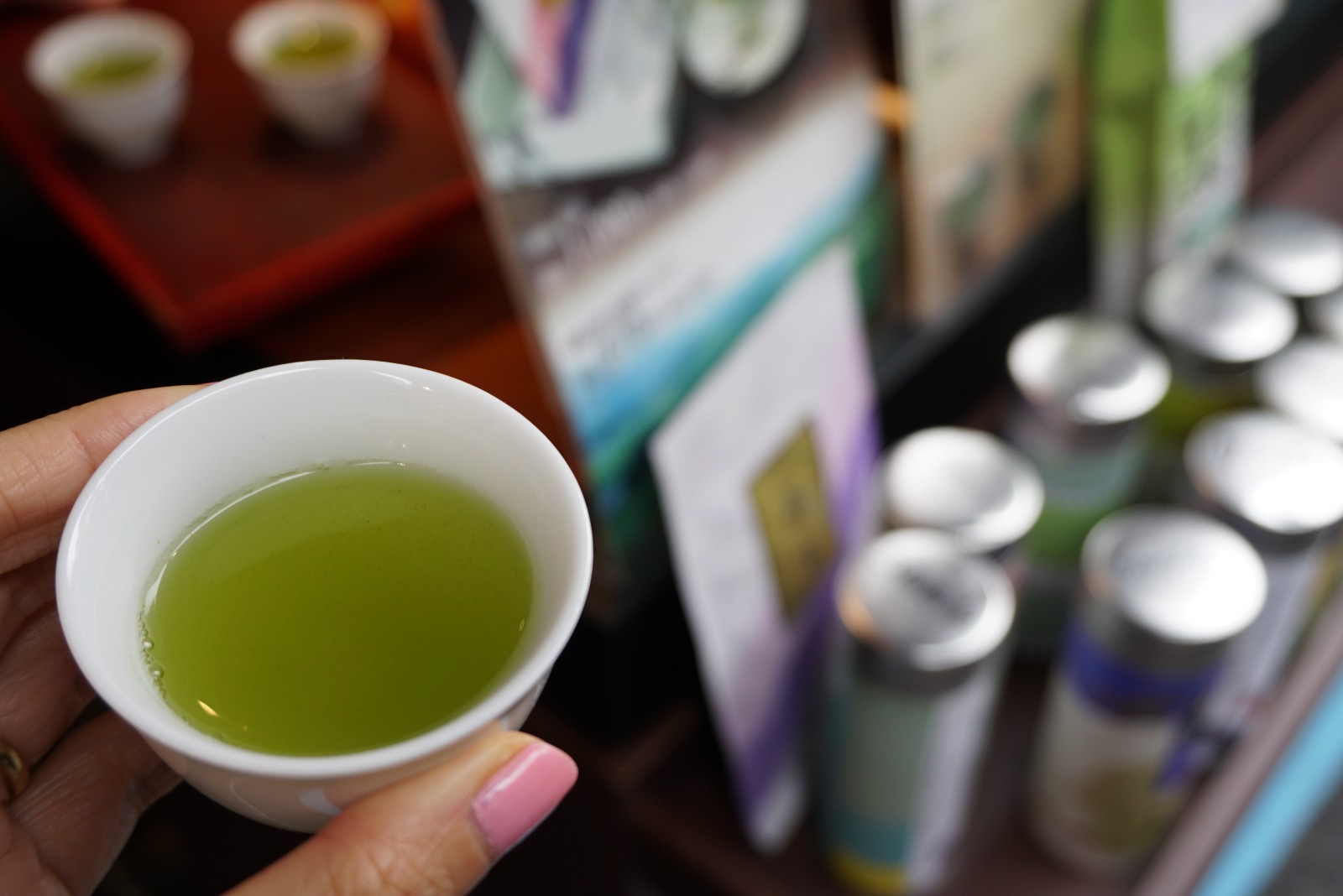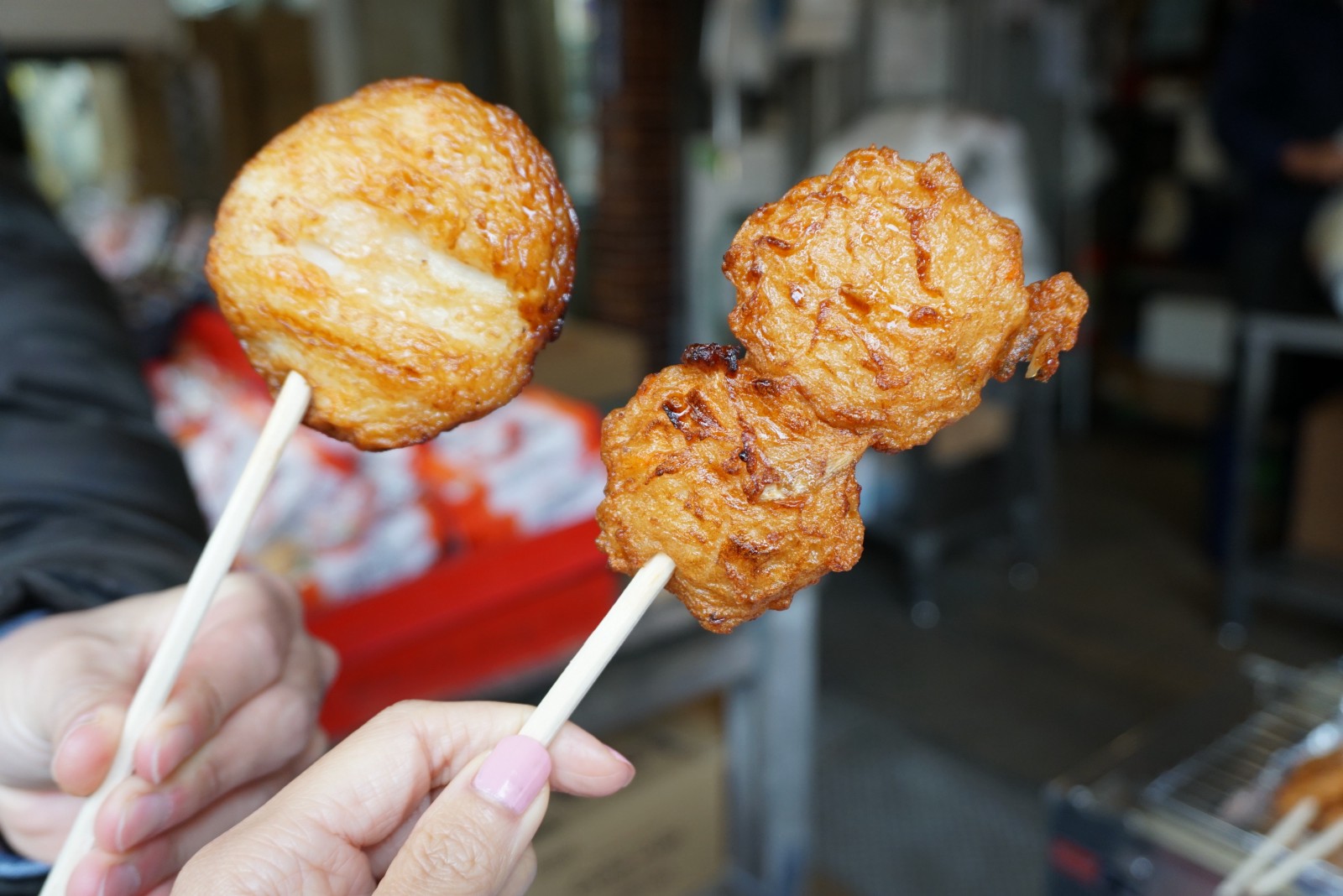 If you wish to explore the neighbourhoods of Tsukiji more, you can continue strolling down the streets of Tsukiji or extend your day out to Ginza area, which is also a popular tourist destination which is famous for shopping, and only a few hundreds meters away from Tsukiji Fish Market.
Or there is another walking food tour by Japan Wonder Travel which is 5 hours and includes Asakusa area after visiting Tsukiji Fish Market. Asakusa is another must-visit neighbourhood in Tokyo which is often described as the historical capital of Tokyo. Here is the link to it!
-Overall
Is Tsukiji worth visiting after the relocation??
1000% YES!!
The wholesale market has been relocated to Toyosu now, but Tsukiji is not dead!! I have already visited Toyosu Market after the relocation, but I personally prefer Tsukiji Fish Market way more. This energetic and lively atmosphere that has been created over the years can not be beaten by any other places. Tsukiji Outer Market preserves the long history and spirit of Tsukiji as the world's greatest food town, and is still one of the greatest places to visit in Japan.
I'd describe Tsukiji Outer Market as a theme park of food as it's a very entertaining place to explore and enjoy delicious food. Just walking down the neighbourhood is a wonderful entertainment as you may find many interesting products. On top of that, Tsukiji is really recommended to explore with a guided tour.
If you are wondering if the tour was worth, my answer is absolutely yes!
Some of you may hesitate to spend money on guided tour and think you can reasonably enjoy the place after researching online and guide books, but it would not be the same! I have been to Tsukiji Fish Market in past, but through the tour I felt like it was my first time visiting there. I realised I had missed out many things, and my knowledge about Tsukiji was not good enough to enjoy the market fully. This time, I had a whole new Tsukiji experience with the Tokyo FooDrink tour and it was really awesome!
Huge thanks to our tour guide Kazu who showed us around Tsukiji in depth, taking us to many places that we would not find by ourselves nor on guidebooks. Not only guiding the streets of Tsukiji, but he also explained us many things about Japanese food culture. I have enjoyed every minute of the tour, and would love to recommend it to anyone who is interested in Japanese food or simply to have a good time!
The price includes all the food that you try during the tour, which I think it's pretty bargain for the amount of food. Moreover, the experience you'll have on the tour is totally priceless.
Book the tour now! ▶ Tokyo FooDrink Tour @Tsukiji Fish Market
Japan Wonder Travel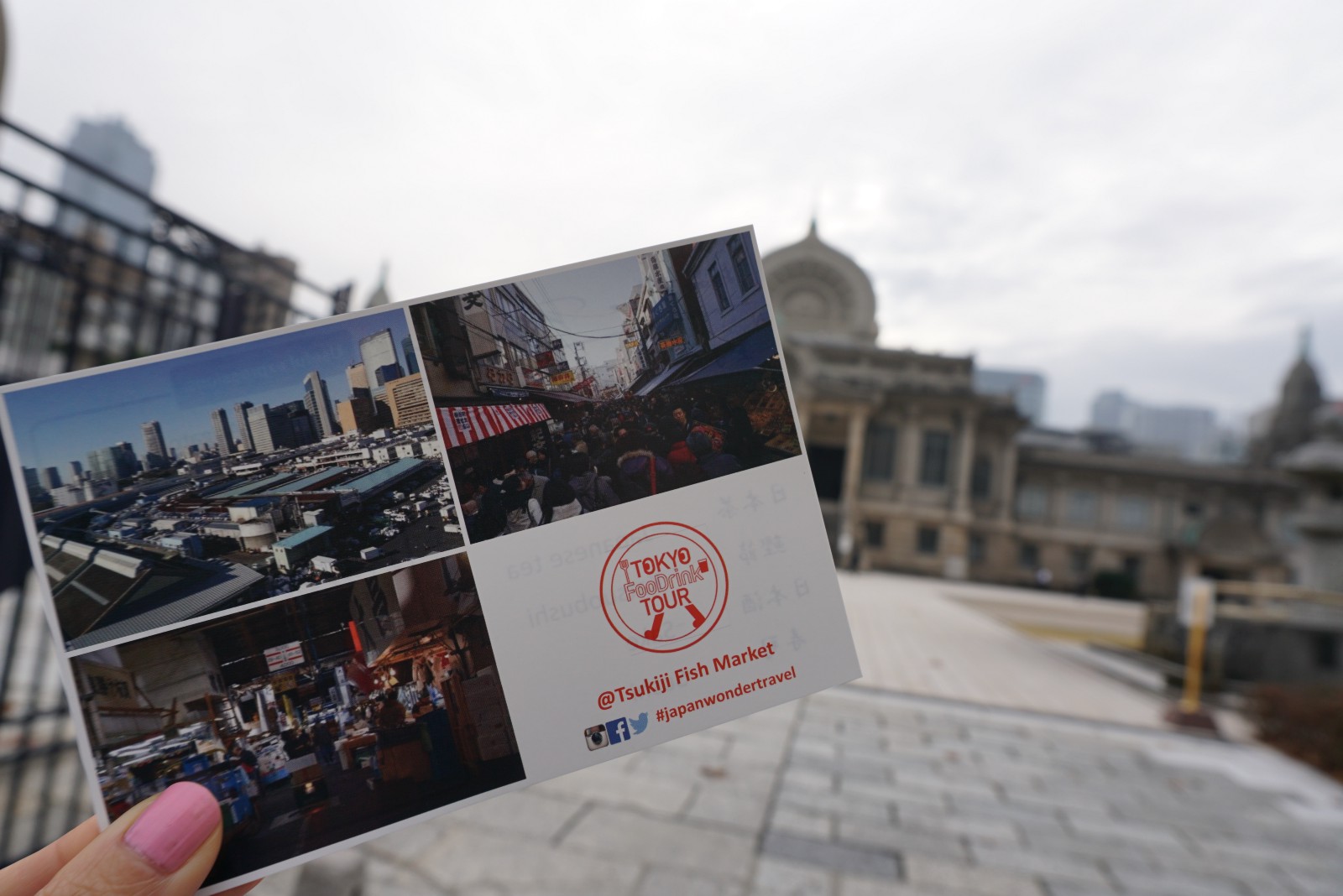 Tokyo Foodrink Tour at Tsukiji Fish Market by Japan Wonder Travel is one of the most popular food tours in Tokyo. There are numbers of walking tours held in Tokyo today, so if you are not sure which tours to join, you won't regret after joining this one. In my personal opinion, it's recommended to join guided tour in Tokyo especially at traditional and historical places like Tsukiji, Asakusa and some of off the beaten path neighbourhoods.
These neighbourhoods in Tokyo are way more interesting when you know the history, be closer to locals and get further information which is very difficult if you re not familiar with the place. There are several more food walking tours by Japan Wonder Travel available at different locations in Tokyo including Asakusa, and not only in Tokyo, but they also organize their original and interesting tours and activities across Japan including Kyoto, Osaka and Mt Fuji. So take a look at their website and see which tour you wish to join!
Japan Wonder Travel is one of the best tour agency organizing their original tours across the country and all their tours are guided by professional and experienced guides who are familiar with each area. They are the winner of the Certificate of Excellence by the TripAdvisor, and you can see tons of happy reviews from customers!! The guide told me that the food menu and tour schedule can be also arranged by advanced requests, so if you have allergy with some food products or you are vegan, feel free to send them inquiries when you book the tour!
Hope you have enjoyed reading my Tsukiji Fish Market walking tour experience! For more unique things to do in Tokyo, please check out these articles, too!
▽Related Articles ▽
▼Editor's Picks▼
---