The Ultimate Guide to Japanese Sunscreens 2021
The Best Types of Japanese Sunscreens : Spray, Gel, Stick and more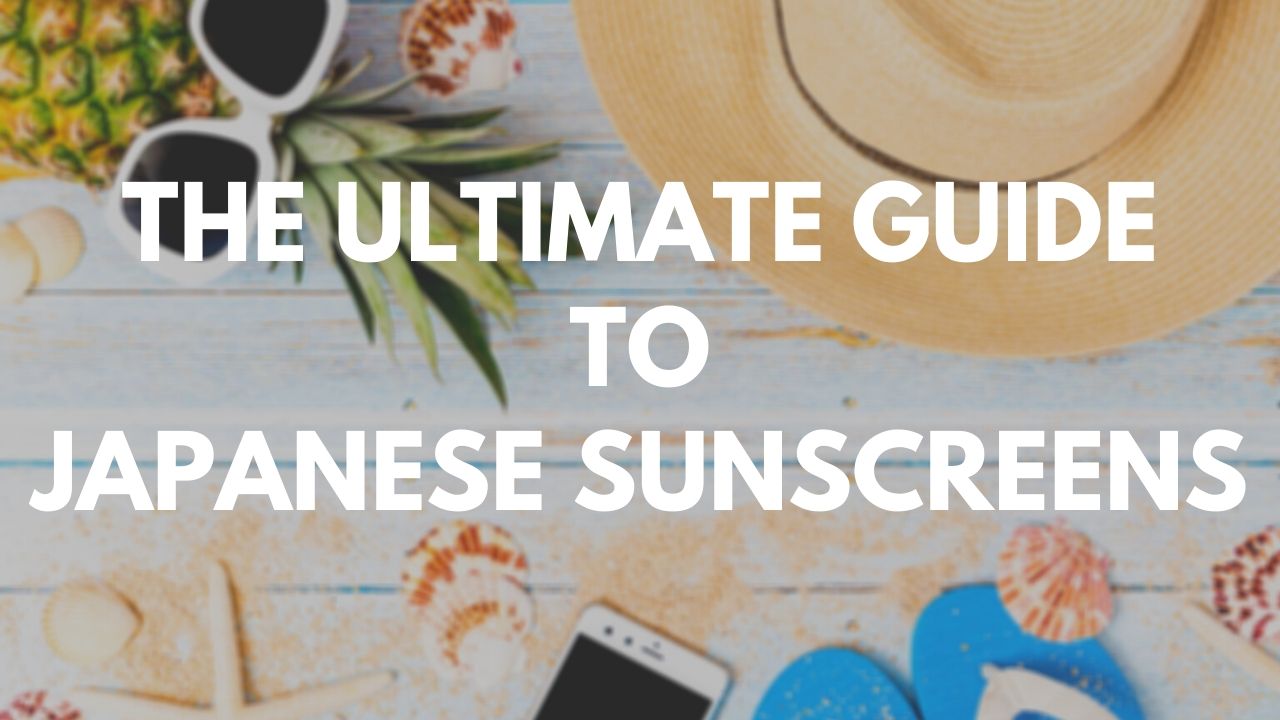 Cream, spray, sticks, powder, etc, various kinds of sunscreen products are on the market in Japan today, and you may get confused about which products to choose. But more types of sunscreens mean that you can pick them according to skin type or occasion. If you are serious about protecting the skin from the UV rays and give a good care on your skin, it's definitely a wise idea to use several types of sunscreens according to purposes, situations and parts of your body.
In this article, I'd like to share the ultimate guide to Japanese sunscreens, introducing common types of sunscreens available in Japan with their pros and cons as well as the best-selling products from each category!
---
Pros- easy to apply without spreading by hands , suitable for outdoor and leisure occasion
Cons- difficult to apply evenly
Shigaisen Yohou UV Spray Makeup Keep
This product protects skin from UV rays with the high SPF & PA rate as well as helps preventing makeup from smudging by applying after makeup as a setting spray. (60g ¥1,620)
KOSE SUNCUT Protect Spray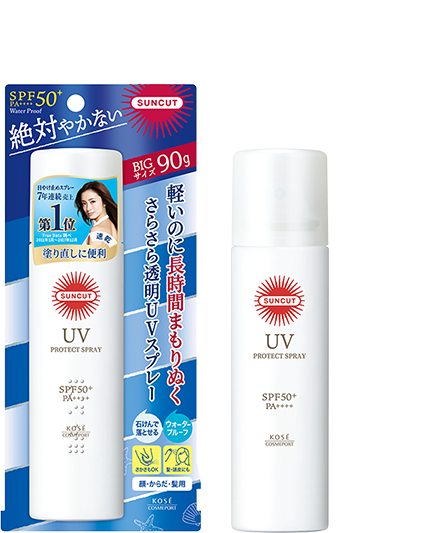 It's a waterproof sunscreen that can be removed by regular soap. Not only for skin, it's a great product to used for hair, too.
More products ▶ Best Japanese Spray Sunscreens
Pros- easy to apply evenly. The light and non-greasy texture. Great for oily skin.
Cons- some products might not be suitable for sensitive skin
ALLIE Extra UV Gel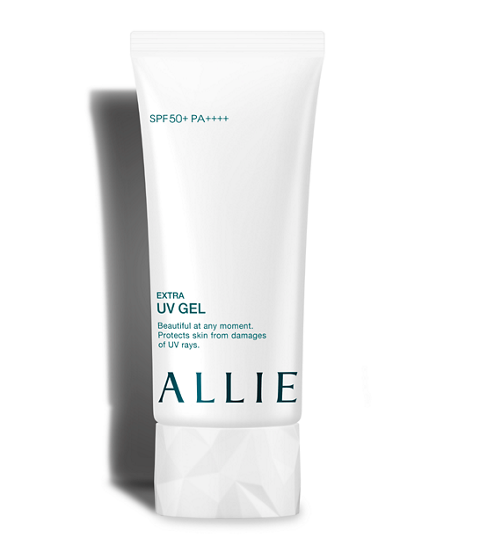 The lightweight sunscreen gel has powerful UV protection. Highly resistant to water, sweat and rubbing.
Rohto Skin Aqua Moisture Gel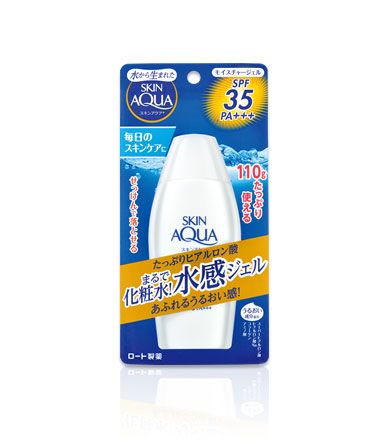 It's moisturizing, and has light and smooth texture like skin toner. (110g ¥900) 【Buy it Now】
More products ▶ Best Japanese Sunscreen Gels
3. Milk type
Pros- Lightweight. Easy to apply. Can wear under makeup
Cons- You need to shake it before use. Some products leave white cast.
ANESSA Perfect UV Skincare Milk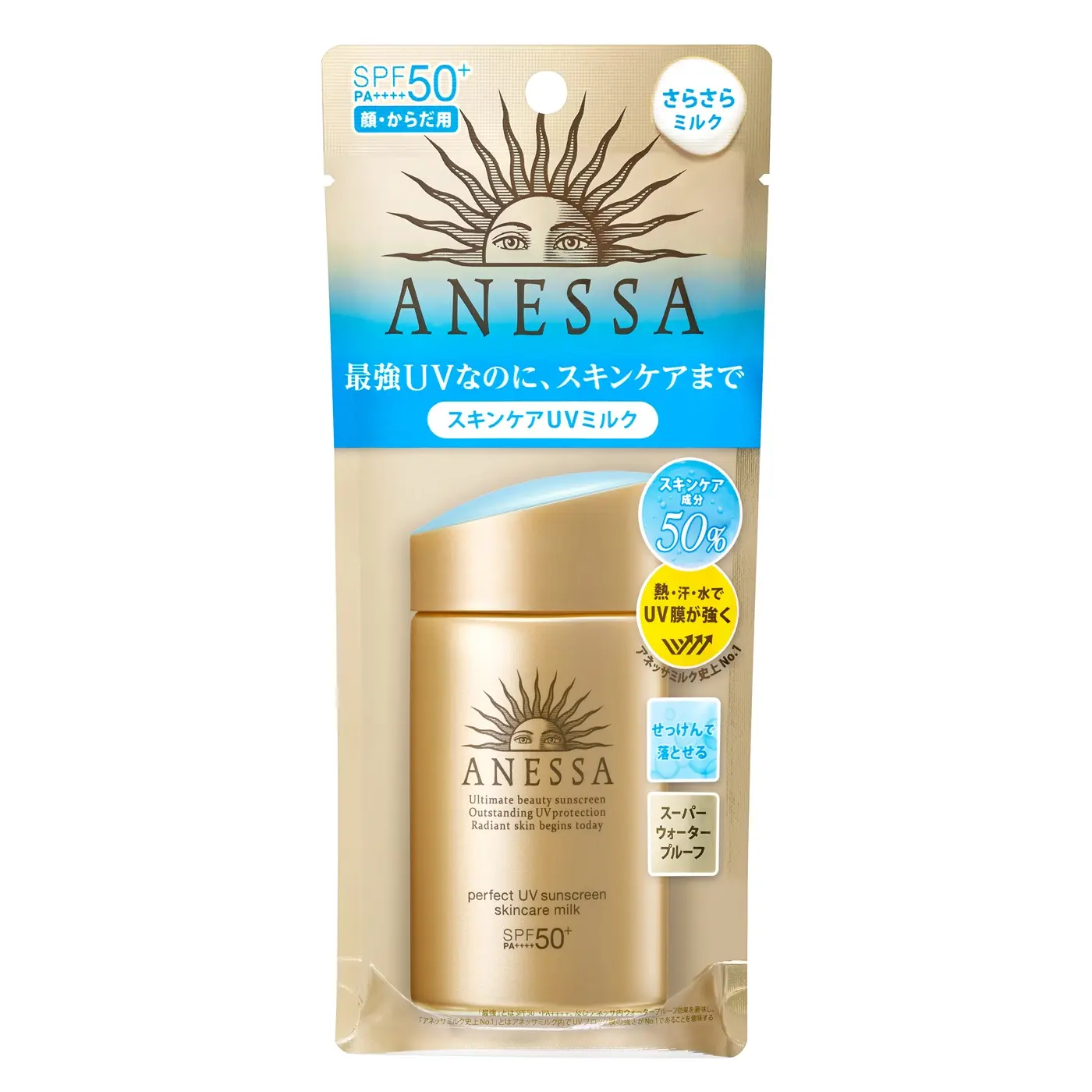 Featuring Shiseido's original "Thermo Booster Technology" and "Aqua Booster EX Technology" which enhance the effects of longevity and UV protection when exposed to water, sweat or heat from the sun.
Biore UV Athlizm Skin Protect Milk
Biore UV Athlizm Skin Protect Milk is super waterproof with long lasting formula that is ideal for sports and leisure, but still gentle on skin. 【Buy it Now】
4. Essence type
Pros- Easy to apply. Gentle formula. Recommended to use for kids
Cons- Weak longevity. May not be suitable for sports and leisure purposes.
Biore Aqua Rich Watery Essence
Lightweight, watery sunscreen essence features the "Micro Defense Formula" which spreads evenly on the skin and protect the skin from UV rays.
Shiseido d program Allerbarrier Essense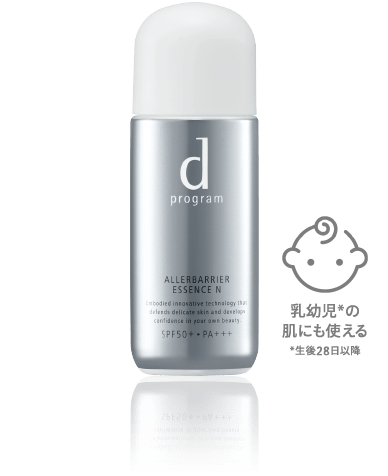 Recommended for sensitive skin type. While protecting from UV rays, it also prevents skin from allergens and dusts.
5. Cream type
Pros-Highly moisturizing. Strong UV protection.
Cons- Slightly thick texture and could be heavy for oily or acne-prone skin
La Roche Posey UVIDEA XL Protection Tone Up
Made of ingredients are gentle on delicate skin. It can also be used as makeup primer and brighten the skin tone up as well as sunscreen. (30ml ¥3,672)
Pros- Convenient to carry and touch up
Cons- Low SPF rate
ETVOS Mineral UV Powder
Great item for makeup touch-up and to fix smudging and sebum by applying the powder. The cute package is also very attractive.
More products ▶ Best Japanese Powder Sunscreens
Pros- Long lasting. Can be applied without your hands getting greasy. Recommended to use for small parts on face and body.
Cons- Could be heavy and stick.
BRUSA MARINA Athlete Pro UV Stick EX
This products are popular among marine sports fans and athletes such as surfers and divers as it offers great longevity and high SPF rate. Two colours are available: White and Brown
More products ▶ Best Japanese Sunscreen Sticks
Pros- Correct your skin tone for beautiful and bright skin. Can wear under makeup.
Cons- Could appear too white when it doesn't match with your skin tone
SKIN AQUA Tone Up UV Essence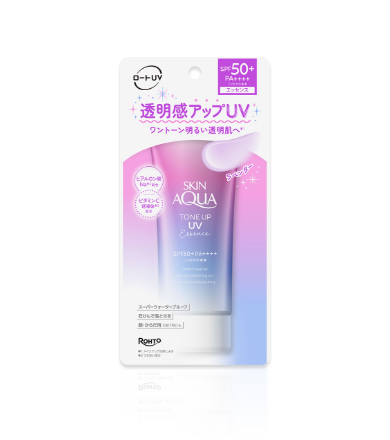 The lavender shade sunscreen essence brightens up the skin tone for clear and translucent skin.
---
Did you enjoy the list?? A wide selection of sunscreens can be found in Japan so I hope you'll find the products that suit most on your skin! It's also a great idea to use several types of sunscreens according to the occasion and skin type! Most of introduced products are sold at Japanese drugstores 🙂
For more information about Japanese sunscreens, please check out these articles, too!
▼Editor's Picks▼
---