Best Japanese Sunscreens for Face 2021
Must-Buy Face Sunscreens in Japan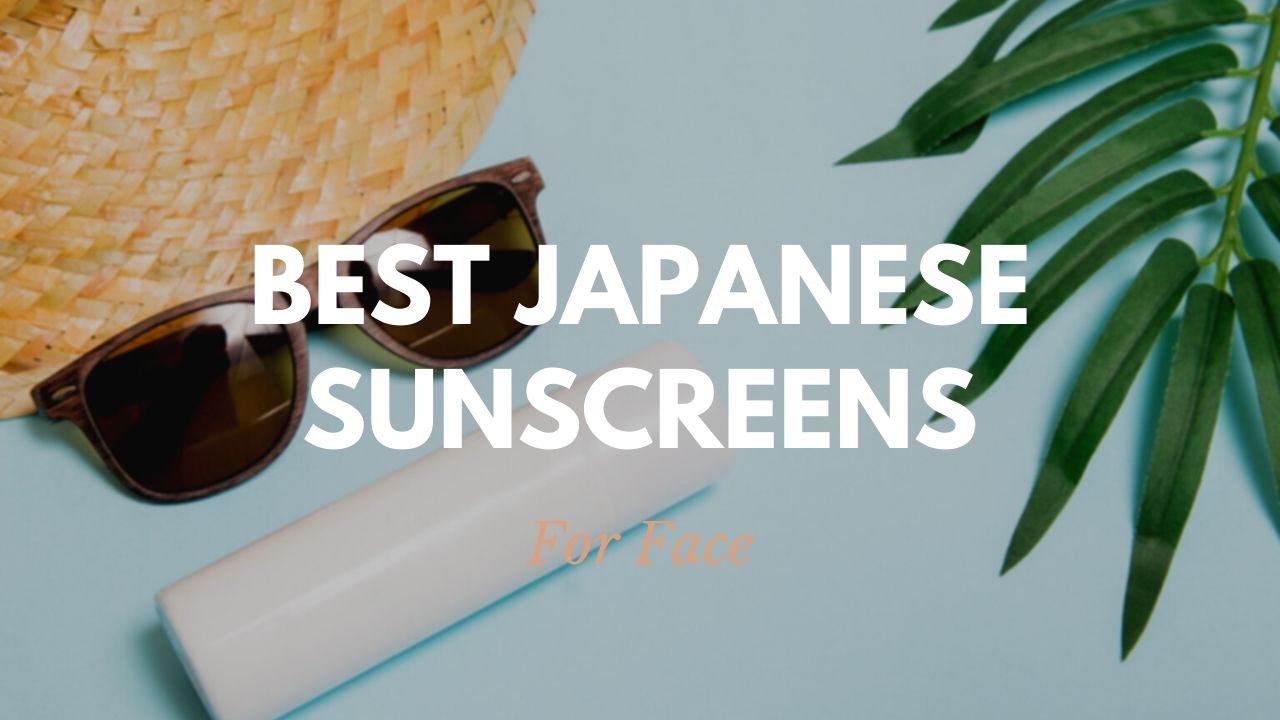 Japanese beauty products are highly popular worldwide, and especially, sunscreens are one of the most categories of product as they are known for their quality, effectiveness and reasonable prices.
Another big reason why Japanese sunscreens are so popular is their variety. In Japan, there are hundreds of sunscreen products on the market in different price range and with various features and functions. So you can easily find the right sunscreen products that are suitable for your skin type or to use for particular purposes.
In Japan, many people use several sunscreen daily, depending on their body parts or situation. For example for face and body, people look for different effects and functions in sunscreens such as high skin care/makeup effects for face and a better strength for body. Especially for face, people wear sunscreen with makeup, so many products are designed to be lightweight, skin-nourishing and gentle-formula as key features. Also some products offer great makeup effects to fix your skin complexion and tone it up for a smooth look.
In this article, I'd like to share the list of the best Japanese sunscreens for face that protect the skin against UV rays as well as leaving it looking healthy and flawless. So let's check them out 🙂
---
1. ANESSA Perfect UV Skin Care BB Foundation
ANESSA by Shiseido is one of the most popular Japanese sunscreen brands of all time. ANESSA sunscreen series offers powerful strength and high protection against UV as well as skin care effects.
ANESSA Perfect UV Skin Care BB Foundation (アネッサ パーフェクトUV スキンケアBB ファンデーション) is a tinted sunscreen designed to use for base makeup and it acts both as primer and foundation. It covers spots and pores naturally.
Like ANESSA's original sunscreen products, it offers a strong UV protection with a water and sweat resistant effect, and also features the "Aqua Booster Technology" that enhances the UV protection ability with water or sweat exposure.
It contains skin care powder that prevents skin roughness. Also formulated with selected beauty ingredients and protects the skin from dryness and UV damage. Despite its resistance to water and sweat, it can be washed off effortlessly with regular makeup remover. Available with 2 shades: Bright Natural and Healthy Natural.
SPF 50+/PA++++
Price: 2,200 yen
【Shop Online】
▷ ANESSA Perfect UV Skin Care BB Foundation (Bright Natural)
▷ ANESSA Perfect UV Skin Care BB Foundation (Healthy Natural)
2. ELIXIR REFLET Balancing Oshiroi Milk
ELIXIR REFLET Balancing Oshiroi Milk (エリクシール ルフレ バランシング おしろいミルク) is a daytime moisturizing milk with setting powder and sunscreen effects. It's recommended to use as a makeup primer.
The lightly tinted, lightweight milk blends to the skin smoothly, and conditions the sebum and moisture balance of the skin. It acts as a face powder and keeps pores less visible and the skin smooth and matte. It also helps foundation to stay longer. It has high UV protection rates (SPF50+/PA++++) to prevent skin-aging and dryness.
Besides the regular formula, the tinted version with higher coverage, ELIXIR REFLET Balancing Oshiroi Milk C is also available. It can be used as a foundation as it also covers skin dullness and uneven tone naturally.
SPF50+/PA++++
Price: 1,980 yen (35g)
【Shop Online】
▷ ELIXIR REFLET Balancing Oshiroi Milk
▷ ELIXIR REFLET Balancing Oshiroi Milk C
3. Curel UV Cream
If you have ever experienced skin roughness or dryness caused by UV ray or reaction to sunscreens, this product could be for you. Curel UV Cream (キュレル 潤浸保湿 UVクリーム) is a face sunscreen/makeup primer with moisturizing effect. Curel is a Japanese skin care brand offering a range of ceramide care products for dry, sensitive skin.
It contains anti-inflammatory agents and prevents the skin roughness and damage while protecting from UV rays and dryness.
The rich textured cream can spread on the skin gently, and it can be used as a makeup primer and helps foundation to appear better. It's blended with moisturizing ingredients (ceramide and eucalipt essence) that keep the skin smooth and moist all day.
This gentle formula sunscreen is free of colorant, fragrance, alcohol and UV absorbing agents. The product is tested for non-comedogenic and allergy, so it's recommended for acne-prone and sensitive skin type.
SPF30/PA+++
Price: Open Price 【Shop Online】
4. SEKKISEI Skin Care UV Tone Up
SEKKISEI is one of the most popular Japanese skin care brands and its skin care range is formulated with oriental herbs which help to brighten the skin tone and improve its clarity.
SEKKISEI Skin Care UV Tone UP (雪肌精 スキンケア UV トーンアップ) is a face sunscreen with a skin tone-up effect and great product to use as a makeup primer. The lavender-coloured essence brightens up the skin complexion by sweeping away dullness and providing a natural glow.
It features the dry protect formula which prevents the skin from dryness, roughness and dark spots while protecting from UV ray.
It contains 80% beauty serum (fermented Job's Tears extract) which leads to clear and bright skin with each use. The lightweight and milky textured essence absorbs quickly and helps foundation to stay on longer. Can be removed easily with regular face wash. It's chemical-free formula and allergy tested.
SPF30/PA+++
Price: 1,650 yen 【Shop Online】
5. Biore UV Face Milk
Biore UV series offers a wide range of sunscreen products that have amazing quality and great value for money. Biore UV Face Milk (ビオレ UV さらさらフェイスミルク) is a face sunscreen with a long lasting UV protection and super waterproof.
You can use the product before applying makeup as a primer. It has a light and silky texture formulated with sebum-absorbing powder which prevents makeup from smudging and providing a mattifying effect.
It also features the new "Smooth Water Repellent Veil" with better strength against water and sweat and keeps the skin smooth and shine-free. It also contains hyaluronic acid and glycerin as moisturizing ingredients. It's suitable for all skin type under hot and humid weather, but specially recommended if you have oily skin.
SPF50+/PA++++
Price: Open Price 【Shop Online】
6. TRANSINO Whitening UV Protector
TRANSINO is a skin care brand developed by one of the biggest pharmaceutical companies in Japan, Daiichi Sankyo. The brand offers a range of medicated whitening cosmetics products containing tranexamic acid as an active whitening ingredient to achieve bright and translucent skin.
TRANSINO Whitening UV Protector (トランシーノ®薬用 ホワイトニングUVプロテクター) is a 4 in 1 sunscreen product that acts as a skin whitening, emulsion, sunscreen and makeup primer.
This multi-functional sunscreen evens the skin complexion and smooths pores naturally white protecting the skin from UV rays and PM 2.5 with the highest SPF and PA factor. It contains beauty ingredients to provide whitening and moisturizing treatments. The "Multi-Dimension Powder" also helps to lead bright complexion skin by diffusing light. It has a light and non-greasy texture which is easy to spread and the skin feels smooth and comfortable.
SPF50+/PA++++
Price: 2,860 yen (30 ml) 【Shop Online】
7. PRIVACY UV Face Powder 50
Ideally, face sunscreen should be re-applied every 2–3 hours as it can fade with sweat or sebum, but it not easy when you wear makeup. PRIVACY UV Face Powder 50 (プライバシー UVフェイスパウダー50) is a powder type sunscreen that can be applied on top of your makeup.
The translucent powder sunscreen can be used for finish up or re-touch of makeup as a loose powder. It does not leave the skin too white or cakey so you can apply it on top of your makeup several times a day. It's easy to carry as it comes in a compact with a thick and fluffy puff.
It has powerful SPF and PA factor and protects the skin from UV rays. The sebum-absorbing powder keeps skin smooth and non-greasy and prevents makeup smudging.
It also contains some skin beautifying ingredients such as hyaluronic acid and collagen. You can also apply it on your body.
SPF50+/PA++++
Price: 1,200 yen 【Shop Online】
---
Thanks for reading! Which Japanese face sunscreen do you want to try?? There are a wide variety of sunscreens available on the market in Japan, so you can pick them according to your skin type and purpose!
If you are into Japanese beauty products, I'd recommend you to check out the online beauty store Kokoro which offers a wide selection of Japanese beauty products with worldwide shipping. Visit their website (Kokoro: http://bit.ly/32HfNbi) to check more Japanese cosmetics products! Free shipping is available when you spend over 40 USD 🙂
For more information about Japanese sunscreens, I have more articles introducing the best Japanese sunscreens!
▽Related Articles▽
---