Best Japanese Sunscreen Sprays
Must-buy spray sunscreens in Japan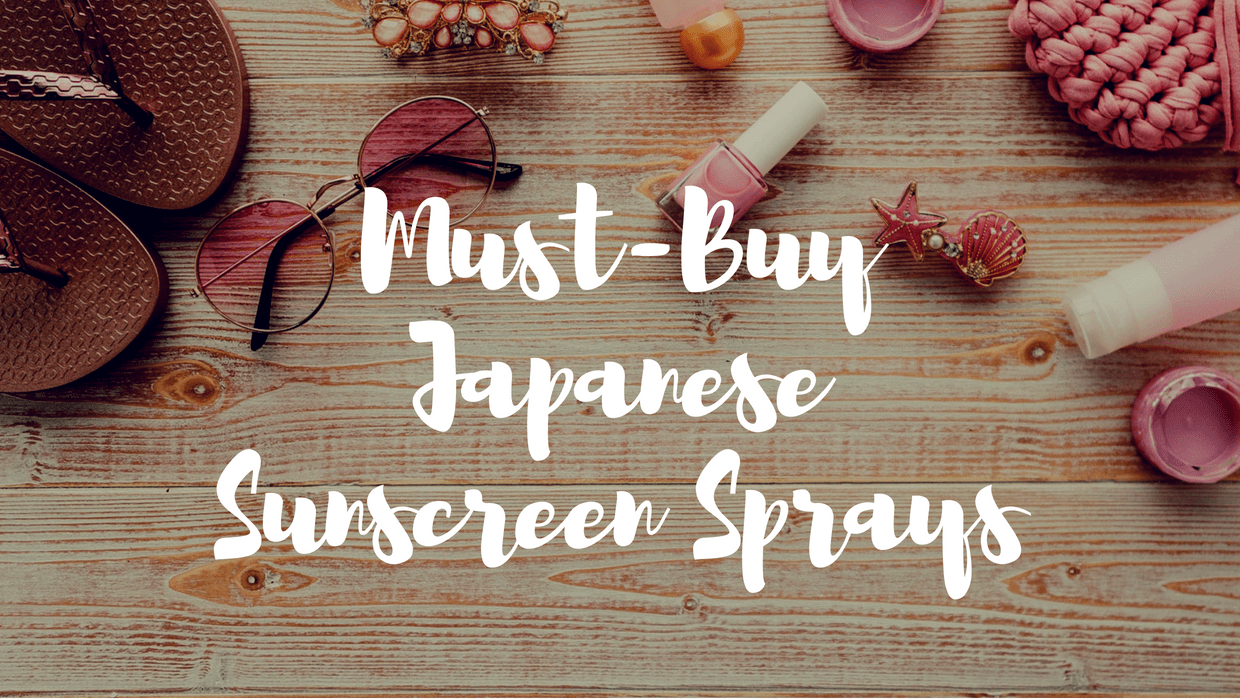 Beauty products are one of the most popular things to shop in Japan among foreign visitors. Especially, Japanese sunscreens are hugely popular worldwide and many products can be actually found even in abroad. But of course, if you are shopping Japanese sunscreens, the best place to buy is in Japan.
A lot of new sunscreens are released every year and now they are available with many different formulas such as cream, gel, stick, powder, etc. Moreover, many products offer different features such as waterproof, cooling effects, high SPF factor, colour-correction and so on.
Today, I'd like to introduce some of the most popular "spray type" Japanese sunscreens this summer. Spray sunscreens have been one of the most trendy cosmetics products in Japan in the past years, and many new products have been released by different brands. They are handy, easy to apply and affordable. So please enjoy the list of best Japanese spray sunscreens!
1. ANESSA Perfect UV Skincare Spray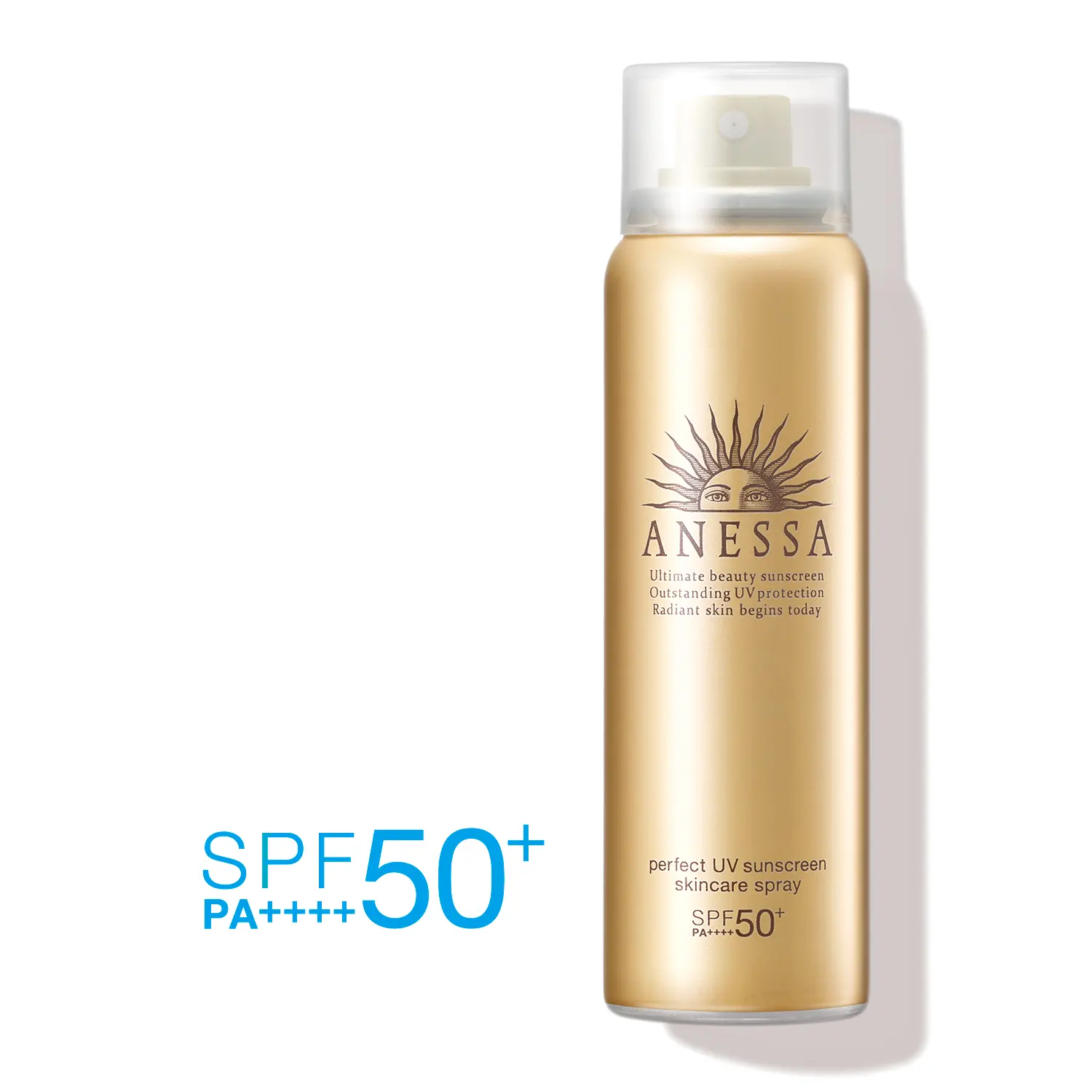 Shiseido ANESSA is a Japanese sunscreen brand which is hugely popular both in Japan and overseas. The brand offers a range of sunscreens with different formula and effects including gel, milk and spray.
ANESSA Perfect UV Skincare Spray UV (アネッサ パーフェクトUV スキンケアスプレー) is a super-waterproof sunscreen spray with powerful UV protection and skin care effects, and features the brand's signature "Aqua Booster EX Technology", which is highly resistant to water, sweat and friction. It contains 50% beauty ingredients and protect the skin from dryness and UV damage. The lightweight spray can be used for face, body, hair and touch-up for makeup.
Price: 1,980 yen (60g)
SPF: 50+
PA: ++++
2. SUNCUT UV Protect Spray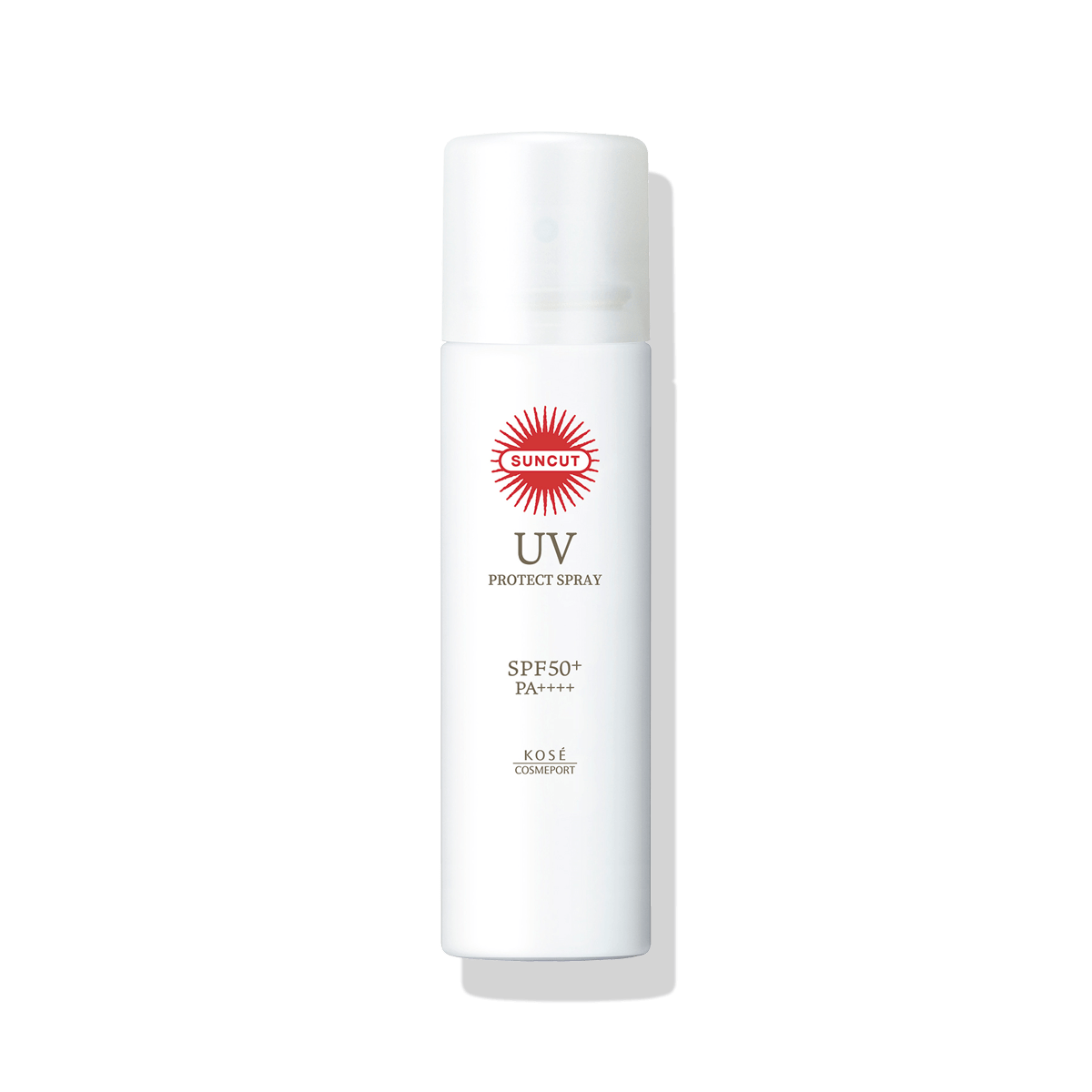 KOSE SUNCUT UV Protect Spray (サンカット プロテクトUV スプレー) is a top-selling sunscreen spray in Japan. The waterproof sunscreen spray is highly resistant to water, sweat and sebum and offers a long-lasting UV protection. It's formulated with power to reduce stickiness and leave the skin silky smooth. The translucent spray can be applied for face, body, hair and on top of makeup. Special technology improves the spray's coverage and it can be also used upside down, so it's easy to apply on hard-to-reach areas such as back and toes. The super-waterproof formula, SUNCUT Perfect UV Spray is also available.

Price: 698 yen (60g)/880 yen (90g)
SPF: 50+
PA: ++++
3. Parasola Fragrance UV Spray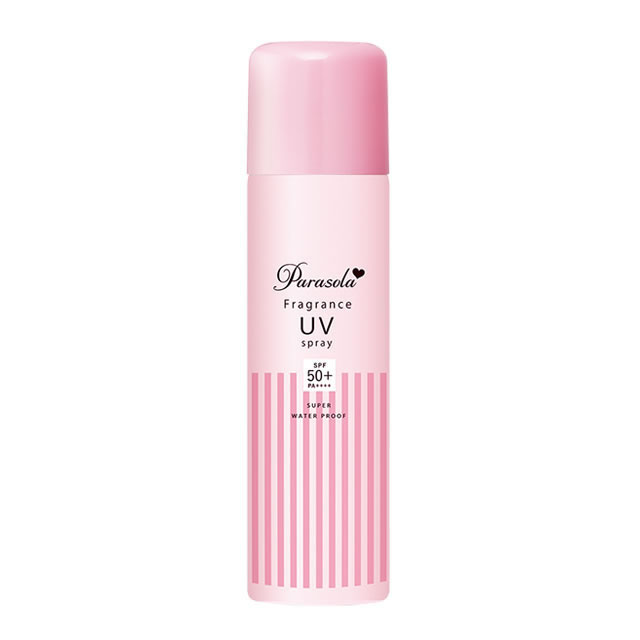 NARIS UP Parasola Fragrance UV Spray (パラソーラ フレグランス UVスプレー) is a fragranced sunscreen spray with a powerful UV protection and deodorant effect with elegant floral scent. It features the "Aqua Resistance Technology" with highly water repellent film and sebum absorbing powder that achieve both powerful waterproof effect and non-sticky, silky feeling. It contains 10 kinds of beauty ingredients to keep the skin smooth and moisturized.
Price: 1,200 yen (90g)
SPF: 50+
PA: ++++
4. MIEUFA Fragrance UV Spray
MIEUFA Fragrance UV Spray (ミーファ フレグランスUVスプレー) by napla is a trending sunscreen product in Japan. The spray comes in stylish and minimalist designed bottle, and contains organic beauty ingredients that are gentle on skin and hair, and prevent from dryness. The fragranced spray sunscreen are currently available with 4 different scents and non-scent.
Price: 1,200 yen (80g)
SPF: 50+
PA: ++++
5. Ajuste Airy Touch UV Spray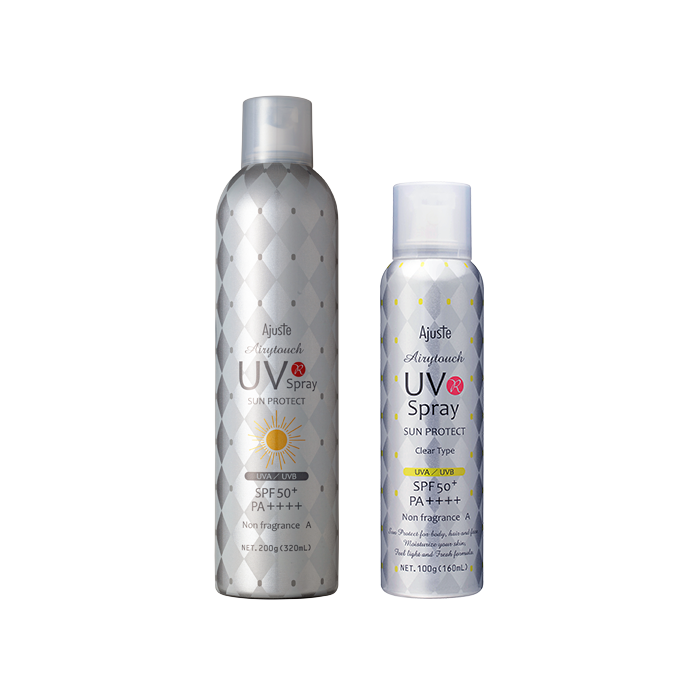 Ajuste Airy Touch UV Spray (アジャステ エアリータッチUVスプレー) is a popular spray sunscreen brand by Doshisha, which comes in a large bottle (if you think Japanese sunscreens are pretty small, this one is about 2–3 times bigger!). The translucent sunscreen spray dries quickly and provides smooth and silky feeling without stickiness. It contains 7 moisturizing ingredients and protects the skin from dryness and UV damage. It's available with 4 types: Non-fragrance/Clean Savon/Prism Fleur/Gardening Herbs. The Garden Herbs which comes in a green bottle also works as insect repellent spray.
Price: 900 yen (100g)/1,200 yen (200g)
SPF: 50+
PA: ++++
6. Shigaisen Yoho Clear UV Spray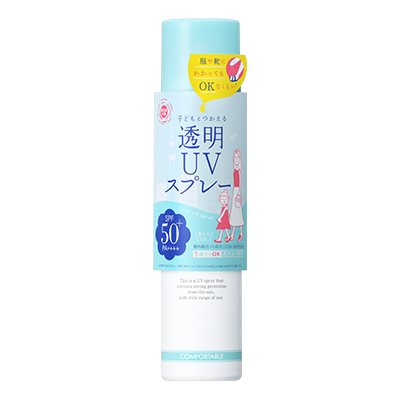 Shigaisen Yoho Clear UV Spray (紫外線予報 透明UVスプレー) is a skin-friendly, gentle formula sunscreen spray that can be used for kids from the age of 1. The transparent, non-sticky spray can be applied on face, body and hair. It's waterproof and provides long-lasting protection against UV rays. It's free of coloring, fragrance, mineral oil, paraben and alcohol, and recommended for sensitive skin and small kids.
Price: 2,035 yen (150g)
SPF: 50
PA: ++++
7. SKIN AQUA Tone Up UV Spray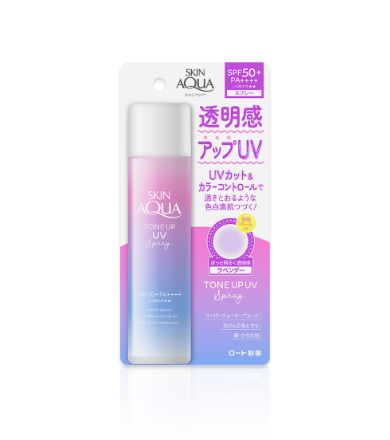 RHOTO SKIN AQUA is a popular Japanese sunscreen brand with a range of sunscreen products at affordable price. TONE UP UV series offers unique sunscreen products with colour-correcting effect and the lineup includes essence, milk and spray types. SKIN AQUA Tone Up UV Spray (スキンアクア トーンアップUVスプレー) is a sunscreen spray with fair lavender tint to naturally brightens up the skin tone. It also contains strobe pearl particles that reflects lights and creates clear and luminous skin
Price: 740 yen (70g)
SPF: 50+
PA: ++++
Did you enjoy the list?? Many different types of sunscreens are available in Japan today! Recommended stores to shop Japanese sunscreens are drugstores such as Matsumoto Kiyoshi, Don Quijote and LOFT. You can find most of listed products at these shops 😉
You can check out more articles about Japanese sunscreens and recommended beauty products for summer from the links below!
-10 Best-Selling Sunscreens in Japan!
-Newly Released Japanese Sunscreens!
-Japanese Sunscreens by Type
▼Editor's Picks▼
---