Best Japanese Sunscreen Sprays
Must-buy spray sunscreens in Japan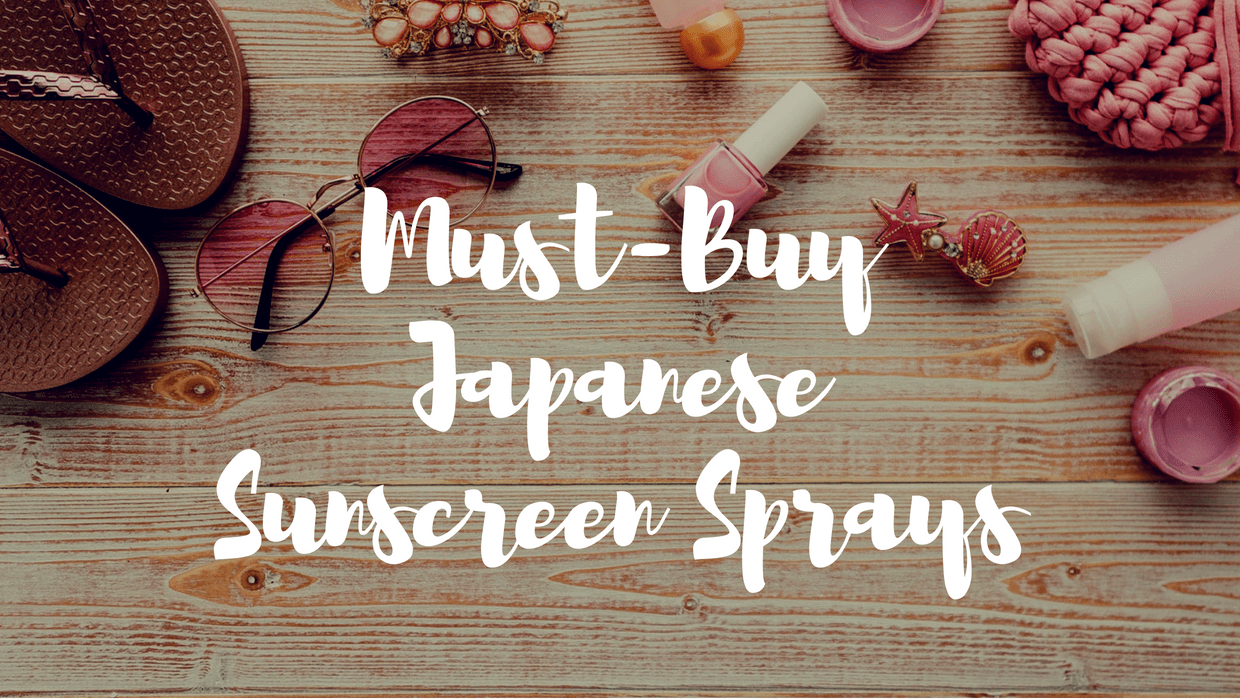 Beauty products are one of the most popular things to shop in Japan among foreign visitors. Especially, Japanese sunscreens are hugely popular worldwide and many products can be actually found even in abroad. But of course, if you are shopping Japanese sunscreens, the best place to buy is in Japan. A lot of new sunscreens are released every year and now they are available with many different types such as lotion, cream, gel, spray, oil, etc. Moreover, many products offer different features such as waterproof, cooling effects, high SPF factor and so on.
Today, I'd like to introduce some of the most popular "spray type" Japanese sunscreens this summer. Spray sunscreens have been one of the most trendy cosmetics products in Japan in the past years, and many new products have been released by different brands. They are handy, easy to apply and affordable. So please enjoy the list of best Japanese spray sunscreens!
---
-Waterproof
ANESSA PERFECT UV SPRAY SUNSCREEN AQUA BOOSTER
The queen of Japanese sunscreens, Shiseido ANESSA is the most popular sunscreen brand in Japan, available with gel, lotion and spray. The most notable feature of the latest ANESSA sunscreens is "Aqua Booster" which is very resistible against water or sweat. Also it has the highest SPF rate for UV protection, strong water resistancy, sand proof, yet it's very gentle on skin as it contains beauty moisturizing ingredients and can be easily removed by soap.
Price: 1,944 yen (60g)
SPF: 50+
PA: ++++
SUNCUT UV PROTECT SPRAY
SUNCUT UV PROTECT SPRAY by KOSE is the best selling spray sunscreen brand in Japan. Products currently available in 3 types: Waterproof/Super waterproof/Fragranced. The powder-in spray leaves your skin smooth and dry, and has a high SPF and a waterproof effect to protect your skin from the strong UV.
Price: 700 yen (60g)/900 yen (90g)
SPF: 50+
PA: ++++
-Fragrance Type
Parasola Fragrance UV Spray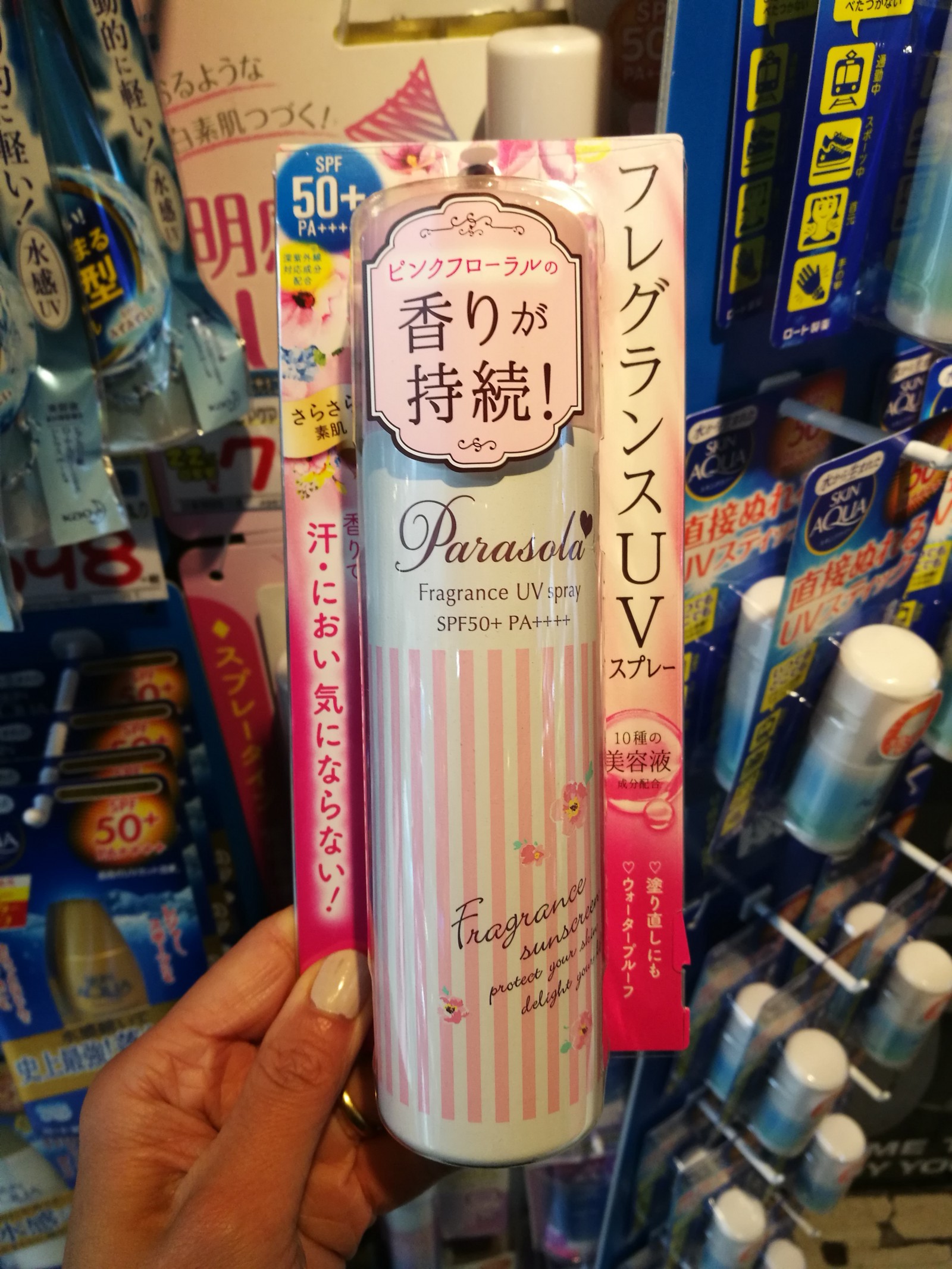 Parasola Fragrance UV Spray by NARIS UP is a spray sunscreen with deodorant effect. The light texture spray keeps your skin smooth and soft with beauty ingredients, eliminates body odor and sweat with the long-lasting fresh floral fragrance. It has the highest rate of the sun protection and a waterproof effect.
Price: 1,200 yen (90g)
SPF: 50+
PA: ++++
MIEUFA FRAGRANCE SPRAY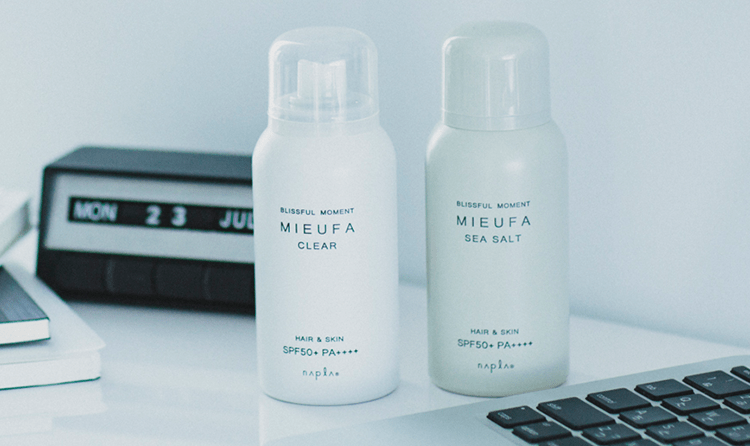 MIEUFA FRAGRANCE UV SPRAY by napla is the latest best-selling sunscreen product in Japan. The spray comes in stylish and minimalist designed bottle, and contains organic beauty ingredients that are gentle on skin and hair, and prevent from dryness. The fragranced spray sunscreen are currently available in 4 different scents.
Price: 1,200 yen (80g)
SPF: 50+
PA: ++++
-Cooling Type
NIVEA SUN WATER GEL SUPER EXTRA COOL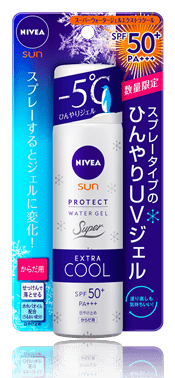 The sunscreen gel, NIVEA SUN PROTECT WATER GEL is one of the most popular sunscreen products in Japan of all time. NIVEA SUN WATER GEL SUPER EXTRA COOL is a new products that has extra cooling effects giving refreshing feeling during hot summer. When you apply the spray sunscreen, it feels 5C cooler and turns into gel which is smooth and non greasy. It has a high SPF and contains beauty essence to keep your skin smooth.
Price: 900 yen (80g)
SPF: 50+
PA: ++++
-Insects repellent
AJUSTE AIRYTOUCH UV SPRAY GARDENING HERB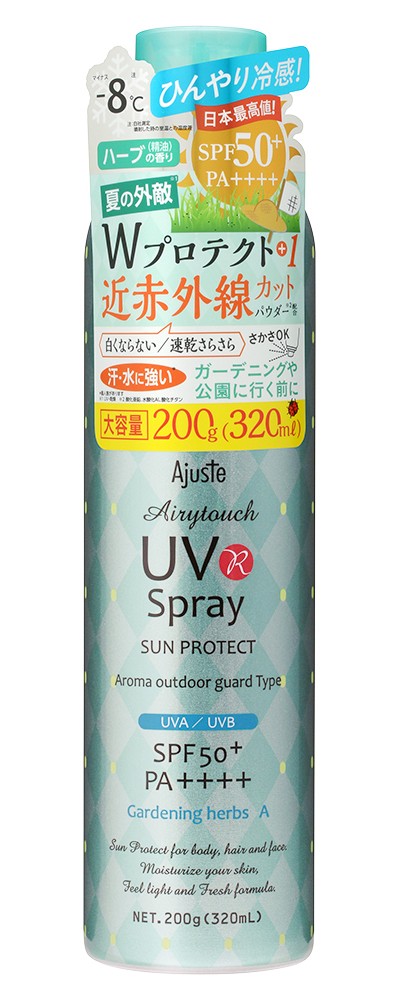 Ajuste is a popular spray sunscreen brand by Doshisha, which comes in a large bottle (if you think Japanese sunscreens are pretty small, this one is about 2–3 times bigger!). The spray sunscreens are currently available in 3 types: Non-fragrance/Fragranced /Gardening Herbs. The most unique one is the Garden Herb which comes in a green bottle and also works as insect repellent spray. The spray protects your skin from UV rays with a SPF 50+ / PA+++ protection and keeps bugs away from you, too! The perfect 2-in-one sunscreen for outdoor activities in summer!
Price: 1,200 yen (200g)
SPF: 50+
PA: ++++
-Colour Control Type
SKIN AQUA TONE UP UV SPRAY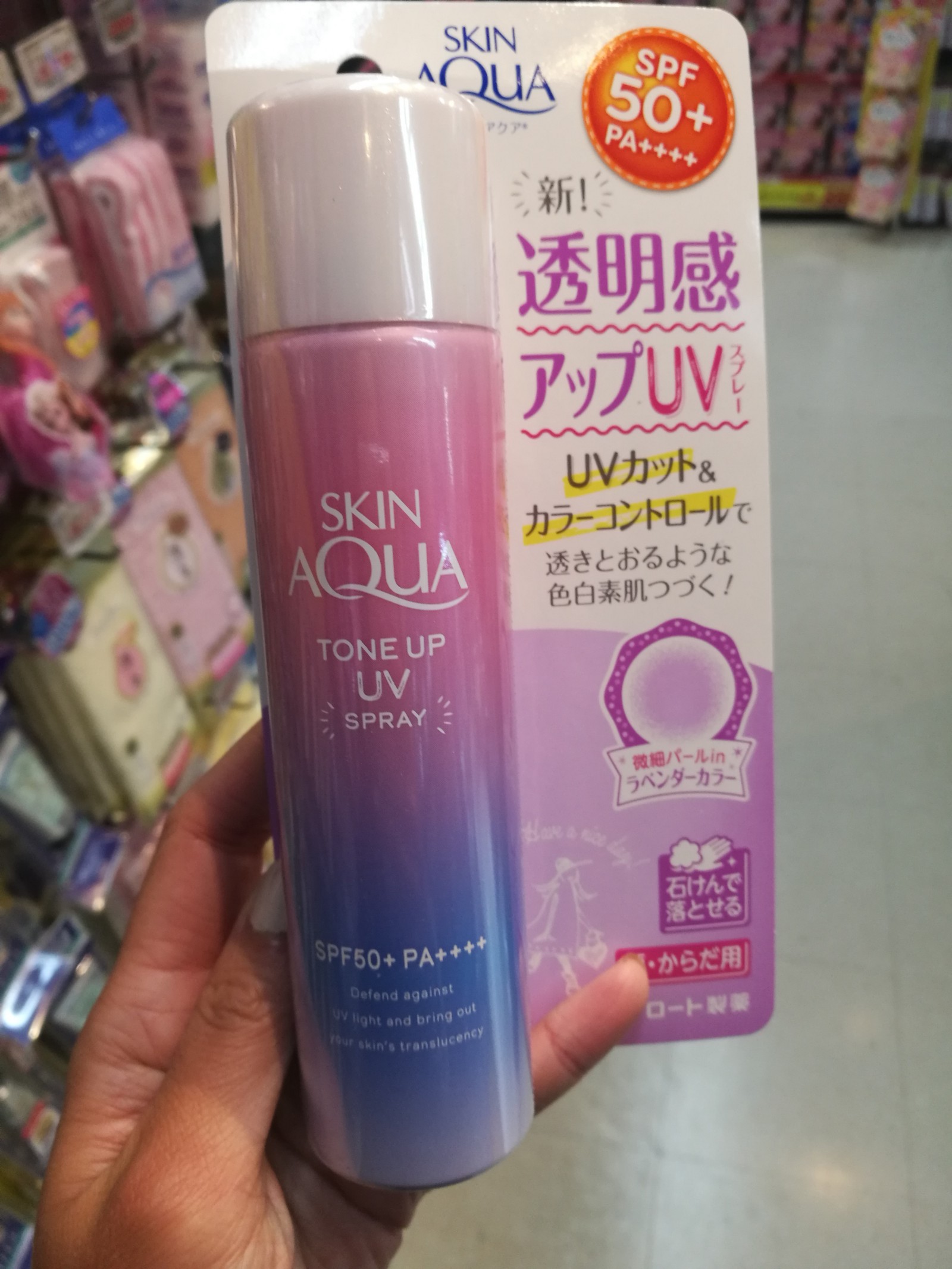 SKIN AQUA by RHOTO offers a variety of sunscreen products at affordable price. Their new range is the TONE UP UV series which works as both sunscreen and colour correction. The products are available in lotion and spray type, and come in fair lavender colour with strobe pearl which brighten up and luminise your skin. The perfect sunscreen for the Instagram generation!
Price: 740 yen (70g)
SPF: 50+
PA: ++++
---
Did you enjoy the list?? Many different types of sunscreens are available in Japan today! Recommended stores to shop Japanese sunscreens are drugstores such as Matsumoto Kiyoshi, Don Quijote and LOFT. You can find most of listed products at these shops 😉
You can check out more articles about Japanese sunscreens and recommended beauty products for summer from the links below!
-Japanese Sunscreens by Type
-10 Best-Selling Sunscreens in Japan!
-Newly Released Japanese Sunscreens!
-Japanese Sunscreens for Sensitive Skin
-Japanese Sunscreens under $10
-Unique and Useful Multi-Purpose Sunscreens
▽Related Articles▽
▼Editor's Picks▼
---