Best Makeup Setting Sprays in Japan
Must-Buy Makeup Setting Sprays in Japan for Smudge-Free and Long-Lasting Makeup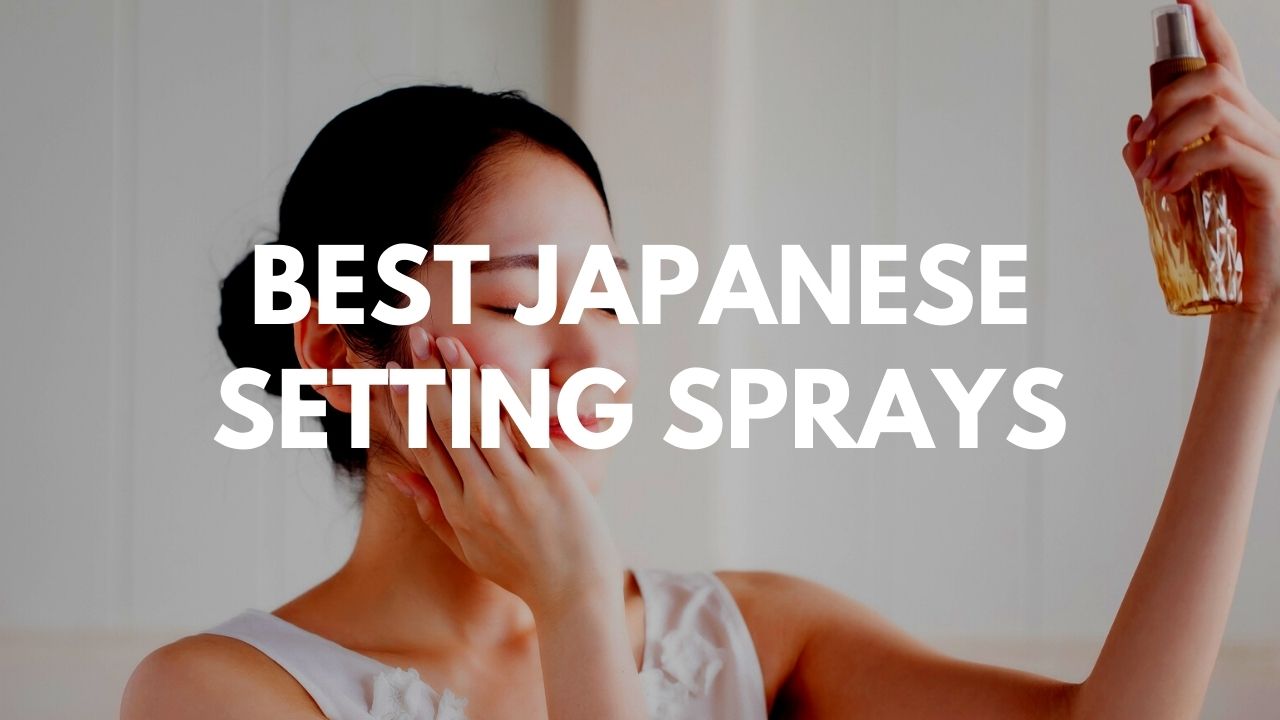 Now that we are living in the world amid pandemic of COVID-19, a lot of things in our daily lives have changed. One of the most notable things is wearing face masks. Wearing face masks in public is mandatory or strongly advised in many countries today. In fact, even once the COVID-19 pandemic is over, we may continue to wear face masks for a while or start wearing them daily in future.
We have been adjusting ourselves to the new custom of mask-wearing, and some of you may have found some difficulties or side effects of them. One of face mask problems that I want to mention today is makeup transferring under the mask.
Have you ever experienced your foundation or lipstick smudging onto the face mask?? If yes, I'd highly recommend you to try using makeup setting spray.
Makeup setting or fixing spray helps to increase the longevity of makeup products. By applying them on top of your makeup, it keeps the skin smooth, helps your makeup to stay longer and prevents from transferring. Accordingly, the sale of makeup setting spray has been significantly increasing since the pandemic started, and it's becoming our new beauty essential.
In this article, I'd like to introduce some of the best Japanese makeup setting sprays that help your makeup to be transfer-proof and long-wearing.
1. KOSE Make Keep Mist
KOSE Make Keep Mist (KOSE メイク キープ ミスト) a top-selling Japanese setting spray that is highly resistant to water, sweat and sebum. It's formulated with makeup coating ingredients that lock your makeup in place and repel sweat, water and sebum even during summer or when you play sports. It keeps your skin shine-free and maintain the fresh look of your makeup for many hours. It contains moisturizing ingredients and adds natural luster and moisture to the skin.
Price: 1,200 yen【Shop Online】
2. Shushupa! Make Keep Spray
Shushupa! Make Keep Spray (Shushupa! メイクキープスプレー) is a setting spray that makes makeup waterproof and prevents shiny and oily skin throughout the day. The micro-fine mist is easy to apply over the makeup evenly and it prevents smudging caused by water, sweat and rubbing. It's gentle formula and free of paraben, ethanol and mineral oil. It contains beauty ingredients to keep your skin moisturized.
Price: 1,300 yen【Buy it Now】
3. Shigaisen Hoyo Makeup Protection UV Spray
Shigaisen Hoyo Makeup Protection UV Spray (紫外線予報 メイクを守るUVスプレー) is a sunscreen spray with makeup-setting effect. It contains makeup smudging prevention powder which keeps the fresh look of makeup for many hours while protecting the skin from UV rays. The smooth and lightweight spray feels non-oily and won't leave white cast even when you touch up. It's water-proof and sweat and sebum resistance. The gentle formula spray is free of colorant, fragrance, mineral oil, paraben and alcohol.
Price: 1,650 yen 【Shop Online】
4. d program ALLERBARRIER MIST N
d program ALLERBARRIER MIST N (d プログラム アレルバリア ミスト N) is a face mist that protects the delicate skin from environment stressors and dryness while keeping base makeup in place. It features Allerbarrier Technology NEO that creates a barrier over the skin to reduce airborne allergens such as pollen and dust. The 2 layered mist consists of oil and lotion which protect the skin and provide moisture. Sebum crease preventing ingredients help makeup to last longer. The hypoallergenic formula is free of paraben, alcohol, mineral oil, colorant and fragrance, and patch-tested on sensitive skin.
Price: 1,500 yen 【Buy it Now】
5. TIME SECRET Fix Mist Collagen
TIME SECRET Fix Mist Collagen (タイムシークレット フィックスミスト コラーゲン) is a makeup fixing mist that protects the skin from dryness and provides skin care effects while preventing makeup from smudging. It contains 96.7% collagen essence that nourishes the skin for plump and youthful looking. The micro-fine mist adheres to the skin quickly and set the makeup in place throughout the day. It's resistant to water and sweat. Recommended for dry and aged skin.
Price: 1,600 yen 【Shop Online】
6. AVANCE Shake Mist
AVANCE Shake Mist (アヴァンセ シェイクミスト) is a beauty mist that helps makeup to last and hydrates the skin all day. The two layer mist combines beauty serum to nourish the skin and oil to protect from dryness. The fine mist with makeup keep ingredients covers the skin and form a veil which is resistant to sebum and prevents makeup collapse. Available with 2 types: Light type (green) has pore tightening and sebum absorbing effects to keep the skin smooth and shine-free while Moist type (purple) contains beauty oil and serum to leads radiant and hydrated skin.
Price: 1,400 yen 【Shop Now: Light type/Moist type】
7. MAJOLICA MAJORCA Moist Cocktail Fixer
MAJOLICA MAJORCA Moist Cocktail Fixer (マジョリカ マジョルカ モイストカクテルフィクサー) is a makeup setting mist that keeps your makeup long-lasting and durable for long hours. It comes with three-layer formula that acts as a toner, serum and face powder. It prevents makeup from smudging and keeps the skin looking smooth and silky throughout the day. The triple block mist protects the skin from dust, pollen, dryness and excess sebum. It contains hyaluronic acid to misturizes the skin.
Price: 1,200 yen【Buy it Now】
Thanks for reading! I hope you have enjoyed my list of the best makeup setting sprays in Japan. If you are a fan of Japanese beauty products, I'd recommend you to check out the online beauty store Kokoro which offers a wide range of Japanese beauty products with worldwide shipping. Visit their website (Kokoro: http://bit.ly/32HfNbi) to check more Japanese cosmetics products! Free shipping is available when you spend over 40 USD 🙂
For more information about the latest Japanese beauty products, I have more articles for you to check out!
▽Related Articles▽
▼Editor's Picks▼
---