Lululun Face Masks: Which One to Choose
Lululun: the Top-Selling Japanese Face Mask for Every Skin Type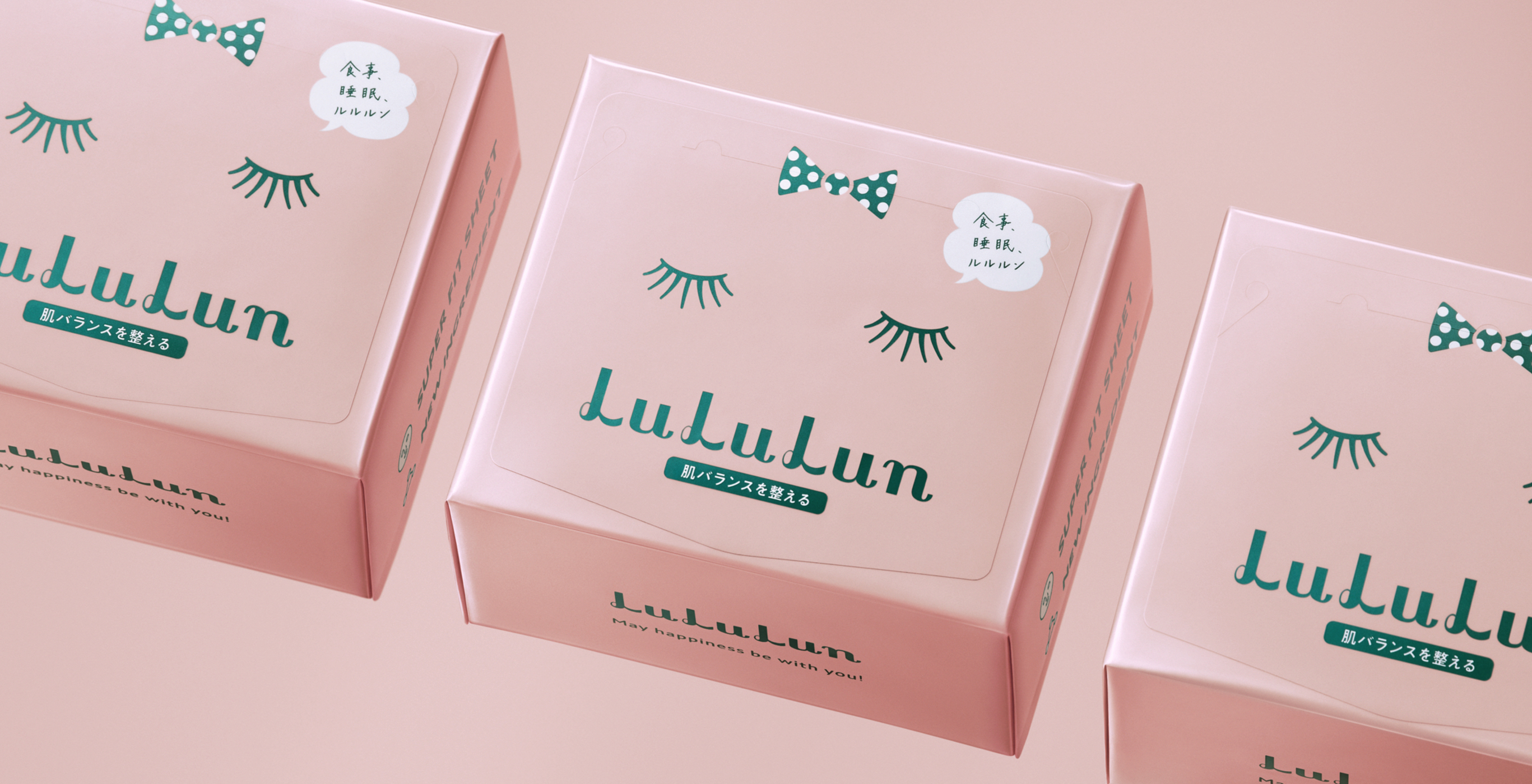 Lululun is a Japanese facial mask brand, highly popular both in Japan and abroad. The brand was first launched in 2011, and sold over 1 billion sheets so far. Lululun is known as the pioneer of drugstore face masks in Japan and offers a wide range of face masks with various effects such as moisturizing, skin-brightening and anti-aging. Lululun face masks are high-quality, yet very affordable which are perfect item to add your daily skin care routine to maintain beautiful skin.
When it comes to buying Lululun face masks, you may realize that there are a lot of colors and variations available on the market. The brand currently offers 7 face mask series including a limited edition with over 30 different face masks. Each one of them brings different effects to the skin, so you should pick carefully the one that suites your skin or meets your needs.
In this article, I'd like to introduce the Lululun Face Mask lineups available on the market today and briefly show you the differences in each face mask. So let's find out which Lululun Face Masks are the best for you!
*Please note that this article contains affiliate links.
-Lululun Regular Series
The regular series of Lululun is the top-selling face mask in Japan and the most basic face mask series of the brand which is designed for daily use. The sheet mask contains selected beauty ingredients that moisturize the skin and improve the skin condition. This skin toner mask is suggested to use after cleansing face and before applying moisturizer daily.
The regular Lululun face mask consists of three different variations which can be chosen according to the skin type: Pink for maintaining the moisture balance of the skin (for normal skin type), Blue for intensive hydrating care (for normal to dry skin type) and White for clear and translucent skin (for normal to oily skin type). If you are new to Lululun face mask, I suggest you to try this regular series and see how your skin feels!
Price:
Lululun Pink 350 yen (7pc)【Shop Now】/1,500 yen (32pc) 【Shop Now】
Lululun Blue 450 yen (7pc)【Shop Now】/1,600 yen (32pc)【Shop Now】
Lululun White 450 yen (7pc)/1,600 yen (32pc)【Shop Now】
-Lululun Precious
Lululun Precious is the upgraded version of the regular Lululun face mask series, providing luxurious daily treatment with aging care benefits. The main feature of the series is the special beauty ingredient "L22", a plant-derived complex oil that delivers the healthy sebum and water balance of 22 year-old's skin. The 3-layer thick mask contains a generous amount of beauty essences and offers a deep penetration and hydrate the skin. Just like the regular series, Lululun Precious is also a skin toner face mask recommended to use for a daily skin care routine.
There are three variations available: Green for skin maintenance, Red for intensive hydration and White for skin brightening and firming. The series also offers a rich and moisturizing face cream, Lululun Precious Cream which is recommended to use after face mask for longer-lasing hydration.
Price:
Lululun Precious Green 500 yen (7pc)【Shop Now】/1,800 yen (32pc)【Shop Now】
Lululun Precious Red 480 yen (7pc)【Shop Now】/1,700 yen (32pc)【Shop Now】
Lululun Precious White 480 yen (7pc)【Shop Now】/1,700 yen (32pc)【Shop Now】
Lululun Precious Cream 1,980 yen【Shop Now】
-Lululun Over 45
Lululun Over 45 is the face mask series specially designed for aging care for adults over the age of 45 whose skin tends to be dry and lose the skin elasticity due to the hormone balance or a decrease of skin function. The face mask contains selected beauty ingredients that match aged skin and maximize the beauty of that age. It helps to achieve plump and youthful-looking skin by using for daily skin care.
Two types of face masks are available from the Over 45 series: Camellia Pink is a moisturizing type with various plant-derived moisturizing ingredients to lead the moist and elastic skin. Iris Blue is a transparency type helping to reduce skin dullness and achieve the smooth and luster skin.
Price:
Camellia Pink 500 yen (7pc)/1,800 yen (32pc)【Shop Now】
Iris Blue 500 yen (7pc)/1,800 yen (32pc)【Shop Now】
-Lululun Plus
Lululun Plus is a face mask series featuring selected natural aromatic oils and beauty components. The mask contains a generous amount of 30ml beauty serum in the 3 layered mille-feuille sheet, which slowly penetrates deep into the skin. The mask is packed individually for a single used and it's suggested to use once a week for special skin care
The series offers 10 types of face masks formulated with different aromatic oils (Aroma Care Mask) and nature-derived ingredients (Selected Nature Mask) with various skin care effects from moisturizing to clarity. The Aroma Care Mask range includes Lemon Glass, Rose, Lavender, Clary Sage and Yuzu, and the Selected Nature Mask range includes Smooth Gold, Homeo-Age, Fresh Red, Sweet Drop and Sunny Day.
Price:
Lululun Plus Aroma Care Mask 1,000 yen (5pc)
Lululun Plus Selected Nature Mask 750 yen (5pc)【Shop Now】
-Lululun ONE
Lululun ONE is the luxurious face mask line of the brand, offering a premium skin care experience in one sheet. The beauty serum mask is formulated with the Lululun's original micro oil which provides luxurious relaxation and nourishment to the skin. It also contains a generous amount of selected beauty essences such as brightenyl, apple stem cell extract and grape stem cell extract, featuring the natural healing power of the plants. Each mask is in individual packing, and designed to use for a special skin care up to 2–3 times a week.
Besides the regular moisturizing version, the skin-brightening Lululun ONE WHITE is also available, containing brightenyl, phaseolus raditus extract and nano sulforaphane which help to achieve the bright and translucent skin.
Price:
Lululun ONE 1,500 yen (5pc)【Shop Now】
Lululun ONE WHITE 1,500 yen (5pc)
-Lululun One Night
Lululun One Night is a fast-acting, rescue mask to gain the beautiful skin in one night. It's highly recommended to use a night before the special day. The mask contains 35ml of beauty serum which is the biggest amount of all the Lululun face mask series, and the leftover serums can be used for your hand, neck and body, too.
There are 6 variations available in total, 3 from the regular version: Moisturizing (Pink), For Resilient Skin (Yellow), Skin-Brightening (Blue) and 3 from the adult version which contains more luxurious beauty ingredients: Moisturizing (Red), Fore Resilient Skin (Green) and Skin-Brightening (Dark Blue).
Price:
Lululun One Night Regular 200 yen (1pc)
Lululun One Night Adult 250 yen (1pc)
-Lululun Travel Series
Lululun Travel is a limited face mask series featuring a local-grown ingredients in various regions in Japan and special packaging. It's highly popular as a regional souvenir among both Japanese and international users.
The travel series is currently available with over 20 variations with selected regional ingredients and scents including Hokkaido Lavender, Kyoto Green Tea, Hakone Rose, Tochigi Strawberry and Kumamoto Watermelon, and they are sold at local souvenir stores, train stations and airports. Besides the travel series, the seasonal edition face mask is also released for a limited time.
Price: 1,600 yen (7pc x 5)
Thanks for reading! I hope you have enjoyed checking out the Lululun Face Mask Collection! The listed face masks are commonly sold at drugstores, cosmetics stores and variety shops in Japan, and some of products are also available abroad or to shop online with global shipping!
If you are into J-beauty, I'd recommend you to check out the online beauty store Kokoro which offers a wide selection of Japanese beauty products with worldwide shipping. Visit their website (Kokoro: http://bit.ly/32HfNbi) to check more Japanese cosmetics products! Free shipping is available when you spend over 40 USD 🙂
For more information about the latest Japanese cosmetics products, here are some more articles for you to check out!
▽Related Articles▽
▼Editor's Picks▼
---