HADA LABO: Best-Selling Skincare Products in Japan
Hada Labo Skin Care Products: Gokujyun, Shirojyu and more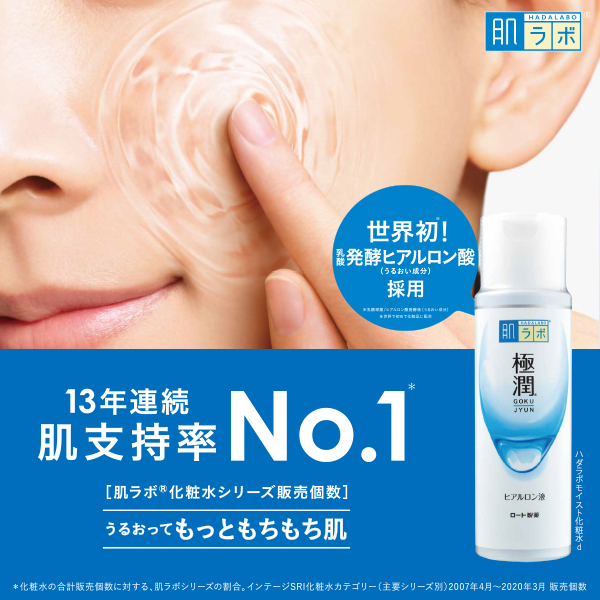 In Japan, various beauty products are sold in wide price ranges from high-end ones at department stores to affordable ones at drugstore.
A lot of people think that higher prices they pay to beauty products, better results they see on their skin. However, it's not really true when it comes to Japanese beauty products. I agree that the quality of high-end brands' beauty products are usually very good (also, you get great customer services at the stores), but there are numbers of amazing beauty products sold at Japanese drugstores including skin care and makeup products. These products are called "Puchipura Kosume" which means petit (small) price and they are popular among all generations.
Japanese drugstore cosmetics products are easier to find comparing to the high-end cosmetics as they are available at many stores such as drugstores, pharmacies, convenience stores and variety stores. Also they are much more affordable and prove that you don't always need to pay a lot of money to have quality cosmetics products if you find the one to suit your skin. As the drugstore-range beauty market is pretty competitive in Japan, you can find numbers of brands offering amazing cosmetics products.
*Please note that this article contains affiliate links.
HADA LABO
One of the most beloved Japanese drugstore cosmetics products are HADA LABO (肌ラボ), which is a skin care brand by ROHTO, one of the largest pharmaceutical companies in Japan. HADA LABO offers a wide range of moisturizing skin care products including face wash, toner, moisturizer, all-in-one gel, face masks and more. And each product costs around 1,000 yen ($10) only.
HADA LABO offers various skin care ranges depending on your preferences and skin type. I would like to introduce the skin care series of HADA LABO and suggest which one you should choose.
-Gokujyun (Moisturizing series)
The brand's signature skin care series is Gokujyun, the Super Hyaluronic Acid infused skin care products provide intense hydration and keep the skin smooth, moisturized and firm. The products are oil-free, alcohol-free and additive-free, which can be used for most sensitive skin type.
The Gokujyun Hydrating Lotion has been a top-selling facial toner in Japan since it was released in 2004. There are two types available: the regular type (red) is suitable for normal to dry skin and the light type (green) for combination skin.
The line-up includes face wash, toner, emulsion, cream, beauty serum and face mask. By using Gokujyun skin care products for the daily skin care routine, you could expect a great result for the healthy and dewy skin. The products of Gokujyun series are not only sold in Japan but available at drugstores in several Asian countries, too.
Shop Now
▶ Hada Labo Gokujyun Cleansing Foam
▶ Hada Labo Gokujyun Lotion
▶ Hada Labo Gokujyun Emulsion
▶ Hada Labo Gokujyun Cream
▶ Hada Labo Gokujyun Essence
▶ Hada Labo Gokujyun Face Mask
Besides the regular line, Gokujyun series is also available with two other variations: Gokujyun Premium for deeper moisturization and Medicated Gokujyun for oily or acne prone skin.
The Gokujyun Premium line comprises three skin care products: lotion, emulsion and cream which is formulated with 7 types of hyaluronic acid with providing deep penetration and long-lasting moisture to the skin. For very dry skin, Gokujyun Premium Hyaluronic Acid Cream is highly recommended, the ultra-concentrated helps to retain the skin moisture for all day.
Shop Now
▶ Hada Labo Gokujyun Premium Lotion
▶ Hada Labo Gokujyun Premium Emulsion
▶ Hada Labo Gokuyjun Premium Cream
The Medicated Gokujyun Skin Care Conditioner is a wipe-off type skin toner with coix seed extract and hyaluronic acid which prevent acne by cleansing excessive sebum and dirt within pores and keep the skin moisturized. For acne prone skin, it's recommended to use together with Gokujyun Hatomugi Face Wash Foam.
Shop Now
▶ Hada Labo Gokujyun Medicated Skin Conditioner
▶ Hada Labo Gokujyun Hatomugi Pore Cleansing Face Wash
-Shirojyun (Whitening series)
Shirojyun is a skin brightening/whitening range by HADA LABO, providing the skin hydration and whitening care at the same time. Shirojyun skin care series includes three products: toner, emulsion and cream which all contain arbutin, the highly effective whitening ingredient that helps to decrease the melanin production to prevent freckle and dark spots. There are also hyaluronic acid and vitamins that keep the skin moisturized and healthy.
Shop Now
▶ Hada Labo Shirojyun Medicated Whitening Emulsion
▶ Hada Labo Shirojyun Medicated Whitening Cream
Shirojyun Premium is the high concentrated version which products are blended with white tranexamic acid, a whitening active ingredient with anti-inflammatory action as well as nano-sized hyaluronic acid, vitamin C and E as a moisturizing ingredient. The products deeply penetrate into the UV-damaged skin and prevent producing dark spots and skin pigments. Shirojyun Premium is a medicated skin care line and recommended for acne prone skin, too.
Shop Now
▶ Hada Labo Shirojyun Premium Whitening Lotion
▶ Hada Labo Shirojyun Premium Whitening Jelly Essence
▶ Hada Labo Shirojyun Premium Medicated Whitening Cream
▶ Hada Labo Shirojyun Premium W Whitening Essence
-Gokujyun α (Anti-Aging series)
For anti-aging treatment, Gokujyun α (Alpha) is a highly effective skin care series. The products are combined with 3D hyaluronic acid, low molecular weight collagen and elastin which provide deep moisturization and a firm and smooth look to the mature skin. These ingredients also help to prevent fine lines and wrinkles. For intensive treatment, Gokujyun α Special Wrinkle Cream is recommended to apply on smile lines and around eyes.
Shop Now
▶ Hada Labo Gokujyun α Lotion Moist Type
▶ Hada Labo Gokujyun α Lift Cream
-All-In-One Gels
The Gokujyun all-in-one gels are one of HADA LABO's signature skin care products, which are a multi-functioned skin care product work as toner, emulsion, beauty serum, cream and face mask. If you feel a bit lazy to follow long steps of skin care routine everyday, these 5-in-1 gels can significantly save your time and efforts.
There are currently 5 types of all-in-one gel available, so you can choose according to your needs or skin type: Gokujyun Perfect Gel for long-lasting moisturization, Gokujyun Whitening Perfect Gel for skin brightening, Gokujyun UV Gel (SPF50+/PA++++) for UV protection, Gokujyun 3D Gel for anti-aging and Gokujyun V-Lift Gel for face lifting.
Show Now
▶ Hada Labo Gokujyun Perfet Gel
▶ Hada Labo Gokujyun Whitening Perfect Gel
▶ Hada Labo Gokujyun UV White Gel
▶ Hada Labo Gokujyun 3D Perfect Gel
Thanks for reading! In my opinion, HADA LABO's skin care products are amazing value for the price as they deliver great effects to the skin! Their signature Hyaluronic acid products are highly effective for dry skin, and the brand offers various ranges depending on skin types. Moreover, the products cost only around $10, so why not to have a go if you are deciding which skin care products to choose!
If you are into Japanese beauty products, check an online store Kokoro offering a wide range of Japanese beauty products with worldwide shipping. Visit their website (Kokoro: http://bit.ly/32HfNbi) to check more Japanese cosmetics products! Free shipping is available when you spend over 40 USD 🙂
Do you want to check out more Japanese beauty products by different brands?? Then please we have more stories for you here!
▽Related Articles▽
▼Editor's Picks▼
---