Best Japanese Face Washes for Dry Skin
Must-Buy Moisturizing Face Washes in Japan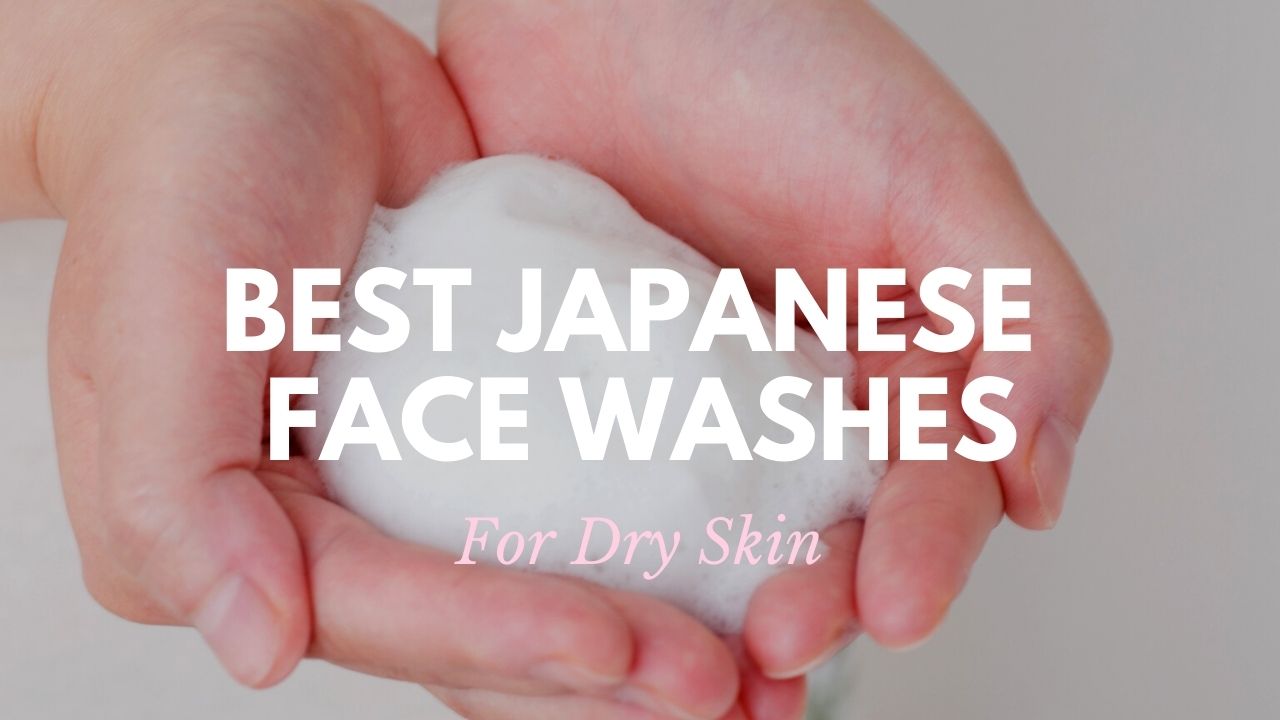 Do you have dry, sensitive skin? Does your skin feel dry or tight after using face wash??
Choosing the right face wash is one of the most important thing to keep your skin healthy and hydrated because using wrong type of face wash products can cause more skin trouble. Some of face washes have a very high cleansing effect, but also can remove natural moisture of the skin and cause dryness and irritation after washing.
If you struggle to find right face wash for your dry and sensitive skin, you may wanna check out these Japanese face washes specially designed for dry skin. These products offers a great cleansing power as well as high level of hydration, and some of them have a gentle formula that are also suitable for sensitive or acne-prone skin.
So let's check out the list of the best Japanese face washes for dry skin!
1. SENKA Perfect Whip Collagen in
Senka is a skin care brand of Shiseido group, offering highly effective and affordable products including face wash, makeup remover, toner, beauty serum and body wash. Senka Perfect Whip is the top-selling Japanese face wash which gains its popularity both in Japan and overseas.
For more moisturizing option, Senka Perfect Whip Collagen in (専科パーフェクトホイップ コラーゲンイン) is highly recommended. Just like the regular type, it's formulated with micro-dense foam that gently removes impurities and brightens up the skin tone. On top of that, it contains 60% beauty serum with collagen which leaves skin nourished and plumped.
Price: 617 yen (120g) 【Buy it Now】
2. Hada Labo Gokujyun Hyaluronic Acid Face Wash
Hada Labo is a highly popular drugstore skin care brand in Japan, offering a wide range of affordable skin care lineups for various skin types. The brand is best known for the moisturizing Gokujyun series which products are infused with Super Hyaluronic Acid and provides intensive hydration to the skin.
Hada Labo Gokujyun Hyaluronic Acid Face Wash (肌ラボ 極潤 ヒアルロン洗顔フォーム) is a moisturizing face wash that contains various moisturizing ingredients including Super Hyaluronic Acid and vaseline. The rich and creamy foam removes excess sebum and impurities while preserving natural moisture of the skin, and leaves the skin smooth and soft feeling every time you wash.
Price: 600 yen (100g)【Buy it Now】
3. Nameraka Honpo Cleansing Face Wash
Nameraka Honpo is a leading drugstore cosmetics brand in Japan known for its fermented soybean milk based skin care products. The products contain highly moisturizing isoflavone soybean essence that leads the soft and plumped skin.
Nameraka Honpo Cleansing Face Wash (なめらか本舗 クレンジング洗顔) a moisturizing cleansing face wash containing soybean essence and plant-derived collagen which leave the skin moisturized and soft without feeling dry. The rich and fluffy foam gently washes away impurities and it also helps to remove light makeup.
Price: 770 yen (150g)【Buy it Now】
4. Cow Brand Mutenka Moisturizing Facial Wash
Cow Brand is a long-established Japanese soap company since 1909, which produces a wide range of skin care brands and products including Cow Brand Mutenka, the popular additive-free face, body and hair care series.
Cow Brand Mutenka Moisturizing Facial Wash (カウブランド 無添加うるおい洗顔) is a hypoallergenic moisturizing face wash made with selected ingredients such as plant-derived amino acid that washes away sebum and impurities gently. It also contains natural ceramide that moisturizes the delicate and dehydrated skin. It's gentle formula and skin allergy tested.
Price: 605 yen (110g)【Buy it Now】
5. Biore Ouchi de Aesthe Massaging Facial Gel Cleanser
Biore Ouchi de Aesthe Massaging Facial Gel Cleanser (ビオレ おうちdeエステ 肌をやわらかくする マッサージ洗顔ジェル) has been one of the most popular and trending beauty products in Japan for the past few years, which won several cosmetics awards. The gel type face wash is available with two variations: clogged pore cleansing type (Green) and moisturizing type (orange).
The moisturizing type is with a rich moisture formula that softens the dry and rough skin as you massage. It removes impurities and helps to achieve the smooth and moisturized skin. It's recommended to use in a steamy bathroom. Also if you use it in the morning for better makeup application.
Price: 693 yen (150g)【Shop Now】
6. MINON Amino Moist Gentle Wash Whip
MINON Amino Moist is a popular hypoallergenic skin care series developed by a Japanese pharmaceutical company, Daiichi Sankyo. The brand offers low irritant skin care products specially designed for dry and sensitive skin to achieve healthy and radiant skin.
MINON Amino Moist Gentle Wash Whip (ミノン アミノモイスト ジェントルウォッシュ ホイップ) is a foam type face wash blended with 9 types of moisture-retaining amino acid. It also contains plant-derived amino acid cleansing ingredients. The fluffy foam gently wraps the skin and removes dirt while keeping the skin's natural moisture.
Price: 1650 yen (150ml)【Buy it Now】
7. maina Face Wash
maina is a Japanese cosmetics brand that targets users over 30 and provides aging care skin care products. Highly effective and quality skin care products have been featured in multiple media platforms recently and receiving great feedback from users.
maina Face Wash (maina 洗顔) is a moisturizing aging-care face wash containing various active ingredients including Cymene-5-ol and Glycyrrhizic acid 2K. It protects the skin from causes of troubles such as spots, dullness, pigmentation and dryness, and helps to achieve the resilient and moisturized skin. The silky foam gently wraps the skin, cleanses away impurities in pores and makes the skin look brighter and more transparent.
Price: 1,852 yen (100g)【Buy it Now】
Thanks for reading! How did you like my picks of the best Japanese face washes for dry skin?? I hope this list could help you to solve your skin trouble! The listed products are commonly sold at drugstores, cosmetics stores and variety shops in Japan, and some of products are also available to shop online with international shipping!
If you are into J-beauty, I'd recommend you to check out the online beauty store Kokoro which offers a wide selection of Japanese beauty products with worldwide shipping. Visit their website (Kokoro: http://bit.ly/32HfNbi) to check more Japanese cosmetics products! Free shipping is available when you spend over 40 USD 🙂
For more information about the latest Japanese cosmetics products, here are some more articles that you may be interested!
▽Related Articles▽
▼Editor's Picks▼
---