Best Japanese Face Washes for Anti-Aging
Must-Buy Anti-Aging Facial Washes and Cleansers in Japan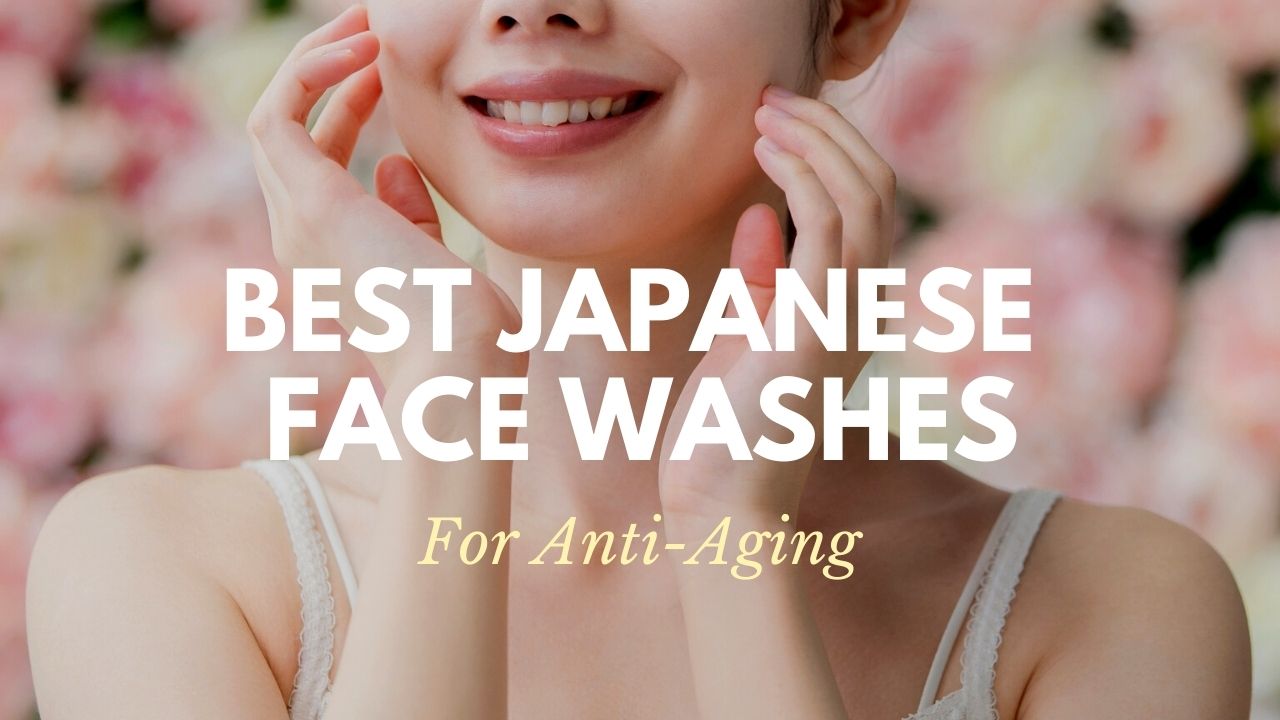 Face wash is an essential product for our daily skin care routine, and a wide variety of products are available on the market, which can be chosen depending on skin types and concerns including acne, clogged pores, skin whitening and hydrating.
If your main skin concern is skin-aging, and want to revitalizing your dry, mature skin, you should try face washes that are specially designed for anti-aging. I have picked some of the best Japanese anti-aging face washes, which are effective for hydrating, reducing wrinkles and rejuvenating the skin.
Although anti-aging skin care products are commonly recommended for age over 40, it's never too early to start aging care if you wish to retain young and healthy looking skin. Moreover, listed products are inexpensive and sold widely at drugstores in Japan, so it's very easy to try out even for young users.
Let's achieve elastic, firm skin and improve the appearance of your skin with these Japanese anti-aging face washes!
1. FANCL Aging Care Washing Cream
FANCL offers a wide range of skin care and makeup products which are all preservative-free. It's one of the most popular cosmetics brands in Japan among those with sensitive skin.
FANCL Aging Care Washing Cream (ファンケル エイジングケア 洗顔クリーム) is a cream type facial wash specially designed for aged skin. The product is free of preservative, fragrance, colorant, petroleum surfactants and UV absorbers.
It contains fruit enzyme extract which clears skin dullness caused by old skin cells accumulated from tiredness, lack of sleep, dryness, etc. It gives a clear and fresh finish and leads to radiant skin while protecting the skin's moisture. It also helps to improve makeup application after washing
2. PRIOR Esthetic Cleansing Gel
PRIOR is a cosmetics brand established by Shiseido specially for mature skin. The brand offers total beauty care with a range of skin care, makeup and hair care products to solve aged skin concerns effortlessly by the advanced technology based on their research.
PRIOR Esthetic Cleansing Gel (プリオール エステ洗顔ジェル) is a facial cleansing gel which gives skin smooth and supple feelings just like after esthetic treatments. The smooth non-foaming gel lifts and cleanses away stubborn makeup and impurities behind fine wrinkles and pores. It removes oxidized sebum and old skin cells, and brings the original transparency of the skin. It also makes fine lines caused by dryness less visible.
3. DEW Cream Soap
DEW is an aging care skin care series by Kanebo, developed based on the research of hyaluronic acid since 1981. The products contains Kanebo's original moisturizing ingredient called Hyalo Support α (hyaluronic acid Na, acetyl glucosamine, methylserine and vitale) which leads to firm and hydrated skin.
DEW Cream Soap (DEW クリームソープ) is a highly moisturizing facial wash that forms a creamy and dense lather, wraps the skin and gently cleanses away impurities while protecting skin moisture and elasticity. It has a refreshing and light green floral scent.
4. Nameraka Honpo WR Cleansing Face Wash
Nameraka Honpo is one of the most popular drugstore skin care brands in Japan. The brand offers a wide range of high quality and affordable skin care products combined with isoflavone-containing fermented soy milk as a moisturizing ingredient.
Nameraka Honpo WR Cleansing Face Wash (なめらか本舗 WRクレンジング洗顔) is an aging care facial wash from the brand's wrinkle care line. The ultra-moisturizing micro dense lather cleanse deep inside pores throughly while leaving the skin firm and hydrated. In addition to the fermented soy milk essence, it also contains retinol derivatives and 3 kinds of ceramide, which moisturize the skin and prevent fine lines caused by dryness.
5. Rosette Cleansing Paste Age Clear
Rosette is one of the most popular face wash brands in Japan, producing a range of inexpensive and effective facial cleansing products for various skin concerns.
Rosette Cleansing Paste Age Clear (ロゼット洗顔パスタ エイジクリア) is a facial wash developed for mature skin to achieve firm and smooth skin. The product is formulated with egg shell membrane which is rich in amino acid and improves skin texture. It also contains various moisturizing ingredients such as hyaluronic acid, collagen, fermented rice powder and sake lee extract. Three kinds of red beauty oil (pomegranate seed oil, cranberry oil and raspberry seed oil) help to enhance skin's elasticity and firmness.
There are three products available with different moisturizing effects: refresh, moisturizing and extra moisturizing.
6. Senka Perfect Whip Collagen In
Shiseido Senka Perfect Whip is one of the most popular Japanese skin care products not only in Japan but worldwide. The moisturizing, micro-dense foam face wash is now available with three variations: Regular (blue) for moisturizing all skin types, White Clay (white) for skin brightening and Collagen In (pink) for firm, supple skin.
Senka Perfect Whip Collagen In (専科パーフェクトホイップ コラーゲンイン) is a moisturizing face wash containing highly concentrated collagen. It helps mature skin to be firmer and more supple, and improves skin's resilience and elasticity. It's formulated with 60% beauty serum (hyaluronic acid, natural silk essence and collagen) and leaves the skin smooth and nourished without tight feeling after wash.
Thanks for reading! I hope you have enjoyed my picks of the best Japanese anti-aging face washes. The listed products are widely sold at drugstores, cosmetics stores and variety shops in Japan, and some of products are also available to shop online with global shipping!
If you are into J-beauty, I'd recommend you to check out the online beauty store Kokoro which offers a wide selection of Japanese beauty products with worldwide shipping. Visit their website (Kokoro: http://bit.ly/32HfNbi) to check more Japanese cosmetics products! Free shipping is available when you spend over 40 USD 🙂
For more information about the latest Japanese cosmetics products, here are some more articles for you to check out!
▽Related Articles▽
▼Editor's Picks▼
---