10 Best Japanese Beauty Products to Get Rid of Clogged Pores
Best Japanese Pore Minimizing Face Washes and Exfoliators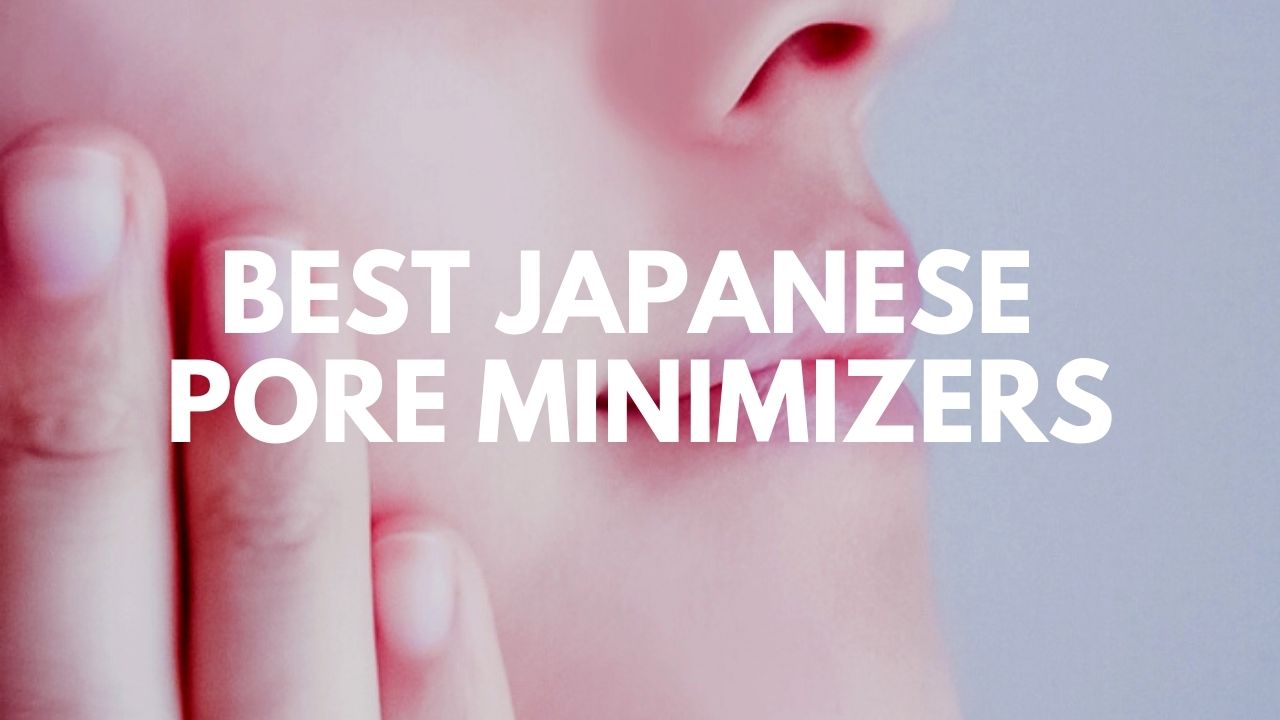 One of the most common skin troubles is clogged pores. Pores are tiny holes in the skin and responsible for the skin renewal process by releasing unnecessary oil and sweat. When pores are clogged, it can result in blackheads, acne and dull skin.
Clogged pores are caused by dead skin cells, excess sebum and bacteria trapped in the skin instead of being released. Because the skin renewal process slows down when the skin is too oily or too dry, or naturally as you get older. The other causes are oily skin, sun damage, not cleansing makeup properly, etc.
There are simple solutions to unclog pores such as cleansing your face properly, using pore minimizers and using non-comedogenic skin care products. But we also have to remember that clogged pores can be also caused by over-cleansing, over-exfoliating or using wrong beauty products as the skin needs a good balance of hydration and oil. So choosing right skin care products is very important to treat clogged pores.
There are various skin care products in Japan, specially designed to get rid of clogged pores including pore minimizing face wash, cleanser, exfoliator and pore strip. In this article, I'd like to introduce some of the best Japanese skin care products to minimize clogged pores from drugstore to high-end brands. If you are looking for right cleanser for clogged pores and achieve the flawless skin, these skin care products might be a huge help.
Some of products are available to shop online, and I have attached links to it 🙂
1. Suisai Beauty Clear Powder Wash
Suisai Beauty Clear Powder Wash (スイサイ ビューティクリア パウダーウォッシュ) is one of the most popular Japanese skin care products on the market which has won multiple beauty awards.
It's a facial cleansing powder containing two different enzymes and amino acid cleansing ingredients that exfoliate dead skin cells, cleanse away impurities, and prevent clogged pores and blackheads without taking away the skin's natural moisture. The product is advised to use 2–3 times a week for deep cleansing and improving your skin complexion.
The deep-cleansing powder comes in tiny pods designed for a single use so that the enzymes could maintain their functionality under high humidity or temperature conditions. The individual packaging is also a travel-friendly.
Price: 990 yen (15pc)/1,980 yen (32pc) 【Shop Now】
2. FANCL Deep Clear Washing Powder
FANCL Deep Clear Washing Powder (ファンケル ディープクリア 洗顔パウダー) is a facial wash powder containing enzyme, charcoal and absorbing clay that remove impurities, dead skin cells and blackheads out of the pores. Together with Suisai Beauty Clear Powder Wash, they are two most popular enzyme cleansers in Japan.
The cleansing powder has black colour from charcoal. The powder turns into a dense and bouncy foam that gently wraps the skin and cleanses the pores but also leaves the skin smooth and hydrated. The product also comes in little single use capsules to stay fresh up to a year.
All skin care products of FANCL are preservative free and formulated with high efficacy and safety standards, which are recommended for all skin types including sensitive skin.
Price: 1,980 yen (30pc)【Shop Now】
3. AHA Cleansing Research Wash Cleansing
AHA Cleansing Research Wash Cleansing N (クレンジングリサーチ
ウォッシュクレンジング N) is a 3-in-1 facial cleanser works as a makeup remover, face wash and exfoliator.
The product contains scrub and 100% plant based cleansing ingredients (papain enzyme, kiwi extract and apple acid) which are highly effective for exfoliating care. It removes dirt and makeup, and prevents from clogged pores, skin dullness and pimples caused by dead skin cells and impurities. As you massage the skin , it helps to improve blood circulation and brighten up the skin tone.
Besides the scrub type N, the Wash Cleansing series offer three other variations: Wash Cleansing b (non-scrub and moisturizing), Wash Cleansing r (aging care) and Wash Cleansing acne (acne prevention).
Price: 1,100 yen (120g)【Shop Now】
4. Biore Ouchi de Aesthe Massaging Facial Gel Cleanser for Clogged Pore Skin
Biore Ouchi de Aesthe Massaging Facial Gel Cleanser (ビオレ おうちdeエステ 肌をなめらかにする マッサージ洗顔ジェル) is a gel type face wash that removes excess sebum and impurities in pores by massaging the face. The non-foam clear gel features the Clogged Pore Cleansing formula. It unclogs pores and removes deep down impurities that can cause blackheads. It makes pores less visible and the skin look smooth as you continue to use.
The product is more effective when you use in the shower or bath when pores open easily. Also it's recommended to use in the morning so that your makeup will apply better. For dry skin, there is a moisturizing type available, which comes with an orange package.
Price: 693 yen (150g)【Shop Now】
5. LUNASOL Smoothing Gel Wash
LUNASOL Smoothing Gel Wash (ルナソル スムージングジェルウォッシュ) is a gel type facial wash that proactively removes sources of skin dullness and helps to achieve the clear, luminous skin. It features the brand's original "Polishing Cleanse Formula" which cleanses away impurities from the pores and old keratin.
The non-foaming, refreshing clear gel applies to the skin smoothly and cleanses stubborn dirt and clogged pores while retaining the skin's natural moisture. Every time you use, your skin will get brighter and smoother for better makeup application.
Price: 3,520 yen (150g)【Shop Now】
6. Cure Natural Aqua Gel
Cure Natural Aqua Gel (キュア ナチュラルアクアジェル) is a long-selling, award-winning Japanese face exfoliator. This water-based exfoliator gently removes a layer of rough and dry skin, and helps to achieve the poreless and glowing skin.
As you apply the gel on your face and gently massage (without rubbing too hard), the clear gel turns white and cleanses off dead skin cells deep down the pores. Not only on the face, but you can also use this gel on your body. It contains 91% activated hydrogen water and three kinds of natural plant extracts which are gentle and leave the skin moisturized. Also it's free of fragrance, colourant and preservative.
Price: 1,320 yen (100g)/2,750 yen (250g)【Shop Now】
7. Takami Skin Peel
Takami Skin Peel (タカミ スキンピール) is a top selling pore care skin care product in Japan The skin peel beauty serum is produced by Takami Skin Clinic in Tokyo and developed based on the dermatology experience with over 200,000 cases at the clinic since 1999.
Takami Skin Peel is actually not a skin peeling product. It helps to boost the skin turnover function and improves the appearance of rough and dull skin by reducing enlarged pores, blackheads and fine wrinkles. It approaches to the skin cells and improves the skin condition, leanding the healthy and smooth skin. The product is recommended to apply after face wash, leave for 3 mins before applying toner.
Price: 5,280 yen (30ml)【Shop Now】
8. Keana Nadeshiko Rice Mask
Keana Nadeshiko Rice Mask (毛穴撫子 お米のマスク) is a top-selling Japanese face mask which won multiple beauty awards. The product is really popular not only in Japan but also overseas as it's really affordable but offers amazing quality and result. This sheet mask is especially recommended for dry skin with large pores.
The mask contains four kinds of rice skin care serum made from 100% domestic rice: rice fermented essence for moisturizing, rice bran oil for elasticity, rice ceramide for skin conditioning and rice bran essence for better skin texture. The rice derived ingredients moisturize the skin, and work effectively to improve the skin condition and tighten the pores.
Price: 715 yen (10pc)【Shop Now】
9. Labo Labo Pore Tightening Mask
Labo Labo Pore Tightening Mask (ラボラボ引き締めマスク) is a facial sheet mask from the Labo Labo skin care series which is specially designed for pore care by Dr.Ci:Labo, Japan's top medical skin care brand.
It's all-in-one type sheet mask that works as toner, peeling, beauty serum and face pack.The luxury sheet mask is infused with 310ml of Labo Labo's popular "Super Keana Lotion", and also contains 4 kinds of skin tightening ingredients which provide the care of enlarged pores, blackheads and excess sebum. It also contains beauty ingredients such as hyaluronic acid, collagen, placenta essence and job's tears essence that lead the firm and elastic skin.
Price: 1,980 yen (32pc) 【Shop Now】
10. Biore Pore Strips
Biore Pore Strips (ビオレ 毛穴すっきりパック) is a top-selling self pore care product in Japan. These strips help to clear clogged pores instantly, offering powerful and effective deep-cleansing.
Blackheads and rough skin on nose are caused by keratin plugs deep inside pores, which is solid and hard to remove, but the strip adhere to the nose and pulls out the keratin plugs clogged in pores at once. It's designed to fit the shape of nose and features a special bond technology. You will simply need to wet the skin on your nose, apply the strip, wait for 10–15 mins then slowly peel off the strip from the edges. You can see the instant result with unplugged blackheads on the strips after use. Also with regular use, your pores will be less visible and smoother!
Besides the regular white type, there is also a black type recommended for oily skin as it contains charcoal which is effective to remove excess oil.
Price: 522 yen 【Shop Now】
Thank you very much for checking out my picks of the best cleansers to minimize clogged pores 😉 The listed products are commonly sold at drugstores, cosmetics stores and variety shops in Japan, and some of products are also available to shop online with international shipping!
If you are into J-beauty, I'd recommend you to check out the online beauty store Kokoro which offers a wide selection of Japanese beauty products with worldwide shipping. Visit their website (Kokoro: http://bit.ly/32HfNbi) to check more Japanese cosmetics products! Free shipping is available when you spend over 40 USD 🙂
Check out more facial wash products for clogged pores and blackheads!
For more information about the latest Japanese cosmetics products, here are some more articles for you to check out!
▽Related Articles▽
▼Editor's Picks▼
---