Best Japanese Face Washes for Clogged Pores
Must-Buy Japanese Cleansers for Clogged Pores and Blackheads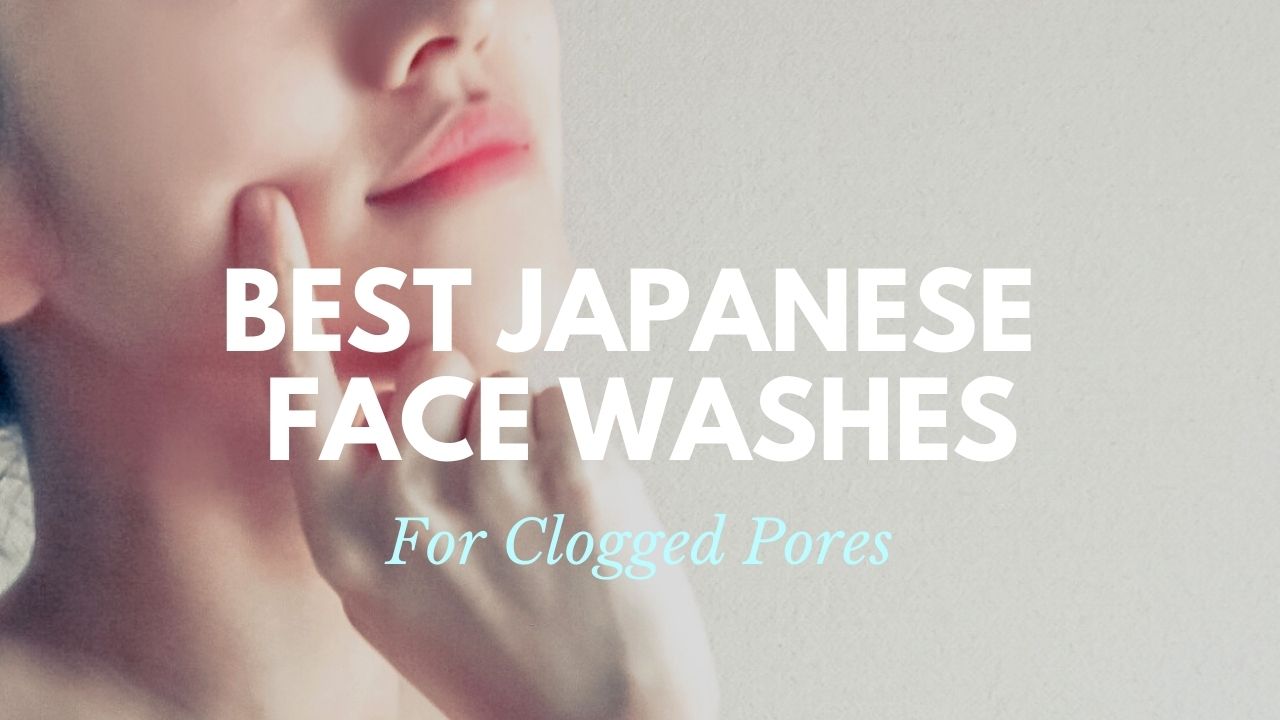 Do you struggle with large pores or blackheads?? Clogged pores is one of the most common skin problems, which can be caused by excess oil, dead skin and impurities being stuck in pores. When your pores are clogged, they can appear larger, darker and more visible, and also can result other skin problems like blackheads, acne and skin dullness.
Clogged pores occur not only to oily skin, but any skin type can experience it by various causes such as using wrong skin care products, over-cleansing, bacteria and even hormones.
To treat clogged pores and archive smooth and pore-less skin, it's very important to use right skin care products, especially facial cleanser is a key item in daily skin care routine.
In Japan, there are various kinds of face washes available according to skin types and concerns, and some of products are specially designed to cleanse deep down pores and minimize their appearance. These products also help to prevent acne and blackheads, keeping a good balance of skin hydration and natural oil.
From enzyme powder to gel type, here is the list of the best Japanese face washes for clogged pores! You can easily find these products at local drugstores in Japan or some of them are also available to shop online and I have attached links to it 🙂
*Please note that this article contains affiliate links.
1. Rosette Cleansing Paste Kaidei Smooth
Rosette is a long-established Japanese skin care brand that started selling Japan's first cream type facial wash in 1929 when bar soaps were the only option available. Over decades, the brand has produced and developed a range of face wash products which approach to various skin types and concerns including today's bestseller, Rosette Cleansing Paste.
Rosette Cleansing Paste series is available with 5 variations Kaidei Smooth for pore cleansing (Green), White Clay Lift for elasticity (Pink), Ghassoul Bright for skin brightening (Yellow), Glacier Mud Cleanse for oily skin (White) and Acne Clear for acne-prone skin (Blue).
Rosette Cleansing Paste Kaidei Smooth (ロゼット洗顔パスタ 海泥スムース) is formulated with mineral-rich marine clay and plant extracts. The bouncy foam containing marine clay powder cleanses away excess sebum and impurities deep inside pores while keeping the skin moisturized and smooth. The affordable price is another reason to give a try with this product!
Price: 660 yen【Show Now】
2. Keana Nadeshiko Baking Soda Face Foam
Keana Nadeshiko Baking Soda Face Foam (毛穴撫子 重曹泡洗顔) is a foaming facial wash produced by Ishizawa Laboratories which is known for the cult-favourite Japanese face mask, Keana Nadeshiko Rice Face Mask.
This face wash is specially designed for dry skin with enlarged pores, and contains baking soda which actively works for cleansing blackheads formed by dead skin cells and excess sebum.
The whipped cream-like rich and dense foam penetrates into the pore, dissolves impurities and removes dead skin cells. It also contains various moisturizing ingredients such as hyaluronic acid, collagen, honey and royal jelly which leave the skin soft and plump. After rinsing it away with lukewarm water, it's recommended to splash your face with cold water at the end so your pores get tightened.
Price: 1,100 yen (100g)【Show Now】
3. AHA Cleansing Research Wash Cleansing
AHA Cleansing Research is one of the top cosmetics brands in Japan for exfoliating care. The brand produces a range of cleansing products featuring AHA (Alpha Hydroxy Acid), a naturally derived ingredient in fruits, which promotes to regenerate skin layers by removing dead skin cells and leads to smooth skin.
AHA Cleansing Research Wash Cleansing (クレンジングリサーチ ウォッシュクレンジング) is a scrub type facial wash which acts as makeup remover, face wash and exfoliator. It's formulated with exfoliating ingredients such as malic acid, kiwi extract and papain enzyme which help to clear away makeup and impurities from pores. It also prevents blackheads and acne caused by dead skin cells and dirt, and leads to clear and bright skin. Every time you wash, it gives a fresh feel of the skin rejuvenating.
Price: 1,100 yen (120g)【Shop Now】
4. Suisai Beauty Clear Powder Wash
Suisai Beauty Clear Powder Wash (スイサイ ビューティクリア パウダーウォッシュ) is an award-winning, top-selling face wash in Japan over the past decade. This product is not only popular in Japan but also in overseas, and it's often sold at souvenir stores and airports in Japan.
This facial cleansing powder contains 2 kinds of enzyme (proteolytic enzyme and lipolytic enzyme) and amino acid cleansing ingredients that exfoliate dead skin cells, removes stubborn plugs and blackheads while protecting skin's natural moisture.
The powder is packed in a capsule for a single use in order to maintain the function of enzyme under high humidity or temperature conditions. The individual packaging is also a travel-friendly.
Price: 990 yen (15pc)/1,980 yen (32pc) 【Shop Now】
5. FANCL Deep Clear Washing Powder
FANCL is a Japanese cosmetics company, producing a wide range of beauty products which are free of preservative, colorant, fragrance, petroleum surfacants, and ulta-absorbing agents. FANCL's cosmetics products are designed for all skin types including sensitive skin.
FANCL Deep Clear Washing Powder (ファンケル ディープクリア 洗顔パウダー) is an enzyme face wash powder that dissolves and cleanses away pore impurities and blackheads. The unique black powder containing charcoal and absorbing clay turns into dense and bouncy foam, gently wrapping the skin. It also contains amino acid cleansing component and several moisturizing ingredients which keeps the skin smooth and hydrated while washing. The product comes in little single use capsules to stay fresh up to a year.
Price: 1,980 yen (30pc)【Shop Now】
6. Biore Ouchi de Aesthe Massaging Facial Gel Cleanser for Clogged Pore Prone Skin
Biore is a Japanese skin care brand offering a range of cleanser products that can be chosen according to skin types and concerns. For cleansing pores, I recommend this unique gel type facial cleanser, Biore Ouchi de Aesthe Massaging Facial Gel Cleanser (ビオレ おうちdeエステ 肌をなめらかにする マッサージ洗顔ジェル) .
The non-foaming face wash features the Clogged Pore Cleansing Formula and removes excess sebum and dirt inside pores by massaging. It prevents blackheads, and makes pores less visible and the skin look smooth. The product is more effective when you use in the shower or bath when pores are open. Also it's recommended to use in the morning so that your makeup will apply better.
For dry skin, there is a moisturizing type available, which comes with a pink package.
Price: 693 yen (150g)【Shop Now】
7. Labo Labo Super Keana Washing
Labo Labo is a skin care series produced by Dr. Ci:Labo, Japan's leading medical cosmetics brand and specialized in pore care products. Labo Labo offers a range of skin care products specialized in pore care to achieve smooth, pore-less skin.
Labo Labo Super Keana Washing (ラボラボ スーパー毛穴ウォッシング) is a foaming face wash formulated with 2 kinds of cleansing agents (sea silt and charcoal) and 4 kinds of pore care ingredients (lactic acid, malic acid, 10-Hydroxydecanic acid and papain).
The fine textured, micro-dense foam gently peel the skin and cleanses away dirt and excess sebum in pores. It also dissolves keratin plugs and old skin cells that cause enlarged pores, and supports the turnover of the skin. The skin feels smooth and soft by using it everyday. It contains a rich amount of hyaluronic acid and collagen which leaves the skin moist and supple while washing.
Price: 1,540 yen (120g) 【Shop Now】
Thanks for reading! Have you enjoyed my picks of the best Japanese face washes for clogged pores? The listed products are widely sold at drugstores, cosmetics stores and variety shops in Japan, and some of products are also available to shop online with global shipping!
If you are into J-beauty, I'd recommend you to check out the online beauty store Kokoro which offers a wide selection of Japanese beauty products with worldwide shipping. Visit their website (Kokoro: http://bit.ly/32HfNbi) to check more Japanese cosmetics products! Free shipping is available when you spend over 40 USD 🙂
For more information about the latest Japanese cosmetics products, here are some more articles for you to check out!
▽Related Articles▽
▼Editor's Picks▼
---