Best Japanese Eyeshadows
Must-Buy Japanese Eyeshadow Palettes from Drugstore to High-End Brands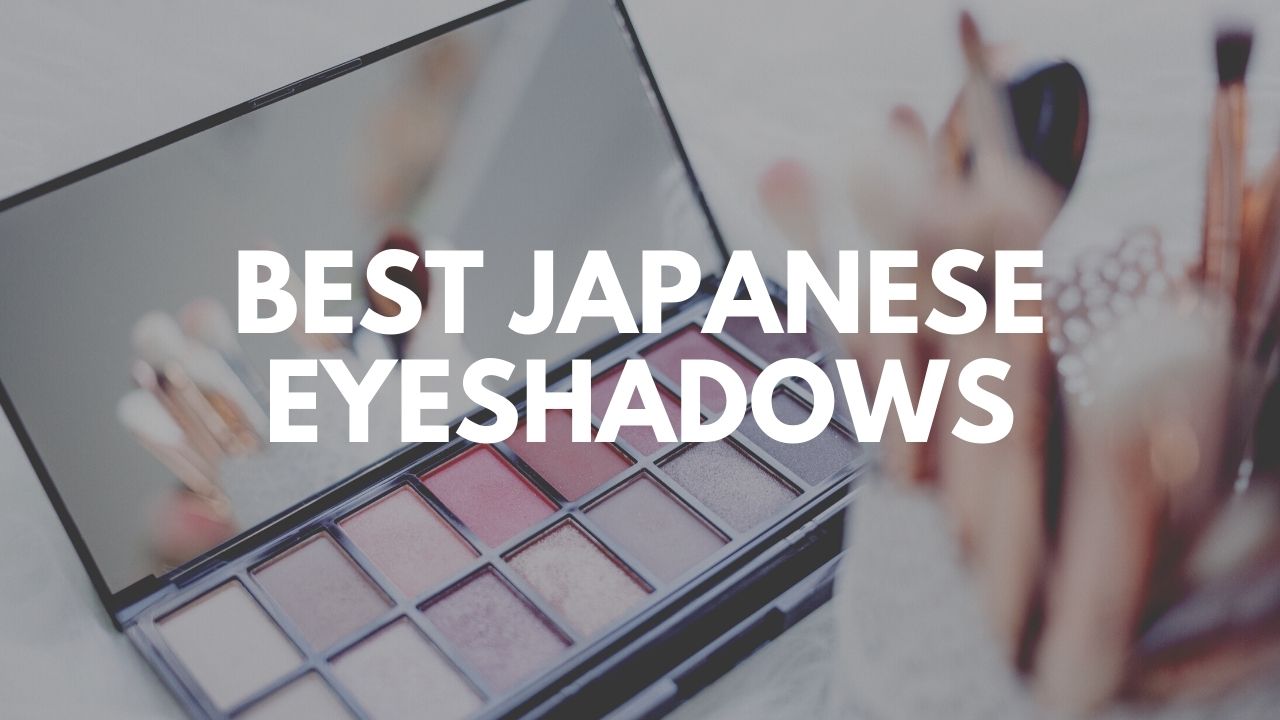 We can never have enough eyeshadows.. does anyone disagree?? Eyeshadow is a key makeup item for defining your eyes as well as creating trendy looks. It's one of the most playful makeup items with a wide selection of shades, finishes and textures.
Tons of eyeshadow products are released in Japan every season by various brands, offering unique features and trendy shades. If you are considering to get Japanese eyeshadows but don't know which one to try, I think this article could be help you out!
Today, I'm going to introduce the top-selling eyeshadows in Japan from drugstore to high-end cosmetics brands. Some of products are available to shop online, so if you like them, don't hesitate to try!
*Please note that this article contains affiliate links.
1. KATE Brown Shade Eyes
KATE is a popular drugstore beauty brand in Japan, offering fashionable and edgy makeup items. Eyeshadow is the brand's signature and KATE's eyeshadows are known for being high-quality, innovative, trendsetting and most importantly, affordable. The brand releases various new eyeshadow products every season which you can create a trendy look.
KATE Brown Shade Eyes (ブラウンシェードアイズ) is a 5-shade eyeshadow palette featuring 3 shimmery brown shades, a bronzer, a fake shade powder and a dual tip applicator. You can make a fine gradient on your eyes easily with the brown shades, and archive large and deep-set eyes by creating a natural contour with the bronzer and fake shadow powder. Eyeshadow palettes are available with 6 different shades.
Price: 1,320 yen 【Shop Now】
2. Excel Skinny Rich Shadow
Excel is a popular Japanese cosmetics brand producing stylish, innovative and high-quality makeup products including several award-winning items. With Excel's makeup items, you can achieve trendy looks without having a high-makeup technique.
Excel Skinny Rich Shadow (エクセル スキニーリッチシャドウ) is a top-selling makeup product in Japan, winning the @cosme Best Cosmetics Awards two years in a row (2018&2019). The four-colour eyeshadow palette is so blendable and you can create an excellent gradient effortlessly as you apply them in order. It contains shimmering pearls that provides an elegant and glam look. It has moist and rich texture that glides smoothly on eyelids without powdery feel. There are 6 brown-based colours available which you can choose according to your skin tone.
Price: 1,650 yen【Shop Now】
3. CANMAKE Perfect Stylist Eyes
CANMAKE is the most popular drugstore makeup brand in Japan, offering cute, trendy and great quality makeup products at very affordable price. Most of the products are under $10, so it makes you want to collect and try many products when the brand releases new products every season.
CANMAKE Perfect Stylist Eyes (キャンメイク パーフェクトスタイリストアイズ) is one of the most popular eyeshadows in Japan, which comes with 5 shades including 2 main shades, the base colour, the line color and the topping jewel (glitter). By choosing the main shade, you can enjoy two different styles as well as adding the glitter for more gorgeous look. The power has a moist formulation that feels great on the skin and offers a long-lasting high colour.
Price: 858 yen 【Shop Now】
4. CEZANNE Tone Up Eyeshadow
Along with CANMAKE, CEZANNE is a top drugstore cosmetics brands in Japan, offering high quality and affordable beauty items including makeup and skin care products. The brand has produced several top-selling beauty products that won multiple beauty awards.
CEZANNE Tone Up Eyeshadow (セザンヌ トーンアップアイシャドウ) is a compact eyeshadow palette with three shades and s dual-end tip. The shades including a bright base, a blending skin tone and a tightens colour which you can easily blend and create a beautiful gradient, and make your eyes look brighter and more attractive. There are 6 different colours that you can choose the right one for your skin tone.
Price: 638 yen【Shop Now】
5. ADDICTION THE EYESHADOW
ADDICTION is a new Japanese brand launched by KOSE, one of the leading cosmetics companies in Japan along with Shiseido and Kanebo. The brand offers chic, stylish and high-quality makeup products, featuring unique colours and textures.
ADDICTION THE EYESHDOW (アディクション ザ アイシャドウ) is an award-winning, trending makeup product in Japan. The playful eyeshadow with a choice of 99 shades features long-lasting, highly pigmented colours in a variety of finishes (silky, matte, pearl and metallic). There is an original compact case sold separately which you can customize your own eyeshadow palette.
Price: 2,200 yen
6. LUNASOL Skin Modeling Eyes
LUNASOL is a high-end cosmetics brand by Kanebo, a leading cosmetics company in Japan (also owns KATE). Eyeshadows are particularly popular items from the brand and they offer various highly-pigmented, long-lasting eyeshadow products. The subtle shimmer and palettes with well-balanced shade are also the reason why the products are so popular.
LUNASOL Skin Modeling Eyes (ルナソル スキンモデリングアイズ) is the brand's top-selling eyeshadow, featuring beige-based 4 shimmery shades which you can create natural gradient. It offers an amazing colour balance from radiant to elegant pearl shades which are suitable for both daily use and special occasions.
Price: 5,500 yen
7. SUQQU Designing Color Eyes
SUQQU is a Japanese luxury cosmetics brand launched in 2003, offering high-quality and sophisticated cosmetics products. The brand has produced several award-winning beauty products so far, and been gaining an international fame. Apparently some celebs like Margot Robbie and Miranda Kerr are fans of SUQQU beauty products!
SUQQU Designing Color Eyes (スック デザイニング カラー アイズ) is the brand's top-selling product and the winner of multiple beauty awards. The eyeshadow palette comes with four shades with smooth texture and high-pigmented colours which can be used individually or by blending. The enriched powder is blended with nourishing oil that applies smoothly on the skin and offers a great lasing power. There are over 10 shades available.
Price: 7,480 yen
8. ETVOS Mineral Classy Shadow
ETVOS is Japanese cosmetics brand focusing on natural, organic, mineral based products. ETVOS's ceramide based skin care products and mineral based makeup products are gentle on trouble-prone skin. The brand also produces body and hair care products.
ETVOS Mineral Classy Shadow (エトヴォス ミネラルクラッシィシャドー) is an eye shadow palette comes with 4 gradation colours, and they are available with various different shades: Mauve Brown, Rose Brown, Royal Brown and Mandarin Brown. There are also seasonally available limited shades that create the perfect trendy look for new season. ETVOS Mineral Classy Shadow is highly recommended for dry and sensitive skin type as the products are made with mineral powders which are gentle and nourishing, and you can easily remove with regular soap.
Price: 4,400 yen
Thanks for reading! I hope you have enjoyed checking out my picks of the best Japanese eyeshadows! The listed products are commonly sold at drugstores, cosmetics stores and variety shops in Japan, and some of products are also available to shop online with international shipping!
If you are into J-beauty, I'd recommend you to check out the online beauty store Kokoro which offers a wide selection of Japanese beauty products from premium to drugstore brands with worldwide shipping. Visit their website (Kokoro: http://bit.ly/32HfNbi) to check more Japanese cosmetics products! Free shipping is available when you spend over 40 USD 🙂
For more information about the latest Japanese cosmetics products, here are some more articles for you to check out!
▽Related Articles▽
▼Editor's Picks▼
---