Best Japanese Drugstore Eyeshadows
Under $10 Affordable Eyeshadows in Drugstores in Japan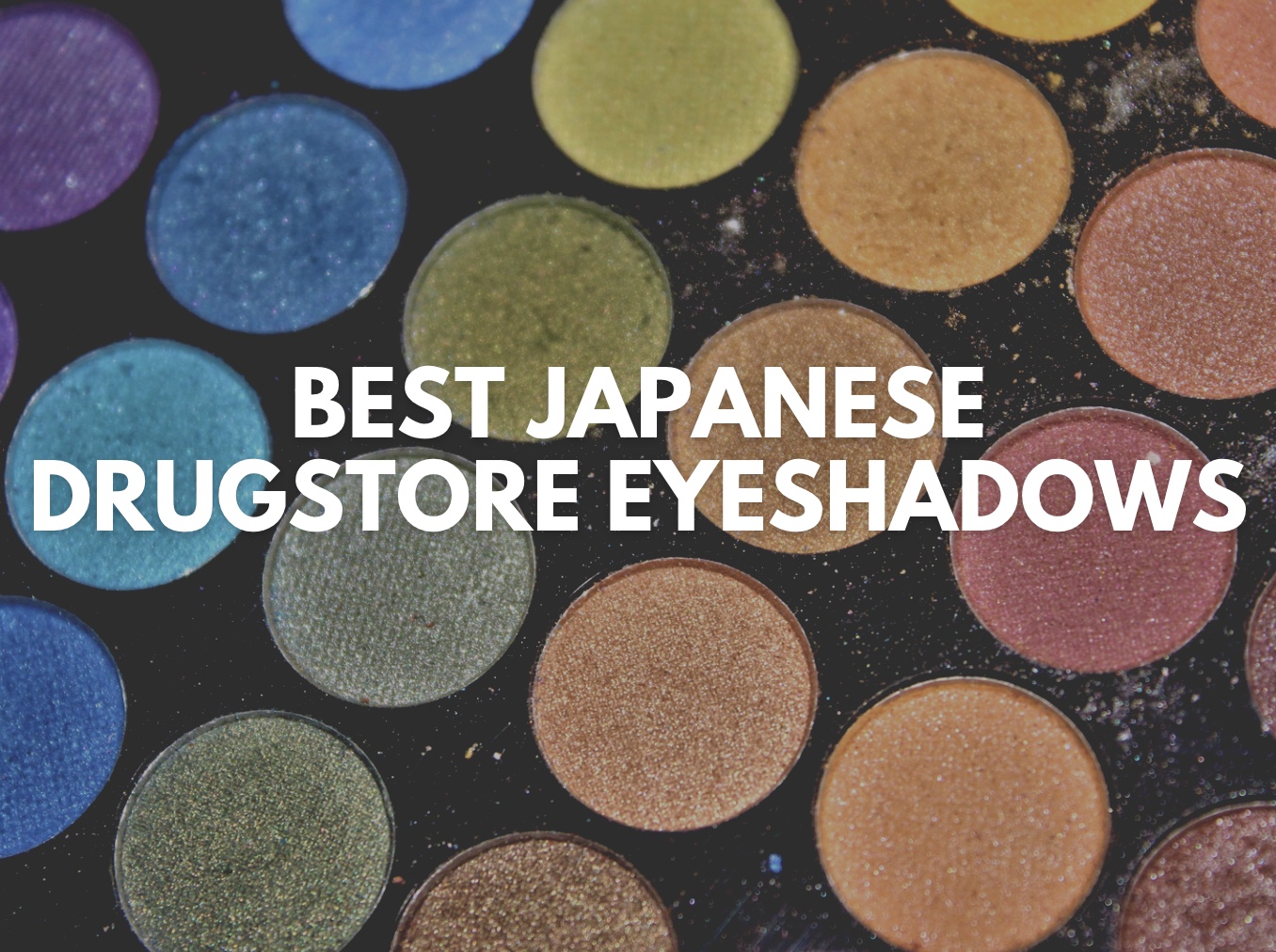 Eyeshadow is one of the most important makeup items to create trendy look and define our own style. Also it's the most playful item that we can pick from a wide range of colors and finishes depending on the occasion just like choosing a dress. We can never have enough eyeshadow palettes as we enjoy wearing them so much!
You may think that you have to pay a lot to get highly-pigmented, blendable and long-lasting eyeshadows, but in Japan, you can get some of amazing eyeshadow products at very affordable prices like less than $10! If you go to Japanese drugstores, there are tons of products that you may get confused which ones to get.
In this article, I'd like to introduce the best Japanese drugstore eyeshadows which are high-quality yet very affordable (all under 1,000 yen)! Some of products are available to shop online, too 😉
---
1. CANMAKE Perfect Stylist Eyes
When it comes to "affordable" cosmetics products, CANMAKE does the best job as the brand offers quality, innovative and cheap makeup products. If you wish to get an instant trendy makeup, CANMAKE is the first brand to look for!
CANMAKE Perfect Stylist Eyes (キャンメイクパーフェクトスタイリストアイズ) is an eyeshadow palette that comes with a small dual-sided tip and 5 shades: 2 main colours, the base colour, the line colour and the glitter. The palette offers two styles by choosing one of the main colors (one for natural and other for defined look). The moist powder feels great on the skin and provides highly-pigmented finish that lasts long.
Price: 858yen 【Shop Now】
2. CEZANNE Tone Up Eyeshadow
CEZANNE is another drugstore cosmetics brand as popular as CANMAKE. The brand has produced numbers of top-selling beauty products including some award-winning products.
CEZANNE Tone Up Eyeshadow (セザンヌ トーンアップアイシャドウ) is a small eyeshadow palette comes with three shades: the souffle formula highlight powder with fine pearls (left), the medium toned blending color (middle) and the darkest shades to define the look. As you apply them in order, you can easily create the brighter and wider eyes. Currently, there are 7 color variations available.
Price: 638 yen 【Shop Now】
3. Majolica Majorca Shadow Customize
Majolica Majorca is a drugstore-range makeup brand launched by Shiseido, Japan's leading beauty company. Their products with a wide choice of colors and cute packaging attract especially young users in their teens and early 20s.
Majolica Majorca Shadow Customize (マジョリカマジョルカシャドーカスタマイズ) is a highly pigmented eyeshadow which provides a three-dimensional effect with the light reflection and creates a perfect, dazzling eye makeup. There are over 20 colorful shades available including seasonal colors, which you can play with and create a trendy look. Each shadow costs only 500 yen (plus tax).
Price: 550 yen 【Shop Now】
4. Chifure Gradation Eye Color
Chifure is a Japanese cosmetics brand, providing quality beauty products at reasonable prices including both skin care and makeup items. Chifure's simple and natural beauty products are beloved by users in a wide range of age groups since 1968.
Chifure Gradation Eye Color (ちふれ グラデーション アイシャドウ) is an eyeshadow palette with 4 shades which fit and blend easily on the skin. You can achieve a beautifully blended finish effortlessly by applying the 3 gradient shades in order, and add the shimmer powder (right top) for more gorgeous and three-dimensional look.
Price: 693 yen
5. INTEGRATE Accent Color Eyes CC
INTEGRATE is another affordable makeup brand of Shiseido, which targets users in their 20s and 30s. The brand offers high-quality, uncomplicated and affordable cosmetics products for a pretty and natural look.
INTEGRATE Accent Color Eyes CC (インテグレート アクセントカラーアイズ CC) is a perfect eyeshadow when you want to make a different look or bigger impression than usual as the eyeshadow palette comes with a choice of accent colors (green, blue, brown, red and violet) that creates a deep and eye-catching look. The 3-shades eyeshadow palette comes with a CC base which moisturizes eyelids and holds the beautiful pigment to last long.
Price: 1,078 yen
6. DAISO UR GLAM
UR GLAM is a cosmetics brand from DAISO, the largest 100-yen chain in Japan. The brand offers a wide range of cosmetics products including mascara, eyeliner, lipsticks, base makeup products and makeup tools. There are in total 98 products available and all of them cost only 100 yen (plus tax) which is unbelievable!
A wide range of eyeshadows are also available on the UR GLAM collection including single shadows and multi-shade palettes. The Powder Eyeshadow is a single eye shadow offering impressively 36 shade variations with different finishes (matte, shimmer and glittering). There are two types of eyeshadow palette: the Blooming Eye Color Palette with 9 brown-base shades and the Velvet Eye Color Palette with 4 gradient shades (burgundy/pink&brown). Besides the powder type, cream and liquid type eyeshadows are also available.
Price: 110 yen
---
Thanks for reading! I hope you have enjoyed my list of the best affordable Japanese eyeshadows! The listed products are commonly sold at drugstores, cosmetics stores and variety shops in Japan, and some of products are also available to shop online with international shipping!
If you are into J-beauty, I'd recommend you to check out the online beauty store Kokoro which offers a wide selection of Japanese beauty products with worldwide shipping. Visit their website (Kokoro: http://bit.ly/32HfNbi) to check more Japanese cosmetics products! Free shipping is available when you spend over 40 USD 🙂
For more information about the latest Japanese cosmetics products, here are some more articles for you to check out!
▽Related Articles▽
▼Editor's Picks▼
---