Best Japanese Tubing Mascaras
Must-Buy Tubing Mascaras in Japan for Long-Lasting, Smudge-Free Eyelashes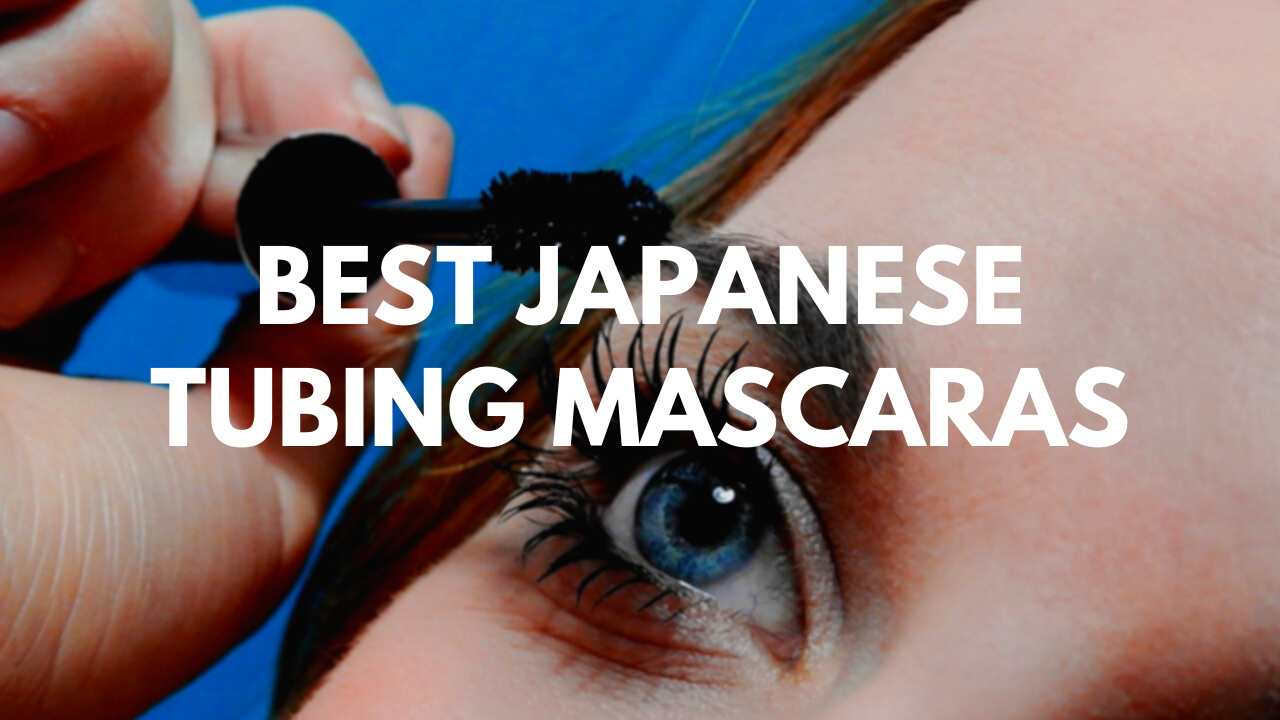 -What's Tubing Mascara??
Have you heard of tubing mascara (or tube mascara)? Accordingly, it's originated in Japan, and first went on the market in early 2000s. FYI, it's commonly called "Film Mascara" in Japan.
While typical mascaras contain pigment to paint lashes, tubing mascaras contain polymers that wrap around individual lash, make lashes longer and thicker, and give an amazing, long-lasting smudge-proof effect all day long.
Another significant feature of tubing mascara is that it can be removed with warm water easily while regular long-lasting mascaras usually require a special makeup remover.
Tubing mascara is one of the biggest cosmetics innovations in the 21th century, and it has grown in popularity soon after it was innovated. It has become a new standard of mascara in Japan, and also it's becoming popular overseas lately.
Nowadays, when you look at the list top-selling Japanese mascaras, more than half are tubing mascaras, and numbers of different brands produce tubing mascaras in Japan. Many products are available at local drugstores in Japan and cost only around $10–20, which makes us easy to try!
So, are you interested in buying Japanese tubing mascara?? If you don't know which one to choose, today, I am sharing the list of the top-selling tubing mascaras at Japanese drugstores. Let's check out the best tubing mascara to buy!
---
1. Opera Mylash Advanced Mascara
Opera Mylash Advanced Mascara is the bestselling mascara in Japan over the past few years after winning the @cosme Best Cosmetics Awards for multiple times and joining the Hall of Fame list. The product is sold at local drugstores widely in Japan, and the price is surprisingly affordable!
The Mylash Advanced Mascara is a fiber-free lengthening mascara and contains special particles that coat lashes and extend the length naturally. The slim brush allows you to catch every single lash and lift them up from the roots. The fast-drying formula locks natural curl of the lashes and keeps an elegant look all day without smudging. If you prefer a mascara providing a natural look rather than a bold finish, I'd highly recommend this product!
Shop Now ▶ Opera My Lash Advanced Mascara
2. Dejavu Fiberwig Mascara
Dejavu is the pioneer brand of tubing mascara who released their first tubing type mascara product back in early 2000s. Since then, the brand continued to develop and improved the mascara series using the new innovation and the latest technology, and one of the leading drugstore cosmetics brands in Japan.
Currently, Dejavu offers 5 types of tubing mascaras with various effects from volumizing to curling up. The Fiberwig Ultra Long Mascara is the most popular one of the series, which won multiple awards including @cosme Best Cosmetics Awards. The smooth fiber film formula coats evenly, and defines and lengthen the lashes beautifully. It also offers a smudge, flake, sebum-free effects all day, but easy removal with warm water.
Shop Now ▶ Dejavu Fiberwig Ultra Long Mascara
3. D-UP Mascara
D-UP is a Japanese cosmetics brand specialized in eye makeup and nail products. Their beauty products are widely available at local drugstores in Japan, especially mascaras and eyeliners are highly popular, and they are top-selling affordable makeup products in Japan after winning multiple awards.
D-UP Mascaras are available with 5 types, all tubing. From fuller-looking to natural finish, you can pick the product depending on what effect you want on your lashes. The mascara comes with a slim brush which is easy to comb individual lashes and separate them from each other. You can remove it with warm water gently. Notably, the D-UP mascaras are formulated with 10 kinds of beauty serums.
Shop Now ▶ D-Up Perfect Extension Mascara
4. Majolica Majorca Lash Expander Edge Meister
Majolica Majorca is a popular drugstore makeup brand created by Shiseido, one of the biggest cosmetics companies in the world. Majolica Majorca offers chic, trendy, functional and affordable beauty products which are especially popular among young generations.
Mascara is one of the top-selling items by the brand, and various types are available with different effects. The Lash Expander Edge Meister is a tubing type mascara comes with a slim dual-sided comb that catches every single lash, even the short ones. It contains tiny fibers that enhance the length of lashes beautifully, and also holds the natural-looking curl all day.
Shop Now ▶ Majolica Majorca Lash Expert Edge Meister
5. Heroine Make Advanced Film Mascara
Heroine Make is one of the most famous Japanese mascara brands worldwide with its iconic cartoon actress package. The regular Heroine Make mascara is a super waterproof, long-lasting and gives a dramatic effect for volumizing and lengthening eyelashes.
Now the new formula version: the Heroine Make Advanced Film Mascara is available with smudge-resistance, long-lasting curl and easy removal. It's the 3rd generation mascara which is a hybrid of the great waterproof ability with tubing technology. Mascara is available with two types: Long and Curl for lengthening lashes and Volume and Curl for thickening lashes. It's a great tubing mascara to create a bold and gorgeous look!
Shop Now ▶ Heroine Make Long and Curl Advanced Film Mascara
Shop Now ▶ Heroine Make Volume and Curl Advanced Film Mascara
6. CEZANNE Airy Curl Mascara
CEZANNE is a popular Japanese cosmetics brand, offering high quality beauty products at very affordable prices under 1,000 yen. The brand offers a wide range of cosmetics products including makeup and skincare, and has produced several bestselling beauty items of all time.
CEZANNA Airy Curl Mascara is a tubing type waterproof mascara which contains lightweight fiber lengthening lashes, yet remaining their natural softness. It also provides a long-staying curl and a smudge-proof effect against water, sweat and sebum. The product costs less than $10, so I'd say it's the best mascara for the price tag!
Shop Now ▶ Cezanne Airy Curler Mascara Black
7. CANMAKE Gokunobi Mascara & Gokubuto Mascara
Along with CEZANNE, CANMAKE is one of the most beloved drugstore cosmetics brands in Japan, and has also produced several award-winning makeup items in the past decade.
The brand released two types of tubing mascaras: Gokunobi Mascara for lengthening and Gokubuto for thickening. Gokunobi Mascara contains fibers with two different lengths and provides a gorgeous length to eyelashes while Gokubuto Mascara offers ultra-volume to lashes. Both products are water-, sweat- and sebum-proof, have a long-lasting curling effect and can be washed off easily with warm water.
Shop Now ▶ CANMAKE Gokunobi Mascara
Shop Now ▶ CANMAKE Gokubuto Mascara
---
Thanks for reading! Listed tubing mascaras are widely available at drugstores, variety stores and cosmetics shops in Japan, but you can also purchase some of them from abroad! Check an online store Kokoro offering a wide range of Japanese beauty products with worldwide shipping. Visit their website (Kokoro: http://bit.ly/32HfNbi) to check more Japanese cosmetics products! Free shipping is available when you spend over 40 USD 🙂
If you would like to check out more Japanese beauty products in different categories, please check out these articles, too!
▽Related Articles▽
▼Editor's Picks▼
---