Best Japanese Anti-Pollution Cosmetics Products
Must-Buy Anti-Pollution Beauty Products in Japan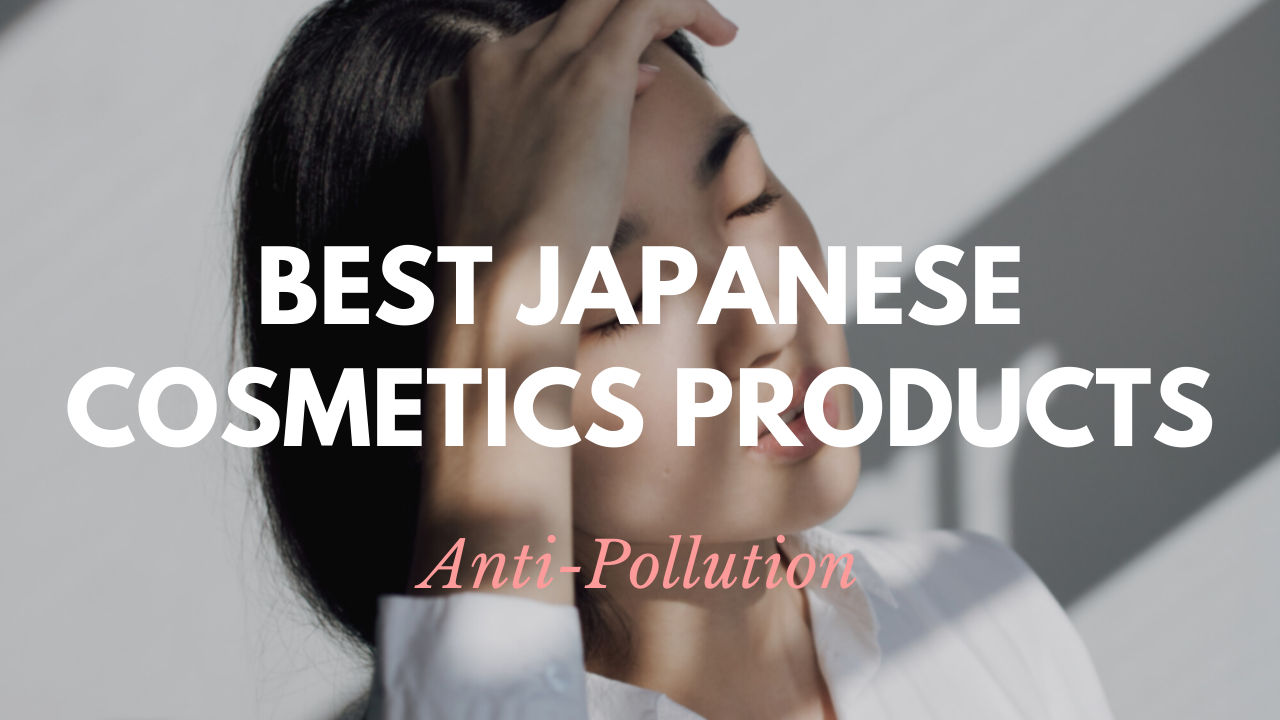 Our skin is exposed to various stress substances daily (UV rays, dust, pollen, allergens, cigarette smoke, PM2.5 etc) which cause great damage on your skin. These damages can accumulate and appear as skin problems in the future such as dryness, age spots, wrinkles, skin dullness and acne.
If you have delicate skin that can easily get affected by stress substances or want to take your skin care routine to the next level for long-term skin health, it's highly recommended to use cosmetics products that can protect your skin from harmful external stimuli.
Nowadays, many beauty companies produce anti-pollution cosmetics products that defend the skin against stress substances. They typically form a protective film over the skin and prevents pollution from attaching to the skin.
Anti-pollution cosmetics products are available with different formula and functions including sunscreen, face spray and makeup primer. If you are wondering which anti-pollution cosmetics products to choose, you may find the right one after reading this article. Here are my picks of the best Japanese anti-pollution cosmetics products. So let's check them out!
1. Shiseido d program Allerbarrier Mist
Shiseido d program Allerbarrier Mist (dプログラム アレルバリア ミスト) is a daytime face mist for sensitive skin that can be used as finishing spray or for touch-up. It features the allerbarrier technology NEO that protects the delicate skin from airborne allergen such as pollen and dust. The two-layered mist consists of oil and toner, and provides moisture. The sebum control ingredient improves the longevity of the base makeup. It's hypoallergenic and free of paraben, alcohol, mineral oil, fragrance and colouring. It's made with carefully selected ingredients and can be used for sensitive skin, even for infants.
Price: 1,650 yen (57ml)
2. KOSE Allertect Spray
KOSE Allertect Spray (アレルテクトスプレー) is an anti-pollution spray for face and hair. The micro polymer spreads evenly, forms a powerful transparent barrier and prevents adhesion of pollen, PM2.5 and virus to the skin and hair. It can be used on top of makeup and provides a refreshing sensation with a single application. 4 kinds of botanical ingredients are blended, which give the skin a supple and smooth finish. It's hypoallergenic and free of fragrance, colouring and paraben.
Price: 935 yen (50g)/1,650 yen (100g)
3. Biore UV Barrier Me Gentle Milk
Biore UV Barrier Me Mineral Gentle Milk (ビオレ UV バリア・ミー ミネラルジェントルミルク) is a skin-friendly sunscreen milk that is recommended dry and sensitive skin that can get easily affected by environmental factors. The product features Biore's original UV Cut and Anti-Dust Outer Skin formulas that form a micro-fine protection barrier over the skin to defend against UV rays and prevent environmental stressors (dust, pollen and PM2.5) from adhering onto the skin. It's blended with fine powder that leaves the skin smooth and silky. The gentle formula sunscreen milk is free of UV absorber, alcohol, paraben and colouring. Contains moisturizing ingredients. Waterproof formula. (SPF50/PA+++)
Price: 1,780 yen (50 ml) 【Buy it Now】
4. Curel Day Barrier UV Protection
Curel is a Japanese skin care brand that produces a range of skin care products formulated with ceramide, the moisture-retaining ingredient to help to strengthen natural barrier function of dry, sensitive skin. Curel Day Barrier UV Protection Milk (キュレル UVカット デイバリアUVローション) is a ceramide-care sunscreen that protects the skin from UV rays and provides long-lasting hydration. Featuring the new Day Barrier Technology, it protects the skin from environmental stressors such as dust and pollen. It contains anti-inflammatory agent to prevent skin roughness and redness. It can be used as a makeup primer as it conditions the skin smoothly and helps makeup to sit better. It's free of UV absorber, fragrance, coloring and alcohol. (SPF50+/PA+++)
Price: 1,650 yen (60 ml) 【Buy it Now】
5. Imprefine Skin Barrier Base
Imprefine Skin Barrier Base (インプリファイン スキンバリアベース) is a makeup primer that protects the skin from daily exposure to environmental stressors and provides a skin care effect. It features the barrier protect formula with the micro particle catch powder and UV cut powder, and defends the skin against external stimuli such as dust, pollen, dryness and UV rays. It contains a rich amount of beauty ingredients and vitamins and nourishes the skin. It's available with 2 shades (nude beige and lavender pink) which naturally covers and brighten up the skin tone.
Price: 1,650 yen (30g)
6. Skin mania Ceramide UV Milk
Skin mania Ceramide UV Milk (Skin mania セラミド UVミルク) is a 5-in-1 daytime emulsion that works as beauty serum, emulsion, makeup base, sunscreen and blue light care. It protects the skin against UV rays, blue light and environmental stressors. Both proactive and penetrating ceramides lock in skin's moisture and prevent damage caused by dryness. It contains two kinds of hyaluronic acid and anti-pollution agents that create a hydrating veil on the skin and defend from PM2.5, pollen and dust. Various beauty ingredients are blended to keep the skin elastic, resilient and soft. The chemical-free sunscreen free of UV absorber, fragrance, artificial colors, mineral oil, alcohol, and paraben. (SPF30/PA++)
Price: 1,650 yen (35g)
7. ShinkoQ
ShinkoQ (シンコキュウ) is a hair care brand, offering a range of anti-pollution hair products including shampoo, treatment, hair mist and hair oil. The series features the brand's original anti-pollution formula that protects the hair from air pollutants such as pollen, cigarette smoke and chemical substances and repairs damaged hair. It conditions hair and scalp, prevents external aggressors from adhering and washes them away gently. Each product is available with two scents (sweet bloom and aqua magnolia).
Price:1,848 yen (shampoo and treatment), 1650 yen (hair mist), 1760 yen (hair oil)
Thanks for reading! The listed products are commonly sold at drugstores, cosmetics stores and variety shops in Japan, but some products are also available to shop online with international shipping! So if you are interested in these products, go ahead and try them out!
If you are into Japanese beauty products, I'd recommend you to check out the online beauty store Kokoro which offers a wide selection of Japanese beauty products with worldwide shipping. Visit their website (Kokoro: http://bit.ly/32HfNbi) to check more Japanese cosmetics products! Free shipping is available when you spend over 40 USD 🙂
For more information about the latest Japanese cosmetics products, here are some more articles that you may be interested!
▽Related Articles▽
▼Editor's Picks▼
---