Best KATE Makeup Products to Buy
High-Quality and Affordable Japanese Makeup Products by KATE TOKYO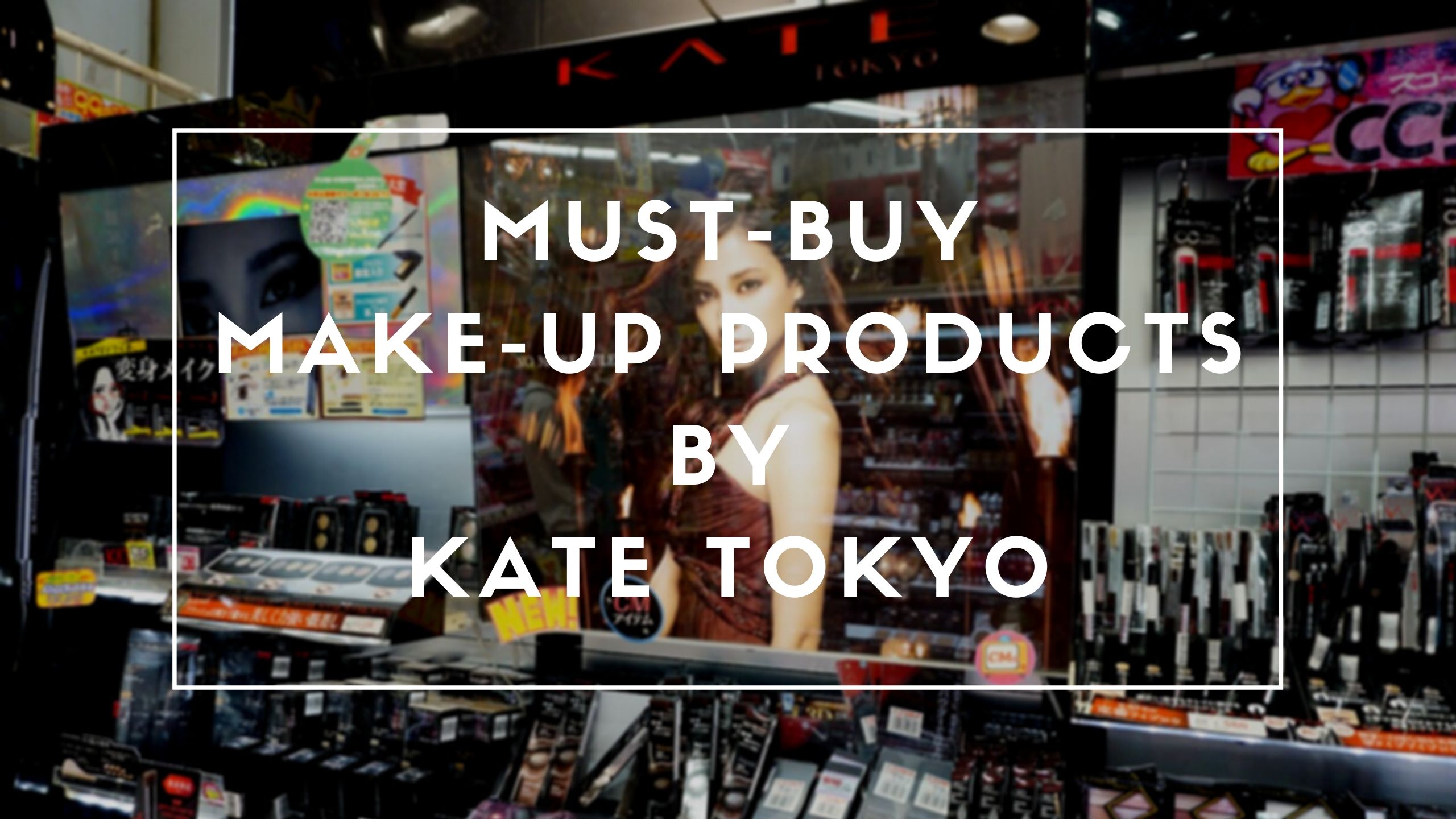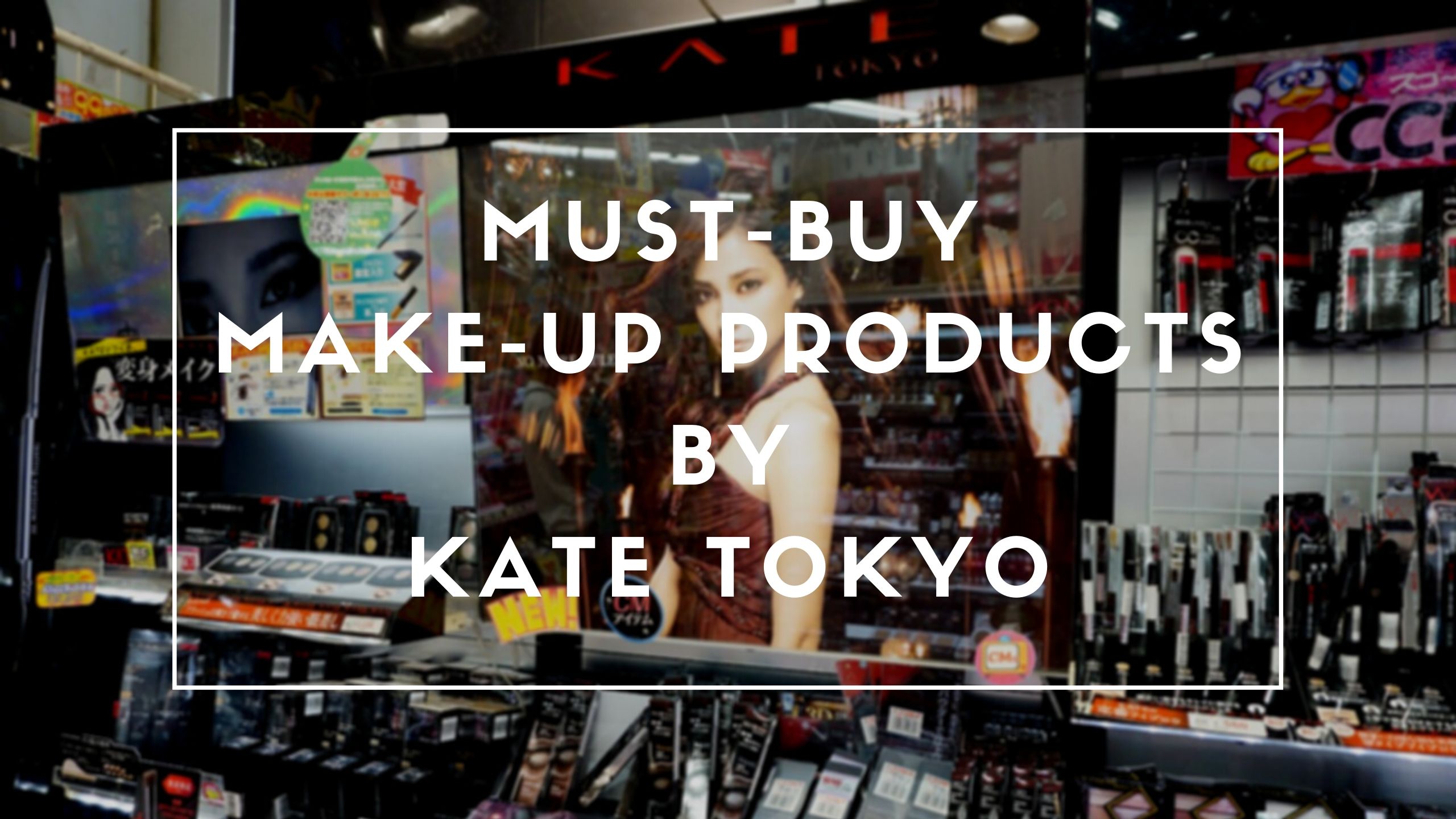 There are various drugstore beauty brands in Japan such as CANMAKE and CEZANNE, and if you are a fan of Japanese cosmetics products, you may have heard of or already tried some of beauty products by KATE.
KATE is a Japanese drugstore beauty brand owned by Kanebo, one of the leading cosmetics companies in Japan along with Shiseido and KOSE. With the brand's motto of "No more rules", KATE has been producing new and ever-changing makeup products inspired by the fashion and beauty capital, Tokyo. Their trendy and edgy makeup products are particularly popular among fashion conscious young women.
KATE's beauty products are high-quality yet affordable, and can be easily found at local drugstores in Japan. Ever since the brand's launch in 1997, KATE has produced numbers of excellent makeup products over the past two decades including award-winners.
In this article, I'd like to share some of the bestselling makeup products by KATE. If you are considering to try KATE beauty products, this could help you to decide which one to choose. Moreover, some of products are available to shop online so you can buy them from abroad, too 🙂
---
1. KATE Designing Eyebrow 3D
KATE Designing Eyebrow 3D (デザイニングアイブロウ3D) is one of the best selling Japanese beauty products of all time which has won multiple beauty awards and been added on the Hall of Fame list by @cosme. The product is widely sold at drugstores, variety shops and cosmetics stores across Japan.
The powder type eyebrow comes in a small palette with 3 gradation shades, a dual tip brush and a mirror. The darker shades and the diagonally cut brush tip can be used to design the perfect shape of eyebrows while the lighter shade and the soft brush are for contouring the nose. You can blend the shades to create a natural look of eyebrows. There are 4 different shades available, so pick the one that suits your skin tone.
Price: 1,100 yen 【Shop Now】
2. KATE Super Sharp Liner EX 2.0
KATE Super Sharp Liner EX 2.0 (スーパーシャープライナーEX 2.0) is one of the best waterproof liquid eyeliners on the market today. It comes with an extra fine brush called "The Spun Silk Technology Brush" which was co-developed with the Japanese stationery company, Pentel.
The soft and elastic brush tip allows you to draw fine and precise lines. The nonagonal multi-faced surface also improves the grip to draw lines smoothly. The long-lasting and smudge-free formula is resistant to water, sebum and sweat, but it can be removed easily with warm water. 3 shades are available.
Price: 1,200 yen 【Shop Now】
3. KATE Brown Shade Eyes
Eyeshadow has always been very popular makeup item of KATE, and the brand offers a great lineup of eyeshadows every season. KATE Brown Shade Eyes (ブラウンシェードアイズ) is currently the top-selling eyeshadow, and it's a great item to create a chic and trendy look.
The 5-shade eyeshadow palette with a dual-tip applicator features 3 graduation of brown shades, a bronzer and a fake shade powder that can create large and deep-set eyes. You can easily control the shade and create the natural looking contour. There are 6 variation of brown shades eyeshadow palettes available.
If you are thinking to try KATE's makeup product, I bet you won't regret getting one of these eyeshadow palette!
Price: 1,200 yen 【Shop Now】
4. KATE Lash Maximizer
KATE Lash Maximizer (ラッシュマキシマイザー) is another award winning makeup product by the brand, which made it all the way to the Hall of Fame list.
It's a mascara primer providing longer and fuller eyelashes with long-lasting curl. It contains two types of black fibers that enhances the volume and length. The curl-memorizing formula gives the curl further durability. It's waterproof and smudge-free.
It's recommended to apply before KATE Lash Former, the long-lasting waterproof mascara from KATE, which is also worth mentioning.
Price: 1,200 yen 【Shop Now】
5. KATE Double Line Expert
KATE Double Line Expert (ダブルラインエキスパート) is another entry from eyeliner category, but this one is quite different and unique comparing to regular eyeliners. I'd say this is one of the most innovative Japanese makeup products on the market today.
This liquid eyeliner helps to make eyes one-size bigger by adding extra lines and fake shades. The super-fine brush and sheer light-brown shade create natural lines and shades around eyes such as eyelids and the inner corner, and emphasize the size of eyes.
Price: 850 yen 【Shop Now】
6. KATE CC Personal Lip Cream
If you are looking for a lip product that is moisturizing as a lip balm but colour intense and long-lasting as lipsticks, this product could be a perfect choice.
KATE CC Personal Lip Cream (CCパーソナルリップクリーム) is a double-function lip balm with personal red colours to improve skin complexion and create a trendy look. It contains highly moisturizing ingredient (hyaluronic acid) that delivers a glossy finish and prevents lips from getting cracked or chapped. It also works as lip primers and lip sunscreens. There are 4 different red shades available that can be chosen according to your skin tone.
Price: 400 yen
7. KATE Secret Skin Maker Zero
KATE Secret Skin Maker Zero (シークレットスキンメイカーゼロ) is a high-selling liquid foundation in Japan, offering a high coverage and longevity.
The high-cover and smooth formula covers pores and unevenness of the skin with a single application. This lightweight liquid foundation provides a semi matte natural finish without heavy cakey feeling. From fair to tanned, 6 shades are available.
Price: 1,600 yen
---
Thanks for reading! I hope you have enjoyed checking out the best-selling makeup products of KATE! KATE's products are sold at local drugstores, variety stores and cosmetics shops in Japan, but you can also purchase some of them from abroad!
Check an online store Kokoro offering a wide range of Japanese beauty products with worldwide shipping. Visit their website (Kokoro: http://bit.ly/32HfNbi) to check more Japanese cosmetics products! Free shipping is available when you spend over 40 USD 🙂
If you would like to check out more Japanese beauty products in different categories, please check out these articles, too!
▽Related Articles▽
▼Editor's Picks▼
---