Sailor Moon Eternal Cafe is Opening in Japan: Tokyo, Osaka and more!
Sailor Moon Cafe 2020-2021 to Open in 5 Cities including Tokyo, Osaka, Nagoya and more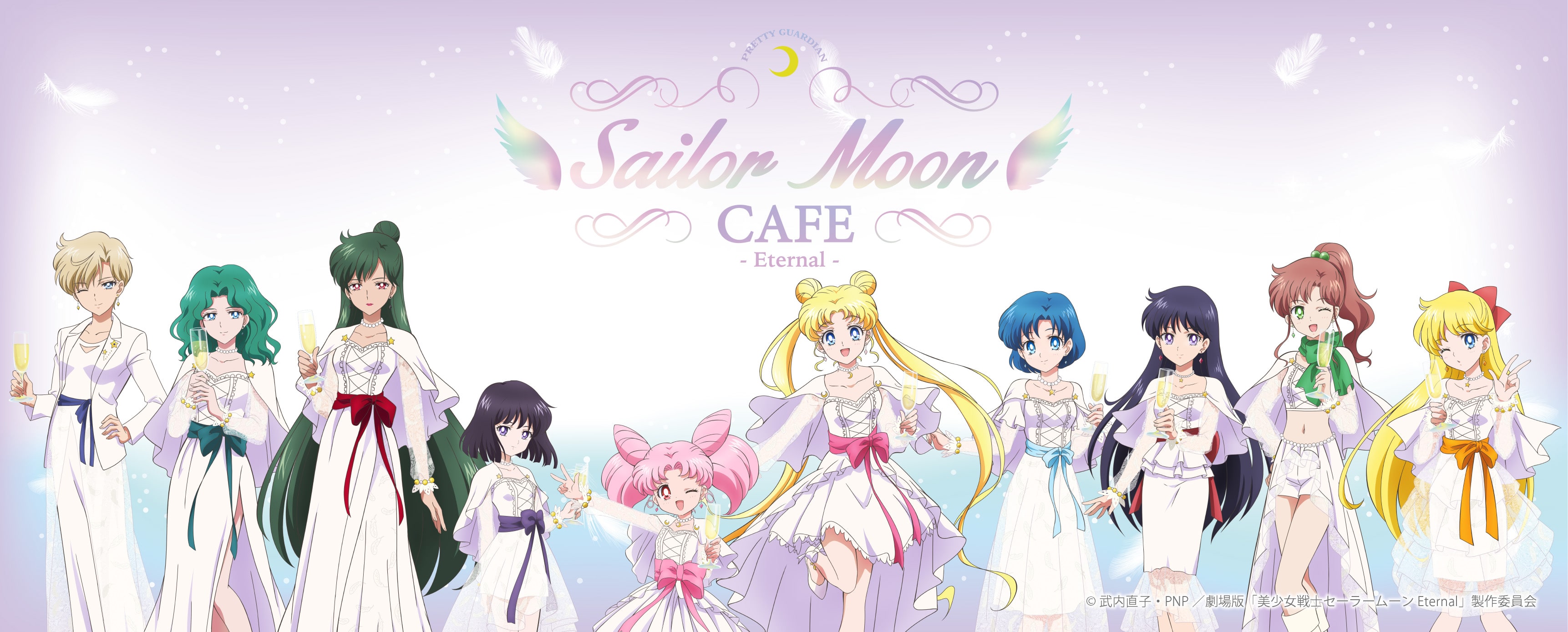 Since the remake of Naoko Takeuchi's most world-famous work was released, Sailor Moon fans haven't stopped receiving good news. Thematic collaboration cafes, bags, clothes, etc. There is always somewhere to go or something to buy related to Sailor Moon.
In 2021 a new movie of the famous Sailor Moon animation series will be released. The movie, which will be called Sailor Moon Eternal will consist of two parts that will be released on January 8 and February 11. And to promote the release of the movie, the Japanese company LEGS is opening a limited-time themed cafe in collaboration with Sailor Moon Eternal. The cafe has been designed by Wataru Linda Igarashi, a popular art director whose work is especially popular with girls. The concept of the cafe is "ETERNAL MEMORIES" and they wanted to create a photogenic and fashionable atmosphere with the image of an elegant world with beautiful auroras and gradations.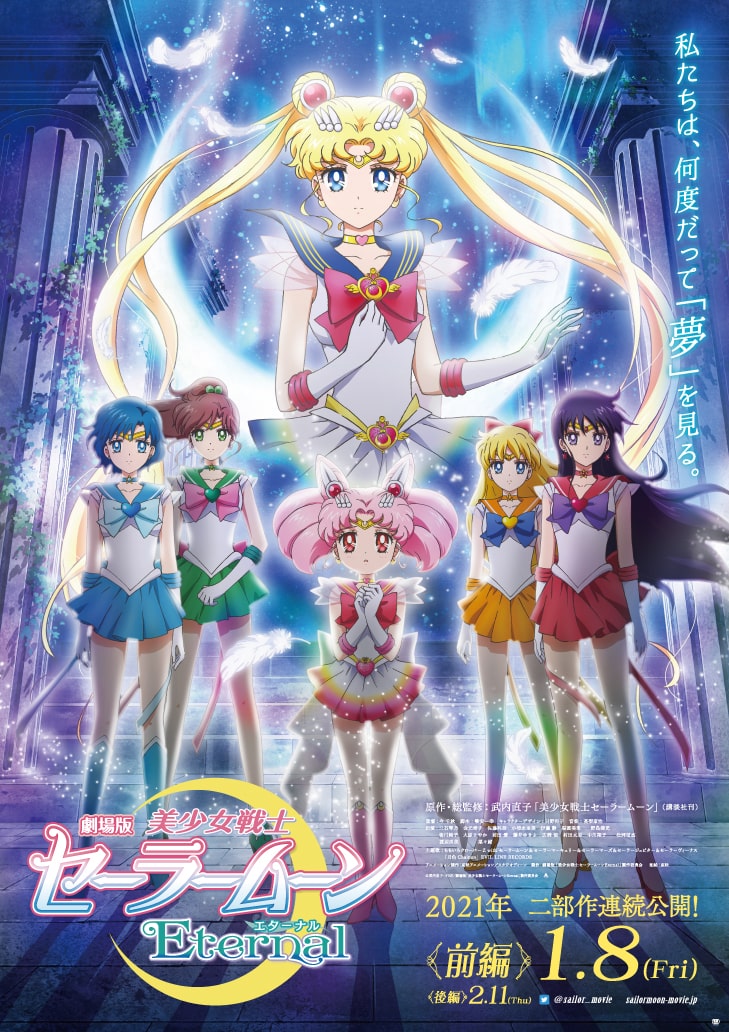 The new Sailor Moon theme cafe "Sailor Moon Eternal Cafe" is opening in Japan this winter/spring. The cafe will be not only in one location but in 5 cities: Tokyo, Osaka, Nagoya, Okinawa and Hokkaido, starting with Tokyo and Nagoya on December 24!
On the Cafe Menu, you'll find fun tribute foods, desserts and drinks inspired by Sailor Moon character's favourite food, Transforming Compact design and more. Cafe original limited items using special newly drawn illustration and other visitors only privilege are waiting 😉 Do you want to take a look at what the cafe offers? Let's go!
Food & Dessert Menu

Left:
Usagi's Moon Yogurt Bowl 1,399 yen
Center:
Ami's Aqua Sparkling Parfait: 1,399 yen
Right:
Rei's Vivid Salmon Chirashi Sushi: 1,399 yen

Left:
Makoto's Vegetables and Pastrami Open Sandwich: 1,399 yen
Center:
Minako's Love and Beauty Curry: 1,399 yen
Right:
Chibiusa Crystal Carillon Pudding Sandwich: 1,399 yen

Left:
ずっと4人で暮らせたらシチューセット: 1,399 yen
Center:
Mamoru's Golden Seafood Pilaf: 1,399 yen
Right:
Little Maiden Pegasus Cupcake: 899 yen

Left:
Luna's Black Sesame Paste Donut: 899 yen
Right:
Moon Crisis Milk Crepe!!: 1,599 yen

Left:
Inuyasha Beef Sandwich 1,590 yen
Right:
Sesshomaru Chilled Pasta: 1,590 yen
Drink Menu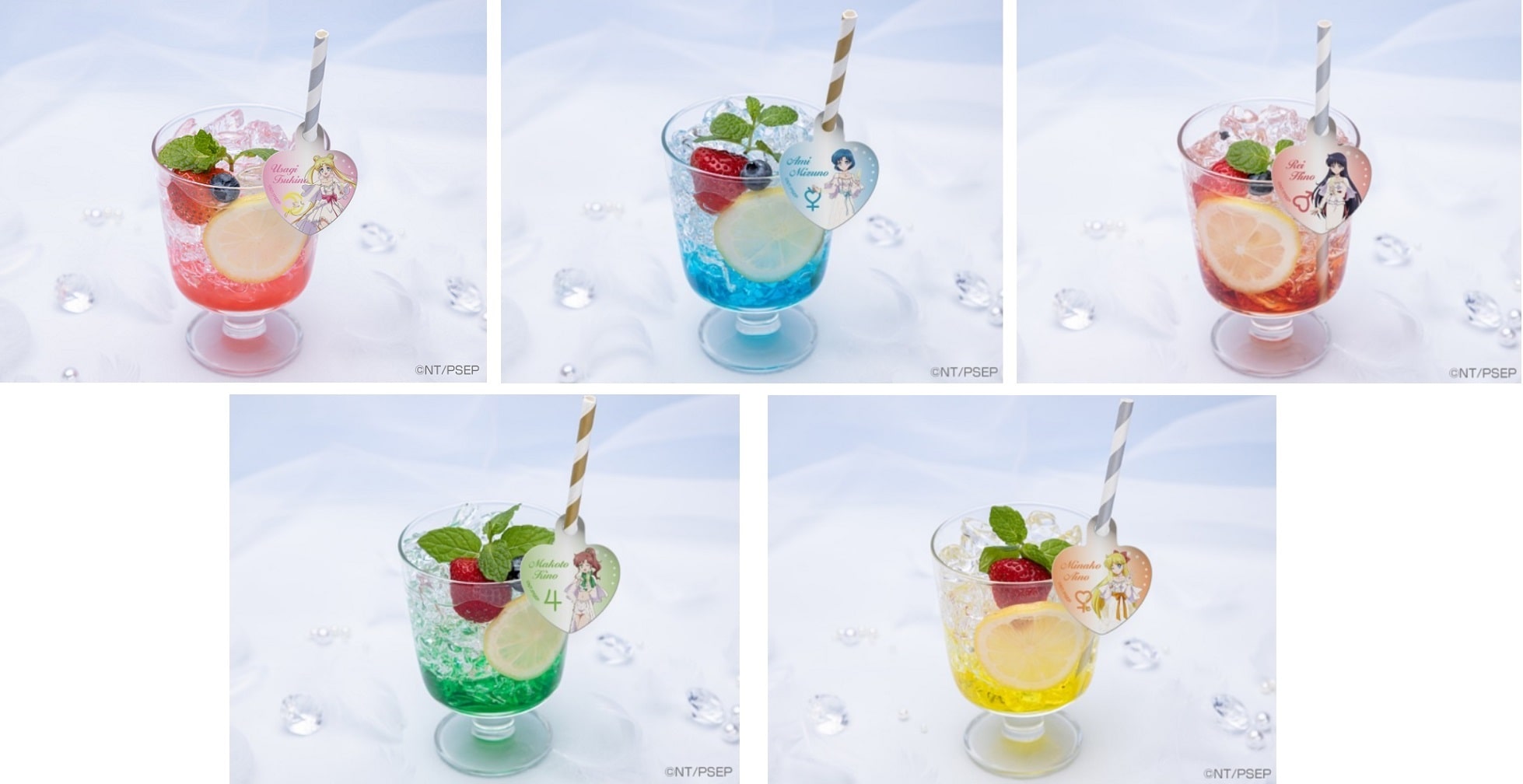 Usagi, Ami, Rei, Makoto and Minako's Eternal Soda: 899 yen.

Chibusa and Hotaru's Eternal Soda Jelly: 999 yen

Haruka's Eternal Hot Tea (chamomile), Michiru's Eternal Hot Tea (green tea), Setuna's Eternal Hot Tea (hojicha): 899 yen

Mamoru's Cafe Latte with Chocolate: 999 yen A Mysterious Drink of Pegasus: 899 yen
Take out: ETERNAL MEMORIES Pink Calpis: 1,699 yen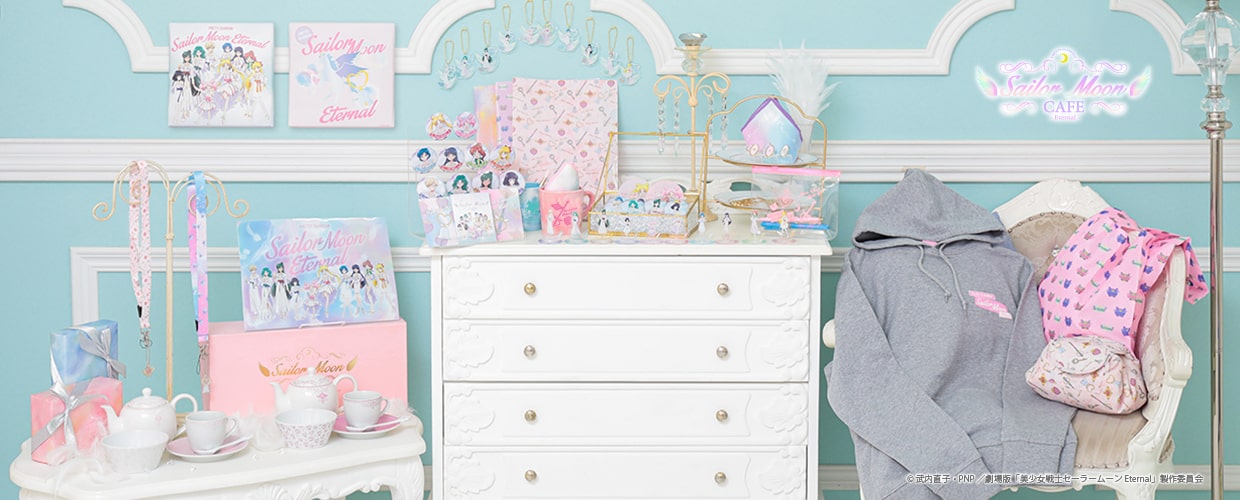 As I said before the cafe will be offering an original merchandise such as hand towels, mugs, eco bag, stickers, magnets, keychains, pouches and more which are all exclusively sold at the cafe store. Some of the merchandise is really cool, like the tea sets or the hoody!
Original Merchandise

缶バッジ: 400 yen
Acrylic key chain: 650 yen
Acrylic coaster: 750 yen
Acrylic stand: 1,200 yen

Acrylic magnet: 650 yen
Aurora sticker: 450 yen
Pin badge: 800 yen
Pen pouch set: 1,500 yen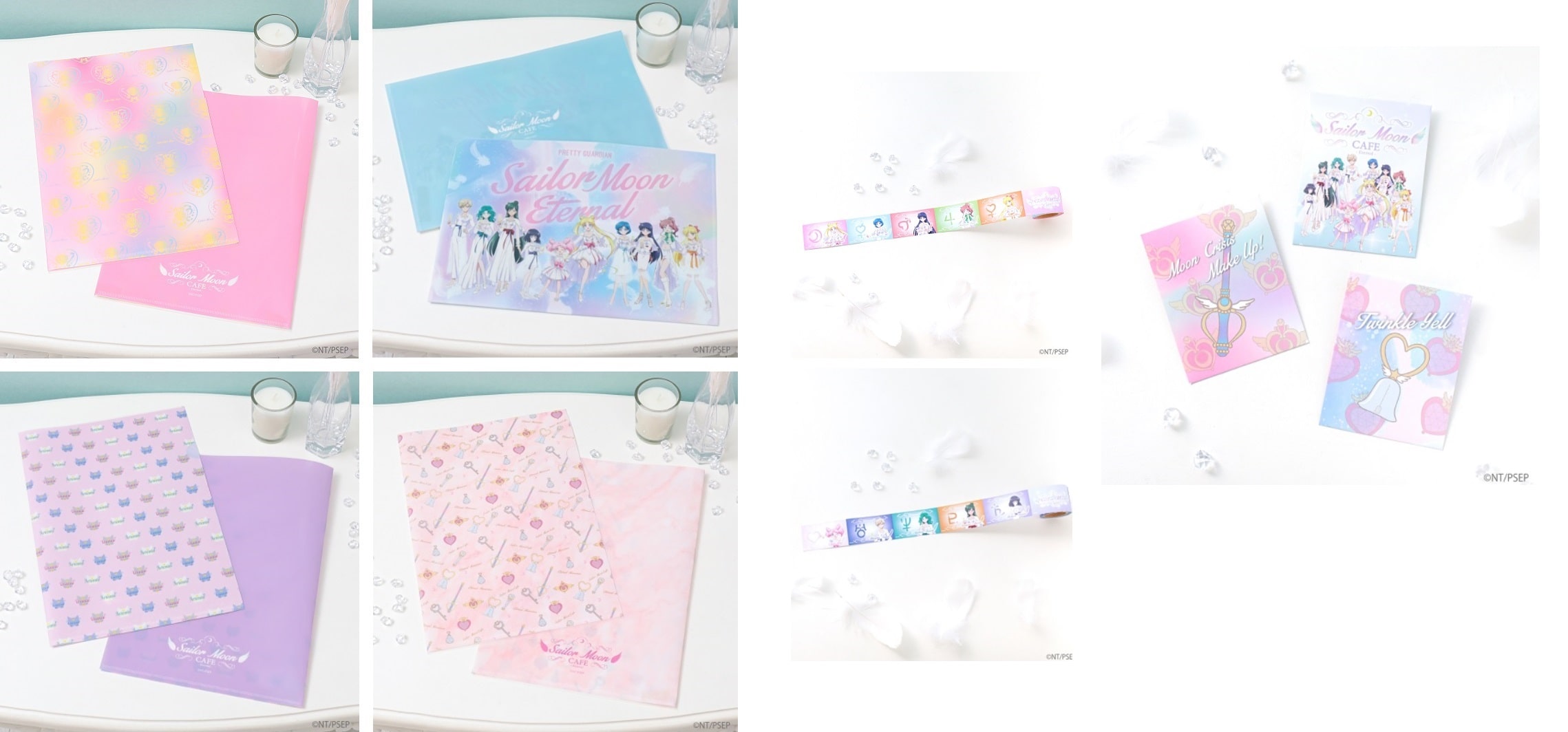 Clear file: 350 yen
Roll sticky notes: 500 yen
Set of 3 pocket bags: 600 yen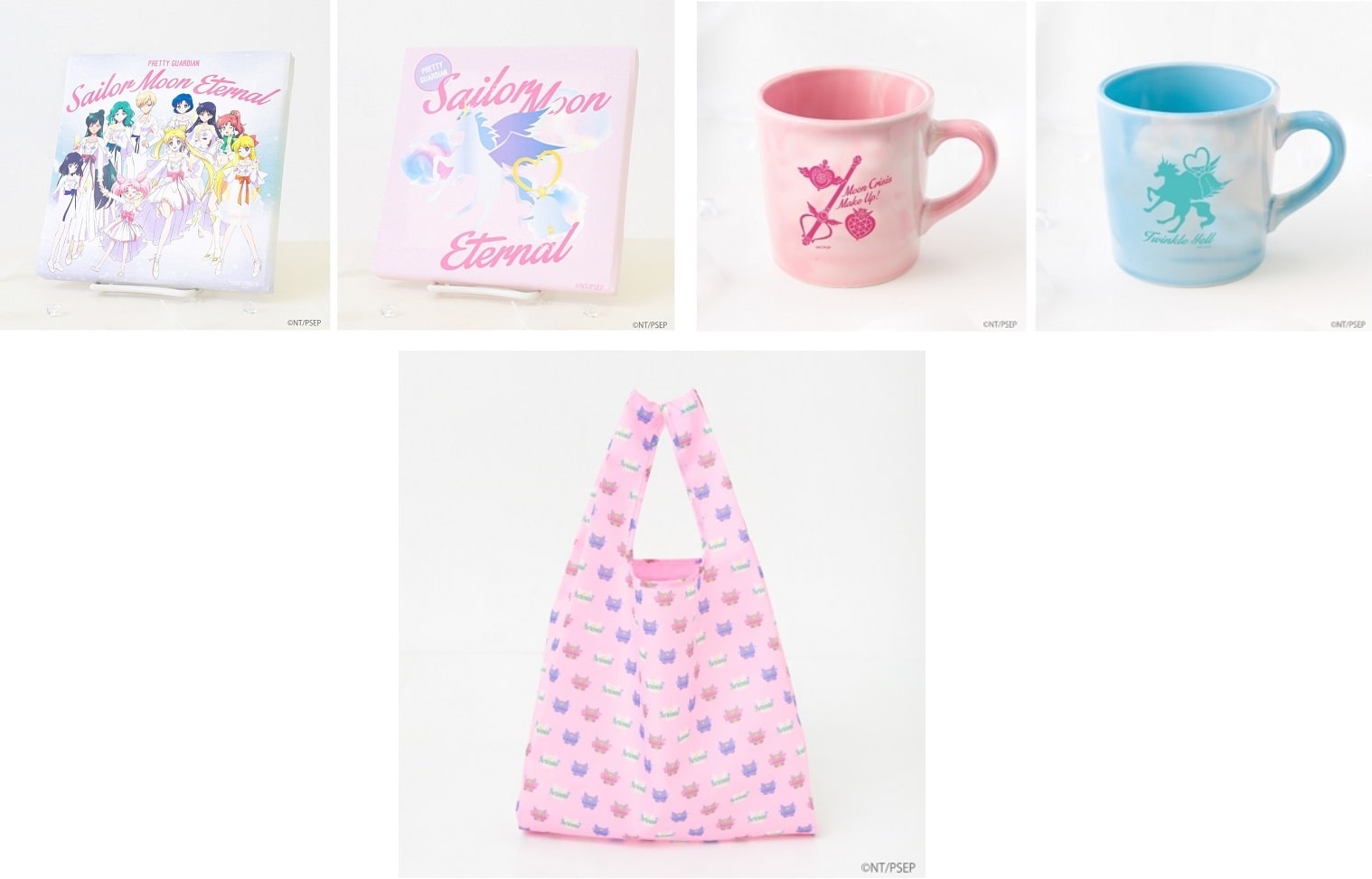 Canvas art: 3,500 yen
Mug: 2,000 yen
Eco bag: 2,000 yen

Neck strap: 1,620 yen
Towel handkerchief: 1,300 yen
Drawstring pouch: 2,500 yen

Gift set (A)&Gift set (B) : 9,800 yen (*It will be on sale from February 1st)
Hoody: 5,800 yen
Reservation : https://sailormoon-cafe.jp/
Moreover, when you order a drink you'll get one of original coasters (from 11 designs), and customers who make an advance reservation (650 yen per person without tax) and order food or dessert will receive a mask case (from 6 designs), both are chosen randomly.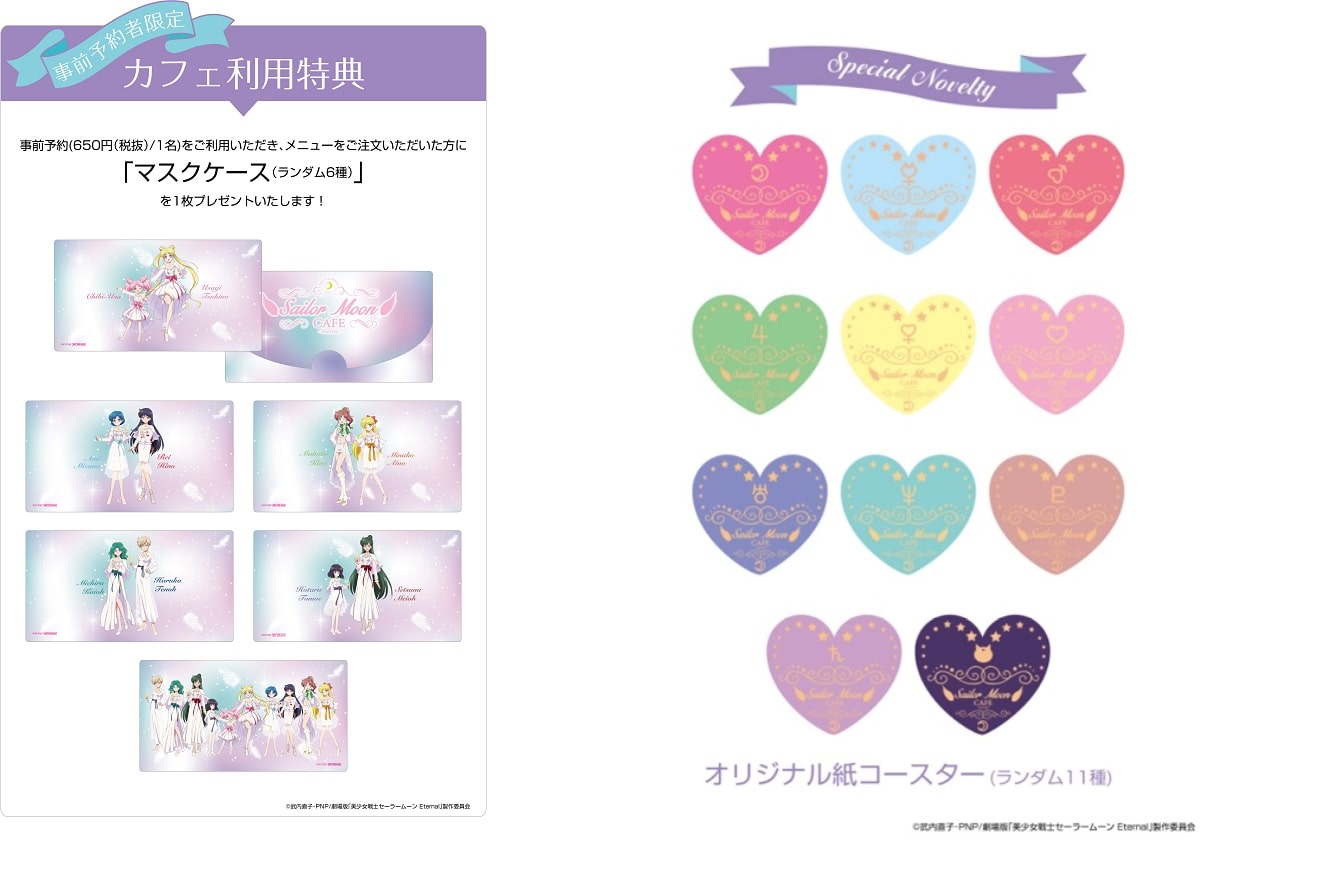 << Sailor Moon Cafe Eternal>>
-TOKYO

Solamachi
Location: TOKYO BOX cafe&space Tokyo Solamachi Store
Date: 24 December 2020 to 21 February 2021
Hours: 10:00~21:50 (Last session 20:30)
Shinjuku
Location: TOKYO BOX cafe&space Lumine EST Shinjuku
Date: 08 January to 28 February 2021
Hours: 11:10~20:00 (Last session 18:40)
-OSAKA
Location: Abeno Contact (4F Abeno Q's Mall)
Date: 7 January to 21 February 2021
Hours: 11:00~21:20 (Last session 20:00)
-NAGOYA
Location: NAGOYA BOX cafe & space
Date:24 December 2020 to 7 March 2021
Hours: 11:10~20:40 (Last session 19:20)
-OKINAWA
Location: OKINAWA BOX cafe & space
Date: 08 January to 28 February 2021
Hours: 10:00~21:o0 (Last session 19:40)
-HOKKAIDO
Location: Cafe Interlude (Coach & Four Shinkawa-Dori)
Date: 29 January to 14 March 2021
Hours: 10:00~20:50 (Last session 19:30)
If you are around at these cities in this winter, take a chance to visit Sailor Moon Cafe and enjoy the cutest themed food and drinks🤩 For more info about themed cafes or special events in Japan this winter, check out these articles below, too!
▽ Related Articles ▽
▼ Editor's Picks ▼
---