5 Largest Muji Stores in Japan
Shopping at Largest Muji Stores all over Japan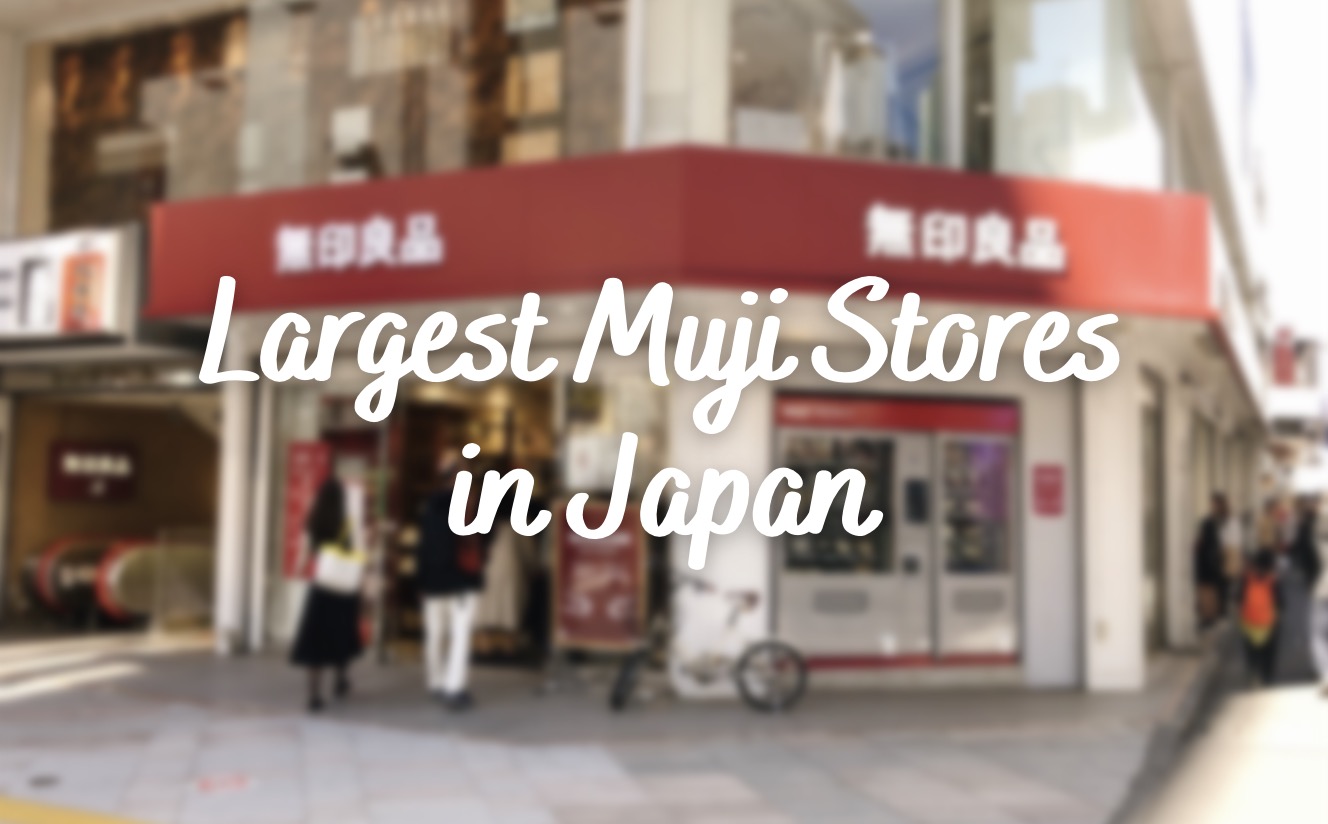 Have you heard of Muji or Muji Store? Muji, one of the most popular apparel and livingware brands in Japan, was born in 1980. Muji means "good products without any marks". Its 3 concepts are "choosing ingredients", "examining the process", and "simple packaging". Based on these concepts, Muji has achieved to create high-quality stuff with simple designs on clothes, interiors, living stuff, and food at a reasonable price. That has impressed people not only in Japan but also in the world. Now Muji has 532 stores in Japan and 604 stores overseas.
In this article, I'm going to introduce the 5 largest Muji Stores in Japan. Let's enjoy shopping at native Muji stores, especially big branches that develop a variety of items!!
Muji Itabashi Minamicho22 (Tokyo)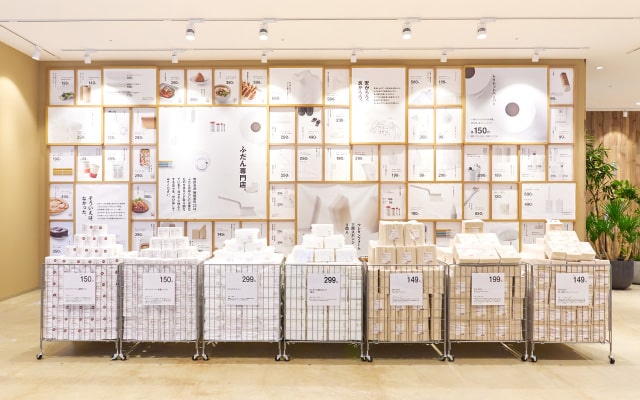 Muji Iatabashi Minamicho 22 was opened in 2022 in Itabashi ward, Tokyo as the largest Muji store in Tokyo. Itabashi ward is an area next to the central city of Tokyo such as Shinujuku and Ikebukuro. Based on the concept of "a specialty shop of daily life", there are a variety of daily stuff, food, and life essentials. Muji Itabashi Minamicho 22 also has Muji Kitchen, which serves lunch boxes and delis. Its goal is to be a store connecting strongly to the local community, by putting an event space where local people can make communication with others.
As a part of the movement for connecting customers to the local community, 3 stumps are welcoming them, which was inherited from a person who worked in the forestry industry in this area 100 years ago. There is a town map called "CITY GO", which introduces the best places to visit in the area. It transmits the attractive points of neighbors and provides customers with opportunities to meet people, according to the theme of "know and feel".
Muji Iias Kasugai (Aichi)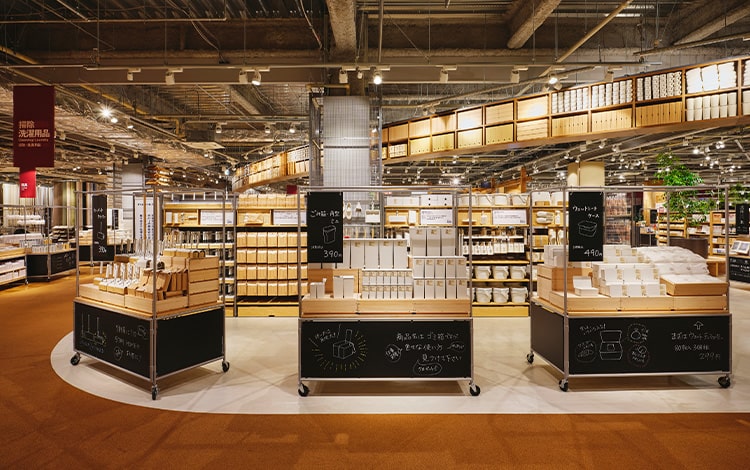 Muji Iias Kasugai is the biggest Muji store in Japan, opened in 2021. Kasugai City is located a bit north of Nagoya City in Aichi Prefecture. It has almost all of the items of Muji and conducts the local community's improvement by cooperating with Kasugai City.
It focuses on daily life and develops unique visual merchandising. There is a model room so customers can imagine their life with Muji's items more realistically. Moreover, Muji's interior advisers propose an interior plan according to the customer. A special shopping corner called "the living stuff street market" has a variety of living essentials and local specialties such as cacti.
Muji Iias Kasugai engages in environmental activities as well. There are recycling boxes for clothes, plastics, books, CDs, and DVDs in the store.
Muji Alpark Hiroshima (Hiroshima)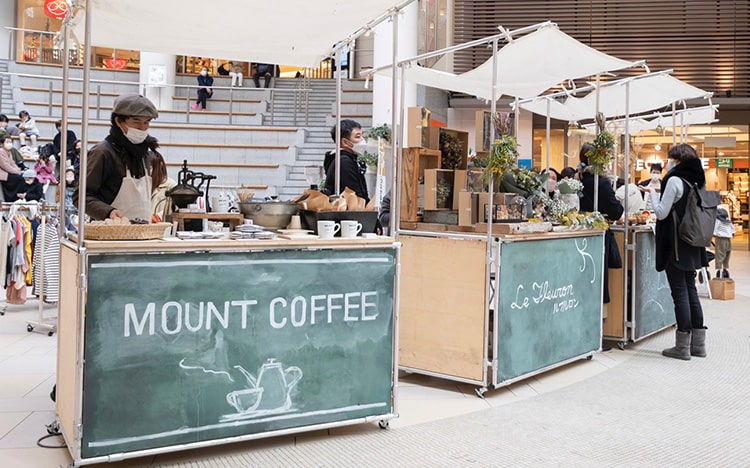 Muji Alpark Hiroshima is located in Hiroshima City. This is another Muji branch that puts importance on the local community. The concept is "to create a comfortable place and live with the local community".
Muji Alpark Hiroshima is the first branch that started to develop food using local food. Muji staff visit the producing area to develop products with local farmers, fishermen, and enterprises. For example, Hiroshima Oyster Chowder is made from Oyster of Hatsukaichi City and skim milk produced in Saeki ward in Hiroshima.
It also started selling hair-care products by scaling for the first time among all of the branches. Customers can bring empty bottles and order and refill shampoo, conditioner, body soap, or hand soap by grams.
A special table is available only at Muji Alpark Hiroshima. The table is made of Shirata, which is not used for furniture because of the color irregularity. If you're looking for the only one table in the world, the table using Shirata could be the best choice because it has different faces depending on the color uniqueness.
Muji Naoetsu (Niigata)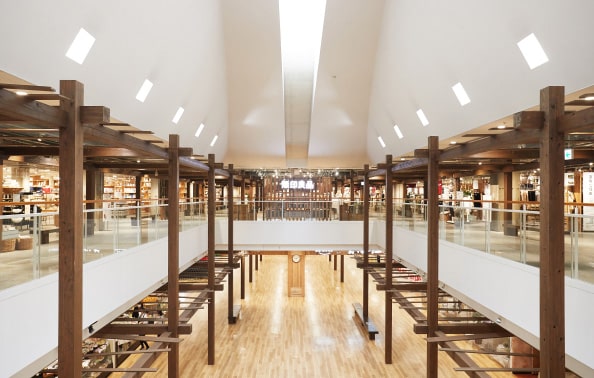 Muji Naoetsu is placed on the 2nd floor of the Naoetsu Shopping center, which is located in Joetsu City, at the north part of the border with Nagano Prefecture. Naoetsu is known as one of the biggest ports in Japan. A lot of products such as fish and dried fish have been delivered from other domestic areas as well as from all over the world.
Muji Books has about 35,000 books selected by Muji. The circular bookshelf was designed, inspired by an ocean circuit. Naoetsu Ryohin Market develops a variety of fresh vegetables, rice, dried fish, and regional sake, made in Naoetsu. It improves the connection between consumers and local producers and the discovery of Naoetsu's value.
Joetsu City is one of the best spots to enjoy outdoor activities as it's surrounded by huge nature. Muji Camp Tools has a lot of camping items. They are very good at function, patience, convenience, and portability. Let's go camping with Muji's camp stuff!!
Muji Tokyo Ariake (Tokyo)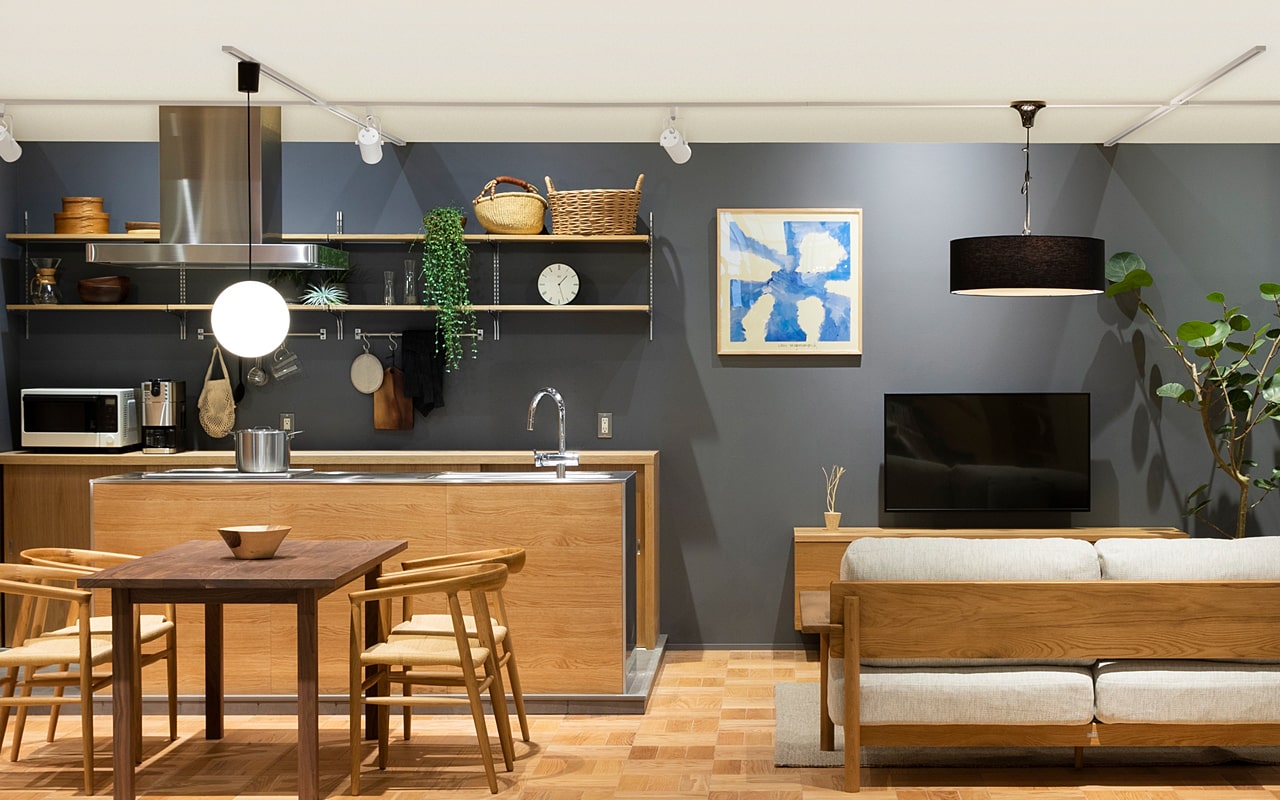 Muji Tokyo Ariake opened on the 1st to 3rd floor of Ariake Garden in 2021. It focuses on everything involved in life from food and living necessities to renovation, house selling, and improving a town. To embody the local people's comfortable lives, it has 3 themes: "supporting lives", "house construction", and "town establishment".
There is a consulting space for house renovation. According to the customer's requirement, a professional adviser proposes a plan to make a comfortable space to live with Muji's furniture and items. DIY seminars are also available. From beginners to experienced people, everyone can learn the basic knowledge of DIY and can experience wall painting. MUJI INFILL 0 is a model room so customers can imagine what it looks like if they design a house with Muji's stuff.
On the 1st floor, there are many food services. More than 50 kinds of food such as grains, coffee, tea, nuts, and dried fruits are sold by scaling to adapt the amount of food each person eats. A section for fresh vegetables and fruits has a lot of seasonal items made in the local area. The kitchen counter next to the section suggests information about daily cooking.
---
Did you find a store where you want to go?
Muji always aims to make people's daily lives comfortable. Considering the environmental problems and the connection between the local community and consumers, Muji keeps trying to serve high-quality stuff which is sustainable and made from regional specialties. Each shop has its original or limited item in the area.
Let's go to find something special!!
▽Subscribe our free newsletter!▽
For more information about traveling and living in Japan, check these articles below, too!
▽Related Articles▽
▼Editor's Picks▼
---