The Guide to Best Japanese Knives
Where to Buy Best Knives in Japan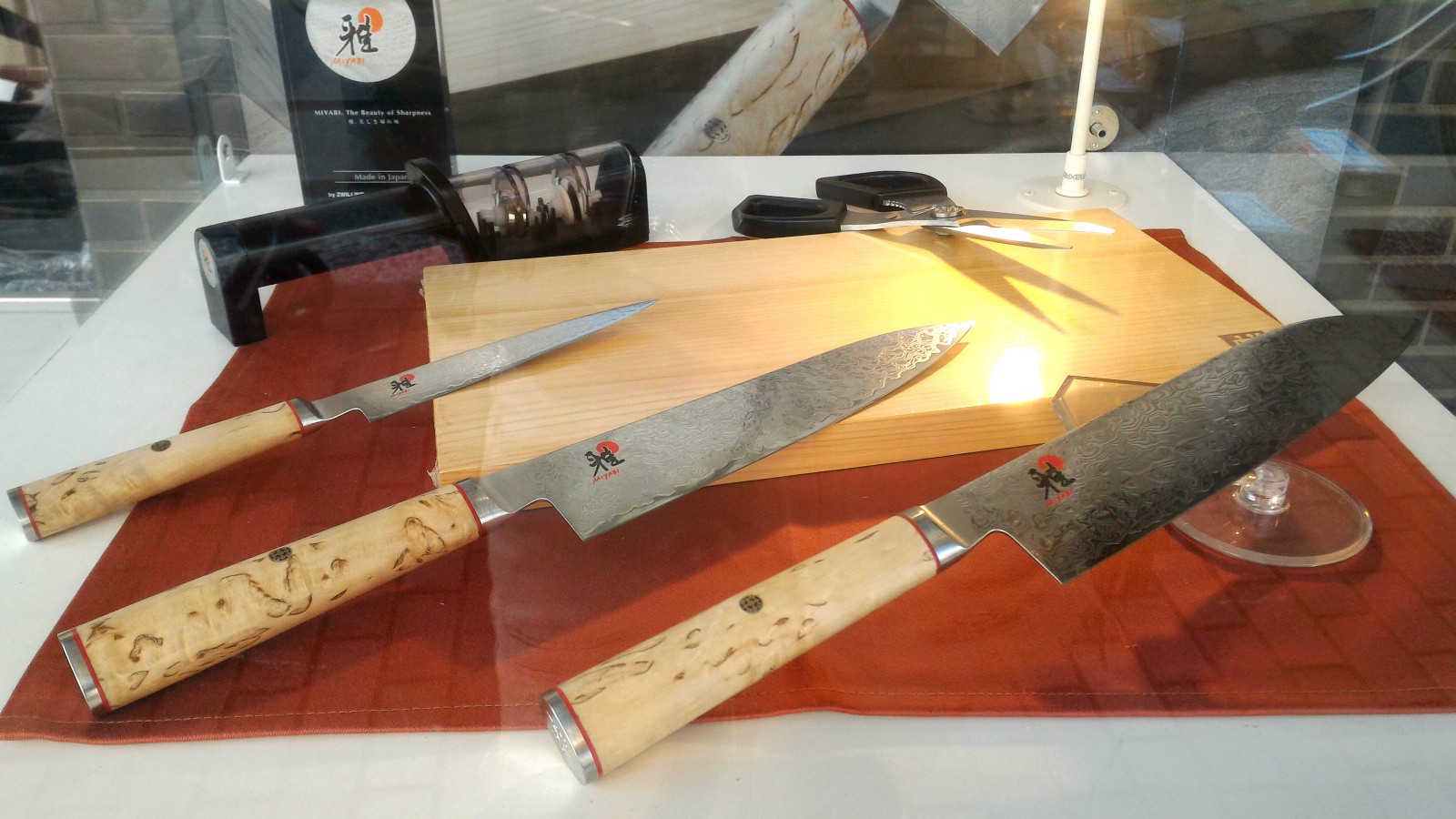 If you are a chef or into cooking, you may already know that Japanese knives have top-notch quality. In past years, the number of Japanese knives users has been increasing significantly, and they are especially popular among professional chefs worldwide. If you are travelling to Japan, it's the best chance to get your own "Best Japanese Knife" and be a SAMURAI in your kitchen back home! This is a guide for knife shopping in Japan 🙂
When we talk about Japanese cuisine, we can't ignore the knives which help to create masterpieces of Japanese culinary arts. As much as food is renowned in Japan, we should also pay a big attention for the brilliant Japanese kitchen tools, especially Japanese knives! No wonder that the country of Samurai swords produces the best cooking knives in the world. In fact, some of Japan's oldest knife manufacturers used to make Samurai swords long long time ago! Knives made by a Samurai swordsmith.. how fascinating! Wouldn't you wish to have one for yourself??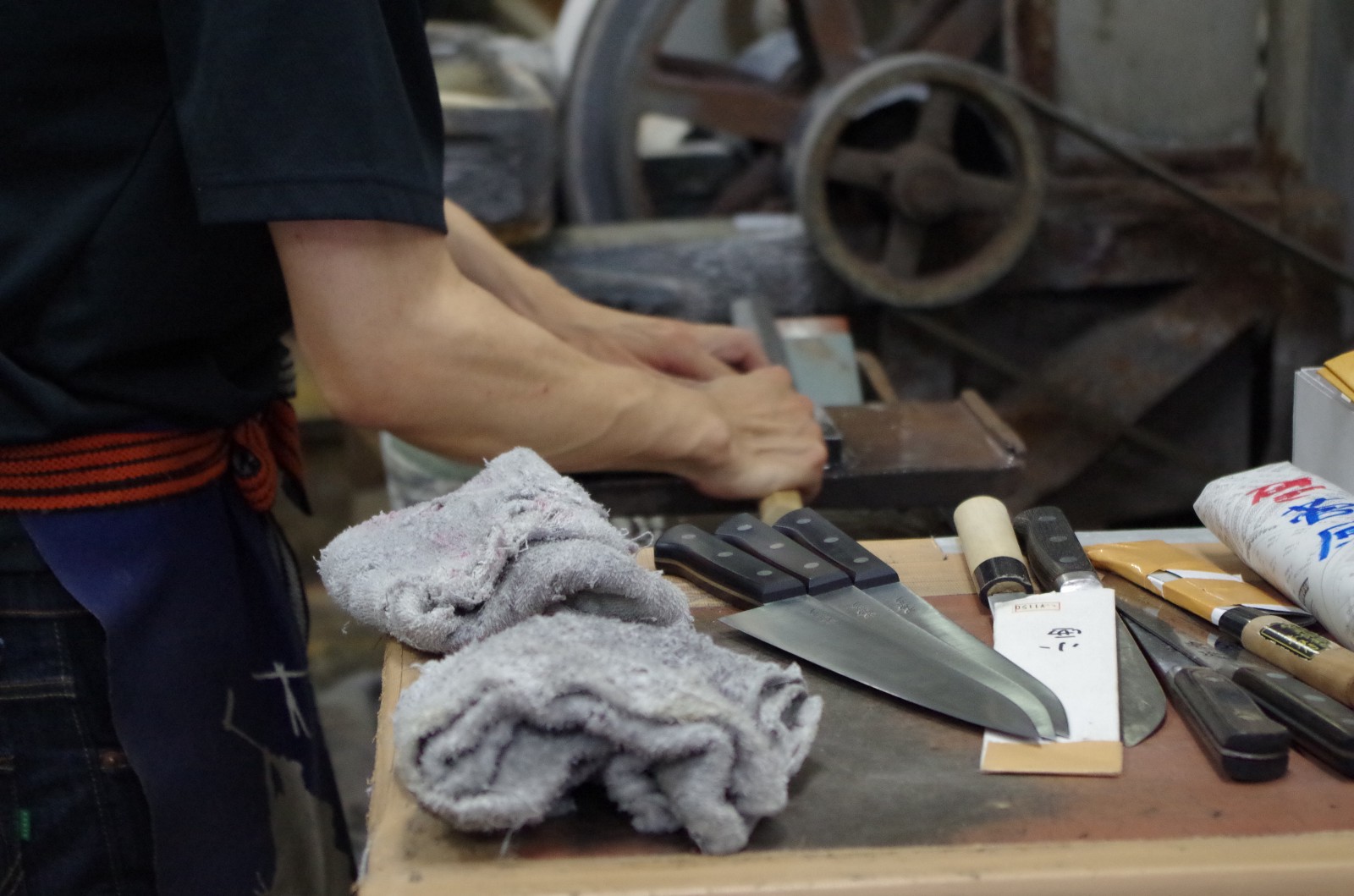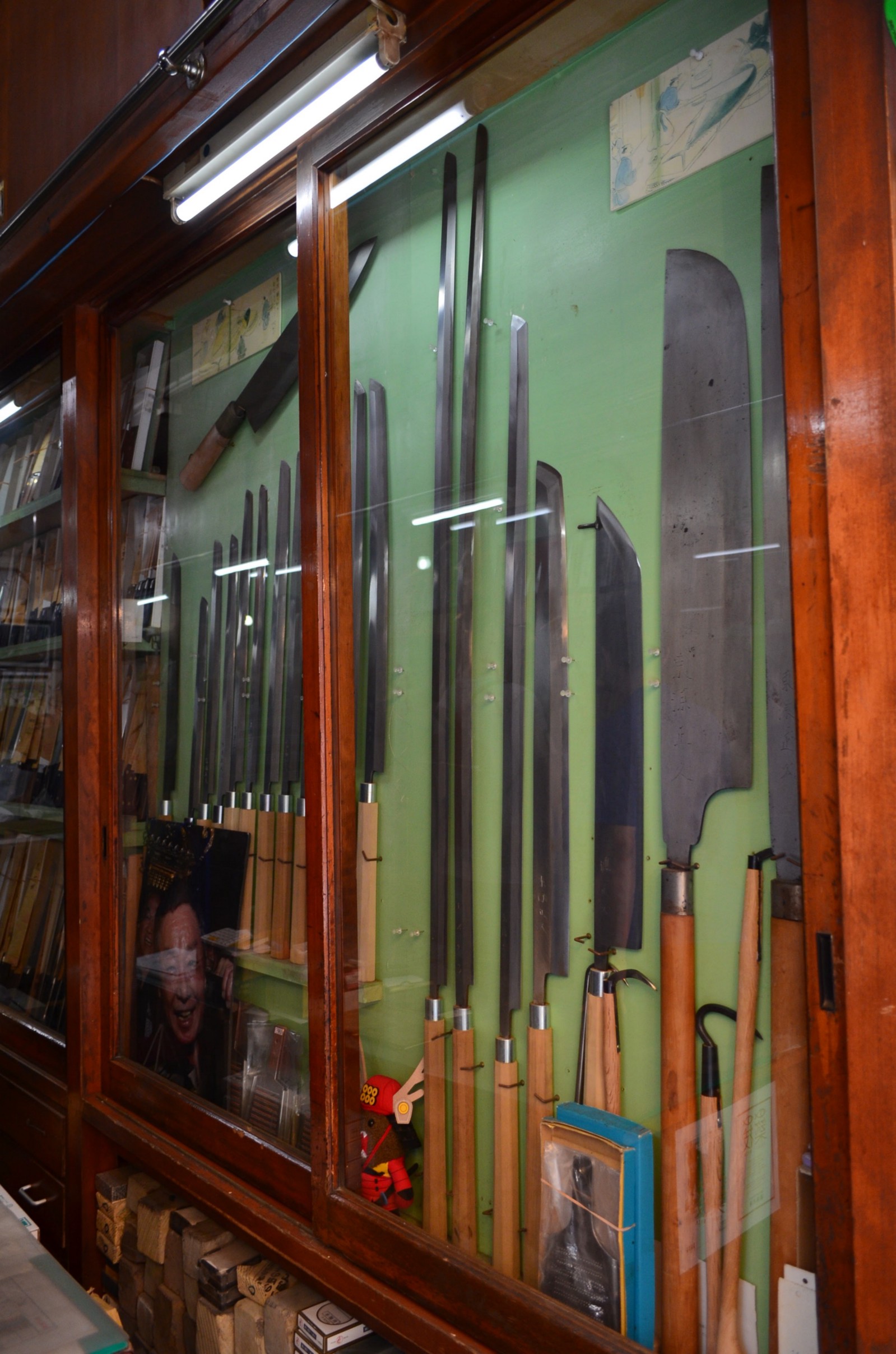 The most commonly used knives in Japan are following four:
There are various types of knives sold in Japan depending on what ingredients to cut. Here are the 4 most common knives which are often used for home cooking, too.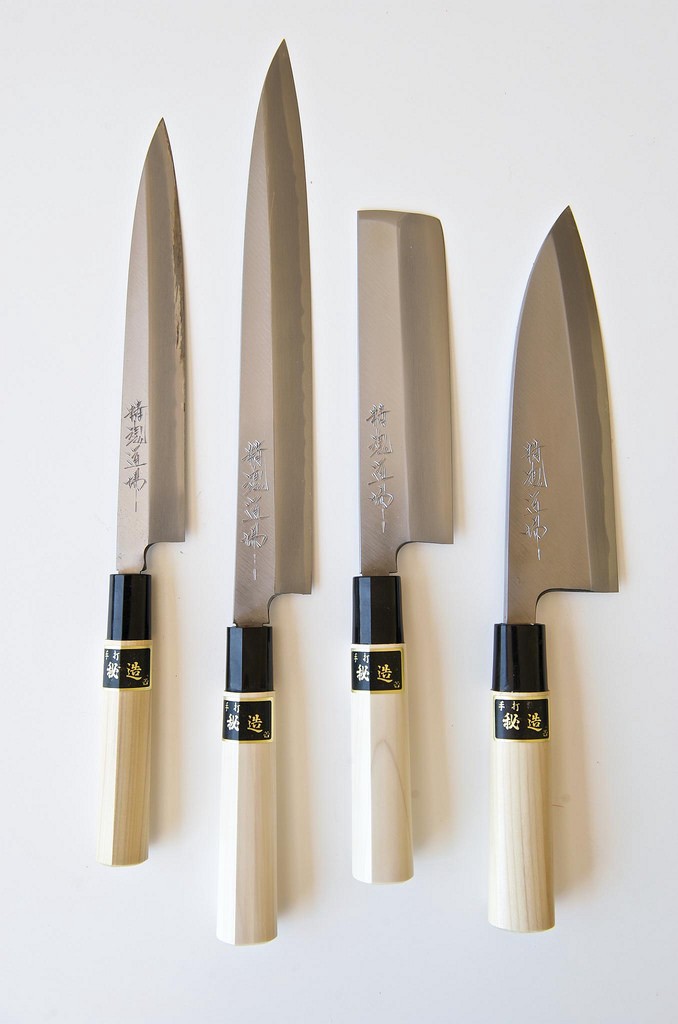 From left to right: Deba/Yanagiba/Nagiri/Santoku
-Deba: For filleting fish. It has thicker blade to cut fish bones. (15~20 cm)
-Yanagiba: For slicing fish mostly Sashimi. To slice fish with one stroke, the length of knife is longer than other knives. (18~36 cm)
-Nagiri: For cutting vegetables. The blade is thinner than other knives
-Santoku: All purpose use. Most common and useful for general cooking at home. (15~20 cm)
▶︎▶︎Check out Japanese knives on Amazon.com!
Where to Buy Best Japanese Knives
The best place to shop Japanese knives is Kappabashi street in Tokyo. This is the place where chefs travel all the way to find their best knives from all over Japan and recently many from abroad. In Kappabashi, there are several long-established knife shops where you can actually get professional advice from craftsmen!
The street lined up with number of small shops offers every single products related to kitchen including fine quality Japanese knives! The price range can be various from 1,000 yen~over 10,000 yen up to 50,000 yen depending on brands, quality and sizes. If you are a professional chef, you would not mind investing some of your money on the life-time-use tool.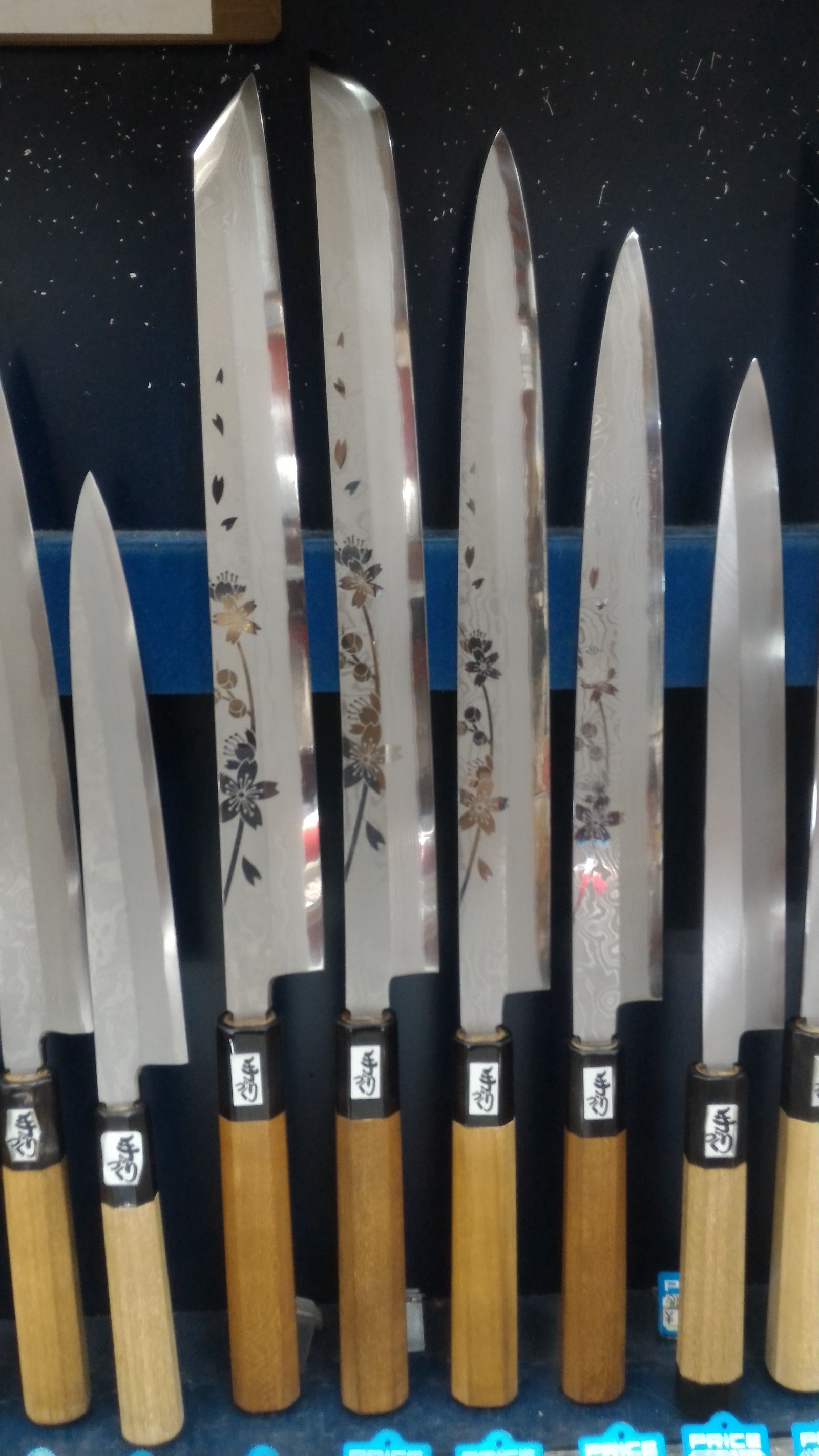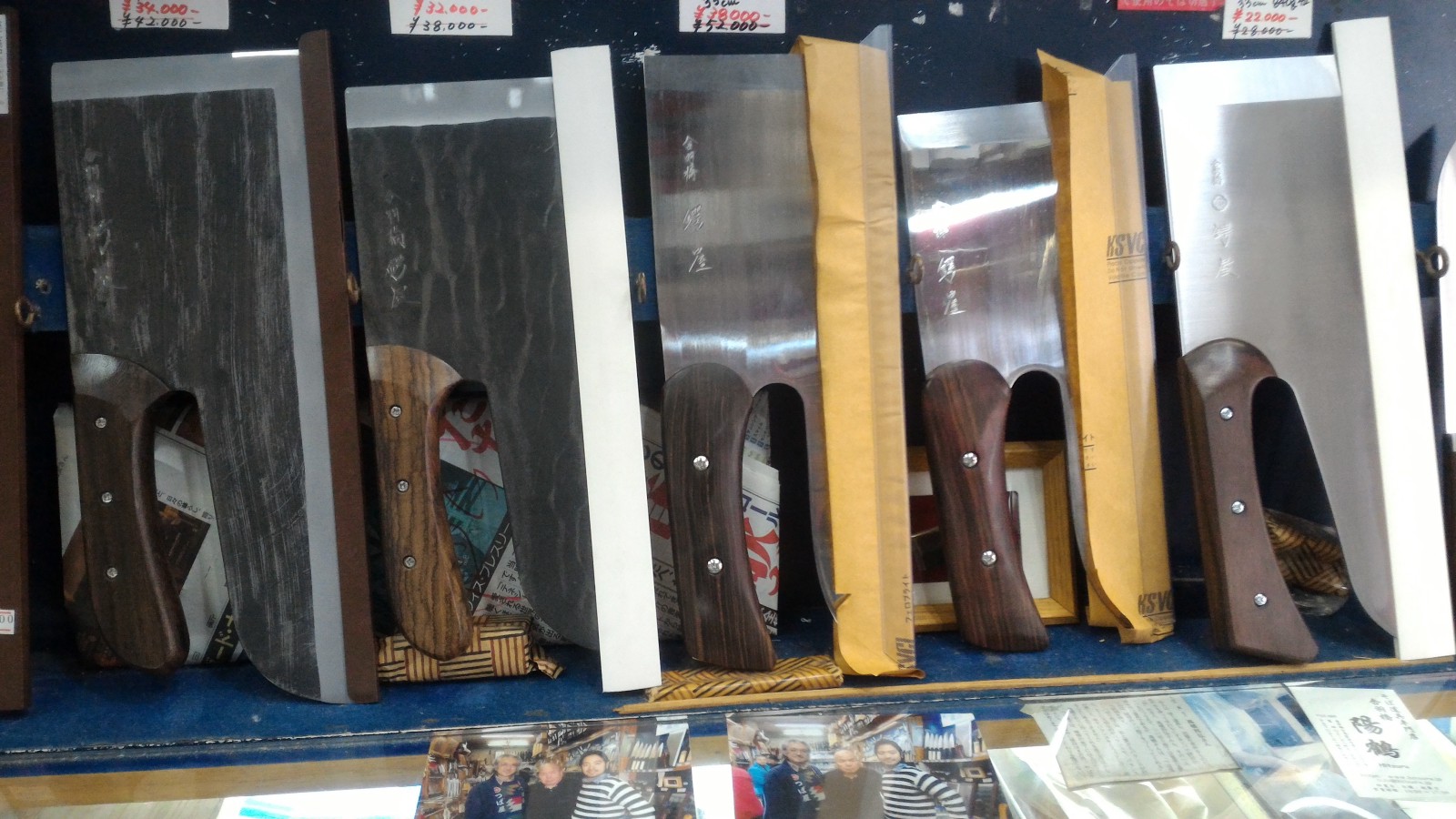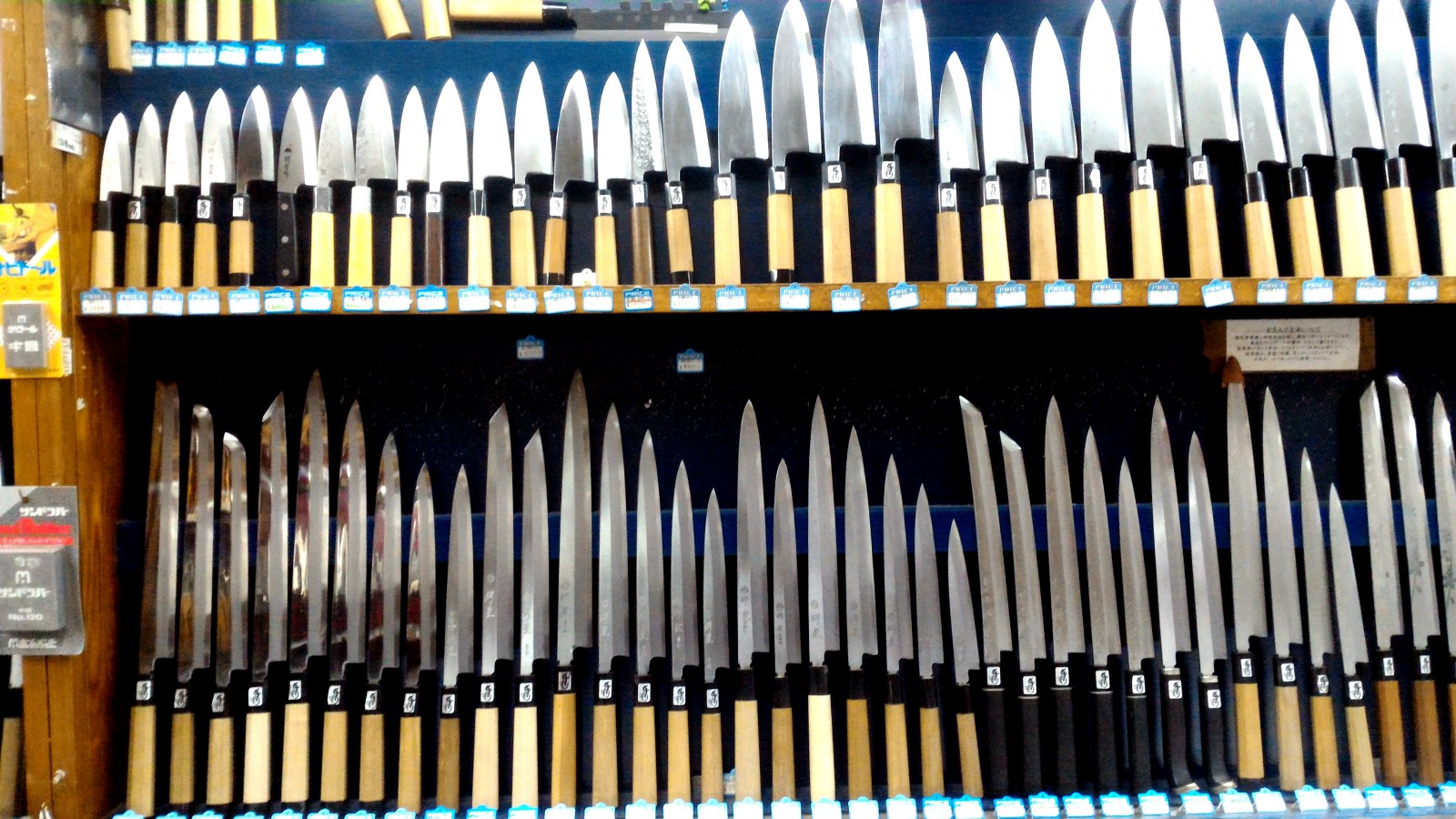 There are several knives shops in Kappabashi offering over 300 types of knives for different purpose like cutting noodles, curving Japanese confections, slicing or filleting particular fishes such as 3t tuna fish!
When you buy a fine Japanese knife, make sure to look after it after use. Knives are very sensitive so maintenance is a key. (dry the knife on each time use and clean with soda from time to time) Purchasing a whetstone with your knife is a must. Ask shops' craftsmen for the best whetstone suits your knife! For your information, many shops in Kappabashi can serve you in English!
▶︎▶︎Check out Japanese knives on Amazon.com!
Here are links of some more popular Japanese knife companies!
Tojiro (藤次郎): http://www.tojiro-japan.com/
Yoshikin GLOBAL: https://www.yoshikin.co.jp/en/
Masamoto (正本): http://www.tukijimasamoto.co.jp/
Shun (旬): http://www.kai-group.com/products/special/hocho/products/shun/
-Make your own Japanese Knife
Would you fancy making your own Japanese knife rather than shopping one?? There are amazing activities which you can have a wonderful experience of being a swordsmith for a day. Gifu Prefecture is known for the sword making history from the Samurai period, and the knife making manufacture in modern days. Several famous Japanese kitchen knife companies are from Gifu Prefecture, especially Seki City.
I'd recommend these two knife making activities in Gifu Prefecture. One is held at Seki City, the major center of knife making in Japan and other is in Hashima City, another city known for knife products which is very accessible from Kyoto!
Seki City: Make Your Own Hunting or Kitchen Knife at a Top Knife Maker
Hashima City: Make your own Samurai Knife with a Certified Swordsmith!
Looking for more shopping info in Japan? Then you may like these articles!
▽ Related Articles ▽
▼ Editor's Picks ▼
---