Best Cherry Blossom Spots in Hokkaido
Where to See Cherry Blossoms in Hokkaido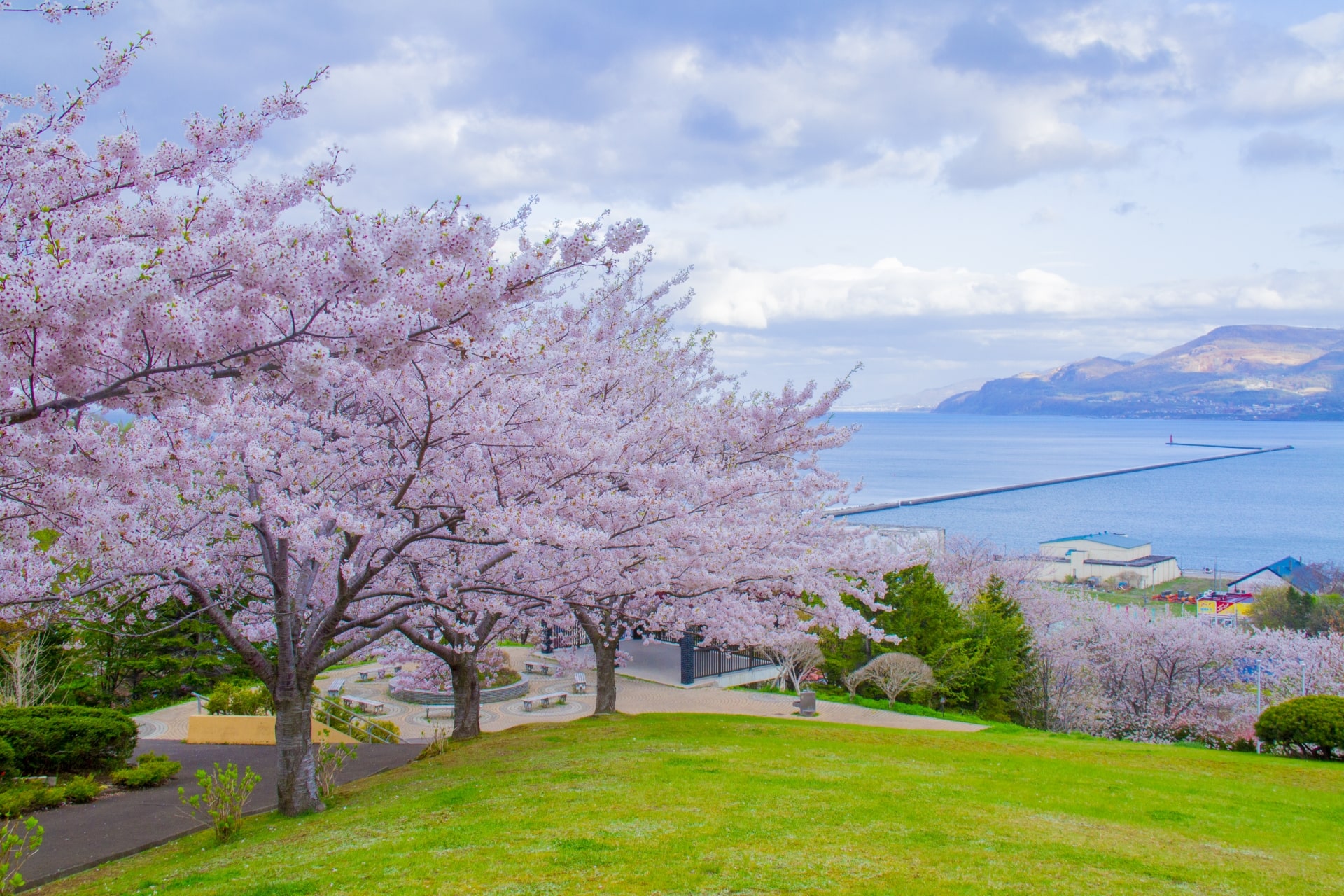 Planning a cherry blossom viewing trip to Japan?? The peak blooming season of cherry blossoms at the most part of Japan including Tokyo and Kyoto is usually late March to early April (depending on the weather condition every year), but even if you miss out visiting Japan during these period, you still have a chance to enjoy spectacular views of cherry blossoms.
In northern part of Japan such as Tohoku area and Hokkaido, the cherry blossom season starts 2 week to up to a month later than Tokyo or many other regions in Japan. Especially in Hokkaido, the average full-blooming period is around late April to early May. As it's the coldest region in Japan, Hokkaido is a perfect place to enjoy late blooming cherry blossoms.
You can enjoyed the spectacular spring scenery in collaboration between gorgeous cherry blossoms and the magnificent nature in several spots in Hokkaido.
In this article, I'm sharing my picks of the best cherry blossom viewing spots in Hokkaido including Sapporo and Hakodate.
-Goryokaku
Goryokaku (五稜郭) is a star-shaped Western style fort in Hakodate City, completed in 1864 as a defense during the Boshin War. In early 20 century, the fort became a public park, and a popular landmark in the city.
Goryokaku is one of the most famous cherry blossom spots in Japan, and approx 1,600 cherry trees are planted at the site. Visitors enjoy strolling down under the cherry blossoms at the park as well as the astonishing overlook view of the fort covered in pink cherry blossoms from the observatory on Goryokaku Tower, which is located nearby.
Access: 15 mins by tram (to Goryokaku Koen Mae) from Hakodate Station
Hours: 9:00~18:00
Best Viewing Time: late April to early May
-Temiya Park
Temiya Park (手宮公園) is a serene park located on a hill in Otaru City. The park offers the great view of the city and Otaru Port. During spring, approx 700 cherry trees flourish elegantly, and visitors enjoy watching the amazing contrast between pink cherry blossoms, green lawn and the blue ocean and sky.
Within the park site, there is a botanical garden which opens between spring and autumn (from 29 April to 3 November) and a variety of colourful seasonal flowers can be enjoyed.
Access: 15 mins by bus from Otaru Station
Hours: always open
Best Viewing Time: late April to early May
-Nijukken Road
Nijukken Road (二十間道路) is known as one of the top 100 cherry blossom viewing spots in Japan, and also chosen as one of the best roads in Japan. Impressively, about 3,000 cherry trees stretches along the road for 7km, creating an astonishing scenery.
During the peak blooming season, over 200,000 people visit from all over the country to capture this splendid cherry-tree-lined road. A cherry blossom festival, Shizunai Sakura Matsuri is also held there during the season.
Access: 20 mins by car or taxi from Shizunai Station
Hours: always open
Best Viewing Time: early to mid May
-Matsumae Castle
Matsumae Castle (松前城) is a traditional Japanese castle located within Matsumae Park in Matsumae City. Over 10,000 cherry trees in 250 variety are plated around the castle, and the stunning view of the magnificent Japanese castle and elegant cherry blossoms can be indulged.
Since the park is home to a wide variety of cherry trees, the blooming time there is pretty long which is usually from late April to late May every year. A cherry blossom festival is also held during the season with food stands, special events, and illumination for cherry blossoms and the castle at night.
Access: 90 mins by bus from Kokinai Station
Hours: 9:00~17:00
Best Viewing Time: late April to early May
-Maruyama Park
Maruyama Park (円山公園) is a popular park located in the capital city, Sapporo. It was opened in 1951, and modelled after Maruyama Park in Kyoto. The park is home to several facilities and attractions such as Maruyama Zoo, Hokkaido Shrine and an athletic stadium.
Various kinds of flowers and trees are planted in this 68.7ha park and displays pleasant scenery in each season including 150 cherry trees. During the season, locals enjoy having picnic under the cherry blossoms and relax in this spacious park.
Access: 5 mins walk from Maruyama Koen Station (Tozai Line)
Hours: always open
Best Viewing Time: late April to early May
-Moerenuma Park
Moerenuma Park (モエレ沼公園) is a large park located in the outskirt of Sapporo City. The modern and unique park was designed by Isamu Noguchi, a renowned Japanese American artist/architect, and opened in 2005. It's one of the top attractions in Hokkaido and visitors enjoy the awe inspiring collaboration between modern art and nature.
The 188.8ha vast park has several sections, and one of them called "Sakura no Mori" is home to approx 1,900 cherry trees blooming beautifully next to 126 pieces of playground equipment designed by Isamu Noguchi.
Access: 25 mins by bus (61, 69 or 79) from Kanjodori Higashi Station (Toho Line)
Hours: 7:00~22:00
Best Viewing Time: early to mid May
Thank you for reading! How did you enjoy my list of the best cherry blossom spots in Hokkaido? If you miss out the peak season of cherry blossoms in other parts of Japan, you still have a chance to enjoy stunning cherry blossoms in the northernland of the country 🙂
For more information about cherry blossoms in Japan, here are some more articles for you to check out!
▽Related Articles▽
▼Editor's Picks ▼
---