Best Shibazakura Spots in Hokkaido
Best Places to Enjoy Shibazakura (Pink Moss) in Hokkaido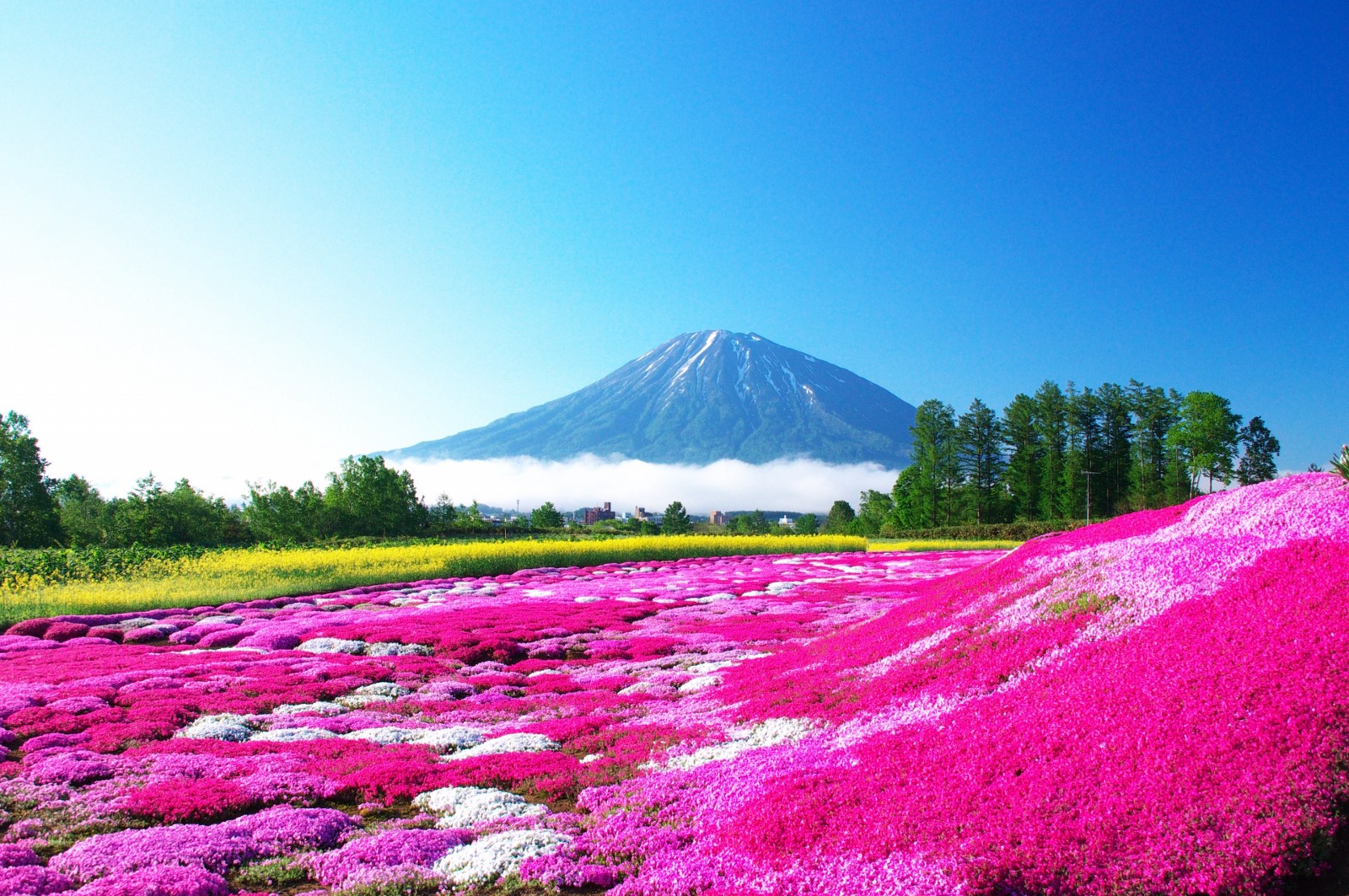 When it comes to flowers in Japan, Hokkaido is famous for having numbers of spectacular flower fields, which are the top tourist attractions during spring and summer. From lavender to tulip, various kinds of colourful flowers cover the vast fields of Hokkaido vividly, and they attract millions of visitors during the season.
Shibazakura (pink moss or phlox moss in English) is one of the most popular spring flowers in Japan, and numbers of Shibazakura flower events are held across Japan during the season including Hokkaido. The vivid contrast of the pink moss and Hokkaido's blue sky is simply breathtaking. The best season for Shibazakura usually starts in late April to early May in Japan, however since the weather in Hokkaido is cooler than the rest part of Japan, the best viewing time of Shibazakura in Hokkaido is usually from mid May to early June.
In this article, I'd like to introduce 3 best flower fields in Hokkaido where you can enjoy the adorable pink flowers. Check out the best Shibazakura fields to visit in Hokkaido!
-Higashimokoto Shibazakura Park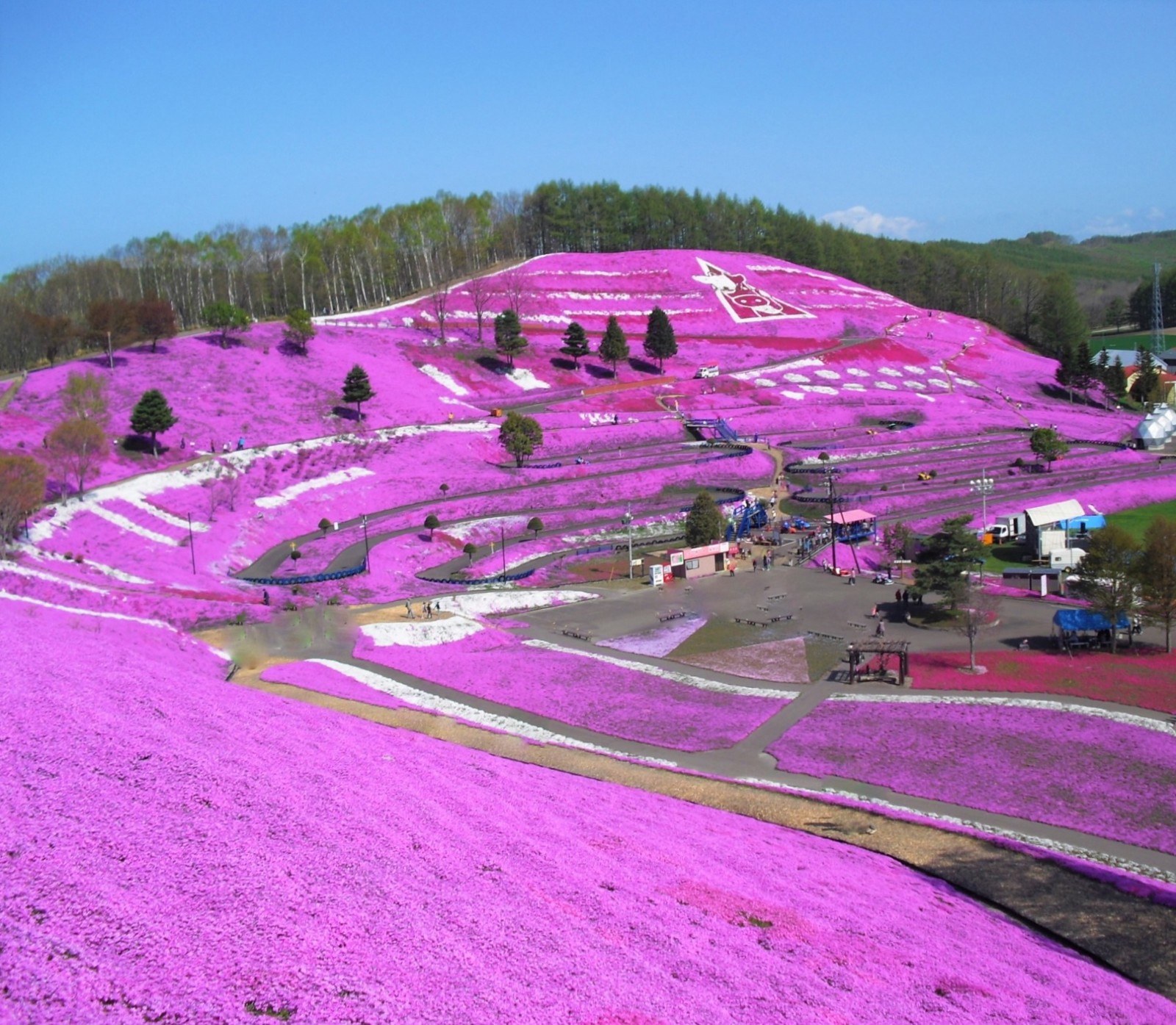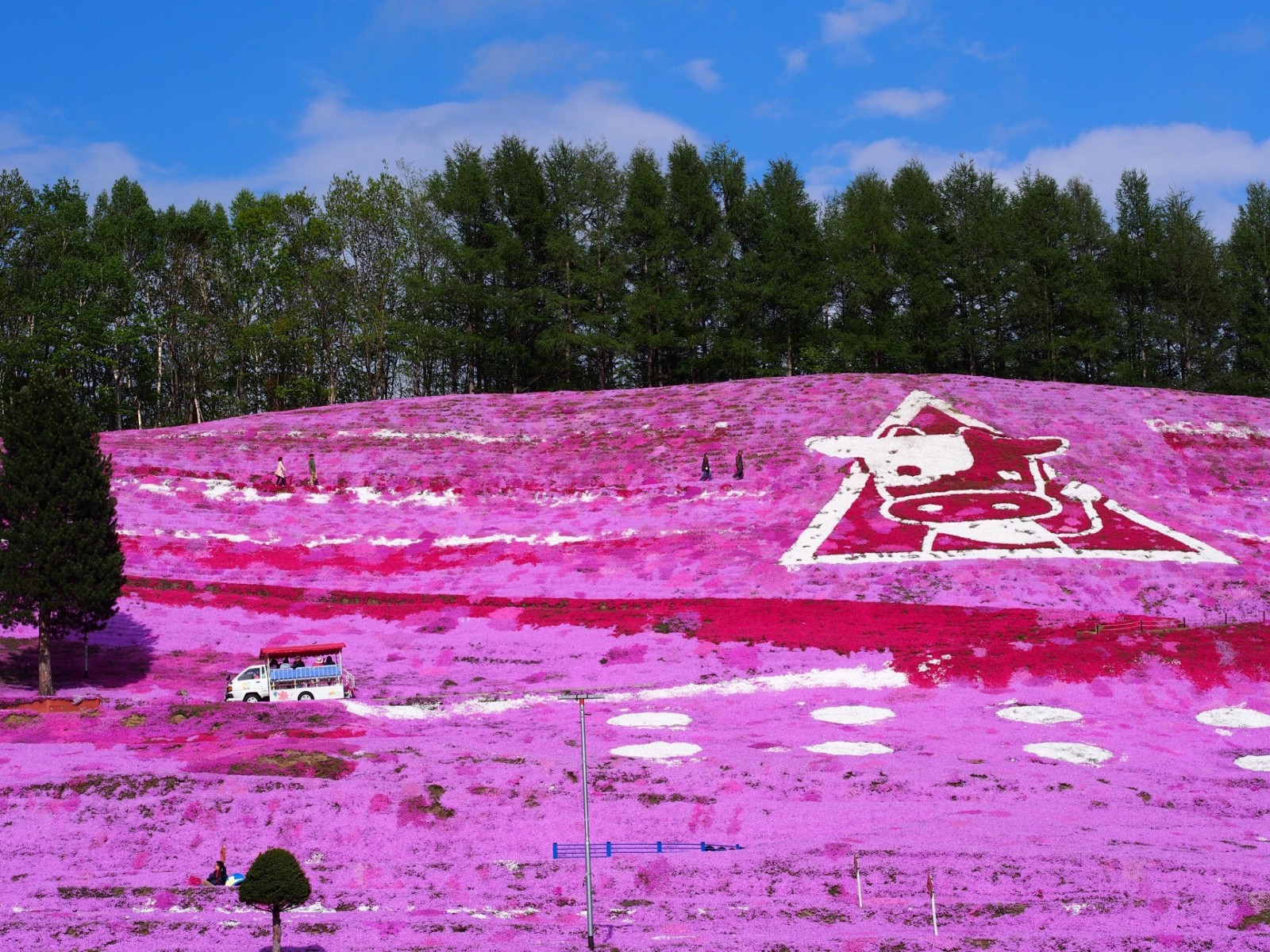 Higashimokoto Shibazakura Park (ひがしもこと芝桜公園) is a vast park (10 ha) located at the foot of Mt Mokoto in Ozora Town, Abashiri District, Hokkaido. As its name suggests, the park is famous for Shibazakura flowers which flourish in vivid pink and cover the entire park.
Visitors can walk through the stunning pink moss field on the paved walk path on the slope (sightseeing car also run through the park). On top of the hill, there is an observatory where the panoramic view of the park can be gazed.
During the season, Shibazakura festival is held with special events, attractions and the market selling delicious local food products. Since the park is located in a suburb area, self driving is the best way to access, yet it is possible by public transport and taxi.
Access: Take a bus from Abashiri Station to Higashimokoto Bus Stop, then take a taxi for 5 mins (free shuttle bus between Higashimokoto Bus Stop and the park is available during the festival season from mid to late May)
Hours: 8:00~17:00
Fee: 500 yen
Best Viewing Time: mid May to early June
-Shibazakura Takinoue Park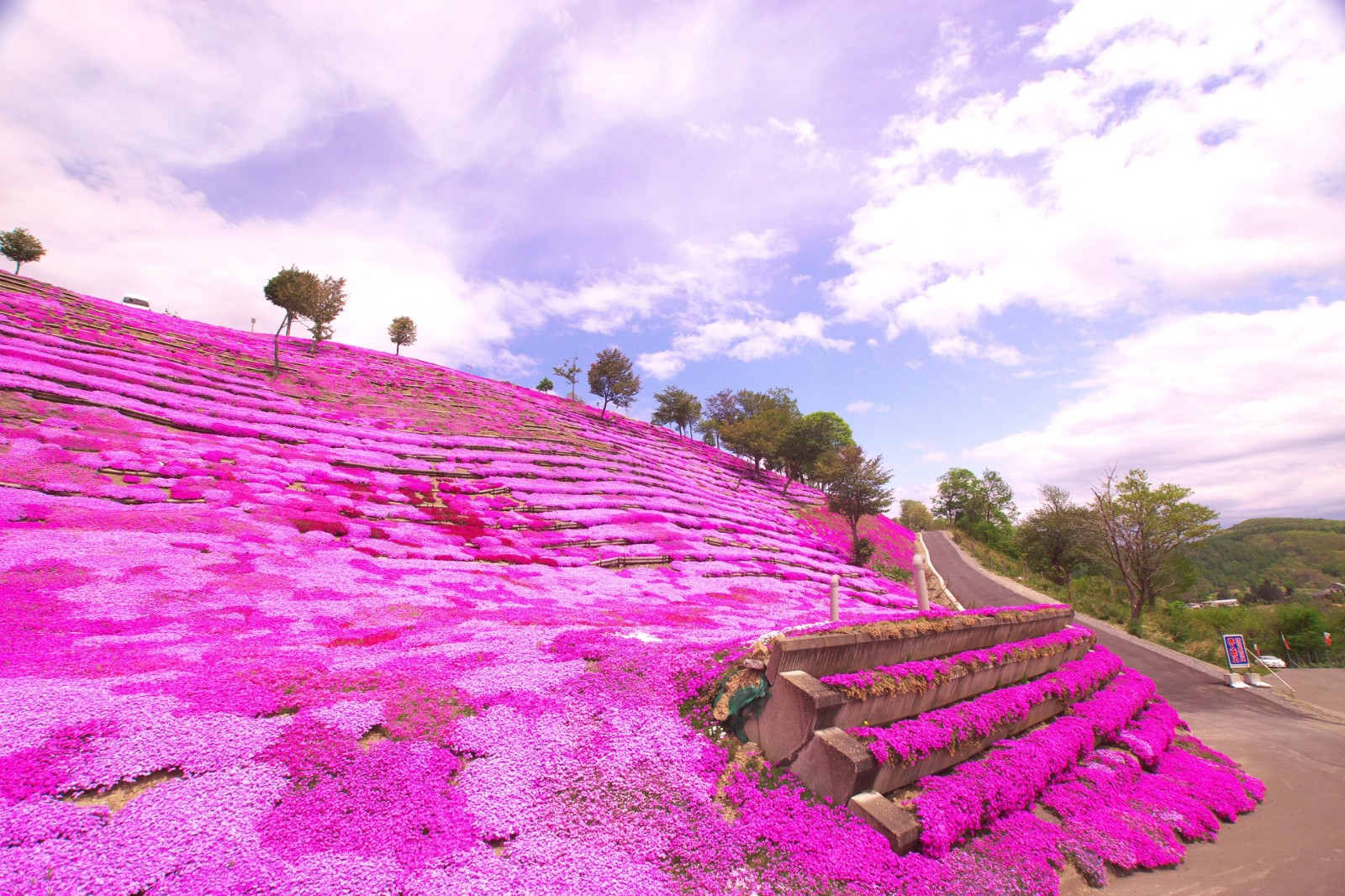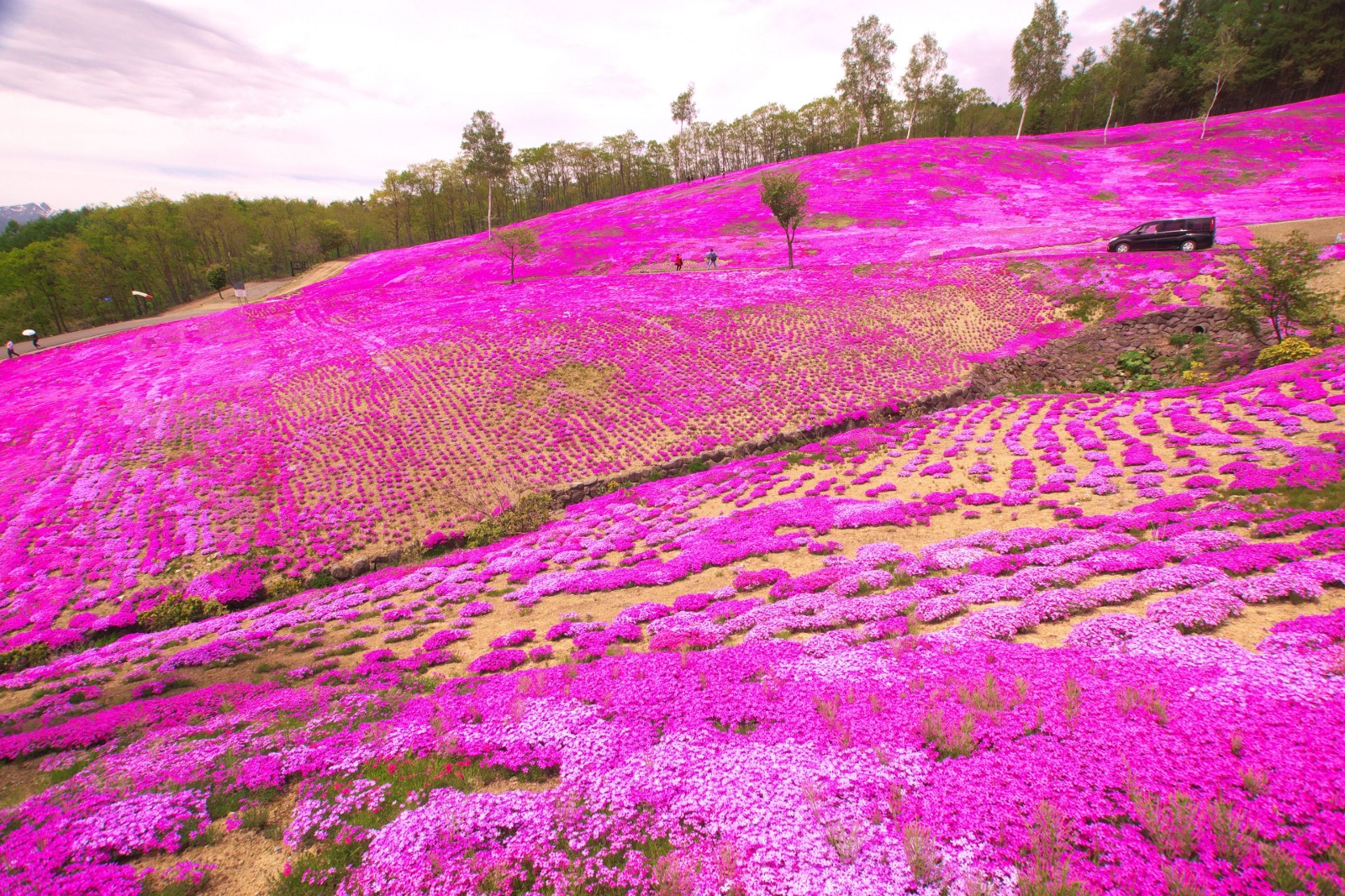 Shibazakura Takinoue Park (芝ざくら滝上公園) is located on the hill top of Takinoue Town, Monbetsu District in northeast Hokkaido. From mid May to early June every year, the vast park of 100,000 square meters is entirely covered by Shibazakura flower which displays the charming gradation of pale to vivid pink colours.
Takinoue Shibazakura Festival is held annually, featuring special events, live performance, the market selling local delicacies. The park is recommended to access by car, but the public transportation is available. There is a direct bus from Asahikawa Station to Takinoue Town.
Access: Bus from Asahikawa Station (2 hours) or Kamikawa Station (1 hour) to Takinoue Bus Stop then walk 10 mins
Hours: 8:00~18:00
Fee: 500 yen
Best Viewing Time: early May to early June
A bus tour from Sapporo to Shibazakura Takinoue Park is available!
-Mishima Shibazakura Garden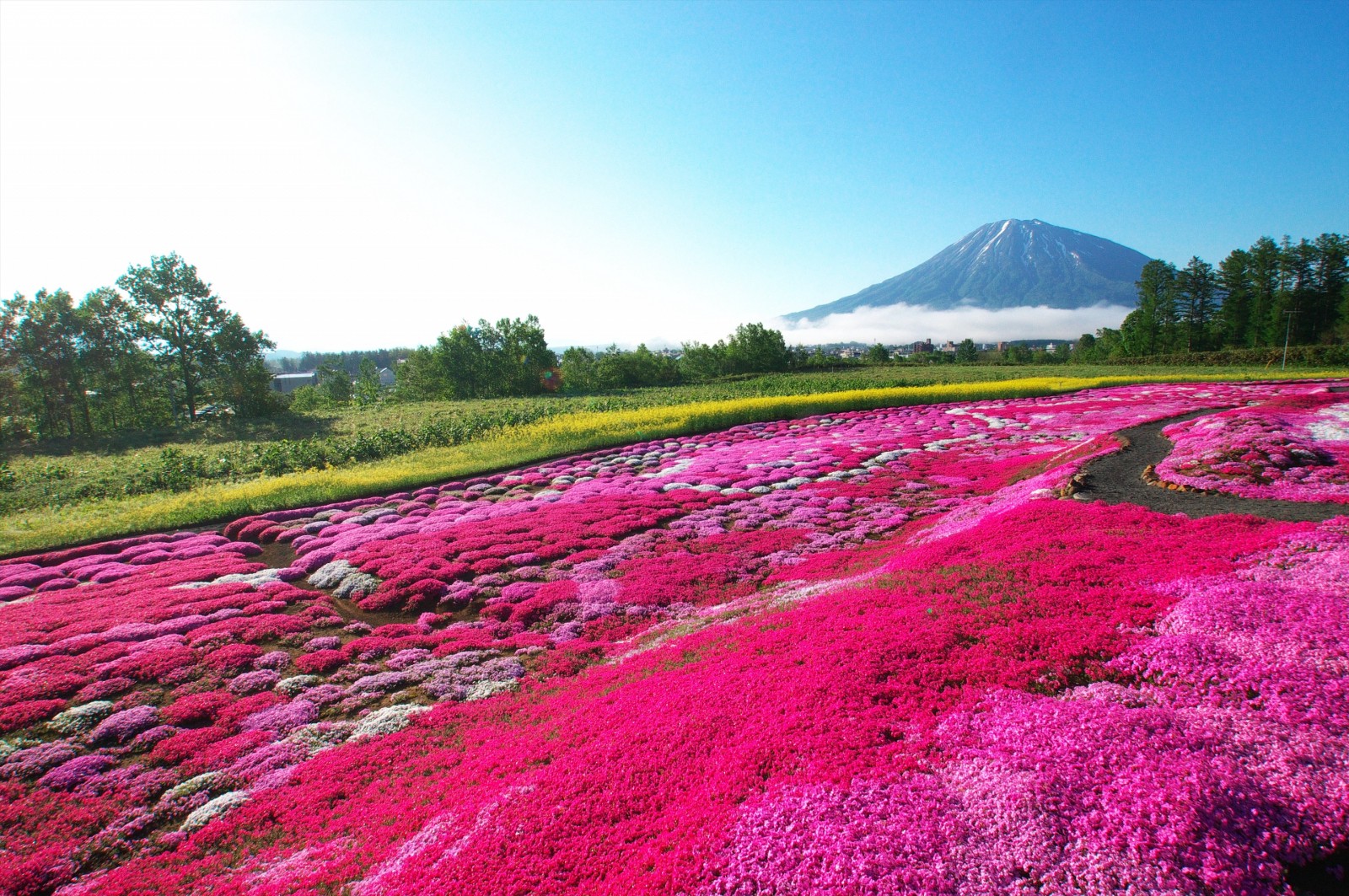 Mishima Shibazakura Garden (三島さんの芝ざくら庭園) is a private garden of the former farmer, Mr Mishima who has made this astonishing pink moss garden by his hand, and he kindly open his garden for public viewing. The vast garden of 4,000 square meters is situated at the foot of Mt.Yotei.
Comparing to these two Shibazakura parks mentioned above, the size might be smaller, but the mighty view of the Shibazakura field and the mountain attracts a large number of viewers during the season.
Mishima Shibazakura Garden is located in Kutchan Town, not too far from the famous ski resort town, Niseko. Since it's a private land, access by public transportation is much recommended. The garden can access within 15 mins walk from Kutchan Station.
Access: 15 mins walk from Kutchan Station
Best Viewing Time: late May to early June
How did you enjoy the list of best Shibazakura spots in Hokkaido?? If you love flowers, Hokkaido is definitely the best city to visit in Japan! For more information about travelling in Hokkaido in spring and summer, here are some more articles for you to check out 😉
▽Related Articles▽
▼Editor's Picks▼
---