1 Day Itinerary in Higashiyama and Gion
Best Walking Map of Higashiyama and Gion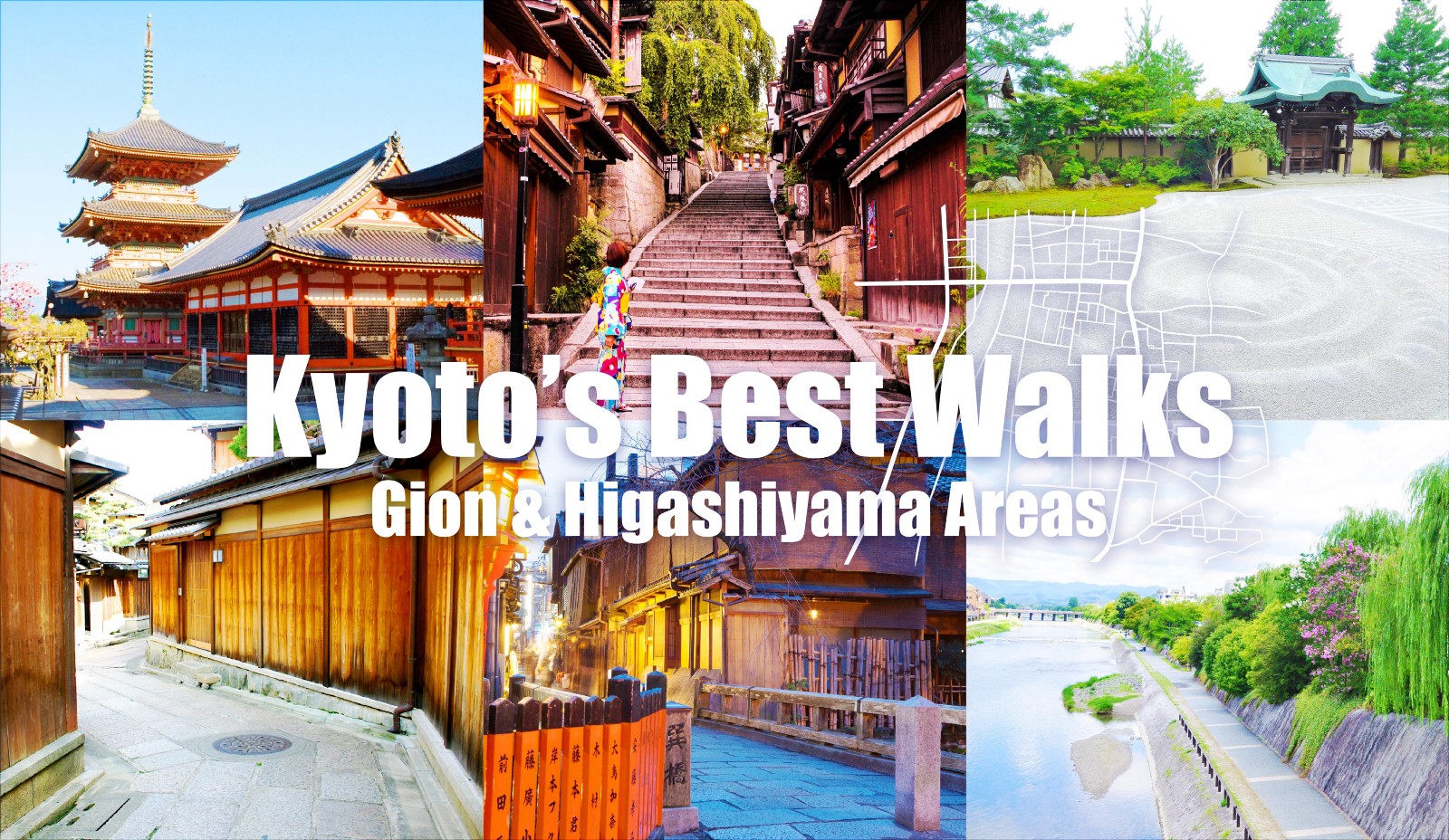 Did you know you didn't need to rely on the complicated public transportation to see the best bits of Kyoto? Check out the most efficient route to get around the city with no time wasting!
Isn't it hard to decide where to visit in Kyoto as there are so many attractions to see with a limited time? Today, I'd like to introduce a great route which you can go on foot and see over 10 must-visit top tourist sites in Kyoto.
On this article, we focus on the east side of Kyoto Station, Gion and Higashiyama areas. These areas are especially known for the well-preserved old townscape and numbers historic sites. If you plan well in advance and use time wisely, it is possible to see very best of this beautiful areas in a day!
Also these areas are hugely known as great photo spots. The nostalgic and historical townscape attracts photographers from all around the world, and Instagrammers lately.
Make sure to bring your camera ready and let's capture the photogenic "traditional Kyoto" scenery.
So let's start the best walking tour in Higashiyama and Gion areas and hunt for the best highlights there.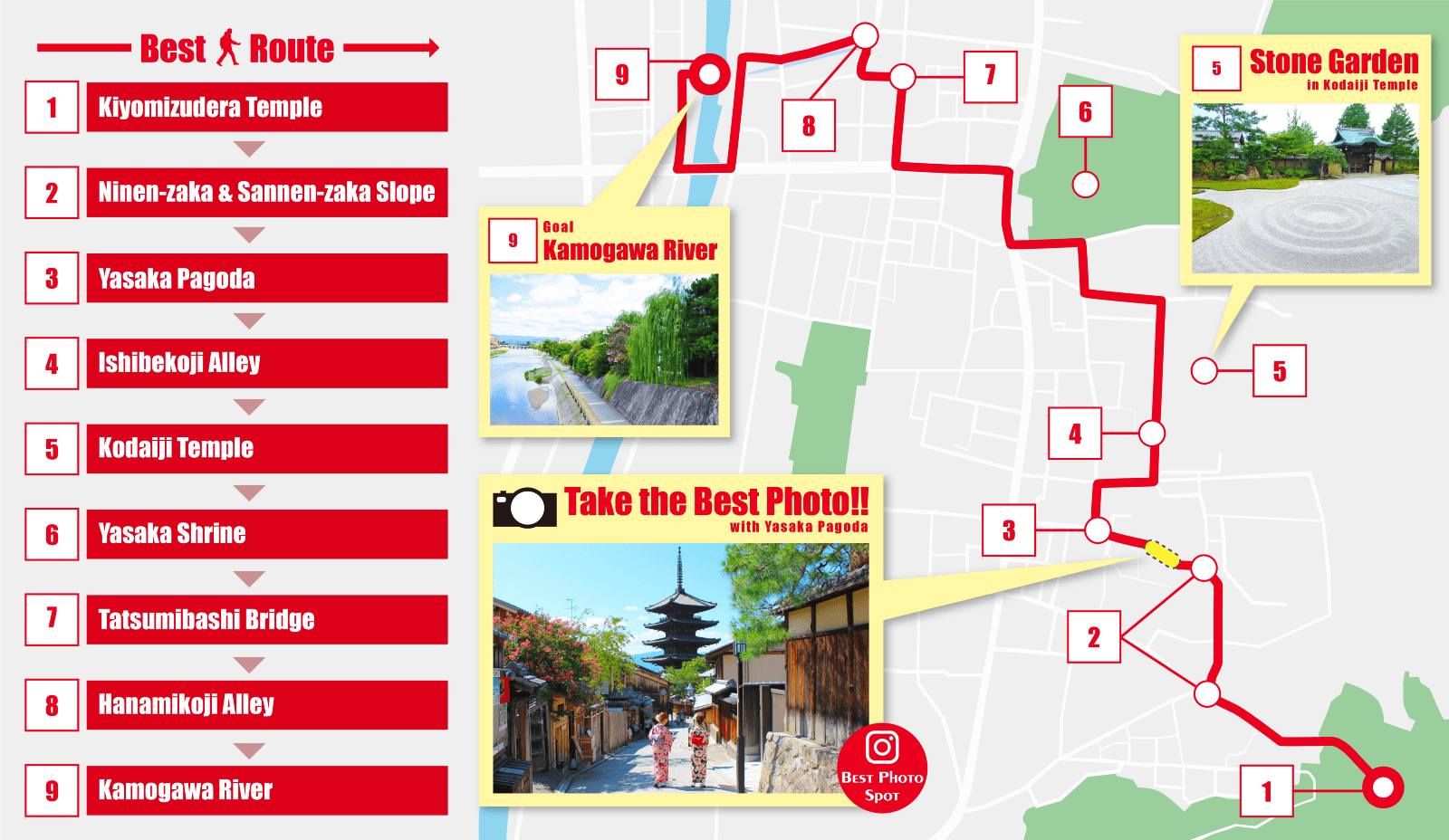 1. Kiyomizudera Temple (清水寺)
Let's start from the most famous symbol of the city. The temple is great to visit all year round. The trees surrounded reflects each season's colors and display amazing scenery.
Take a picture of the magnificent wooden terrace, and see numbers of historical buildings in the site.
>>Read more about Kiyomizudera Temple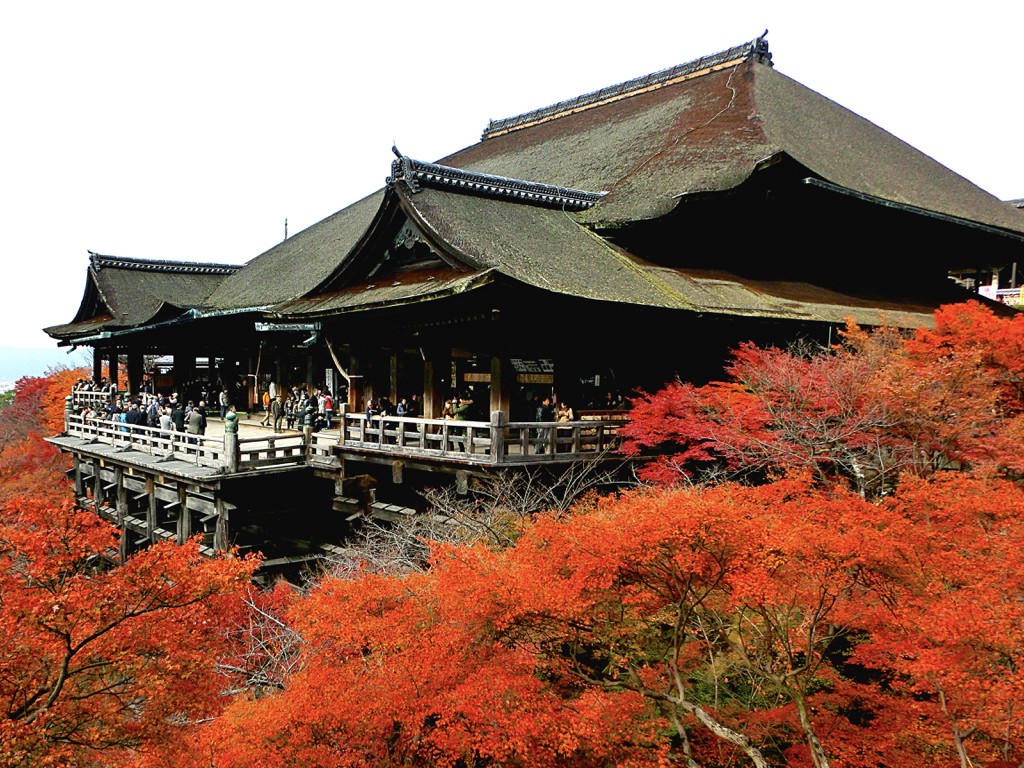 2. Ninenzaka & Sannenzaka
These two slopes have served as an approach to Kiyomizudera Temple for over 1,000 years. The slope itself has been preserved in very well condition and popular tourist sites.
There are numbers of shops, restaurants and cafes lined, and it's a great spot to shop and dine traditional food and items.
>>Read more about Ninenzaka & Sannenzaka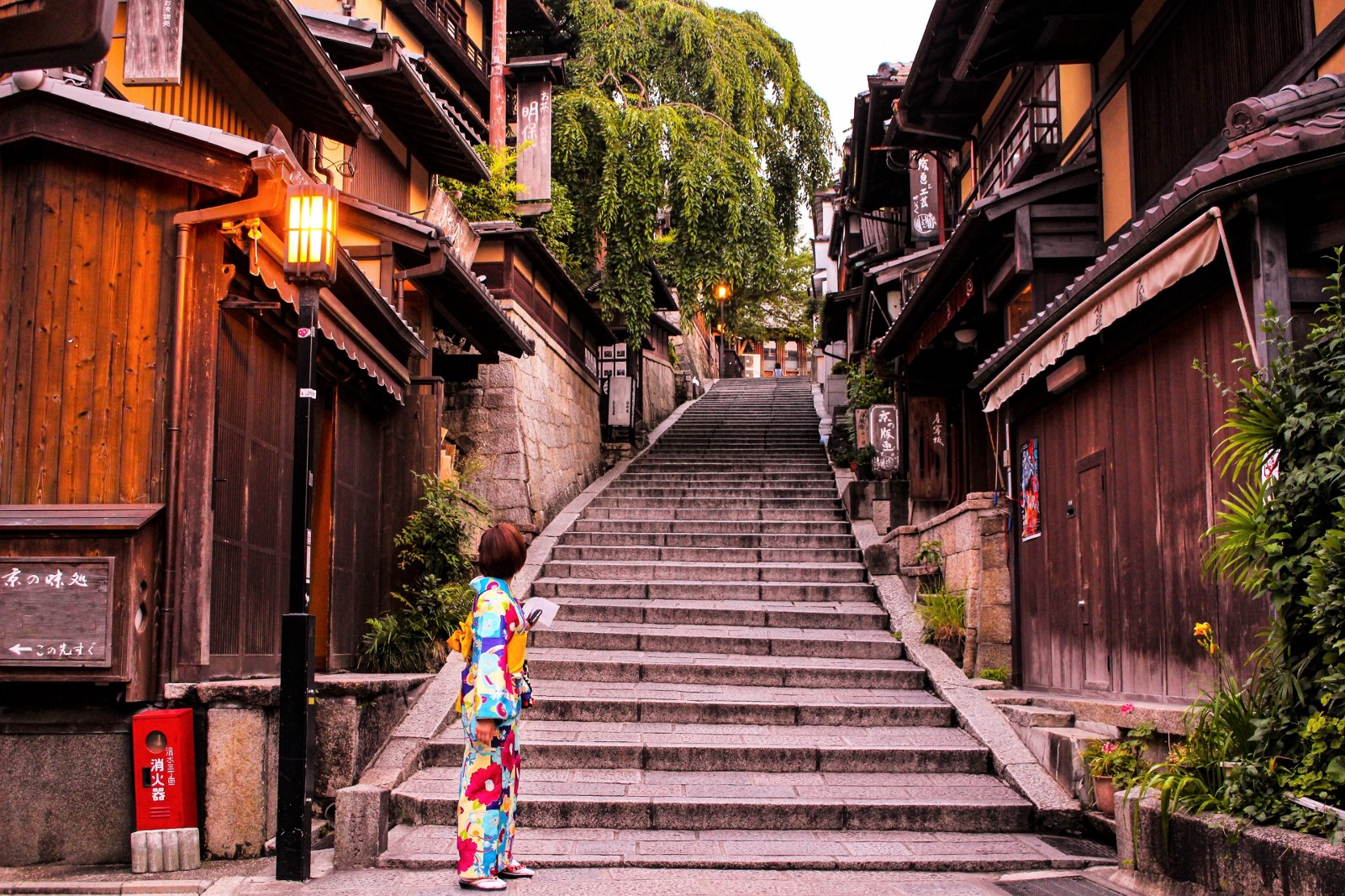 3. Yasaka Pagoda & Best Photo Spot
Before heading to the pagoda, make sure to stop by and take a "Instagrammable" picture. The spot is one of the most famous photo spots in Kyoto.
Yasaka Pagoda was founded in 592. The spectacular pagoda actually allows you to enter and go up till 2nd floor if you are curious about how the construction is made.
>>Read more about Yasaka Pagoda
4. Ishibekoji Alley & 5. Kodaiji Temple
Ishibekoji Alley is a tiny, rustic stone paved alley surrounded old wooden buildings. It's one of the most historical streetscapes you can find in Kyoto.
Off the Ishibekoji Alley, there is another alley called Nene no Michi,
where also a charming street view can be captured. Let's stop at the middle of this alley to visit Kodaiji Temple.
The temple is known for owning beautiful Japanese gardens, especially its stone garden is highly praised
as it's composed impressively with sand and ripple marks. It's another great photo spot!
Read more about Kodaiji Temple & Ishibekoji Alley
6. Yasaka Shrine & Maruyama Park
As you head towards north and enter Gion area, there is a big red torii gate of Yasaka Shrine. This main gate is another photogenic spot you should stop by for a picture. The shrine's main hall was built with a special construction called Gion Zukuri which can be rarely seen today.
Next to the shrine, there is Maruyama Park, the most historical park in the city. The vast park consists a pond, Japanese garden and cherry trees
which flourish and attract a large number of visitors every spring.
>>Read more about Yasaka Shrine & Maruyama Park
7. Hanamikoji Alley & 8. Tatsumibashi Bridge
After walking 1 or 2 blocks towards west from Yasaka Shrine, there are iconic sights of Hanamikoji Alley and Tatsumibashi Bridge. They are the most famous view in Gion area.
Hanamikoji Alley is the busiest street in the area, which connects to Kenchoji Temple (建長寺). The stone paved alley is filled with restaurants, bars and some shops offering traditional activities and entertainments.
Let me also mention that Gion area is best known as the "district of Maiko & Geisha", where you have a chance to see them in beautiful kimono dress.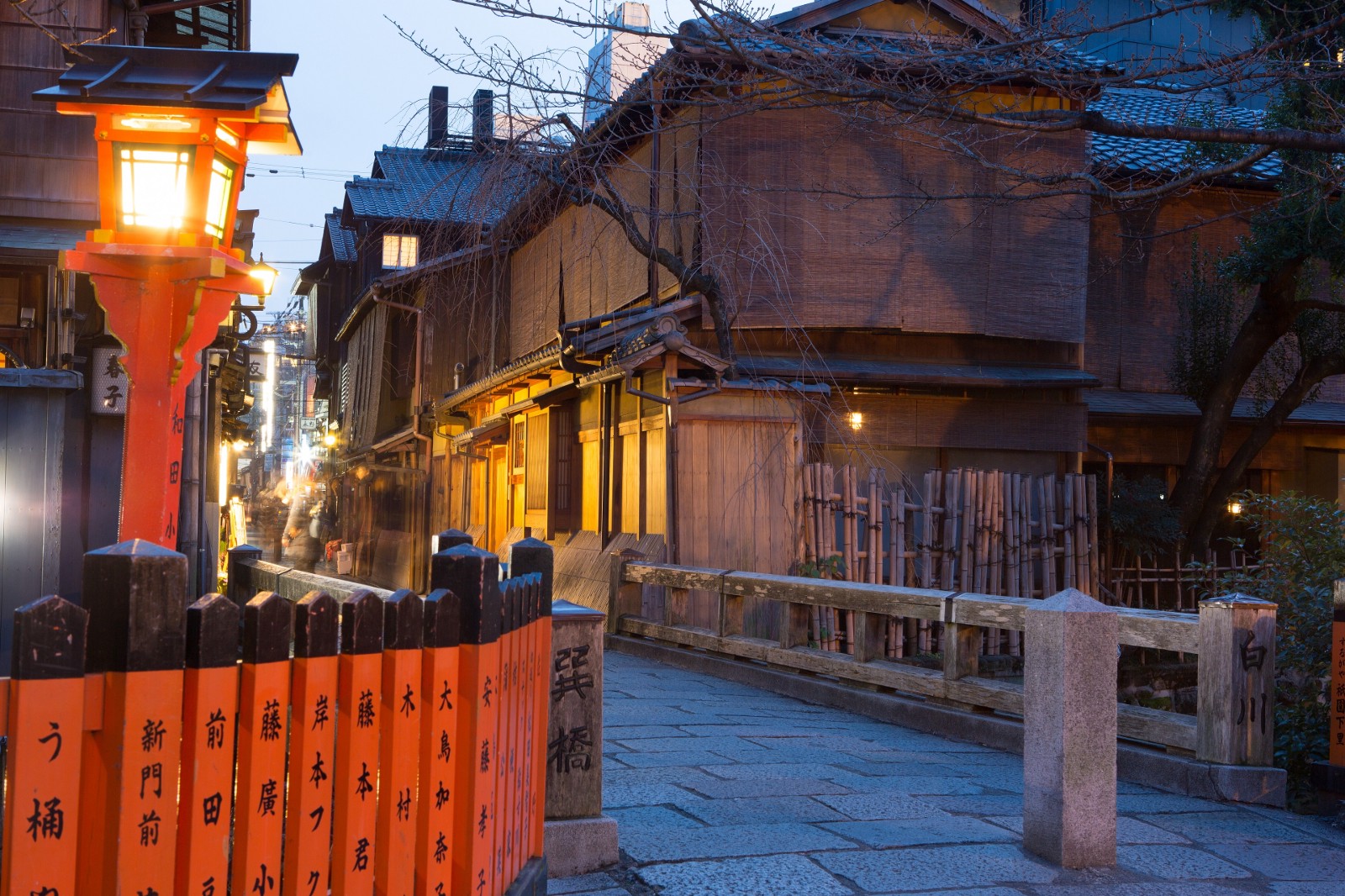 9. Kamogawa River & Pontocho
At slightly further west, there is the city's main river Kamogawa River running north-south, which is a popular spot to walk and relax. Also it's a great spot for cherry blossom viewing in spring.
Numbers of cafes and restaurants are lined by the riverbank. Sit on the terrace seat and enjoy delicious food/drinks with the pleasant view of the river.
In summer time, the open-air terraces are extended and special terraces called Noryoyuka/Kawayuka open for limited time.
Various kinds of restaurants and cafes are available by Kamogawa river.
Click the link to check the recommended spots to dine in the area!
>>Read more about Kamogawa River
All these attractive spots are situated within 2.5 km and walking distance.
After getting around these spots, there are only a few top tourist sites left in the city!
Make your trip to Kyoto the most memorable one! Japan Wonder Travel offers the best private tours across Japan including Kyoto. You can see the best highlights and explore the city in depth in one day! Check out the link below and see various kinds of private tours offered in Kyoto today!
---
Transportation Guide for Kyoto
▶︎Tokyo to Kyoto
▶︎Osaka – Kyoto
▶︎Kansai International Airport – Kyoto
Suggested Itineraries in Kyoto
▷ 3 Days in Kyoto
▷ 5 Days in Kyoto
▷ One Week in Kyoto, Osaka and Hiroshima
If you stay in Kyoto, how about taking a side trip to the next Shiga Prefecture for the exclusive experience to stay at a temple? This is the one and only way to stay overnight luxuriously.
For information about other must-visit sites such as Kinkakuji Temple and Arashiyama area, you may be interested in reading these articles, too!
▽ Related Articles▽
▼ Editor's Picks▼
---