What to Buy at Pokemon Center
10 Best Things to Buy in Pokemon Center at Shibuya PARCO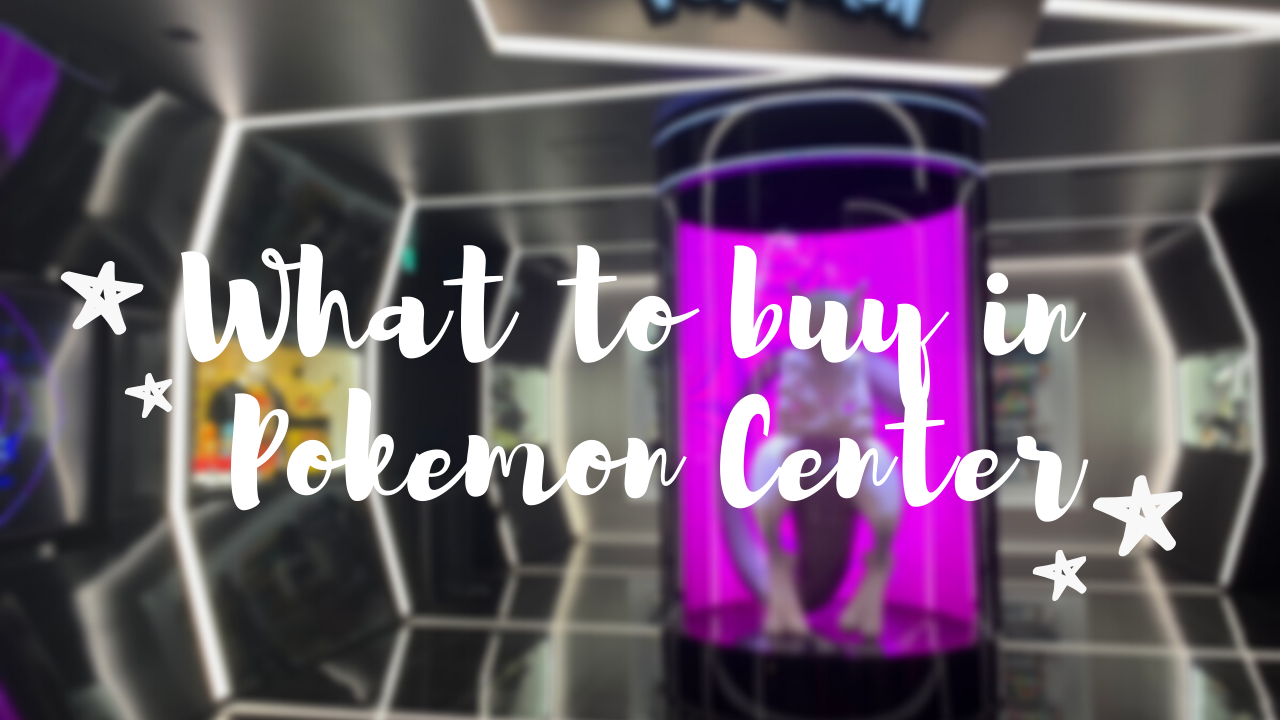 Since its first appearance, the Pokemon Center stores has been gaining increasing popularity and has become one of the most visited places by both locals and tourists. Taking advantage of this popularity, Nintendo has been opening more and more Pokemon Centers, and they even recently started with the Pokemon Cafe. Therefore we could say that the opening of a new Pokemon Center doesn't cause much surprise.
However, the new Pokemon Center that has recently opened in the newly renovated Shibuya PARCO is causing a huge sensation with its life-size Mewtwo figure. He even talks and moves! On the opening day since the first hour there were so many people that they had to distribute tickets to return later, at a certain time. Tickets sold out in less than an hour! Luckily now you can you can enter whenever you want without a ticket, but of course the store is always crowed.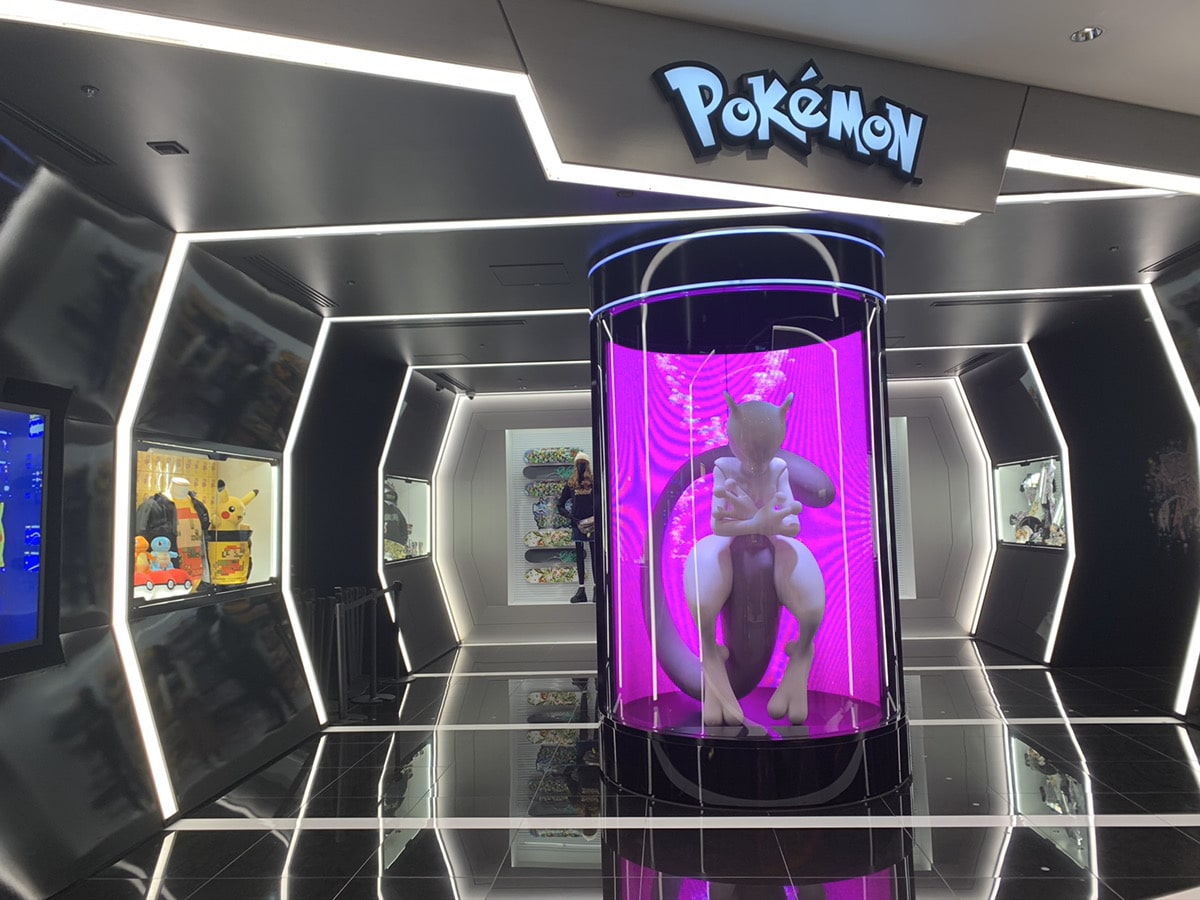 The new Pokemon Center is located on the sixth floor of the new PARCO at Shibuya, very close to the famous Shibuya Crossing. The sixth floor of the new PARCO is full dedicated to video games and manga: Nintendo Store, Pokemon Center, Jump Shop, Capcom store and more! This Pokemon Center is smaller than others that I have been to, and therefore the quantity of goods there is also less. But they have exclusive goods that you can only find there.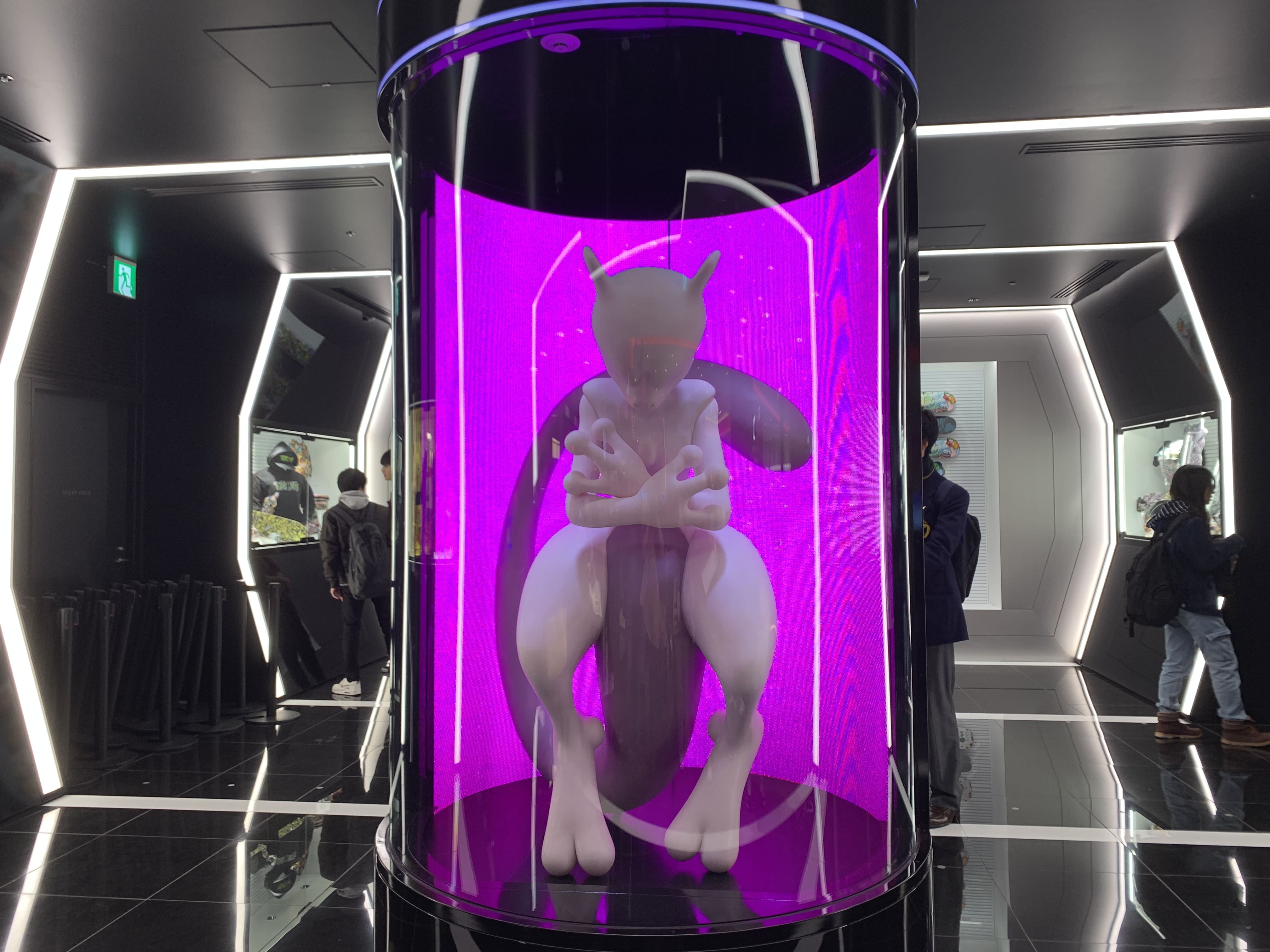 If you are wondering what to buy in this new Pokemon Center, may my list of 10 must-buy items at Pokemon Center including exclusive goods, cool clothes and accessories, cosmetics and funny plush toys can help you!
Graffichu
No, I not invented that name. And yes, it's the real name. Graffichu it's the official name of this new exclusive Pikachu from the Pokemon Center of Shibuya Parco. For this new Pokemon Center they have collaborated with the Japanese graffiti artist Number-D. Probably Nintendo wanted to give a more modern atmosphere to this store since it's located in Shibuya, the center of Tokyo's youth urban fashion.
The art of Number-D is in various goods, especially clothes and there are two murals of his in the store. And now Number-D has a new partner to help him do his work! Get this nice Pikachu you too, only available at the Pokemon Center in Shibuya.
Mew & Mewtwo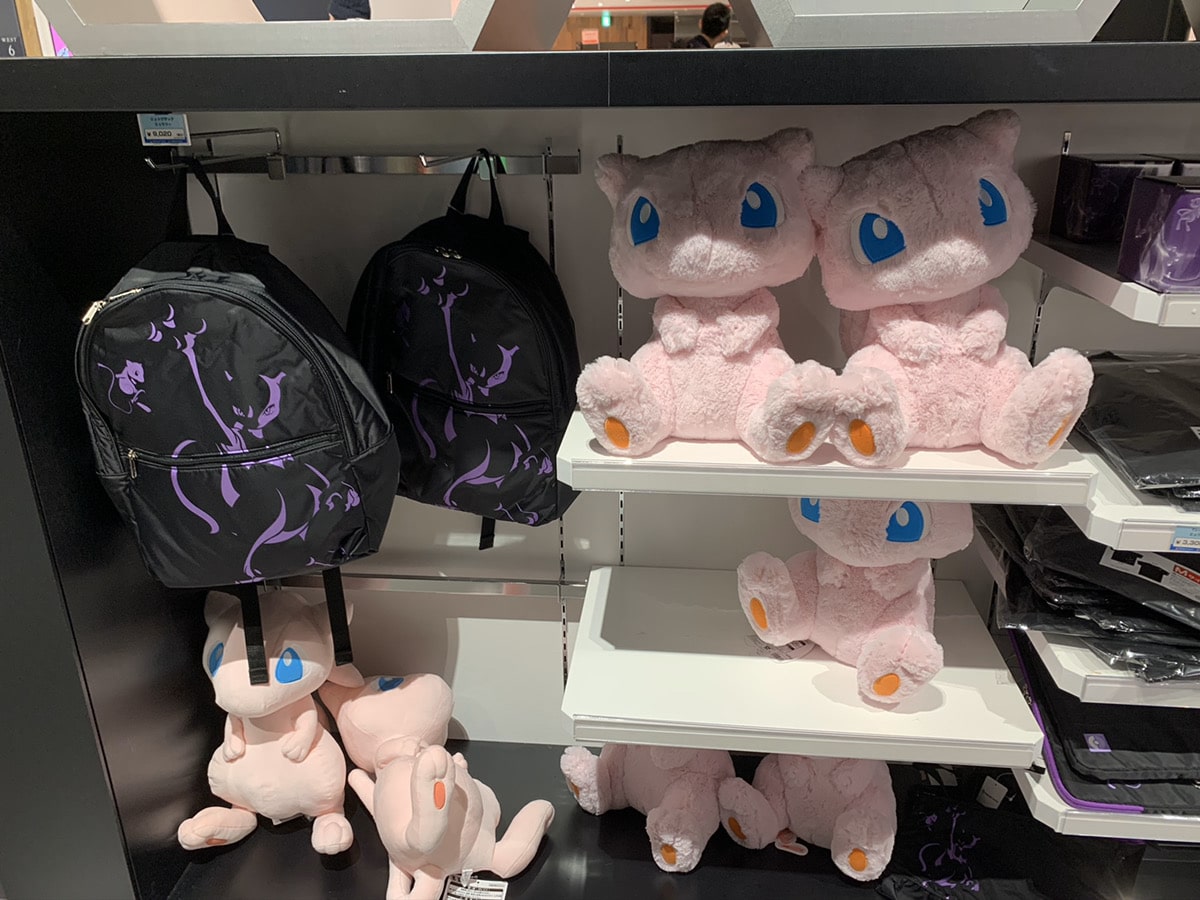 Another exclusivity of this store is that it has special Mew and Mewtwo goods that you can't found in the others Pokemon Center. Since one of the attractions of this store is the life-size figure of Mewtwo, they make this special collection. So if you are a big fan of these two Pokemon, you know where you have to go!
Mario special collaboration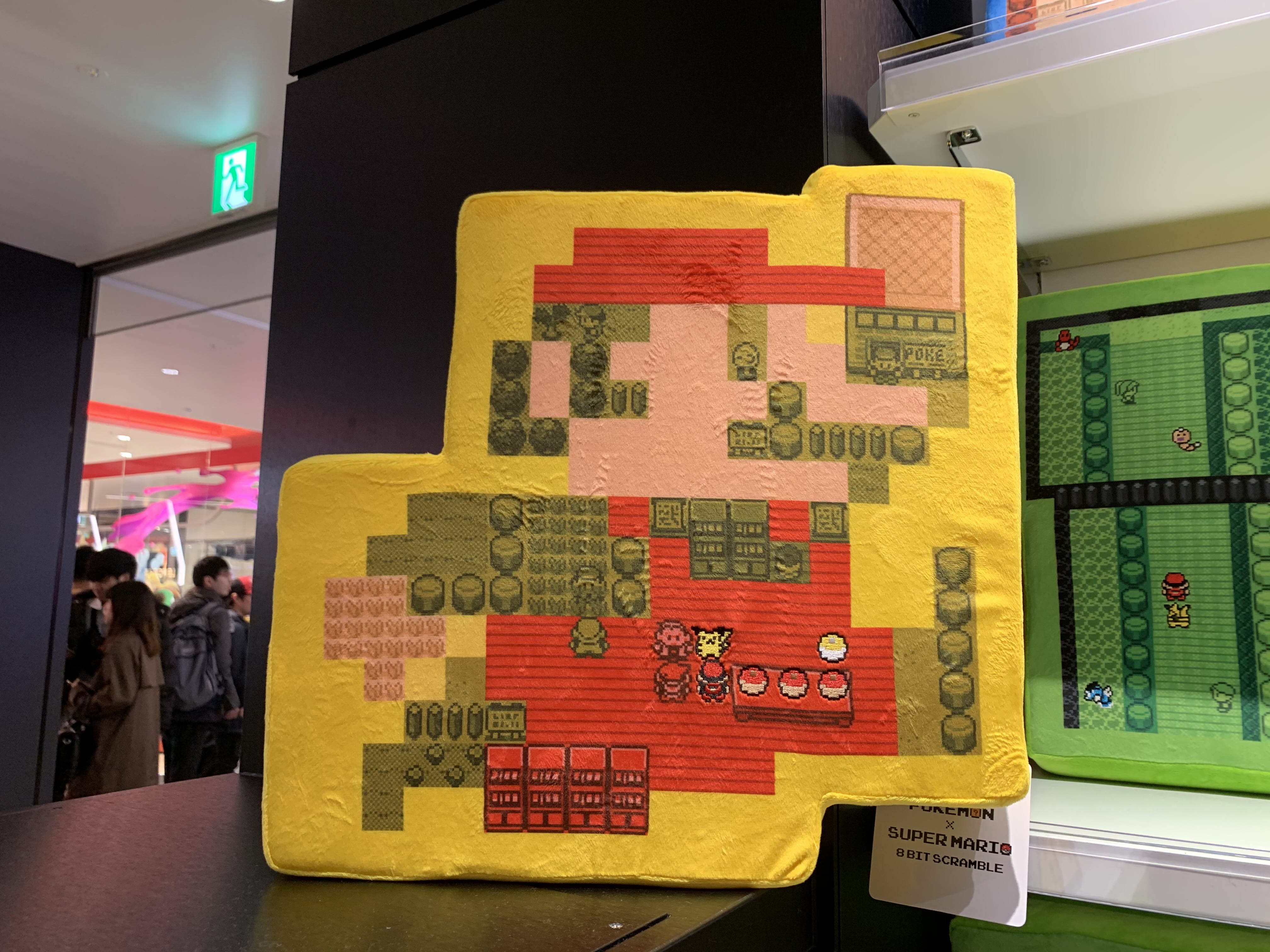 As I explained in my list of things to buy in the Nintendo Store, with the opening of this new Pokemon Center and the first Nintendo Store the company wanted to do something special for their fans. A collaboration between both stores. As in the Nintendo Store you can find the designs of some of the most popular Pokemon that if you look closely they have scenes of Mario games inside, in the Pokemon Center there're designs of famous characters and elements of Mario games with Pokemon games scenes inside.
Clothes & accessories
As we have said before, in this Pokemon Center they have collaborated with the Japanese graffiti artist Number-D. If you like that kind of urban style aesthetic and you're a Pokemon fan, this store is your perfect place. Graffiti art hoodies, T-Shirts, bags, caps, and much more! This collection it's also only available at the Pokemon Center in Shibuya Parco.
Jewelry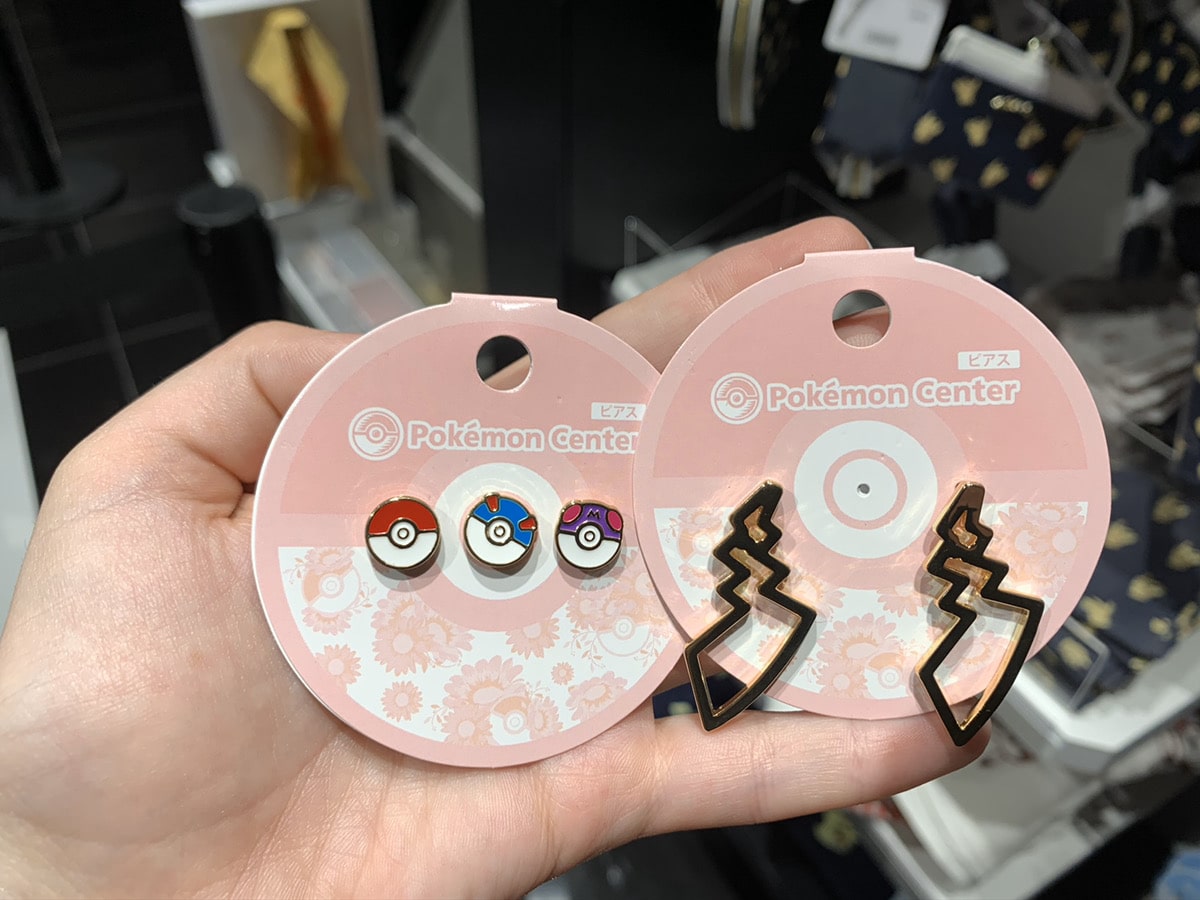 And if the clothes are perhaps too much for you but you want to have some detail more discreet of your favorite video game, there is also a great variety of jewelry! Mainly earrings as adorables as these ones!
Handbags, wallets and pouches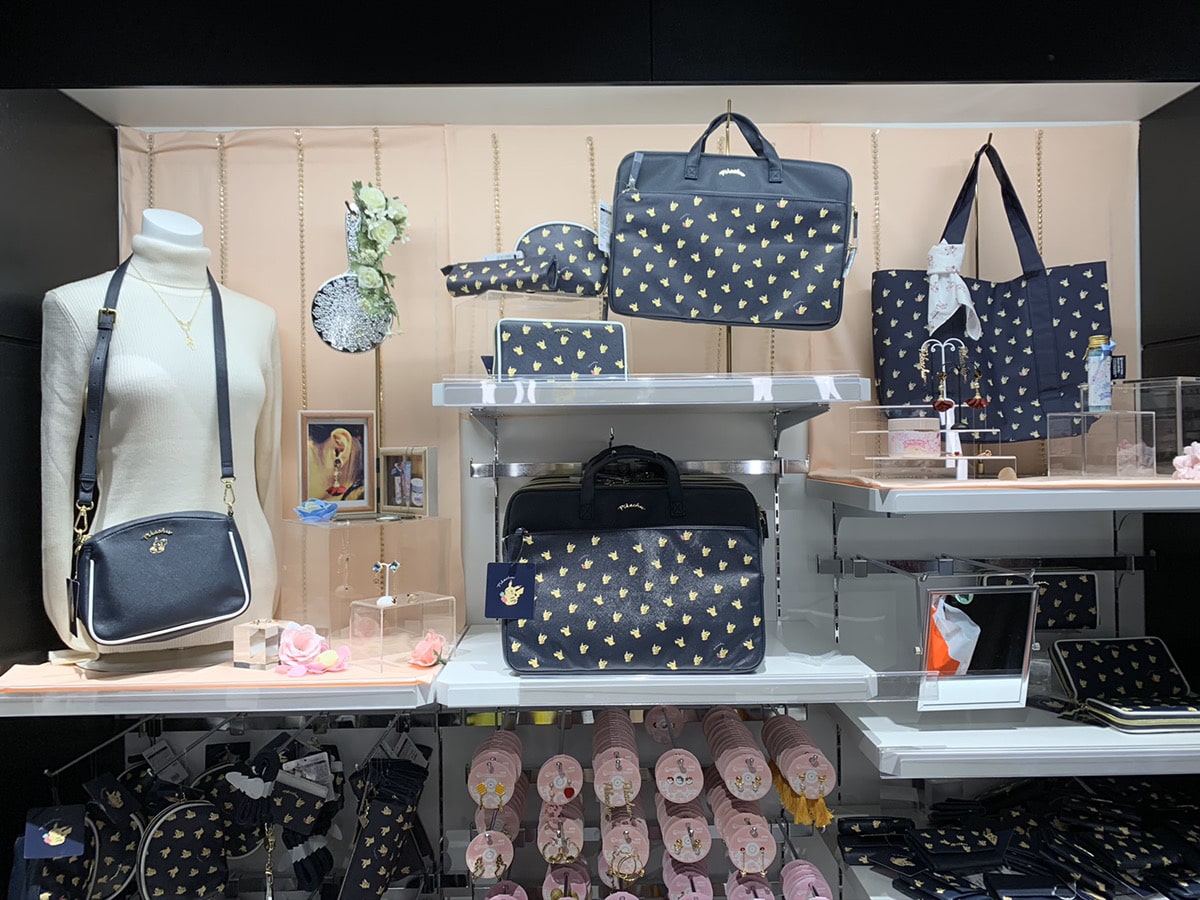 Don't even think that in Pokemon Center there are only things for kids, or flashy clothes. You also have this collection of handbags, wallets, pouches and with a more adult design that has me totally in love! Be the most fashion in your office with one of these accessories!
Cosmetics
Japanese cosmetics products are very popular worldwide for their good quality, and in recent years one of the trends in Japan is to make cosmetics in collaboration with famous anime or video game series. One of the most wanted collaborations by cosmetic brands is no doubt with Pokemon, since it's a sales success for sure. Some of the collaboration items sell out in just a few hours of going on sale and you have to make long lines to get it! But don't worry, in Pokemon Center you don't have to stand in line and you can get things like cutes face mask or stick cheek.
Plush Toy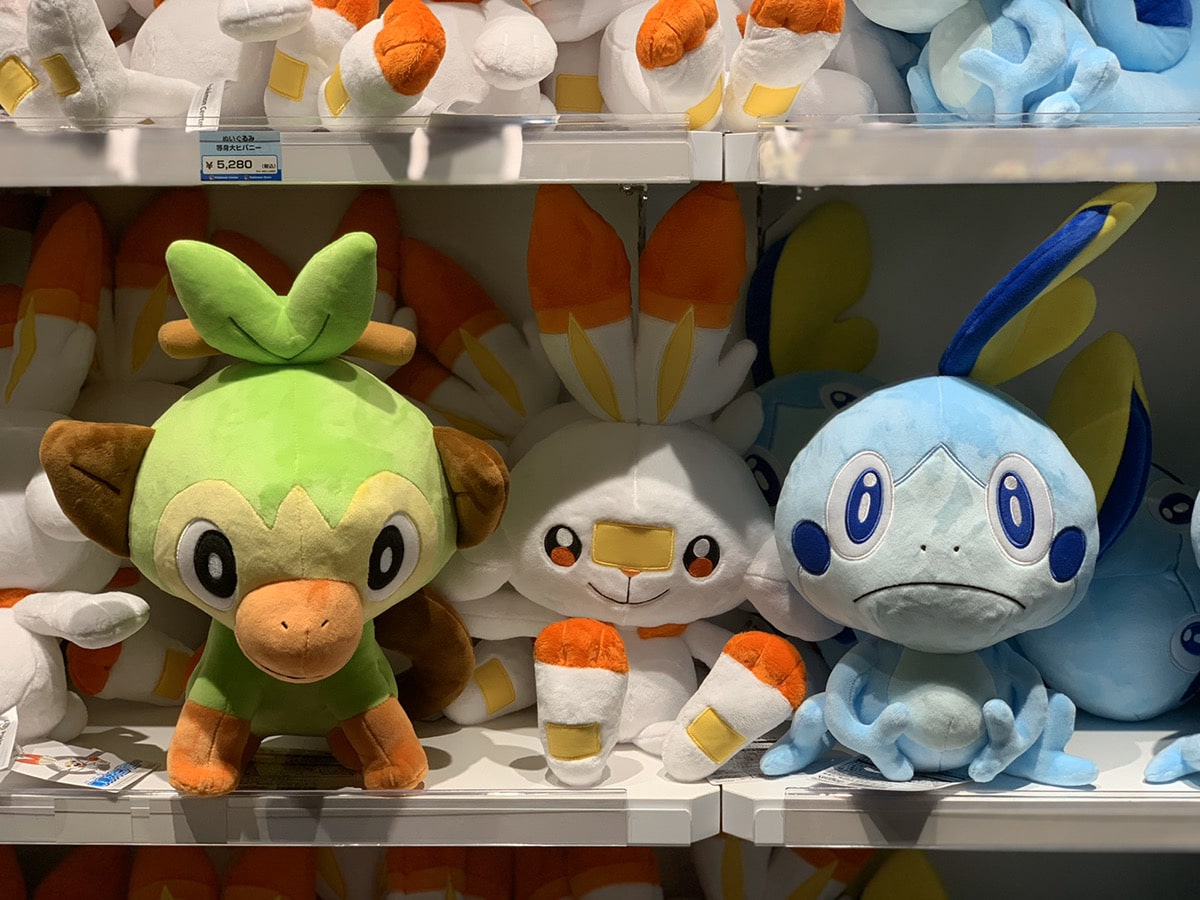 Plush toys are a classic in every Pokemon Center. They're usually sorted according to their Pokedex number, so it's easy to find them. And usually there're three different sizes. Since recently the news Pokemon Sword and Shield has just come out with the three new game's starters Sobble, Scorbunny and Grookey, my recommendation is that you get a stuffed animal of your favorite starter! They're super cute and ready to go at home with you. You can also find the Legendaries Zacian and Zamazenta!
Envelopes & Greeting Cards
Japan is an expert in stationery and you can find a huge variety. But one of my favorites are the super cute envelopes and greetings cards for weddings and birthdays. In Japan, as in many other countries, it's customary to give money at weddings to the couple inside an envelope. Why use a normal and boring envelope when you can use envelopes as adorable as these? And the same for the greeting cards! I'm sure your friends are gonna love it!
Kitchen stuff
Finally, this list couldn't miss the classic kitchen items. Since you're in Japan, I recommend something more typical from here, like a bowl or a Pikachu bento box. Make your meals much more fun with some of these items!
What do you think about my list?? Which is your favorite item? For more travel info about Pokemon things and Shibuya area, please check out listed articles, too!
▽Related Articles▽
▼Editor's Picks▼
---