What to Buy at Nintendo Store Tokyo
10 Best Things to Buy in Nintendo Store at Shibuya PARCO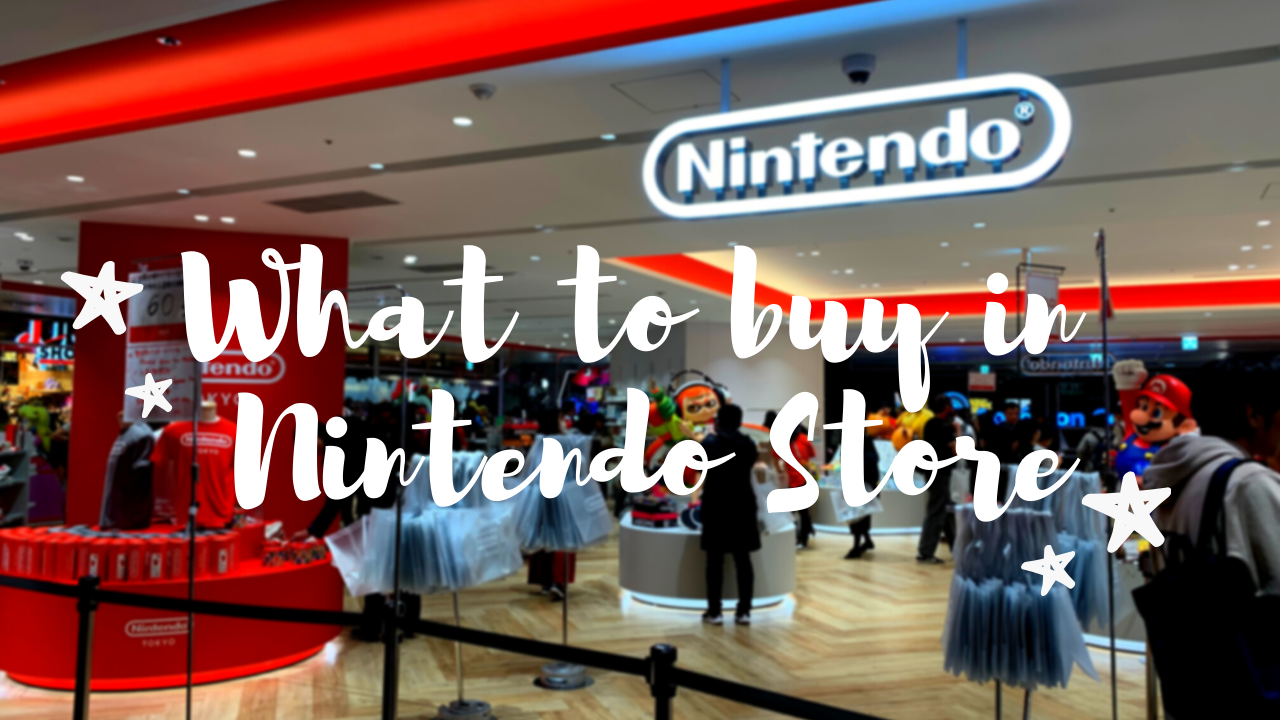 The new PARCO at Shibuya has become, from the very day of its inauguration, one of the most popular places among Japanese and tourists. No matter what day or time you go, you will always find a lot of people. And one of the main attractions of this new mall is no doubt the first official Nintendo Store in Tokyo, Japan.
On the opening day since the first hour there were so many people that they had to distribute tickets to return later, at a certain time. Tickets sold out in less than an hour! Over the days, the euphoria has calmed down a bit more, but there is still time and time and queue media to enter between the day and time. Among those who go first thing if they distribute tickets to enter the first, but they sell out quickly. Luckily, even if you run out of a ticket, if you queue you can enter the store.
The first Nintendo Store in Japan is located on the sixth floor of the new PARCO at Shibuya, very close to the Disney Store. It offers a huge variety of merchandising on some of its most famous games. To make it easier for fans to locate items from their favorite games, the store is divided into several areas that are quite easy to identify. For example, there are huge figures of Mario, Splatoon, Zelda and Animal Crossing that point to the areas dedicated to those games. But something hidden there are also parts dedicated to games like the adorable Kirby. The largest area is, how could it be otherwise, is dedicated to the company's flagship game: Mario.
If you need a bit of help to decide what to buy in the Nintendo Store, here is my list of 10 must-buy items at Nintendo Store including cute stationery, cool clothes and accessories, original tableware items and funny travel gadgets.
Stationery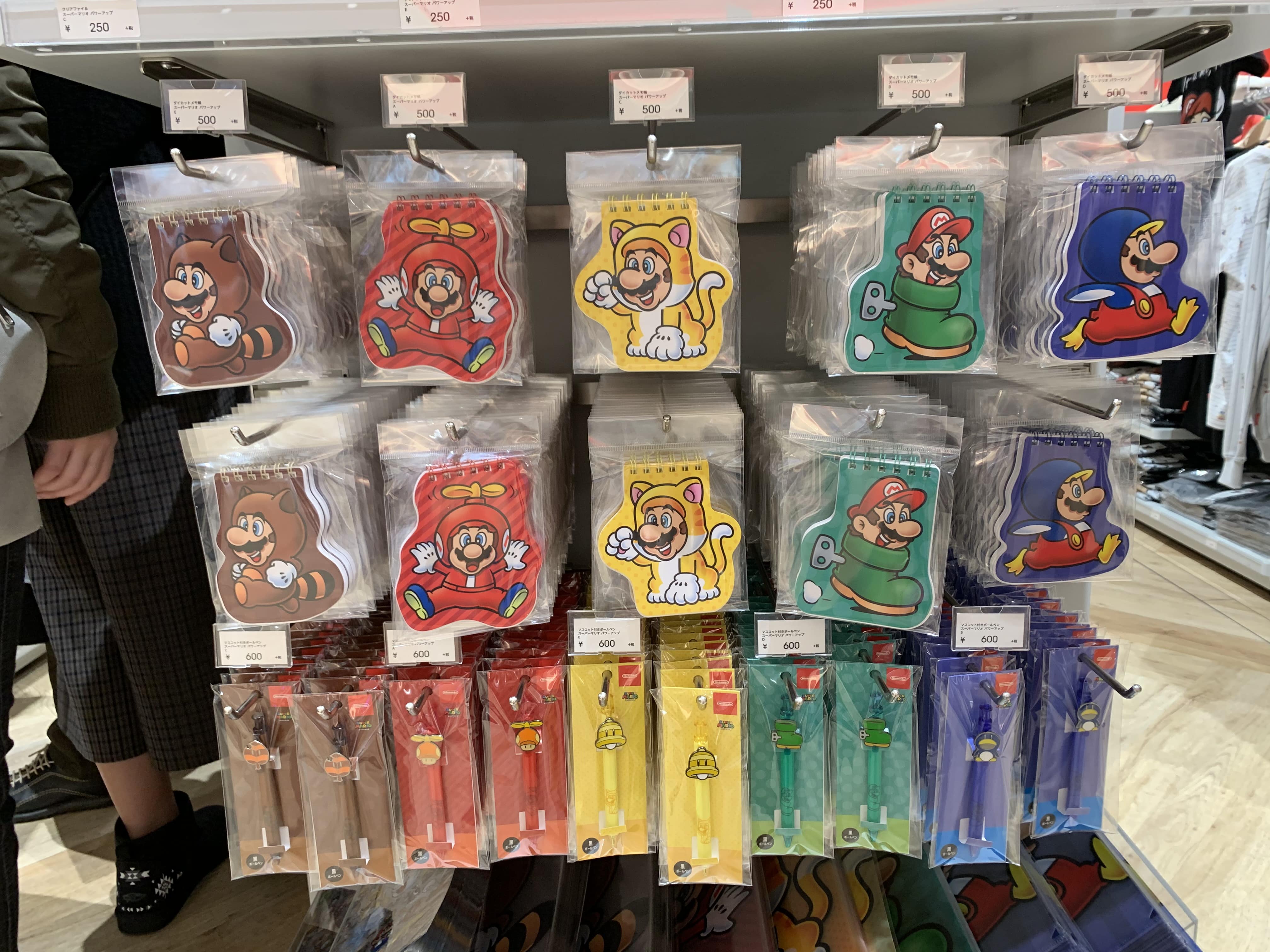 Japan is an expert in stationery. While in other countries maybe it's something already old fashioned or only for children, in Japan there are even stores with more than four or five plants dedicated only to stationery. From the typical notebooks and colored pens to stickers or blogs of notes to write down the things that you should not forget.
Smartphone cases & accessories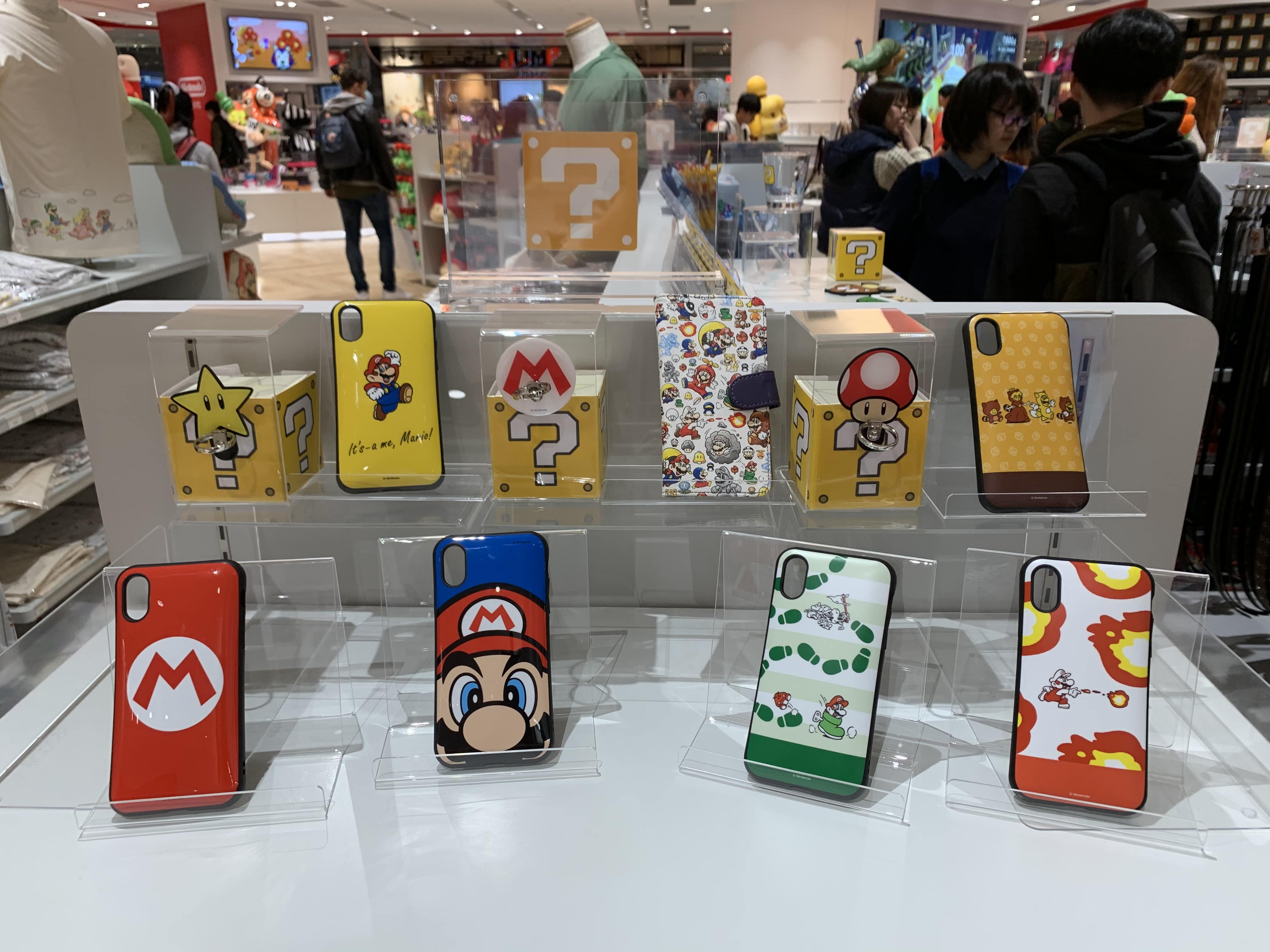 Today, smartphones have become much more than a mobile device to communicate. And personalizing your mobile phone with cases of your favorite things (books, movies, video games, series, etc.) is another way to show your style and your personality. And Japan is an expert in smartphones cases and accessories. Customize your smartphones with your favorite video game characters!
Clothes & accessories
Who said the clothes were boring? Dress clothes with your favorite characters! In Nintendo Store you can find from the typical T-shirts with the characters printed to thematic sweatshirts of your favorite video game. There are even ties! And of course, socks couldn't be missing in Japan.
And for the most daring, you can even buy the clothes of your favorite characters! Or the famous kigurumi, which will protect you from the cold better than any other clothes.
And if the clothes are perhaps too much for you but you want to have some detail more discreet of your favorite video games, there is also a great variety of bags, backpacks and wallets available. They even have Mario watches!
Tableware & Kitchen
Do you have a special party at home and want to surprise your guests? Are you tired of the usual boring dishes? In Nintendo Store you have what you need! From paper plates and tablecloths for a party to the whole tableware of your favorite characters. You can buy the whole set or just one piece.
And if you don't have time to eat at home, don't worry, because you can also take food to work in adorable Kirby's japanese bentos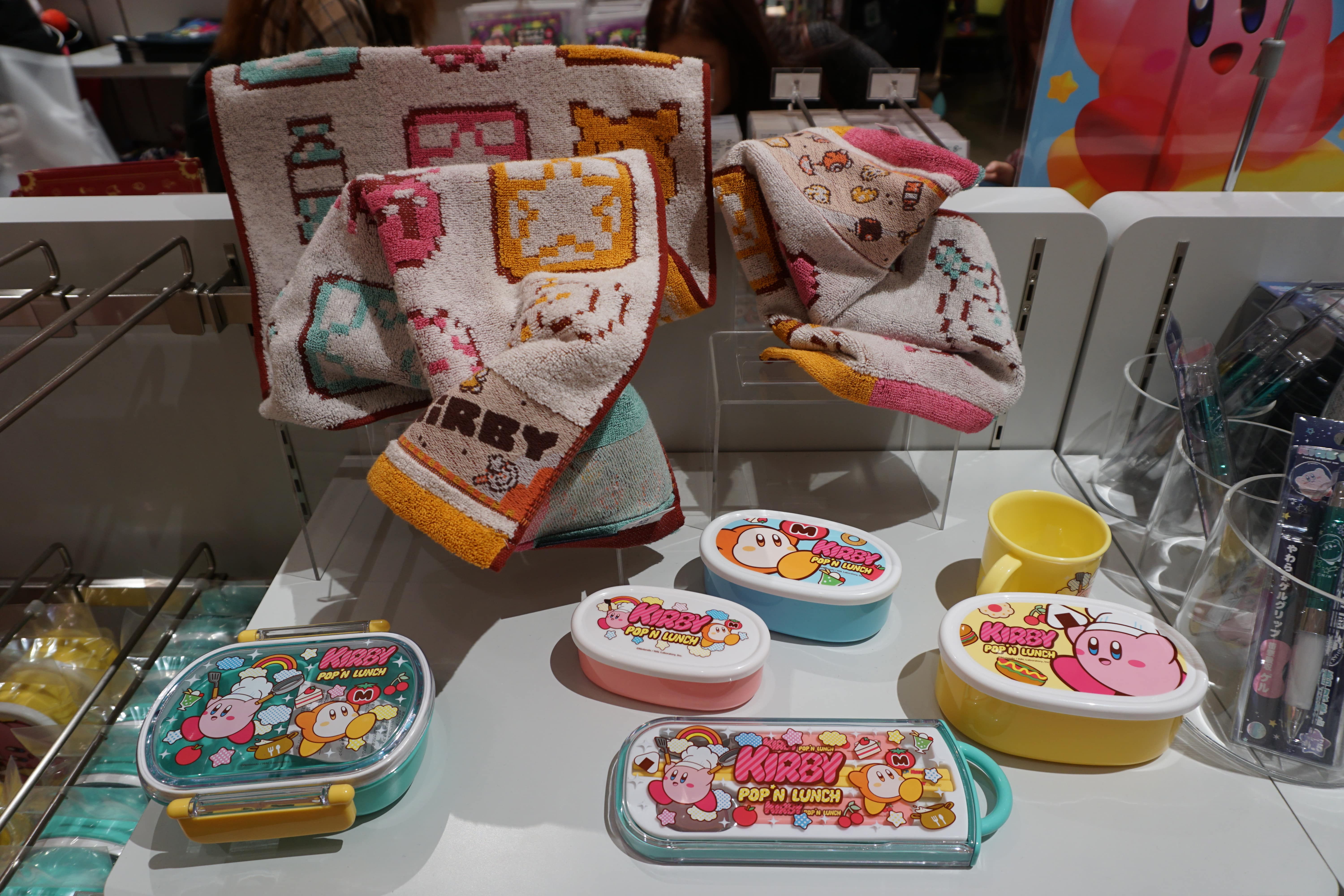 Travel Gadgets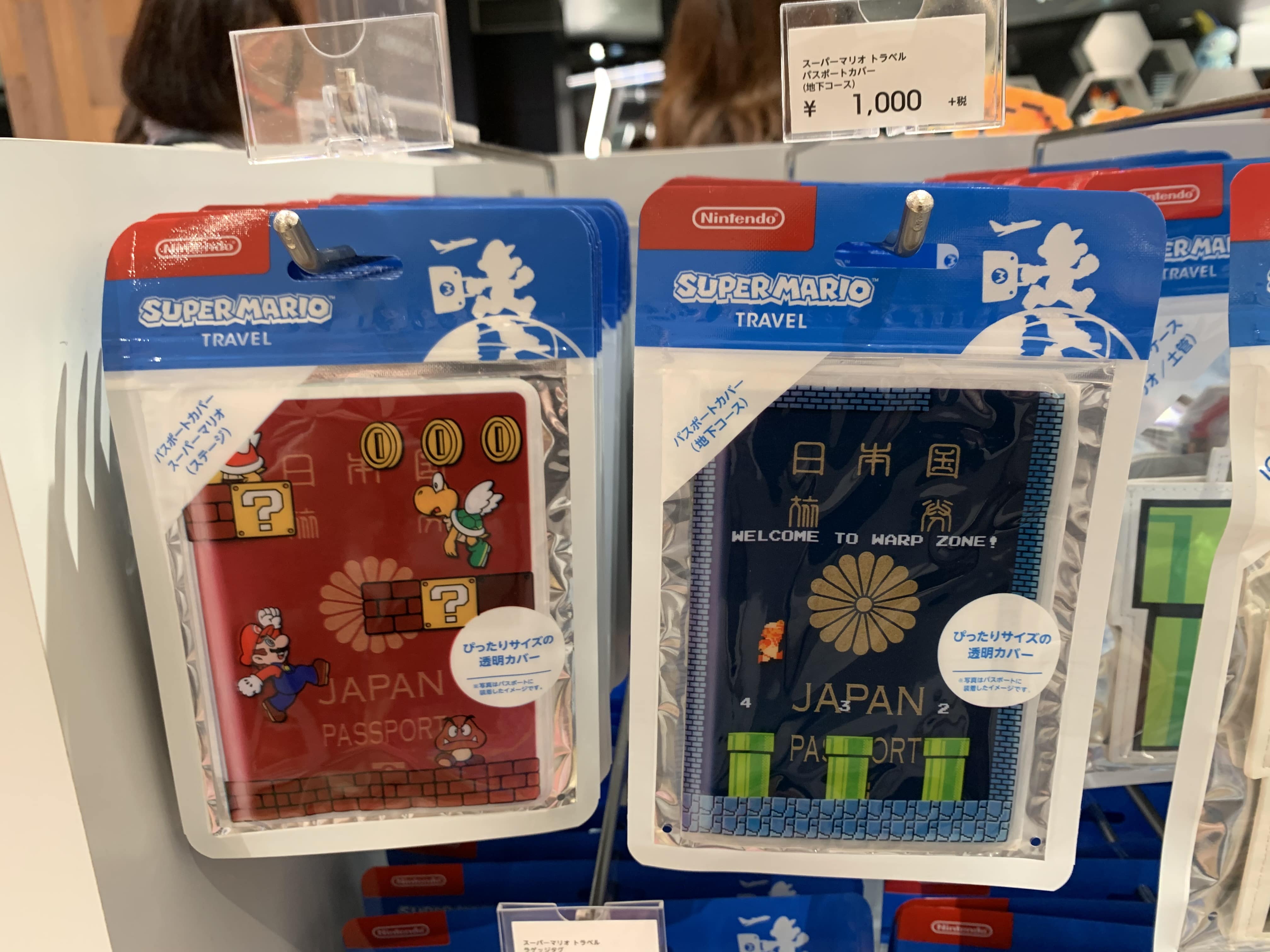 Nowadays traveling is much easier than before. There are more and cheaper ways to travel and that has made the new young generation go to explore the world and show it on their social networks. So for a few years now, more and more gadgets are being taken to make travel easier or more fun. Make your trips funniest with some of these gadgets!
Pokemon special collaboration
The Nintendo Store doesn't have an area dedicated to one of his most famous games Pokemon, since this saga has its own store, the Pokemon Center. However, with the opening of a new Pokemon Center in PARCO, they have made a special collaboration. You can find these designs of some of the most popular Pokemon that if you look closely they have scenes of Mario Bross games inside. A unique and original design that you can only find in this store!
Toys (plush toys, remote control cars and figures)
Feel a child again like when you played all those video games the first time and spoil yourself by buying a toy from your favorite saga
Sweets
Sweets and snacks are a classic in Japanese themed stores. Although they don't have as much variety as for example the Pokemon Store, they are selling some themed sweets. It's a good souvenir for a Nintendo fan friend, don't you think?
Nintendo Switch (console, games and accessories)
And of course, the official Nintendo store is a good place to buy your most recent console, the world famous Nintendo Switch, as well as games and accessories for that console.
…and much more!
Here I tried to summarize the best things to buy, but in Nintendo Store there is much more! Key chains, hand towel, covers to carry the famous Suica / Pasmo cards in Japan, etc. Take your time inside the store to buy your favorite things! One of the positive things about the store is that although you have to wait to get in, there is no time limit to stay inside the place. You can dedicate all the time you want to look in detail at all areas of the store and make sure that you do not leave any item to discover. But be careful, because there're so many things that one wants to buy in this store that it's really easy to spend too much money 😉
---
Did you enjoy the list?? What is your favorite item? For more travel info in Shibuya area, please check out listed articles, too!
▽Related Articles▽
▼Editor's Picks▼
---