UNIQLO: Billie Eilish and Takashi Murakami UT Collaboration
Billie Eilish and Takashi Murakami Team Up for UNIQLO T-Shirt Collection in 2020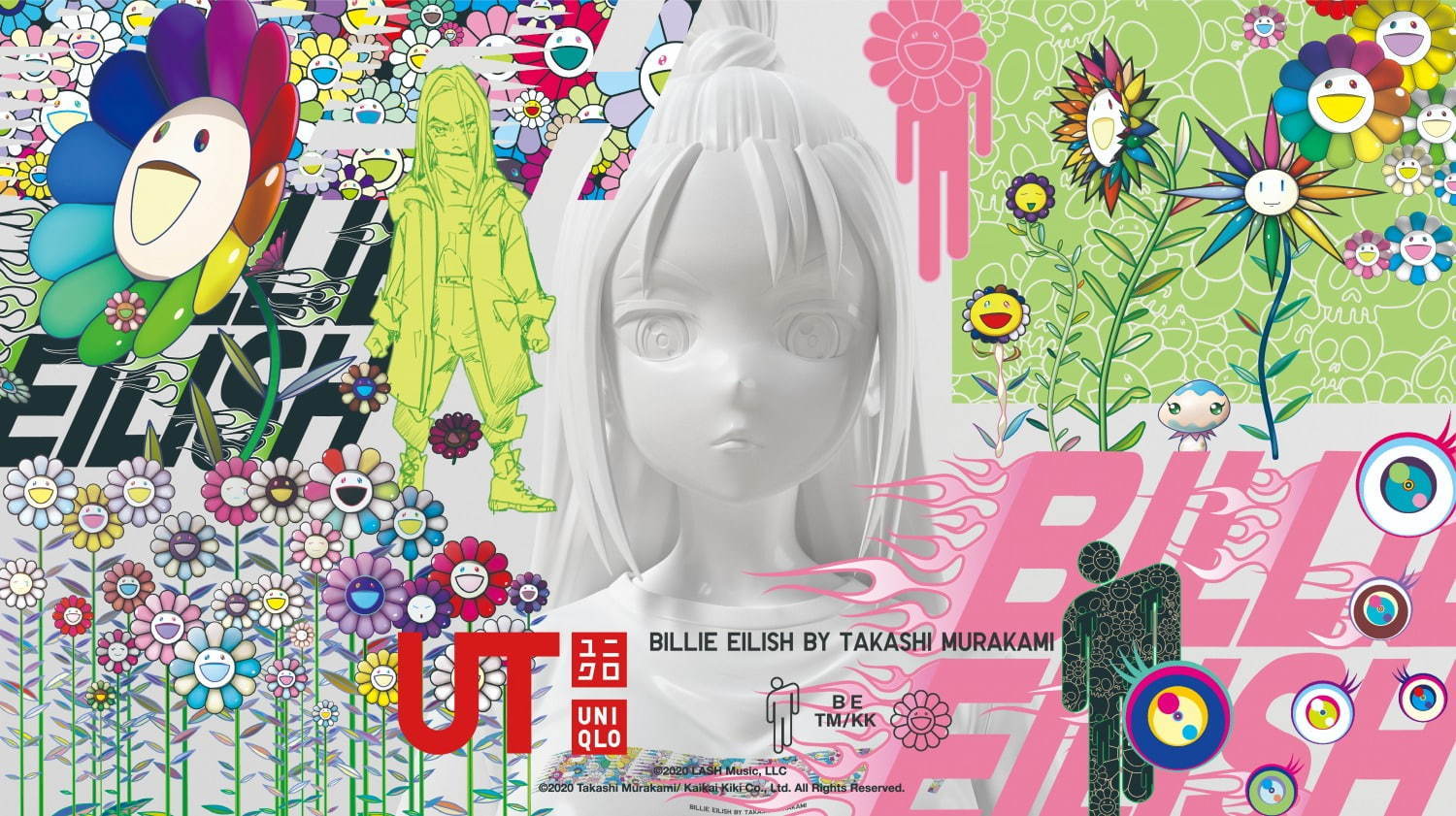 The popular Japanese fashion retailer, UNIQLO has been collaborating with various artists, brands and productions for their UT (UNIQLO T-shirt) collection in the past decade. In 2020, the brand announced a new collaboration with a young Grammy winner, Billie Eilish and a superflat artist, Takashi Murakami.
Two have teamed up in past as Murakami worked for Eilish's music video "You Should See Me In A Crown" in 2019. You can check the music video here.
This time, two are linking up for UNIQLO, and this might be the most anticipating collaboration in fashion industry of the year. There is no doubt that getting the collab T-shirts will be a big competition as they could be sold out very quickly.
The Billie Eilish x Murakami UT collection will be released in late May 2020. The brands has launched a special site: Uniqlo x Takashi Murakami x Billie Eilish with an artistic teaser video of this collaboration. An anime style Billie statue wearing a t-shirt with her name printed with Takashi Murakami's notable flower pattern. The video was also released on UNIQLO's official Instagram and Twitter.
On 19 May 2020, more details about the collection was revealed. The collection will go on sale on 25 May 2020 on official UNIQLO online store, followed by UNIQLO stores across Japan on 5 June 2020.
22 items will be released in total including women's T-shirts, men's T-shirts, kid's T-shirts, unisex caps and hats. Accordingly, when you purchase more than 2 items from the collection online, you can get a original keyring. It's only available with a limited number, so better hurry up!
Here are some of items from the Billie Eilish x Murakami UT collection. Let's take a look!
Price:
Women & Men T-Shirts 1,500 yen + tax
Kids T-Shirts 990 yen + tax
Unisex Hats & Caps 1,990 yen + tax
Moreover, in 2020 June, a brand new UNIQLO store will be opening in Harajuku, Tokyo, and to celebrate the new launch of the branch, a 3m tall Billie Eilish statue in a collaborated UT will appear at the store. The statue is in fact designed by Takashi Murakami specially for this exclusive collaboration.
You can check the full line-up of the collection on UNIQLO official website!
UNIQLO JAPAN: https://www.uniqlo.com/jp/ja/contents/feature/billie-eilish-x-takashi-murakami/
UNIQLO US: https://www.uniqlo.com/us/en/ut-graphic-tees/billie-eilish-x-takashi-murakami
Thanks for reading! For more information about UNIQLO Japan, I have some more articles for you to check out 🙂
▽Related Articles▽
▼Editor's Picks▼
---