Tokyo Treat December Box Review!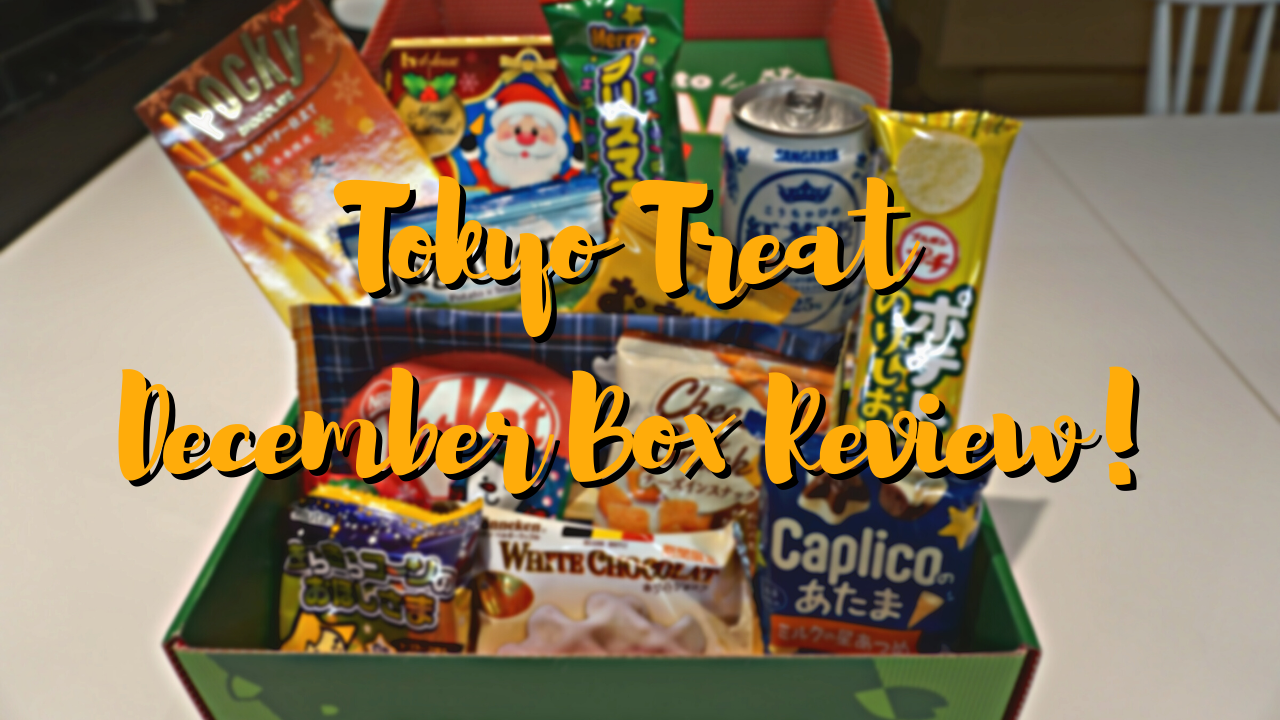 Do you love Japanese candy and snacks and you would like to try them but you don't know Tokyo Treat yet?? Or you have heard about Tokyo Treat but you don't know it very well, read this article because you will like it for sure!
Tokyo Treat is a monthly subscription box full of the latest exclusive limited-edition and seasonal flavor Japanese sweets and snacks! There are many monthly Japanese candy boxes options on the market right now, but Tokyo Treat was one of the first to offer this service and they are one of the most popular. So they have a lot of experience and knowledge in the field and they always select the best and most popular snacks, including special limited-time collaborations with anime or famous series and seasonal snacks.
My favorite part about Tokyo Treat and what I believe sets it apart from other companies is that they take great care of the design. From the website to the colorful boxes, which are fully customized for each occasion everything has a very good design work.
You can read more about it in this past article:
But although presentation and details matter, in the end the most important part is the inside, right? This December we received the last Christmas special edition box from Tokyo Treat and we loved it!! So we are going to share it with you in a "what's inside the box" review.
The December themed box is called Santa's Snackfest and features original sweets and snacks with special Winter flavour only available in Japan during this time of the year!
If you are not very familiar with Japanese snacks, don't worry. The first thing you will find is a booklet explaining all the products, as well as interesting information about Japanese culture.
The Santa's Snackfest box included more than 12 snacks, including the time limited Kit Kat Milk Tea and Pocky Winter Caramel, which were the most popular in the office and were out in no time! It also included a drink, a delicious Royal Milk Tea which I put in a cup and heated in the microwave and it felt great in these winter days when it has been very cold in Tokyo.
And what was a life saver for me one of those nights when I didn't have time to cook, a delicious Salmon and Spinach Cream instant soup pasta.
As you read! Tokyo Treat's mission is to bring the modern taste of Japan to its customers around the world. And to do so, their boxes are priced at a very affordable price that is hard to believe. Starting at $32.5 a month! Moreover, international shipping is free anywhere in the world.
They have a subscription system in which the more months you buy, the cheaper the box gets. The minimum is a one month subscription for $37.5 dollars as we have said, and you can go up from there. You can also subscribe for 3 months for $106.5 ($35.5 per month) or their most popular option, the 6-month plan for $201 ($33.5 per month, saving $24). The longest and most economical subscription, by signing up for the 12 month plan you pay $390 which means a savings of $60 and a cost of $32.5 per month.
▶ Buy it now to enjoy the best snacks and candies direct from Japan!
If you are hesitating whether you will like the product or not, you can start with a one month purchase and if it fits your expectations then jump into the 12 month subscription! But let me tell you now that it's highly addictive and I'm pretty sure that you'll want more.

There's still time to order your New Year's box, which includes an exclusive snack from the current trendy anime Spy Family!
---
Did you like this box? Delicious and original, isn't it? My colleagues love it every time a box from Tokyo Treat arrives, and made snack time at the office that day so much more fun.
One of the best parts for me, specially in these Christmas dates is that since you don't know what's inside the box until it arrives at your home gives me the feeling that every month I have a surprise gift for myself! I know that at Tokyo Treat always select the greatest products to bring the best experience to their customers and make them feel happy every time they receive a new box so every month I wait impatiently for my box, excited to see what will be inside this time. And they never let me down!
This holiday season indulge yourself with new unique flavors or give it as a gift to a friend so you can share it.
---
Don't miss these articles either if you want more information about trendy snacks and products from Japan!
▽ Related Articles▽
▼Editor's Picks▼
---