Best Japanese Chocolates Snacks to Buy
Must-Try Chocolates and Sweets in Japan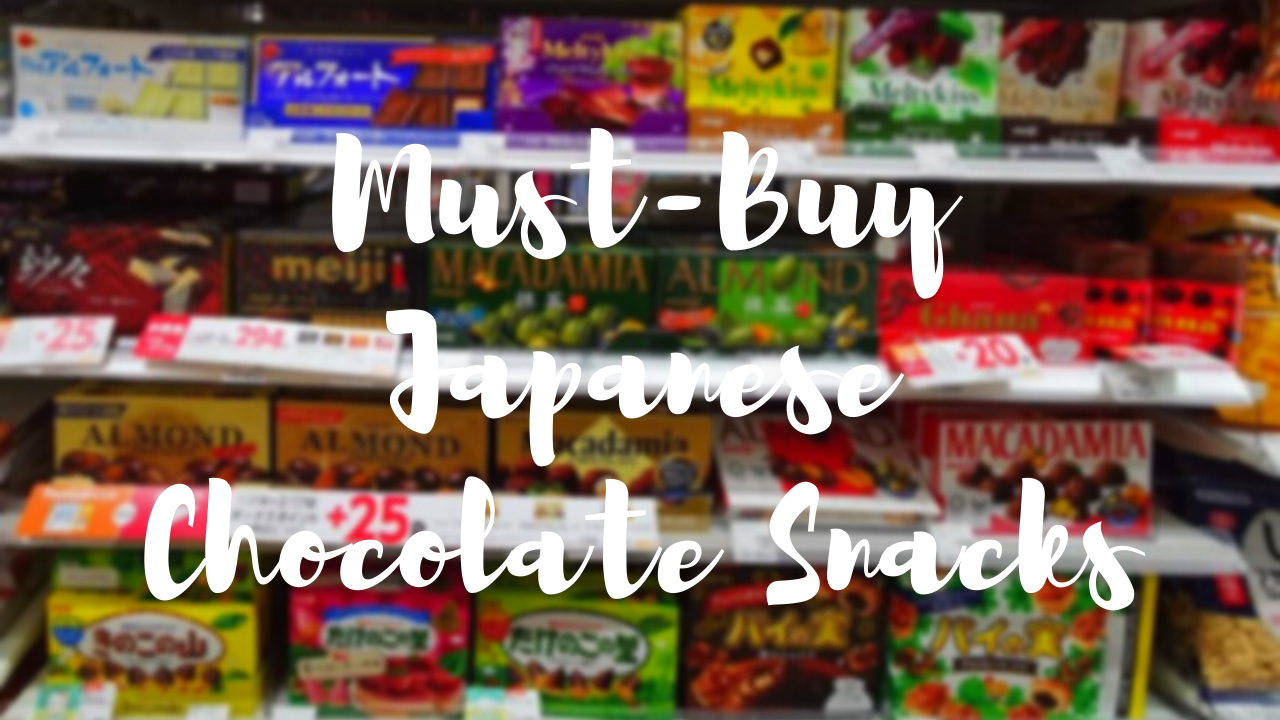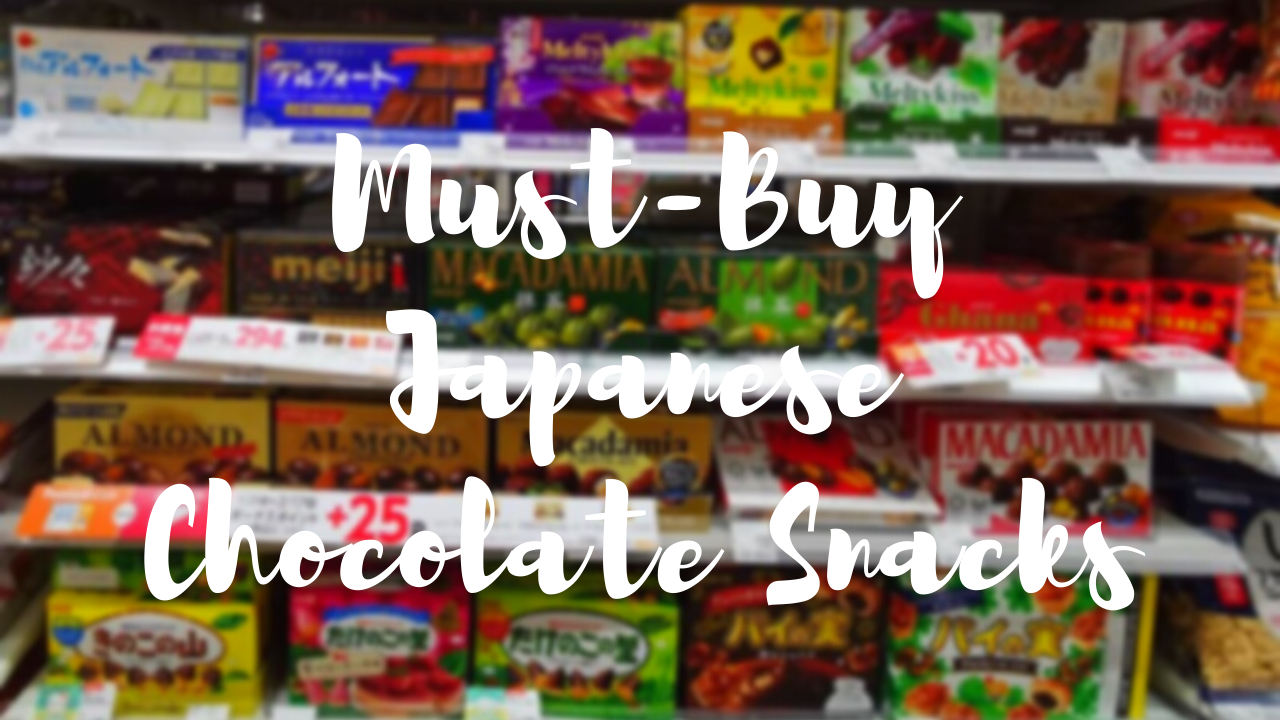 One of the best places to do souvenir shopping when you travel abroad is local supermarkets as you can find a wide range of products at affordable prices. Especially, sweets and snacks are very popular items for souvenirs, because who wouldn't be happy receiving delicious treats??
If you are planning a trip in Japan and do some souvenir shopping, you would enjoy shopping a huge variety of sweets and snacks at supermarkets, convenience stores and some discount stores like Don Quijote. Among all snacks, especially Japanese chocolates are recommended, as there are a large number of chocolate products by different brands available at shop shelves such as LOTTE, Meiji, Glico and limited-edition KitKat.
If you are a chocolate lover, you will fall in love with high-quality, unique and creative Japanese chocolate. In this article, I would like to share some of the top-selling Japanese chocolates of all time! If you want to make a shopping list for your Japanese trip, this article could be a huge help deciding which chocolate snacks to buy in Japan! I have also attached the links to the website where you can shop the products with global shipping 🙂 So let's check them out!
▶︎▶︎Check the trendy exclusive Japanese snack box Tokyo Treat!◀︎◀︎
◎Related Article
1. Pocky
Pocky (ポッキー) by Glico is a chocolate coated biscuit stick, and arguably the most beloved Japanese snacks of all time. It's widely sold abroad nowadays, however, when it comes to the variation of the flavours, Japan is the best place to shop.
Besides the regular chocolate, you can find Pocky in various delicious flavours at Japanese supermarkets including matcha and strawberry.
There are also flavours that are are only available at selected regions, using selected ingredients/local specialties such as Sato Nishiki Cherry from Yamagata Prefecture, Yubari Melon from Hokkaido and Uji Matcha Tea from Kyoto. If you are visiting countryside of Japan, you may find some rare flavour of Pocky!
Worldwide Shipping Available
▶ Pocky Matcha Green Tea
▶ Pocky Almond Crush
▶ Pocky Black Honey Roasted
▶ Pocky White Peach and Strawberry
2. KitKat
Along with Pocky, KitKat (キットカット) is the most popular souvenir snacks among foreign visitors in Japan. Especially, the Matcha flavour is on everyone's shopping list! In shops like Don Quijote, they have a large space dedicated to Kit-Kat and various flavours can be found.
Around 30 kinds of KitKat are sold in Japan currently including regional/seasonal flavours such as Tokyo Banana flavour, strawberry cheese cake, Hojicha tea, Sake, etc. There are also a luxurious series, KITKAT Chocolatory which are made with well-selected premium ingredients.
If you are a KitKat fan, make sure to bring enough cash and space in your suitcase before travelling to Japan!
Check the Price!
▶ Kit Kat Ume Sake
▶ Kit Kat Matcha Green Tea
▶ Kit Kat Purple Sweet Potato
3. Kinoko no Yama & Takenoko no Sato
Kinoko no Yama (きのこの山) and Takenoko no Sato (たけのこの里) are popular chocolate snacks by Meiji, originally released in 1975 in Japan.
Kinoko no Yama is a mushroom (Kinoko in Japanese) shaped snack made of chocolate and short pretzel while Takenoko no Sato is a bamboo shoot (Takenoko in Japanese) shaped snack made of chocolate and biscuit.
Japanese people often divide their opinions about which one of these two snacks are more delicious. (My personal preference is Takenoko no Sato!) There is only one way to find out which one you like better 🙂
Worldwide Shipping Available
▶ Meiji Kinoko no Yama
▶ Meiji Takenoko no Sato
4. Koala no March (Koala's March)
Koala no March (コアラのマーチ) is a bite-sized cookie snack with chocolate cream filling. The koala-shaped cookies have various koala prints with various themes and expressions. It's really enjoyable to watch each cookie with different koala faces while eating!
Like other snacks, Koala no March is also available in various flavours besides regular chocolate such as strawberry and while chocolate.
Buy it Now
▶ LOTTE Koala's March (Chocolate)
▶ LOTTE Koala's Match (Strawberry)
5. TOPPO
TOPPO (トッポ) by LOTTE is a chocolate snack often described as the reversed Pocky. The crunchy pretzel stick is filled with the generous amount of chocolate cream inside.
Besides the regular chocolate, various seasonal and limited flavours are released through the year including bitter chocolate, strawberry and matcha.
Shop online ▶ LOTTE TOPPO
6. Pai no Mi
Pai no Mi (パイの実) is one of the best selling snacks by LOTTE of all time. It was first released in 1979. The bite-size sweet snack is made of 64 layers of puff pastry and filled chocolate cream. The light and flaky pastry and chocolate are in a perfect and delightful balance!
Pai no Mi is often sold with regional limited/seasonal flavours such as apple pie, cheese cake, matcha and more.
Buy it Now ▶ LOTTE Pai no Mi
7. Meiji Almond Chocolate
This Meiji Almond Chocolate (明治 アーモンドチョコレート) is personally my favourite Japanese chocolate sweets 🙂 The well selected premium almond nuts are roasted slowly and covered in Meiji's delicious chocolate. The balance of almond and chocolate is just perfect!
The regular flavour is milk chocolate, but my favourite is the Almond Black that comes with bitter chocolate. There are also Matcha and milk chocolate flavour available
Check the Price ▶ Meiji Almond Chocolate
8. Choco Pie
Choco Pie (チョコパイ) by LOTTE might be not exactly the pie as you would imagine, but it's definitely as great as that. It's a soft and moist sponge cake filled with rich vanilla cream and covered in chocolate.
It's a kind of sweets that you would eat when you feel like you deserve a little treat. So buy them for your special ones! My personal recommendation is to keep them in a fridge for a couple of hour before you eat!
Shop Now ▶ LOTTE Choco Pie
9. Royce'
Royce' is a confectionery company base in Sapporo City, Hokkaido. Royce's "raw chocolate" (Nama Chocolate in Japanese) has been a super popular souvenir from Hokkaido for a few decades, and now they are available at other parts of Japan including some of major airports in Japan.
Royce's Nama Chocolate contains high among of fresh cream that makes chocolate soft, melty and smooth. Although the chocolate is pretty rich, it taste delicate and fine.
Besides regular chocolate, it's available in several different flavours such as Matcha, champagne and bitter.
Worldwide Shipping Available
▶ Royce' Nama Chocolate (Au Lait)
▶ Royce' Nama Chocolate (Ganache Champagne)
▶ Royce' Nama Chocolate (Matcha)
10. Shiroi Koibito
Another great sweets from Hokkaido! Shiroi Koibito (白い恋人), "White Lover" in English is manufactured by Ishiya, the confectionery company based in Sapporo, Hokkaido.
It's one of the top-selling regional souvenirs in Japan of all time, that has been beloved over 40 years. The product is widely sold souvenir shops, stations and airports in Hokkaido.
White chocolate is sandwiched between two langue de chat cookies. The balance of Hokkaido's high quality chocolate and the thin cookies is simply perfect, and they taste delicate yet so delightful.
Order Online ▶ Shiroi Koibito Mixed Biscuits
You can shop the listed Japanese snacks online! Kokoro is an online store offering a wide range of Japanese beauty products and snacks with worldwide shipping! Visit the website (http://bit.ly/32HfNbi) to check more Japanese snacks and beauty products available, and spend over 40 USD to get FREE shipping to your country!
---
Hope you have enjoyed my list of the best Japanese chocolate snacks! If you are into Japanese snacks/sweets, I'd recommend you to check out these article, too!
▽Related Articles▽
▼Editor's Picks▼
---