10 Best Japanese Snacks to Buy
10 Japanese Snacks You Must Buy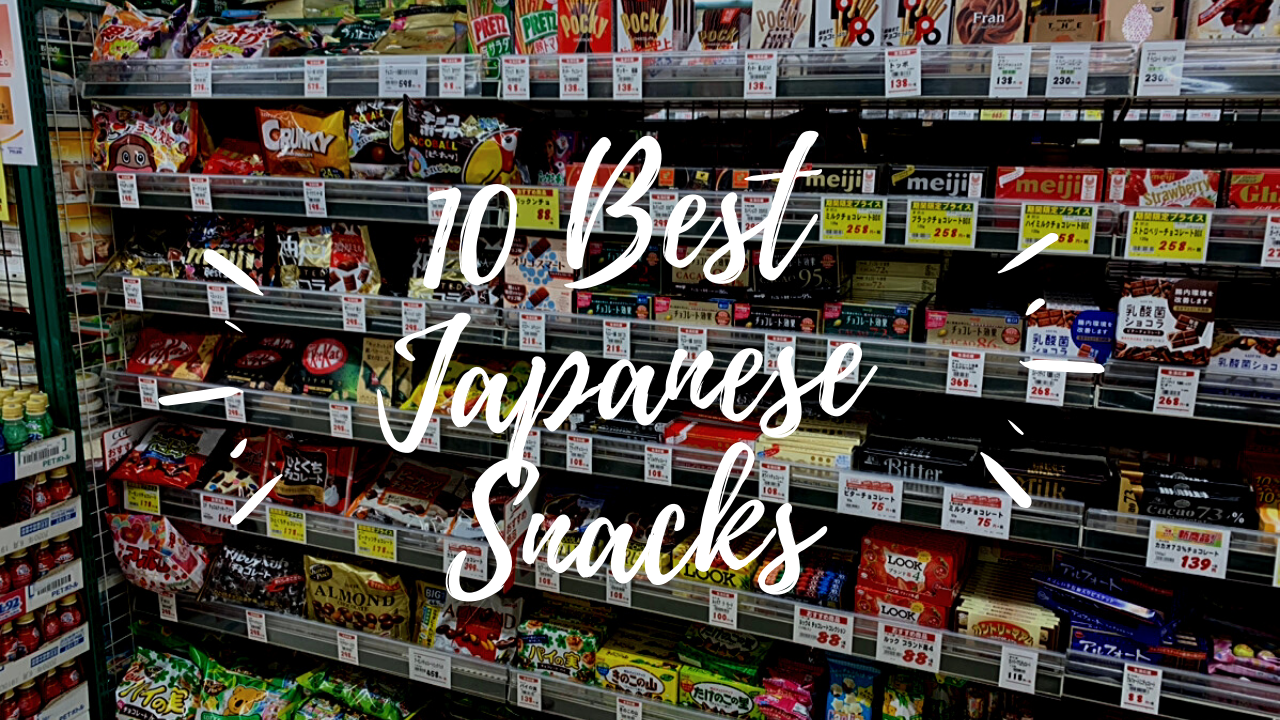 Have you ever been to the Japanese snack and candy section of a Japanese supermarket? If so, you know that they tend to be huge and occupy a large space in the supermarket. There are even chains that sell only Japanese snacks and treats, and entering one of those stores is losing you among thousands of products. You can spend hours inside seeing everything they have and deciding what to buy!
The wide variety of strange and different flavors that are not found anywhere else have made Japanese snacks one of the souvenirs most sought after by tourists. On this article, I have picked 10 most popular Japanese snacks out of hundreds with various price range.
From Kit Kats of strange flavors to wasabi pistachios, here are 10 must buy snacks in Japan!
▶︎Check the trendy exclusive Japanese snack box Tokyo Treat!
◎Related Article
1. Meiji Takenoko no Sato and Kinoko no Yama
Basically, they are like cookies with bamboo or mushroom form cover in chocolate. Meiji is a Japanese company famous for its delicious chocolate, but sometimes eating only chocolate can be too much sweet. Takenoko no Sato and Kinuko no Yama are a perfect and balanced combination between cookie and chocolate, and I can assure you they are very addictive.
The Japanese usually have a predilection either for one or the other. There are the defenders of Takenoko and those of Kinoko. Although generally speaking, the one with the most followers is Takenoko. Why don't you try both and discover which one is your favorite? 😉
Price: 524 yen
Worldwide Shipping Available ▶ Meiji Takenoko no Sato
Worldwide Shipping Available ▶ Meiji Kinoko no Yama
2. Puré Fruits Gummy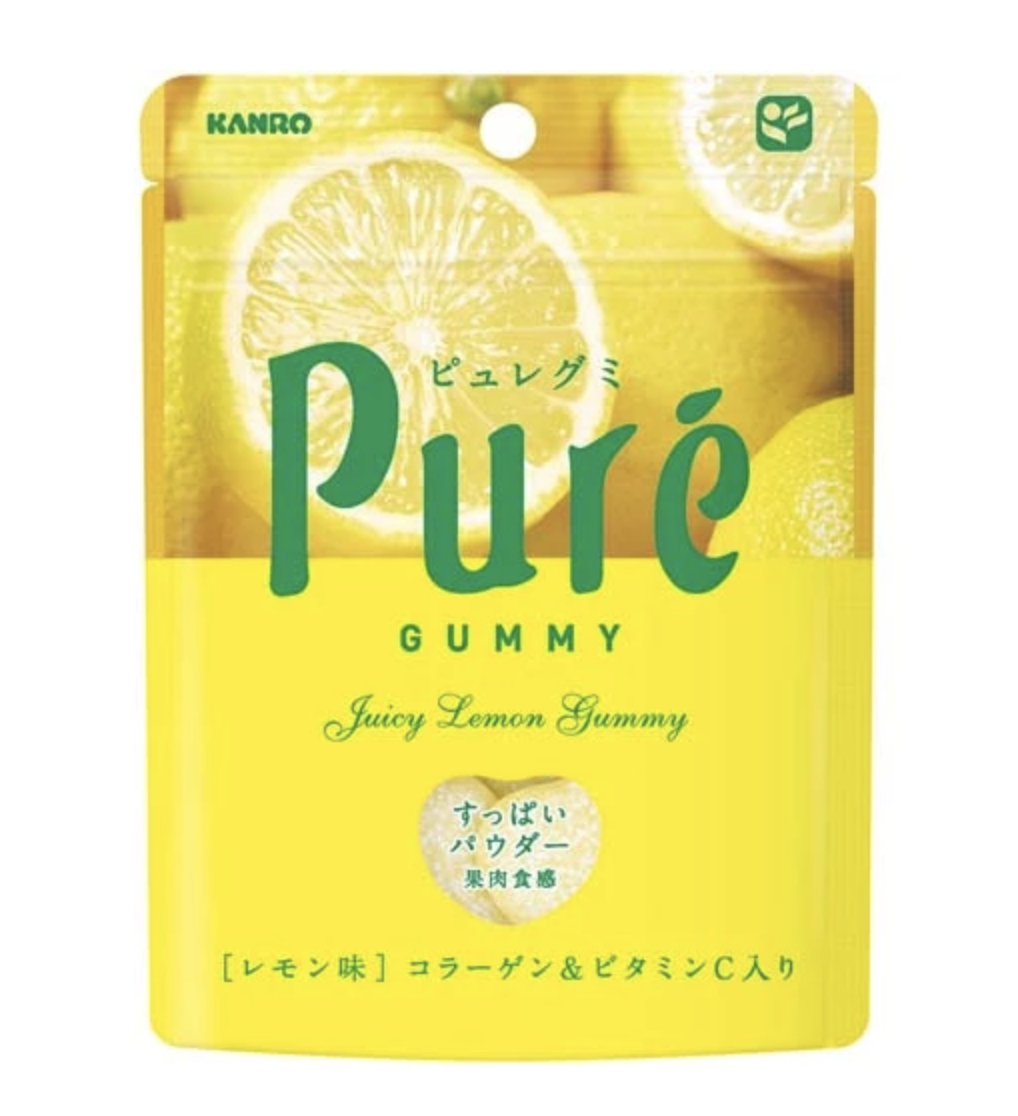 These gummy treats are my downfall. Personally, I like to eat something sweet after lunch or dinner. But sometimes I'm not very hungry for dessert, and I don't like super sweet things (I prefer acid flavors).
Pure lemon gums are so yummy that I have to control myself for not to eat a whole package in a single day. If you don't like lemon, you also have them from other flavors, such as grape, another of my favorites ones.
Price: 704 yen
Shop Now ▶ Puré Juicy Lemon Gummy
3. Meiji Macademia Chocolate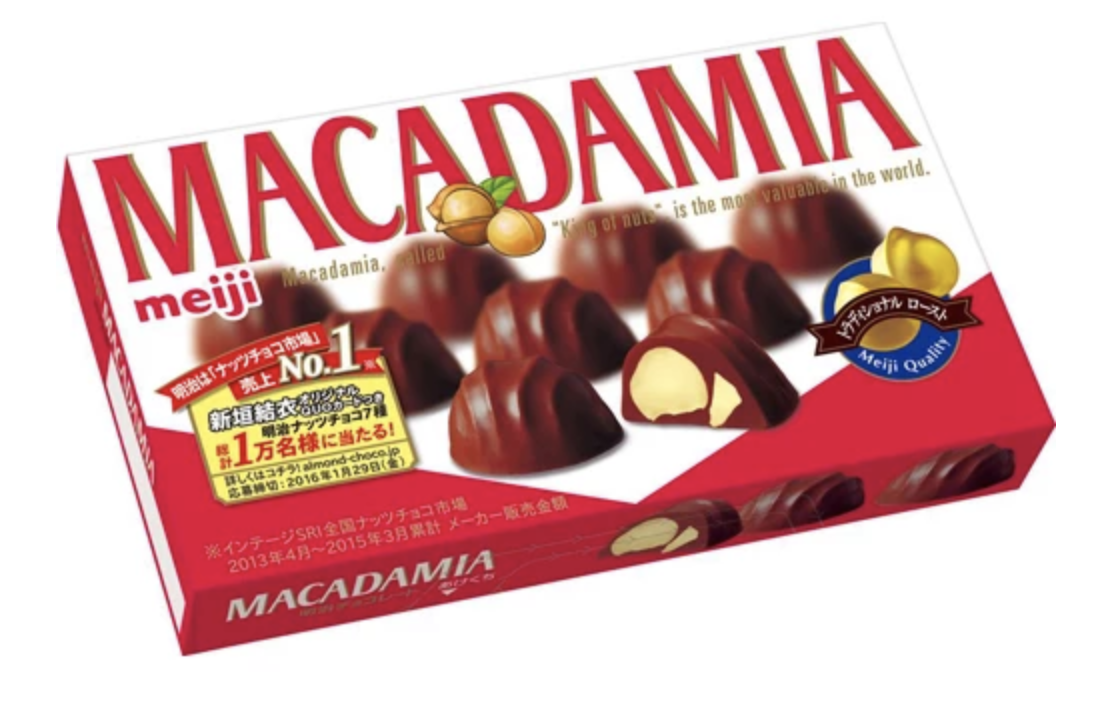 A treat that I give myself from time to time are these chocolate macadamias from Meiji. And I'm not the only one who loves them, since they are one of the company's best selling products. If you have the opportunity, you cannot miss trying them! I bet you you would regret it.
Price: 542 yen
Buy it Now ▶ Meiji Macademia Chocolate
4. Glico Pocky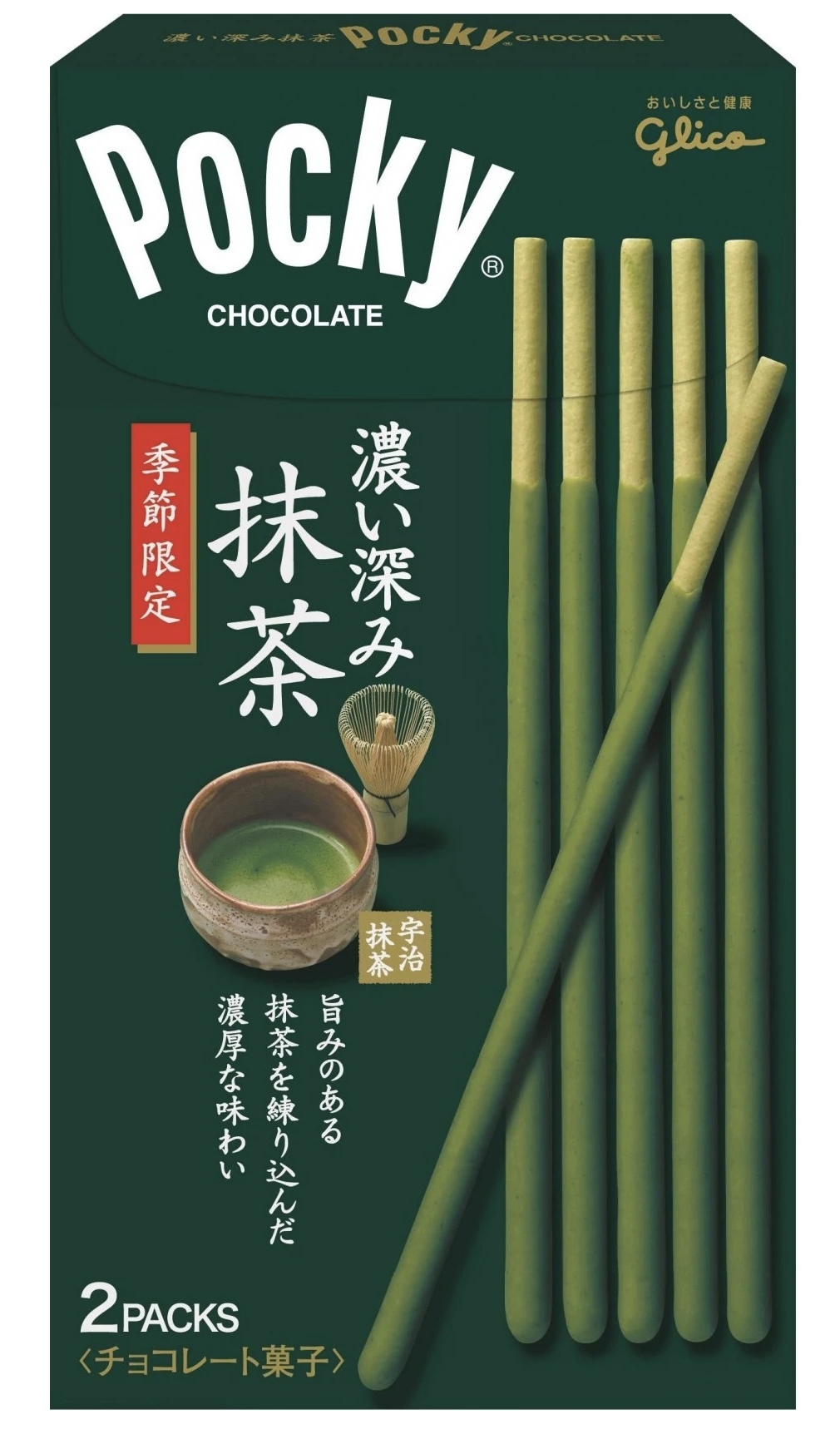 A classic in Japan are the famous Pocky, who even have their own day, the Pocky Day (November 11). In my country there is something similar but with another brand (Mikado). But I think the Pocky are better and come with more chocolate and are bigger.
And if you want to try something different from the classic chocolate Pocky, now you have them with different flavors, like White Peach and Strawberry or Black Honey Roasted Soy Flour. And the favorite of foreigners, matcha, a flavor that can't be missing in Japanese snacks. I'm more a classic person so I love the almond crush one.
Price: 1,559 yen (approximately. Prices change depending on the flavour)
Worldwide Shipping Available ▶ Pocky Matcha Green Tea
Worldwide Shipping Available ▶ Pocky Almond Crush
Worldwide Shipping Available ▶ Pocky Black Honey Roasted
Worldwide Shipping Available ▶ Pocky White Peach and Strawberry
5. Calbee Jagariko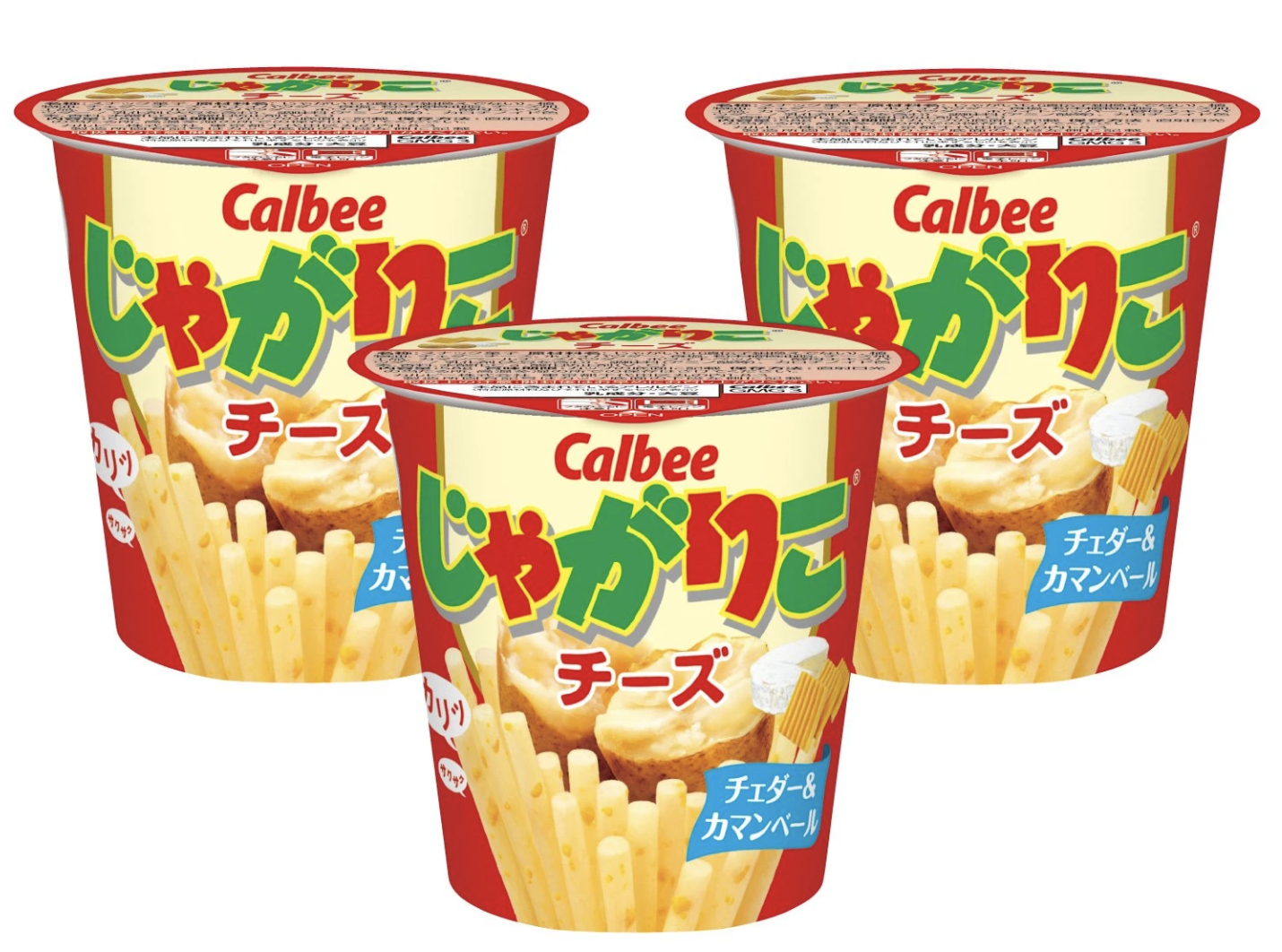 Talk about potato chips in Japan is talk about Calbee Jagalico, the favorites of Japanese and foreigners. They are sold in small packages and are perfect for killing hunger between hours when you are studying or working. Or just when you feel like eating tasty potato chips. And how could it be otherwise in Japan, there are different flavors. My favorites are the one with cheese flavor!
Price: 851 yen
Shop Now ▶ Calbee Jagariko Cheese
Shop Now ▶ Calbee Jagariko Butter & Soy Sauce
Shop Now ▶ Calbee Jagariko Salt and Lemon
Shop Now ▶ Calbee Jagariko Salad
6. Shiroi Koibito Mixed Biscuits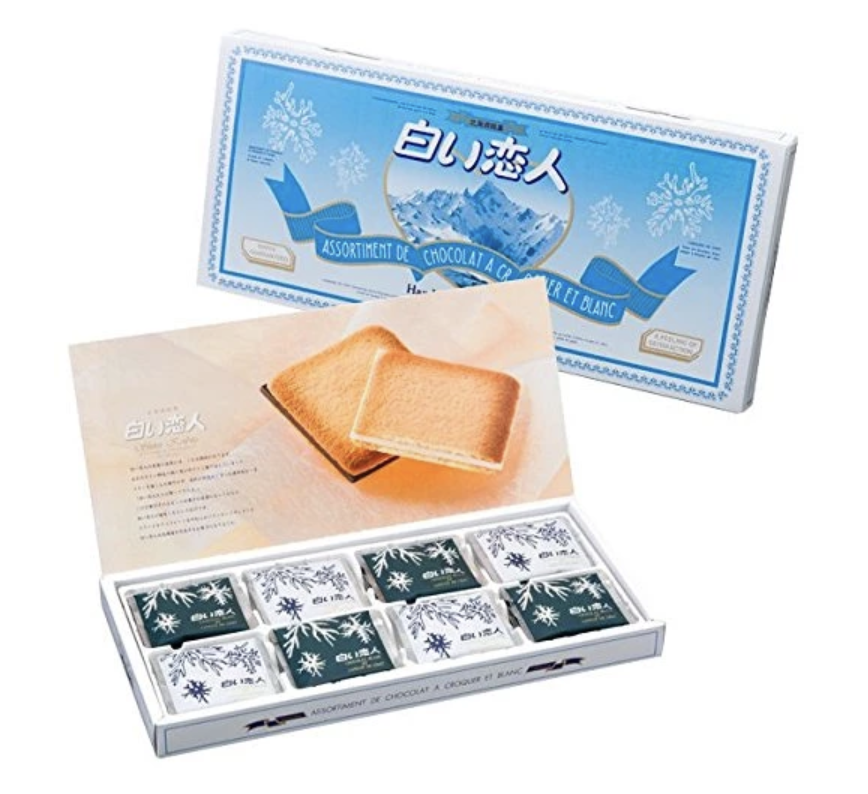 Literally White Lover, Shiroi Koibito is a candy that was originally sold only in Hokkaido as a souvenir of the place. However, it became so popular that today it can be found throughout Japan. It basically consists of two thin cookies with delicious white chocolate in the middle.
Hokkaido is famous for its dairy products, and Hokkaido white chocolate is known throughout Japan as a quality chocolate. If you like white chocolate, this is a snack that you can not miss.
Price: 3,314 yen
Buy it Now ▶ Shiroi Koibito Mixed Biscuits
7. Tohato Chocobi Crayon Shinchan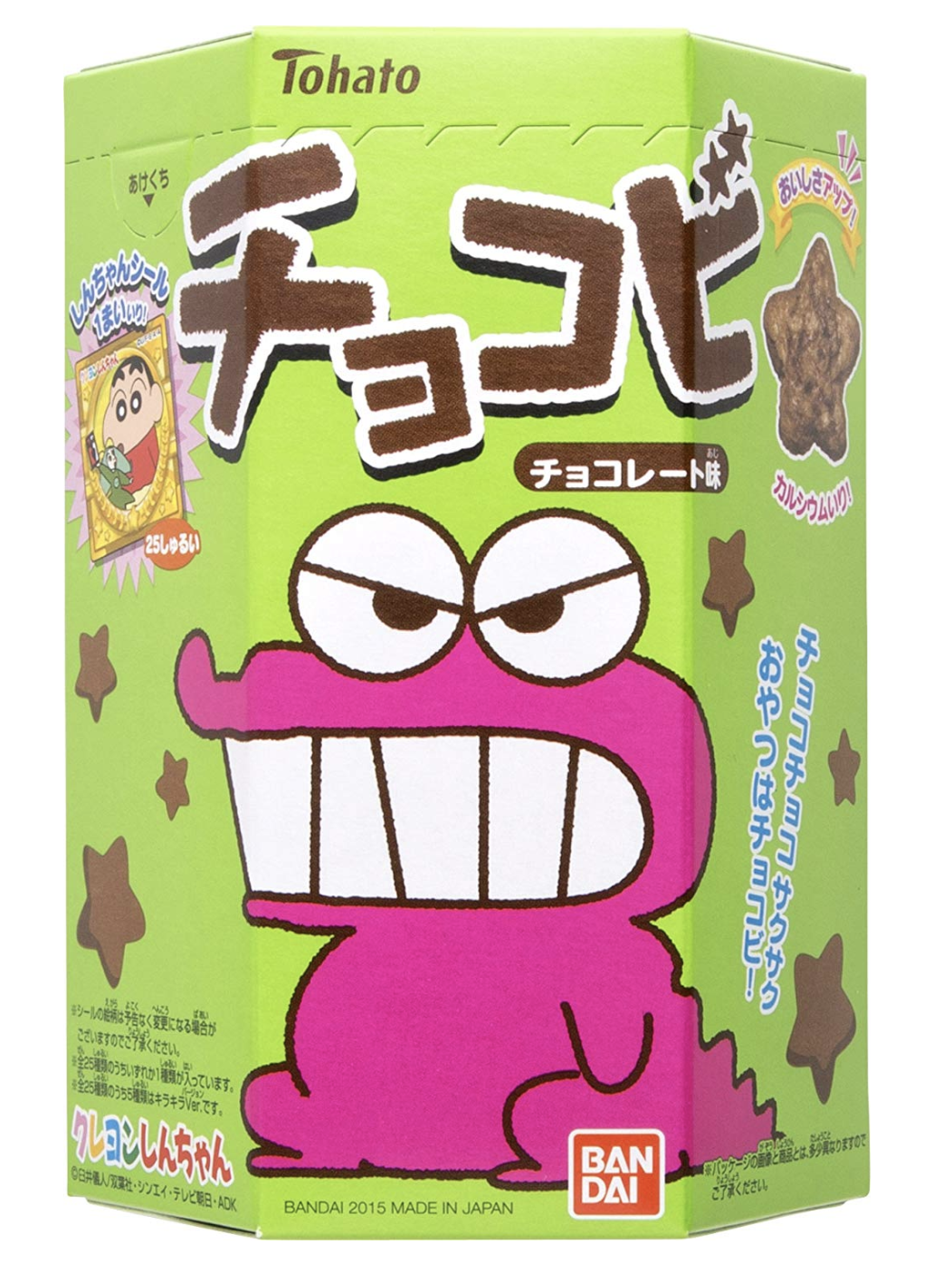 Surely you all know these cookies because they are the ones that the famous kid Shin-Chan likes. In fact, they're a normal chocolate cookies with star form but they got so popular that now you can found it in every single japanese supermarket. And now you can also get them online!
Check the Price▶ Shinchan cookies
8. Umaibo Japanese Corn Puffed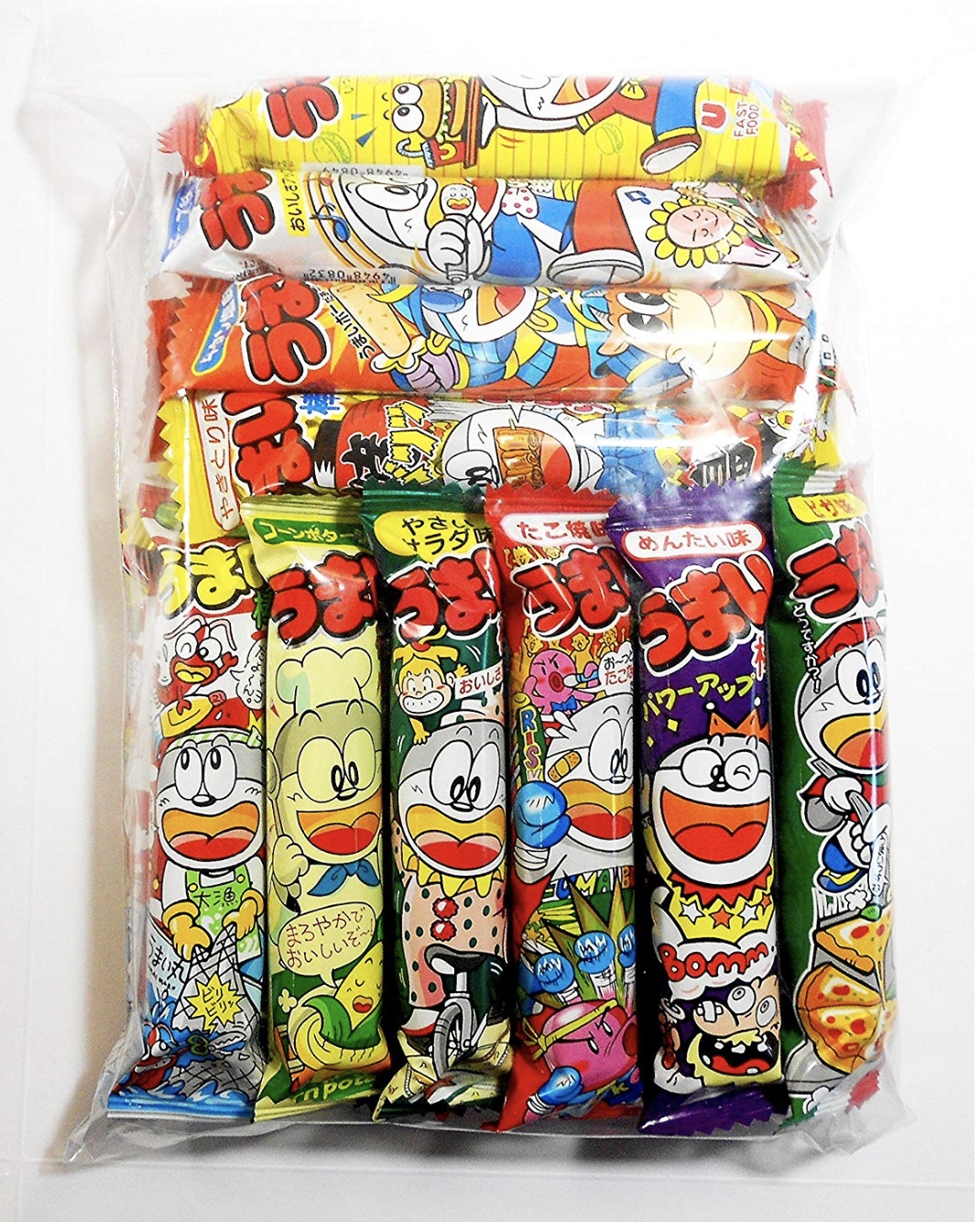 Umaibo means literally "delicious stick" in Japanese, and they are puffed corn snack really popular among japanese children. They are available in many flavors but you can get a package with several of them of different flavors.
9. Wasabi Pistachios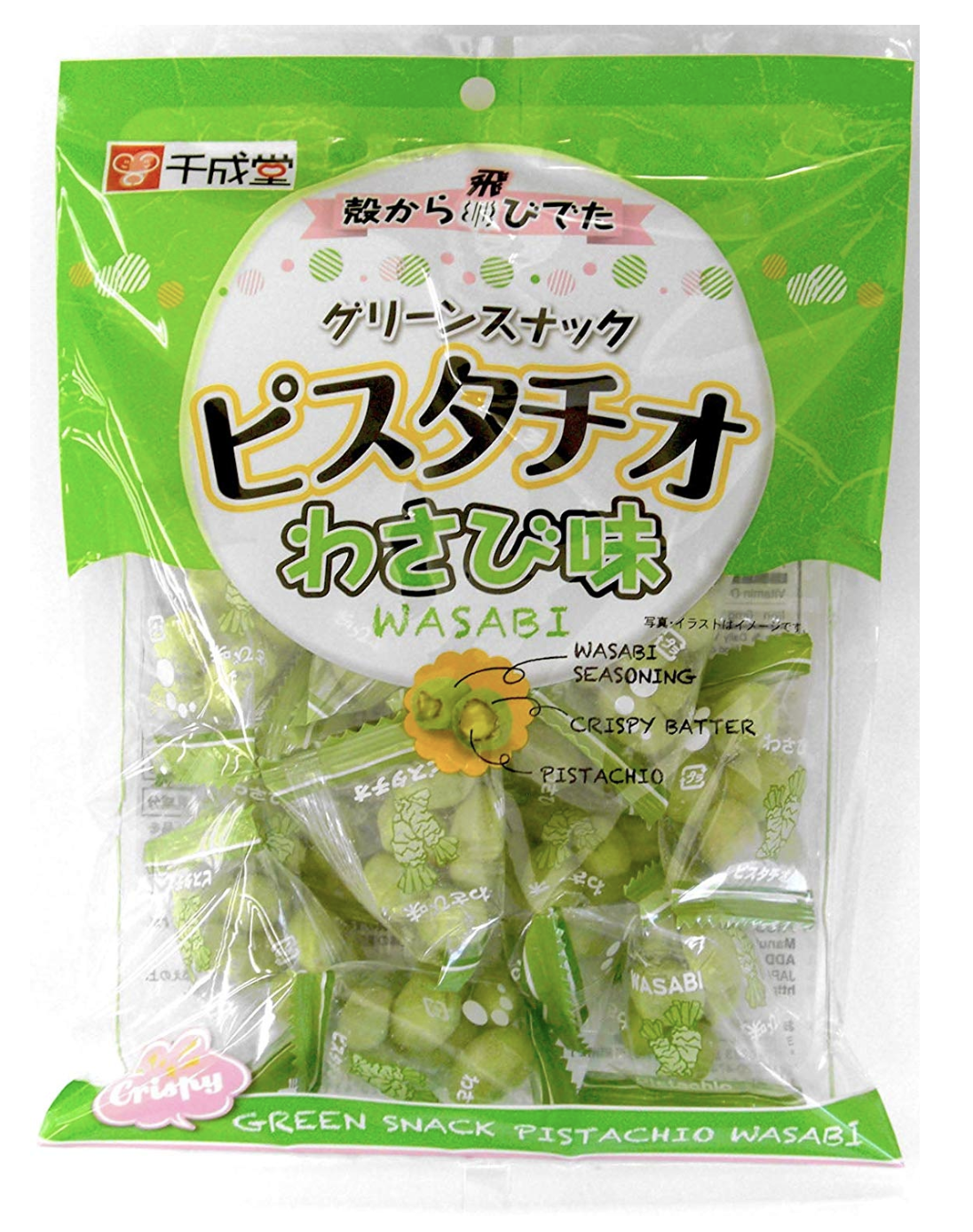 For the more daring, wasabi pistachios are a classic and one of the most famous souvenirs among those who travel to Japan. In Tokyo you can find them at Ameyoko Market, the place where you can find everything. But if you are not going to travel to Japan soon and you want to try them, you're lucky because now you can also get it online!
Buy it Now ▶ Wasabi Pistachios
10. Kit Kat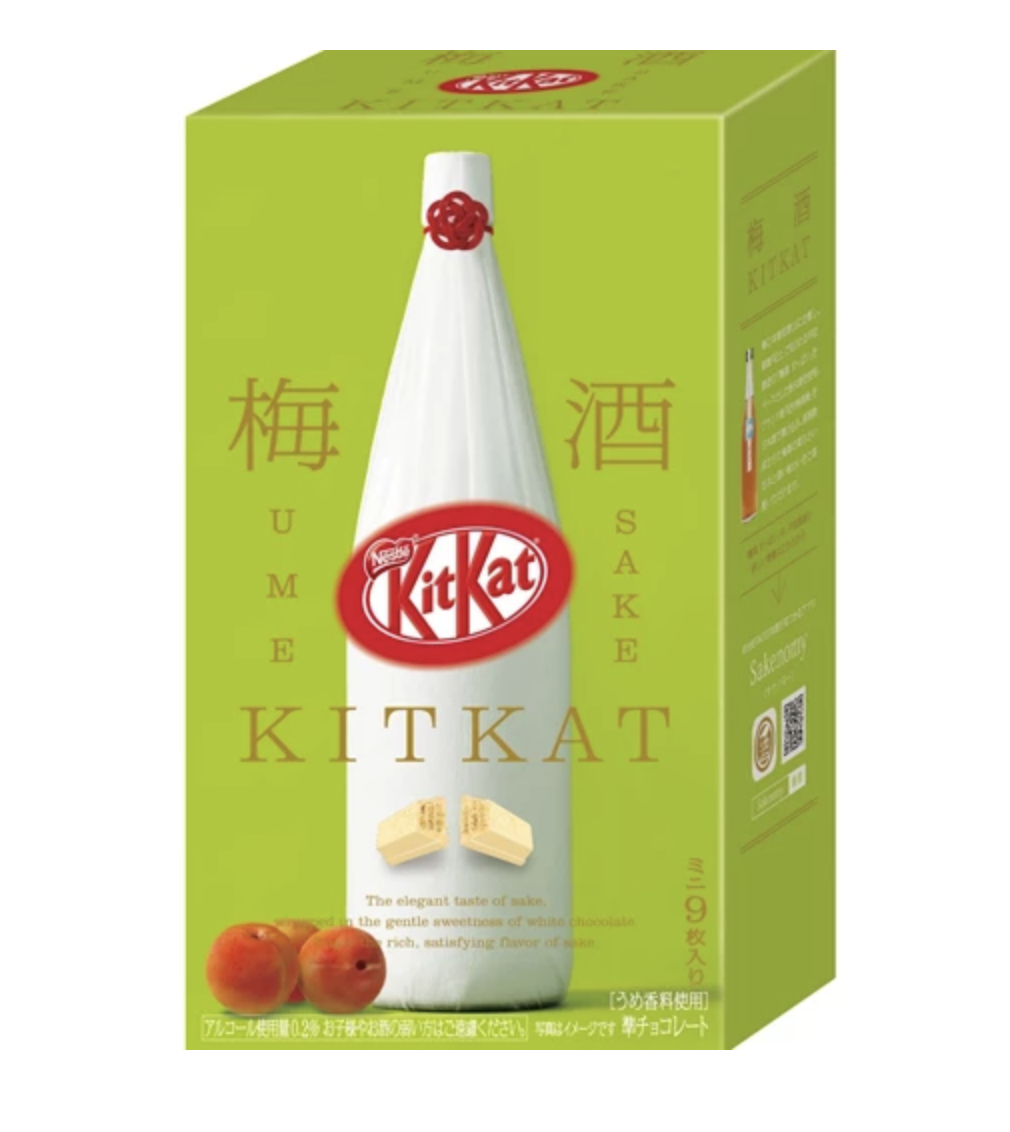 And finally, in a list of the best Japanese snacks you couldn't miss the famous Kit Kat. Yes, Nestlé is not a Japanese brand and you can find Kit Kats worldwide. But only in Japan you have them from a thousand different flavors. From the classic Kit Kat of matcha (Japanese green tea) to one of sweet potato, passing through those of sake (rice wine) or umeshu (plum wine) flavor, among many others!
If you go to the page of Kokoro Japan you can find Kit Kats of different flavors. My recommendation is the umeshu one! But explore yourselves to see which one fit more with you.
Check the Price▶ Kit Kat Ume Sake
Check the Price ▶ Kit Kat Japanese Sake
Check the Price ▶ Kit Kat Matcha Green Tea
Check the Price ▶ Kit Kat Purple Sweet Potato
You can shop the listed Japanese snacks online! Kokoro is an online store offering a wide range of Japanese beauty products and snacks with worldwide shipping! Visit the website (http://bit.ly/32HfNbi) to check more Japanese snacks and beauty products available, and spend over 40 USD and get FREE shipping to your country!
What do you think about my list? Would you add a different snack? Let me know your favorite Japanese snacks! And if you want more information about popular snacks and products in Japan, please check out these articles below, too!
▽ Related Articles ▽
▼Editor's Picks▼
---