Tokyo Disneyland: Best Things to Do
Best Tokyo Disneyland Rides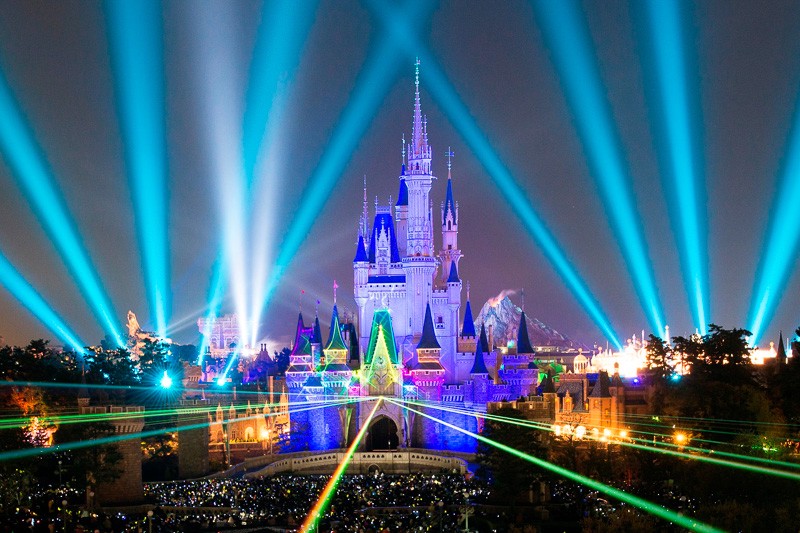 Tokyo Disneyland is one of the most popular tourist sites and amusement parks in Tokyo among both international and domestic tourists. Tokyo Disneyland is also called "Dreamland" (Yume-no-kuni in Japanese). You feel as if you were in the land of dreams, which isn't Japan or any other countries. People come to Tokyo Disneyland looking forward to meeting cute Disney characters, enjoying exciting attractions, watching shows and parades and tasting special food.
There are numerous things to do at Tokyo Disneyland, and you cannot enjoy all of them within a day. However, you have the limited travel time in Tokyo. Here are well-selected things to do and tips to wisely spend your limited time at Tokyo Disneyland.
-Book your Tokyo Disneyland Tickets and Easy Pick-up
▼Tokyo DisneySea Ultimate Guide▼
▼How to get to Tokyo Disneyland from Tokyo major airports or stations▼
1. Tokyo Disneyland Rides
Why Disneyland is so popular?? It's mostly because of the wonderful attractions. The number of them reaches around 40, so it's impossible to experience all of them a day. To enjoy more attractions smoothly, let's pick out some out of 40 in advance.
In addition to narrowing down a list of things to do, "FASTPASS" is also the key to ride attractions effectively. A Fastpass of a certain attraction minimizes the amount of time waiting in line at the attraction. For example, you can enter a popular attraction just for 10 minutes with the Fastpass which requires 2 or 3 hours without it.
It assigns you a specific time to enter the attraction printed on it. You can get one Fastpass per a park ticket and need to wait for a while to get the next one.
Once the park opens, everybody starts to run to their targets. What should you do at first? Queue for a priority attraction?? NO!! Get the Fastpass of your top priority attraction. Each Fastpass ticketing machine is located next to entrances of attractions. After getting the first Fastpass, go to the other priority attraction.
You will go with the following flow basically:
1. Get a Fastpass▶︎2. Wait for other attractions in line▶︎3. Use the Fastpass▶︎1 or 2▶︎…
* Sometimes your favorite attractions are close temporarily, so check if they are available on this list!!
Big Thunder Mountain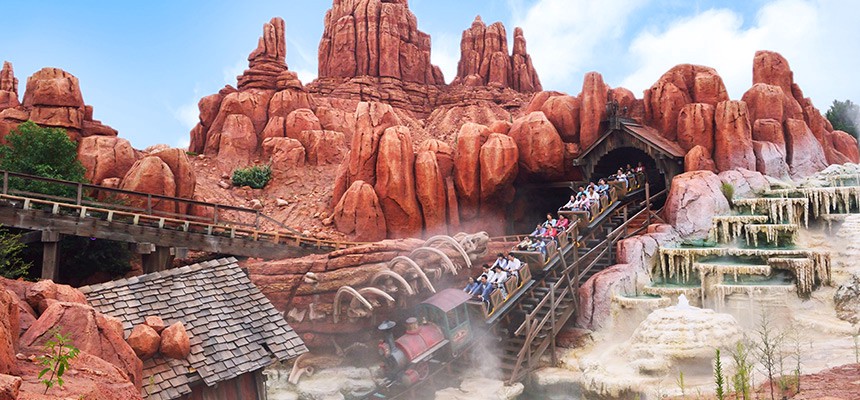 At Big Thunder Mountain, the roller coaster runs at high speed through the abandoned mine. Not so terrifying, rather feeling great!!
Splash Mountain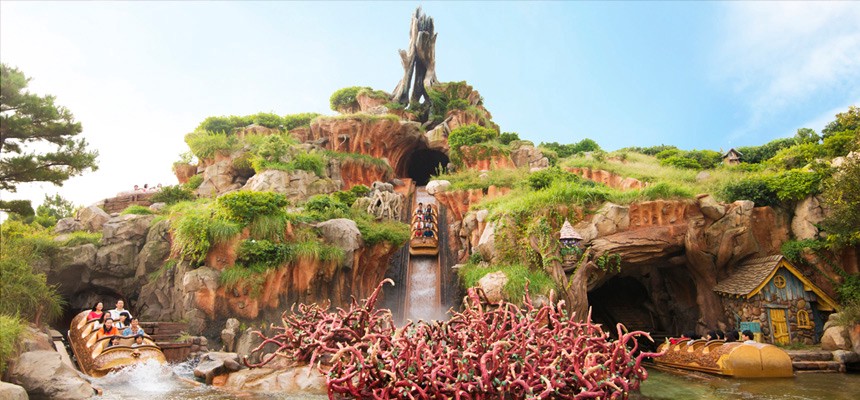 The highlight of Splash Mountain is falling down a cliff from heights of 16 meters. Feeling as if fell down at a right angle. Riders on the front seat will get wet after landing. That's fun!!
Space Mountain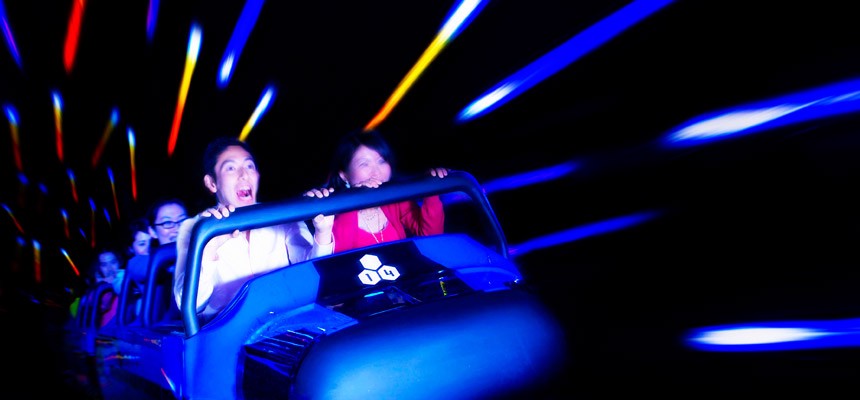 Space Mountain is like a roller coaster, but it's different from Big Thunder Mountain's one. This is faster and runs in the darkness. More thrilling!!
Pooh's Hunny Hunt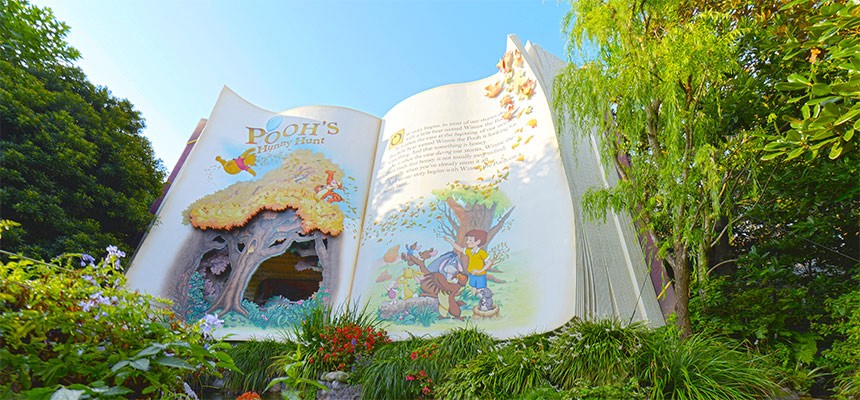 Riding on the "hunny pod", you follow the Pooh's story. Let's jump into the Hundred Acre Wood and meet warm and friendly Pooh's friends!!
Haunted Mansion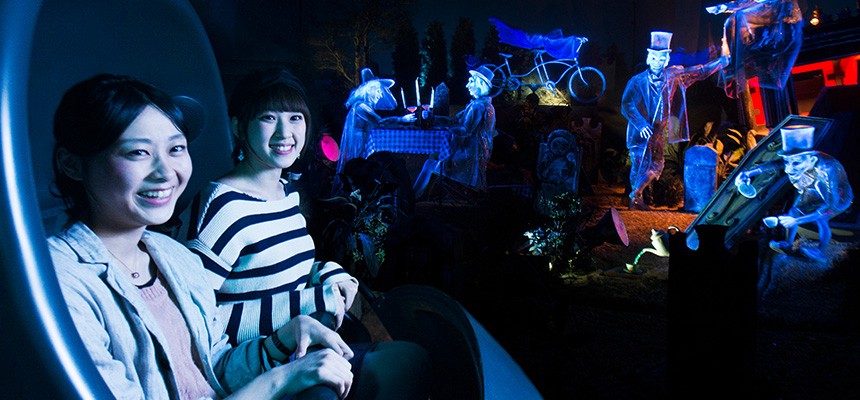 Haunted Mansion is one of the few horror attractions. 999 ghosts live in the mansion and they want you to be the 1000th. Kids may burst into tears for the atmosphere.
Monsters, Inc. Ride & Go Seek!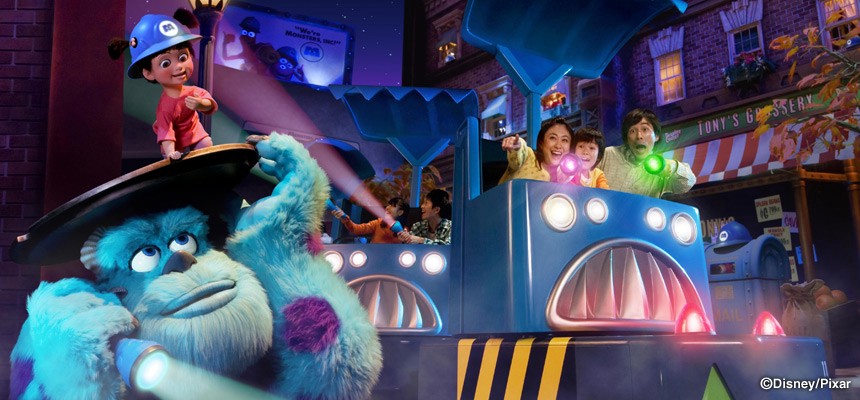 Monsters, Inc. Ride & Go Seek! is onw of the most popular attractions and never recommended to wait in line without a Fastpass. This is a kind of a gun shooting game. Focus your hand light on hidden monsters and get high score!!
Star Tours: The Adventures Continue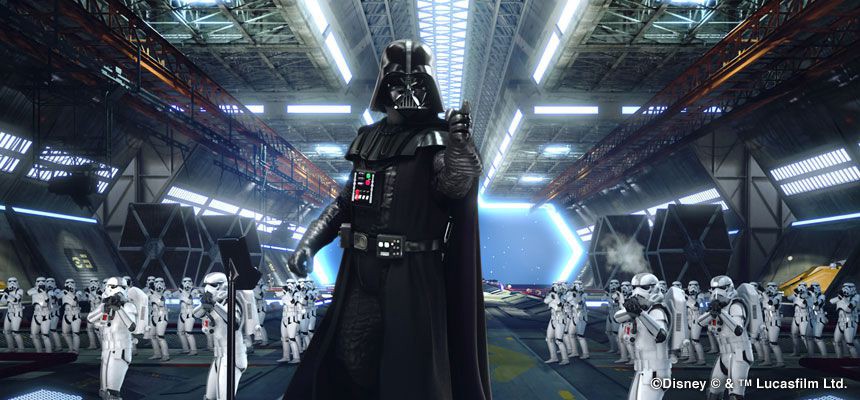 Star Wars fans should experience the films world with familiar characters!! Embark the exciting adventures in a cabin with 3D glasses.
Mickey's House and Meet Mickey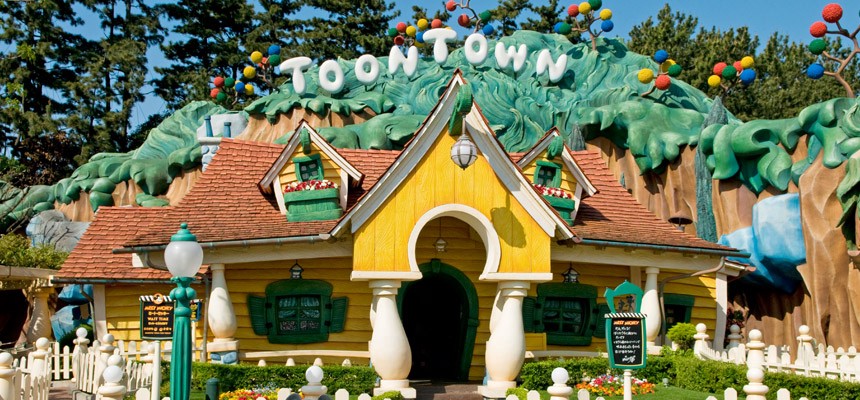 Toontown area has Disney characters' houses. Michey's one is the most popular because you can take a photo with him!!
***
2. Parades
Nighttime Parade "Tokyo Disneyland Electrical Parade Dreamlights"
Parades are one of the most popular entertainments in the park. Especially, the major parade "Tokyo Disneyland Electrical Parade Dreamlights" is worth watching instead of riding some attractions. Various Disney characters come on the vehicle lit up with billions of lights. It usually starts from 18:30–19:30. With the decline of day, people save a spot on the sidewalk to get a good view of the parade. On the other hand, less people queue for attractions.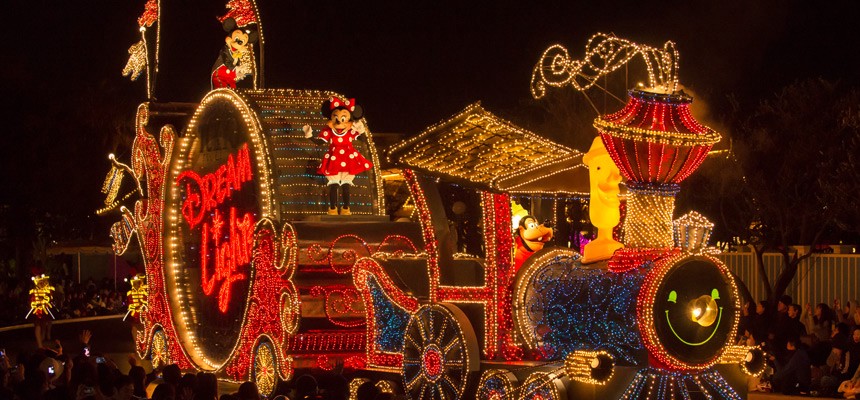 ***
3. Food
You can have a lunch&dinner in quality restaurants, but let me skip an instruction of restaurants. Some restaurants require a reservation in advance or to queue for a while. I recommend you to play more attractions till the park closes. Disneyland offers you a variety of portable food sold at little outdoor stalls on the road. A good smell will come to you while you pass by the stalls. I pick out these 3 must-have snacks instead of restaurant dining.
First of all, get popcorn with it in a cute character bucket (310 yen/with a caracter bucket: 2,300 yen.) There are many kinds of flavors such as caramel, milk tea and curry. A smoked chicken leg (700 yen) will also satisfy your hunger. It's juicy enough to spill on your clothes. Be careful!! Another delicious snack is cinnamon churros (310 yen) with a section in the shape of Mickey.
4. Hotel
Disney Ambassador Hotel
Are you a big fan of Disney? Disney Ambassador Hotel is the first choice to stay. It provides 5 types of character rooms: Mickey, Minnie, Donald Duck, Stitch and Chip 'n Dale. At its restaurant, Disney friends including Mickey greet you. You can admit Disneyland and DisneySEA 15 minutes earlier than anyone else.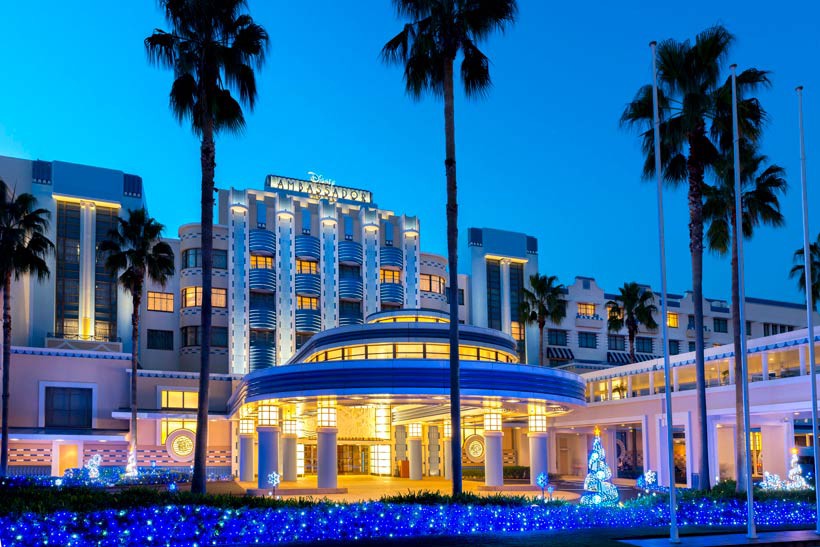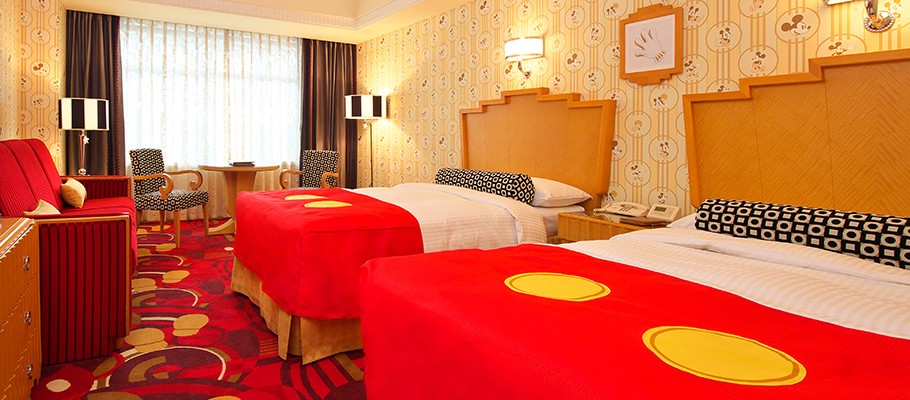 Disneyland Hotel
Disneyland Hotel is the nearest hotel to Disneyland. It also has 4 types of the Disney character-thmed rooms such as Cinderella, Alice, Beauty and the Beast and Tinker Bell. You will be granted a special privilege to enter Disneyland and DisneySEA 15 minutes before they officially open. Rooms are available from 40,000 yen.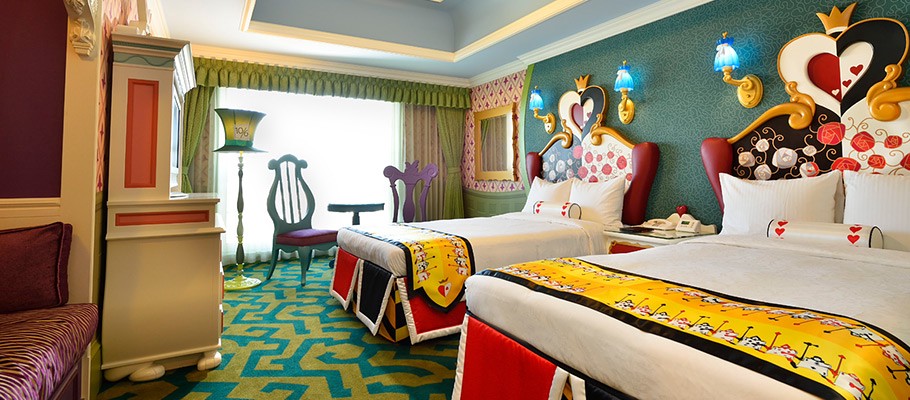 How to move to Tokyo DisneySea from Tokyo Disneyland
From Maihama Station, Disney Resort Line runs through both parks. The fare is 260 yen.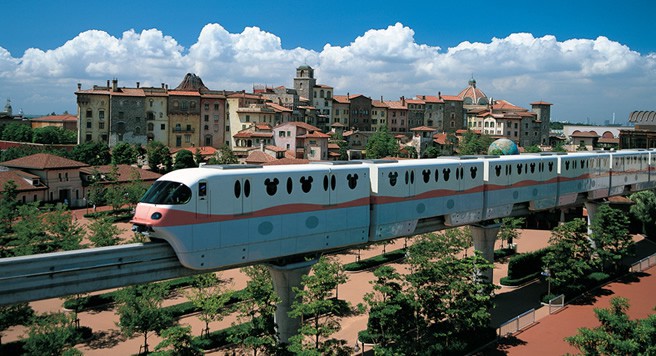 ***
Tokyo Disneyland
Access: http://www.tokyodisneyresort.jp/en/access/
Hours: 8:00-22:00
Admission (1 day): 7,400 yen(over 18)/6,400 yen(age 12–17)/4,800 yen(age 4–11)/Free(3 or younger)/6,700 yen(0ver 65)
Admission (2 days): 13,200 yen(over 18)/11,600 yen(age 12–17)/8,600 yen(age 4–11)/Free(3 or younger)
Admission (3 days): 17,800 yen(over 18)/15,500 yen(age 12–17)/11,500 yen(age 4–11)/Free(3 or younger)
Admission (after 6PM on weekdays only): 4,200 yen (over age 4 )
Admission (after 3PM on weekends & holidays only): 5,400 yen(over 18)/4,700 yen(age 12–17)/3,500 yen(age 4–11)
For more info about Tokyo Disney Resort and other theme parks in Japan, check these articles below!
▽Related Articles▽
▼Editor's Picks▼
---