5 Popular 3 Coins Stores in Tokyo
Enjoy Shopping at Popular 3 Coins Stores in Tokyo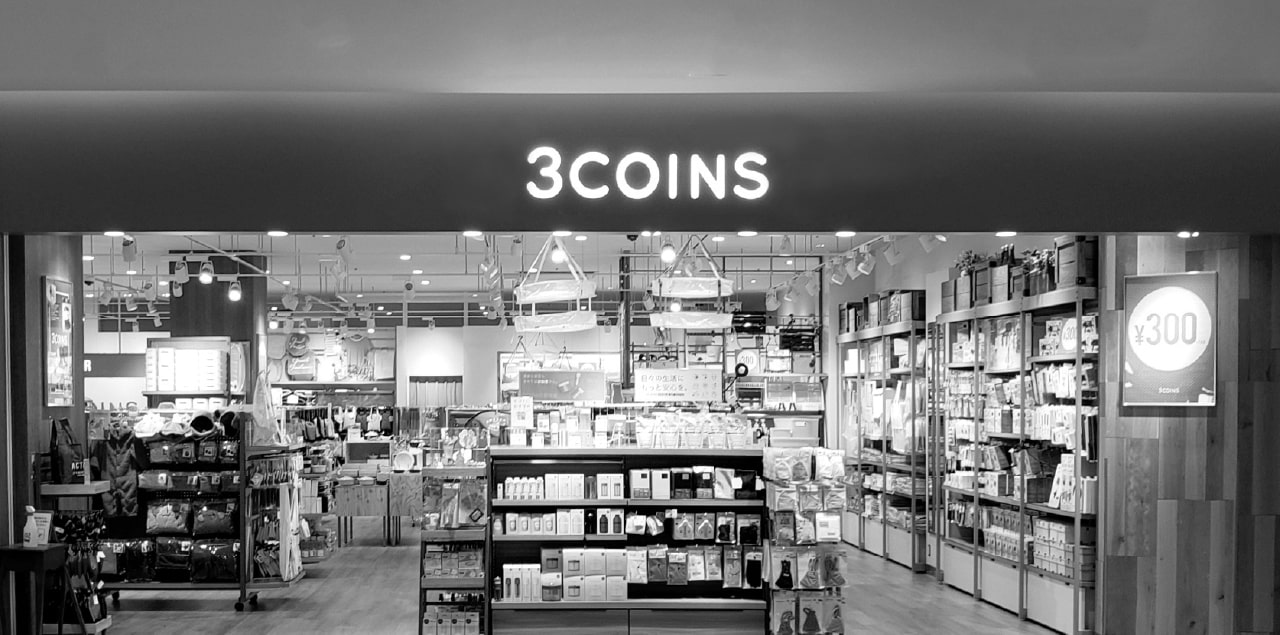 Organizing your living environment is one of the most important things when you start a new life or when you move to a new place. To make a home where you feel comfortable, you might gather your favorite interiors and convenient living stuff. 3 Coins stores are one of the most ideal living stuff shops in Japan. 3 Coins stores are also a kind of Japanese trending shops serving good stuff at a cheap price such as Muji and Uniqlo.
Each of the items in 3 Coins stores is only ¥330. 3 Coins stores have a variety of living stuff such as kitchen items, bath goods, and lightning goods ranging from simple ones to fashionable ones. Moreover, as many of the 3 Coins stores are located in big shopping malls or inside stations in Japan, they are very convenient and helpful when you notice you need something immediately during your shopping or trip. There are a lot of trendy shops especially in Tokyo.
Let's have a look at the 5 popular 3 Coins Stores in Tokyo.
What is 3 Coins?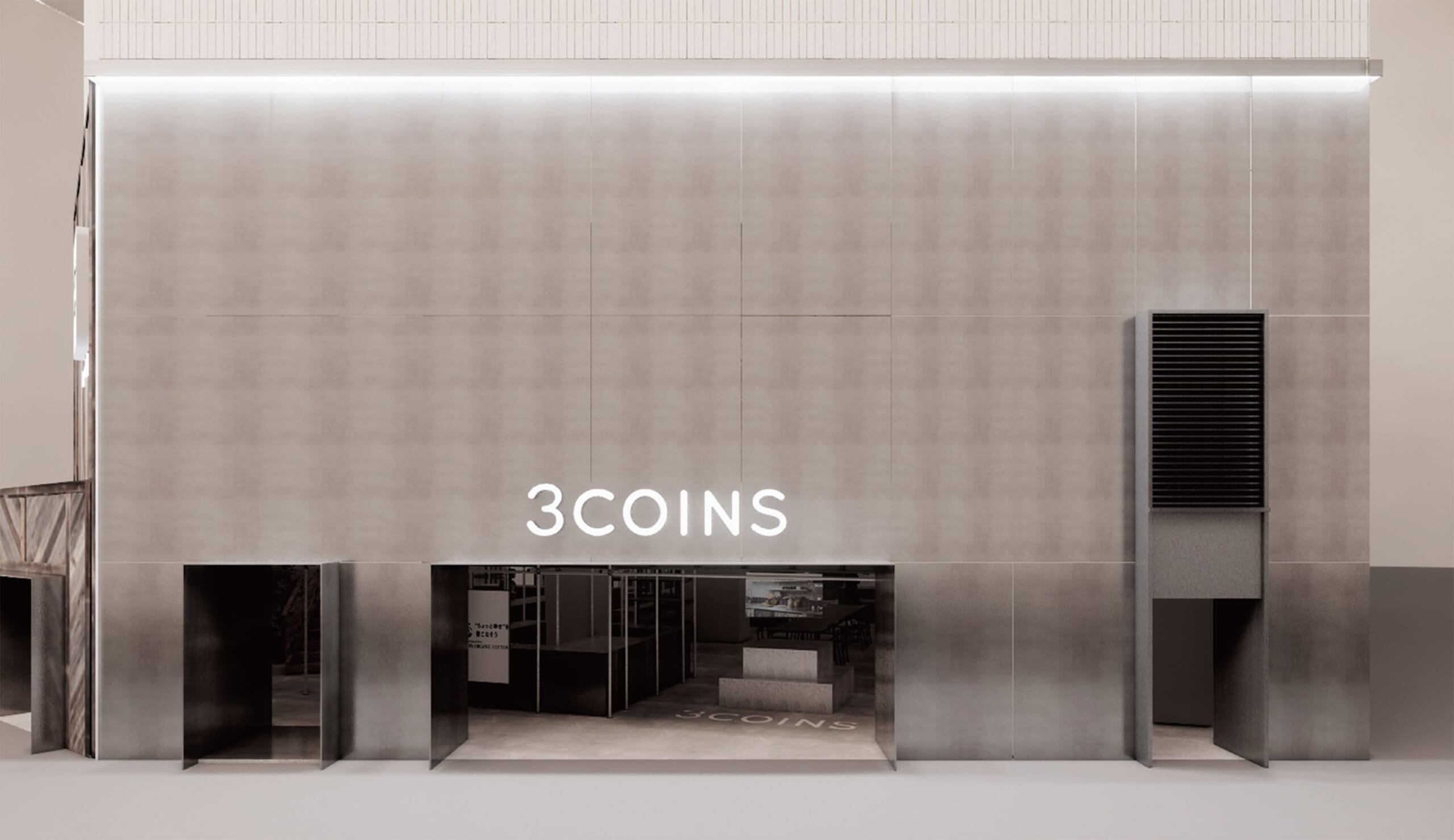 3 Coins Store is one of the most popular living stuff stores in Japan. It has various items from basic items to well-designed interior goods at a reasonable price. The brand name was named after the theme of products that can be purchased with three 100 yen coins.
The first 3 Coins store opened in Osaka in 1994 to sell living stuff as a part of fashion. As most of the shops are located in places where a lot of people come in and out, the shops arrange line-ups dependimg on the target customers of each area. 90% of the items are 3 Coins stores' original ones and sold at formal prices.
The most attractive point is that it renews its line-ups every week. It develops 400-500 new items per month not to make customers bored. The latest trend item at a cheap price of ¥300 is a tip of popularity.
3 Coins stores also have another brand called 3 Coins +plus. It has higher quality stuff ranging from ¥1,000 to ¥1,500, in addition to the normal line-ups.
3 Coins Harajuku Flagship Store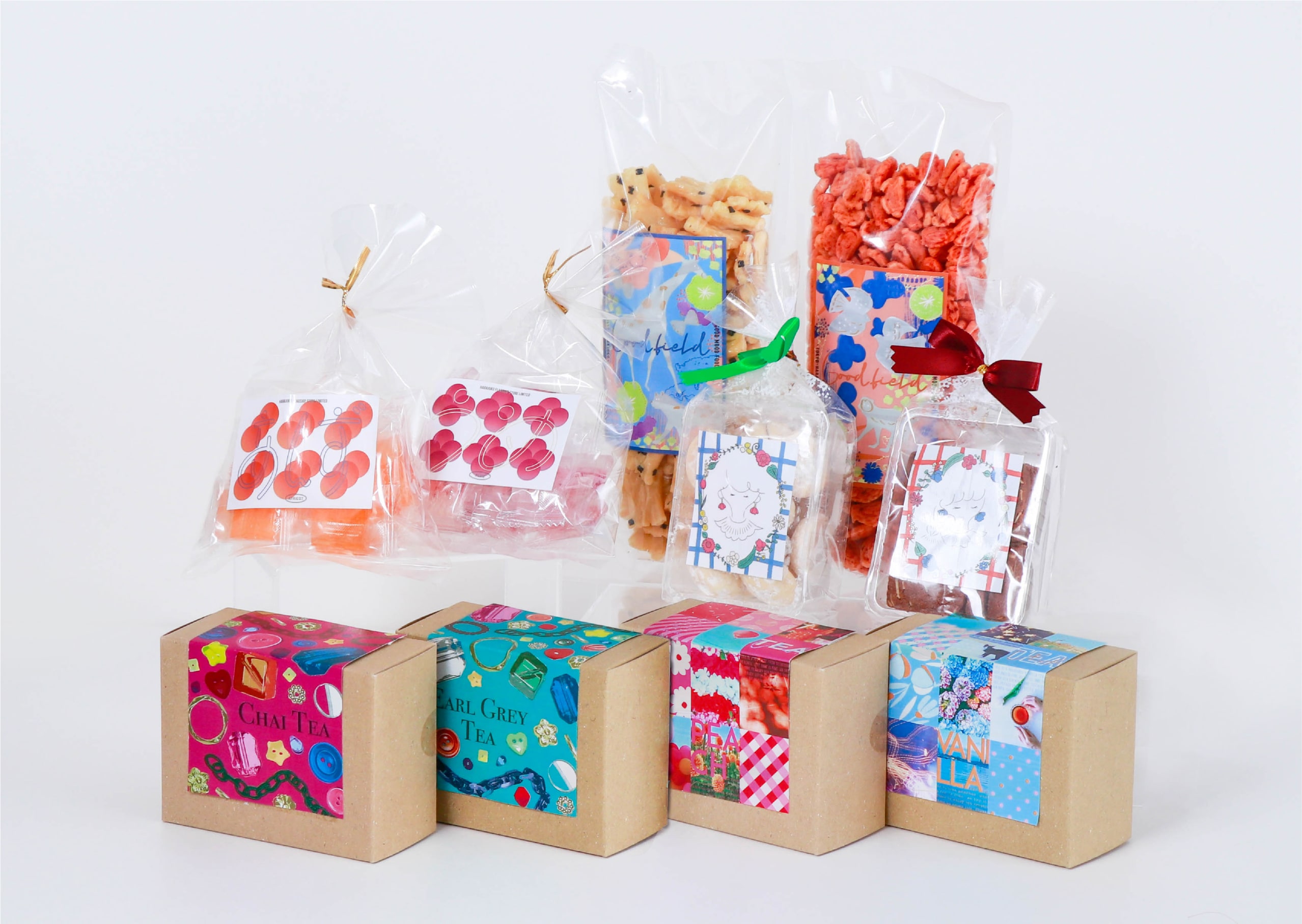 Harajuku Flagship Store opened in 2021 as the first flagship store of 3 Coins. It was designed with the inspiration of a warehouse and the appearance attracts fashionable people in Harajuku. In addition to the line-ups of 3 coins +plus, there are a lot of limited items.
GOOD MOOD FOOD is a new snack label that 3 Coins develops only in the Harajuku store. Various cute packages are designed by illustrators in whom 3 Coins is interested. An original tote bag, one of the most popular items, is also available only in the Harajuku shop. The design describes the brand's name of "3 Coins" by simple 3 dots. It suits any coordinate and is very useful as an eco bag as well.
Harajuku Flagship Store collaborates with a popular store, "fufufu IZUMO". Fufufu IZUMO is a fruit sandwich specialty shop. Its origin is in Izumo, Shimane Prefecture. Its iconic square fruit sandwich is very popular and always sold out around noon. Don't miss the chance to get one!!
3 Coins Station Shinjuku South Store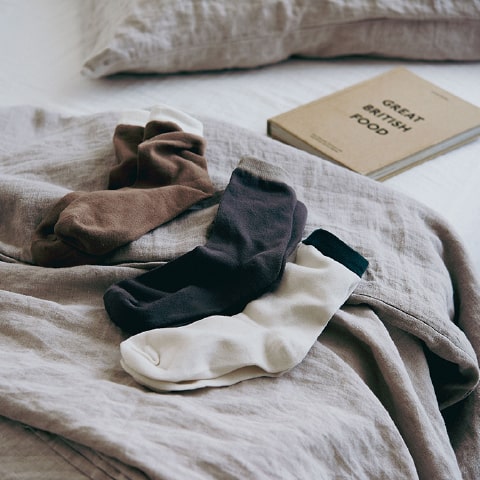 3 Coins Station Shinjuku South Store is located inside the JR Shinjuku Station South exit. It was renovated and reopened on the 30th of March in 2023. Though the store is small, there are many living necessities such as foldable umbrellas and smartphone accessories. Due to the location, the line-up is more daily use and wearing stuff than interiors.
It's very convenient because you can buy what you want while you're waiting for the train. If you need some emergency items during your trips such as a hair band, battery charger, and towels, the store would be helpful.
3 Coins +plus Tokyo Dome City La Qua Store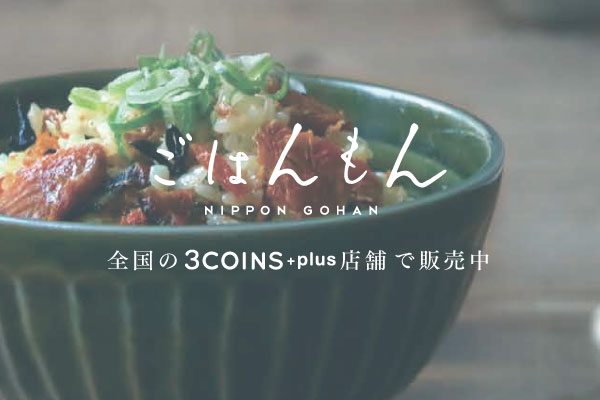 3 Coins +plus Tokyo Dome City La Qua Store was renewed and opened in March in 2023 on the 2nd floor of Tokyo Dome City La Qua. Tokyo Dome City La Qua is a huge shopping mall next to the famous baseball stadium Tokyo Dome. Many people visit here for shopping especially when events are held at Tokyo Dome.
In addition to the normal line-ups for ¥300, a 3 Coins +plus has more various items such as small furniture and fancy interiors costing from ¥1,000 to ¥1,500. A limited attractive product of 3 Coins +plus is food items called "Gohanmon". Gohanmon is made from selected local ingredients to make your eating experience more special. Such as sauces to serve over rice, instant curry, and hot pot sauces, there are a lot of unique items. If you are going to watch a sports game or concerts held in Tokyo Dome, let's go to this neighborning to have a look.
3 Coins +plus La Laport Tachikawa Tachihi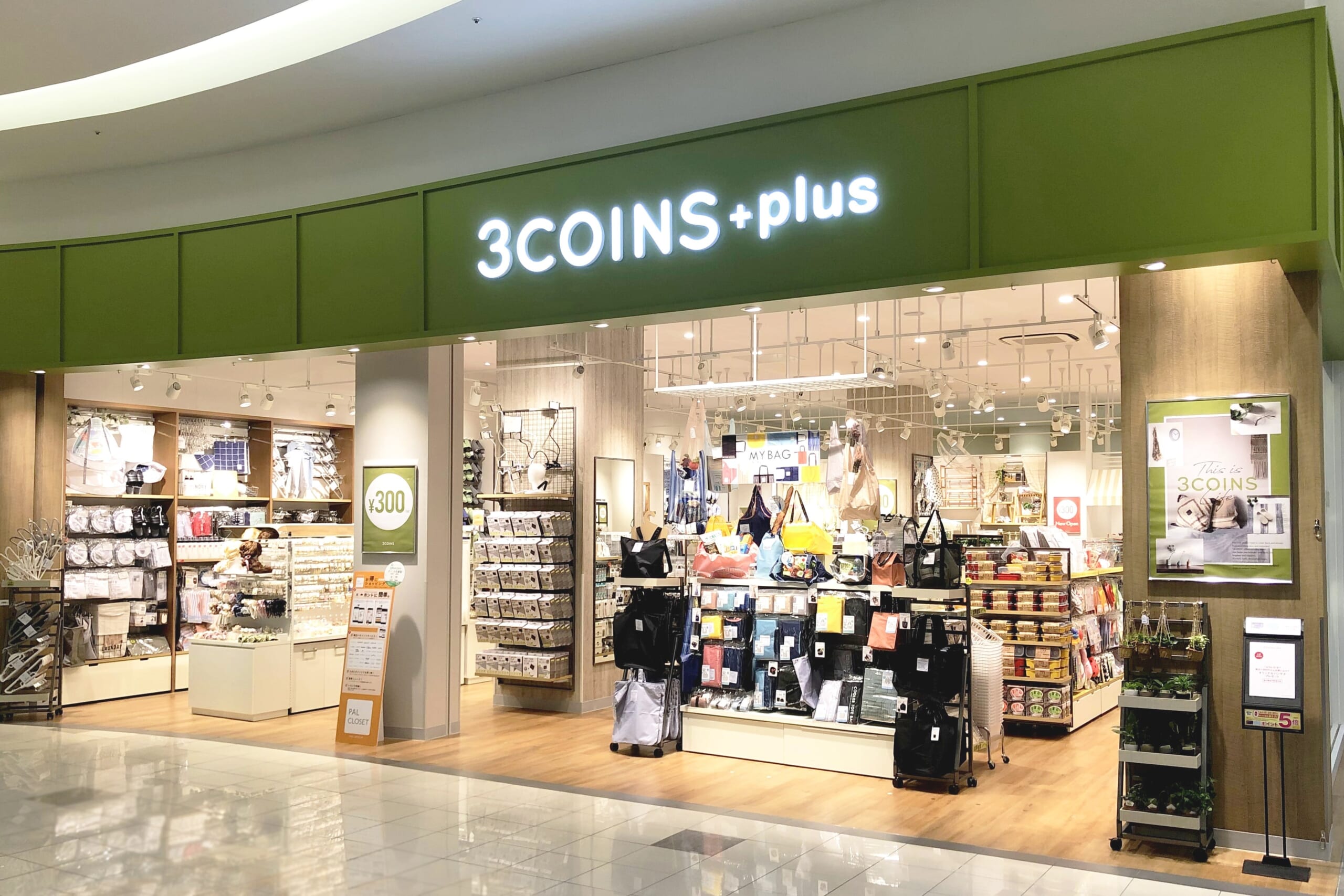 La Laport Tachikawa Tachihi is located in the western part of Tokyo, Tachikawa City, opened in 2015. It takes about 30 mins to get to Tachikawa Station from Shinjuku Station by train. La Laport Tachikawa Tachihi is an important and convenient shopping mall for people living around Tachikawa City as there are not as many shopping malls as in the central towns like Shibuya and Shinjuku.
The store is located on the 1st floor of La Laport Tachikawa Tachihi. The store's scale is huge and a wide range of 3 Coins products are available. There are also various fancy kitchen stuff so you can pick up the best ones matching your room. As it's not as busy as the stores in the central city, you can take enough time for shopping.
3Coins Gransta Tokyo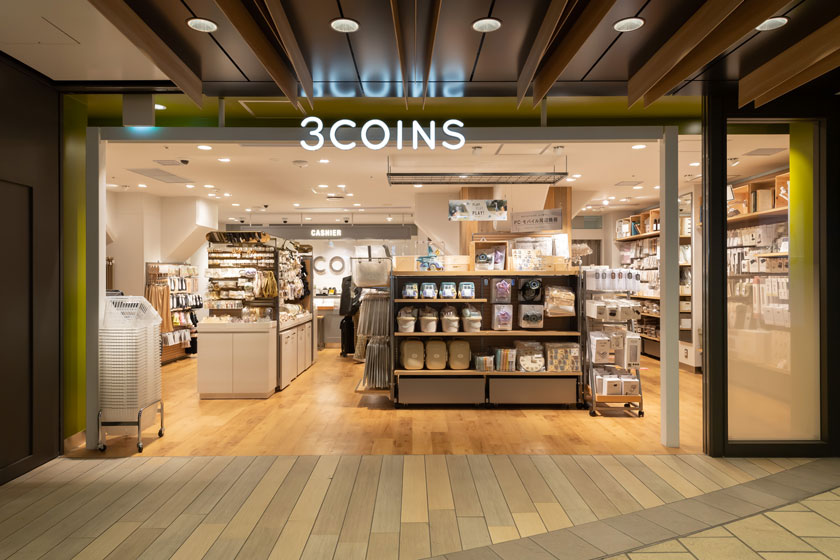 3 Coins Gransta Tokyo is located on the Keiyo Street of Tokyo Station, near the Yaesu South exit. Tokyo Station sees over 150,000 people passing through daily, including both locals and visitors from all over the world.
Capitalizing on its prime location at the gateway to Tokyo, the 3 Coins Gransta Tokyo store develops the line-up for living necessities and emergencies required. It happens that you realize the lack of essential travel goods once you arrive at the destination. In that case, 3 Coins Gransta Tokyo would help you.
---
Thank you for reading till the end!
As household goods are consumable, it's best if you can get what is cheaper and of good quality. 3 Coins stores stand by your daily life and keep serving good living stuff to make your daily life a bit special. Some influencers arrange their own room with items of 3 Coins stores and post how to do that on Instagram and other social network platforms these days. That's part of the reason why 3 Coins stores remain so popular and keep producing new items.
Depending on your taste, let's find your favorite store and items in Tokyo!!
▽Subscribe our free newsletter!▽
For more information about traveling and living in Japan, check these articles below, too!
▽Related Articles▽
▼Editor's Picks▼
---