NAKED YORU MO-DE at Heian Jingu Shrine in Kyoto 2022
Enjoy a unique experience to night worship at Heian Shrine, Kyoto by NAKED YORU MO-DE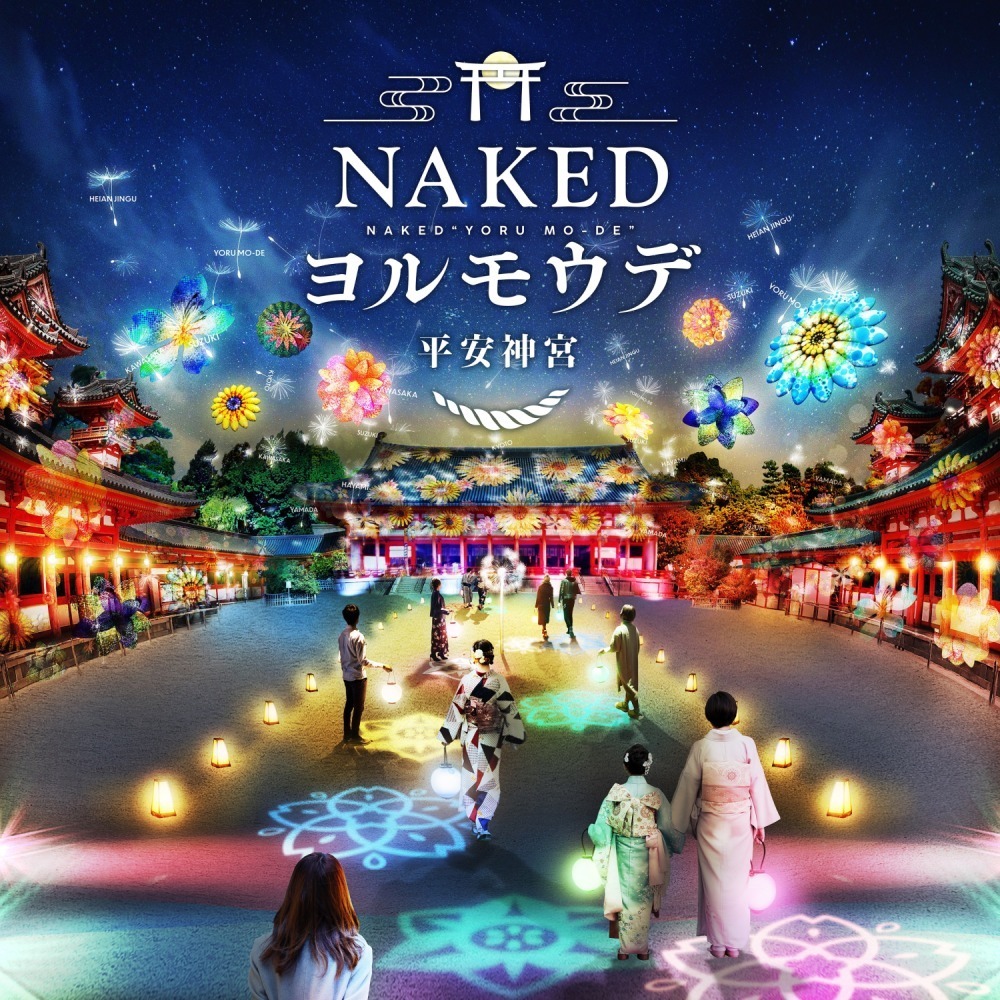 Kyoto is one of the most popular tourist spots in Japan, with millions of tourists each year before Japan closed its borders. Now that tourism has returned to the country, Kyoto is expected to attract a large number of people again – and there are new attractions waiting!
Although winter is usually the low season for tourism in Japan, in reality this time of year has a lot to offer. Especially in Kyoto, famous for its temples, shrines and streets that transport you to the Japan of another era. Seeing these buildings covered in snow is a beautiful sight. For the tourists who wish to avoid the peak travel season in Japan, yet still want to enjoy the gorgeous cherry blossoms, there is still possibility to make your wish come true.
This winter 2022 you can enjoy a fantastic shrine visit experience that is different from daytime worship in Kyoto, NAKED YORU MO-DE 2022, a digital art exhibition offering an absolutely new experience.
NAKED and Heian Shrine in Kyoto will collaborate on a nighttime worship event, "NAKED YORU MO-DE 2022 Heian Shrine" which will be held from Thursday, November 18 to Sunday, December 25, 2022.
Heian Shrine (平安神宮) is one of the most popular shrines in Kyoto, dedicated to the former Imperial family. One of the most striking features of the shrine that sets it apart from others is its vivid red color and its huge tori gate, one of the biggest in Japan. Is specially famous during Spring as one of the top places in Kyoto for cherry blossoms view.
In 2021 Heian Shrine collaborated with the creative company NAKED Inc., well-known for its interactive digital art exhibition, specially Flowers by Naked that was held every year from 2016 to 2020 with over 500,000 visitors. Naked Yoru mo-de, an art event by NAKED and Heian Jingu Shrine gained a big popularity in 2021 and this winter 2022 is making a comeback! Visitors will be able to enjoy a new style of nighttime worship at the fantastic Heian Jingu Shrine at night, making full use of Naked's unique digital art.
During the festival, the Eitenmon Gate (an important cultural property), the main shrine building of Heian Shrine, and the Shobikan, which stands to the west of Seiho Pond, will be lit up in "Yoru mo-den" style. The lighting will be different from that of the daytime, making it possible to enjoy a fantastic visit to the shrine.
The exhibition also offers a variety of photogenic interactive contents, such as "Naked Distance Lanterns" a participatory artwork in which you yourself participate in the production of light, "Naked Tsukubai," which projects beautiful flowers in the palm of your hand, and "DANDELION," an art object made from dandelions.
---
NAKED YORU MO-DE 2022 Heian Shrine
Venue: Heian Jingu Shrine
Access: By bus
Date: 18 November (Friday) to 25 December (Sunday)
Hours: 17:30~21:30 (last admission 20:50)
Ticket:
Same Day Ticket 1,800 yen (From Monday to Thursday)/1,200 yen for elementary school students; 1,200 yen (Friday, Saturday and Sunday and national holidays)/ 1,600 yen for elementary school students.
*Advance Ticket 1,400 yen (From Monday to Thursday)/ 1,000 yen for elementary school students; 1,800 yen (Friday, Saturday and Sunday and national holidays)/1,400 yen for elementary school students.
Free admission for preschool children
Official Website: https://yoru-mo-de.naked.works/heian-jingu/
Official Twitter: https://twitter.com/ymd_heianjingu
---
Thanks for reading! If you are planning to visit Kyoto soon, you may wanna check out more latest travel information from the links below!
▽Related Articles▽
▼Editor's Picks▼
---