FLOWERS BY NAKED 2020 -Sakura-
Enjoy the Earliest Cherry Blossoms with the Latest Digital Art at FLOWERS BY NAKED 2020 in Nihonbashi, Tokyo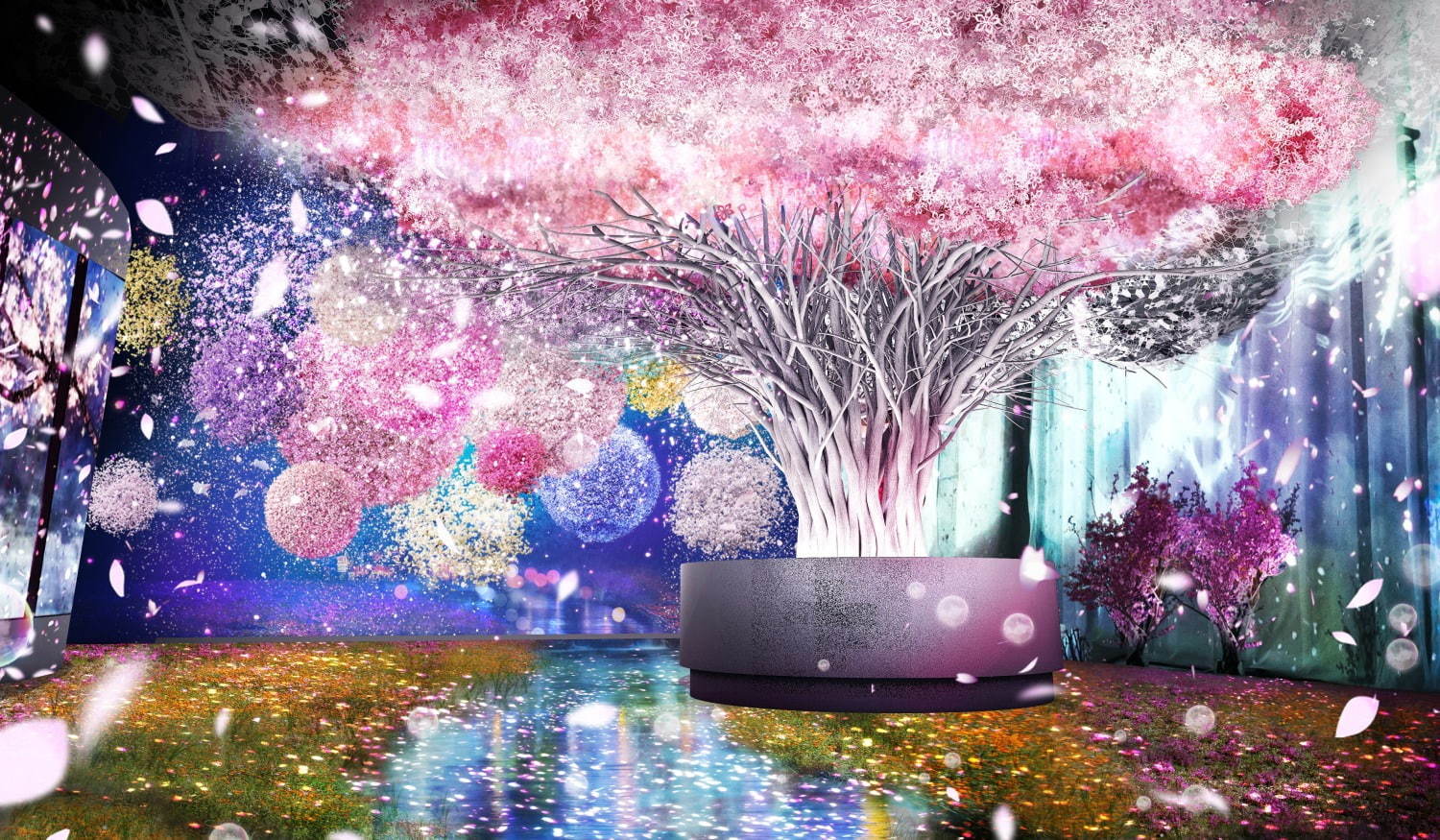 Cherry blossoms are one of the most fascinating tourist attractions in Japan, alluring numbers of visitors from abroad during the season. However, the full blooming period of the cherry blossom is fairly short, which is around 7 to 10 days, and during the period, cherry blossom viewing spots are totally packed by both locals and tourists.
Moreover, it's the busiest tourist season so flight tickets tend to be more pricey than average, and many hotels are fully booked across the country.
For the tourists who wish to avoid the peak travel season in Japan, yet still want to enjoy the gorgeous cherry blossoms, there is still possibility to make your wish come true.
You can enjoy the earliest cherry blossom of the year at the limited-time event in Tokyo, FLOWERS BY NAKED 2020 -Sakura-, a digital art exhibition offering an absolutely new type cherry blossom experience.
Flowers by Naked 2020-Sakura- will be held at Nihonbashi Mitsui Hall, Tokyo, from 30 January to 1 March 2020.
This interactive digital art exhibition is produced by the well-known creative company NAKED Inc., and has been held every year since 2016. The event has invited over 500,000 visitors so far who come and see "the earliest cherry blossoms in Japan". In 2020, it is celebrating its 5th anniversary lavishly with gorgeous cherry blossoms.
The entire venue will be filled with cherry blossoms, an visitors can enjoy the contents of "flower" which is the metaphor of life for each season by using their five senses.
Once stepping inside, there are various mystical gardens featuring different motifs and flowers including the Dandelion Hill, Glowing Garden and OUSAI Garden. As passing by the each garden, visitors can go through the passage of time and the story of life, and experience the spectacular interactive digital art with special effects, lights and projection mapping.
How wonderful to experience the gorgeous cherry blossoms and the latest digital art experience at once?? This event offers unique and cutting edge experience in collaboration between the traditional Japanese symbol and the newest technology.
Additionally, it's a perfect event for those who will be arriving Japan before the cherry blossom season starts.
The exhibition is held for a month from 30 January to 1 March 2020. This is an indoor exhibition that can be enjoyed at day and night (from 10 am to 8 pm).
Same day entrance ticket costs 1,800 yen for adult, but the discounted advance tickets are on sale until 29 January 2020. (ticket info: https://t.pia.jp/pia/event/event.do?eventBundleCd=b1950081)
FLOWERS BY NAKED 2020 -Sakura-
Venue: Nihonbashi Mitsui Hall Coredo Muromachi 1 5F (entrance 4F)
Access: Directly access from Mitsukoshimae Station 6A Exit
Date: 30 January to 1 March 2020
Hours: 10:00~20:00
Ticket:
Same Day Ticket 1,800 yen (Weekdays), 2,200 yen (Weekends)
*Advance Ticket 1,600 yen (Weekdays), 2,000 yen (Weekends)
*Advance Tickets are on sale from mid December 2019 to late January 2020
Official website: https://flowers.naked.works/2020nihonbashi/
Thanks for reading! If you are planning to visit Japan soon, you may wanna check out more latest travel information from the links below!
▽Related Articles▽
▼Editor's Picks▼
---