5 Best Makoto Shinkai Anime Movies
Makoto Shinkai's All Anime List and Best Anime Movies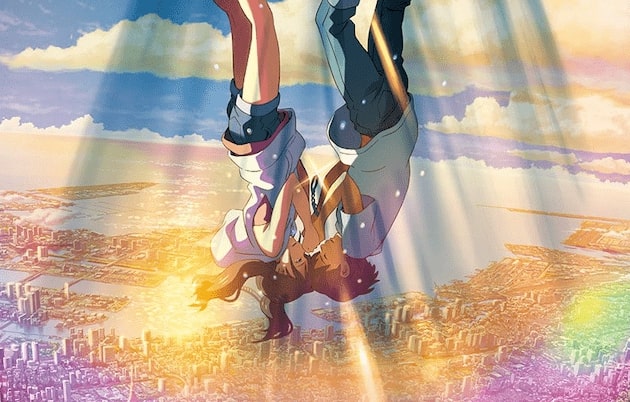 Anime has been one of the most popular cultures in the world recently, which is also one of the movie genres that are watched the most. Hundreds of new anime are aired on TV and hit the screen in movies in Japan every year. For those who are wondering which anime to watch, I would like to introduce a much-talked-about new anime director Makoto Shinkai and his best anime here.
As you may know, Makoto Shinkai has got much more famous worldwide since his box-office hit Your Name was released in 2016. In addition, he firmly established his position as the new leader of the anime industry all over the world after the latest anime Weathering with You became a huge hit in 2019.
There are many other must-watch anime movies directed by Makoto Shinkai on top of those two latest works. Then, here are best Makoto Shinkai anime movies of all time with the list of all Makoto Shinkai's anime.
<<Where to Watch Anime? ▶︎Best Legal Anime Streaming Sites>>
About Makoto Shinkai
Makoto Shinkai (新海誠), the anime director in the animation studio CoMix Wave Films Inc., is expected as a new leader of not only the Japanese anime industry but also the world of international animation. He made his first work as a short film in 1999 and released the anime movie named Voices of a Distant Star in 2002.
Makoto Shinkai is now looked on as one of the best Japanese anime directors as well as Hayao Miyazaki who is famous for Studio Ghibli movies and Mamoru Hosoda who is known for The Girl Who Leapt Through Time and Summer Wars. In 2016, his masterpiece Your Name was released around the globe, followed by his latest anime movie Weathering with You in 2019.
His anime are famous for the beautifully painted anime pictures that are inspired by the real life locations in Japan as well as the touching drama plot and music that matches the scenes.
Anime in Chronological Order
-Toi Sekai Other Worlds 遠い世界 Other Worlds (1999)
-Their Standing Points 彼女と彼女の猫 (2000)
-Voices of a Distant Star ほしのこえ (2002)
-Egao 笑顔 (2003)
-The Place Promised in Our Early Days 雲のむこう、約束の場所 (2004)
-Neko no Shukai 猫の集会 (2007)
-5 Centimeters per Second 秒速5センチメートル (2007)
-Children Who Chase Lost Voices 星を追う子ども (2011)
-Dareka no Manazashi だれかのまなざし (2013)
-The Garden of Words 言の葉の庭 (2013)
-Everything Flows 彼女と彼女の猫 (2016)
-Your Name 君の名は。 (2016)
-Weathering with You 天気の子 (2019)
5 Best Anime by Makoto Shinkai
5. The Garden of Words
Have you ever watched some anime movies directed by Makoto Shinkai in his early stage? The Garden of Words (言の葉の庭) is his 5th anime movie which was released in 2013.
The Garden of Words was aired on the theater screen overseas only in South Korea, Taiwan and Hong Kong, however, it is really recommended to watch if you haven't watched Makoto Shinkai's movie. Of course, you can access the anime on the streaming platforms all over the world now. You can easily experience what Makoto Shinkai's anime is like in The Garden of Words: beautiful reality, the theme of the innocent "boy meets girl". It takes just 45 mins to watch the mid-length film.
The main character Takao Akizuki, a 15 years old high school student, has a dream to be shoemaker. When it rains, he skips school in the morning and go to the garden named Shinjuku Gyoen, which actually exists in Shinjuku, Tokyo. One day, Takao meets the heroine named Yukari Yukino, who often visits the Japanese garden. She has problems with some things including work and love, and she escapes from those matters to the garden. They meet there on rainy days and talk to each other. What happens to them after that…?
There are numerous attractive things packed in the 45-min anime movie. What's the most interesting is the anime's theme: rain. It rains in approximately 80% scenes in the movie, and then what does it represent? That reflects the state of their minds/sentiments according to the director Makoto Shinkai. As you see, the amount of rain matches the situation: heavy rain when they are sad and beautiful rain with sunlight when they overcome a barrier.
Beautifully described reality is also one of the highlights of The Garden of Words and Makoto Shinkai. Things, places and people in his movie are ordinary, but he presents them brightly and clearly even if they are negative. A boy who wants to become an adult and a girl who can't become an adult or adjust herself to society. You can understand that situation vividly though the movie.
▶︎Watch The Garden of Words on Amazon Prime Video!
4. The Place Promised in Our Early Days
The Place Promised in Our Early Days (雲のむこう、約束の場所) is the second anime movie of Makoto Shinkai released in 2004, following his first work Voices of a Distant Star (ほしのこえ) in 2002. This is also known as the Makoto Shinkai's first full-length anime made with his team members while the short-story Voices of a Distant Star was made almost by himself.
The plots of the latest anime by Makoto Shinkai such as Weathering with You and Your Name are based on his early works like The Place Promised in Our Early Days. Main characters scramble to realize their dreams sacrificing someone or the world in exchange for them.
The setting is an alternate world of Japan in 1996 where the northernmost part of Japan called Ezo (referring to Hokkaido) is controlled by the communism countries called Union. Two middle school boys Hiroki and Takuya live in Aomori Prefecture which face Ezo across the strait. They put their hearts into their completing a plane to fly to the symbolic, mysterious tower standing on the Ezo area.
One day, the two boys promise with the heroine Sayuri to take her to the tower by plane, which is why the title includes "The Place Promised". After three years, they manage to put their ideas into action while getting involved in the world where the war breaks out between Union and United States in Japan.
▶︎Watch The Place Promised in Our Early Days on Amazon Prime Video!
3. Weathering with you
One of the best anime movies in 2019 is Weathering with You (天気の子), which some anime fans rate as better than Makoto Shinkai's previous work Your Name. Weathering with You, the 7th anime movie of the director, earned more than the preceding anime at the domestic box office. It is being screened in about 140 countries and regions, which is also more than Your Name.
This story focuses on the high schooler Hodaka Morishima, who flies from his home in a remote island to Tokyo. He wanders hopelessly around the unfamiliar metropolis without both enough money and a job. At the center of Tokyo, he meets a girl named Hina Amano who are granted an extraordinary ability: she can make the weather sunny.
Hodaka and Hina with her brother Nagi Amano help many people who hope it is sunny for their important days such as wedding and festivals. Everything is going well apparently, but each of the two main characters has problems which are never easy to handle by themselves.
What is splendid in the anime is the grand theme including social issues and common personal problems. In addition, there are a variety of dichotomies between adults vs children, individuality vs world, right vs wrong and so on. Therefore, you can see the anime from various perspectives.
The music perfectly matches every scene, which are composed by the popular Japanese rock band Radwimps as well as Your Name. As the other Makoto Shinkai's anime, many real life spots in Tokyo are depicted in this anime, and lots of fans travel those locations (check the list of anime locations for Weathering with You).
Finally, the Blu-ray and DVD will be released in Japan on the 27th May, 2020!
▶︎Buy the Blu-ray or DVD of Weathering with You on Amazon.co.jp
▶︎Watch Weathering with You on Amazon.co.jp
2. 5 Centimeters per Second
5 Centimeters per Second (秒速5センチメートル) is looked on as one of the masterpieces of Makoto Shinkai early in his career. This anime movie, which was released in 2007, consists of three sections with the total runtime for about an hour : Cherry Blossom, Cosmonaut and 5 Centimeters per Second.
In the first episode Cherry Blossom, an elementary school boy named Takaki Tono become closer to his classmate girl Akari Shinohara, and they fall in love with each other. However, they get separated suddenly since she moves to a little far prefecture changing schools for her parent's transferring.
Nextly, Takaki moves to Kagoshima Prefecture (the southernmost prefecture of Japan's main island ) from Tokyo, which means that Takaki and Akari live further in the second episode: Cosmonaut. He meets a new main character Kanae Sumida, who has a liking for him. She knows that is unrequited love.
The final episode is 5 Centimeters per Second (the speed is that of petals of falling cherry blossoms as Akari says in the episode No.1). The characters like Takaki and Akari grow up and the story reaches the climax of the amazingly impressive anime movie by Makoto Shinkai.
This anime represents the cruel but real "reality". I really understand so well how they feels through the clear reality Makoto Shinkai presents.
▶︎Watch 5 Centimeters per Second on Amazon.co.jp
1. Your Name
Your Name (君の名は。), directed by Makoto Shinkai (新海誠), is one of the most recommended his anime as far as I'm concerned. Your Name delivers an emotional jolt to anime fans around the globe in a positive way in 2016.
Your name is one of the most successful movies in Japan of all time and also well known worldwide. The popular anime is the second highest-grossing Japanese film with about $250 million box-office revenue (No.1 is Spirited Away from Studio Ghibli). Your Name was also aired at the theater in over 120 countries and regions and had espeically explosive sales in China and South Korea.
There are two main characters in Your Name: Taki Tachibana living in the metropolitan Tokyo and Mitsuha Miyamizu living in the countryside. One day, they notice that their bodies are switched with each other suddenly, and that is intermittently repeated. In that time, they live in different timelines (there are three years difference.) Taki and Mitsuha are getting more and more about each other while being puzzled under the strange condition.
Your Name includes two things essential for successful anime, which are time travel and switching main characters' bodies. Time travel is a well-known theme of anime and other SF movies as represented by The Girl Who Leapt Through Time (時をかける少女) by Mamoru Hosoda (細田守) in 2006. However, Your Name has reality and wins the sympathy of us even though the story proceeds based on the sci-fi time travel. School life, chatting on the smartphone, working as a part time job and so on.
What's unique in this anime is body swapping intersexually in addition to time travel. Numerous people including me are attracted by the never-experienced circumstances. That paranormal phenomenon will never happen to me in the real world but I could vaguely but certainly understand how they feel. A simulated experience is an attractive point of watching anime.
Additionally, it's one of the reason why Your Name had such explosive sales to change the scenes fast (a scene rarely holds for even several seconds). The contrast between urban and rural living is sharply represented in the anime movie.
▶︎Watch Your Name on Amazon Prime Video!
Other Movies
There are other films directed by Makoto Shinkai in addition to those anime above. Some short anime were aired on TV as commercials. You may have misses these less-known works.
Cross Road
Taisei Corp -Myanmar-
Flavors of Youth (詩季織々)
Flavors of Youth (詩季織々) is not the anime that is directed by Makoto Shinkai, but it looks like his movies because CoMix Wave Films, the same company as many Shinkai's anime, produced it with the Chinese animation studio Haoliners Animation. The 3-episode anime movie is also worth watching as well as his anime listed above.
---
Did you enjoy the best Makoto Shinkai's anime list? How about checking the best anime movies list of all time?
▽30 Best Anime Movies of All Time
For anime fans, there are numerous recommended anime to watch now. Check these anime lists where you can find the anime to watch next!
▽Related Articles▽
▼Editor's Picks▼
---