Kyushu Jangara Ramen: Popular Tonkotsu Ramen in Tokyo
Kyushu Jangara : Delicious Hakata Tonkotsu Ramen in Tokyo!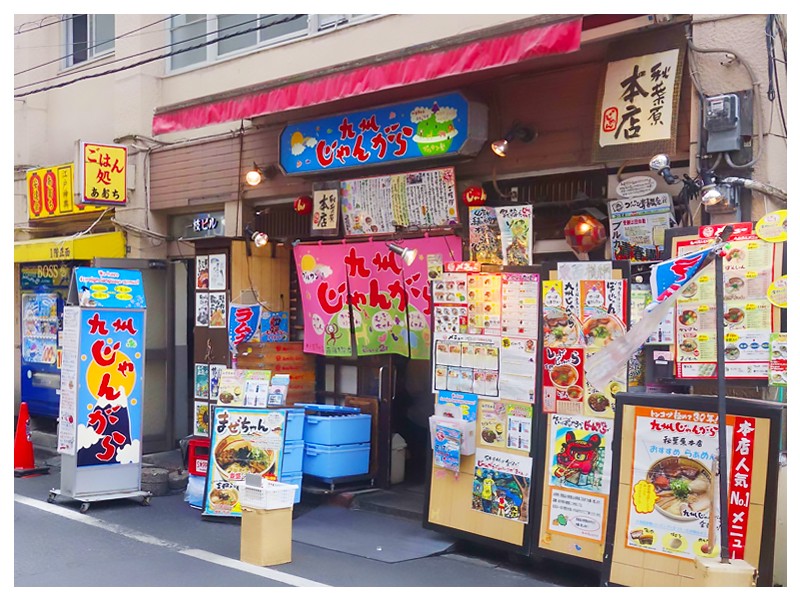 The Japanese noodle dish, Ramen is the nation's favourite dish in Japan, and one of the most popular Japanese food overseas.
Ramen is served with various flavours, and there are 4 typical flavours of Ramen soup: Shoyu (soya sauce base), Shio (salt base), Miso (miso paste base) and Tonkotsu (pork broth base).
In the past decade, Tonkotsu Ramen has become the mainstream of the Ramen trend, not only in Japan but also around the world. ICHIRAN and IPPUDO are two most famous franchised Japanese Ramen shops which have numbers of branches worldwide. Both restaurants serve an authentic Hakata style Tonkotsu Ramen from Kyushu region where Tonkotsu soup originated. Rich and creamy pork broth soup is so appetizing and very much satisfying, and Tonkotsu Ramen is a must-try dish for many visitors to Japan today.
There are hundreds of Ramen restaurants in Tokyo, and as I mentioned above, especially Tonkotsu Ramen has been the most popular and common type of Ramen flavour today. Most popular Tonkotsu Ramen restaurants in Tokyo are arguably ICHIRAN and IPPUDO who are already well-known around the world, but there is another Tonkotsu Ramen restaurant which is becoming as popular as these two restaurants.
Kyushu Jangara (九州じゃんがら) is a franchised Ramen restaurant based in Tokyo, serving authentic Kyushu style Tonkotsu Ramen. Several branches are located in Tokyo including Akihabara, Harajuku, Ginza and Akasaka. As Kyushu Jangara is highly popular Ramen restaurant, you'll see the long queue in front of each branches, especially during lunch time.
The most popular dish at Kyushu Jangara is the "Kyushu Jangara Ramen", which is their original "Tokyo style Tonkotsu Ramen". It's served with the rich and aromatic soup blended with pork, chicken and vegetable broth, and has light and mild taste. Kyushu Jangara also serves "Bonshan", the authentic Hakata style Tonkotsu Ramen with richer and more creamy soup from pork broth.
The bowl of Ramen is topped with pork belly, sesame, leeks, Menma (bamboo shoot) and Kikurage mushroom. In addition, various toppings can be added and customers can customize their original flavour. The essential toppings for Kyushu style Ramen: Takana (mustard green) and Beni Shoga (pickles ginger) are placed on the counter for free-refill. The shop's recommendation is try theRamen with "all toppings" that comes with Kakuni (braised pork), half-boiled egg, a scoop of Menkaiko (spicy cod roe) with an additional charge.
One of the most fascinating things about Kyushu Jangara is the variation of their Ramen dishes. Besides the original Tonkotsu Ramen, there are various flavours of Ramen such as spicy, miso-blended, Tsukemen (dipping noodle) and Vegan ramen, and each branch has different menu with special seasonal dishes.
The prices range from 700 to 1,300 yen depending on dishes and extra toppings.
If you are looking for the best Tonkotsu Ramen in Tokyo, try Kyushu Jangara Ramen which will surely satisfy your craving!
<<Kyushu Jangara Stores>>
-Akihabara
Map: http://bit.ly/2VMxHpL
Access: 5 mins walk from Akihabara Station (Electric Town Exit)
Hours: 10:30~23:30 (9:30~ on Weekend and Holiday)
-Harajuku/Omotesando
Map: http://bit.ly/2HCdkaP
Access: 2 mins walk from Harajuku Station or 1 min walk from Meiji Jingumae Station
Hours: 10:45~0:00 (10:00~ on Weekend and Holiday)
-Ginza
Map: http://bit.ly/2K6WBy3
Access: 3 mins walk from Ginza Station (A4 exit) or Higashi Ginza Station (A1 exit)
Hours: 10:45~23:00 (~3:00 am Wednesday to Friday)
-Akasaka
Map: http://bit.ly/2WpCSAa
Access: 2 mins walk from Akasaka Station (5A exit)
Hours: 11:15~23:00 (Monday to Thursday), 11:15~1:30 am (Friday), 11:15~15:00 (Saturday and Holiday)
Closed: Sunday
-Nihonbashi
Map: http://bit.ly/2HTQtXj
Access: 2 mins walk from Nihonbashi Station (C2)
Hours: 10:45~23:30 (~23:45 on Friday)
-Seibu Ikebukuro
Map: http://bit.ly/2HCDyKm
Access: Direct access from Ikebukuro Station
Hours: 11:00~23:00 (10:30~on Weekend & Holiday)
---
Need more info about Ramen in Tokyo?? Check out these articles introducing the best Ramen in Tokyo!
▽Related Articles▽
▼Editor's Picks▼
---