Best Vegan and Vegetarian Ramen in Tokyo
Delicious Ramen for vegetarians and vegans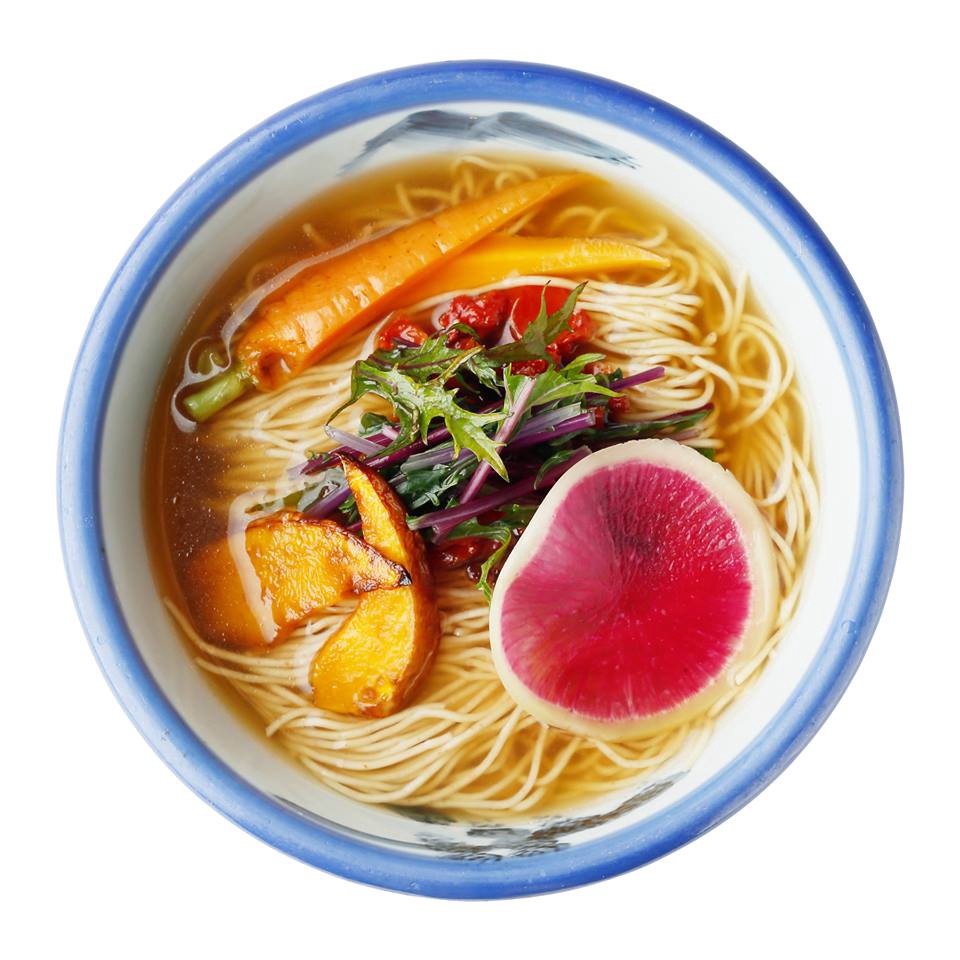 Who said ramen is only for meat eaters?? Now, more and more restaurants in Tokyo offer vegetarian and vegan options on their menu including some ramen shops! And these veggie dishes are as delicious as regular dishes.
Today, I'm introducing the best ramen restaurants in Tokyo, serving delicious vegan and vegetarian Ramen!
1. AFURI
One of most popular Ramen restaurants in Tokyo, especially among women as AFURI (阿夫利) offers Ramen dish cooked with finest ingredients, and has light and delicate taste. While their signature is chicken based broth, AFURI offers great option for vegans, Seasonal Vegan Ramen (彩り野菜のヴィーガンらーめん) which is made with 100% vegetable based broth, served with fresh seasonal vegetables, wheat noodle blended with lotus root (no egg). Currently, there are 8 branches in Tokyo area. (Store info)
▼MORE INFO▼
2. Vegan Ramen UZU Tokyo
Vegan Ramen UZU Tokyo is a ramen restaurant located at the popular digital art museum, teamLab Planets in Toyosu, Tokyo. Their main branch is located in Kyoto. Guests can enjoy delicious and creative vegan ramen made with selected ingredients, surrounded by the artworks of teamLab Planets: the Reversible Rotation – Non-Objective Space, the Table of Sky and Fire and the One Stroke Bench. Vegan ice cream and a variety of teas are also available.
Map: https://goo.gl/maps/B1EecvTC7HtLHyGE7
Hours: 11:00~19:00 (10:30~ on weekends, and everyday on July and August)
Official Website: https://vegan-uzu.com/pages/uzu-tokyo
3. T's TanTan
T's TanTan (T's たんたん) is located at Tokyo Station, and it's a branch store of T's Restaurant, a natural food retailer offering meat, fish, egg, diary FREE products. T's TanTan offers 8 types of delicious vegan Ramen dishes as well as a variety of side dishes. It's the most accessible vegan restaurant in town.
▼MORE INFO▼
4. Soranoiro Nippon
Soranoiro (ソラノイロ) offer delicious, creative yet healthy Ramen dishes including vegan, vegetarian and gluten free options, which are highly recommended by Michelin Guide Tokyo! It's also located inside Tokyo Station and very easy to access.
▼MORE INFO▼
5. Yoroiya
Yoroiya (与ろゐ屋) is a popular ramen restaurant in Asakusa area, running their business for 30 years. Although the signature ramen of Yoroiya is shoyu ramen (soy sauce base) made with chicken and pork broth, they also serve vegan ramen with vegetable broth soup and egg-less noodles. The bowl of ramen is topped with a colourful vegetables and has a faint aroma of yuzu citrus and mitsuba leaves.
▼MORE INFO▼
6. Yakuzenshokudo Chabuzen
Yakuzenshokudo Chabuzen (薬膳食堂ちゃぶ膳) is a vegetarian, oriental vegetarian, vegan and gluten free restaurant offering various dishes on the menu, including Ramen, Curry and Tempura. The restaurant turned to fully vegan in 2016, and now also offers Halal food option.
▼MORE INFO▼
Besides vegan Ramens, there are more vegan dishes to try in Tokyo! Explore the vegan and organic food culture in Tokyo with a local guide! Vegan & Organic Food Tour in Tokyo by Magical Trip takes you to hidden vegan and organic eateries in the cool neighbourhood, Shimokitazawa, Tokyo! Check out the link below for more details and book the tour with special discount!
Want to enjoy delicious Vegan and Vegetarian dishes in Tokyo?? Then how about making it on your own?? Cooking classes are one of the top activities among tourists today, and some of them are available with Vegetarian and Vegan options! Check out the link below to find the best cooking classes in Tokyo today!
To find delicious Vegan and Vegetarian restaurants in Japan, I'd highly recommend you to use Vegewel! It's the website introducing over 1,300 vegan, vegetarian and gluten-free restaurants all over Japan from Hokkaido to Okinawa! You can search and find the best Vegan and Vegetarian restaurants nearby or depending on what you want to eat!
Did you enjoy the list? Now Tokyo has many options for vegetarians and vegans to eat out! For more delicious info in Tokyo, please check out listed articles below!
▽ Related Articles ▽
▼ Editor's Picks ▼
---