JR East Pass for Foreign Residents in Japan: Tohoku, Nagano and Niigata
Travel around Japan using the bullet train Shinkansen for an affordable price!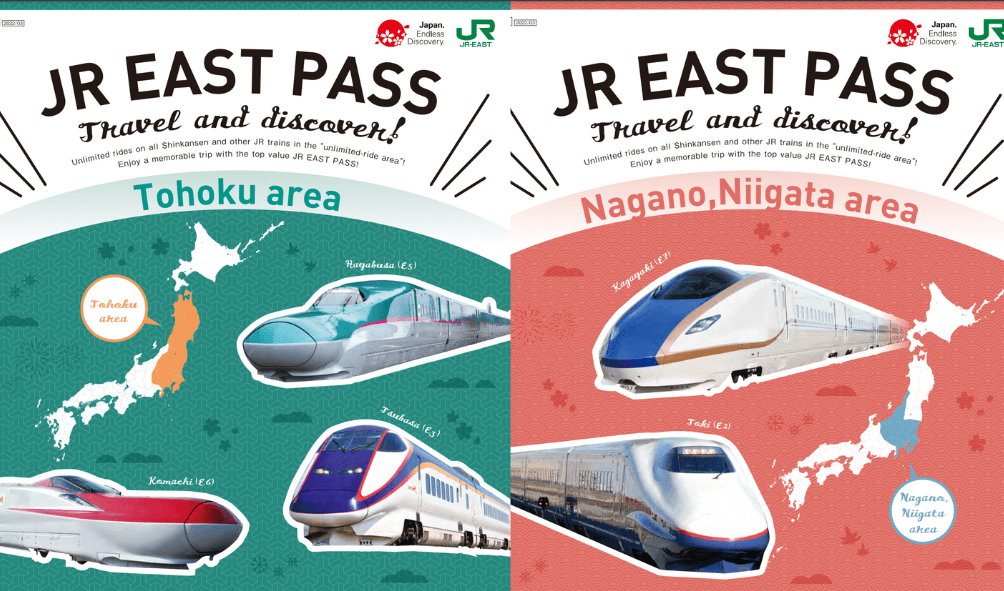 One of the fastest, most comfortable and easiest way to travel around Japan is using its famous high-speed bullet trains, called Shinkansen in Japanese. The drawback is that the price of tickets is usually quite high. Around 8,000-12,000 yen each way depending on the route and the model of Shinkansen (for example the express model called Nozomi, is obviously more expensive than the others).
In order to promote tourism, the JR Pass has been available for international tourists for years, a special pass that saves a lot of money by offering one, two or even three weeks of unlimited bullet train travel for a very low price. However, this pass is not available for Japanese nationals or foreigners residing in the country.
Fortunately for foreign residents, a couple of years ago JR East decided to release passes that are also available for residents! (Japanese nationals cannot buy them, or naturalized foreigners).
These passes aren't as convenient as the JR Pass, but they are also very good and well used can help you save a lot of money if you are planning to travel in one of the areas. There are a total of 3 different JR East Pass available for foreigners residing in Japan, and here I would like to explain each of the passes and their differences!
*Please note that this article contains affiliate links.

Among the 3 passes, in my opinion this is the most convenient and inexpensive having into account the relation price-area coverage . It costs 20,000 yen and can be used for 5 consecutive days in the whole Tohoku area, but also includes Kanto and some areas of Chubu. You can travel to further Northern cities like Aomori, Sendai or the famous Nikko, but also go a slightly south to Yamanashi or Shizuoka, or even popular weekend getaways spots like Karuizawa in Nagano or Kusatsu Onsen in Gunma.
That makes this JR Pass probably the most money saving option. To give you an idea, a one-way ticket to Aomori Station costs more than 17,000 yen, so just going to Aomori and back saves you 14,000 yen! To go to Sendai, another tourist city, the one way ticket is 11,000-12,000 yen so a round-trip doesn't save you that much (around 4,000 yen), but it's still way better than buying the tickets separately.
As the name suggests, this pass is designed for the Nagano and Niigata areas, although it also includes Kanto, part of Shizuoka, Yamanashi and Gunma so you can also go to Nikko, Izu or Kusatsu Onsen. It also lasts 5 days and the price is slightly lower, 18,000 yen. It's perfect for example for the winter session if you want to go skiing and hot springs to enjoy the winter in Japan!
If you only have a few days to spare and are thinking of a long weekend getaway, this pass may be perfect for you. It's a 3-day pass priced at 10,180 yen that includes some of the most popular destinations from Tokyo such as Kawaguchiko Lake, Kusatsu Onsen, Nikko, Karuizawa or Izu.
---
There is even more! Although it says JR East Pass, there are different train and subway lines that are not operated for JR but can be used with the pass, as well as several buses. So I recommend you to look at the official website of each pass and check which transportations you can use with the JR Pass East to save even more money.
JR EAST PASS Tohoku area: https://www.jreast.co.jp/multi/en/pass/eastpass_t.html
JR EAST PASS Nagano and Niigata: https://www.jreast.co.jp/multi/en/pass/eastpass_n.html
JT Tokyo Wide Pass: https://www.jreast.co.jp/multi/en/pass/tokyowidepass.html
There are also temporary promotions that may be of interest to you. For example, if you are planning to use the pass to go to the famous GALA Yuzawa ski resort in winter, there are offers for the gondola lift.
Where Can I Buy it?
The quickest and easiest way to buy the pass is at the JR East Travel Service Center. You can also buy it online or at travel agencies abroad, but then you have to go a JR East Travel Service Center to validate. However, buying online saves you time.
The JR East Pass can also be purchased at JR Reserved Seat Ticket Vending Machines that have the passport reader installed (if you know where is one, that is probably the most easy option but not all Stations have this type of machines).
You can also buy it online here!
▶︎JR East Pass Nagano and Niigata
How to Use it?
One thing to keep in mind when buying the JR East Pass is that the 5 days of travel must be consecutive, as the pass expires after exactly 5 days.
There are two ways to use it. One is you can simply use the ticket you are given as a regular ticket and insert it into the automatic ticket gate. Many Shinkansen have non-reserved seats cars, so you can enter those cars and sit in the free seat of your choice.
However, if you prefer to have a designated seat (some unreserved cars may be completely full and you may have to stand), or if the Shinkansen you are taking does not have a car with unreserved seats, you must first approach to a JR Ticket Officer (Midori-no-madoguchi) or JR Information Desk at your departure station and ask for a reserved seat, showing your JR East Pass. Or you can also reserve the seat by yourself at any JR Reserved Seat Ticket Vending Machines. There is no extra charge for using reserved seats on the Shinkansen. However, be careful! The JR East Pass doesn't allow you to freely use the Green Car or GranClass cars. To use these cars you have to pay an additional fee.
---
Excited? Pack your bags and travel around Japan using the bullet train!! And if you need ideas about best places to visit or things to do in the East Japan area, don't miss these articles too!
▽Related Articles▽
▼Editor's Picks▼
---