Harry Potter Christmas Illumination in Yokohama 2022
Harry Potter Theme Christmas Tree and Winter Illumination in Minato Mirai, Yokohama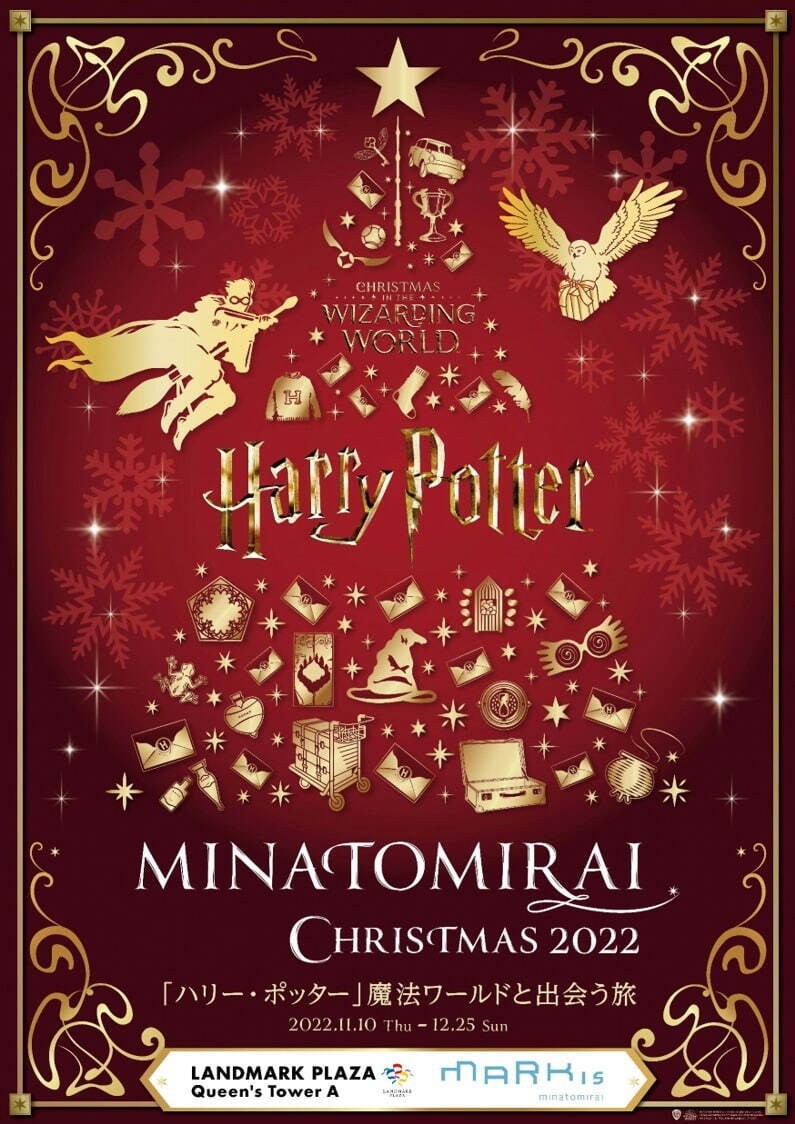 To celebrate the 20th anniversary of the release of the first movie series "Harry Potter and the Philosopher's Stone" last year there were several Harry Potter special events and collaborations in Japan, specially in Christmas.
Inspired by the world of Harry Potter, special Christmas decoration and illumination the "Harry Potter Gift from the Wizarding World" was held in Marunouchi area in Tokyo and the famous American coffee chain Tully's Coffee made a special collaboration called "Magical Coffee Time" with exclusive drinks and goods
In winter 2022 the "MINATOMIRAI CHRISTMAS 2022 'Harry Potter' Journey to the Wizarding World" Christmas event will be held at Yokohama Landmark Tower and MARK IS Minato Mirai from November 10 (Thu) to December 25 (Sun). Yokohama Landmark Tower and Mark's Minato Mirai will be decorated with Christmas decorations to make visitors feel as if they are on a journey to encounter the Wizarding World.
The highlight of the event will be the three different main trees installed in different locations at Landmark Tower and Mark's Minato Mirai. The 8-meter tall "Harry Potter Hogwarts Enchanted Tree" will appear at Landmark Plaza. Snow and candles will float around the tree, creating a spectacular and magical scene.
At Mark's Minato Mirai, the "Harry Potter Quidditch Tree", inspired by the popular wizarding world sport of Quidditch, will be on display in the Grand Galleria on the first floor. Several Quidditch goal rings will be hanging around the tree, surrounded by light trails of wizards on broomsticks chasing after the Snitch.
Last, the "Fantastic Beasts Magical Animals Tree", a symbolic tree inhabited by magical animals, will be located on the 5th floor in the Garden. If you take pictures of the tree with flash, the magical animals will come to life!
Moreover, at the Sky Garden on the 69th floor of the Yokohama Landmark Tower observation deck there will be a spot where visitors can take photos as if they were wizards, wearing a hat or riding on a broomstick in the sky! The entire observation deck will be decorated with the world of Harry Potter.
A limited time store with special Harry Potter goods and a digital stamp rally will be available.
This winter feel the magic of the wizarding world of Harry Potter and Christmas at the same time at the Harry Potter Journey to the Wizarding World event at the MINATOMIRAI CHRISTMAS 2022!
---
– MINATOMIRAI CHRISTMAS 2022 'Harry Potter' Journey to the Wizarding World
Date: 10 November to 25 December 2022
Location: Yokohama Landmark Tower, Mark's Minato Mirai
Map:https://bit.ly/3VpT402 ; https://bit.ly/3g7m1O6
---
For more special events in Tokyo or near for this Christmas, please check out these articles, too!
▽Related Articles▽
▼Editor's Picks▼
---