Tokyo in December : Best Things to Do
What to Do in Tokyo in December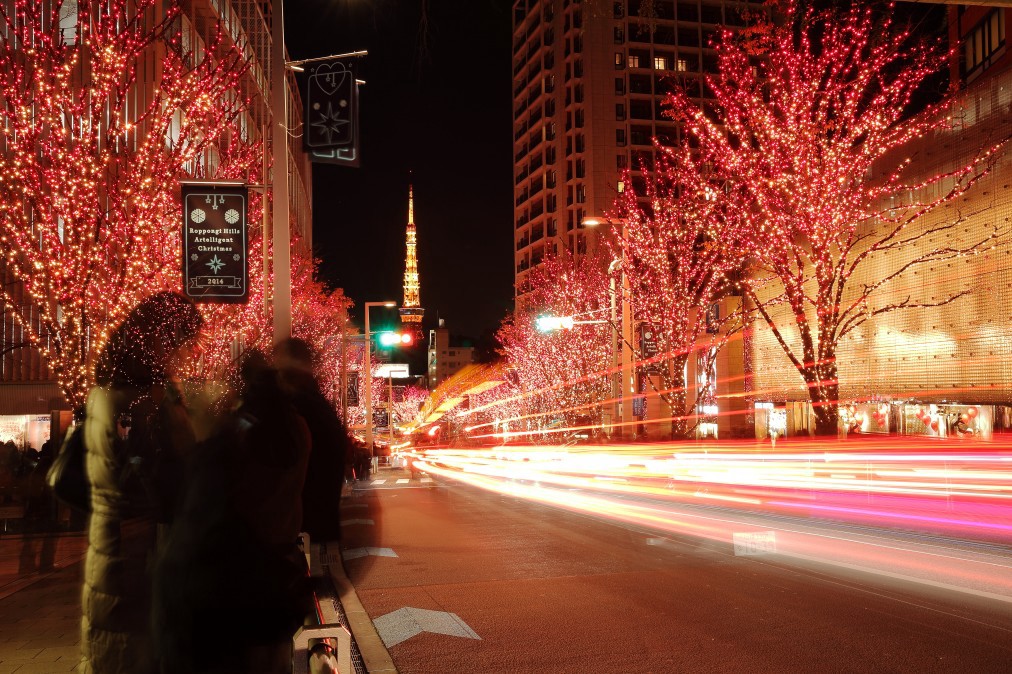 Travelling to Tokyo in December? Check out the hottest events and attractions in Tokyo only available in December! There are a number of special events held at many locations such as winter illuminations and jolly Christmas markets, and the whole city will be covered with colourful lights and the festive atmosphere! Also we can't miss New Year's countdown celebrations available only this time of the year!
Let's check out the list of the best things to do in Tokyo in December, and don't miss the hottest events and tourist attractions!
1. Winter Illuminations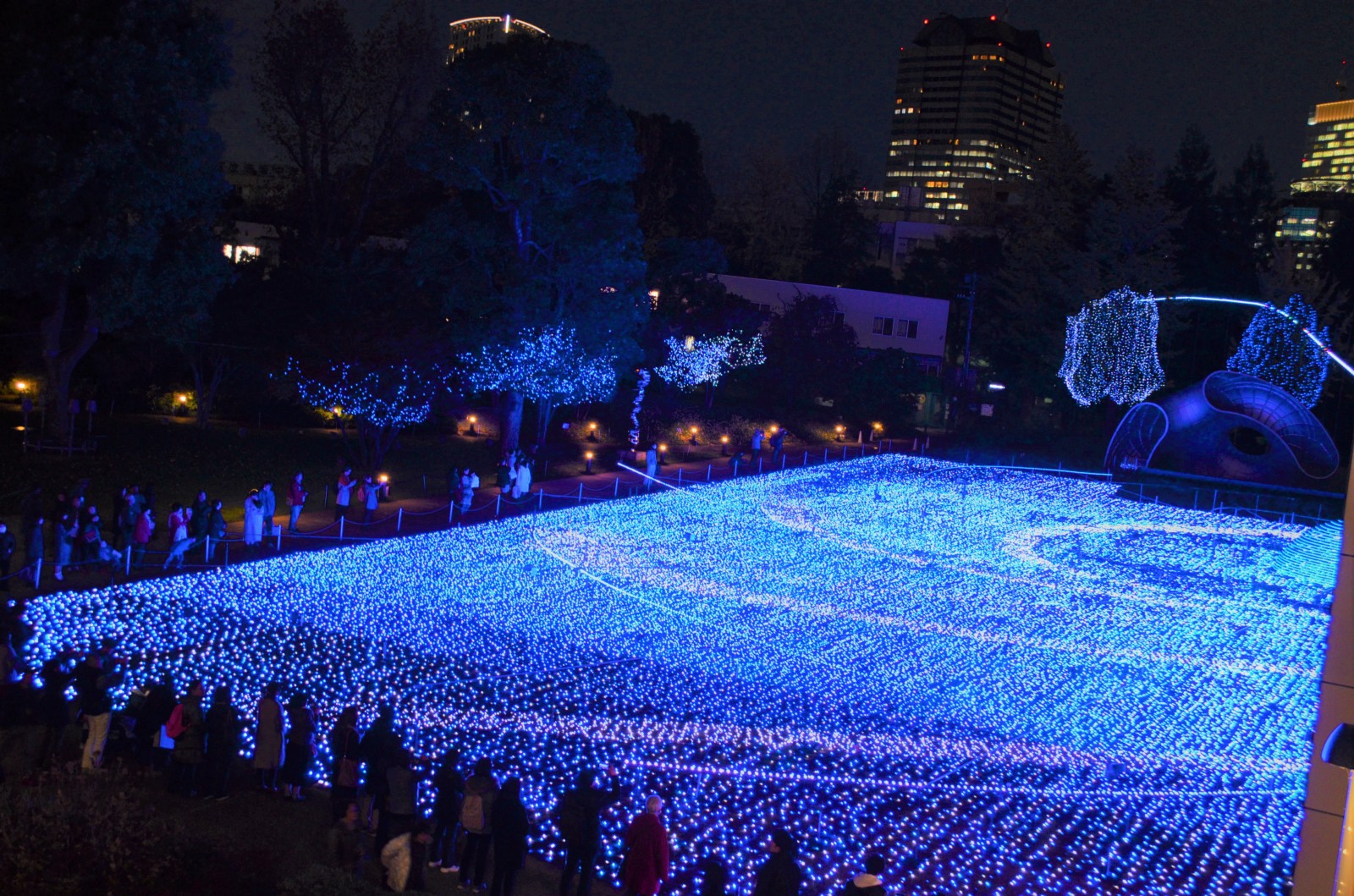 Winter illuminations are definitely the top attraction in Japan in winter. Numbers of illumination events are held in Tokyo in December, and also many spectacular ones in Kanto area, which you can access easily from Tokyo. How many illuminations can you visit this winter??
▼Tokyo ▼
▼ Kanto Area ▼
2. Christmas Market
What a better way to celebrate the holiday season?? There are several authentic Christmas Markets in Tokyo open during Christmas season with lots Christmas goodies including delicious German food, hot wine, Christmas tree and decorations.
Related article:
3. Ice Skating
Ice skating is one of most wintery and festive activities this season, and Tokyo has several outdoor ice skating rinks in a central area. Enjoy the winter fun with hot snacks, drinks and illuminations.
More info:
4. Christmas Dessert Buffets
Christmas/winter theme all-you-can-eat dessert buffets will be available at numbers of venues in Tokyo this winter. From delightful chocolate desserts to traditional Christmas treats, pick your favourite dessert buffets and indulge yourself as the sweetest Christmas present!
More info:
5. Odaiba Rainbow Fireworks
A fireworks show will be held at Odaiba area every Saturday this December. The show starts at 7 pm and display dramatic fireworks collaborating with music, illuminations and the magnificent Rainbow Bridge on background for 5 mins.
Date: 7,14,21,28 December 2019
Hours: 19:00~(about 5 mins)
Admission: Free
Website: https://www.tokyo-odaiba.net/rainbow2019/
There will be also a winter event, "Illumination Island Odaiba 2019" held every evening until Christmas day. The event features spectacular winter illuminations and Christmas decorations at 10 different locations in Odaiba. It's one of the most beautiful winter illuminations in Tokyo. Click the link below for more details about the illumination!
6. STAR WARS Identities: The Exhibition
The special exhibition of STAR WARS is currently being held at Tokyo Terrada Warehouse until mid January. The exhibition showcases over 200 rare and original items related to and have actually used for STAR WARS movie franchise. There is also a special interactive section where visitors can create their own STAR WARS characters by answering questions! Have you ever dreamed about being in the world of STAR WARS?? Then don't miss an opportunity to see the exclusive exhibition and find your STAR WARS character!
More info:
STAR WARS exhibition in Tokyo 'STAR WARS Identities: The Exhibition'
7. Frozen 2 Cafe
Celebrating the release of the new Disney movie Frozen 2, the special theme cafes take places at 7 venues in 6 cities in Japan (Tokyo, Osaka, Nagoya, Sapporo, Fukuoka and Kyoto). The Frozen 2 Cafe will be available at 2 venues in Tokyo (Harajuku and Tamagawa), offering super cute and photo-worthy food and drinks inspired by the world of Frozen 2. The limited-edition merchandise is also available at the cafe store.
More info:
8. STAR WARS Marunouchi Bright Christmas 2019 -Precious for you-
How exciting this month is for STAR WARS fans as the new film of the series, Star Wars: The Rise of Skywalker will finally come out on 20 December 2019! Celebrating the release of this upcoming movie, the STAR WARS theme Christmas event will be held in Marunouchi, Tokyo till 25 December 2019. The event features special decorations, participatory events,temporary cafe, gallery, pop-up shops, etc.. all in the STAR WARS theme!
More info:
9. Doraemon Future Department Store Opening
The world's first official Doraemon store will open on 1 December 2019 in DiverCity Tokyo Plaza, Odaiba area. The store will be offering a wide range of merchandise including official store limited items and interactive experiences such as playing with Doraemon's secret gadgets.
More info:
10. Superflat Doraemon Exhibition
The legendary Japanese contemporary/pop art artist, Takashi Murakami's temporary exhibition will be held in Tokyo this winter, collaborating with one of the most beloved manga/anime character, Doraemon. The adorable Doraemon and his friends are merged into Takashi Murakami's iconic artworks "Superflat". The exhibition is held in PERROTIN TOKYO in Roppongi area until 25 January 2020.
More info:
11. Tokyo Michi Terrace 2019
One of the most popular events in Tokyo in December, Tokyo Michi Terrace is an annual light-up event held at Tokyo Station Marunouchi Exit. This year, the theme of the event is "Anthem of Lights", and the beautiful light-up and art will be displayed around the station.
Date: 21–25 December 2019
Admission: Free
Website: http://www.tokyo-michiterasu.jp/
12. Comic Market 97
The Comic Market (Comiket) 97, one of Japan's biggest comic related events, is scheduled to be held for 4 days on 28, 29, 30 and 31 Dec at Tokyo Big Sight. The event features thousands of manga published by professional and amateur artists, and also invites a large numbers of cosplayers.
Date: 28-31 December 2019
Hours: 10:00~16:00
Admission: Free
Website: http://www.comiket.co.jp/index_e.html
13. Tokyo Metro: The Underground Mysteries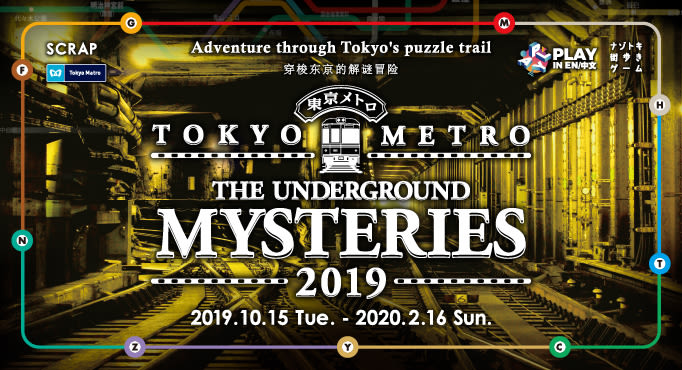 Tokyo Metro: The Underground Mysteries is a puzzle-solving & city exploration game that is held in Tokyo from 15 October 2019 to 16 February 2020. This limited time game was created by the collaboration between Tokyo Metro and SCRAP (a gaming event company). It can be played while walking through the streets of Tokyo using a 24-hour ticket and puzzle-solving kit to solve puzzles that have been hidden within Tokyo and Tokyo Metro stations as they attempt to reach the goal. It's one of the coolest and the most unique ways to explore the city!
Check out more details about Tokyo Metro: The Underground Mysteries:
14. Pikachu Sweets by Pokemon Cafe
Pikachu Sweets by Pokemon Cafe is a new style Pokemon Cafe specialised in takeaway desserts and drinks, which is opening at Pokemon Center Mega Tokyo in Ikebukuro in December 2019. Pokemon Center Mega Tokyo had a massive expansion recently and there are also two other new zones opening along with the cafe (Pokemon GO Lab. and Pokemon Card Game Station), making it the biggest Pokemon Center in Tokyo.
15. Sailor Moon Cafe 2019
The Sailor Moon Cafe is open for the limited time during winter, taking place at 6 different cities in Japan including Tokyo, Osaka, Nagoya, etc. In Tokyo, there are two branches: one in Shibuya open till mid November and other in Solamachi till mid January 2020. The cafe features collaborated menu with the concept of "Girls Night Out", featuring popular Sailor Moon characters and motifs. There are also limited merchandise which are only sold at the cafe stores.
More info:
16. Countdown Events 2019-2020
What a better way to say goodbye to 2019 and welcome 2020? There are numbers of special countdown events held in Tokyo on New Years Eve such as fireworks, cruise party and more. Check out the link below with the list of countdown events and best places to spend New Years Eve in Tokyo 2019–2020.
Related article:
▼Planning a trip to Tokyo in January??▼
Which events are you gonna visit in Tokyo in December?? There are more special events available all over Japan this month! Check the following articles for more fun events and activities in December!
▽ Related Articles ▽
▼Editor's Picks ▼
---