Tokyo Disney Christmas 2023
In Winter 2023 Tokyo Disney will held a special Christmas event for the 40th anniversary!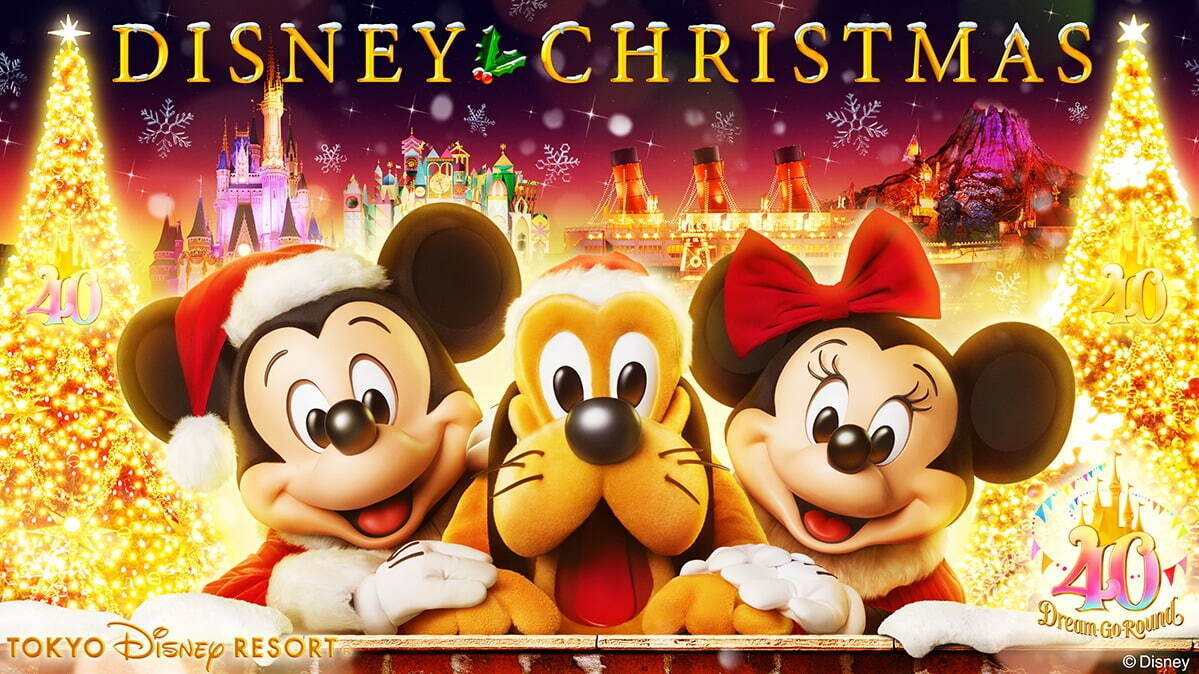 Winter/Christmas is one of the most fascinating seasons in Japan, with beautiful Christmas illuminations in different parts of the country and special time-limited events as Christmas markets.
One of the most magical and loved Christmas events is Tokyo Disney Christmas. In winter 2023 Tokyo Disneyland and Tokyo DisneySea will host a special Christmas-only event, from November 8 (Wed) to 25 December (Mon), 2023.
Last year Disney Christmas came back at the Tokyo Disney Resort after 3 years, and in 2023 Tokyo Disneyland and Tokyo DisneySea are celebrating their 40th anniversary, holding the Tokyo Disney Resort 40th Anniversary "Dream Go Round" anniversary event until March 31, 2024 (Sunday). So for this year's Disney Christmas they have prepared something even more special, an event full of exciting content only for the anniversary year.
Tokyo Disney Christmas 2023 will feature special Christmas-themed parades with some of the park's best loved and adorable characters, impressive christmas trees, time-limited attractions, exclusive merchandise and food menu and more that will make guests have an unforgettable and happy memory!
▶︎Get NOW your tickets for Tokyo Disney Resort!
Tokyo Disneyland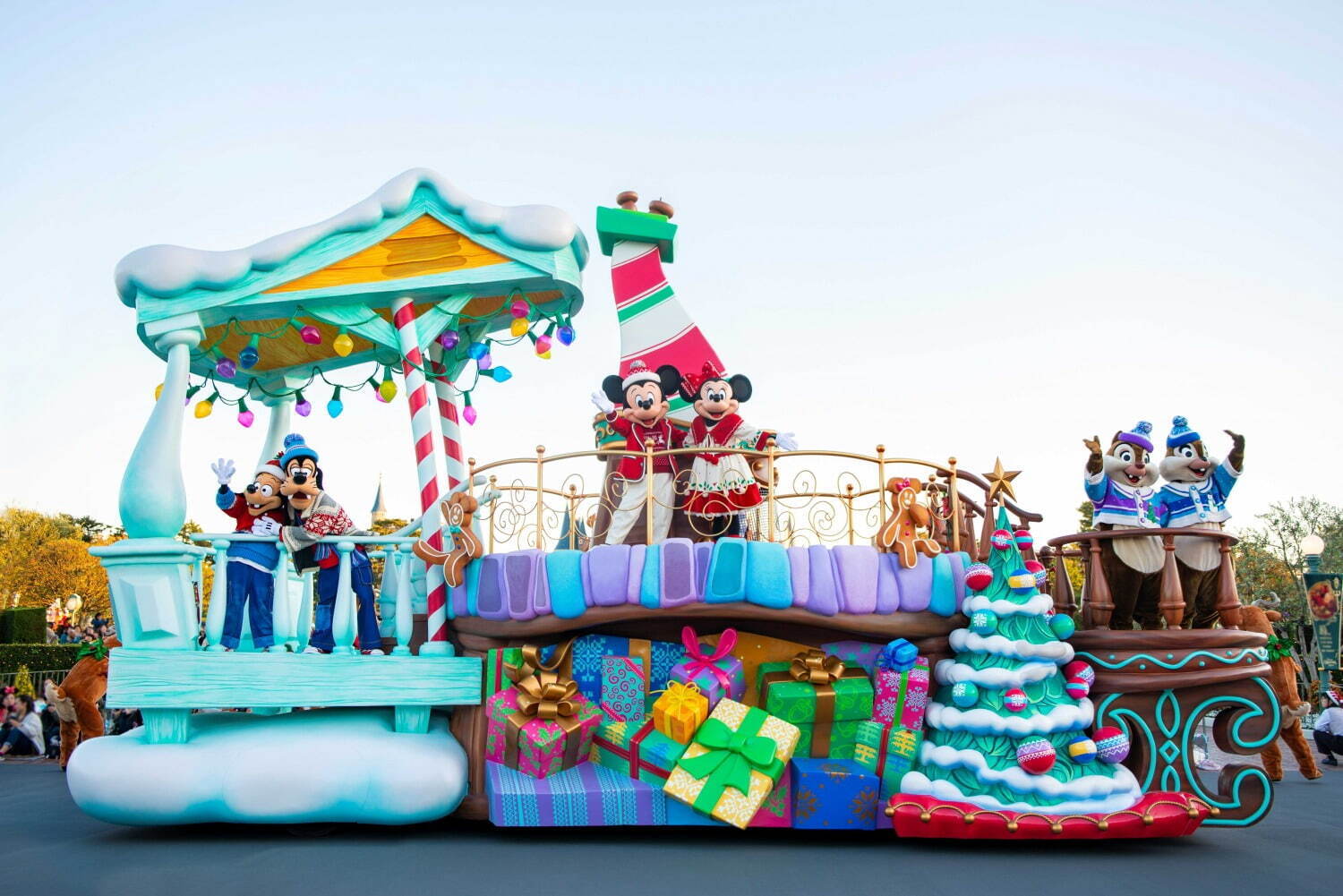 Fantastic parade Disney Christmas Stories
Tokyo Disneyland presents the fantastic parade Disney Christmas Stories. The parade, which tells the story of Disney friends enjoying Christmas, consists of seven stories, starting with the tale of Donald Duck dressed as Santa Claus having fun with his family, Daisy Duck and his nephews.
This year, the parade brings back the floats stopping in the middle of the parade. It will stop at three locations: Westernland/Fantasyland, Plaza and Tomorrowland/Toon Town. When the parade stops, the bells ring and the Christmas party begins. Guests can enjoy joining in the parade by clapping their hands to the sound of the bells played by Disney friends, and the party gets more exciting as the finale approaches.
Parade structure
Episode 1: Donald Duck and his friends' homely Christmas
Main characters: Donald Duck, Daisy Duck, Scrooge McDuck, Huey, Dewey and Louie
Episode 2: A Lively Christmas in the Toy World
Main characters: Woody, Jessie, Buzz Lightyear, Bullseye, Green Army Men
Episode 3: A Warm Christmas for Snow White and the Seven Dwarfs
Main characters: Snow White, Seven Dwarfs
Episode 4: Mickey Mouse's Happy Christmas with Friends
Main characters: Mickey Mouse, Minnie Mouse, Goofy, Max, Pluto, Chip and Dale.
Episode 5: Stitch and his friends' Christmas in everlasting summer in Hawaii.
Main characters: Lilo, Stitch and Angel.
Episode 6: Belle and the Beast's Romantic Christmas
Main characters: Belle, the Beast
Episode 7: Anna and Elsa's World of Snow and Ice
Main characters: Anna, Elsa, Olaf.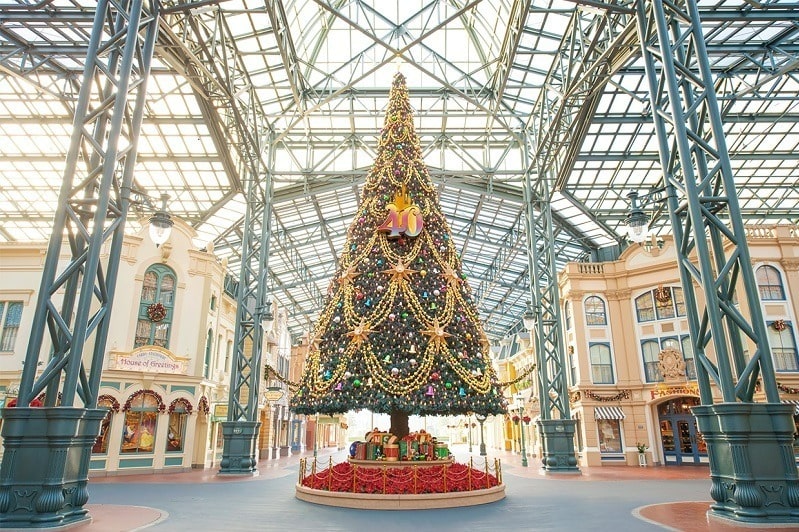 Christmas tree in the centre of the World Bazaar
The World Bazaar is home to a spectacular Christmas production unique to the anniversary year. The glittering 15-metre-high Christmas tree in the centre of the bazaar is decorated with the 40th anniversary logo and the special Christmas Fairy Lil' Ring-Ring-Ring ornaments will liven up the Christmas mood.
Haunted Mansion Holiday Nightmare, only available this time of year.
Don't miss the unique Christmas attractions! From Thursday September 14, 2023, to January 8, 2024, guests can enjoy the special attraction Haunted Mansion Holiday Nightmare based on the Tim Burton's film The Nightmare Before Christmas at the Haunted Mansion.
Tokyo DisneySea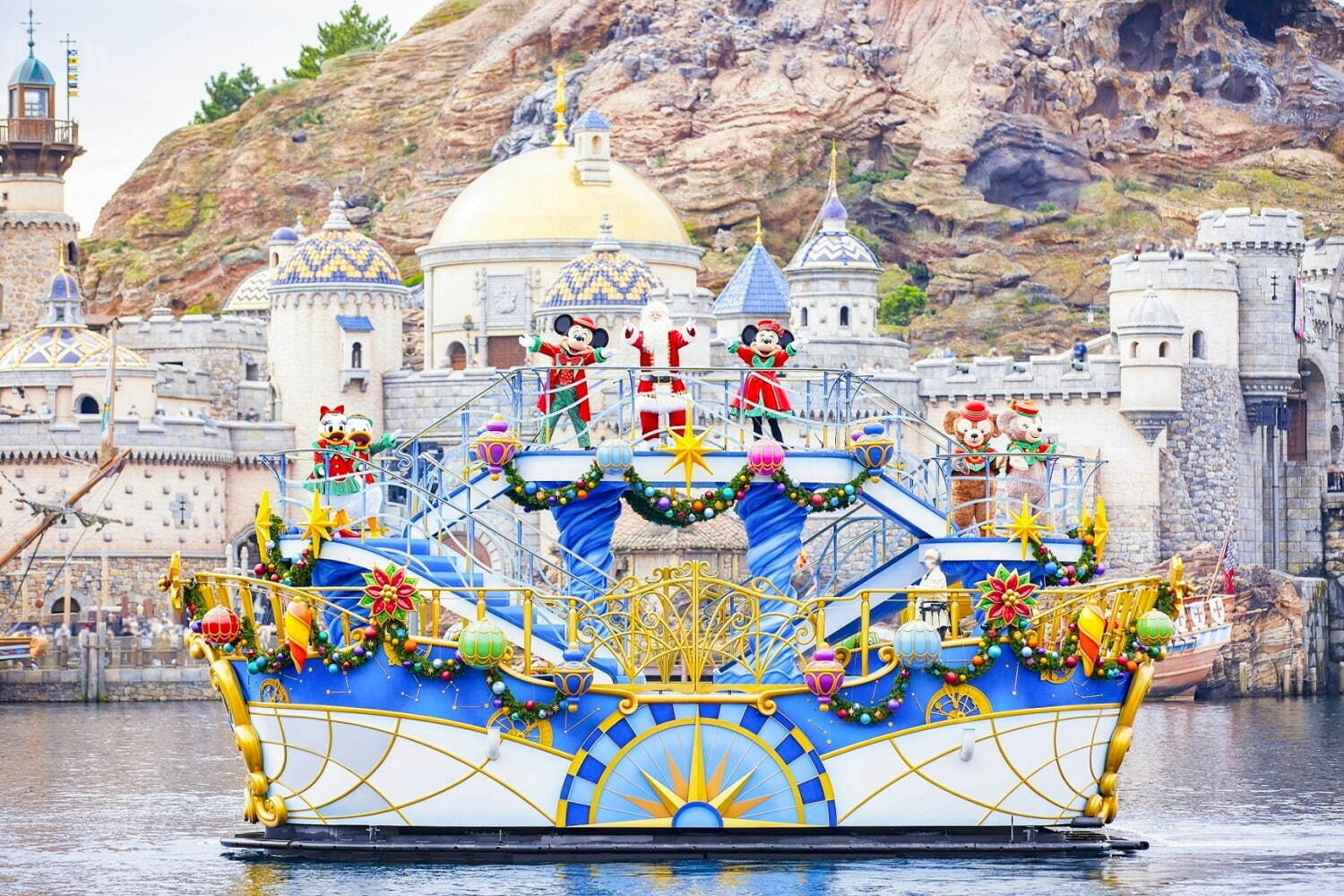 Disney Christmas Greetings' at Mediterranean Harbour
Tokyo Disney Sea will be performing Disney Christmas Greeting at Mediterranean Harbour. Mickey Mouse, Minnie Mouse, Donald Duck, Daisy Duck and others will appear with Santa Claus while christmas music plays in the background.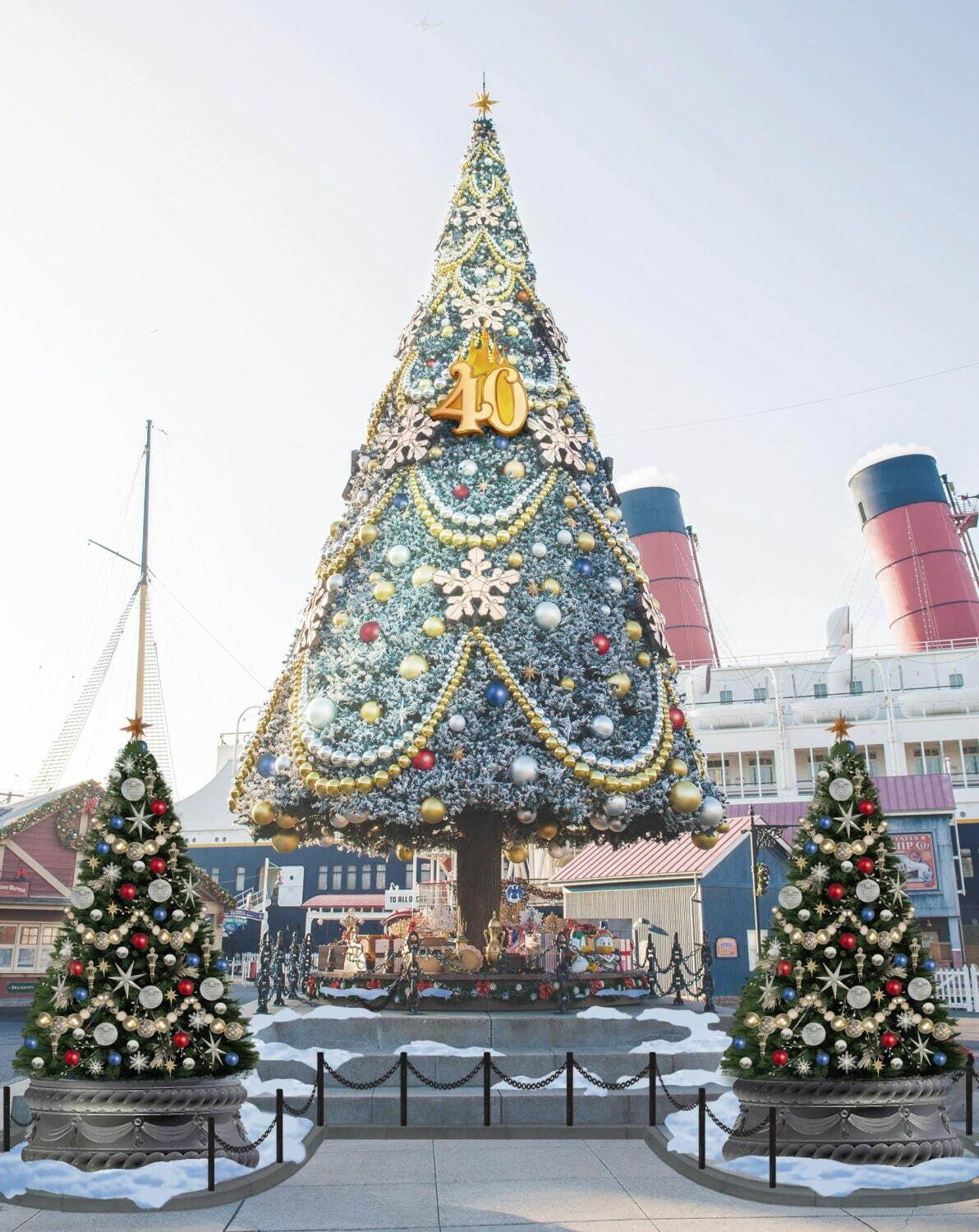 15-metres Christmas tree
A large Christmas tree, approximately 15 metres high, returns to the American Waterfront for the first time in four years. The tree will be decorated with the 40th anniversary logo and will be illuminated at night, creating a romantic atmosphere.
In addition, a tree decorated with Duffy & Friends ornaments on Cape Cod will be a unique Christmas photo spot!
Goods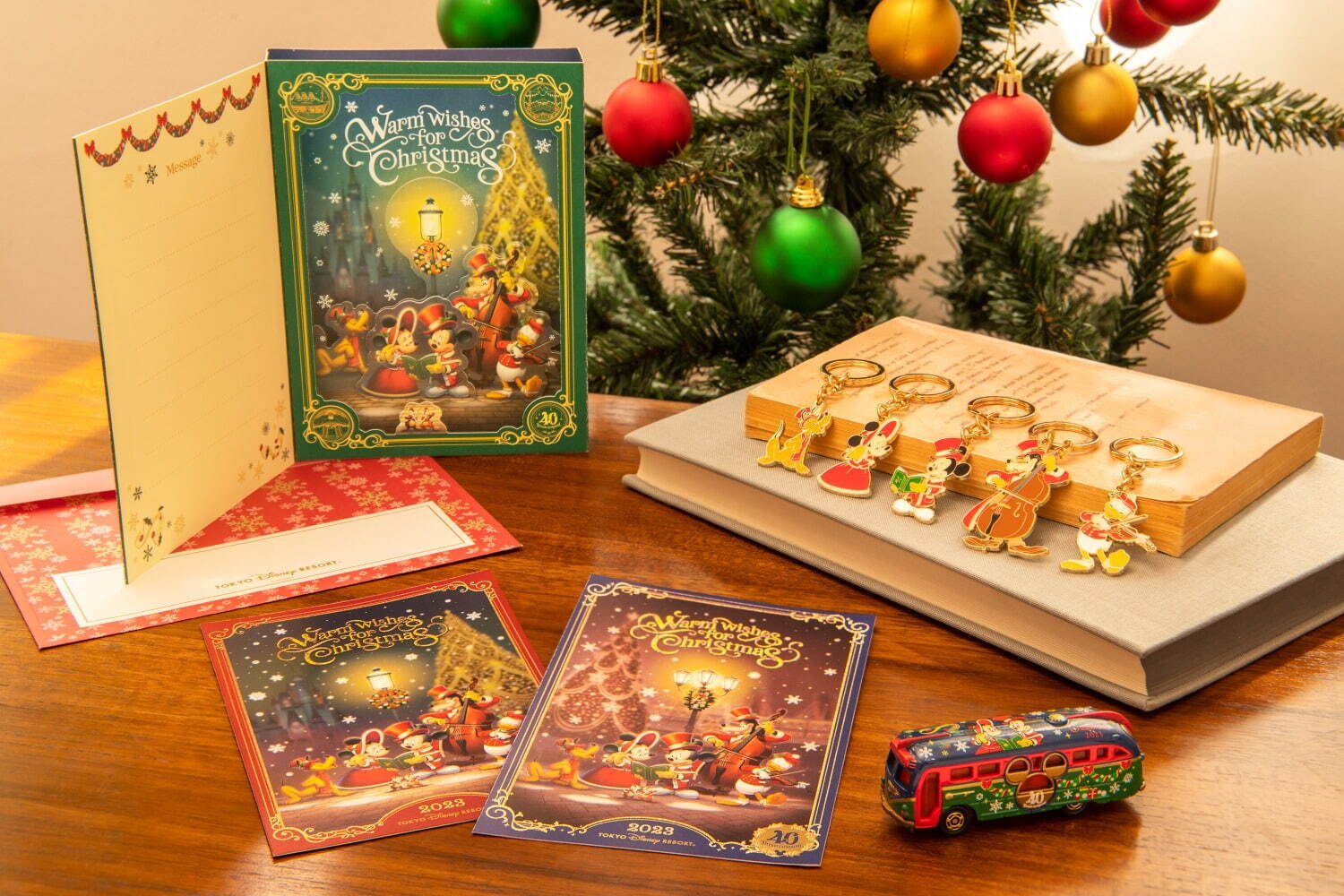 In addition to special programs, the park also offers winter-limited merchandise. Here are some of Christmas theme items available for 2023 winter from Tuesday 7 November 2023!
left to right:
Plush set 6,500 yen
Sweater (red and dark blue) 6,900 yen
Minnie Headband 2,000 yen
Arm warmer 3,000 yen
left to right:
Miniature figurines set 6,000 yen
Key chain set 2,500 yen
Key chain set 2,000 yen
Candy 900 yen
left to right:
Mug 1,800 yen (picture 1 and 2)
Plate set 2,500 yen
Tumbler set 2,100 yen
left to right:
Mickey plush badge 2,500 yen
Shoulder bag 2,900 yen
Hand-held ballon 700 yen
Blanket 5,400 yen
left to right:
Assorted chocolates 1,200 yen
Marshmallow 2,500 yen
Crunch chocolates 1,800 yen
Madeleines 1,300 yen
left to right:
Tupperware set 1,800 yen
Japanese sweets 1,300 yen
Cube Chocolate Crunch 1,400 yen
Disney vehicle collection (Tomica) 1,500 yen
left to right:
Greeting card 1,100 yen
Post card set 500 yen
Fun cap 2,500 yen
Minnie plush badge 2,500 yen
Special Menu
Special menus will also be offered from Wednesday 1 November to Monday 25 December 2023.
The different restaurants in both parks will also be offering a special Christmas menu, and some of these menus will come with special Christmas merchandising that can be purchased for an extra fee.
---
-Tokyo Disney Resort Christmas Event 2023-
Date: 8 November to 25 December 2023
Map: https://goo.gl/maps/dxnLuwoxaFiA2aRz9
Official Website: https://www.tokyodisneyresort.jp/treasure/christmas2023/tdl/
▶︎Buy here your tickets for Tokyo Disney Resort
---
Excited?? Join the beautiful and cheerful Christmas event at Tokyo Disney Resort this winter and have the biggest memory of this year! For more information about Christmas in Japan or Tokyo Disneyland and DisneySea, here are some articles to check out!
▽Related Articles▽
▼Editor's Picks▼
---