Must-See Winter Illuminations near Tokyo 2022-2023
Best spots for winter illumination day trip from Tokyo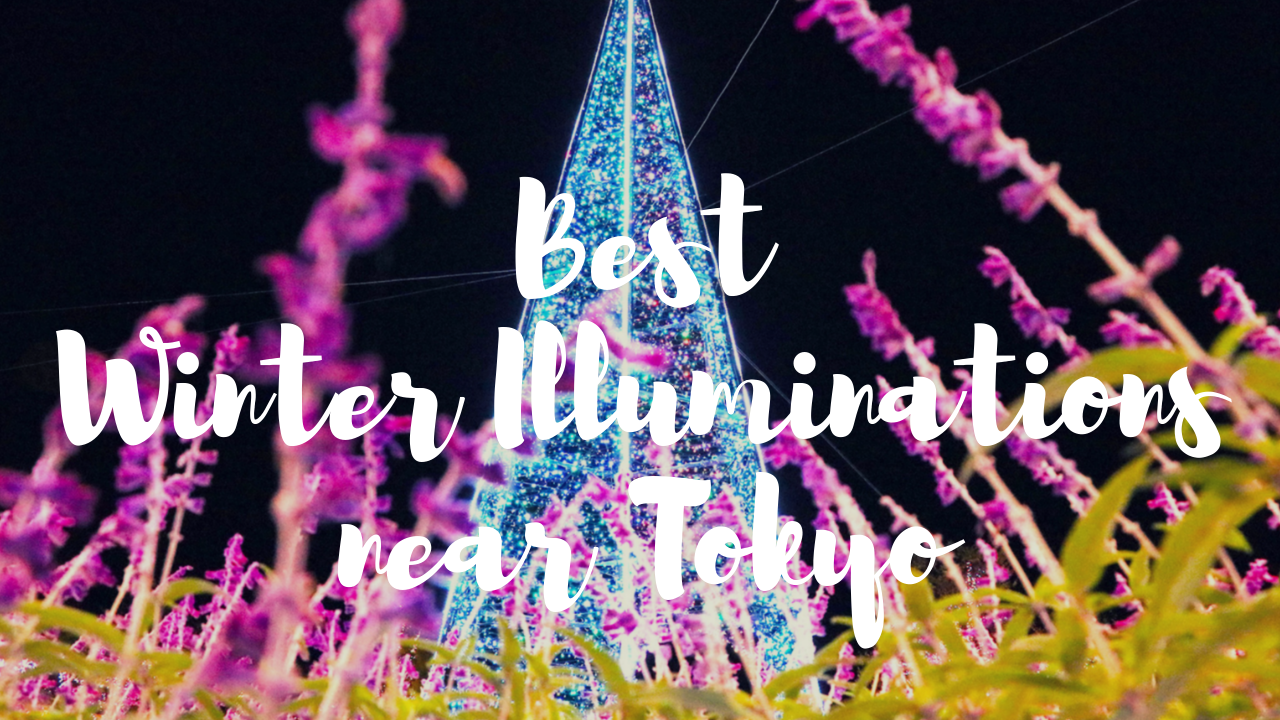 Japanese winter is all about illuminations! There are numbers of illumination spots in Tokyo, which brighten up the city romantically during the season. But if you want to see bigger scale of winter illuminations, you should definitely take a short trip to outside of Tokyo as numbers of illumination events are held with vast fields and more LED lights.
Today, I'm introducing some of the most spectacular winter illumination events in 2022-2023 winter which is held outside of Tokyo but still very accessible to visit for a day. Let's check them out and make a plan 🙂
Kanagawa Prefecture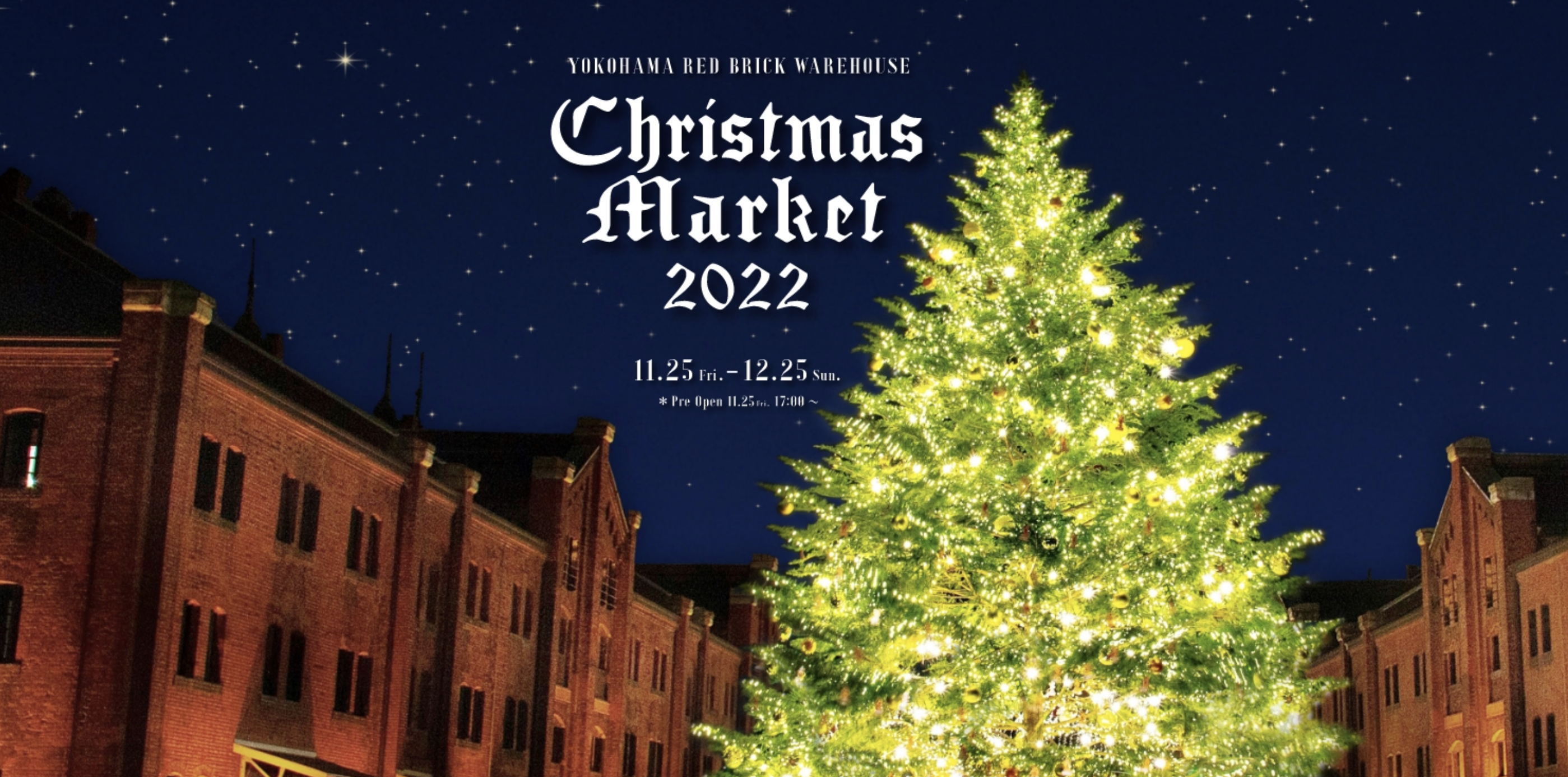 Yokohama Minato Mirai area is simply the best place to be around Christmas. The traditional German style Christmas Market is held annually at the Yokohama Red Brick Warehouse (横浜赤レンガ倉庫) with romantic light-up decorations, food vendors and the ice skate link. Lots of Christmas illuminations can be spotted around the area and also spectacular night view of skyscrapers can be viewed daily.
Access: 6 mins walk from Bashamichi OR Nihon Odori Stations
Date: 25 November to 25 December 2022
Hours: 11:00~22:00 (light-up from 16:00)
Fee: Free
Website: https://www.yokohama-akarenga.jp/en/
More illuminations in Yokohama area: Best Winter Illuminations in Yokohama
Kanagawa Prefecture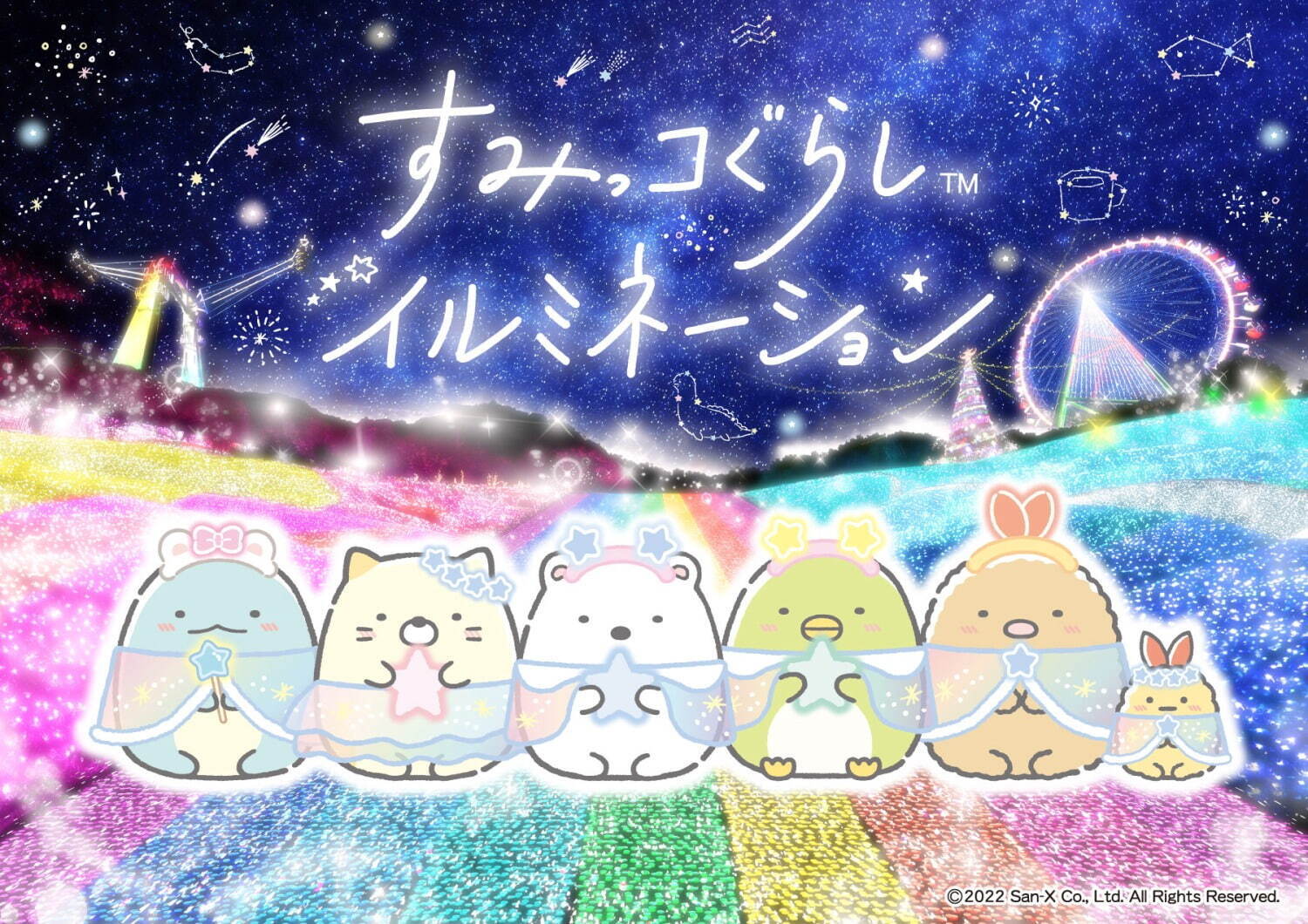 One of Japan's biggest winter illumination event, Sagamiko Illumillion is held at Sagamiko Resort Pleasure Forest (さがみ湖リゾート プレジャーフォレスト). Over 6 million colourful LED lights covers the vast park in various themes and shapes. In 2022-2023, the event features the special illumination area collaborating with the adorable Sumikko Gurashi, the popular characters created by the Japanese company San-X. This long-run event is available till early April when cherry blossoms can be seen with light-ups.
Access: Bus from Sagamiko station (JR Chuo line)
Date: 12 November 2022 to 2 April 2023
Hours: 16:00~21:00
Fee: From 1,800 to 4,500 yen
Website: https://www.sagamiko-resort.jp/sumikkogurashi-illumination/
Kanagawa Prefecture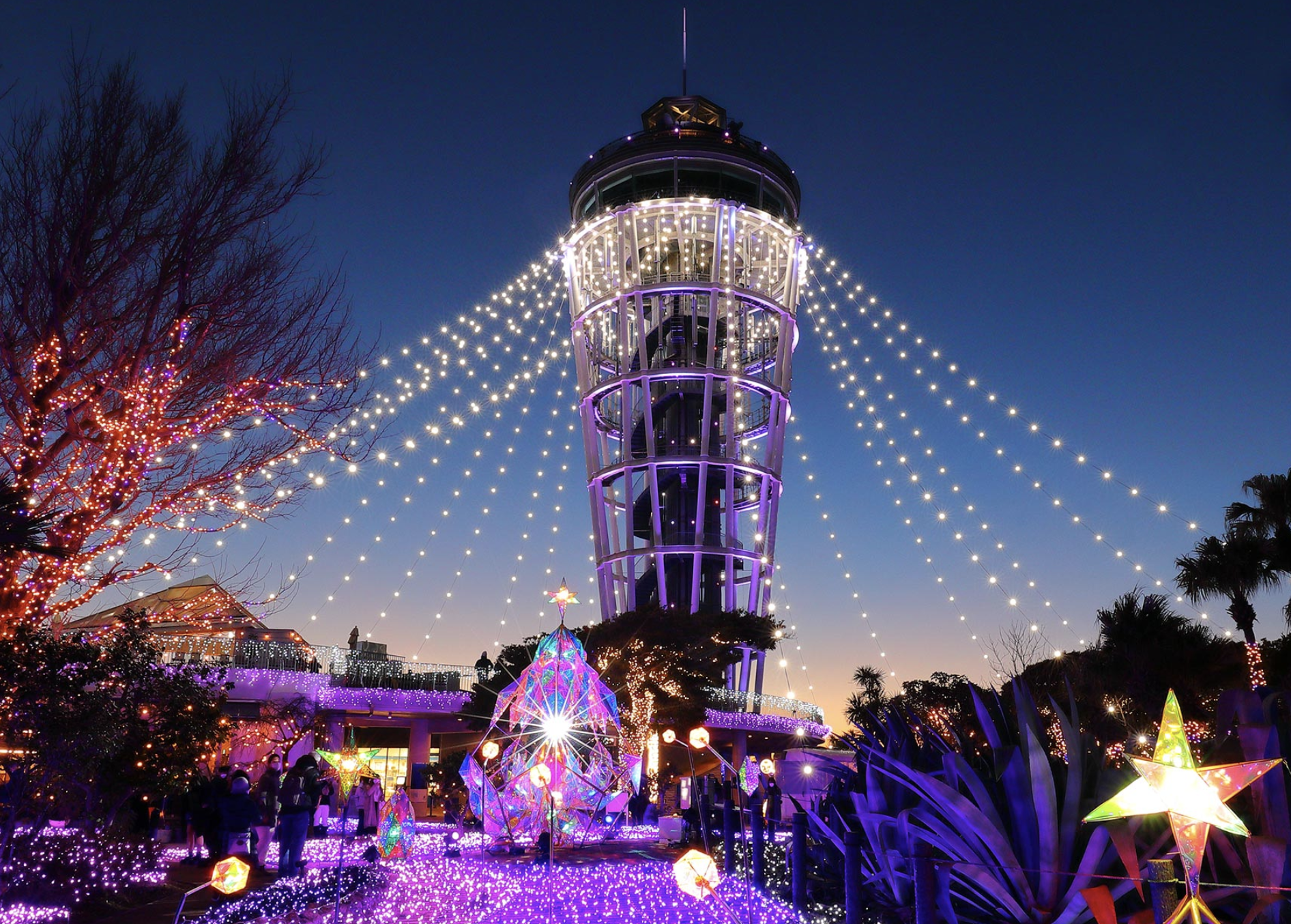 The Jewel of Shonan is a popular illumination event held annually at Enoshima Island (江の島) off the coast of Shonan area. The Jewel of Shonan is considered as one of the three greatest illuminations in Kanto area along with Ashikaga Flower Park and Country Farm Tokyo German Village.
Access: 20 mins walk from Enoshima Station or Katase Enoshima Station
Date: 23 November 2022 to 28 February 2023
Hours: 9:00~20:00
Fee: 500 JPY (+500 JPY for observation tower)
Website: https://enoshima-seacandle.com/event/shonannohoseki/
4. Country Farm Tokyo German Village Winter Illumination
Chiba Prefecture
Country Farm Tokyo German Village (東京ドイツ村) is a nature theme park located in Sodegaura, Chiba Prefecture. Their annual illumination event is held with 3 million LED lights, creating a colourful fairy tale world. The 70 m long tunnel of lights is the best highlight of the event.
Access: bus from Sodegaura Station then walk for 15 mins
Date: 28 October 2022 to 19 March 2023
Hours: 9:30~20:00 (illumination starts from sunset)
Fee: 3,000 yen
Website: http://t-doitsumura.co.jp/special_event/ (Japanese only)
Tochigi Prefecture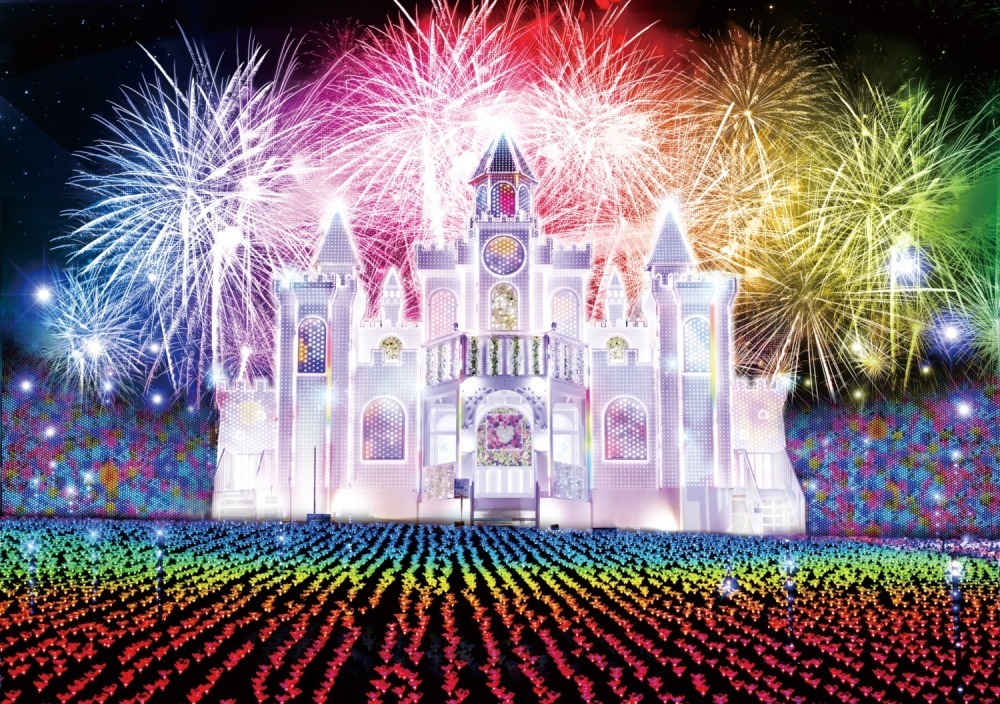 Ashikaga Flower Park (足利フラワーパーク) is best known the gorgeous wisteria festival held in spring, but also attracts visitors in winter by one of largest winter illumination in the country. Over 4 million LED lights cover the vast space of 94,000㎡ and represent charming flowers colourfully.
Access: 13 mins walk from Tomita Station
Date: 15 October 2022 to 14 February 2023
Hours:16:30~21:00 (~21:30 pm on weekends and holidays)
Closed: 31 December
Fee: 1,200 yen
Official Website: https://www.ashikaga.co.jp/flowerfantasy_special2022/jp/
6. Toki no Sumika
Shizuoka Prefecture
Toki no Sumika (時之栖) is a leisure resort with many facilities surrounded by nature. It's located in Gotemba City, which is at the base of Mt. Fuji and not very far from the popular Onsen town, Hakone. Over 5.5 million LED lights display at the site in various themes, such as the Tunnel of Lights and the fountains.
Access: Free shuttle bus available from Gotenba, Mishima and Susono Stations
Date: 8 October 2022 to 12 March 2023
Hours: 16:30~22:00
Fee: Free (some areas charge a fee)
Website: http://gotembakogenresort.com/
Have you enjoyed my story? If yes, you may be interested in these articles, too!
▽ Related Articles ▽
▼ Editor's Picks ▼
---